A solid charging dock can provide a quick and convenient way to charge up your VR headset when you are done playing. In this guide, I'll show you the best Meta Quest 2 charging docks that you should buy today.
Below, I'll go over each charging stand in more detail, including:
Key features you should look for
How much each dock costs
How to buy the best Quest 2 charging docks today
Reasons you need a charging dock system today
If you use any of the docks below or another alternative, comment below and let others know what you recommend.
The #1 Quest 2 Charging Dock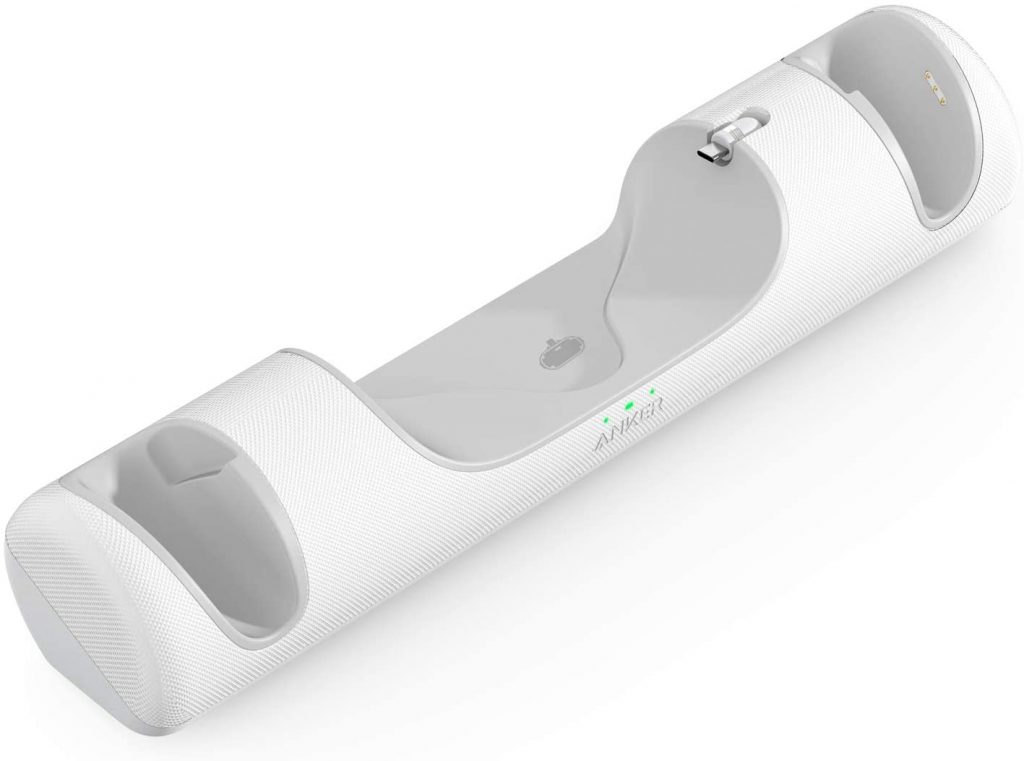 Anker Meta Quest 2 Charging Dock
Our pick for the #1 charging dock for the Meta/Oculus Quest 2 is the Anker charging dock. Slick, easy to use, and convenient, this dock charges your headset and controllers. It hide your cables to make things look smooth and is officially endorsed by Meta. Buy yours today and keep your Quest 2 and accessories in a centralized charging spot whenever you aren't using it.
The Best Meta Quest 2 Charging Docks
Here is a list of the best docks you can buy today:
Let's dive into each option in more detail.
The Anker Charging Dock is a Meta Quest 2 power accessory that you can use to organize and charge your headset and controllers simultaneously. The Anker Charging Dock is a cool-looking stand that can neatly hold your Meta Quest 2 controllers and headsets and prepare them for the next gaming session. With this charging dock, you won't have to worry about running out of battery while playing VR games.
Additionally, the Anker Charging Dock comes with replacement covers for your controllers. They have a charging port that slips directly into the dock so you don't need batteries anymore.
This charging dock is equipped with overcharge protection – it turns off as soon as your Quest 2 charges to 100%. Plus, it keeps things neatly organized. You won't notice any cable tangles or cables dangling while charging you charge your Quest 2.
Overall, the Anker Charging Dock is an elegant solution for VR enthusiasts who spend lots of time playing with their Quest 2. The Dock keeps everything organized while keeping your controllers and headsets fully charged. It is also the only dock on our list endorsed by Meta.
Key Features
Features overcharge protection, overload protection, and over current protection to safely charge your devices.
Charges your headset and controllers in just 2.5 hours from empty.
Helps reduce cable tangles.
What I Like
I liked that after completing a full charge, the Anker Charging Dock is smart enough to keep the Quest 2 and controllers a little below 100% charge to protect the battery. Plus, Meta's endorsement and partnership with Anker is a good option for those who want the most official option.
The NexiGo Enhanced Charging Dock is a powerful stand that simultaneously holds and charges your Quest 2, two Touch Controllers, and the Elite Strap. It can fully charge your Quest 2 within 3.5 hours and your Touch Controllers in less than 2.5 hours.
This charging station has a controller battery cover and an 1850mAh rechargeable battery for each controller to save you the stress of replacing batteries. This controller battery pack makes a lot of sense and is a feature I wish Meta implemented from the start.
The NexiGo Enhanced Charging Dock has LED status lights that indicate the charging status of your headset and controllers. The magnetic USB-C connector connects directly to your Quest 2 to aid easy and smooth repeated charging.
Additionally, it stores your headset and controllers in one convenient location with no cable dangling. This helps to keep your gaming area organized and neat.
Key Features
Can fully charge your Quest 2 in about 3.5 hours and Touch Controllers in less than 2.5 hours.
The controller covers save you from endless battery replacement.
Works with the official Elite Strap
The colored lights and stylish design add aesthetic to your VR display.
What I Like
I liked that the charging dock charges my Quest 2, even with the Elite Head Strap attached. Things also look clean on this dock.
The AMVR Charging Dock is a lightweight and portable charging stand that you can use to power your Quest 2 and controllers, letting you enjoy more gaming time. The AMVR Charging Dock has a USB port at the base from where you can plug your device through a charging cable.
With the AMVR Charging Dock, you won't waste time removing anti-throw straps and changing batteries. It takes about 3.5 hours to charge your Quest 2 fully.
This charging station can charge adjustable wrist knuckle controllers and is equipped with an LED charge indicator that lets you know the charging status of your headset and controllers. The indicators are:
charging: red light flashing
standby state: yellow light
fully charged: green light.
If you charge your headset and controllers together, this charging dock will prioritize the headset and then charge the controllers after the headset is fully charged.
The AMVR Charging Dock comes with 2 rechargeable batteries to save time and reduce removing the panel on the controller. It is also customized to the size of Quest 2.
Key Features
This charging station solves the trouble of battery replacement of controllers.
Equipped with extra controller grips to protect your Quest 2 during a game.
Can fully charge your devices within 3 hours.
What I Like
I liked that the built-in straps make the controllers feel much more secure during a game. They are a nice bonus thrown in with this charging dock, which does its job to house your Quest 2 when it's not in use.
BINBOK VR Charging Dock
The BINBOK VR Charging Dock offers a seamless charging experience for your Quest 2 headset and its controllers. Say goodbye to the tedious task of swapping out batteries and embrace a more streamlined approach to powering your VR devices.
One of the standout features of this dock is its magnetic charging ports. The high magnetic Type-C port ensures that your VR host automatically aligns and secures into the charging port as soon as you place it on the dock.
Customization is also at the forefront with the BINBOK Charging Dock. It has been meticulously designed to be compatible with the Quest 2 and touch controllers. The dock leverages customized grooves and curves, allowing your devices to settle smoothly and stable.
The LED indicators add a futuristic touch to your setup and are highly functional. You can easily distinguish the charging status of your devices with a quick glance, as red denotes charging, and blue indicates a full charge. Plus, turning off the light when not in use shows thoughtful design, allowing users to maintain a serene gaming environment.
A full charge is achievable in 4 hours for your VR headset and 6 hours for the controllers. The inclusion of rechargeable controller batteries and charging covers in the package showcases a comprehensive approach to meeting all your charging needs.
Key Features
Fast and efficient charging, allowing simultaneous charging of the Quest 2 and two controllers.
Magnetic charging ports for a stable and hassle-free connection.
Designed exclusively to fit Quest 2 and its controllers, ensuring a smooth and stable placement.
What I Like
I like the attention to detail in the design of this charging dock. The magnetic ports are a game-changer, effortlessly ensuring a secure and stable connection. The visual feedback through the LED indicators adds to the user-friendly experience.
The Smatree Oculus Quest 2 Charging Dock can charge your Quest 2 and controllers from 0% to 100% in just 2.5 hours. It's been recently updated to fit an Elite Strap and comes with two 1800 mAh rechargeable batteries for your controllers to not only save you money, but protect the environment.
With its elegant and slim design, the Smatree Quest 2 Charging Dock can neatly store your Quest 2 and keep your devices organized. You will get a charging dock in the box, 2 battery covers, 1 USB-C, 2 rechargeable AA batteries, and 1 extension cord.
When the dock is finished charging your hardware, it has an LED indicator light that changes from red to green. The Smatree charges a bit faster than other options on this list.
Key Features
This dock charges your headset and controllers simultaneously.
Can keep your headset and controllers organized.
When fully charged, the charging dock shuts down automatically.
What I Like
I liked that after playing games, you can securely store your headset and controllers with the Smatree Quest 2 charging dock. Fitting the elite strap is a nice perk that makes this dock worth looking at.
The ZyberGears charging stand is a colorful charging station with a wall-hanging option. It can also serve as a storage bracket for your Quest 2 and controllers. This charging dock is not designed for charging your controllers, only the headset.
It is equipped with a magnetic charging connector for easy installation. To charge your headset, plug in the USB-C charging connector into your headset and place the headset on the charging dock to charge.
One of the most amazing features of this charging dock is that once your headset is fully charged, it automatically shuts off power to the headset, protecting the headset from overcharging and extending battery life.
Overall, this stand is a nice budget option for those who don't want to spend a lot of money. With only hundreds of reviews vs thousands on other options in this list, you might get what you pay for.
Key Features
Has a colorful breathing light to keep your VR system beautiful.
Can fully charge your Quest 2 in about 3 hours.
Automatic power-off when fully charged.
What I Like
Instead of sitting on a desk or table, I liked the wall-hanging feature to avoid clutter and save more space. The lighting is a cool feature, though maybe slightly tacky for most users.
What is a Meta Quest 2 Charging Dock?
An Oculus/Meta Quest 2 charging dock is a device that allows you to charge your Quest 2 VR headset while keeping it safe and protected. These docks come in many shapes, sizes, colors, and styles. Some are made specifically for the Quest 2, others work with any VR headset. Some even allow you to charge your headset without removing it from its carrying case.
Because these docks are so versatile, many different types are available. Here are some examples of what you might find:
A charging dock that sits on top of your desk or stands up on a shelf.
A charging dock that fits inside your backpack or bag.
A charging dock with a built-in handle for carrying around.
A charging dock with a wall-mounting option.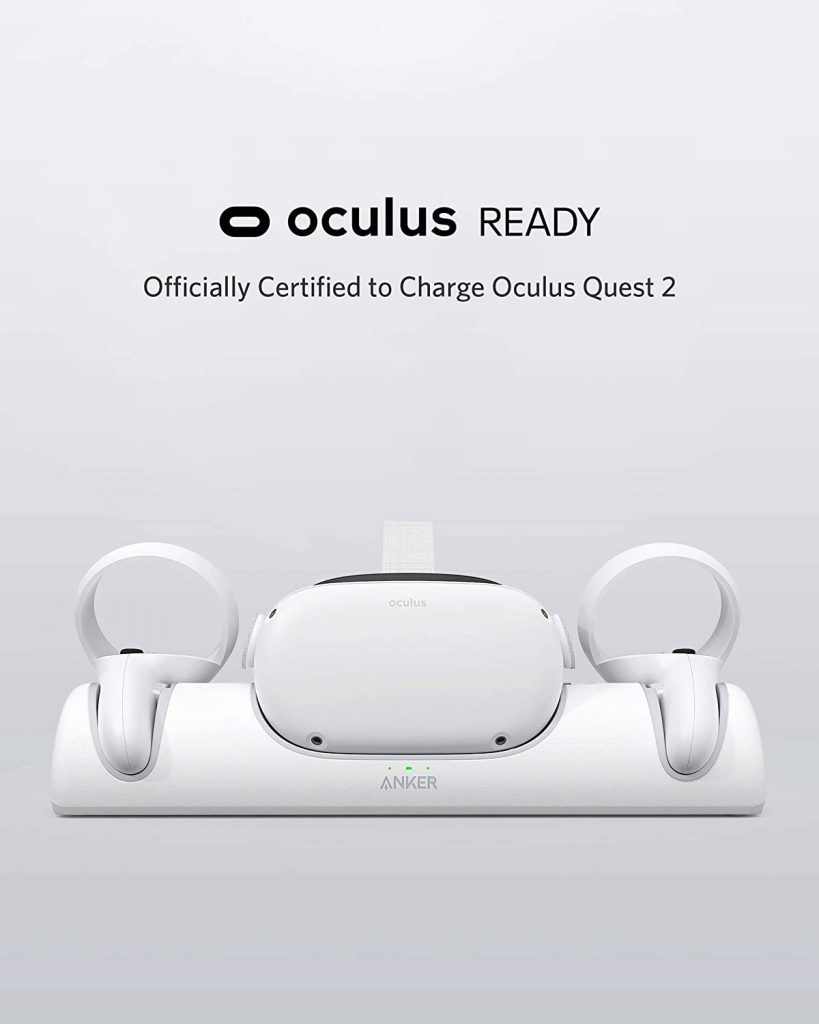 How Do You Know Which One Is Right For You?
You should consider several things before buying a charging dock for your Meta Quest 2. First, make sure you're getting the right size for your headset. If you have an elite strap, you'll want to ensure your dock supports it.
Second, if you want to use the charging dock with your controller, make sure it has a compatible charging port and replaceable covers for your controllers. Most docks can connect to both your headset and controller, but some may only support one or the other.
Third, look at the design of the dock itself. Does it feel sturdy enough to hold your headset? Are the cables well hidden? How does it look?
Finally, make sure you get a dock that supports fast charging. Many docks charge slowly because they aren't designed for high-speed charging. However, if you need to charge quickly, you should go with a dock that supports fast charging.
Key Features to Look For in a Charging Dock
The following guide will help you choose which charging dock is best.
Size
This is probably the first question you'll ask yourself when looking for a charging dock. There are two main options: large and small. Large docks can fit larger headsets like the Rift S, whereas smaller docks can fit smaller headsets like the Quest 2.
When choosing between a large and small charging dock, consider how much room you have for your headset. A large dock will take up more space than a small dock. Also, ensure you have enough room to place your headset on the dock.
Design
Does the dock feel solid? Is it easy to carry around? Will it fit comfortably in your backpack or bag? What kind of materials do you see used in its construction?
If you plan on using this dock with a controller, pay attention to how easily you can access the ports. Some docks have ports that require removing the cover, while others have ports that slide out of their housing.
Brand Name
You don't necessarily need a brand name on the dock. However, brand recognition will give you a little extra piece of mind. Anker is known for making high-quality accessories for electronics, so your Quest 2 will stay safe. 
Unknown brands will generally be a little cheaper to buy. They may also include newer and more innovative features that big brands haven't picked up on yet.
Compatibility
Some docks will only work with the Quest 1 or Quest 2. This is because the spot where the USB-C port is slightly different on each headset. Ensure you check that the dock works with your headset before buying it.
Charging Speed
Most people won't notice any difference in charging speeds between a slow and fast charger. However, there are times when you might need to charge faster. If you're planning on doing long gaming sessions or watching movies, you'll want to invest in a dock that charges quickly.
Why Should You Buy a Meta Quest 2 Charging Dock
Of all the Quest 2 accessories you can buy, why should a charging dock be near the top of your list? Here are a few reasons why you should buy one today:
You'll have a single and centralized spot to store your VR headset and controllers.
Most charging docks allow you to hide your cables.
Most docks come with new controller battery covers to recharge your controllers.
You will automatically charge your headset when it's not in use.
No matter your reason, a charging dock is a solid and convenient way to store your Quest 2 when it's not in use.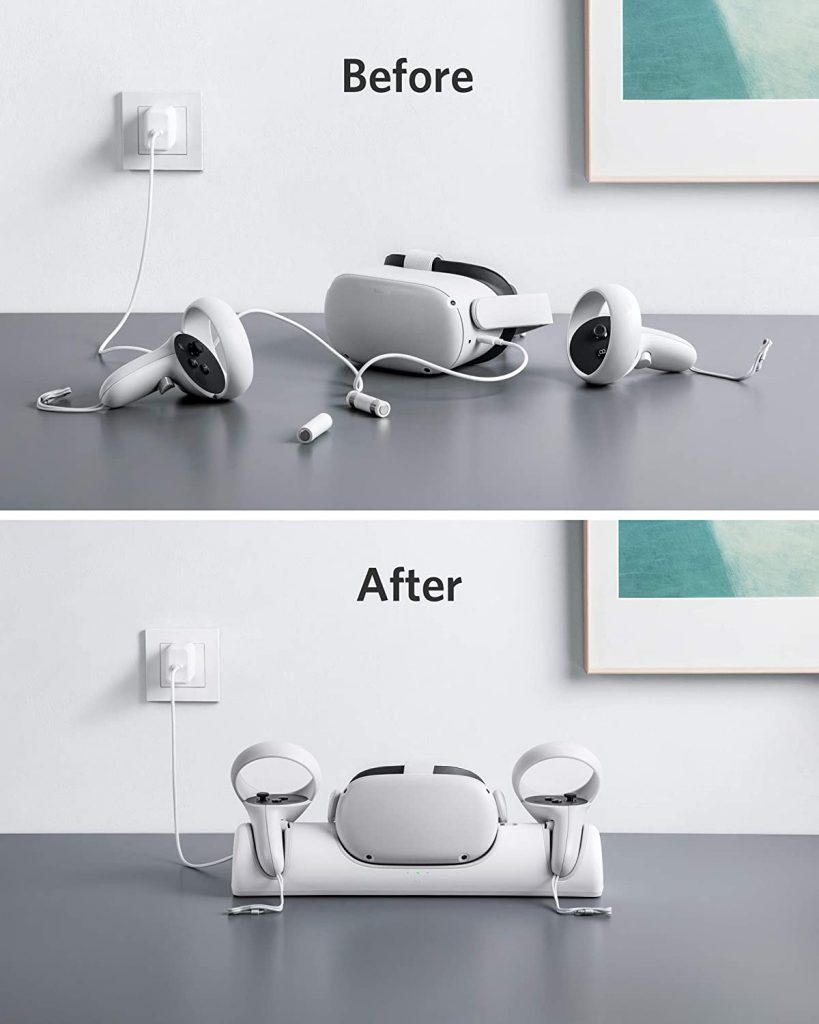 Conclusion
In conclusion, if you have an Meta Quest 2, you should consider buying a charging dock. They're pretty expensive, but they're worth every penny.
Not only will they charge your headset fast when you are done using it, but they also come with a built-in stand that makes it easier to use.
If you picked up any of the docks in our list above, comment below and let us know what you went with.