Are you interested in the Bigscreen VR app for Oculus and Steam?
Do you want to watch movies, television shows, and live TV channels in Bigscreen?
Do you want to play computer games remotely in your VR headset?
Do you want setup and troubleshoot tips for the app?
Then you've come to the right place! Like Virtual Desktop, Bigscreen is a really nice remote desktop application for VR.
Check out our table of contents below and then keep scrolling to learn how to setup and use the Bigscreen VR app.
Latest Update: Bigscreen VR has added dedicated servers to the app and has also increased room sizes from 4 up to 15 people!
Recently, Bigscreen added 172 FREE TV channels that you can stream within the app. When you join a lobby to watch, you can also invite friends into your room and watch together. Scroll down and see some of the channels added below.
What is Bigscreen VR?
Bigscreen VR is a virtual world you can visit alone or with other friends. You can socialize, watch media, and play games inside one of the apps included with Bigscreen.
Some of the biggest uses of Bigscreen are to:
Watch movies, TV, and live TV on-demand in VR
Play PC games remotely in VR
Socialize with friends
Check out live events with virtual friends around the world
You can also meet new friends in the app too, hanging out in lobbies and watching things with 11 other players.
Bigscreen has elements of Virtual Desktop built into it, allowing you to play games remotely. It has a bunch of other social features though so that you can connect with your friends in virtual reality. Our BigScreen VR vs Virtual Desktop comparison guide has all of the details.
What VR headsets does Bigscreen work on?
The follow VR headsets are supported by the app:
Playstation VR and Mac support is coming soon! The app used to support Oculus Go, but that ended following Oculus' decision to drop support for the hardware.
If you want to know how to setup Bigscreen VR with Oculus or SteamVR, check out the instructions below.
How to Setup Bigscreen VR on PC VR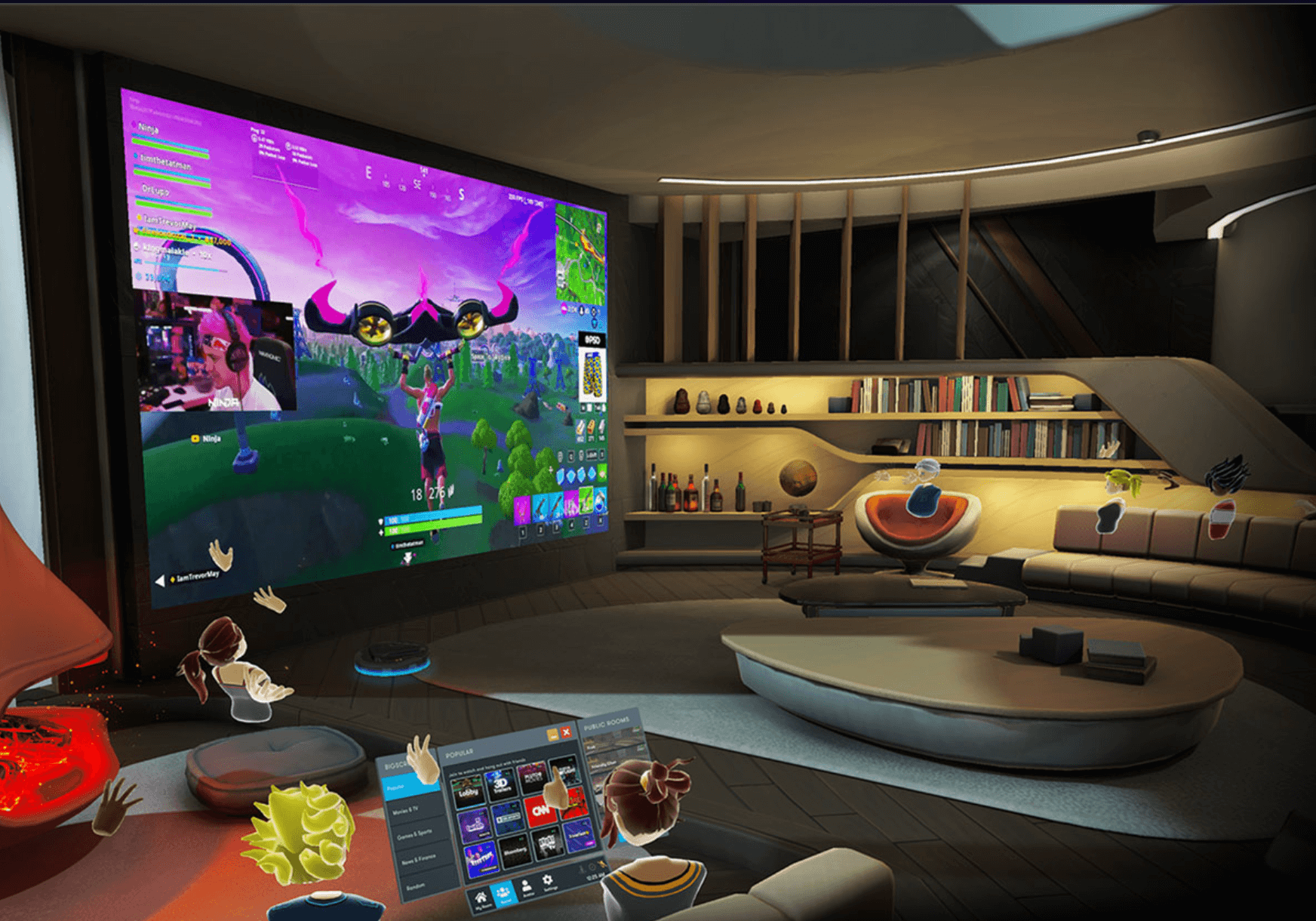 Learn how to install and setup Bigscreen VR to stream movies, television, and IPTV or play computer games remotely in your VR headset. This guide is for PC VR headsets like the Valve Index, HTC Vive, and Oculus Rift S.
Total Time: 10 minutes
Download the Steam or Oculus Store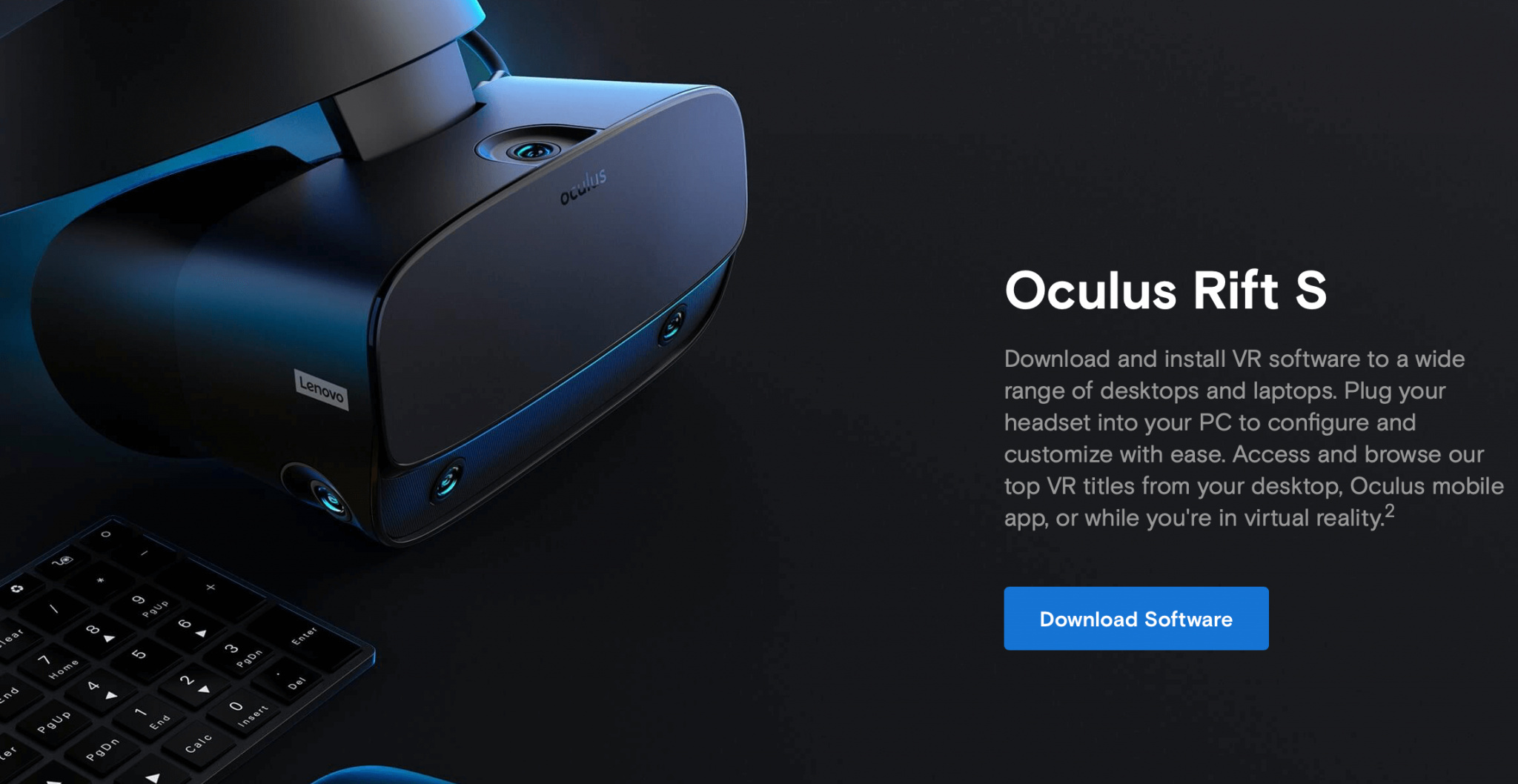 If you don't have it yet, download either the Steam or the Oculus store to your PC and install it.
Install Bigscreen VR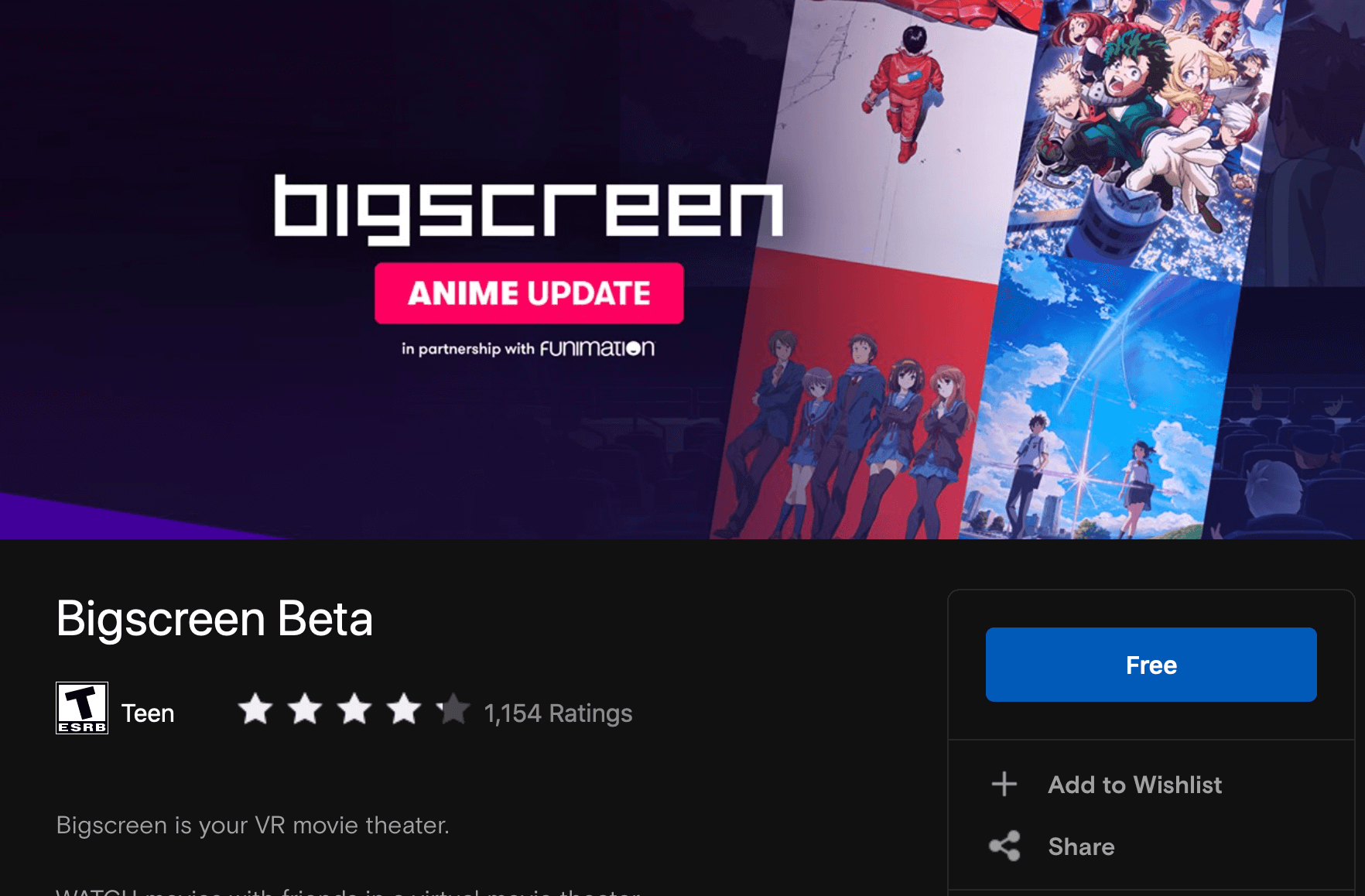 Open up Steam/Oculus and use the search bar to search for Bigscreen VR. Download and install Bigscreen to your library.
Launch Bigscreen from Steam

In Steam, right click on Bigscreen VR. Your two most common options will be to launch in "VR Mode" or to "Play Remote Desktop Streaming Client".
In VR Mode, you join Bigscreen's servers, where you can stream movies and TV shows that are located on the platform. If you want this option, choose it and you can skip the rest of this tutorial!
The remote desktop streaming client let's you stream your PC screen to your headset so that you can play PC games in virtual reality mode.
Select "Play Remote Desktop Streaming Client".
Launch Bigscreen from Oculus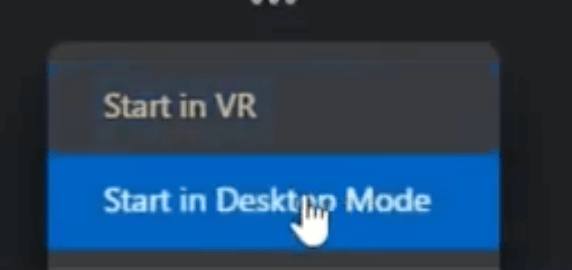 In Oculus, click the three dots beside Bigscreen. You'll see options to "Start in VR" or "Start in Desktop Mode".
Once again, if you start the app in VR mode then you can skip the rest of this tutorial.
To access remote desktop options, choose "Desktop Mode".
Install the Bigscreen VR audio drivers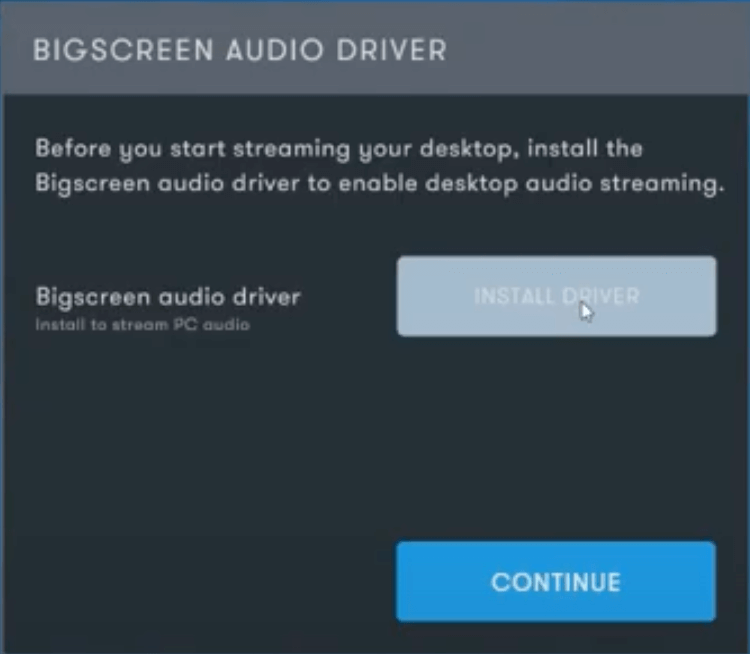 If prompted, click to install the Bigscreen VR Audio Driver.
Launch Bigscreen VR and Choose Remote Desktop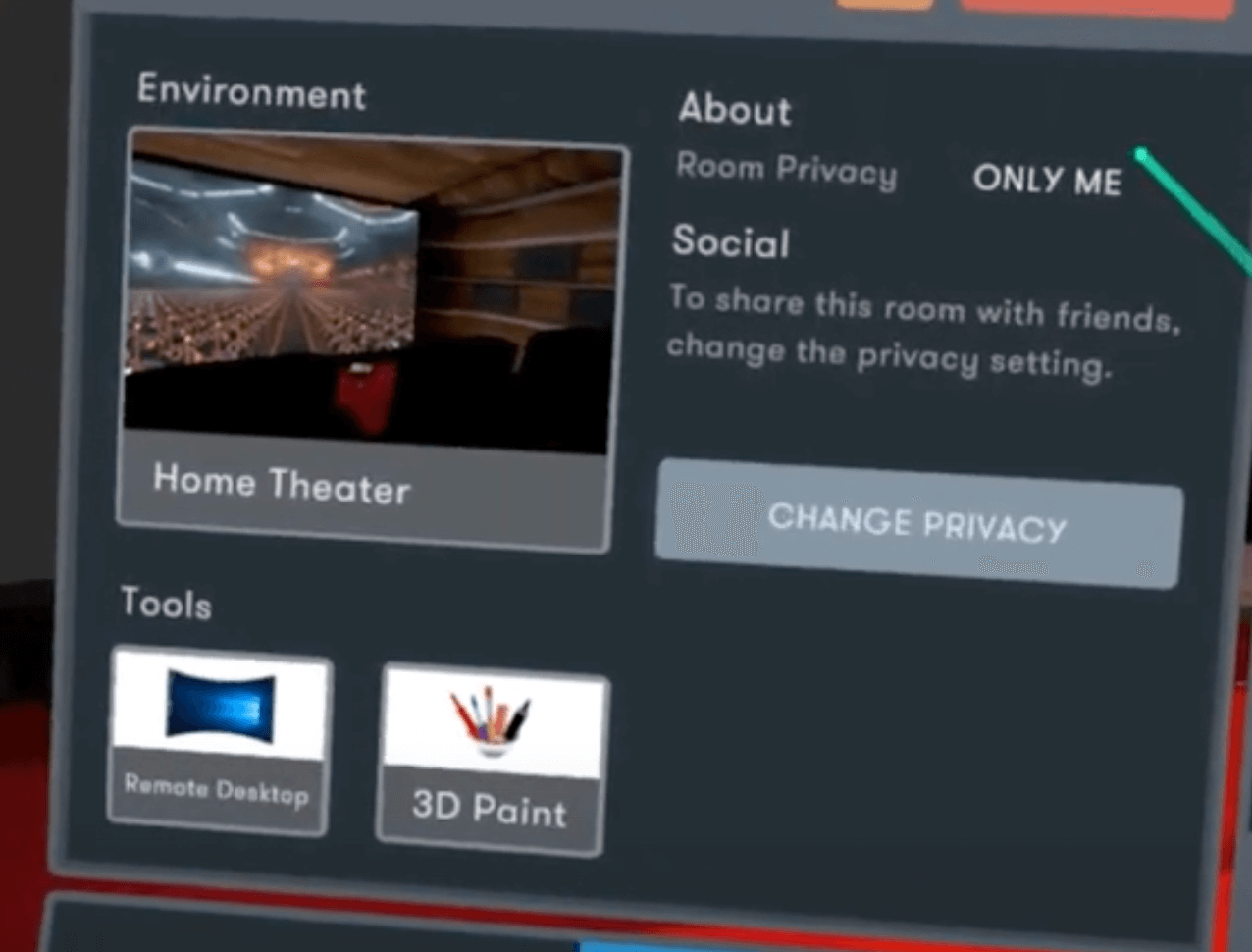 Now, launch the Bigscreen app in your VR headset. If it's your first time, you'll be asked to choose your environment and go through a bit of guided setup. Once you are in your room, select Remote Desktop underneath the Tools heading. Then click on Start.
Sync your VR Headset to Your PC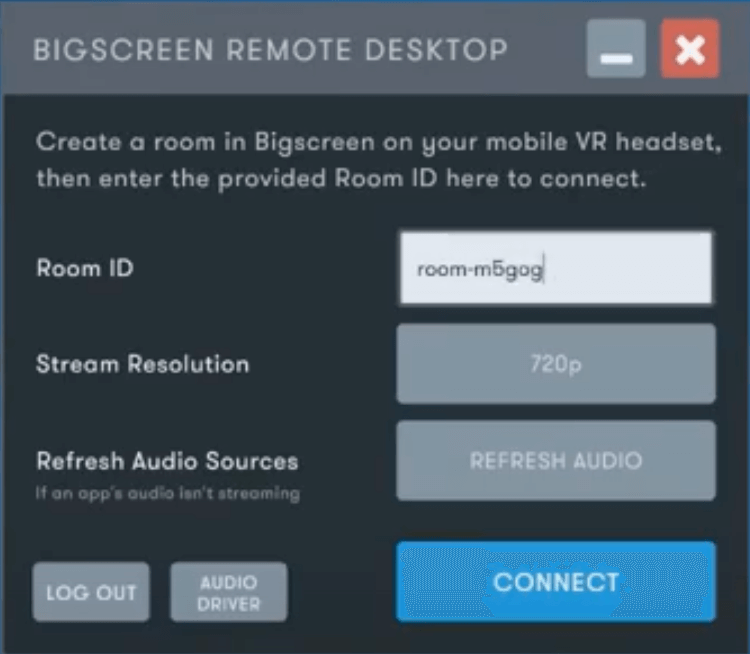 Note your room ID and go back to Bigscreen on your PC and enter in this room ID. Select your stream quality and refresh your audio source before selecting Connect.
If you put back on your headset, your PC screen will now be streaming in your headset! You've completed the basic setup process for Bigscreen.
How to Setup Bigscreen VR on the Oculus Quest
Setting up Bigscreen VR on your Oculus Quest 2 or 1 is even easier. Simply search for Bigscreen in the Oculus app on your phone. When you find it, install it on your headset. You will be able to launch Bigscreen from your apps page alongside your other top Quest games.
Cool Bigscreen VR Features
if you want to try out some cool things in the app, here are some of our favorite things to do in Bigscreen.
Free-to-Watch, Ad-supported Movies
In partnership with PlutoTV, Bigscreen VR now contains free-to-watch, ad-supported movies to watch. You can watch these movies on demand in any of the environments within the app. The free movies on Bigscreen VR so far include:
Adventureland
Arrival
Blair Witch
Clueless
Nacho Libre
Paranormal Activity 4
Seabiscuit
and more!
These free-to-watch movies are available in the United States so far. Licensing for the UK, Canada, and other regions is being worked on.
Drive-in Movie Theater and Other UI Enhancements
New in December 2020, Bigscreen has added a drive-in movie theater feature. This lets you watch movies from an outdoor theater environment. Bigscreen has other new environments planned for the app as well. It also has a new user interface to check out.
172+ Free TV Channels
From within Bigscreen, you can watch over 172 specialized TV channels. These include various shows like:
Rick and Morty
The Eric Andre Show
The Amazing Race
Wheel of Fortune
Robot Chicken
Ghostbusters
There is also a new To Infinity and Beyond category where you can watch live space shuttle events in VR.
You can invite your friends into your show lobby and watch episodes alongside them within the app.
Virtual LAN Party
You can invite your friends into your Bigscreen room while you are playing or watching something. You can chat with your friends live in real time as you play inside of Bigscreen. This means that you can watch movies together at the same time or play games together virtually.
To join your friend's Bigscreen room:
Launch Bigscreen VR.
Click on Join Room.
Enter in the room ID of the room you want to join (you'll need to get this from your friend).
The app now supports 15 friends in a room at a time!
Watch Movies, Television, and Sports with people around the world
The Bigscreen VR team works hard behind the scenes to host on-demand and live events for Bigscreen users around the world. Use your Bigscreen interface in your VR headset to launch movies and TV shows on demand.
Check out Bigscreen's events page to find out when there are one-time live movies screenings happening. You can join these live events and watch with virtual friends around the world.
Recently, Bigscreen partnered with Paramount Pictures to bring over 30 movie titles on-demand into the app.
Green Screen Environment
In November 2020, Big Screen added a new green screen environment to the app, useful for VR streamers and presenters. You can record yourself in front of a green screen background and then edit in your location using PC software later. This is useful for VR live streams and Youtubers. You can see a demo of this feature below.
Remote Desktop (Coming Soon)
Bigscreen has announced that it will include full remote desktop capabilities, similar to the Virtual Desktop app. This is awesome news because it will give users a VD alternative, which is the number one way to play PCVR games from SteamVR.
The feature will have ultra low latency (10-15ms) when streaming to Quest, according to Bigscreen.
Are you having trouble using Bigscreen VR to do anything? Want to know how to work one of the features in the app? Comment down below and we will help you out!