Valve's latest iteration of the Steam Deck is now equipped with an OLED screen. In this blog post, I'll detail every change in the new version and how they'll impact your experience with the device. Some key nuances in the Steam Deck OLED vs LCD comparison aren't immediately obvious!
Whether you're a hardcore gamer or a casual player, understanding these advancements is key to appreciating what the Steam Deck OLED brings to your hands.
So, let's dive in and explore how Valve has raised the bar yet again in handheld gaming.
Related: Check out the best Steam Deck games.
What You Need to Know
On November 9th, 2023, Valve announced a mid-cycle upgrade to the Steam Deck handheld console. The main addition of the new version is a brand new, 7.4″ OLED screen, which replaces the old 7″ LCD version.
However, this upgrade is more than just a simple screen swap. It introduces a range of enhancements that redefine the gaming experience on the go.
The OLED screen brings not only a larger display area but also superior color quality, higher contrast, and faster refresh rates, making every frame of your game more vivid and fluid.
Valve has also taken the chance to redesign the inside of the device, rearranging the internal components.
The new Deck arrives on November 16th and can be purchased on the official Steam Deck website.
What Versions of the Steam Deck are Available Now?
Instead of 64 GB, 256 GB, and 512 GB versions of the LCD Steam Deck, Valve is changing up its lineup.
Available now are the 256 GB version of the LCD Steam Deck and the new 512 GB and 1 TB versions of the OLED Steam Deck.
Any existing LCD stock has been discounted by $90 and will be available until stock runs out.
Steam Deck OLED vs LCD: What Has Changed?
Here's a summary of every single improvement in the new Steam Deck OLED.
OLED Screen
The new Steam Deck features an HDR OLED display, which offers a wider P3 color gamut, pure blacks, and a peak brightness of 1,000 nits compared to the original's 400 nits. The OLED screen also has smaller bezels, making the display larger at 7.4 inches, compared to the original 7-inch screen.
This results in higher contrast colors, a more immersive gaming experience, and support for faster frame rates, topping out at 90Hz refresh rate compared to the original's 60Hz.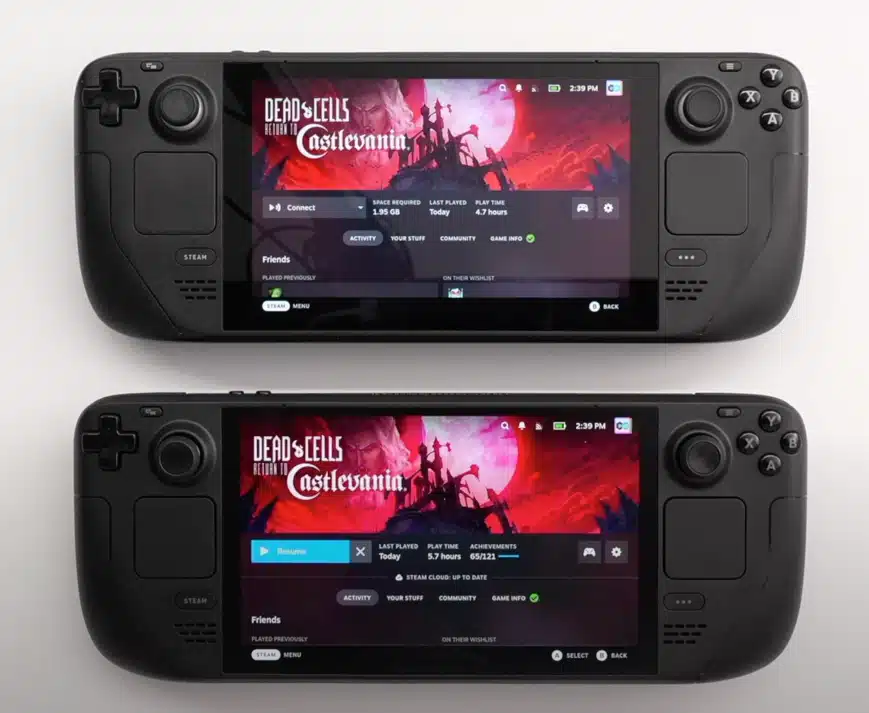 Battery Life
Depending on usage, the OLED model boasts an improved battery life, lasting 30 to 50 percent longer than the first version. It also charges faster, with a claim of going from 20 percent to 80 percent in 45 minutes.
This enhancement offers users a longer playtime and less downtime due to charging.
Custom AMD APU
The device features a die-shrunk version of the custom AMD APU found in the original Steam Deck, making it more efficient. While maintaining the same CPU and GPU, this change allows for a bigger battery and larger fan without increasing the device's overall size.
This ensures consistent performance targets for developers and offers users a more efficient gaming experience.
Design and Ergonomics
Despite being the same size as the original, the OLED model is slightly lighter and has improved design. The thumbsticks on the new model are 1mm taller, with an improved texture that resists discoloration and offers a better grip.
The haptic feedback on the built-in trackpads is also more precise. These changes create a more balanced and comfortable gaming experience, especially during extended play sessions.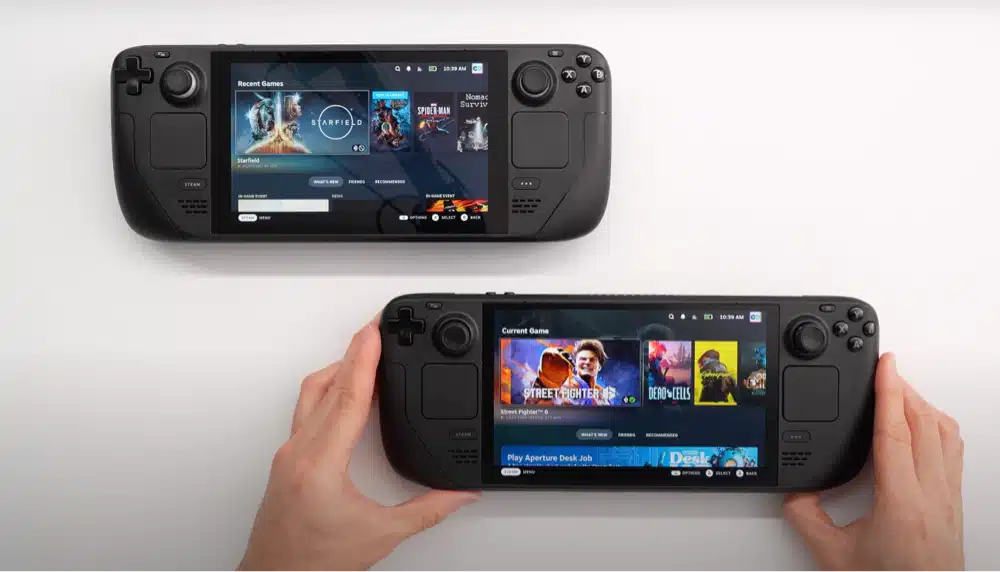 6 nm APU
The new OLED version of the Steam Deck features a 6 nm APU, an upgrade from the 7 nm APU used in the previous model. This reduction in nanometer scale signifies a more advanced manufacturing process, leading to a denser and more efficient chip.
The benefits of this change include improved energy efficiency and potentially better performance, as smaller transistors can switch on and off faster. This translates to a more responsive gaming experience for users, with possibly lower power consumption and less heat generation.
Reduced Weight
The OLED version of the Steam Deck boasts a notable reduction in weight compared to the LCD model. Weighing 30 grams less, this reduction represents approximately a 5% decrease in the device's overall weight.
While 30 grams may seem minor in absolute terms, in handheld gaming devices, every gram counts towards comfort and ergonomics, especially during extended gaming sessions.
This weight reduction is particularly impressive considering the inclusion of additional features like a larger OLED screen and a more substantial battery.
Wi-Fi 6E Upgrade
The Steam Deck OLED version has upgraded its connectivity capabilities by featuring Wi-Fi 6E, a significant improvement over the Wi-Fi 5 in the older LCD versions. Wi-Fi 6E operates in the 6 GHz frequency band, less congested than the 2.4 GHz and 5 GHz bands used by Wi-Fi 5. This upgrade offers several quantitative benefits:
Higher Data Rates: Wi-Fi 6E can provide higher data rates, potentially up to 9.6 Gbps, compared to the maximum of 3.5 Gbps offered by Wi-Fi 5. This results in faster download and upload speeds.

Increased Bandwidth: The additional spectrum in the 6 GHz band allows for wider channels, leading to increased bandwidth. This mainly benefits high-demand applications such as streaming high-resolution games or videos.

Reduced Interference: With less congestion in the 6 GHz band, Wi-Fi 6E experiences less interference from other wireless devices, ensuring a more stable and reliable connection.

Improved Network Efficiency: Wi-Fi 6E also incorporates technologies like OFDMA (Orthogonal Frequency-Division Multiple Access) and MU-MIMO (Multi-User, Multiple Input, Multiple Output), which improve network efficiency and support more devices simultaneously without compromising speed or stability.
1TB Storage Option
The Steam Deck OLED introduces a significant upgrade in storage capacity with the option of a 1TB NVMe SSD, expanding the range of storage options available to users. This is a notable improvement over the previous versions, which offered up to 512GB of storage.
With 1TB of storage, users can store a much larger collection of games directly on the device, reducing the need to manage and shuffle games due to storage constraints constantly.
The new 1 TB option reduces the need to upgrade the SSD in the Steam Deck.
Miscellaneous Button Improvements
Valve has given minor upgrades to almost every button on the device, with a few notable improvements:
Analog sticks have increase grip, along with dust and wear build-up resistance

Shoulder buttons are more responsive

D-pad snap ratio and diagonal interactions are improved

Trackpacks have better fidelity and edge detection, along with improved haptics

Steam Deck OLED vs LCD Comparison Table
Want to see specs of both devices side-by-side? Check it out:
| Specification | OLED Version | LCD Version |
| --- | --- | --- |
| Type | 7.4-inch HDR OLED | 7-inch LCD |
| Resolution | 1280 x 800 | 1280 x 800 |
| Maximum Brightness | 1,000 nits (HDR), 600 nits (SDR) | 400 nites |
| Contrast Ratio | > 1,000,000 : 1 | Not specified |
| Refresh Rate | Up to 90Hz | 60Hz |
| Technology | 6 nm AMD APU | 7 nm AMD APU |
| CPU | Zen 2 4c/8t, 2.4-3.5GHz | Zen 2 4c/8t, 2.4-3.5GHz |
| GPU | 8 RDNA 2 CUs, 1.6GHz | 8 RDNA 2 CUs, 1.6GHz |
| RAM | 16 GB LPDDR5 | 16 GB LPDDR5 |
| Storage | 256 GB (LCD), 512 GB, 1TB NVMe SSD | 64GB*, 256GB, 512GB* NVMe SSD |
| Bluetooth | Bluetooth 5.3 | Bluetooth 5.0 |
| Wi-Fi | Tri-band Wi-Fi 6E | Wi-Fi 5 |
| Battery | 50Whr (3-12 hours) | 40Whr (2-8 hours) |
| Size | 298mm x 117mm x 49mm | 298mm x 117mm x 49mm |
| Weight | 640 grams | 669 grams |
Is the New Steam Deck OLED Worth It?
Yes, the new version is completely worth it compared to the Steam Deck LCD. For the same price, you can get the 512 GB version with all the new features I mentioned above.
For those with a big game library and are worried about storage, the new Deck 1 TB version can hold a TON of game!
If you are still on the fence and need more information, comment below and let us know!