We've been testing all of the best Steam Deck power banks to figure out which battery pack gives you the best power delivery for extended gaming sessions.
While the design and functionality of the best power banks are very similar, there are some special features that might be more useful to you, such as the Charmast being super slim, the Anktank being magnetic, or the Krisdonia offering over 60,000-mah of capacity.
A battery pack is key for extended gaming sessions on some of the best Steam Deck games.
If you have a favorite bank for Steam Deck you use, comment down below and let us know.
What are the Best Steam Deck Power Banks?
Key Steam Deck Battery Bank Considerations
These are the top four things to consider before buying power banks for your Steam Deck:
Output Power
The output power or power draw of a power bank is an important consideration when buying one for your Steam Deck. Steam Deck usually takes up to 45 watts of power when plugged into a power bank.
If your source doesn't provide that much output, your Deck continue to loose battery life even while it is plugged in. This is especially true if you playing games while you charge.
Airplane Limits
If you're an avid traveler, you must consider the legal limit of the power bank you intend to buy. Most airlines have a maximum legal limit of 100-watt-hour or 27,000 milliamps for portable power bank.
If your portable charger is above this limit, you cannot take it on an airplane.
Advertised vs Actual Capacity
One other important thing to consider when buying a power bank for your Deck is the advertised capacity in milliamps hours. The advertised capacity is different from the true power that the power bank outputs to the Steam Deck due to resistance and energy lost in the form of heat.
The true output power depends on your operating voltage.
For instance, if you buy a power bank rated 20,000mAh and your operating voltage is 14.8V, the power bank will only output 5000mAh. Similarly, a 20,000mAh power bank will output 12,000mAh at 5V.
The higher the operating voltage, the lower the output power.
Size and Shape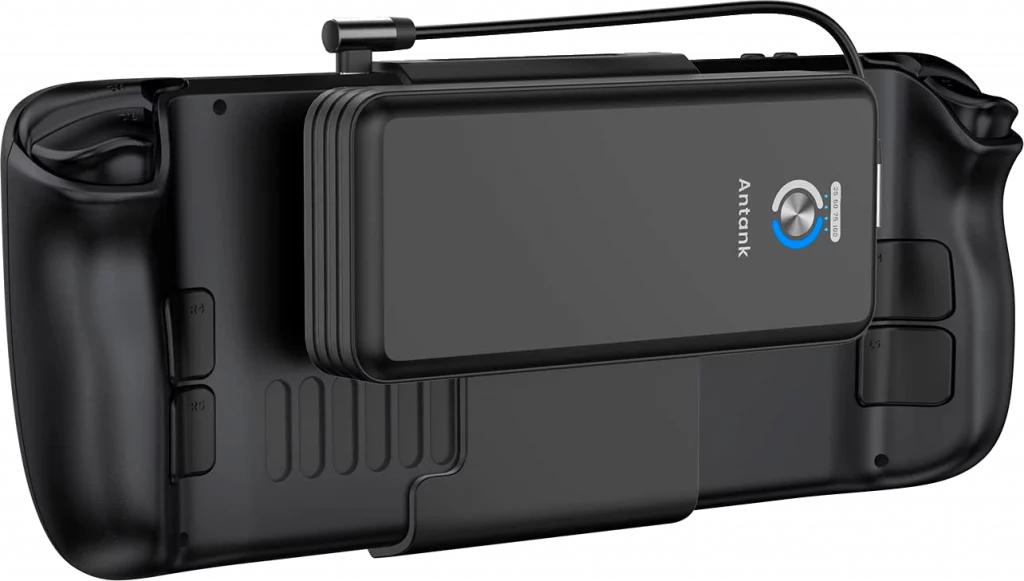 If you plan on charging up your Deck while you continue to play, then the size and the shape of your power bank becomes a big factor. If you are playing, you'll want something with a long cord so that it can sit off to the side or else something thin and easy to hold in place while you hold the Deck.
If this sounds like a big deal to you, make sure to check out the Anktank power bank below, which is made with a magnetic attachment for the back of your Deck.
Let's go into all of our top power banks in more detail now.
Charmast USB-C Power Bank Review
The Charmast USB-C Power Bank can charge your Steam Deck 5 times faster than standard portable chargers. Plus, it gives your Deck multiple extra charges before you need to use the stock power supply.
It takes approximately 9 hours to recharge this bank fully. The package comes with one USB-A to USB-C cable and one micro USB cable. The Charmast will output 2,000mAh when charging your Deck. The power bank has a little sleeve that can hold it in place and comes with all the ports you can ever imagine (3 input and 4 output ports).
The Charmast USB-C Power Bank is also equipped with 4 LED Indicators to show you the remaining power in this format (0–25%–50%–75%–100%). It is plane-allowed and portable enough to slide into your backpack easily.
This power supply has intelligent safety protection that protects your Steam Deck against overheating, excessive current flow, and overcharging. This power bank will automatically turn off after 30 seconds of not charging your Deck.
Sale
Charmast USB C Power Bank, 26800mAh Portable Charger USB C, Slim Thin 3A High-Speed Battery Pack Type C with 3 Input & 4 Output Compatible with iPhone, iPad, Samsung, Pixel More
🔋【High Capacity Slim Portable Power Bank】: 26800mAh huge capacity can charge your iPhone 13 5 times, iPad mini 3 times, Samsung Galaxy 4 times, and it takes only 9 hours to fully recharge. Keep your phone always on without using up all your USB wall charger outlets. Great battery pack for your family and friends, camping, hiking, and traveling.
🔋【High-Speed Charging】: 25% charging speed faster compared to similar versions on the market. 4 smart USB outputs get the fastest charging by intelligently detecting and regulating the charging current. Provides a total 5.4A output to charge up to 4 devices simultaneously with Charmast battery pack. The versatile USB-C port supports fast input and output. Long-lasting portable charger for iPhone, iPad, Samsung Pixel More
🔋【Compact Battery Pack】: The weight of this power bank is around 11.9 ounces, which is just a bit heavy, but the weight matches the actual capacity of 26,800mAh.Thanks to an advanced slim profile that is only 0.6 inches thick, which makes for a comfortable grip, the fully rubberized cover lets you enjoy a nice touch and protects your device from scratches or drops. A must-have battery pack for cell phones.
Baseus 100w Power Bank Review
The Baseus 100w Power Bank comes with a rated capacity of 20,000 Milliamp Hours and delivers a fasat 100W to your Steam Deck during charging. It can charge your Deck from 0% up to 100% in less than 90 minutes with a USB-A to C cable. You can reduce the charging time to just over an hour using the included USB-C to C cable.
The Baseus power bank is very slim, like the size of a pen. The thickness is less than one inch, making it easy to slide into your backpack when traveling. There is padding on all four sides to prevent the power bank from rubbing against rough surfaces or shifting around.
This portable power bank comes with a LED status display so you can easily track charging time and speed and the remaining battery when you disconnect your Deck. The orange lightning icon means the power bank is in fast charge mode. It houses 2 USB-C ports and 2 fast charging USB-A ports.
The BPSⅡ-powered built-in chip keeps your Steam Deck safe from short circuits, overheating, and overcharging.
Sale
Baseus Laptop Power Bank, 100W Blade USB C Portable Laptop Charger, Super Fast Charging 20000mAh Slim Battery Pack for Laptop, MacBook Air, Dell, IPad, HP, iPhone, Samsung Galaxy, Switch and More
【100W Power Delivery】Crafted with 2 PD USB-C ports certified for PD 3.0 and PPS with a power output going up to 100W, allowing you to fast charge your MacBook Pro 16-inch up to 36% in only 30 minutes (Note: This power bank can only charge the MacBook 0.58 times). Meanwhile, cut the recharge time down to 1.2hrs with the included USB-C to C cable and a 65W USB-C PD wall charger(not included).
【Thin Lightweight Design】This portable charger power bank only 0.7-inch ultra-slim finish, thinner than a laptop to easily slide in your bag and hit the road; the 4 paddings keep it from shifting around or rubbing against rough surfaces.
【Two-way Fast Charging】Baseus 100W laptop power bank houses 2 USB-C ports supporting 100W output and 65W input, plus 2 fast charging USB-A ports compatible with laptops, smartphones, and all low to high-power portable devices.
Baseus 65w Power Bank Review
The Baseus 65w Power Bank is the slightly weaker brother of the 100-watt version above. If you are fine charging your Deck when you aren't playing, then you can save some money for this good quality bank.
This Baseus bank can charge your Steam Deck from 0% to full in less than 2 hours using the included USB-C cable. It supports all fast charge protocols using PD technology. The body is made of aluminum, which helps to dissipate heat during the charging process. It has an overcharge protection system to protect your Deck from overcharging.
This 20,000 Milliamp Hours power bank only delivers 65W when charging your Deck. It has a digital percentage gauge that shows the remaining battery. The body is 20% thinner compared to a traditional 20,000mAh power bank. It has a wide range of ports, including one 65W PD USB-C port and two 30W QC USB-A ports to charge more than one device simultaneously.
Sale
Anker 737 Power Bank Review
The Anker 737 is the most popular high capacity power bank available today. It charges up to 3 devices simultaneously, including your Steam Deck.
The 737 features a 24,000mAh battery that can juice your Steam Deck 7 times faster than a standard portable charger using the included 140W USB-C to USB-C cable. It measures 6.13 x 2.14 x 1.95 inches in size and will easily slide into your backpack when you are on the go. The Anker 737 Power Bank provides real-time protection to protect your Steam Deck against overheating and overcharging.
The Easy-to-read digital display gives the Anker some extra features to help you out. You can see the remaining battery life, input, and output power. One of the reasons I think this is a best power bank is because it gives you the estimated time for the bank to recharge fully.
Sale
Anker Power Bank, 24K 3-Port Portable Charger with 140W Output, Smart Digital Display, Compatible with iPhone 15/15 Plus/15 Pro/15 Pro Max, iPhone 14/13 Series, Samsung, MacBook, Dell, AirPods
Ultra-Powerful Two-Way Charging: Equipped with the latest Power Delivery 3.1 and bi-directional technology to quickly recharge the portable charger or get a 140W ultra-powerful charge. (Note: This power bank does not support wireless recharge using a charging base)
Smart Digital Display: Easy-to-read digital display shows the output and input power and estimated time for the portable charger to fully recharge.
High Capacity: Featuring a 24,000mAh battery capacity, juice up an Iphone 13 almost 5 times or a 2021 Ipad Pro 12.9" 1.3 times.
Anktank Magnetic Power Bank Review
The Anktank Magnetic Power Bank is specifically designed for the Steam Deck. It is the first power bank for the Deck on the market that attaches perfectly to the console. It has a detachable magnetic back mount that keeps it secure on the back of your gaming console.
You can move around with your Deck and be active without worrying about the battery falling off. The design will not block the vent on your Steam Deck either.
This impressive power bank delivers up to 45W to your Deck during charging from the builr-in 16000 mAh battery bank. This is a little less charging power than others on this list, but the integration with your Steam Deck means that you'll forget its there.
The Anktank can charge your Deck from 0% to full in 90 minutes, just like the original Steam Deck charger. The package includes a long 3.2FT USB-C cable, a short right-angle USB-C cable, and a back mount clip. Plus, it has a power status indicator and is equipped with over-voltage, over-discharge, overcurrent, overheat, and short-circuit protection.
Antank Magnetic Power Bank Compatible with Steam Deck, 16000mAh 45W PD Fast 3.0 Charging Portable Battery Bank, External Battery Pack with Removable Magnetic Back Mount & Dual USB-C Cable
[NO Magnetic Interference] First 45W 16000 mAh Attached Power Bank Specifically Designed Only for STEAM DECK. With Detachable Magnetic Back Mount, it keeps the bank securely on the back of Steam Deck. Free your hand from holding the battery. Now we have solved problems of Delta fan incompatibility & interference. Compatible with both Huaying and delta fans of steam deck.
[Magnetic Detechable Back Mount Design] Built-in high-quality magnets to lets you easy slide to detach or lock for charging. First power bank that attached prefectly on the steam deck. Forget about the mess-up cable, and never need to hold the power bank any more. This power bank will not fall even you shake your Steam Deck vigorously. Note: This battery is magnetically attached and charged with a USB-C Cable, and is not compatible with protective case.
[16000mAh 45W PD Fast Charge Battery Pack] The maximum power accepted by SteamDeck is 45W and it's unable to reach 65W of charging power. This portable battery pack can charge your device just like the original steam deck charger. Built-in 16000mAh rechargeable battery can power your Steam Deck 0% to full with 1 times.
imuto 100w Power Bank Review
If you are traveling and wondering where and how to charge your Steam Deck when the battery runs low, check out the imuto 100w Power Bank. This power bank outputs up to 100W, which is really fast charging speed. This power allows you to charge your Steam Deck from empty to 36% in less than 30 minutes.
The imuto has an easy-to-read digital display that shows the remaining battery percentage and the input and output power when recharging the power bank itself.
This portable charger can charge up to 4 devices simultaneously without sacrificing power. It has several charging ports, including a 60W USB-C port, 15W and 18W USB ports, and a USB-C output port. The built-in 9-fold protection system can protect your Steam Deck from overcharging and overcurrent.
Sale
imuto Portable Charger for Steam Deck, 26800mAh 100W PD USB C Power Bank, Super Fast External Battery Bank with Smart Digital Display Compatible with Laptop,MacBook,Samsung,iPad,iPhone,Switch More
【A Great Gift】 It looks like a small CONTAINER. It is equipped with a beautiful PD 100W fast charging USB-C line. The line has the woven nylon coverage and reinforced anti-fracture head. Design TOP-class Packaging and build quality.This is a good gift idea!
【Recharges 8X faster】The device charges at 100 watts and discharges at 100 watts! full recharge the power bank in only 1.5h with a imuto 90W wall charger (charger non included).
【100W Higher Power】Suitable for gaming laptops, faster and more efficient than 65W. 30 minutes for MacBook Pro 16-inch 2023 (latest), macbook air(M2), iphone 14 pro/Max, Samsung S23/Ultra, two steam desks, charging more than 50%
Krisdonia 60000mah Power Bank (Premium Option)
The Krisdonia 60000mah Power Bank is the perfect power source or emergency backup for your Steam Deck. It is constructed with Lithium-ion Polymer battery cells and has a robust protection system to protect your Steam Deck against overheating, overcurrent, overcharging, and over-voltage.
This power bank's capacity is the largest on this list – 60,000mAh. It has enough battery capacity that you can charge your Steam Deck alongside other devices while the bank recharges itself.
This portable charger has four ports: an AC outlet, one USB-C output port, and two USB-A output ports. The AC outlet provides up to 130W power output for any 110V home appliances. It has a built-in bright LED digital display that shows the remaining power and reminds you when to recharge the power bank.
Krisdonia AC Outlet Portable Charger 60000mAh 110V/130W Laptop Power Bank with AC Outlet, 2 USB QC 3.0 and Type-C for Laptop, CPAP, Drone, Projector, Smartphone and Others
【AC Outlet Portable Charger】: 110V/130W (max). AC outlet provides a good solution to AC power supply. Compatible with a wide variety of laptops, phones,TVs, printers, fans, lamps, mini fridges and other AC plug devices ( less than 130W ). 2 x 18W QC 3.0 USB-A ports for USB devices and 1 x 20W TYPE C port for Nintendo Switch, iPad.
【High Capacity with Compact Size】: 60000mAh/222Wh with size 22x15x4cm and weight 1.8kg, Krisdonia AC power bank is your ideal power supply for camping or emergency backup.
【PASS THROUGH】: You can charge the power bank while the devices ( laptop / smartphone) are connecting to it. The function is activated by pressing the button for 2 seconds while the power bank is recharging itself.
Frequently Asked Questions (FAQs)
Do power banks work with the Steam Deck?
Yes, a good quality power bank can give you extra charges on your Steam Deck and even charge the device while you play. You want to make sure that you buy a bank that supplies at least 45-watts of power.
How many mAh does it take to charge a Steam Deck?
The Steam Deck has a 5,313 mAh battery inside of it, so a 10,000 mAh power bank will get you just under two additional charges.
What is the maximum power output you can give the Steam Deck?
There is no maximum power output that you need to worry about when you buy a power bank for the Steam Deck. The Deck will only pull the amount of power that it needs.