Below, I've compiled the best Steam Deck games you can play on the handheld console. These games are optimized for the Steam Deck's display and specs to run at full speed and high quality.
For each of the best games below, I'll tell you exactly why it's perfect for the Steam deck's smaller screen. This is the only guide that new Steam Deck owners need.
Want some underrated Deck games to try? Dave the Diver, Spider-Man, and Vampire Survivors are perfect to buy and try out.
What are the Best Steam Deck Games?
Below, I'll go over all of these Steam Deck games in full detail. Tip: Around Christmas, you can get a lot of Black Friday Steam Deck deals on these games.
Dave the Diver
Best Steam Deck Game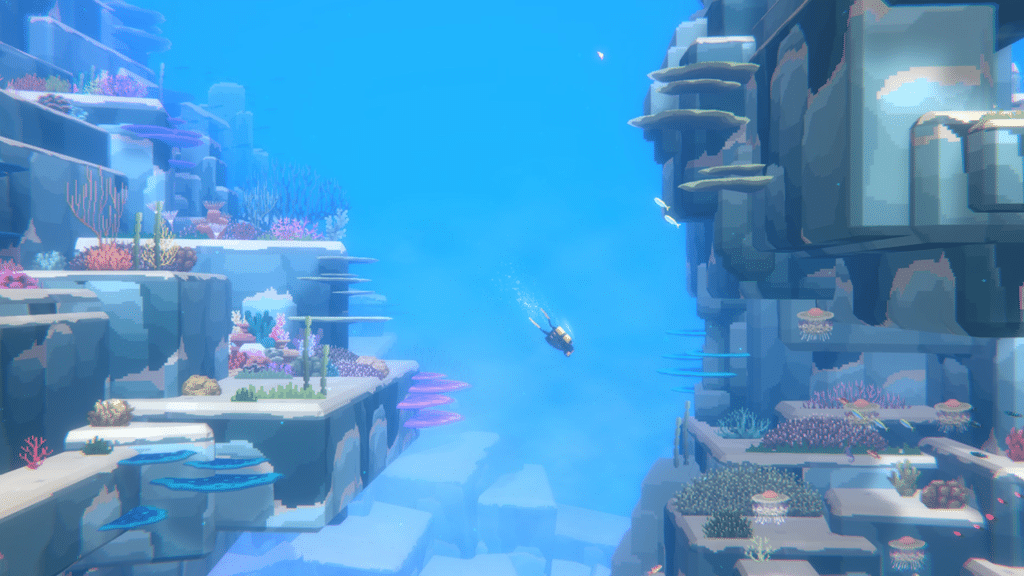 Dave the Diver is a brand new 2023 release and it is the game that the Steam Deck has been waiting for. The game mechanics in Dave the Diver combine aspects from over 20 different titles and the game is a mix of simulation, RPG, action, adventure, and strategy.
In the game you control Dave, an overweight diver by day. You have to explore the depths of the water in the bay and catch as many fish and special objects as possible.
At night, the game turns into a restaurant action game. You have to serve sushi to your customers as fast as possible while balancing a menu and ensuring you don't run out of ingredients. Dave the Diver is easy to play but hard to master. And the storyline is much more complex to unpack than you originally thought.
Marvel's Spider-Man Remastered
Best Steam Deck Superhero Game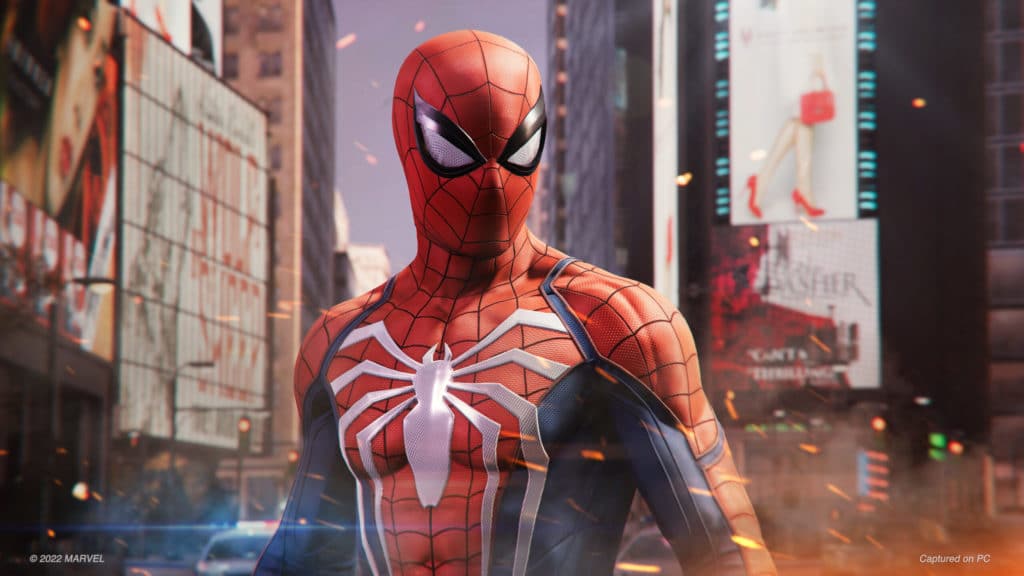 Spider-Man Remastered is an action-packed adventure game that has you playing Peter Parker, otherwise known as Spider-Man. You must swing throughout New York City, fighting crime and villains while balancing a chaotic personal life. This game is based on the original PlayStation release and the PC port has been remastered and optimized for the Steam Deck.
Something about swinging through New York City as Spider-Man is extremely satisfying and this one of my favorite Steam Deck games ever. There are a few ways to maximize the game's performance through the Steam Deck. I did notice a few times that the frames were dropped but outside of that, the game works great.
The missions in this game are fantastic and take little time to complete, most being less than 20 minutes. This allows you to pick up and play right away wherever you are. If you were a fan of the original Spider-Man games on PlayStation, I highly recommend checking out this one for nostalgia!
Elden Ring
Best New Open-World RPG Game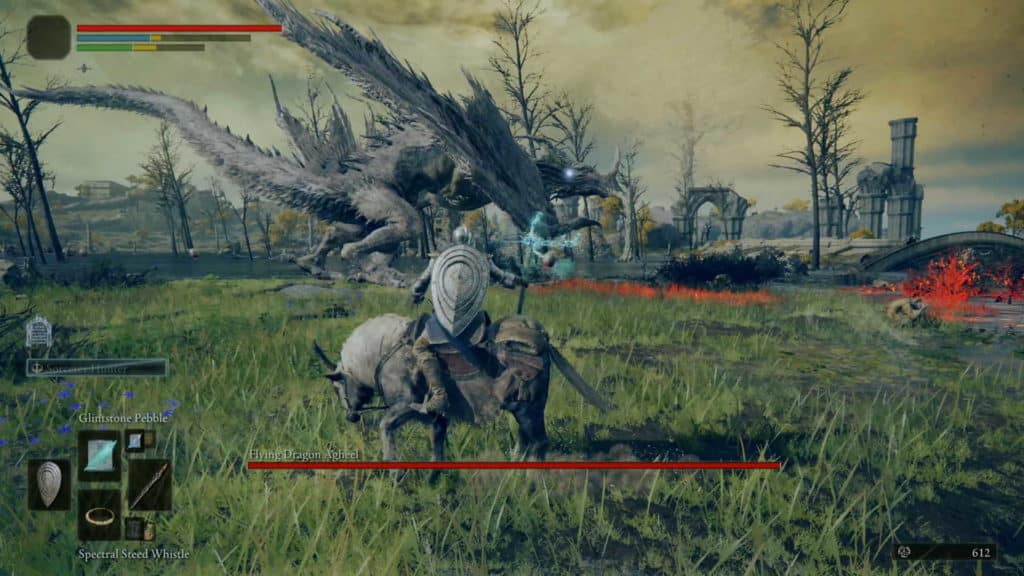 Elden Ring is an action-packed RPG that has users roam its massive open world and try to become the Elden Lord. Along the way, you'll have to complete objectives, craft objects, winn combats, and more. Famous writer George R. R. Martin created the world, and the game has won many awards.
The game has you playing in a third-person perspective. It takes different elements from other open-world games and allows you to roam freely between the Lands Between and six other main areas. Each main area has a demigod you will encounter and have to battle to continue your journey.
The player you choose at the start of the game will affect what kind of attributes, equipment, and starting spells you will start with. As you progress through the game, you will be able to craft different materials to help you progress.
The game has full controller support on the Steam Deck. One of the cooler features is the suspend mode, which allows you to stop playing the game on a whim whenever you want. When you want to play again, it picks up where you started. For a AAA game, Elden Ring runs surprisingly well on the Deck. If these types of games interest you, I highly recommend trying it out.
Stray
Most Unique Open-World Game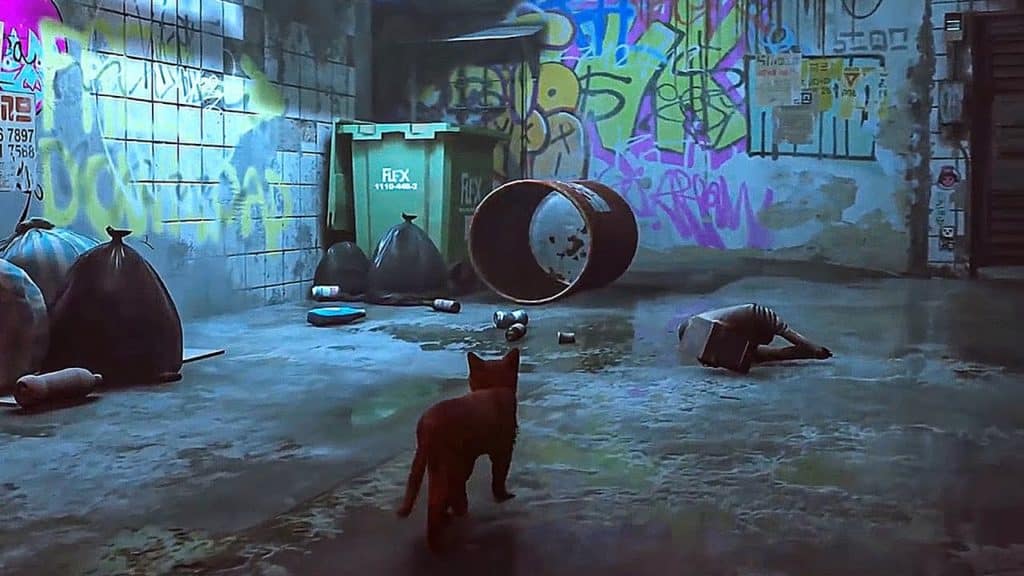 Stray is currently one of the most exciting Steam Deck games available today. It is an adventure-packed game that has you in the third-person view of a stray cat. Lost and by yourself in a massive cyber-city, you must roam through your surroundings and solve different mysteries that come about.
The game has you looking through the eyes of a cat. You eventually befriend a flying drone that will help you in your journey of defending against different threats and solving those mysteries.
Stray is simple to pick up and play and works flawlessly on the Deck. It has full controller support, which is great because there aren't many controls you need to learn. That game sounds ridiculous initially, but I highly recommend checking it out.
God of War
Best Steam Deck Fighting Games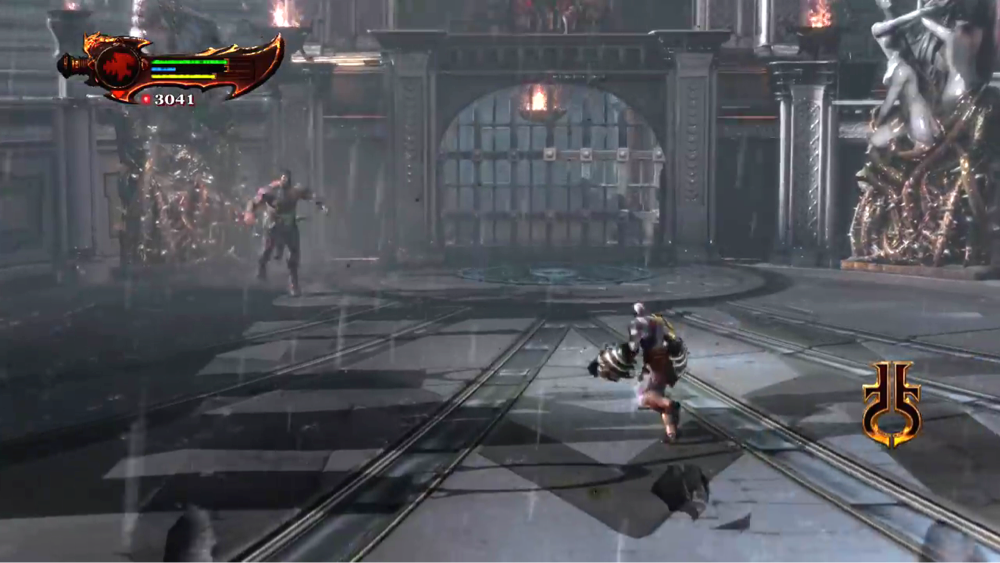 God of War is one of the most popular video games of all time and now brings itself to the Steam Deck. God of War follows Kratos, a Greek God who now has a son to take care of. As Kratos is now a mentor to his son, he must learn to limit the rage and anger that had long defined him when he fought against the Gods of Olympus.
God of War provides an over-the-shoulder, third-person view following Kratos around. You will face many new creatures along the way as you protect your son Atreus. The world is a mix of forests, caves, and mountains. The graphics are phenomenal, even on the Deck.
The Steam Deck offers full control customization. It has full support for controllers but also allows you to customize bindings for the mouse and keyboard and fine-tune the gamepad to your liking.
Vampire Survivors
Best Steam Deck Roguelite Game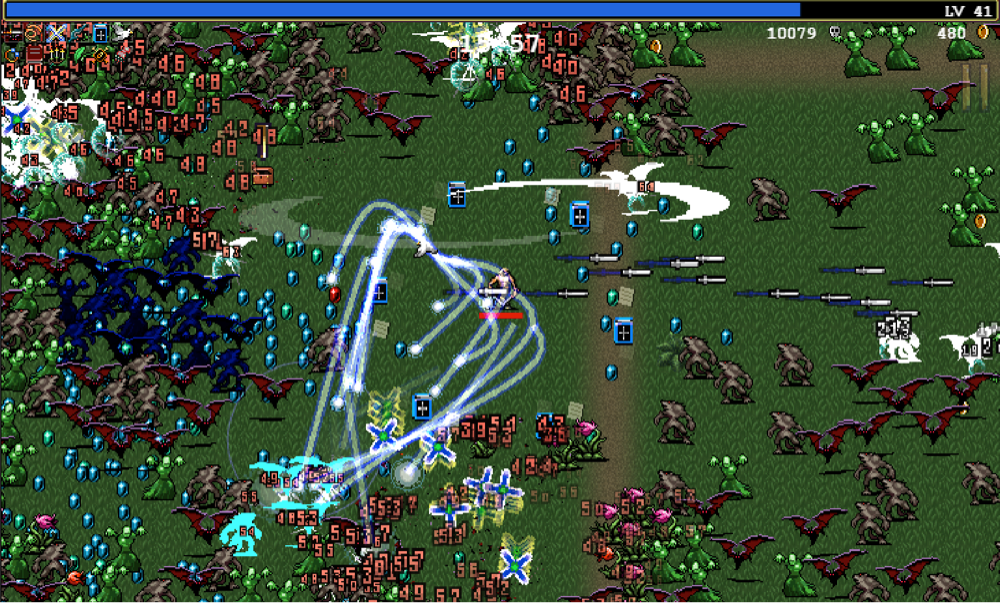 Vampire Survivors is a simple, time-survival game available on the Steam Deck. The game is considered an Action, RPG-type game, and as you move around the map, you gain experience and level up. Vampire Survivors is a one-input game that has you moving and shooting simultaneously. The goal is to take down the hordes of enemies trying to kill you.
As you kill enemies, earn experience, and level up, you earn different unlocks and upgrades that will ultimately help you get further in the game. Vampire Survivors only requires you to use one joystick to move. The one-button control scheme makes it a perfect pick-up-and-play game, and you won't waste time configuring buttons.
Although the game sounds simple, a bit of strategy is involved. Each weapon has a different timer and cool-down period. As you constantly move and shoot, you must choose your weapons wisely. You can't go wrong with Vampire Survivors for the number of features built into this game at such a low price. It just recently exited Early Access and into final release.
Persona 5 Royal
Best Steam Deck JRPG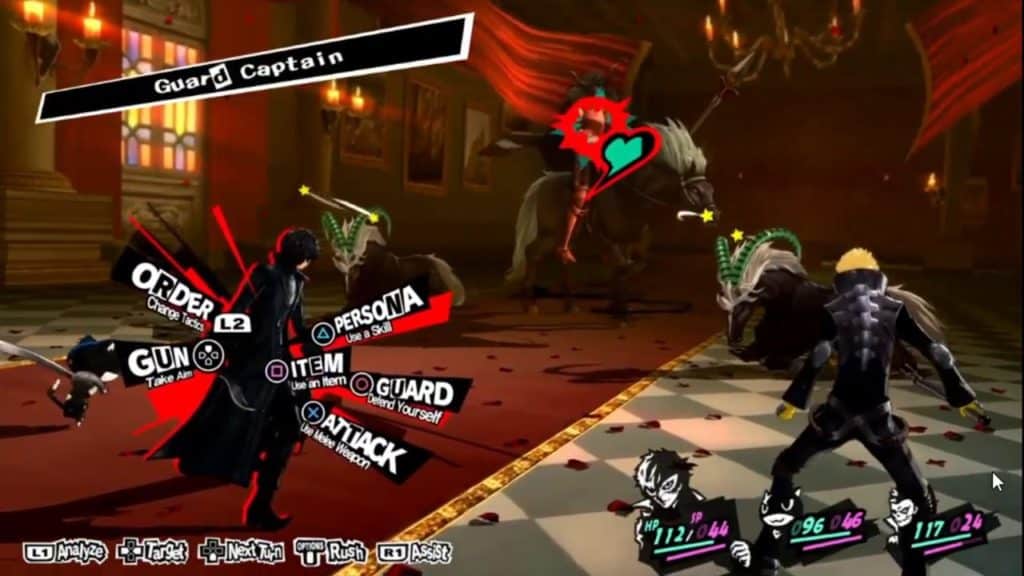 Persona 5 Royal is a massive JRPG game set in the real-life city of Tokyo. The game is an enhanced re-release of the popular Persona 5 game that came out in 2019.
Persona 5 has you playing the role of a male high school student whose codename is the Joker. You go throughout each day and night as you would in real life, completing different events and objectives. You eventually meet a group of friends who can all change to another "Persona" in the Metaverse, where you battle enemies and try to raise your personality stat.
The amount of time that you can pour into this game is incredible. When not battling, you still have to hang out and try to make new friends while completing your schooling. Persona 5 Royal has full controller support, meaning you can map the buttons of your Steam Deck as if it were being played on a console.
I want to note that Persona 5 Royal looks stunning on the Steam Deck. It runs at a consistent 60 frames per second, and the visuals are great. The transitions between the different scenes and menus are unique.
Forza Horizon 5
Best Steam Deck Racing Game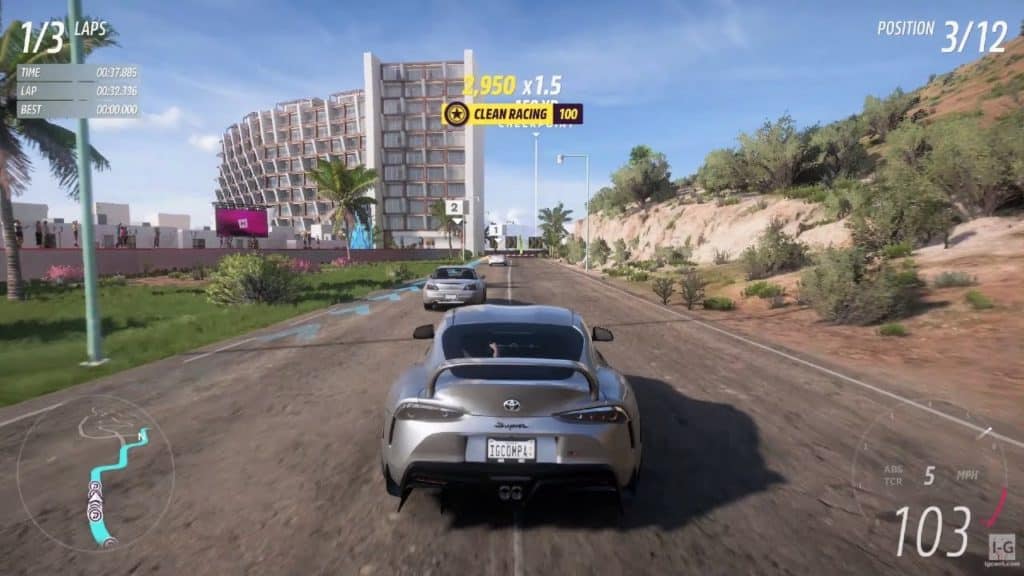 Forza Horizon 5 is a massive open-world, racing simulation Steam Deck game. If you are a fan of racing games, you will enjoy Forza. As it is an open-world concept game, you can roam through the colorful world with your vehicle, completing objectives and trying to win different races.
The campaign is very deep and has hundreds of missions for you to try and complete. The game features over 600 licensed vehicles, and with many single-player and multiplayer game modes, you will not have a lack of things to complete.
The neat thing about Forza is that there are many different packs and add-ons for you to enjoy. This will allow you access to various vehicles and more.
This game is easy to pick up and play on the Steam Deck. It may stutter a bit due to the size of the map and graphics, but with a few adjustments will play flawlessly.
Outer Wilds
Best Puzzle Game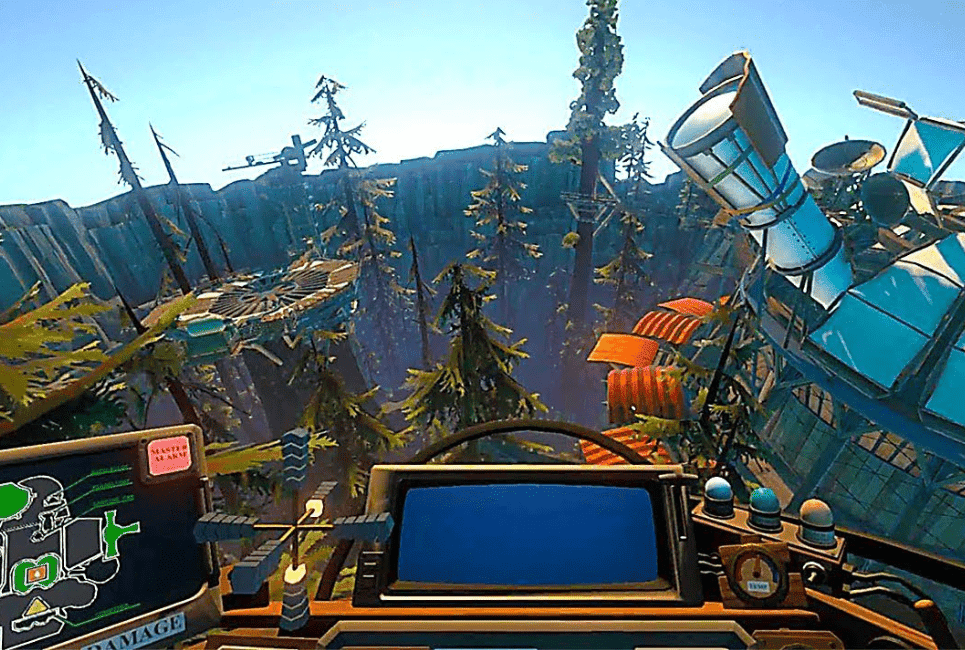 Outer Wilds is an action-adventure game that puts you as the main character exploring a solar system currently stuck in a 22-minute time loop. The object of the game is to explore the solar system and try to uncover clues and secrets as to why the time loop happened. If you can complete it before the 22 minutes is up, the star will not explode.
This game is interesting because many different logic puzzles can be solved by exploring the planet and learning about the race that inhabited it before its destruction. You are given health, fuel, and oxygen meters which can be replenished by returning to your ship or finding trees or refills.
If you cannot solve why the star exploded at the end of 22 minutes, you will die and respawn back at the start allowing you to try again. This game runs flawlessly on the Steam Deck and is very simple to pick up and play. If you want a great game that uses the brain, I recommend checking out Outer Wilds!
Hades
Best Hack-and-Slack RPG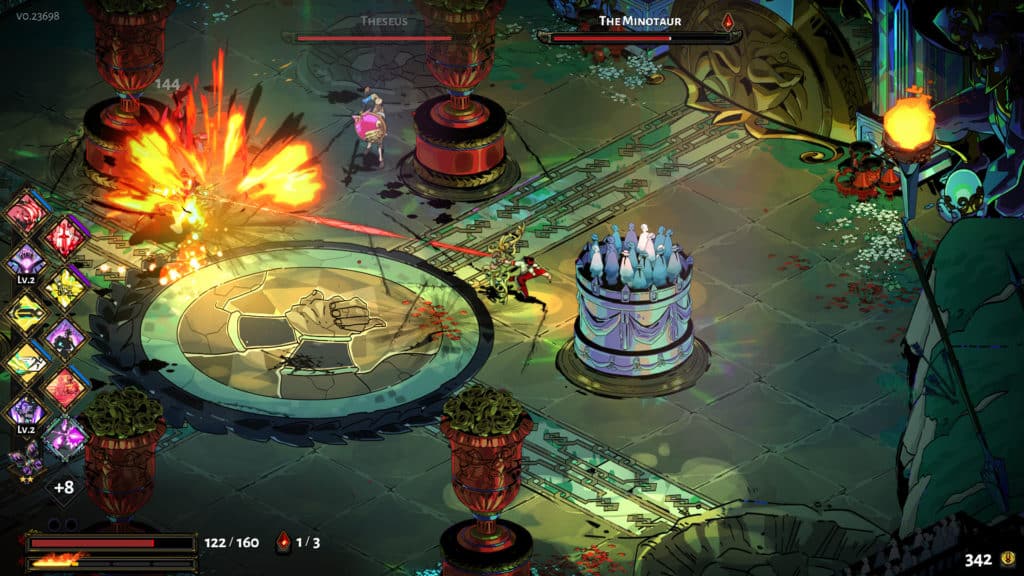 Hades is an action RPG game released in 2020 and now finds itself on the Steam Deck. Users control a player named Zagreus, the son of Hades, and you attempt to escape the world you are in to reach Mount Olympus.
The game uses what is called a hack-and-slash combat system. You can use a combination of your primary weapon attack, a special attack, a dash ability, and a magic ability to help you progress through the world and defeat enemies. You will meet many Olympians throughout the way who will help you enhance your abilities to last longer in the game.
Although you may occasionally die throughout the game, you can use gained treasure to improve attributes and unlock new weapons or other abilities that will help you in subsequent runs in the game.
Hades is straightforward to play on the Steam Deck, and no customization needs to be done. It is a lot of fun going through runs and seeing how far you can get!
Apex Legends
Best Free Game for the Steam Deck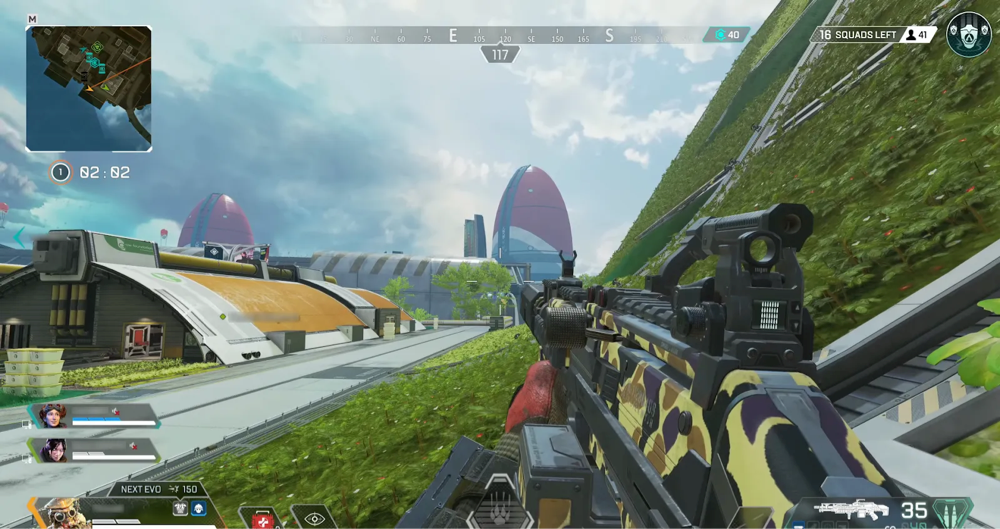 Apex Legends is a free-to-play game that prides itself as one of the best battle royale games on the market today. It is incredibly popular on consoles and has also made its way over to PC and now the Steam Deck.
There are two different game modes that you can choose from. In the Battle Royale mode, before the match, you decide to be in a two or three-man squad and select from a list of pre-designed characters who each have a distinctive ability. You drop onto an island where you will look around for weapons and supplies and try to be the last team standing.
In the Arenas game mode, you form into a 3-player squad where you will play 3v3 Team Deathmatch against another team in a series of rounds.
Apex Legends has full controller support on the Steam Deck, and with the correct settings will run great. Due to its power and performance, though, there can be times when the frame rate stutters. But if you are looking for a fun, free-to-play game, Apex Legends should be your choice!
Monster Hunter Rise
Best Steam Deck Action RPG Game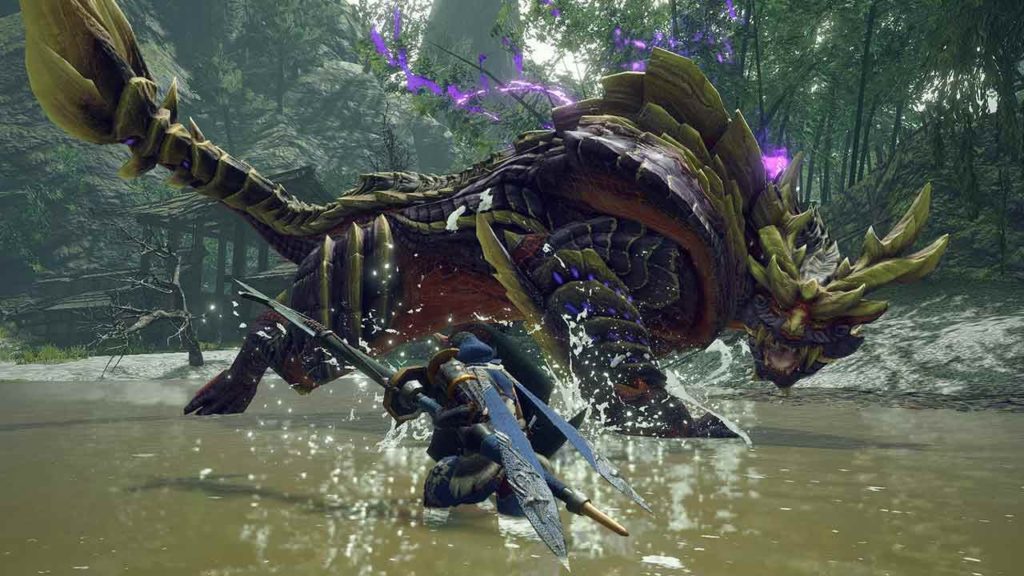 Monster Hunter Rise is a role-playing action game with a release date of January 2022 by developer Capcom. The game is all about capturing or killing spectacular monsters or giants and adding them into your collection.
In MHR, you play as a hunter exploring different regions or maps and using a wide range of weapons to destroy fearless monsters. For each successful hunt, you earn materials to manufacture better weapons that you can use to maim more challenging monsters or giants.
To succeed in Monster Hunter Rise, you must be ready to balance skill and preparation and learn how to use dozens of different weapons available in the game.
Monster Hunter Rise is excellent for the Steam Deck because it delivers a high frame rate for an AAA game. The games controls were made for the Nintendo Switch, so the joysticks and other buttons are up mapped nicely.
Brotato
Best Wave Fighting Game
Brotato is a top-down arena shooter game released in September 2022 by developer Blobfish. In Brotato, you play as a potato armed with at least six powerful weapons. Using your arsenal, you have to engage hordes of aliens in a survival battle.
In each run, you are dropped in an arena filled with over 20 waves of enemies. Your task is to survive until help comes. The enemies last between 15 and 90 seconds each.
One way to easily defeat the enemies is to turn on the auto shoot and focus your weapon in the direction the enemies are coming from. Choose from a range of items and traits to create unique builds.
Brotato is a fantastic Steam Deck game because the in-game interface text is very legible, and all functionalities are accessible when using the default controller configuration. The game is lightweight and performs well on the Deck, even when your screen is filled with enemies.
RimWorld
Best Sci-Fi Simulation Game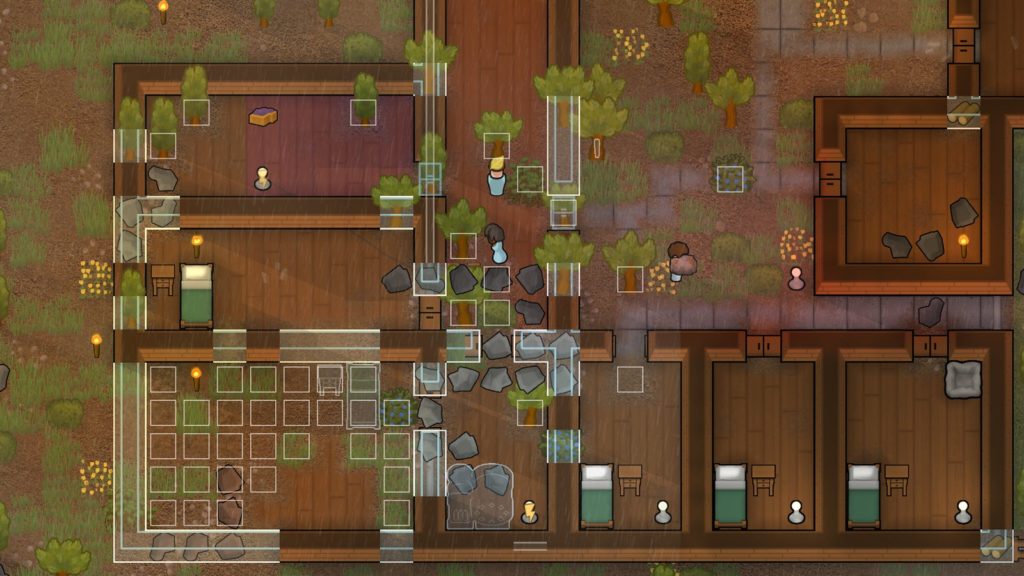 RimWorld is a sci-fi city-building game released in October 2018 by Ludeon Studios. The game takes inspiration from Firefly and is set on a distant planet close to the galaxy.
In RimWorld, you have to build a city or colony and survive. You can build a ship to create an escape route whenever you feel overpowered. Before building a colony, remember to create a globe laden with road and river networks and different biomes.
RimWorld has a great mix of melee combat, gunplay, and strategy that you'll need to deploy to succeed. RimWorld is a great play because it is patched and optimized specifically for the Steam Deck. The 3D overhead view looks awesome on the Deck.
Cyberpunk 2077
Best Modern Adventure Game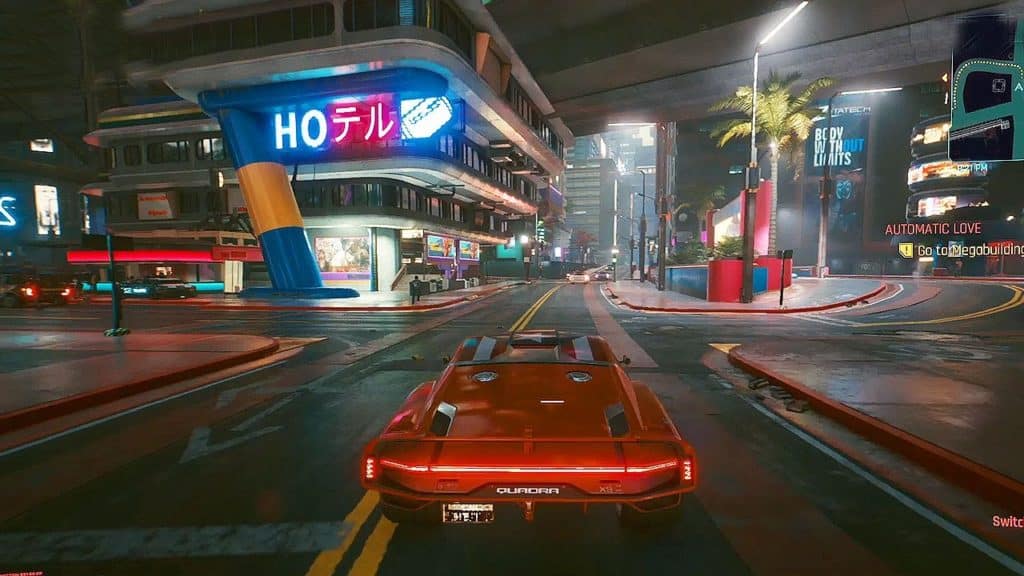 Cyberpunk 2077 is an action-adventure RPG game released by CD Projekt Red in December 2020. The game sets you in a beautiful, dense cyberpunk city called Night City, which offers a high level of flexibility. You have the ability to travel and explore wherever you want.
In Cyberpunk 2077, you will have to jump into missions to change the world around you. You can explore all the unique locations and visual fairs of the dream city. Without spoiling too much about the incredible story, it's filled with mystery and action.
Cyberpunk 2077 is great for the Steam Deck because it is shockingly smooth and offers a smoother frame rate. In fact, Cyberpunk 2077 on the Steam Deck can run at 60 FPS, which is an impressive feat.
Cuphead
Best Steam Deck Run-and-Gun Shooter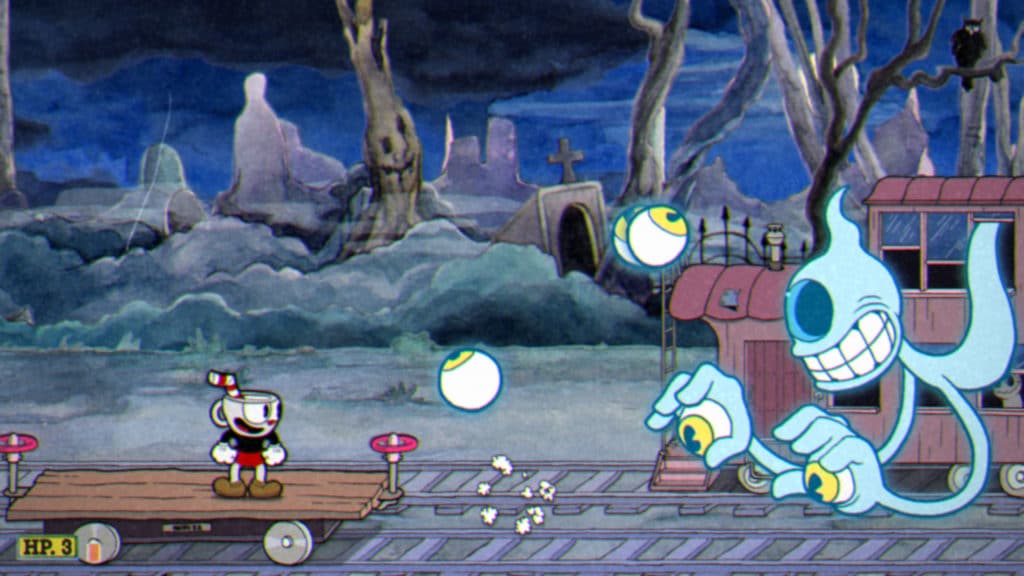 Cuphead is a run-and-gun action game released in September 2017 by Studio MDHR Entertainment Inc. Cuphead is based on the style of 1930s cartoons. The audio and visuals are crafted to make you glued to your Deck.
The game works perfect for the Steam Deck's controls and features plenty of bosses that strive to make you suffer. Cuphead has extremely addictive gameplay and is one that you need to experience for yourself on the Steam Deck.
You will run, jump, shoot, and dodge your way to victory in the game. Bosses, which are fast, are extremely entertaining to face. Either you beat them within minutes, or they wipe the floor with you in seconds.
Cuphead is somewhat challenging to play, but that's not the developer's original intention. Cuphead is excellent for the Steam Deck because the Deck's control options work wonderfully well and allow for extra customization to get things exactly how you want.
Stardew Valley
Best Steam Deck Simulation Game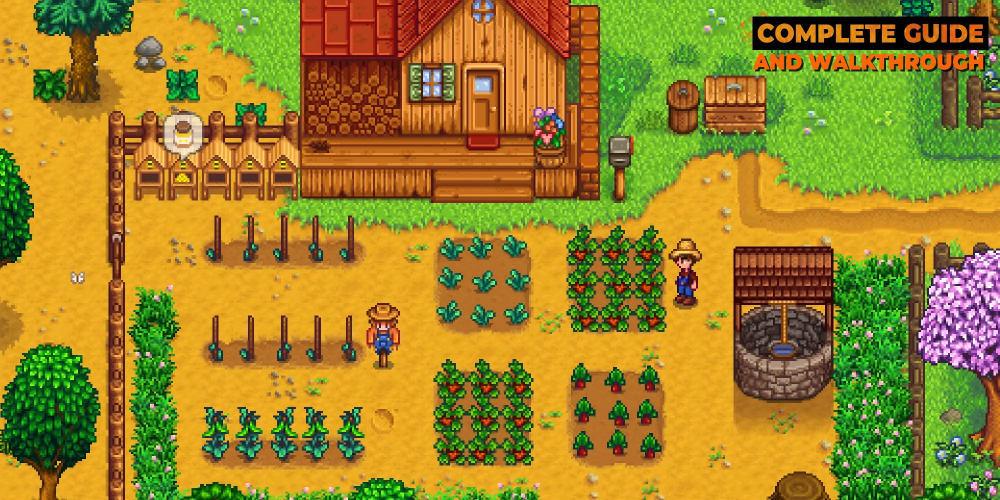 Stardew Valley is a farming simulation game released in February 2016 by developer ConcernedApe. In Stardew Valley, you must properly manage, groom, and turn around a farm you inherited from your grandfather.
The game equips you with coins and tools to help you nurture your farm. Additionally, there are monsters that you must defeat to survive.
If you think the game sounds simple, then you would be wrong. Stardew Valley has a lot of different layers and a beautifully crafted world to explore. As you grow your farm, you'll level up and earn the ability to take on new tasks and missions.
Stardew Valley is a great Steam Deck game because it will run without any issues. The controls and layout work really nicely on the small 7-inch screen. Plus, it's the perfect game to play for small sessions at a time if you take your Deck out on the go. However, you must adjust it to the Deck's native display.
Hollow Knight
Best Steam Deck Adventure Game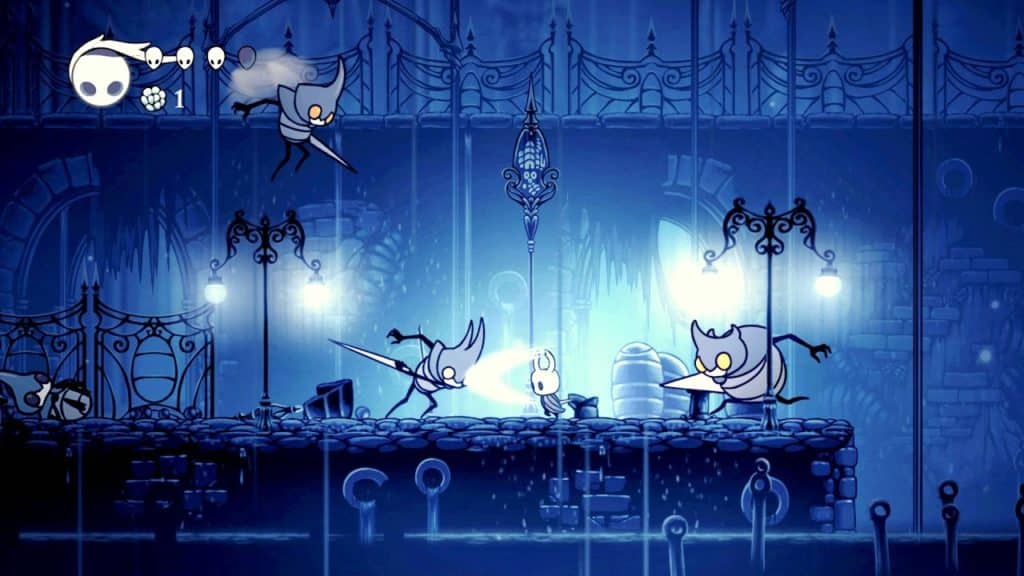 Hollow Knight is an epic action-adventure game released in February 2017 by Team Cherry. Hollow Knight takes place in an underground kingdom filled with bugs. Many heroes have ventured into this location for various reasons but never returned.
In Hollow Knight, you play as a little insect armed with only a nail. To survive, you must explore twisting caverns, befriend dangerous bugs, and battle different creatures. Along the way, you will need to kill enemies to earn in-game currency, Geo. You will also discover challenging bosses and previously unreachable areas.
Hollow Knight is equally parts horrifying, cute, difficult, and fun. All the characters in the game are animated to be hideous and adorable at the same time. Plus, different areas of the map have a unique art style.
Hollow Knight is great for the Steam Deck because it's optimized not to consume much battery. Plus, it offers excellent performance and the game is reasonably priced. Hollow Knight was the 2019 game of the year.
The Witcher 3: Wild Hunt
Best Classic Open World Game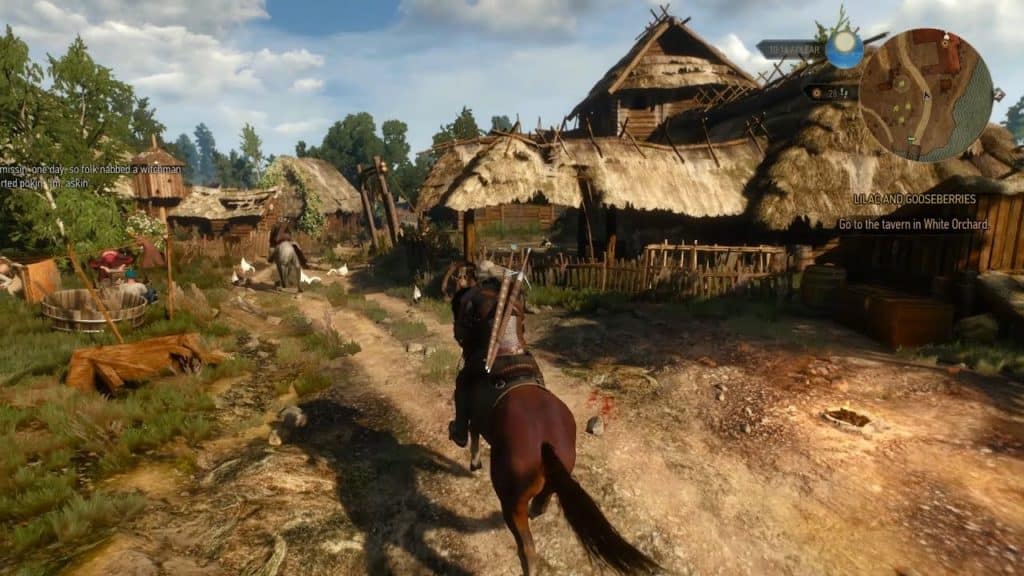 The Witcher 3: Wild Hunt is an open-world RPG game released in May 2015 by CD Projekt Red. It's a popular game series with different books, shows, and even books dedicated to the franchise. The Witcher 3 takes inspiration from Geralt of Rivia and how he found his adopted daughter, Ciri.
In The Witcher 3 you will have to take on a quest to track down the child of prophecy who's capable of destroying the world. The game has solid combat elements, such as magical signs and weapons, to help you fight off monsters and enemies.
It will take some time to get used to the combat system, but once you understand how it works, things will start to come together. The Witcher 3 is great for the Steam Deck because it can run at 60 fps in 4K on the Deck.
Terraria
Best 2D Sandbox Game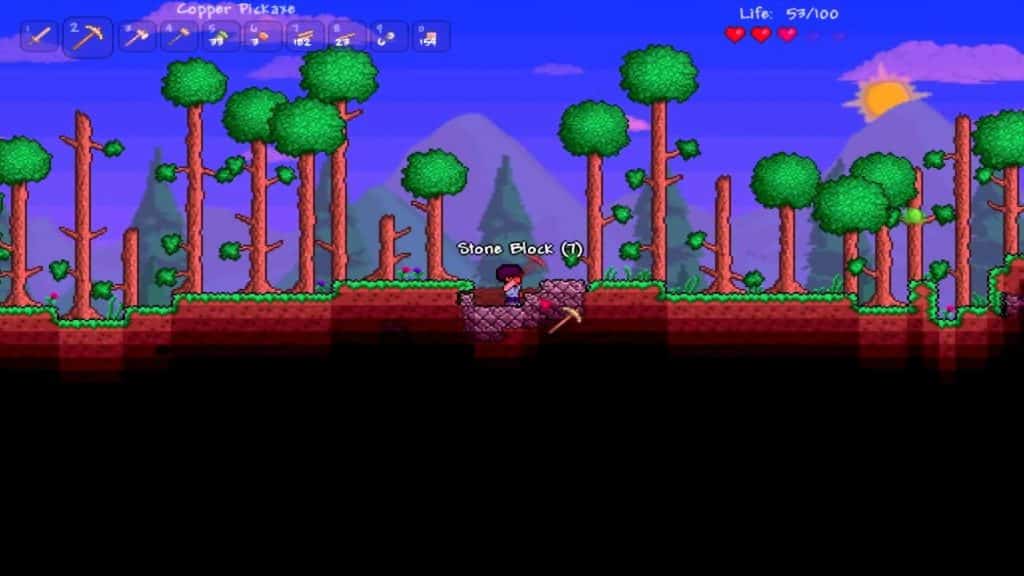 Terraria is a 2D sandbox Steam Deck game released in May 2011 by Re-Logic. In Terraria, you must create a character. What you do after that is completely up to you. You can focus on fighting to level up or become a masterful crafter to build up your base.
You can complete different missions to progress further and battle over 500 different types of enemies. Armed with all kinds of weapons, you will fight enemies, search for lost weapons on sky islands or in hell, and become mighty, fearless, and dreadful.
Terraria is excellent for the Deck because it is one of the first games with full-fledged optimization for the handheld PC. Battery life is really good. Plus, it's a great game for short or long sessions.
Horizon Zero Dawn
Another Open World Fighting Adventure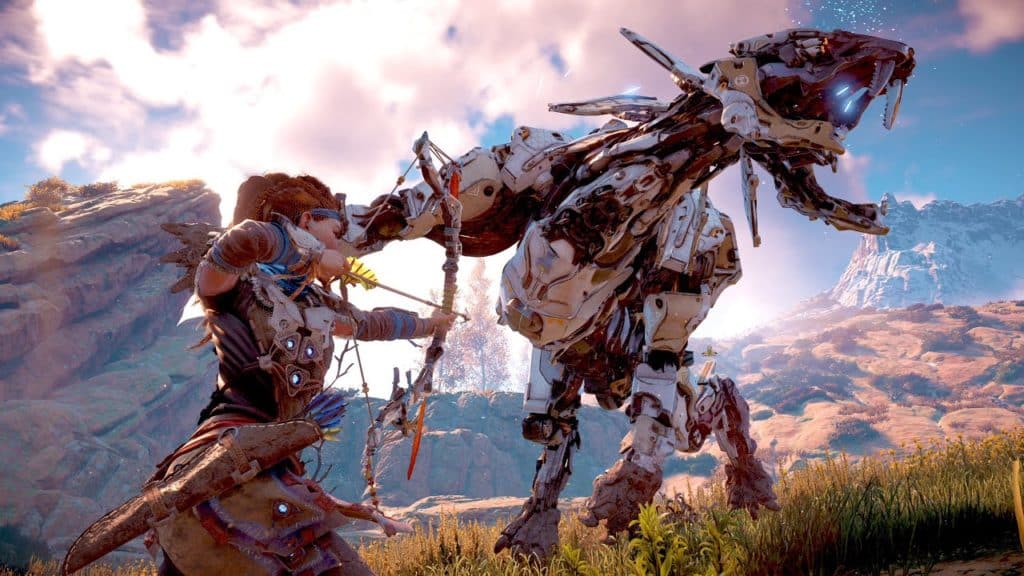 Horizon Zero Dawn is another open-world gem that runs great on the Steam Deck. In it you play as Aloy, who is raised by a tribe of outcasts. In order to find your mother's identity, you have to explore the land and battle large beasts that inhabit it.
The games release date was back in 2017 for the Playstation 4 and it launched on Steam in 2020.
As you set out in the game and explore the open land, you can level up Aloy by completing challenges and honing your skills. The game also has some crafting mechanics and different travel options to help you get around.
Uncharted: Legacy of Thieves Collection
Best Modern Platformer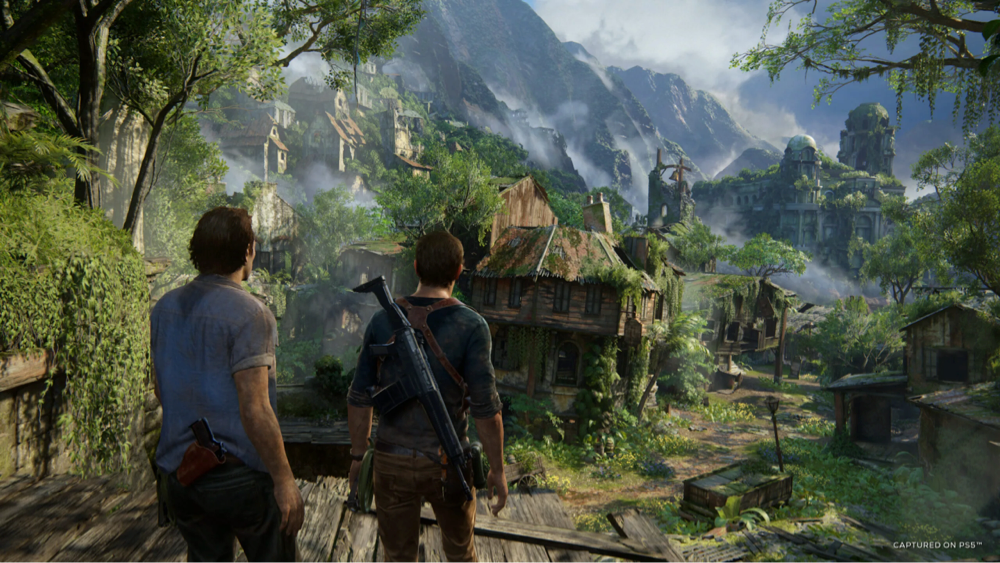 The Legacy of Thieves collection is a combination of Uncharted 4: A Thief's End and the Lost Legacy DLC addition for the game. It's the first time that the Uncharted series has come to the Steam store.
Uncharted is a modern platforming game where you have to complete expansive missions with the star protagonist, Nathan Drake. It presents itself in large open-world like scenes, but is linear in nature.
Nathan Drake is a treasure hunter by trade. In A Thief's End, you have to search for and find the treasure of Henry Avery.
The shooting and combat mechanics in Uncharted are top notch and feel amazing on the Steam Deck. The smaller screen doesn't impact your gameplay too much, but some enemies in the distance can feel tiny.
Best Places to Buy Steam Deck Games
Above, you'll see links to three different legitimate Steam game stores.
Steam
Steam links are the official home for all of the games above. When you download them, they'll directly go into your library and appear on your Deck. However, Steam does not always have the cheapest price on games.
Humble Bundle
Humble Bundle is the largest third party game store. It sells 100% legitimate Steam keys to all games. Plus, it always has awesome deals on individual and game bundles. When you buy a game here, you'll get a key that you redeem in the Steam store.
Green Man Gaming
Green Man Gaming is another third party game store that sells real Steam keys. I've found that the selection isn't as big as Humble Bundle, but the deals can sometimes be even better.
Click on all of the links when you want to buy a game. and compare prices in order to buy the best deal!
Frequently Asked Questions (FAQs)
What game should I play on the Steam Deck?
There are over 7,000 Steam Games that run perfectly on the Steam Deck in all different genres. The top-rated AAA games for the Deck are Spider-Man Remastered, Cyberpunk 2077, and Elden Ring. The top-rated indie and value games for the Deck are Vampire Survivors, Brotato, Stardew Valley, and Terraria.
Is the Steam Deck good for gaming?
The Steam Deck is surprisingly good for gaming. Many AAA titles run perfectly on it, despite the specs for the Steam Deck being less than the average gaming PC. One of the reasons why the Steam Deck is good for gaming is because its 7-inch screen is limited to 720p and because the device has major support for AMD's Fidelity Super Resolution (FSR), which uses AI to upscale video and make it run smooth.
Which Steam Deck version is the most worth it?
Can you play Call of Duty on the Steam Deck?
No, you cannot currently play Call of Duty on the Steam Deck due to the anti-cheat software layer that the game has on it. Anti-cheat prevents the ability of bots of hacks to be deployed online in the game for integrity purposes. The anti-cheat software that Call of Duty uses is not compatible with Linux or SteamOS, which the Deck runs off of.
Can you play AAA games on the Steam Deck?
Yes, you can play many AAA Deck games in high quality, 60 frames per second on the Steam Deck. The Steam store has a Deck verified symbol, which tells you if a game is compatible with the handheld PC.