The Steam Deck has gotten a lot of attention as the go-to handheld gaming console in 2022, but the Analogue Pocket is an intriguing option for classic-game lovers. In this guide, I'll compare the Steam Deck vs Analogue Pocket in full detail, to help you decide which console to buy.
Don't have time to read the whole guide? Here is a quick comparison table for you:
Steam Deck vs Analogue Pocket Comparison Table
| | | |
| --- | --- | --- |
| | Steam Deck | Analogue Pocket |
| CPU and GPU | AMD Van Gogh APU – Zen 2 4c/8t, 2.4-3.5GHz (up to 448 GFlops FP32) And 8 RDNA 2 CUs, 1.0-1.6GHz (up to 1.6 TFlops FP32) | Amlogic S905D3 SoC w/ four-core Cortex A55 CPU, 1.9GHz and Mali-G31MP2 GPU |
| RAM | 16 GB | 2 GB |
| Storage | 64 GB, 128 GB, 256 GB | 8 GB |
| Screen Size | 7-inches | 3.5-inches |
| Resolution | 1920 x 1080 | 1600 × 1440 |
| Battery Life | Up to 8 hours | 8 hours |
| Software | SteamOS (Linux-based) | AnalogueOS |
| Controls | Full controller, 2 trackpads, extra configuration buttons | D-pad, 4 buttons, Start, Select |
| Games | Anything from the Steam store | Old game cartridges |
| Price | $399 / $529 / $649 | $219 |
| How to Buy | | |
Below, I'll go into each section in more detail.
What is the Analogue Pocket?
The Analogue Pocket is a handheld gaming console released by Analog Inc in late 2021. The console specializes in playing old console game cartridges. You have to physically plug cartridges into the Pocket to play them.
This gaming console is built using sturdy plastic and has a glass screen on the casing to give it a modern and stylistic look. It has four face buttons, start/select buttons, and a d-pad, matching the controller layout from all early consoles.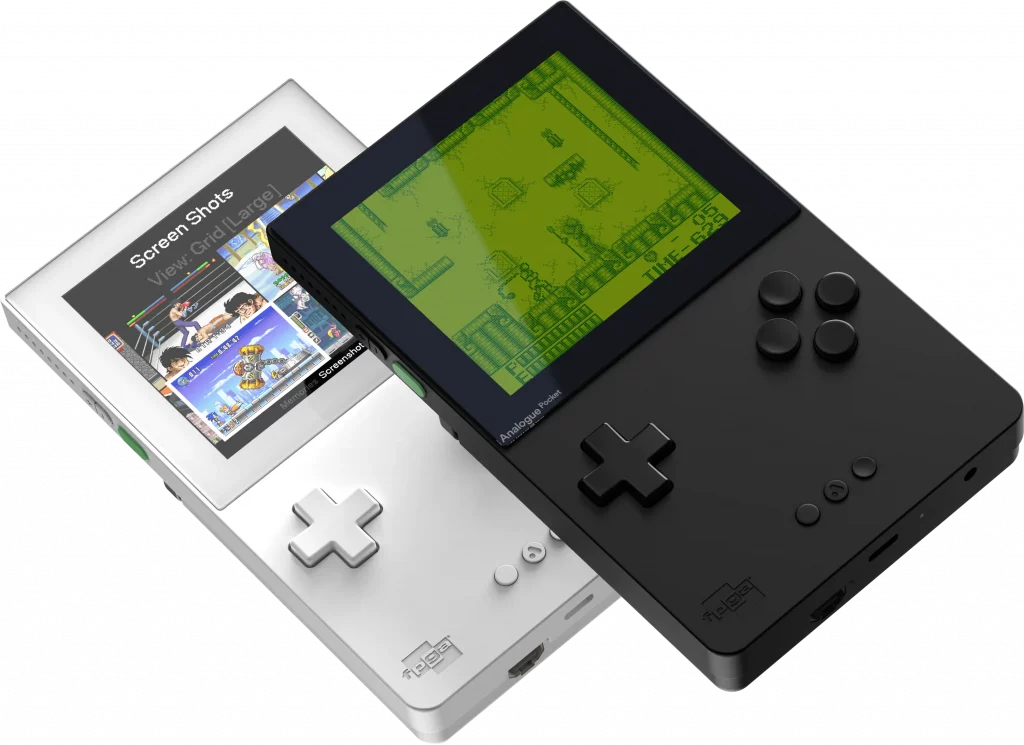 Supported Consoles
The Analogue Pocket supports the following game consoles:
Game Boy
Game Boy Color
Game Boy Advance
Game Gear
TurboGrafx-16
Neo Geo Pocket
Atari Lynx
The Pocket includes game cartridge adapters that adjust to fit the size of each console's real life cartridge.
How to Buy the Analogue Pocket
The Analogue Pocket can be purchased from the official store by clicking here.
What is the Steam Deck?
The Steam Deck is a handheld gaming PC developed and launched by Valve Corporation in early 2022. It is battery-powered that comes with a 7-inch screen. You can play most games from the Steam store on the deck and over 7,000 titles are officially supported.
The Deck is also popular for game emulation. You can load emulators and ROMs onto it and play downloaded games from nearly any console. Playstation 2 games and anything earlier than that work really well on the console. Some PS3 and Nintendo Switch games are also supported.
There are different Steam Deck accessories on the market that you can purchase to improve your gaming experience, including screen protectors and protective cases.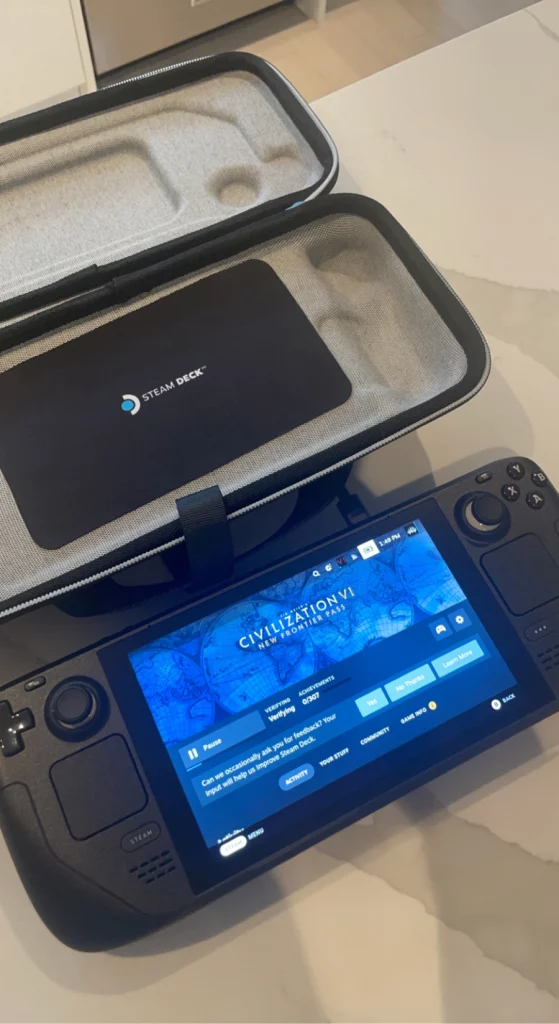 How to Buy the Steam Deck
The Steam Deck can be purchased from the official store by clicking here.
Analogue Pocket vs Steam Deck: A Detailed Comparison
CPU and GPU
The Analogue Pocket features an Amlogic S905D3 SoC with a four-core Cortex A55 CPU (clocked at 1.9GHz) and a Mali-G31MP2 GPU. One good thing about the GPU is that it can handle multiple graphics APIs, including Vulkan 1.0, OpenGL ES 3.2, and OpenCL 2.0.
The Steam Deck has an AMD Zen 2 w/ 4-cores/8-threads clocked at 2.4 – 3.5 GHz and AMD RDNA 2 (up to 1.6 TFlops FP32).
Performance-wise, the Steam Deck is more powerful than the Pocket. The native integration with the Steam APIs gives the Deck an edge over the Analogue Pocket.
Winner: Steam Deck
RAM
The Analogue Pocket has 2GB of RAM, which is very low compared to the 16 GB LPDDR5 RAM that the Deck comes with. With 2GB RAM, the Pocket can only handle the cartridges that you can buy for it. It is not made for modern games.
The Deck's 16 GB of RAM and optimized system on a chip allows it to run high-intensity games like The Witcher 3: Wild Hunt, Red Dead Redemption 2, and Grand Theft Auto V surprisingly well.
Winner: Steam Deck
Storage Options
Storage is an important consideration when looking to purchase a handheld gaming console. The Analogue Pocket features 8GB of internal storage. It also has a memory expansion slot for a microSD card. This isn't a lot, but remember that your game cartridges provide your individual game storage.
On the other hand, the Steam Deck comes in three storage options: 64 GB, 256 GB, and 512 GB. You can also expand the storage up to another 2 TB with an external microSD card.
Winner: Steam Deck
Screen Size
The Analogue Pocket has a 3.5-inch IPS display covered Gorilla Glass with a variable refresh rate of between 30 and 60 Hz. It also has a Micro HDMI port for video-out.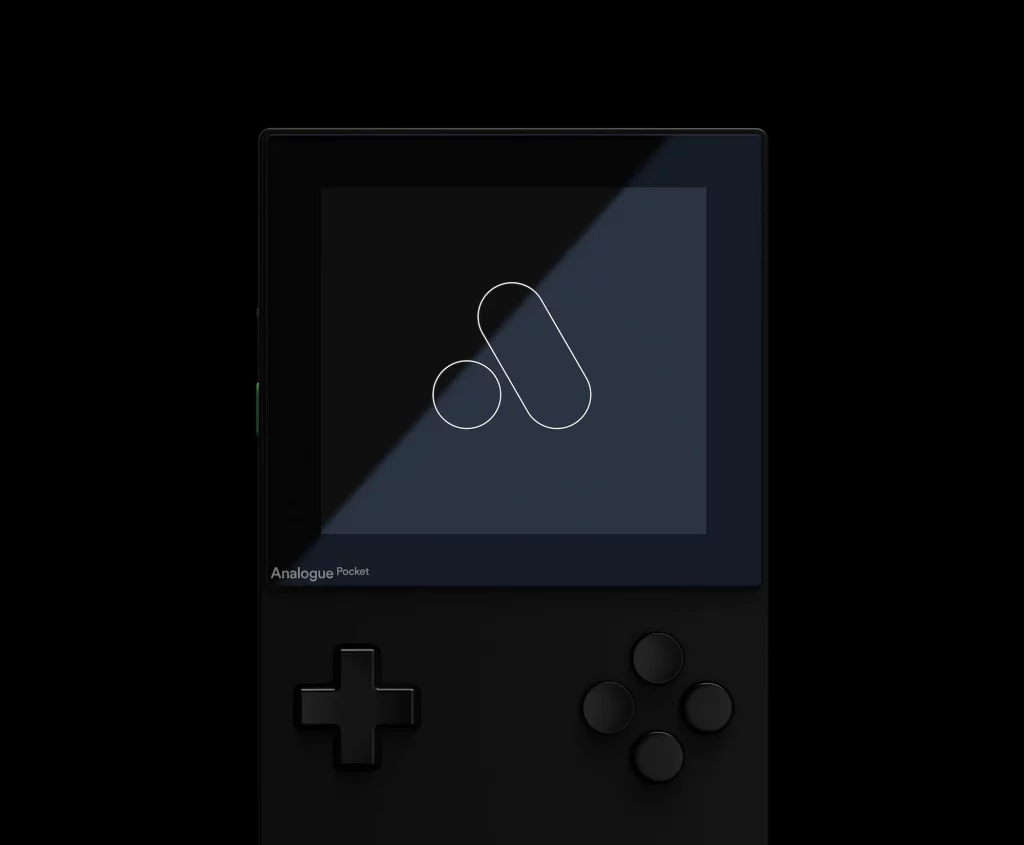 The Steam Deck comes with a bigger screen size, measuring 7-inches diagonal. It has a USB-C port which you can plug a hub into for HDMI out and other accessories.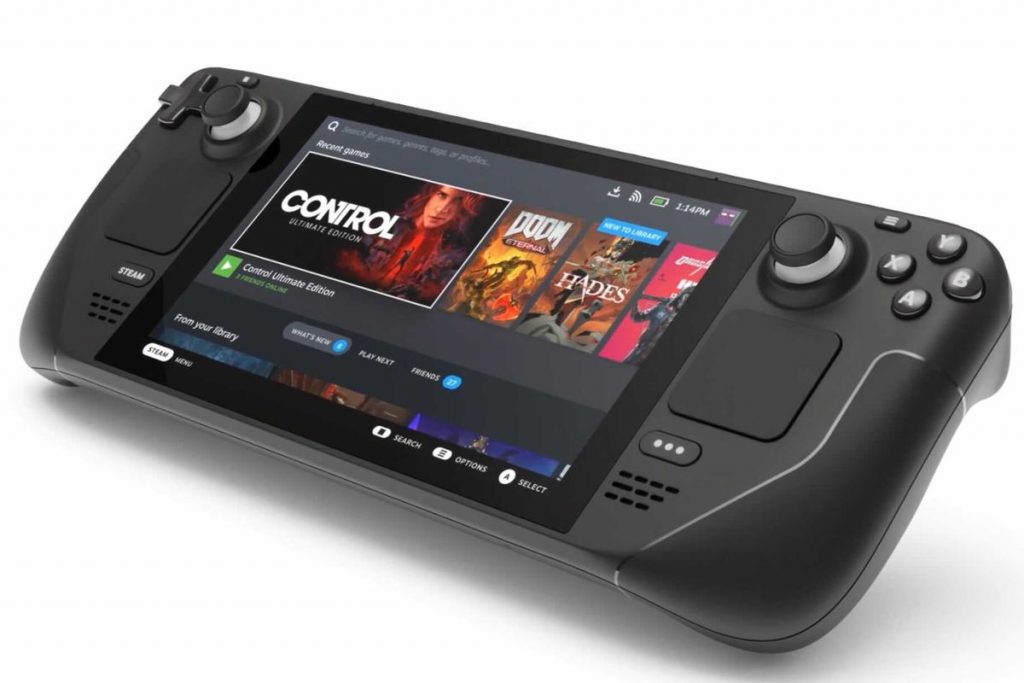 Winner: Steam Deck
Display Resolution
The Analogue Pocket's 3.5-inch screen operates at 1600 × 1440 pixels with an aspect ratio of 10:9. This allows for a broader integer scale for the original Game Boy Color and Game Boy. The Pocket looks very clean compared to the original consoles it is based off of. The display is over 10x greater than the original Game Boy.
On the other hand, the Steam Deck's 7″ screen operates at a higher resolution of 1,920 x 1,080 pixels with an aspect ratio of 16:10. The Deck has a number of Performance Overlay settings that you can play with to optimize the performance of the device.
Winner: Steam Deck
Battery Life
The Analogue Pocket sports a 4300 mAh battery that can serve up to 10 hours of gameplay (depending on the game). The device supports USB-C charging.
The Steam Deck, on the other hand, is equipped with a 5,313 mAh battery. The battery can serve you up to 8 hours of gameplay. However, AAA titles will only get you about 2 hours of gameplay or less
Overall, Valve Corporation has done well by optimizing the hardware for extended battery life. However, the battery life on the Pocket is one of the few things over-optimized on the device.
Winner: Analogue Pocket
Software
The Analogue Pocket is a work in progress. It contains the system files required to run all of the consoles listed above. In addition, Analogue Inc. promised that it would soon incorporate AnalogueOS in the device. AnalogueOS will resolve issues like cover art, save states, and playtime and allow for a little more customization in the Pocket. However, the software is yet to arrive as of right now.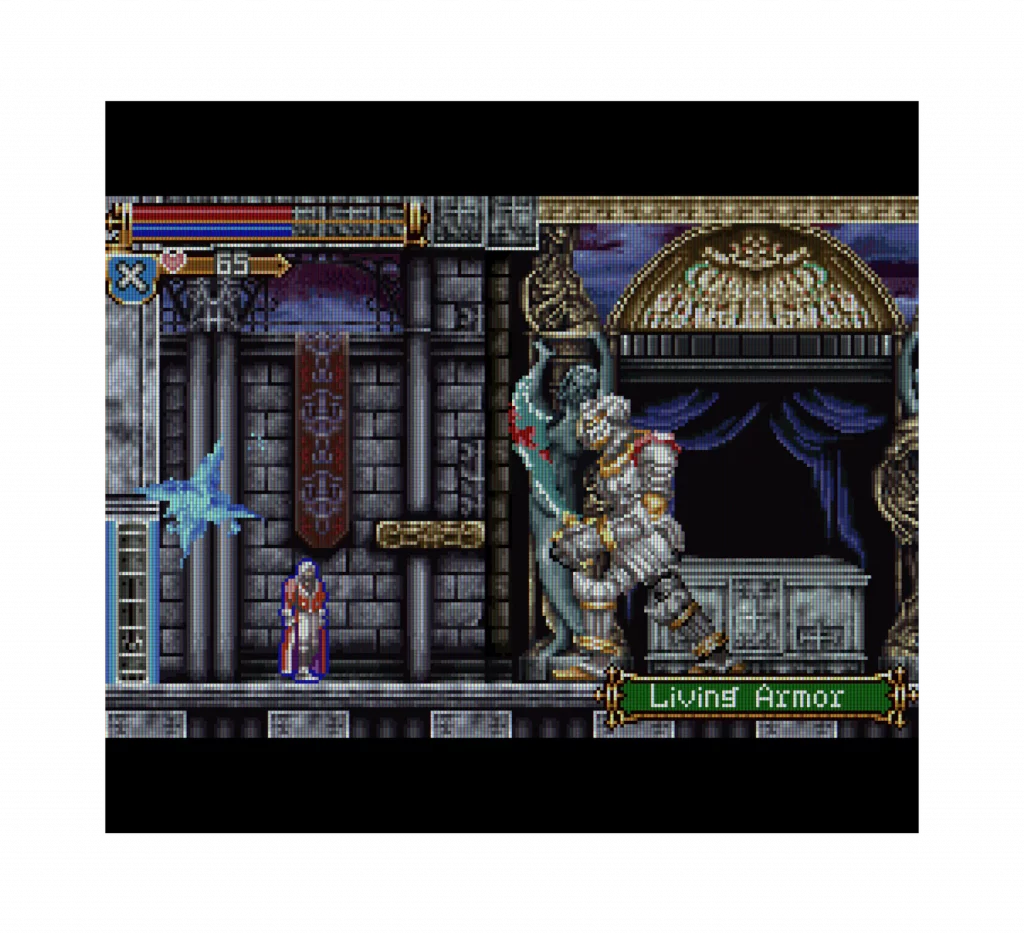 The Steam Deck operates on SteamOS 3.0, a Linux-based operating system that has a high level of compatibility. You can run most Steam games on it without trouble. A few games that contain anti-cheat software are not compatible with Linux. As well, there are some Steam and non-Steam games with their own custom launchers (such as EA Play) that require some tinkering in order to work.
Winner: Steam Deck
Price
The Pocket comes in all white or black and is available at a starting price of $219.
On the other hand, the Steam Deck's entry-level (the 64GB variant) costs $399, while the higher variants (256GB and 512GB) cost $529 and $649, respectively.
Winner: Analogue Pocket
Controls
The Analogue Pocket's controls are responsive and offer a cross-style D-pad. In fact, the controls are very similar to the pad seen on the original Game Boy.
The four face buttons, as well as the 'Start' and 'Select' buttons, are rightly positioned to make the device impressive. There is also an 'Analogue' button that sits in between these buttons above.
You can use the Analogue button to navigate back to the console's main menu during gameplay. The left-hand side of the device accommodates the power button and volume controls. The Analogue Pocket also supports wireless controllers, which can connect to it via Bluetooth.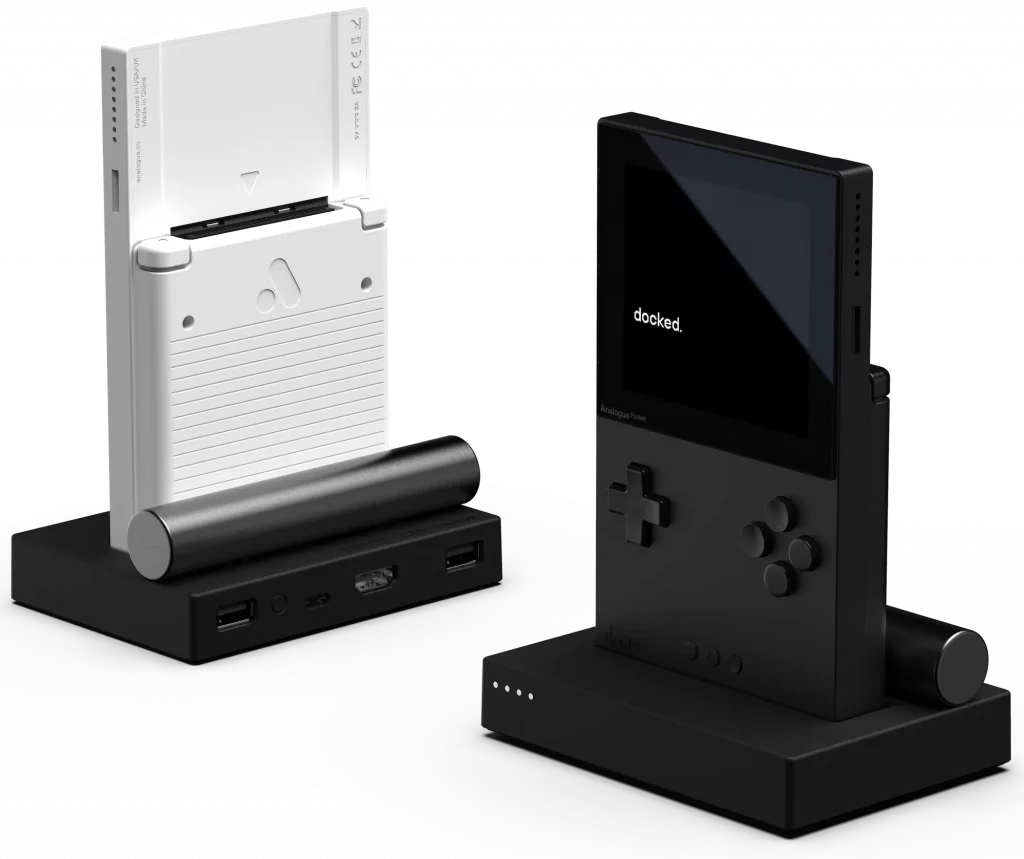 The Steam Deck has a full set of controller buttons, two analog sticks, and two layers of top shoulder buttons. It has four trigger buttons on the back side of the device that can be custom programmed in most games.
As well, the Deck has two mouse trackpads with click support. Overall, there are a lot of buttons to suit your gaming style. With Steam integration, you can customize or adjust your controller as you wish.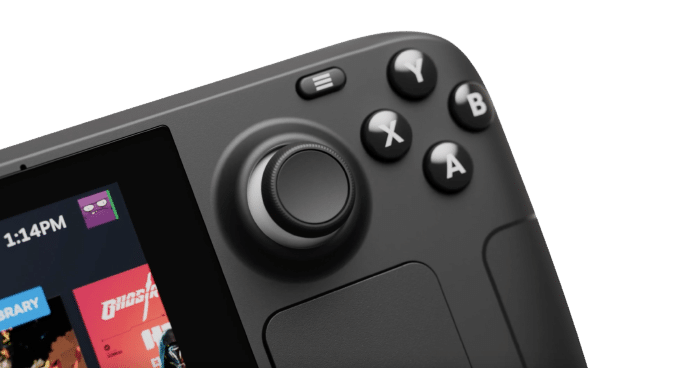 Winner: Steam Deck
Games
The Pocket supports game cartridges like Game Boy, Game Boy Advance, Game Boy Color, Neo Geo Pocket, Atari Lynx, and TurboGrafx-16, among others. You need to buy these physical cartridges online. Some of the best places to purchase games for the Analogue Pocket are: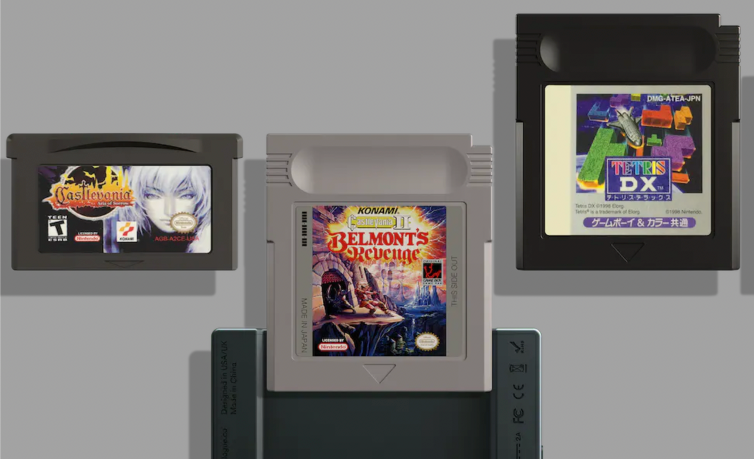 On the other hand, the Steam Deck lets you play over games directly from the Steam Library. If you go to the Steam Store, each game has a rating that shows you how well it plays on the Deck. Proton DB is another source to find out how well each game plays.
Some exciting AAA titles you can play on the Deck include Dark Souls III, Elden Ring, Skyrim, Grand Theft Auto V, Cyberpunk 2077, and countless others.
Winner: Steam Deck
What I Like Better About the Steam Deck
The Steam Deck is a really nice piece of technology. Valve has optimized the hardware on it to make AAA titles that previously required a gaming PC be considered compatible game for the Deck. Thousands of Steam store titles can be played and more support is constantly being added.
The display is limited to 720p, but it doesn't feel underwhelming when the screen is only 7-inches. The 64 GB internal storage version of the Deck is too small for all users. However, the ability to add an external MicroSD card should satisfy most people.
Battery life on the Steam Deck is generally good. If you are playing emulators or indie titles, you can regularly get over 5 hours of play time and up to 8 hours in most cases. I like that the Deck has a number of advanced graphical settings to adjust and get more out of the device.
What I like Better About the Analogue Pocket
The Analogue Pocket has a lower price point, which makes it more accessible for some people. It would be a good introduction to gaming for your young kids if you wanted to teach them about all of the games you used to play.
Build quality on the Pocket is good. The buttons are sturdy and accurate. I feel like the Pocket is well-built for its purpose.
Requiring physical game cartridges takes a little bit to get used to. For some people, having to physically buy everything you play on the Pocket will be too inconvenient. If Analogue makes one improvement to the device, it should allow software emulation. This would also allow them to support game consoles that game out after cartridges were a thing.
Conclusion: Steam Deck vs Analogue Pocket
If you have the money, then the Steam Deck console is the better handheld console in almost every way. It does software emulation just as good as the Pocket does and also supports more consoles. The way it can play more demanding games with ease is impressive.
The Analogue Pocket is a charming way to reintroduce yourself to some classic games. You do need to buy physical cartridges for the device, which can add to the nostalgia or be an inconvenience.
If you aren't a serious gamer, then the Pocket might be good enough for you to play some old handheld games on. Your old Game Boy and GameBoy Color cartridges have use again!
If you have an existing library of Steam Games, then the Deck is a perfect compliment for you.