The game company EA updated the launcher of many of their games on Steam to use their new EA Play application. This has caused a ton of EA games to stop working on the Steam Deck.
Below, I've compiled all of the ways to fix EA Play on the Steam Deck so that you can play these games again. Follow the instructions if you are having trouble playing EA games through the new EA Play launcher.
This information is subject to change as EA makes adjustments themselves, so comment down below and let us know if this fixed EA Play for you or not.
What is EA Play?
EA Play is a new 'launcher' screen that comes up whenever you play an EA game, including those from your Steam library. For most people, this is an extra window that you have to click past before you launch a game. If you didn't use Steam, then EA Play would be the alternative you would use instead.
Using their own launcher allows EA to upsell to you and control what you see before you play your games.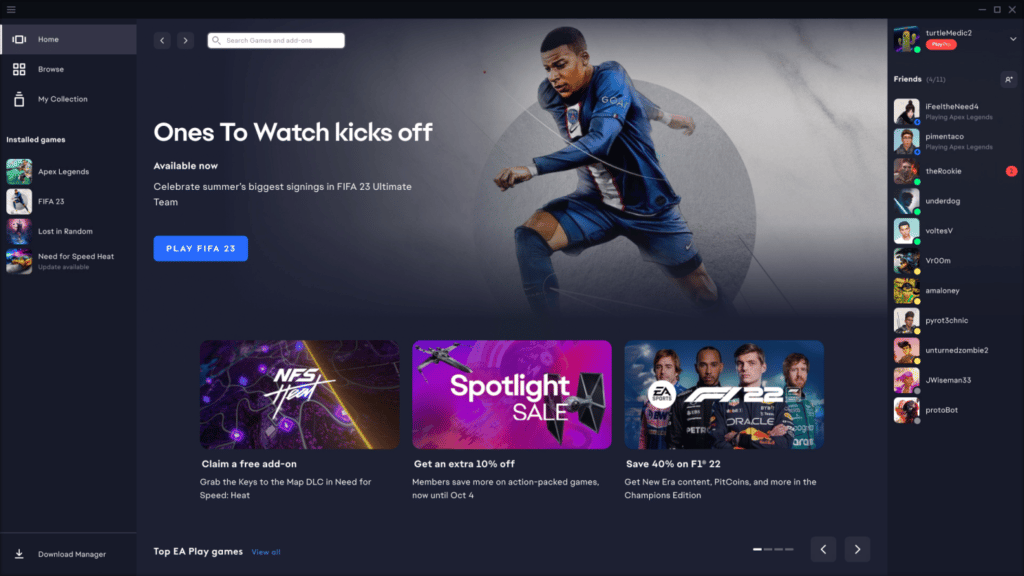 Why Did EA Sports Change Their Launcher?
Some companies use their own launcher to sell games to customers rather than going through the Steam Store and paying a cut to Valve. However since the Steam store is so popular, EA has chosen to still sell games on it but place their launcher on top of Steam's default launcher.
The end result is frustrating to users because EA's only launcher is prone to incompatibility.
EA Play Issues on the Steam Deck
When you launch an EA game on the Steam Deck, it tries to bring up the EA Play app, where you have to click an extra button to launch the game.
On the Deck, the EA Play app shows up as a grey screen with no text or buttons that are visible. You cannot click past this screen to launch anything.

If EA is smart, they will fix EA Play with a patch update in the near future. Until then, try the steps below to get everything back working again!
How to Fix EA Play Blank Screen on the Steam Deck – Install the Liberation Font
The reason why your EA splash screen is blank is because the Deck doesn't have Liberation, the font that is used on the page. If you install the Liberation Font on your Deck, you will be able to launch your EA games again.
On your Deck, hold down the power button and click on Switch to Desktop.
After the Deck has restarted into desktop mode, click on the Discover icon on the bottom toolbar.
Search for Protontricks in the search bar and click on the Install button.
Open Protontrics and select the EA game from the app list that is not working.
Select the default wineprefix. You may get a 32-bit error pop up, which you can ignore and press OK.
Select Install a Windows dll or component and then select d3dcompiler_47.
Select Install a Font and then choose Liberation.
Now, switch back to Gaming Mode and launch your EA game again.
When you launch your game now, the EA Play launcher should not be blank anymore. This should allow you to click past the login screen and launch your game.
How to Fix EA Play on the Steam Deck – Link Steam and EA Play
Here is a second way to fix EA Play. It doesn't required you to install anything on your Steam Deck. Instead, you can bypass the login screen by saving your Steam Credential on the EA Help Website.
To link EA Play to Steam:
Go to the EA Help Website.
Click Log In at the top right corner of the page. If you are already signed in here, sign out and then back in to refresh your session.
In the Sign in to your EA Account pop up window, click the Steam Logo at the top.
Login with your Steam Username and Password.
Follow through the instructions as if you are setting up a new account.
When it asks you for an email address, enter your current EA account or create a new one if this is your first time.
This should synchronize your Steam account information with EA Play, allowing you to bypass this step in your Steam Deck later.
Red Wi-Fi Icon in the EA Play App on the Steam Deck
If you see a red Wi-Fi icon in the EA Play App when you launch a game on the Steam Deck, it means that your internet was unable to connect to EA's servers. This is a handshaking error that occurs for some.
If you see this icon, close the game by holding the Steam button on your Deck and then quitting the game. Relaunch the game as many times as it takes until the error goes away.
Conclusion
EA has changed their launcher from Origin to their new internal EA Play version. In the process, due to lack of testing, it has broken EA games on the Steam Deck. For most people, the two methods above both work to fix EA Play on the Steam Deck.
Until EA pushes a fix for their app, these are the only methods that will get EA games working.
If you know of another method, let me know and I will update the game.