The Pimax Portal is a Steam Deck alternative, but how does it compare overall and what things does it do better and worse? In this Pimax Portal vs Steam Deck guide, I'll go through both devices in detail and tell you which handheld console is worth buying.
In a rush? Overall, the Pimax Portal is competitive in price, has detachable magnetic controllers, and can also double as a virtual reality headset display. It isn't quite as powerful as the Steam Deck and cannot run as many high-quality games on it.
For more information about each option, keep on reading!
Pimax Portal vs Steam Deck: Quick Comparison Table
| Spec | Steam Deck | Pimax Portal |
| --- | --- | --- |
| CPU and GPU | AMD Van Gogh APU – Zen 2 4c/8t, 2.4-3.5GHz (up to 448 GFlops FP32) And 8 RDNA 2 CUs, 1.0-1.6GHz (up to 1.6 TFlops FP32) | Qualcomm Snapdragon XR2 (same as the Meta Quest 2) |
| RAM | 16 GB | 8 GB |
| Storage | 64 GB, 128 GB, 256 GB | 128 GB, 256 GB |
| Screen Size | 7-inches | 5.5-inches |
| Resolution | 1920 x 1080 | 3,840 x 2,160 |
| Battery Life | Up to 8 hours | Up to 8 hours |
| Software | SteamOS (Linux-based) | Android |
| Controls | Full controller, 2 trackpads, extra configuration buttons | Full detachable controller |
| Games | Anything from the Steam store | Android Games, Augmented Reality, Virtual Reality |
| Tracking | N/A | 6 Degree-of-Freedom, 4 external facing cameras |
| VR Support | N/A | Yes, with Pimax Portal View |
| Price | $399 / $529 / $649 | $299 (LCD), $449 (LCD w/ VR Headset), $549 (OLED), $599 (OLED w/ VR) |
| How to Buy |  Click Here |  Click Here |
What is the Pimax Portal?
The Pimax Portal is an Android-based handheld gaming console from Pimax, who has released a number of VR headsets in the past few years. It can easily switch modes between PC gaming, mobile gaming, standalone VR, and living room entertainment to suit different situations.
The Pimax Portal is the first handheld gaming console equipped with a QLED display and to convert into VR display technology.
This console will feature a 6 degrees-of-freedom (DoF) positioning system, four tracking cameras, a proximity sensor, and a gyroscope. It will also have 32 physical buttons, 8 virtual buttons, and an analog trigger. All buttons have low input latency to enable you to enjoy maximum key combinations in any game you play.
VR Mode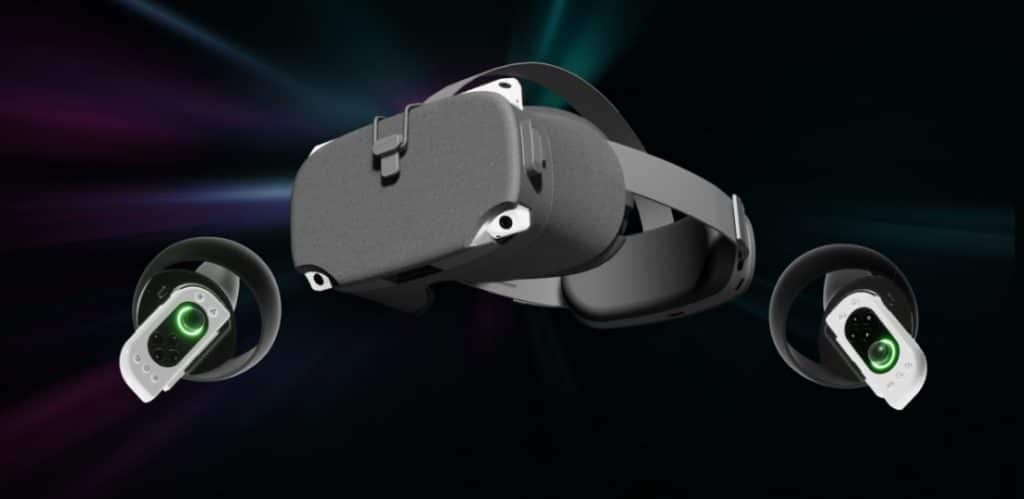 The Portal will not only dock and operate in handheld mode, but you can also pair it with a VR headset to play virtual reality games. If you pair this console with Pimax's Portal view headset, the Portal will function as a VR device with a controller housing that looks exactly like that of the Meta Quest 2.
The VR mode lets you play popular games from the Pimax store like Beat Saber, Superhot VR, and Tetris Effect.
How to Buy
The Pimax Portal is being crowdfunded on Kickstarter. Use the button below to be one of the first in the world to own one!
What is the Steam Deck?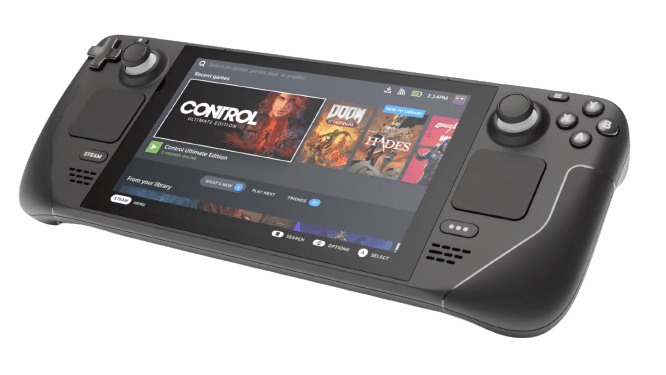 The Steam Deck is a handheld gaming PC developed and launched by Valve Corporation in early 2022. It is battery-powered that comes with a 7-inch screen. You can play most games from the Steam store on the deck and over 7,000 titles are officially supported.
The Deck has a full controller scheme, two haptic mousepads, and four configurable rear buttons. This gives you the flexibility to play games in whatever format youw ant.
The Deck is also popular for game emulation. You can load emulators and ROMs onto it and play downloaded games from nearly any console. Playstation 2 games and anything earlier than that work really well on the console. Some PS3 and Nintendo Switch games are also supported.
There are different Steam Deck accessories on the market that you can purchase to improve your gaming experience, including screen protectors and protective cases.
How to Buy
The Deck can be purchased from the official Valve store. Beware that there is an Amazon seller who has the Deck posted on there for higher than the retail price.
Click the link below to make your secure and legit purchase:
Pimax Portal vs Steam Deck Comparison
CPU and GPU
The Pimax Portal has a Qualcomm Snapdragon XR2, which features 8 Cores, 64-bit, 2.84 GHz speed, and 7nm process technology. This is the same chip found in Meta Quest 2. The Pimax Portal also features the Qualcomm Adreno 650 GPU, which can handle multiple graphics APIs.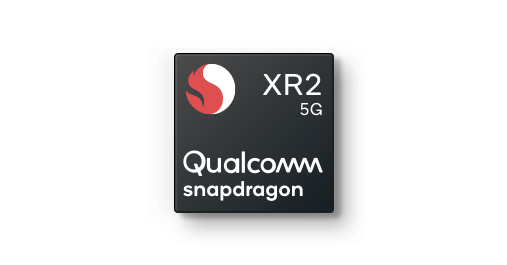 On the other hand, the Steam Deck features an AMD Zen 2 with 4-cores clocked between 2.4 and 3.5GHz. It sports the AMD RDNA 2 (up to 1.6 TFlops FP32). This gaming console is optimized to support AAA games.
The Deck's integration with Steam APIs gives it an edge over the Portal.
Winner: Steam Deck
RAM
The Pimax Portal sports 8GB RAM, which cannot quite handle high-intensity games like Grand Theft Auto V, Red Dead Redemption 2, and the Witcher 3: Wild Hunt. However, it works well for an Android-based system.
On the other hand, the Steam Deck has 16 GB LPDDR5 RAM, giving it more power than the Portal. The Deck can handle high-intensity games with no glitches.
Winner: Steam Deck
Storage Options
One of the things you should pay serious attention to when purchasing a handheld gaming console is the storage option. The Portal will ship in two internal storage variants – 128 GB and 256 GB. There's no information yet on whether users can expand its memory with an external MicroSD card, but I suspect that you will.
On the other hand, the Deck comes in three storage variants: 64 GB, 256 GB, and 512 GB. If you desire higher memory, you can expand the internal storage up to 2 TB using an external MicroSD card.
The Steam Deck also has a straightforward process to swap out the internal SSD for a larger size. I'll be watching close to see if Pimax has a similar option or not.
Winner: Draw
Screen Size
The Pimax Portal can be purchased with an LCD or an OLED screeen. The display is big enough for most VR players. The Portal screen measures 5.5 inches.
The OLED option comes with a 120Hz refresh rate. The display offers a color gamut over 20% wider than traditional OLED displays of similar sizes. It also reproduces 90% of the BT 2020 color standard.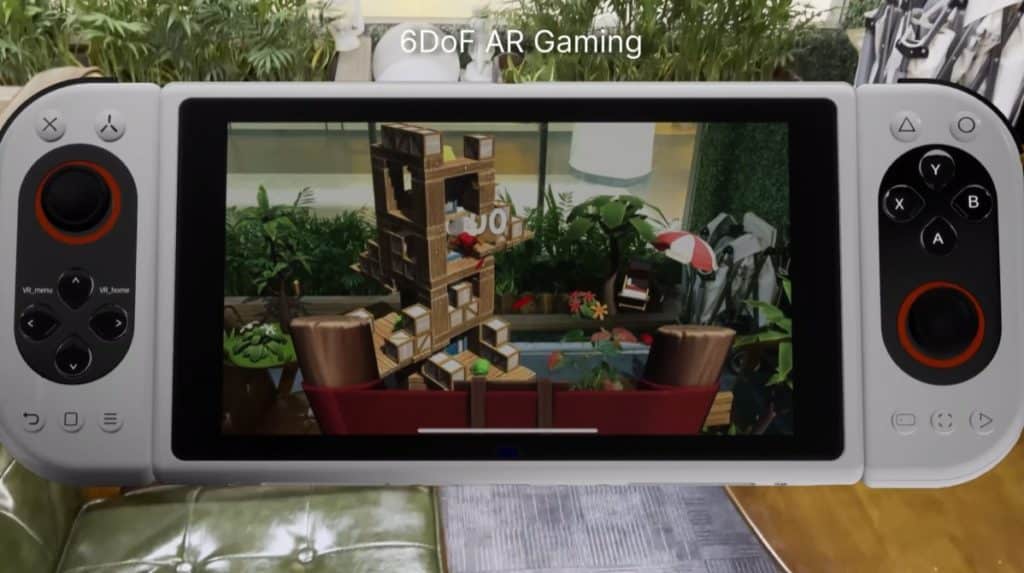 Meanwhile, the Steam Deck has a larger screen, which measures 7 inches diagonal. The display uses LCD technology and runs at 720p. It features adaptive brightness, which adjusts to the room or environment you are playing in. The Deck also has a USB-C port that a docking station can plug into.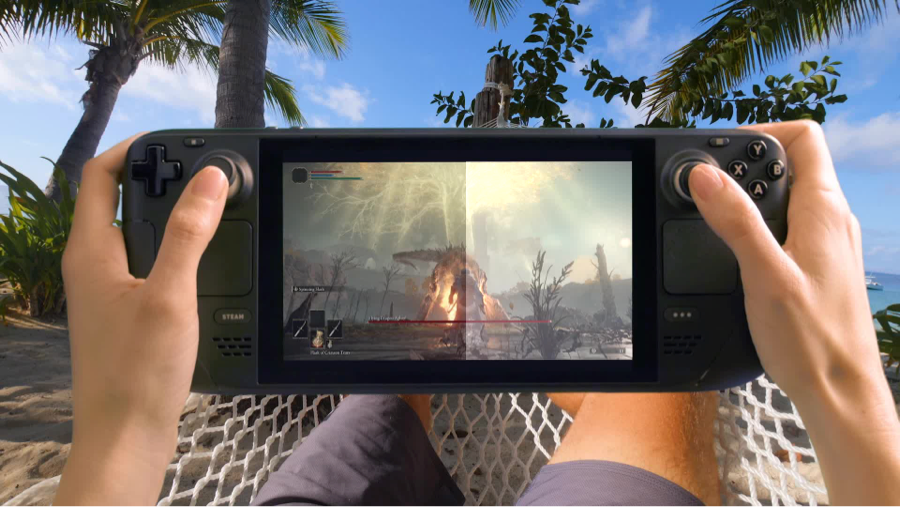 Winner: Steam Deck
Display Resolution
The Pimax Portal has a higher resolution than the Steam Deck. The Portal's QLED display operates at 3,840 x 2,160 resolution, supporting PG, VR, and console games.
On the other hand, the Deck operates 1280 x 800 resolution with an aspect ratio of 16:10. You can adjust the performance settings to optimize the screen fully.
Winner: Pimax Portal
Battery Life
The Portal comes with a 4,000mAh battery. Rumors have it that the console will be able to serve you up to 8 hours of continuous gameplay, depending on the title you are playing. With the higher screen resolution, the device doesn't quite get what is advertised. Especially in virtual reality mode, you can only get about 60 to 90 minutes of gameplay.
On the other hand, the Deck comes in-built with a higher battery capacity that can serve you up to 8 hours of gaming. The Deck's hardware has been optimized for extended battery life.
Winner: Steam Deck
Operating System
The Pimax Portal runs on the Android system, which gives you lots of choices to install different games.
In comparison, the Steam Deck runs on SteamOS. SteamOS is a Linux-based OS that connects to the Steam Store. You can run most titles on the operating system without any technical glitches.
The winner here depends on what you are looking for. For a straight gaming console, the Deck is more optimized. Android has a growing ecosystem of mobile and VR games.
Winner: It Depends
Gaming
Portal supports Android games, VR games, console games, and PC games. You can play all of these games freely over WiFi 6E+5G.
On the other hand, the Steam Deck supports over 4,500 games or titles from the Steam Store. You can play AAA titles on the Deck including Red Dead Redemption 2, Cyberpunk 2077, Stray, Skyrim, Spider-Man Remastered and others. The Deck also lets you remotely play games from your PS5 and supports Xbox Cloud Gaming.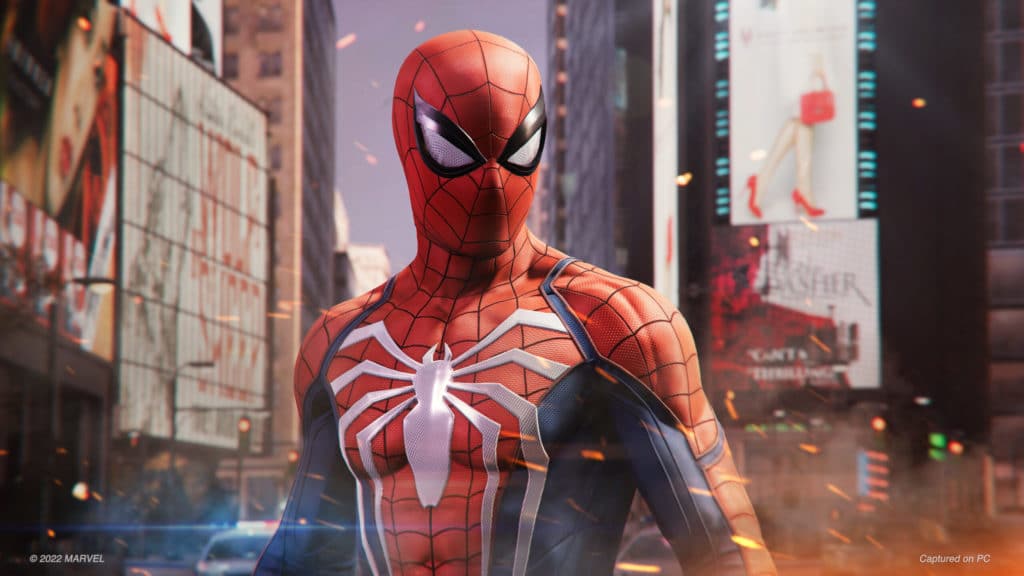 Winner: Steam Deck
Controls
The Pimax Portal has two magnetic controllers included in the box. They can be held in your hands or attached onto the side of the console. There's a linear motor on both sides of the controller, which provides real-time feedback.
The console itself has 32 physical buttons and eight virtual buttons. The console also has an analogue trigger and low input latency. You can adjust the trigger buttons to feel more natural.
The Deck has a full controller setup, dual mouse trackpads, and many buttons (A, B, X, Y, and L&R). On the back of the device are four configurable hotkey buttons.
The button configuration is designed to suit every playing style. You can adjust your controller to suit most titles in the Steam Library.
Most Steam Deck alternatives don't have a controller scheme that comes close to it, but the Pimax Portal might be a close second.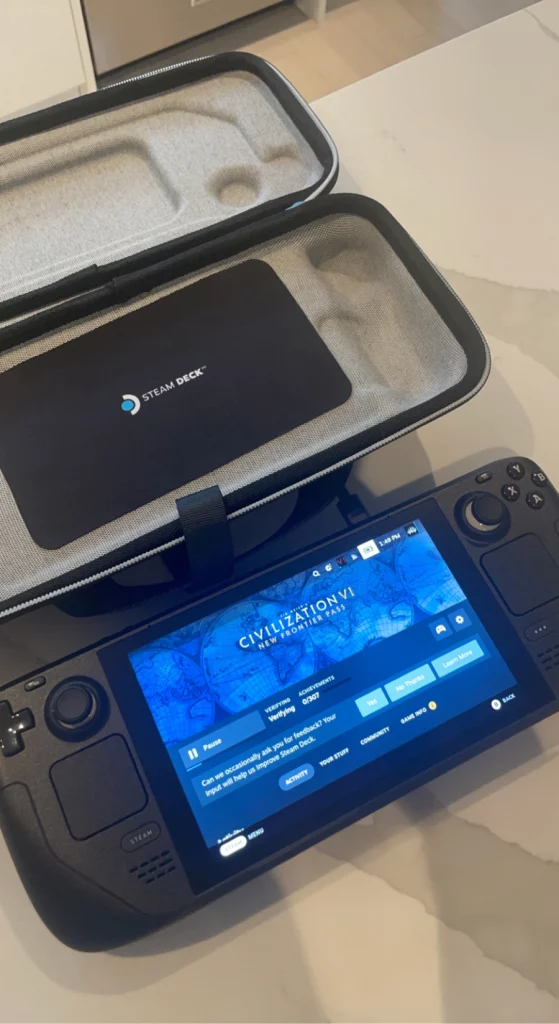 Winner: Draw
Price
Pimax will start shipping the Portal and its associated accessories from January 2023 for $299 (for the LCD console alone) and $449 with the Portal View headset. The QLED console will sell for $549, while the QLED variant with the Portal View headset will sell for $599.
The Steam Deck has three pricing options depending on the internal storage size:
64 GB costs $399
256 GB costs $529
512 GB costs $649
Overall, the Pimax is very aggressive with their pricing. If you are on the fence about either option and price is your main factor, the new Pimax Portal does have more value. If it takes off as an affordable VR option in addition to handheld gaming, then the Portal could be a real winner.
Winner: Pimax Portal
Virtual Reality
Pimax is one of the few companies that has introduced virtual reality asynchronous reprojection technology to portable gaming consoles. The Portal offers the best refresh rate and image quality balance and allows you to play VR games when connected with the Portal view headset.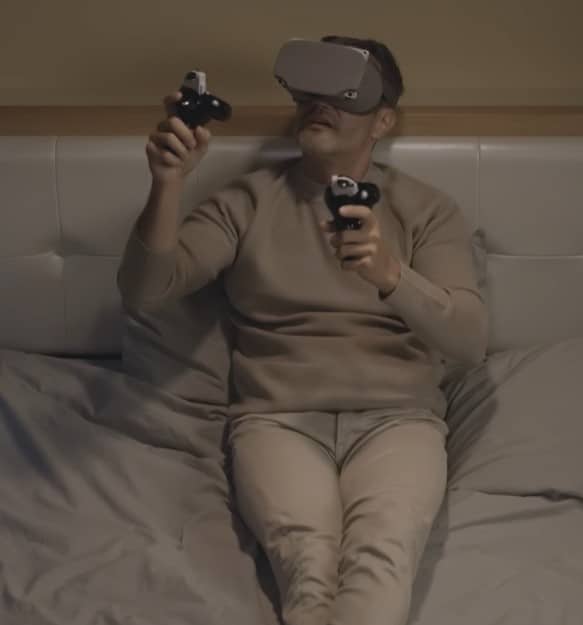 The Portal also features four outward-facing cameras which provide full 6 degrees-of-freedom tracking in your room. This allows you to play augmented reality games on the portal as well.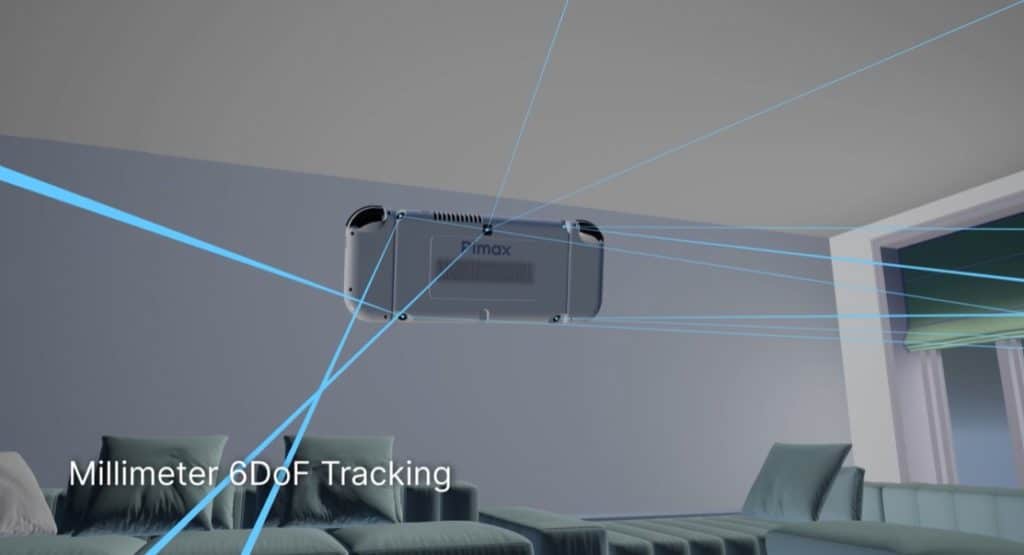 The Deck is powerful enough to support VR, but Valve has not made support easy. A future update could make it an excellent Portal competitor. If you have a little bit of knowledge and time, you can integrate wireless VR for yourself to the Meta Quest 2 or another wireless VR headset.
Winner: Pimax Portal
What I Like Better About the Pimax Portal
I like that the Portal offers a ton of flexibility. Each controller side is detachable, so you can play casually with your hands at your sides or use them as VR controllers. The virtual reality option is enticing for those that are interested.
Overall, the Portal tries to be the ultimate full-screen handheld experience. The build quality is top-notch and it will fit comfortably in your hands. You can play popular VR games, console games, PC games, and Android games.
Compared to the Deck, I like that the display can be full OLED.
What I Like Better About the Steam Deck
I like that the Steam Deck is well-built, versatile, and has a larger screen than the Pimax Portal. I also like that the Deck can run AAA games without technical glitches.
The controller setup on the Deck is top notch. In addition to a full controller and dual mousepads, the configurable rear hotkeys can be set to anything you want. Valve's Steam store is much bigger than what Pimax offers via Android, so you have way more games to try out.
Lastly, the battery is well ahead of the Portal. valve has optimized the hardware for extended battery life, even when playing high quality games.
If you are interested in either of these consoles, comment down below and let us know what you think!