In this article, we will go through everything we know so far about Grand Theft Auto: San Andreas on the Meta Quest 2. This Rockstar Games classic is under development for VR headsets for the first time.
Here's an overview of the contents of the article.
Grand Theft Auto: San Andreas on the Meta Quest 2 (For Real…)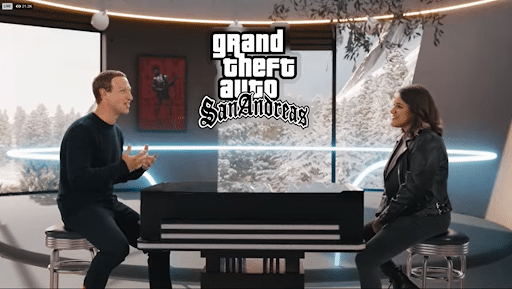 Finally, the PS2 classic Grand Theft Auto: San Andreas is coming to the Meta Quest 2. 
Mark Zuckerberg announced this big move during the Facebook Connect 2021 (check full details here), stating, "I'm excited to announce that the Rockstar Games' classic, Grand Theft Auto: San Andreas is in development for Quest 2."
This new version of, what I think is one of the greatest games ever made, will offer players an entirely new way to experience this iconic open world in Virtual Reality."
However, during this session with his coworker, Deb, from the Studios Team, he mentioned little to do with pricing, release date, features, or even a short game summary.
Another official confirmation came out on the Meta blog when they released a compilation of the games announced at Connect 2021. Meta also tweeted that the game is under development for Meta Quest 2. 
The blog reads, "Get a new perspective on Los Santos, San Fierro, and Las Venturas as you experience (again or for the first time) one of gaming's most iconic open worlds. This is a project many years in the making, and we can't wait to show you more of it."
Grand Theft Auto: San Andreas Plot
The Grand Theft Auto: San Andreas plot is set in 1992 within a fictional US state named San Andreas. You control a character named CJ, who comes from a rough background of Los Santos gang life.
It features a sprawling story spanning across three cities: Los Santos (for Los Angeles), San Fierro (for San Francisco), and Las Venturas (for Las Vegas). At the time, it was the largest game ever released.
As CJ, you return home after your mother's murder and are drawn back into gang life. You have to fight with and against other criminals, police, friends, and enemies. As the game progresses, you work your way out of poverty and try to make a name for yourself across Los Santos.
San Andreas received critical acclaim upon release in 2004. Remastered versions were released for iOS and Android in 2013.
Remastered or Classic Version in VR?
Rockstar Games had earlier announced the release of Grand Theft Auto: The Trilogy – The Definitive Edition for new game consoles. The Definitive Edition features Liberty City, Vice City, and San Andreas. Enhanced for a new generation, each of these games has improved visuals and lifelike graphics.
The digital version of the game is available through PlayStation Store, Nintendo eShop, the Microsoft Store on Xbox, and the Rockstar Games Launcher, effective November 11, 2021. The physical release of the game on Xbox Series X/S, Xbox One, Nintendo Switch, and PS4 is scheduled for December 7, 2021.
It is highly likely that San Andreas on the Meta Quest will be based on this new Definitive Series version. The rumor is that the same development company is responsible for both versions. The Android rerelease version from 2013 may also be used, since the Meta Quest 2 runs on a similar operating system.
Features in Grand Theft Auto: San Andreas on the Meta Quest 2
The following are the probable features of Grand Theft Auto: San Andreas on the Meta Quest 2:
First-person perspective – FPV is not new to the GTA series but this might be the first time GTA: San Andreas will be played in FPS on the VR headset.
Enhanced visuals and physics – This is a no-brainer. The classic Rockstar game will most likely have enhanced visuals and game physics, giving the user 360-degree movement control.
For the moment, this is what we think we know. As soon as we know more about the updated features in Grand Theft Auto: San Andreas on the Meta Quest 2, we will update this section.
A lot of fans want to know how driving will feel in virtual reality. We'll be watching closely for this as well.
Things we don't know yet
As of now, those of us following the VR gaming platform closely only know that GTA V is in development on Quest 2. Here are the things we don't know yet:
Pricing
Multi-platform support
Mods Support
Remastered or Classic version
Grand Theft Auto: San Andreas Meta Quest 2 Release Date
When will we see Grand Theft Auto: San Andreas on the Meta Quest 2 be released? Nothing has been officially announced yet, but we do have a few hints.
The game is being developed by Video Games Deluxe, the same studio behind Rockstar Games' LA Noire: The VR Case Files. Video Games Deluxe announced that they were developing an AAA open-world VR game for Rockstar in 2020. They have also been steadily hiring new game developers while referencing the project.
Based on this, we expect to see a release date in 2022. It also would not make sense for Mark Zuckerberg to announce the game if it wasn't going to be out before the next Meta Connect conference.
We expect to see a Grand Theft Auto: San Andreas on the Meta Quest 2 release date in Q2 of 2022.
Final Thoughts!
Grand Theft Auto: San Andreas is one of the most anticipated games out there on Quest 2. Its announcement on Facebook Connect 2021 undoubtedly brought smiles to millions of its fans.
How excited are you about Grand Theft Auto: San Andreas on the Meta Quest 2? Leave your thoughts down in the comments section below.