Beat Saber is the undisputed king of virtual reality so far, selling more copies than any other VR game in history. In this guide, we take a look at the top Beat Saber alternatives to play today.
These games use similar rhythmic mechanics, music, and swinging motions as Beat Saber. However, some provide a better workout, story mode, style, or other improvement.
If we missed your favorite Beat Saber alternative, comment down below at the bottom of this guide and let us know.
What are the Best Beat Saber Alternatives to Play Today?
Here are our picks for the top Beat Saber alternatives to try today.
Pistol Whip
AUDICA
Synth Riders
Audio Trip
Supernatural
FitXR
Electronauts
Dance Central
Thumper
OhShape
Gun Jam
What Does a Good Beat Saber Alternative Have?
To be a good Beat Saber alternative, these games have to check several boxes. Our choices below contain most of these features.
Easy to Play
One of the best things about Beat Saber is that it is easy to play but hard to master. Pulling the game out with a group of friends to introduce them to VR is fun.
Lots of games below have the same feeling. They are easy to pick up and learn in one session, but hard to master.
Good Music
All of our Beat Saber alternatives below make music the game's focus. Some have original soundtracks and others have licensed real-world tracks from real artists. Some games below offer custom song support, one of Beat Saber's biggest draws.
Rhythm and Timing
At its core, Beat Saber is a rhythm and timing game. You score based on how well you can hit targets to the rhythm of the beat. All the games below have similar goals and scoring systems implemented.
Cardio
Beat Saber is a light to medium workout in virtual reality, depending on what level you play on. It is casual enough to play without workout clothes, but intense enough to feel accomplished when you are done.
All the Beat Saber alternatives below have similar cardio requirements. Specifically, some games below market themselves as real workout games in virtual reality.
Custom Song Support
Beat Saber has full custom song support with a little bit of work. Custom songs allow you to load real life songs into the game, mapped and ready to play. A lot of the alternatives below also support custom songs too.
Click here to read a tutorial on how to set up Beat Saber custom songs.
Next up, we review our picks for top Beat Saber alternatives in more detail! Check out some of them today.
Pistol Whip Review – Best Rhythm and Gun Game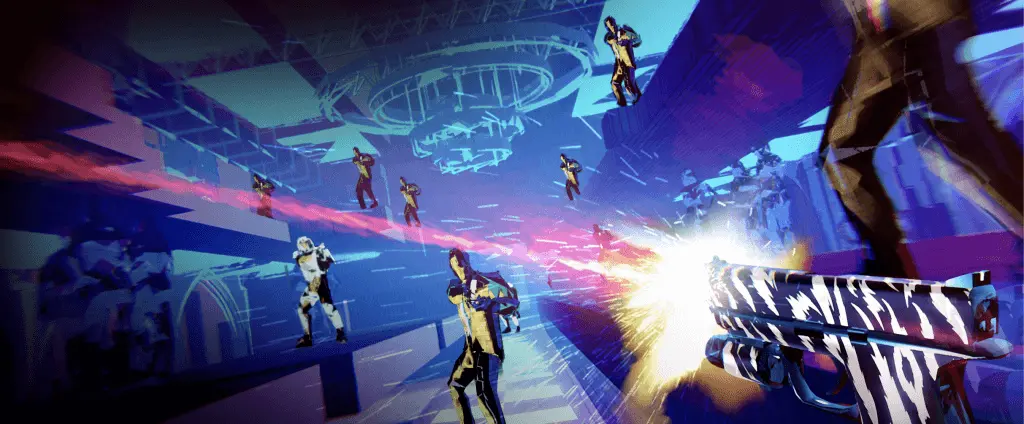 Pistol Whip is a rhythm and guns game. As the scenery moves past you, you stand in the middle of your guardian. You have to use a gun in your dominant hand to shoot bad guys to the track's beat. There are also obstacles to dodge and melee attacks to perform. Fewer mistakes and more accurate shooting will give you a higher score.
This Beat Saber alternative is gun-based. While you get more points for shooting to the beat, music in Pistol Whip takes more of a backseat. Still, some rhythm and timing features are taken from Beat Saber.
Pistol Whip recently added 2089, a cinematic story mode, to the game. This gives this game a distinct advantage over Beat Saber.
Click below to buy:
AUDICA Review – Best Shoulder Workout

AUDICA is another VR Rhythm game from Harmonix, creators of Rock Band. In the game, you arm yourself with dual pistols and shoot targets to the beat of a soundtrack. The soundtracks are from some of the most popular electronic artists in the world. Your score depends on your timing and accuracy of how your shoot targets.
Most music-based games approach their targets from a distance and place them dead center, but this is not the case with AUDICA. This game challenges your reflexes with colorful icons across your field of vision. There are also special targets that you must continually hit as they move across the screen.
AUDICA provides a good shoulder workout as you play. It is tougher to master than Beat Saber, but a lot of fun.
Click below to buy:
Synth Riders Review – Best Beat Saber Alternative With Custom Song Support

Synth Riders is one of the most popular Beat Saber alternatives on this list. It takes you back to the neon rich 80s and offers you glowing pompoms to hold while you play. Instead of swiping through targets, Synth Riders has you aligning your hands to the choreographed music. As for your body, you can move it the way you want.
If you're a fan of energetic VR titles but want something different from Beat Saber, you won't go wrong with Synth Riders. Synth Riders is more rhythmic than Beat Saber, which can make it easier or harder for different players.
Synth Riders is a VR rhythm game with support for official custom songs. In fact, Synth Riders custom songs functionality is built right into the game, so you don't have to jump through many hoops. Check out our Synth Riders custom song guide for more information.
Click below to buy:
Audio Trip Review – Best VR Dance Workout

Audio Trip is a VR dance game that involves catching smash drums, ride ribbons, and gems. The game also involves dodging barriers as you dance to songs from household names like deadmau5 and Lady Gaga. Each song has surreal environments specially crafted for it. 
Players can create their own Audio Trip using the in-VR level editor to create custom choreograph that suit each dance move.
This Early Access game is very similar to Beat Saber in many ways. It includes customizable tools, dance-centric gameplay, and cyberpunk aesthetic. It is a cross between Beat Saber and Synth Riders. Since the game requires active movement, prepare for a higher difficulty curve.
Click below to buy:
Supernatural Review – Best VR Fitness Alternative to Beat Saber

Supernatural is a VR rhythm game that lets you get full-body cardio workouts as the beat synchronizes with your favorite music. Daily releases are always added to Supernatural's music library, meaning you will never lack songs to dance to. It is one of the top VR fitness games available today.
With Supernatural, you meet expert coaches face-to-face, build cardio endurance, and strengthen every muscle group. You also earn streaks and badges while monitoring your heart rate.
This game is similar to Beat Saber in that you hold two batons in your hand while you play. In Supernatural, you use the batons to knock away and slice through balloons of the same color.
Glowing triangles also hurtle toward you. You can side lunge or squat through the triangles. You do all of this in time to music using tips and encouragement from the coach as you go. 
Click below to buy:
FitXR Review – Best VR Boxing Game

FitXR is a fun way to maintain your shape and keep fit. The game is packed full of workouts that you will love. You have the opportunity to train alongside others and also enjoy group workouts. FitXR transforms any place into your fitness studio. You can easily track your performance for extra motivation.
FitXR, like Beat Saber, involves punching approaching orbs to the beat of a song. However, you will use various hooks, crosses, jabs, blocks and uppercuts to stay in shape. You will also be switching between southpaw and orthodox stances at interval during each season.
Additionally, unlike Beat Saber and Synth Riders, there is no need to have any natural rhythm and coordination to enjoy FitXR. Your focus is to punch hard, often, and fast. Recent updates to the game have added more full-body workouts into the mix.
Click below to buy:
Electronauts Review – Best VR Music Generator

Electronauts is a VR-exclusive experience that lets you enjoy the vibes of top-rated DJs. It features over 80 songs from top artists across trap, hip-hop, EDM, and other genres. The passion to become one of the beats is all you need to become an Electronaut. No matter your skill level, you can create music with confidence.
Unlike Beat Saber, your musical journey Electronauts uses two sticks to manipulate three electronic musical consoles. The sticks will light up with the corresponding control scheme. It's a fun way to create music as you move your body.
Click below to buy:
Dance Central Review – Best VR Dance Game

Dance Central immerses you and your friends in a dance club, where you dance to different songs to keep fit and stay in shape. The game was designed from scratch for VR. Dance Central uses various songs from the 1970s to today's biggest hits. It has unique routines choreographed for each song, meaning there are plenty of songs to dance to for a full workout session. 
In the multiplayer lounge, you can meet up with your friends to chat, party, and dance to your favorite songs. With cross-play, you and your friends can compete on the Oculus Rift and Quest platforms to see who emerges as the best dancer. 
Dance Central is a Beat Saber alternative that uses dancing instead of cutting and slicing. Still, it's a great way to stay in shape, keep fit, and maintain mental alertness.
Click below to buy:
Thumper Review – High Speed Beat Saber Alternative

Thumper is a VR game that takes you on a mental trip with psychedelic visuals that explode in space. You must defeat monsters with quick reflexes before they harm you. Thumper was originally developed for 2D, and was adapted for virtual reality. It features one-button controls, making it easy to pick up.
In Thumper, you are a space beetle that likes to go fast. As you move down a neon track with music pumping in your ears, you feel like you are moving at the speed of light.
Thumper lacks custom map support, which is its main drawback. It contains nine levels with more hopefully on the way soon. Still, this Beat Saber alternative has very good reviews and is available for all headsets.
Click below to buy:
OhShape Review – Full Body Beat Saber Alternative

OhShape is also another great VR rhythm game. It lets you stay in shape by moving your whole body to the beat of a song. To get through each map, you have to punch walls, dodge obstacles, and make fun poses. It comes with 4 difficulty levels and so many gameplay settings and is perfect for the family. 
Players can customize the experience to suit their skill levels. To make it through each workout, you will need to work your core muscles and move fast.
Unlike Beat Saber, OhShape has contorting your body to squeeze through each hazard. You will dodge walls, punch through obstacles, and reach out for collectibles to the beat of the music.
Click below to buy:
Gun Jam Review – Best Rhythm Shooter with Style
Gun Jam takes the VR rhythm genre and infuses it with stylish gunplay. In this game, you find yourself in the middle of a vivid and dynamic environment with dual-wield guns, and your objective is to shoot enemies to the beat of the soundtrack. The game features an assortment of genres in its music library, with catchy tunes and beats that get you moving.
What sets Gun Jam apart is its focus on style and rhythm in tandem. As you shoot the enemies, your movements and shots must be in sync with the music. The better your rhythm, the more points you score. The game is about shooting and dodging bullets and obstacles, making it an intense and engaging experience.
Gun Jam is an excellent choice for those who love rhythm games but are looking for something with a bit more action and style. The combination of shooting mechanics and rhythm-based gameplay makes it a unique alternative to Beat Saber.
Click below to buy:
Conclusion
As you can see, plenty of games like Beat Saber are available to try out today. A lot of them are blatantly inspired by the original game, but offer unique twists to the game.
What is your favorite Beat Saber alternative? Which game above is the most enjoyable? Comment below and let us know.