Do you travel a lot with your Steam Deck and play games on the go? If so, you need to protect your hardware with one of the picks below from our best Steam Deck cases list.
Each of these cases does a great job covering the corners and important parts, while keeping free access to all of the buttons and track pads.
For each Steam Deck protective case, I'll show you key features and how to pick yours up today.
If you have one of these or a different case, comment down below and let me know which one you have!
Related, check out some of the best Steam Deck screen protectors.
What are the Best Steam Deck Cases?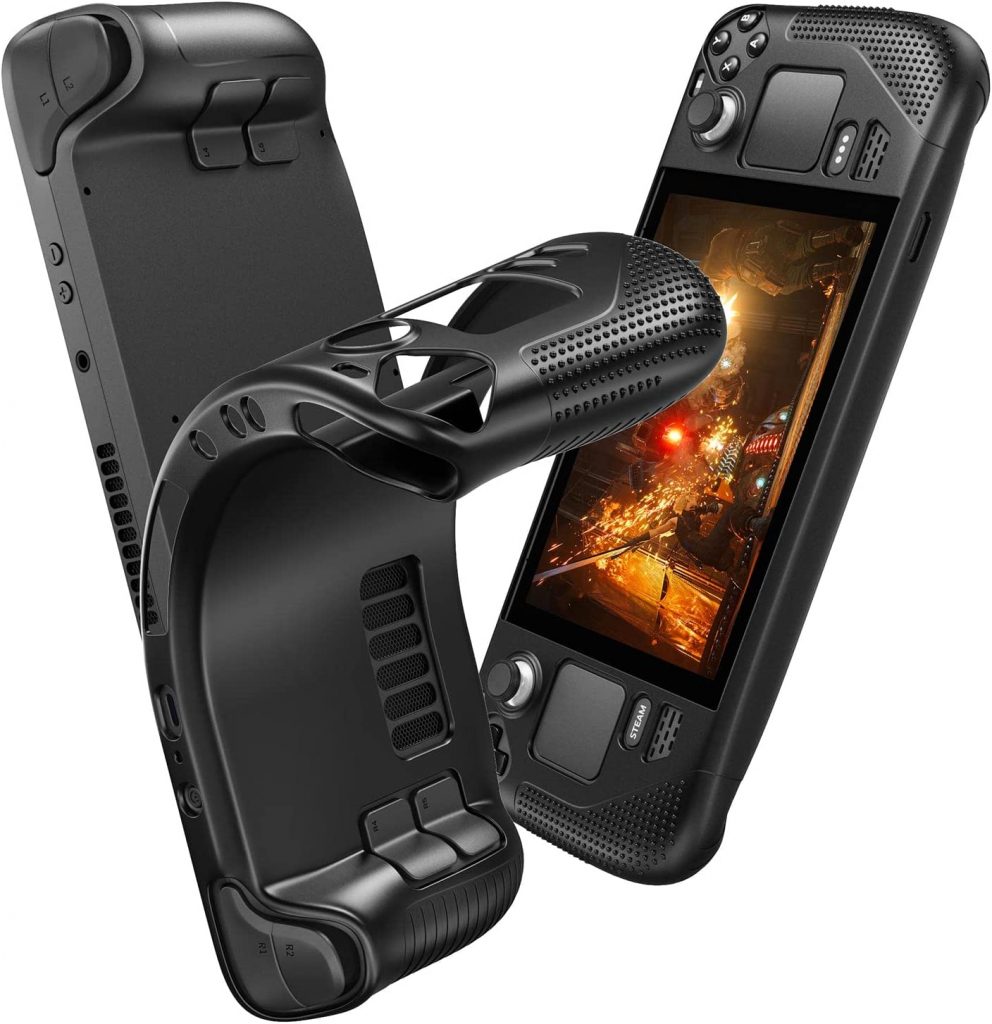 The JSAUX Silicone Soft Cover Protector provides complete protection to your Steam Deck. It is made with environmental protection silicone material, so you don't have to worry about scratches, bumps, and drops on your Steam Deck. It comes with a soft and flexible shell so that installing and removing the cover can be seamless.
Upon installation, this Steam Deck Case aligns with your gaming console nicely. I really liked how the case was careful not to block any port or button. It has an opening that latched behind the Deck, providing excellent heat dissipation.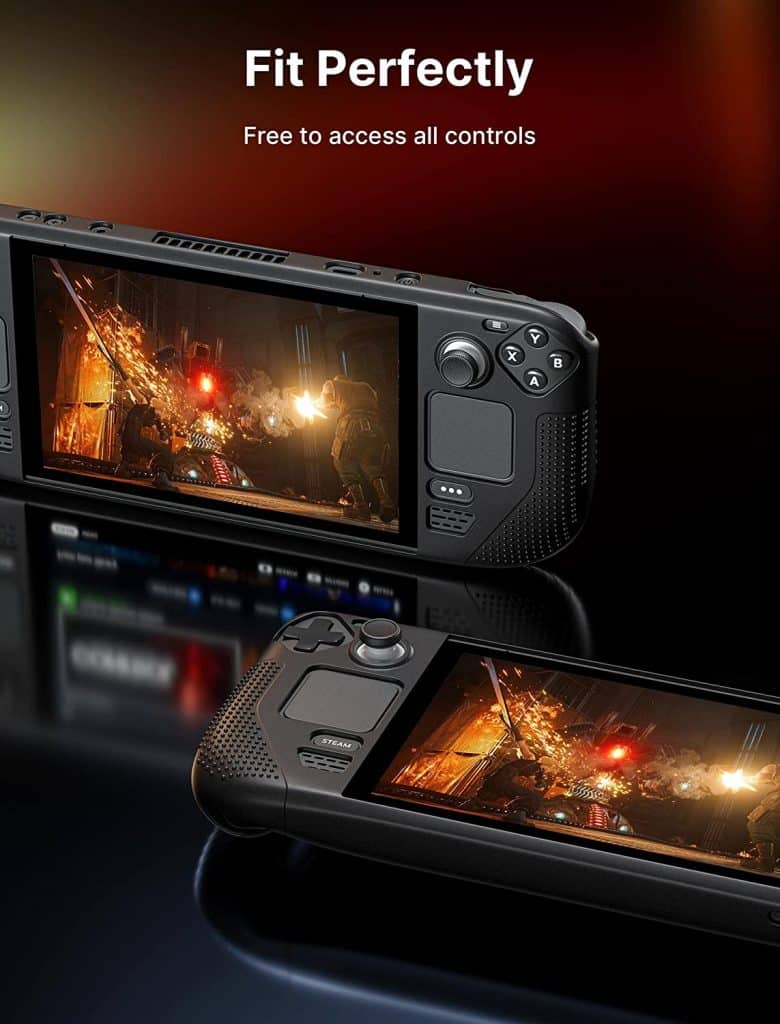 The ergonomic design makes it user-friendly and more comfortable to grip for extended gameplay. It's lightweight, washable, reusable, and easy to carry around.
Sale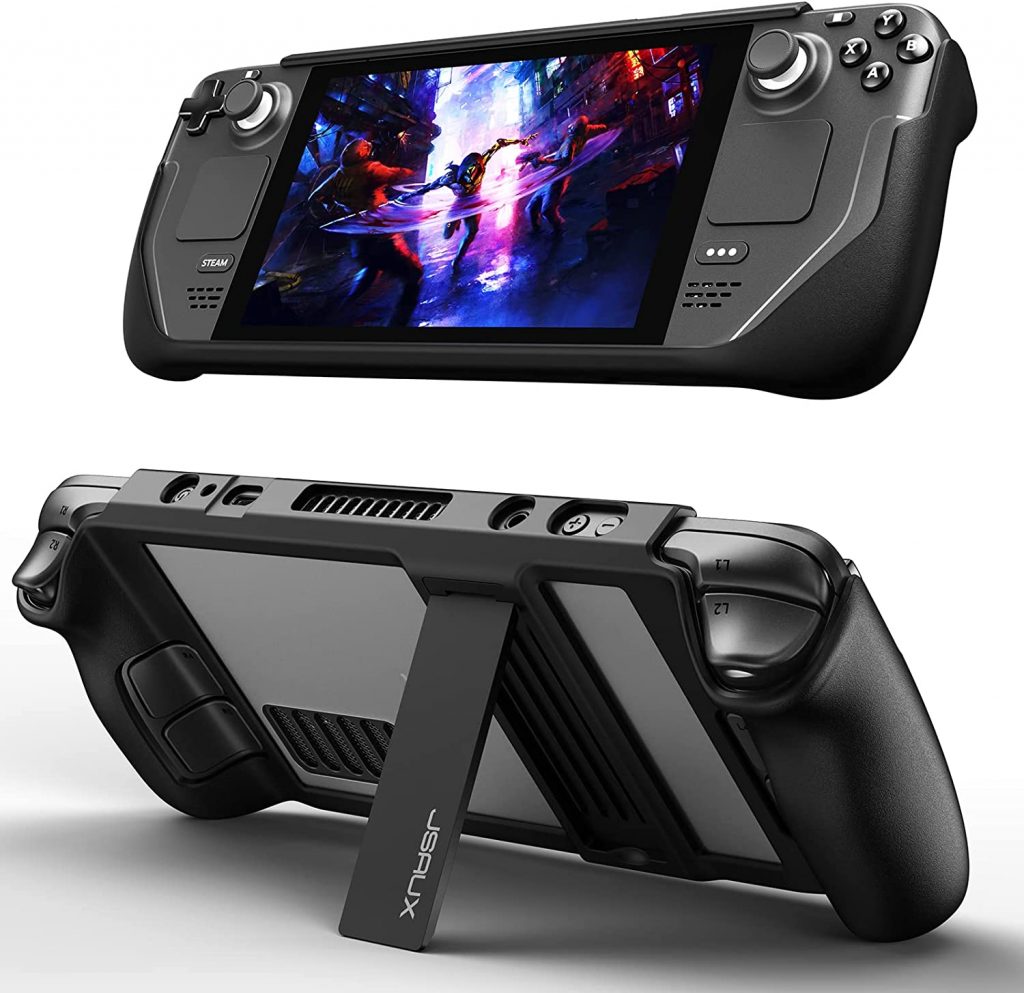 The JSAUX Kickstand Protective Case protects your Valve Steam Deck and also adds a nice stand function. It is made of TPU material, making it possible to solve the annoying fingerprints, oil, and dust accumulation problems. With the stand base, you can operate your Deck more conveniently.
When you install this Steam Deck case, it fits perfectly with your device. It doesn't block any button or port. The half wrap design also makes it easy to remove the case from the Deck for cleaning. The case has a hole that helps to dissipate heat when the Deck is in operation.
The ergonomics design adds more possibilities to the case. It makes handling your Deck easy and provides a comfortable grip for extended gameplay.
Sale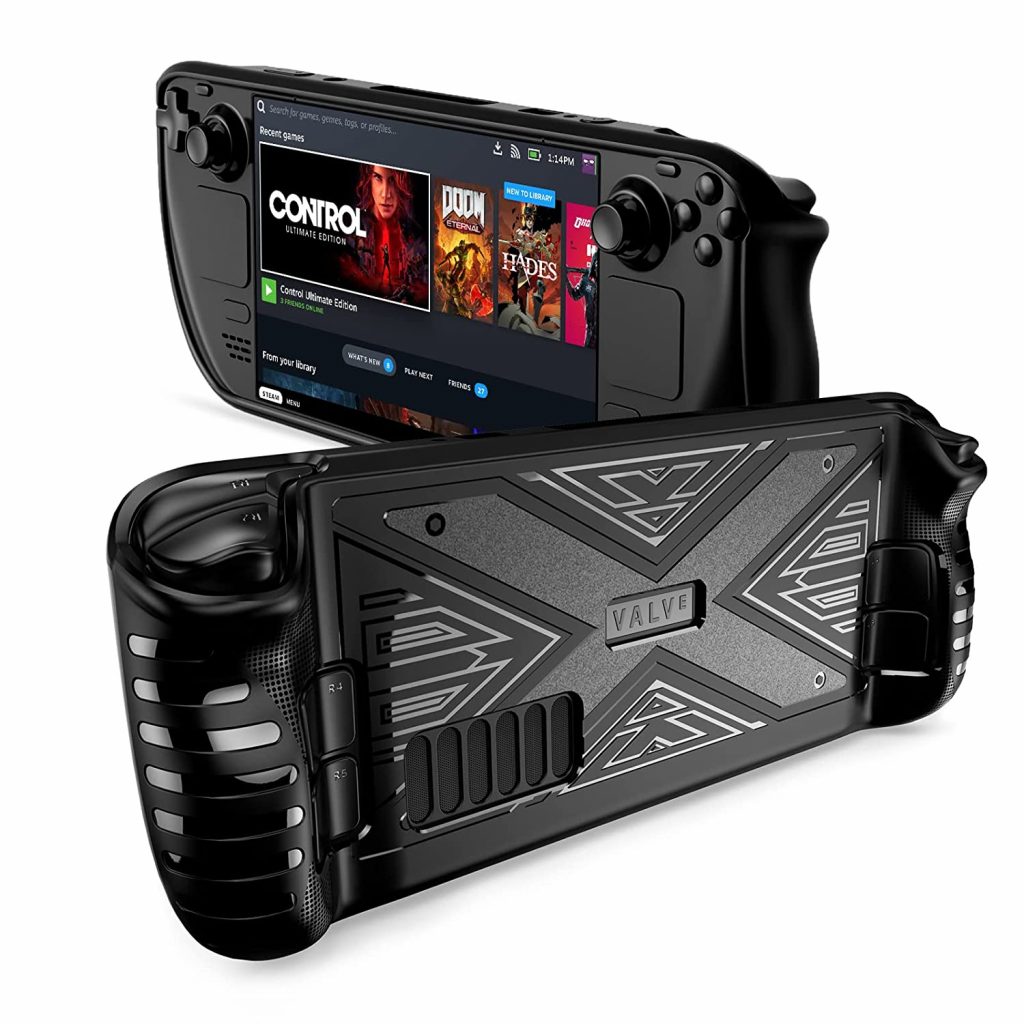 The SENQAO Protective Cover Case is another Steam Deck accessory that can protect the whole body of your Steam Deck against all sorts of scratches. It comes from high-quality TPU material, protecting your device from drops, falls, dust, and everyday bumps.
One thing I like about the SENQAO is that it perfectly fits the Deck. All buttons and ports are accessible without any interference. It has openings behind the Steam Deck to solve the heat dissipation problem.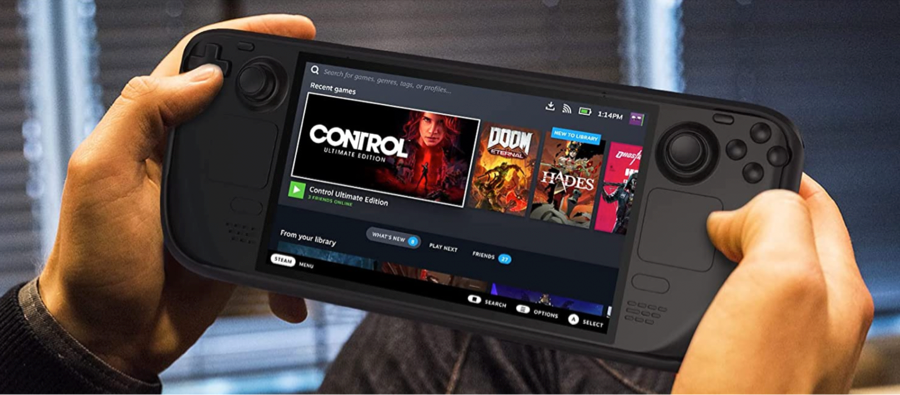 The anti-slip design makes the case user-friendly, providing a better hand feel for extended gameplay. The flexible TPU material makes it easy to carry around and lightweight.
Sale
Case for Steam Deck, SENQAO TPU Protective Cover Case Compatible with Steam Deck, Shock-Absorption, Non-Slip and Anti-Scratch Design Cover Protector, Individuality Textured Accessories-Black
【Unique Cool Design】SENQAO protective case is specifically designed for Steam Deck 2022. The newly designed glossy and matte combination of textures shows individuality.
【Perfect Match】 Designed with specially placed cut-outs every port or button will not be blocked by the case, so all Steam Deck features are accessible without interference. Behind the Steam Deck, the opening holes solve the heat dissipation problem excellent.
【High Quality Material】This cover protector made with shock-absorbent and anti-scratch flexible TPU material, protects your device from everyday bumps, drops, falls, scratches, dust. Comfortable touch allows you to enjoy the game easily.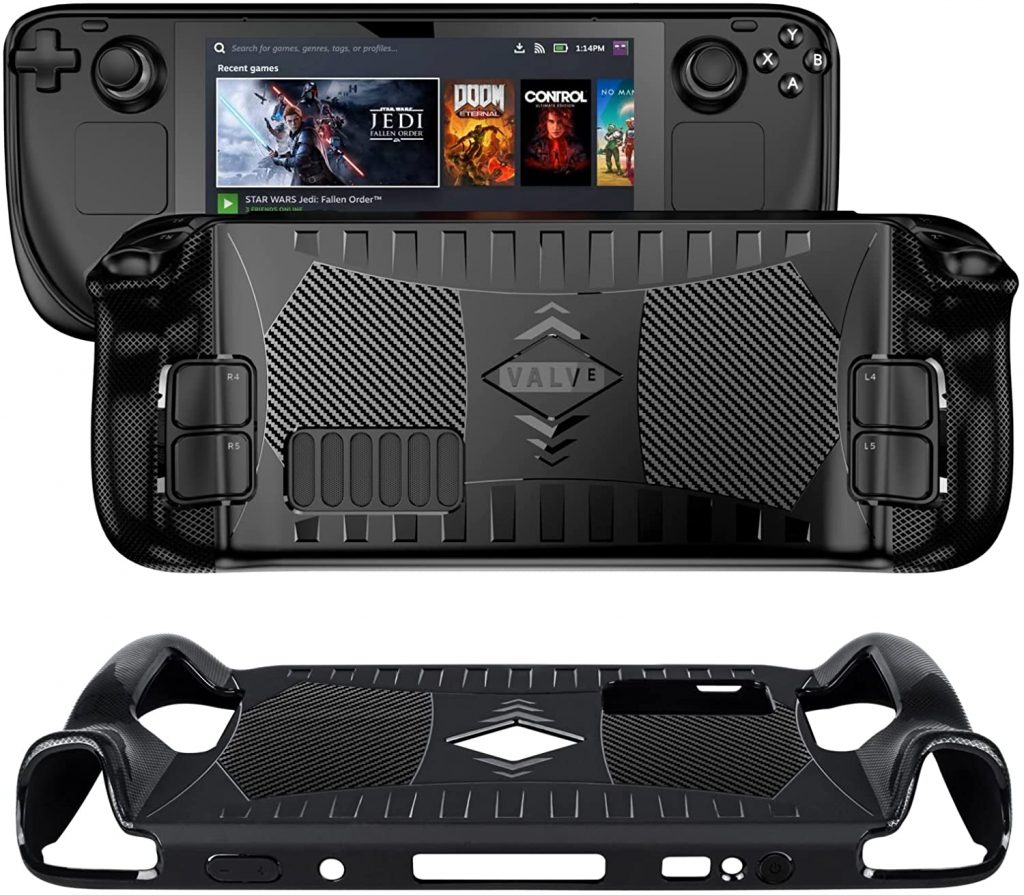 The DLseego Steam Deck Protective Case protects your Deck from the grinds and bumps of daily living. It is shockproof, non-slippery, and scratch resistant. This case allows the Steam Deck to efficiently dissipate heat when it is in use.
The ergonomic design makes you play your favorite games more comfortably. It also helps you master the console and reduce the probability of falling. The ergonomics of this case fit the palm of your hands and feel more comfortable than some of the other options out there.
This Steam Deck Case is made of high-quality TPU material to protect your Deck better. After installing the case on the Deck, all buttons and functions of the device will still be regular.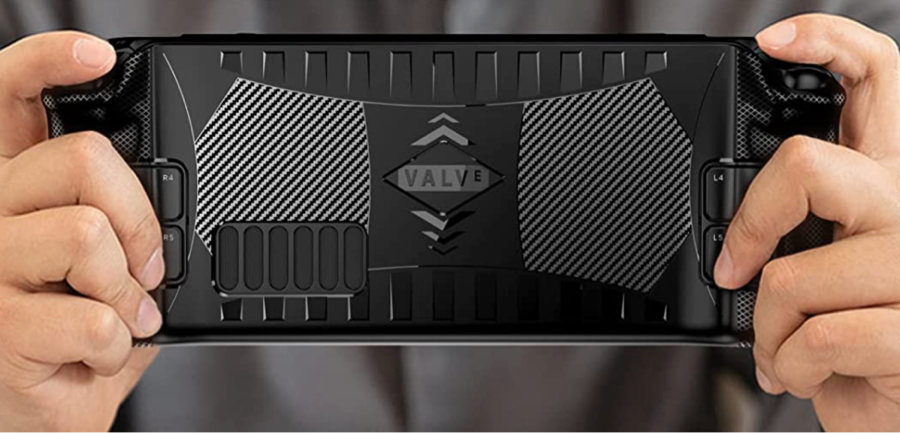 So, if you want to protect your Steam Deck from daily scratches, dust, shocks, and other impacts, add the DLseego Steam Deck Protective Case to your shopping list. It can also serve as a special Christmas or Valentine's Day gift.
Sale
DLseego Steam Deck TPU Protective Case Shockproof Shell Soft Non-Slip Cover Durable Full Protection Scratch Resistant Skin - Black
🎮COMPATIBILITY -- Special design for Steam Deck. Precise cutting, 1:1 real machine mold opening, accurate of the holes. All functions and buttons can be used normally when the case is put on.
🎮All-ROUND PRPTECTION & TPU MATERIAL -- The soft cover is made of high-quality TPU material to provide better protection for your steam deck. All-inclusive design, add a layer of console protection, protect your Steam Deck from daily scratches, shocks, fingerprint and other impacts.
🎮ANTI SLIP DESIGN -- The back of the shell and the handle part use non-slip design to give you a massage touch, and help you master the console more stably and reduce the probability of falling.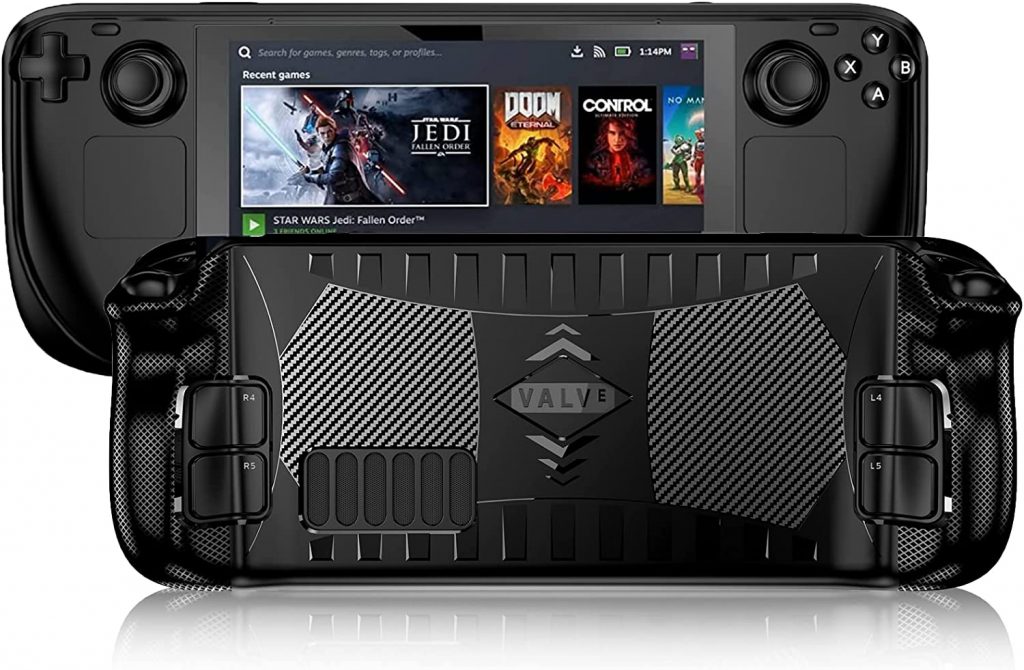 The Mizzkly Steam Deck Case protects your Steam Deck from bumps and accidental drops. It is made of flexible, oil-proof, scratch-resistant, and shock-absorbing TPU material. The material is skin-friendly and protects your device from daily dust, drops, and scratches.
This Lightweight steam deck case is ergonomically designed, making it easy and convenient to use even during extended gameplay. It offers easy access to your Deck features and controls.
This Steam Deck case is soft, flexible, and can be installed or removed without hassle. It is durable, reusable, and washable.
Mizzkly Steam Deck Case Stream Deck Case with Anti-Slip Particles, Compatible with Steam Deck Cover, Anti-Skid Anti-Collision Anti-Scratch Anti-Scratch Ergonomically Designed Anti-Drop Grip Design
【Comprehensive Protection】Steam deck protective case is specially designed for steam deck and fits perfectly to the steam deck console. Compatible with Steam Deck.Don't worry about the steam deck case being damaged, the steam deck cover is made of shock-absorbing, oil-proof, and scratch-resistant TPU material, which is flexible and skin-friendly, and can protect your device from daily bumps, scratches, falls and dust.
【No more afraid of sweaty hands】 The stream deck case is ergonomically designed, and the handle has anti-slip particles, which are oil-proof, sweat-proof, fingerprint-proof and non-slip, and feel very comfortable and skin-friendly. The special design allows players to have a better grip in the process of playing the game, so that we can continuously hold the handle without sore fingers during the game. Great for long gaming sessions.
【Ergonomic Design】The steam deck accessories is ergonomically designed. Let the steam deck protective case fit better in your hand, making it more comfortable and easy to play games. Even long gaming sessions don't feel sore fingers, as the ergonomic design is easier to grip for extended gaming sessions, and the non-slip bumps on both sides of the steam deck case provide a better feel.
What is a Steam Deck Case?
A Steam Deck case is a hard or soft shell that wraps around your Steam Deck. In addition to protecting it from bumps and bruises, another key purpose of the case is to give you better grip while you are holding the Deck in your hands.
If you will be taking your Steam Deck with you when you travel, a good case is a great idea. If you buy a good one, you won't even realize that it is installed.
Key Features in a Good Steam Deck Case
There are several important things to look at before buying a Steam Deck case.
Durability
A good case should be nice and durable. If you accidentally drop your Deck, you want it to be safe, so your case better hold it's own too!
Ergonomics
A good case should fit well into your hand so that you can easily hold the Deck in your hands while you play. The 7″ display on the Deck means that it is already a pretty big size. Adding a case over top of it that isn't too bulky can be a bit of a challenge.
Protection
A good case should provide extra protection against dust, dirt, and scratches. That's what you bought the accessory for, so it should do its job.
Accessibility
A good case should allow you to quickly access your Deck features and controls without having to remove it from the case. All of the air ports, micro SD slot, and buttons should still be accessible even when the case is installed.
Reusability
A good case can be removed and reinstalled over and over again. That way, you might remove it when you are playing at home and then reinstall it when you leave your house again.
Conclusion
A protective case is key for portable gaming. Hopefully our picks for some of the best Steam Deck cases above shows you some of the top options you can buy today.
These cases are:
high quality
ergonomic
easy to install
Plus, they don't interfere with any of the ports or buttons on your console.
If you buy any of these cases or have another recommendation, comment down below and let us know.