The Playstation VR2 headset doesn't come with integrated audio in the headband like other VR headsets, so you need your own external solution in order to get glorious audio! In this guide, I'll show you 9 of the top headphones for the Playstation VR2 worth checking out and buying today.
In a rush?
Here are the top options:
What are the Best Headphones for the Playstation VR2?
Below, I'll go over all of these headphones in more detail, including:
How it integrated with the Playstation VR2
Key features that you'll like
Why I think it's a good option to enhance your PSVR2 audio
If you need to buy your PS5 to get ready for the PSVR 2, check out the link below.
Sale
PlayStation 5 Console CFI-1102A
Stunning Games - Marvel at incredible graphics and experience new PS5 features.
Breathtaking Immersion - Discover a deeper gaming experience with support for haptic feedback, adaptive triggers, and 3D Audio technology.
Lightning Speed - Harness the power of a custom CPU, GPU, and SSD with Integrated I/O that rewrite the rules of what a PlayStation console can do.
Let's dig in.
Sony Playstation Pulse 3D Review
The Playstation Pulse 3D headphones are an official Playstation 5 accessory from Sony. These headphones are fine-tuned for 3D audio on the PSVR2. They feature dual noise-canceling microphones, an array of easy-access controls, and a built-in USB-C rechargeable battery. I like how Sony has refined their design compared to the similar headphones for the PS4. The over-ear cups are comfortable to wear.
If you are looking for premium headphones to ignite your gaming nights on the PSVR2, Sony Playstation Pulse 3D won't disappoint you. With these headphones, it feels like the sound comes from every direction. You can customize the headset's equalizer settings from the Playstation menu.
The main reason these are great for the Playstation VR2 are because the color scheme matches the rest of the PS5 lineup. The speakers don't interfere with the headset at all. Plus, one battery charge can serve you for up to 12 hours of gameplay.
Key Features
Equipped with hidden noise-canceling microphones.
The design compliments the PSVR2 headset.
Lets you enjoy up to 12 hours of gameplay without the need to recharge the battery.
The Pulse 3D fits nicely with the headset's strap.
What I Like
I like that you can fine-tune these headphones for 3D audio on PSVR2 to enjoy comfortable gaming with refined earpads and head strap. I also like that the color and aesthetics match the PSVR2 headset. If you don't care about sound quality too much, the Pulse 3D is the top pick.
PlayStation PULSE 3D Wireless Headset
Built for a new generation - Fine-tuned for 3D Audio on PS5 consoles. Enjoy comfortable gaming with refined earpads and headband strap. Play in style with a sleek design that complements the PS5 console. Available when feature is supported by game.Specific uses for product : Gaming.Special feature : lightweight.
Designed for gamers - Chat with friends through the hidden noise-cancelling microphones. Quickly adjust audio and chat settings with easy-access controls. Internet and account for PlayStation Network required.
Take your adventures further - Enjoy up to 12 hours wireless play with the built-in rechargeable battery. Easily connect to your PS5 or PS4 console using the wireless adaptor. Connect to PS VR and mobile devices with the included audio cable. Built-in headset controls not supported on PS VR and mobile devices.
SteelSeries Arctis 7P Wireless Review
Because you'll be moving around a lot, you need sturdy headphones to enjoy gaming with your Playstation VR2. The SteelSeries Arctis 7P Wireless are my pick for best third party PSVR2 headphones. They have all the features and functionalities you should look for to upgrade your PSVR2 experience.
These headphones are designed for powerful next-gen 3D audio and come with over 30 hours of battery life. SteelSeries Arctis 7P Wireless is designed with a durable, lightweight steel frame and has easy on-ear headset controls. It also comes with lossless ultra-low latency with 2.4GHz wireless. You don't need to add another cable into the mix
Aside from PSVR2, these headphones are also compatible with PlayStation 4 & 5, Mac, Switch, Android devices, and even the Meta Quest 2. There's a USB-C port for easy charging when it's low on battery.
Key Features
Designed for PlayStation with Tempest 3D Audio on your PSVR2
Features USB-C charge and a 30-hour battery life.
Supports 15 min quick charge for 3 hours of usage.
The sound quality lets you hear every detail of your game.
What I Like
I like this headset for several reasons, including the sound quality, battery life, and volume controls. I also like that it fits tightly on my head. You can even do light exercises or move around, and the headphones will stay snug. If you want better sound quality than the Pulse 3D headphones and don't mind the price, these are the ones I would buy.
SteelSeries Arctis 1 Wireless
The SteelSeries Arctis 1 Wireless are wireless headphones that will look great with the new PSVR2. They are simpler in design than the Arctis 7P model, but better on the wallet too.
These headphones have a lightweight and sleek design. They filter out surround sound noise, ensuring you enjoy in-game audio only. They are equipped with the proven SteelSeries 2.4 GHz wireless for lossless, ultra-low latency audio to your PSVR2.
The SteelSeries Arctis 1 are very durable, with a steel-reinforced headband that can adjust to fit any head size. You can quickly mute, unmute, and adjust the volume level on the fly with the controls on the headset. The built-in battery can serve for over 24 hours of intense gameplay.
Key Features
Comes with a steel-reinforced headband for a perfect fit.
Built-in microphone and device connectivity that uses Bluetooth 5.0,
Folds into itself for easy storage.
What I Like
I like SteelSeries Arctis 1 Wireless headphones because they offer full surround sound audio at a good price. They have active noise cancellation to reduce outside noise from the headset. They don't feel cheap like other headphones.
Astro A10
The Astro A10 headphones are a durable option you might want to consider. The headband can be stretched and bended however you want. Like some of the other options on this list, you can connect to your VR headset via Bluetooth audio. The A10 does have a headphone cable included that you can plug in as well. You will enjoy about 20 hours of battery life if you connect to the headset with Bluetooth.
The audio quality on the A10 headphones are pretty impressive for their price. Where the headstrap is adjustable and bend, the speaker cups are durable.
The Astro A10 headphones have an external microphone that can be rotated in front of your face. It's a little old-school, but looks okay and does the trick. The headphones feature flip-to-mute, which is handy if you don't want to be heard.
The Astro A10 also has an inline volume control, making it easy to adjust your audio with one hand.
Key Features
Features 32mm dynamic drivers for good precision.
The headband is sturdy and durable.
Comes with replaceable ear cushions and a headband pad.
Has a lilac color that looks good with the PSVR 2.
What I Like
I like that Astro A10 has a flip-to-mute feature that lets you quickly mute the microphone. I also like that these headphones have a removable cable with inline volume controls so that you can adjust audio without pausing the game. The microphone COULD have been internal in my opinion, but then you wouldn't have flip-to-mute.
Astro A10 Gaming Headset Gen 2 Wired Headset - Over-Ear Gaming Headphones with flip-to-Mute Microphone, 32 mm Drivers, for Xbox Series X|S, Xbox One, Playstation 5/4, Nintendo Switch, PC, Mac -Lilac
Enhanced sound quality: ASTRO Gaming A10 Gen 2 Headset for Xbox Series X|S, Xbox One, PlayStation 5, PlayStation 4, Nintendo Switch, PC, Mac features custom-tuned 32mm dynamic drivers so you can always hear your game and teammates with clarity and precision.Note : If the size of the earbud tips does not match the size of your ear canals or the headset is not worn properly in your ears, you may not obtain the correct sound qualities or call performance. Change the earbud tips to ones that fit more snugly in your ear
Flip-to-mute mic: Integrated boom microphone that can be flipped up to mute for privacy and down for crystal-clear comms via a 6.0 mm unidirectional mic
In-line volume control: This gaming headset features a removable headphone cable with in-line volume control, letting you adjust audio without pausing the game
Logitech G Pro X Wireless
The Logitech G Pro X Wireless gives you high quality sound and extreme performance with the PlayStation VR2 headset. Everything about these headphones are premium. The 50 mm audio drivers are some serious quality and sound.
These Pro X headphones are made with durable steel and aluminum construction.That makes them really sturdy, but heavier than other options I would recommend. The speakers are covered with comfortable memory foam. The band is wrapped with leather.
Logitech has included Blue Voice technology into the microphone. This is designed to make you sound clear while playing online multiplayer VR games.
If you open the package, you will find user documentation, a carrying bag, a 1.8m USB A to USB C charging cable, and a detachable mic with a foam windscreen. Other items included in the box are a USB LIGHTSPEED Wireless adapter, extra memory foam cloth ear pads, and the PRO X Wireless gaming headset.
Key Features
These wireless headphones deliver precise sound imaging with improved bass response.
It has a noise-canceling mechanism to subdue outside noise.
They have a durable aluminum fork and steel headband.
The built-in rechargeable battery can serve up to 20 hours of gameplay.
What I Like
I like that Logitech G Pro X Wireless has a precision boom mic that easily flips up or down for a comfortable muting system. I also like that the built-in battery can serve up to 15 hours of continuous gameplay. Additionally, these wireless headphones will tightly fit over your head.
Sale
SteelSeries Arctis Pro + GameDAC
The SteelSeries Arctis Pro is a solid pair of headphones for gaming. They deliver a high-resolution audio system, ensuring you hear high-fidelity audio in its purest form.
The Arctis Pro places the digital-to-analog converter (DAC) outside of the headphones, using up as much space as possible for the actual speakers and internals. The GameDAC is optimized to convert the digital signal from your Playstation VR2 headset into a high quality analog signal in your ears.
The headphones themselves are made from aluminum allow and steel. I like how soft the ear cushions are when I wear it. It feels nice on your head and plays nice with the PSVR 2 headset.
The Arctis Pro has a gaming microphone with noice cancellation.
Key Features
Deliver studio-quality voice clarity.
Offers background noise cancellation.
Has an adjustable ski goggle suspension headband that distributes weight evenly.
Has an on-ear ChatMix dial lets you adjust game audio on the fly.
What I Like
I like that SteelSeries Arctis Pro + GameDAC is good for gaming and will fit nicely with the PSVR2 head strap. I also like that the cushions on these headphones can twist around and they feel like clouds when they're on your ears. Plus, the headphones offer a noise-canceling feature to block unwanted surround sounds. You can even increase and decrease your game audio from the headphones instead of having to go into the menus.
Sale
Razer Barracuda X
The Razer Barracuda X support both VR gaming on the go and at home. It offers freedom and true versatility backed by long-lasting comfort, crystal-clear mic, and powerful drivers.
This 4-in-1 USB-C wireless headset connects to PSVR2 via Bluetooth 5.0. The Bluetooth connection helps reduce power consumption, allowing the built-in rechargeable battery to last up to 20 hours on extended game sessions.
The crystal-clear detachable mic helps suppress background noise, ensuring precise audio that you are always loud and clear. The mic is detachable for mobile use and has greater portability. The Razer Barracuda X comes with thicker headband cushions to relieve you of any pressure and improve weight distribution.
Key Features
These headphones come with a versatile USB-C dongle with a USB-A extender.
Breathable memory foam ear cushions compliment the lightweight build.
Portable enough for daily commute if you plan on using them other than in virtual reality.
The 3-part driver design pushes out exceptional audio that doesn't muddy.
What I Like
I like Razer Barracuda X because it will clip right onto your PSVR2 and rest comfortably against your ears. You won't get the discomfort of headphones digging into the top of your head or the uncomfortable feeling of an earbud jammed into your ear canal. The design of these is a little more basic than other options on my list.
Sale
Razer Barracuda X Wireless Multi-Platform Gaming and Mobile Headset (2021 Model): 250g Ergonomic Design - Detachable HyperClear Mic - 20 Hr Battery - Compatible w/PC, PS5, Switch, & Android - Black
Frequency Response 20 Hz – 20 kHz.Headphones fit type:Over-Ear.Specific uses for product : Business,Gaming,Personal
Wireless USB-C Multi-Platform Connectivity: With a high-speed 2.4GHz connection, enjoy seamless audio whether you're gaming at home or out with your phone, easily jumping between devices thanks to a versatile USB-C dongle with USB-A extender
250g Ergonomic Design: Built for gaming marathons yet portable enough for daily commutes, its lightweight build is complemented by breathable memory foam ear cushions and swiveling earcups for a snug, comfortable fit, Microphone Frequency Response - 100 Hz - 10 kHz
Razer Kaira X
The Razer Kaira X is another great option if you are looking to purchase the headphones for the Playstation VR2 to improve audio quality. These are wired headphones with cross-platform compatibility and maximum audio performance. Being wired, they are cheaper than the other options on my list here.
The Kaira X has a clear mic and cutting-edge drivers to enjoy high-quality audio regardless of your gaming location. The drivers help to deliver brighter sound with richer trebles and powerful bass.
Unlike other gaming headphones, the Razer Kaira X is designed to minimize heat and sweat during gaming marathons. You can pair it with surround sound for pinpoint and unparalleled accuracy to heighten your in-game awareness and immersion.
Key Features
The sound drivers can tune highs, mids, and lows separately.
The mic helps to suppress background noise from the back and sides.
Has Flowknit memory foam ear cushions to minimize heat and sweat build-up.
The toggle settings make it easy for on-the-fly audio adjustments.
What I Like
I like that Razer Kaira X has an integrated microphone smartphone playback to deliver HD sound control with a crisp output. I also like that how these sit on your ears and isolate out sound. The noise canceling mechanism helps to suppress background noise so that you enjoy your favorite games with peace of mind. You might have to clip the wire out of the way, but a lot of people still prefer wired over wireless.
Bionik Mantis
The Bionik Mantis are detachable on-ear headphones. Instead of buying a full headset, these clip onto your Playstation VR2 head strap and hang down over your ears. You can adjust the headphones in multiple directions and angles in order to get a solid fit.
This style of headphones is more lightweight. The design is clean and they still do an excellent job. The included 20-inch lets you easily plug the headphones into the audio port on the PSVR2.
The audio quality of the Mantis is top-notch. These headphones filter out surround sound, ensuring that you enjoy in-game audio. The Bionik Mantis fits nicely with your Playstation 5 and PSVR2 for a sleek aesthetic.
Key Features
Delivers Hi-Fi audio in virtual reality.
You can easily attach and detach it from your headset as needed.
Comes with a 20-inch cable that plugs into the headset.
The headphones can be adjusted in multiple directions for a perfect fit.
What I Like
I like these headphones because it's incredibly sleek and stylish with a matching color to your headset. The Bionik Mantis has a noise-canceling mechanism that blocks background noise from interfering with your gameplay. Plus, it's easy to connect to your PSVR2 and convenient to attach to your head strap.
Sale
What Features are Good for Playstation VR2 Headphones?
Are you looking on your own, separate from the options I laid out above? You should know what features you should look for in headphones for the Playstation VR2.
Spatial Audio
Playing video games with headphones is a lot different than listening to music. In games, surround sound is much more important. If you have good headphones, you can hear a leaf fall behind you and your brain will have a sense of the exact direction. Spend a little more for surround sound or spatial audio.
Wireless Connection
The Playstation VR2 does have a standard headphone jack. However, most of the high quality gaming headphones come with a cable a lot longer than you need, which means that you'll need to clip it out of the way so that you don't feel it in virtual reality.
Even better, go with a wireless option instead.
The two most common wireless headphones use either Bluetooth or 2.4 GHz wireless. 2.4 GHz will have less latency, but Bluetooth technology has gotten really great and you are fine with either options.
Aesthetics That Match the PSVR2 Head Strap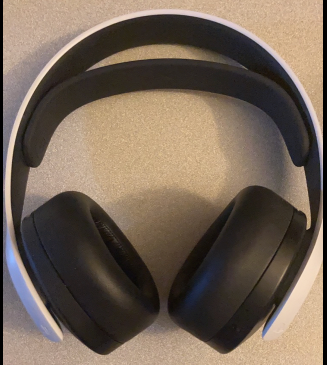 You've already spend over $500 on the Playstation 5 and another $500 on the Playstation VR2 and it's black and white color scheme. Don't turn around and buy headphones that are turquoise and red! Stay calm and buy yourself some matching headphones that will fit nicely with the rest of your setup.
What other features are you looking for on good PSVR 2 headphones?
Comment down below and let us know!