An alternative headstrap is the number one accessory for the Meta Quest that users are buying and there are many third party elite straps that work even better than the official one. in this guide, I'll show you the best Meta Quest 2 elite strap alternatives you can buy today.
I've tried out dozens of options from Yoges, Kiwi, VRCover, and BOBOVR, including ones with integrated batteries, better adjustability, more comfort, and other exclusive features.
If you would recommend any other headbands for the Meta Quest 2, comment below and let us know.
Click here to check out other Meta Quest 2 accessories.
What are the Best Elite Strap Alternatives for the Meta Quest 2?
After trying out all of the most popular options, here is my unbiased opinion on the best elite straps for the Quest 2:
Next up, we will go into more detail about our top Elite Strap alternatives for the Meta Quest 2.
BOBOVR M2 Elite Strap Alternative – Best Overall
The BOBOVR M2 is the top rated elite strap alternative for the Quest 2. This head strap offers an improved VR experience with high wrapping, comfort, and low surface pressure. It's intended to relieve face discomfort and pressure from extended play in virtual reality. The BOBOVR M2 is made of polymer composite material, which gives the head strap sturdiness and toughness.
The M2 has two B2 battery packs to offer redundant backup power. In total, you'll get over 8 hours of playtime if you buy this strap. The BOBOVR M2 has an upgraded head pad at the back to adjust according to the wearer's head. The device also has an additional set of honeycomb silicone pads, making it more comfortable playing games.
The M2 supports two storage modes – you can store it as-is or after being folded, in a backpack a or Quest 2 carrying case. Plus, it's compatible with most of the in-ear and over-ear headphones you see on the market.
Sale
BOBOVR M2 Plus Head Strap Twin Battery Combo Accessories,Compatible with Quest 2,Dual Battery Pack + Magnetic Charging Dock
Recirculating Power Supply System:Charging dock and 2 B2 battery packs enable continuous cycle charging and power supply. No need to remove the helmet to charge during the game,The magnetic connection design minimizes the difficulty of charging operation, and can be charged with one-handed operation.
Magnetic HOT-SWAP:Using the magnetic battery design launched by BOBOVR, 5200mAh industrial-rank high energy density battery with enhanced working efficiency, each battery can provide 2-3 hours (APP depends) of VR time, and it only takes 3 hours to fully charge
Reduce the pressure on the face:Adopt the distributed design of gravity balance, so that the gravity of the product is evenly distributed in different positions of the head to reduce the pressure on the face, compared with the traditional power bank, reduce the burden on the face, the head is significantly smaller, the B2 battery pack only weighs 140g, effective The sweet spot for fore and aft balance is reached.
Yoges Quest 2 Head Strap – Most Customizable
The Yoges headstrap is a newer elite strap alternative that we love because of how customizable it is. If you want full control over how the head strap sits on your head and how weight is distributed, this is the one for you.
The back of the strap features the popular adjustment dial which allows you to size the strap exactly to your head. Most other alternatives only provide this, but Yoges goes a step furth.
On the side of the strap there are smaller adjustment dials for the side support band and for the face support arm that connects to the Quest 2. This helps ensure that you like what you are wearing.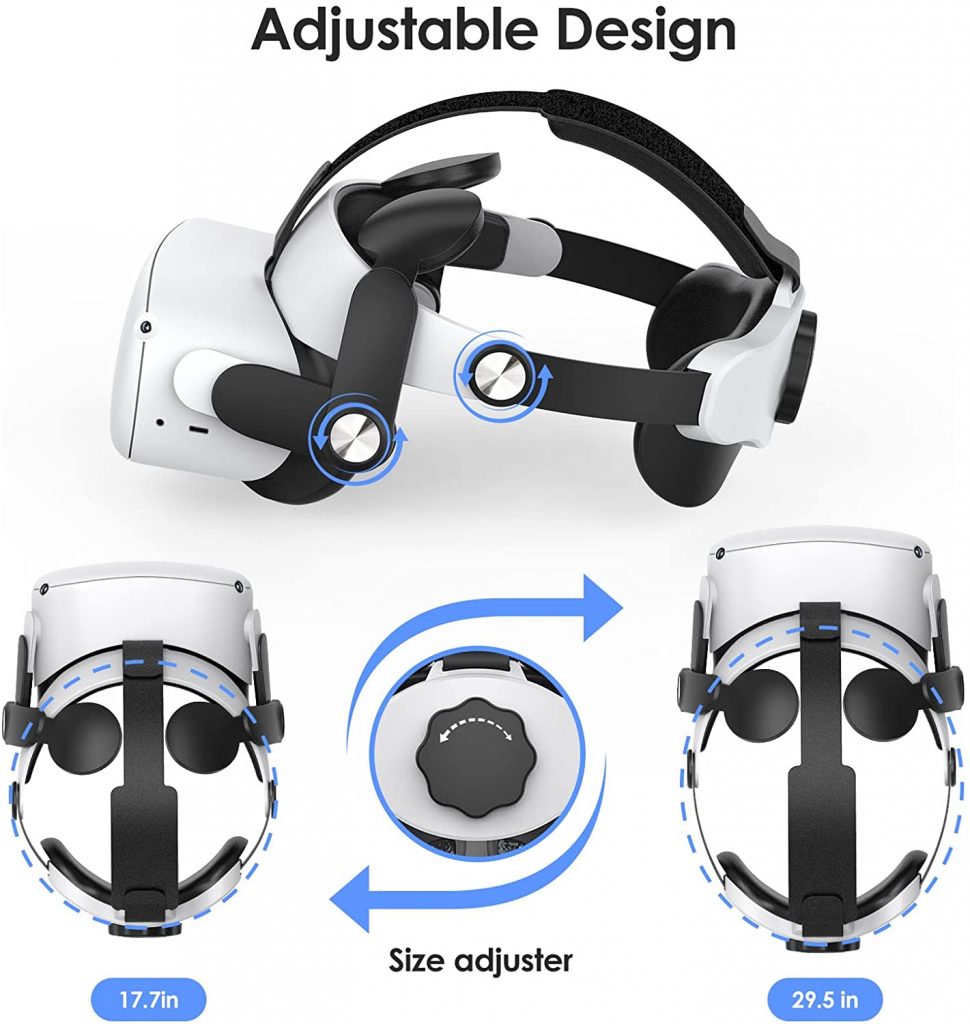 The Yoges head strap weighs about 350 grams, which is double what the stock elite strap is. However, it works as a better overall counterbalance and doesn't feel that heavy when you wear it.
All of the cushions that touch your face are made from PU leather, which is very soft and breathable. The plastic is ABS and won't break as easily as the stock strap.
Buy yours and check it out today.
YOGES Head Strap Compatible with Quest 2, Super Soft Foam and Skin-Friendly PU Surface, Lightweight and Adjustable Accessories for Adults and Child
Ergonomic Design: The Quest 2 Head Strap designed by YOGES features a gravity-balanced and distributed design, so that the VR Headset's gravity is evenly distributed in different parts of the head, reducing pressure on the face. 5 nodes are adjustable, allowing you to freely adjust to the most comfortable state.
Upgraded PU leather Cushions: The newly upgraded pad is very soft and breathable. Each support point of quest 2 head strap is equipped with skin-friendly PU leather pads, so you won't feel any hard plastic pressing against your head. The soft PU leather surface makes the pads very easy to clean without worrying about sweating while playing.
Adjustable Size: The entire quest 2 head strap weighs only 350 grams. The exclusively designed gear-type knob can adjust the head circumference at will from 19.9-29.5 inches. The enlarged headrest also covers your head better, making it more stable and comfortable when gaming.
Kiwi Design Upgraded Elite Strap – Best Rated Brand
Kiwi Design sells some of the most popular Meta Quest 2 accessories. And their upgraded elite strap is a perfect alternative to the one sold by Meta.
Kiwi Design's strap has a number of enhancements that users will like.
To start, the side straps are made out of hard polymer, which is over 100,000 more durable than plastic. This should prevent the Kiwi design strap from cracking if you tighten it a little too much.
Second, the head support at the back of the headstrap is more enlarged than other options. This wraps your head better and distributes weight better for you.
Lastly, the Kiwi Design strap comes with a more comfortable face cushion by Kiwi. The cushion is made from soft PU leather and is easy to clean in between use. The head strap connects to this face cushion for maximum compatibility.
As a bonus, the Kiwi Design upgrraded strap is also rerasonably priced. Buy yours today.
Sale
KIWI design Comfort Head Strap Accessories Compatible with Quest 2, Elite Strap Replacement for Enhanced Support
Improved Side Straps: Our head strap boasts side straps made of upgraded polymer material, which is eco-friendly and incredibly strong. They can withstand over 10,000 bends without breaking, so you can focus on your game without worrying about strap failure
Comfortable and Convenient Design: The 52° adjustable hinge allows you to easily flip up the headset and check your surroundings without taking off the head strap. This feature is especially helpful for glasses wearers. Putting on and taking off the strap is a breeze thanks to this optimized design
Enhanced Head Support: KIWI design elite strap provides superior comfort and stability thanks to its larger head support that fits head circumferences of 17.7-29.5 inches. This enlarged head support cradles your head, making it easy to wear the headset for extended periods of time
BUSQUEDA Elite Strap with Battery – Best Battery Option
The BUSQUEDA Elite Strap is another Quest 2 elite strap designed with a battery pack to effectively balance weight, reduce facial pressure, and improve your wearing comfort. The strap's head padding is made of premium TPU material. It weighs 361g and takes the pressure off your face while bringing massive comfort during gameplay.
The BUSQUEDA adds a breath hole design, making it stable and more breathable. It is durable, light, comfortable, and soft.
BUSQUEDA's built-in 8000mah battery helps to charge your Quest 2 and extend your playtime up to 8 hours. This strap has a wheel power indicator to quickly check the battery status as you play games. With 18-27 inch inner diameter and soft pads, you can easily adjust this head strap to suit your style or preferences.
BUSQUEDA Elite Strap with Battery for Oculus Quest 2, 8000mAh Extend 7hrs Playtime,Fast Charging VR Power,Counter Balance&Adjustable Head Strap for Enhanced Support and Comfort in VR
Elite strap with 8000mAh battery - Head strap for oculus 2 headset built-in 8000mAh recharge battery and high-speed cable, charge just plug it,extend 5-7 hours playtime in VR games or watch your favorite TV shows, movies, and clips for up to 9 hours.
Enhanced Side Straps - The side straps of our elite strap adapted upgraded ABS material, which has much better tenacity that could stand over 100,000 times bending and is eco-friendly.
Ergonomic Wearing Design - The whole head strap weighs 361g,better weight distribution takes pressure off your face for a MASSIVE improvement in comfort,the TPU back pad adds a hole design, which is more breathable and reduces sweating, not easy to slide and improves the support ability.
AUBIKA Head Strap with Battery
The AUBIKA Head Strap with Battery provides you with the best charging solution. It has a built-in 5000mAh rechargeable battery to extend your playtime by another 6 hours. It is made of ABS+PC, a flexible material that can withstand intense pressure and protect the environment.
When you connect your Quest 2 to this head strap, you can charge the Quest 2 and the head strap simultaneously. The ergonomic design and ultra-light materials used to make this accessory help reduce the facial pressure you would have experienced using the Quest 2 alone. The battery weight also helps to balance the weight of the headset.
The AUBIKA Head Strap comes with a TPU back pad that reduces sweating and is more breathable. This feature helps to improve your gaming experience and enhance your support ability. The TPU back pad is easy to clean using a damp cloth. The built-in safety protection system helps to protect your device from overcurrent, overcharge, and over-temperature. Plus, it fits in most carrying cases.
Sale
AUBIKA Head Strap with Battery for Meta/Oculus Quest 2, Extend Playtime&Counter Balance&Fast Charging, Adjustable Elite Strap Replacement Accessories
🔋【Head Strap With 5000mAh Battery】Head strap for oculus quest 2, built-in 5000mAh rechargeable battery and high-speed cable, extend 6 hours playtime. With strong compatibility, when Quest 2 is connected, you can charge Aubika head strap and quest 2 at the same time, providing you the best charging solution.
🎮【Head Strap With Great Comfort】The battery weight cleverly balances the weight of quest 2. Along with ultra-light material and ergonomic design reduce the facial pressure brought by quest 2 and greatly improve the comfort. TPU back pad adds a hole design, more breathable, reduces sweating, not easy to slide, improves the support ability, and greatly enhances the gaming experience.
♻️【Eco-friendly and Durable Materials】Aubika head strap is made of ABS+PC, which has much better tenacity that could stand over 100,000 times bending. The risk of broken is rejected, greatly improved service life and environmental protection.
Orzero Head Strap
The Orzero Head Strap is specifically designed as an alternative to the official Elite Strap. It's a perfect fit for the Oculus Quest 2 headset.
The Orzero is made of a soft sponge with breathable foam material to reduce facial and head pressure effectively. In other words, it balances gravity and relieves pressure on the head. This head strap features a 360 rotatable knob design for easy installation.
The Orzero Head Strap also comes with high-grade ABS plastic to support prolonged gameplay and bring an immersive experience. Orzero Head Strap is super easy to clean and is equipped with an adjustable head cushion to accommodate different head sizes.
BeswinVR Head Strap
The BeswinVR head strap was originally designed for the Oculus Quest 1. However, it can be utilized with the Quest 2 with a little bit of customization (see below). The new 2022 updated version is improved even more for users. When you install the BeswinVR head strap, it takes away the squeeze and pressure on your face and nose.
We like how durable the BeswinVR is, which makes it a good Elite Strap alternative. Like the DAS, this head strap features an adjustment dial that allows you to get the fit perfect on your head. It also has a patented design so copycats are not allowed.
In order to get this head strap working with the Meta Quest 2, you have two options:
Purchase this head strap below.
Meta Quest 2 Pro Headmount
The Pro Headmount is a futuristic looking Elite Strap alternative that can be quickly installed on your Quest 2. The nice thing about this headmount is that it supports one of Anker's Powerbank batteries to extend the life of a headset charge (more on that below).
This headband forehard cover is very soft and is completely washable. The rear strap has a ratchet, similar to most bike helmets. This allows for easy tightening and loosening of the mount. All of the straps included in this Pro Headmount are adjustable for different head sizes.
In order to counterbalance better, the Pro Headmount comes in 3 different models that support Anker's Powercore external batteries. The Powerbanks deliver up to 10000mAh and also act as a counterweight to the otherwise front heavy Quest. This counterweight is placed right in the nape of your neck, making the headset near pressure-less on your face, relying more on the headband on the forehead.
To purchase the Pro Headmount and Powerbanks, first click the link below to check out and buy the headmount. Then, buy the Powercore associated with the Pro Headmount you purchased.
Click here to buy the Meta Quest 2 Pro Headmount.
Sale
Anker PowerCore Slim 10000 PD Green, 10000mAh Portable Charger USB-C Power Delivery (18W) Power Bank Fast Charge for iPhone 11/11 Pro / 11 Pro Max, S10, Pixel 3, iPad Pro 2018, and More
Portable Power: PowerCore Slim 10000 PD is one of our Slimmest power delivery power banks yet, with enough capacity to provide more than two charges for iPhone XS or Google Pixel, and almost one full charge for an 11" Ipad Pro. And the 18W USB-C power delivery output provides fast charging for a huge range of phones and tablets including iPhone 11 Pro.
Triple Charging Modes: 18W power delivery USB-C port, poweriq-enabled USB-A port, and Trickle-Charging mode for low-power devices. Use the dual USB ports to charge two devices simultaneously.
Rapid Recharge: Power up your PowerCore in just 4.5 hours with a USB-C Power Delivery wall charger (not included). Recharging via USB-A charger and cable (not included) will take approximately 10.2 hours.
IOVROIGO Adjustable Halo Strap
The IOVROIGO Meta Quest 2 head strap is a new alternative to the market. The design looks like the original elite strap in a lot of ways, but it has some really nice features we think Quest users will like.
To start, the headband has not been 3D printed and is manufactured with durability in mind. The main body is made from high-quality ABS plastic which always looks clean. High-quality leather and foam cushion is used for the soft parts for maximum comfort on your face.
The IOVROIGO contains a fit-wheel dial that is easy to adjust to tighten and loosen. The company promises a front-to-back ratio of 50:50 so that your headset sits perfect on your head.
iovroigo Adjustable Halo Strap for Oculus Quest 2 VR,Increase Supporting force and improve comfort-Virtual Reality Accessories
【Premium Material】The main body of the Head Strap is made of high-quality ABS plastic, high-quality PU leather and foam cushion. ABS plastic ensures that the surface is always kept clean, and the PU foam pad design is soft and comfortable.Easy to install and remove.
【Beautiful and durable】All parts of the headband have not been 3D printed, so it has a long service life, which is both strong and beautiful.
【Easy to adjust】The headband adapter adopts a rotatable adjustment method, which can be flexibly adjusted according to the personal head wearing posture. Provide longer game time and more comfortable game experience.
VR Balance 2.0
The VR Balance 2.0 is the successor to the popular third party headset strap for the original Quest. The new version improves on the padding and counterweight design from the first. Unlike most Quest 2 elite strap alternatives which use a tightening design, the VR Balance 2.0 requires none. It is a counterweight design that places weight at the back of your head.
The VR Balance 2.0 weighs as much as three powerbanks. However, it is made of soft padding and is a lot more comfortable than the default elite strap. It doesn't have any rear knob or screws, making it better to learn back against a wall, couch, or headboard with.
The VR Balance contains soft PU leather which can be wipes clean when needed. The original VR Balance is often recommended by users and the 2.0 looks like it improves on that design nicely.
Click here to buy the VR Balance 2.0 elite strap alternative.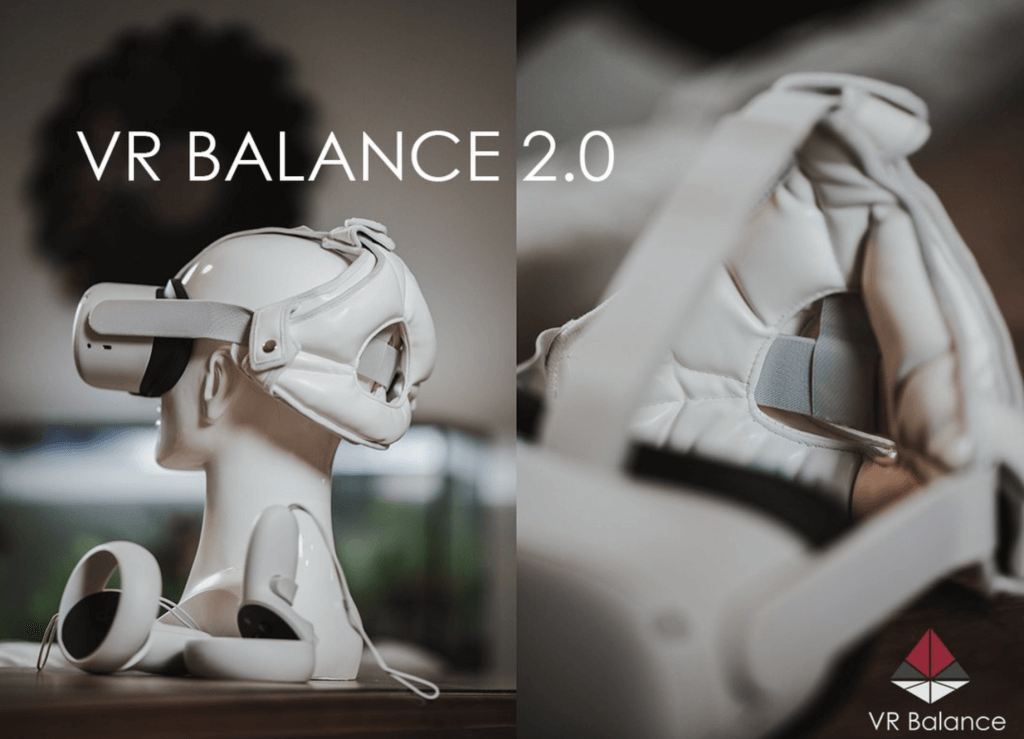 Vive Deluxe Audio Strap with Frankenquest 2
The Vive Deluxe Audio Strap (DAS) is one of the most popular VR headset band thats been released. They are designed with adjustable earphones, which give you more immersive sound over the default audio built into the Quest's sideband.
The padding on the DAS is superior, with soft padding on all parts that touch your face. The DAS features an adjustment dial that you rotate on your head to fit everything into place. If you prefer to play Oculus Link, the DAS allows you to comfortable place your cable through the headband.
In order to get the Vive Deluxe Audio Strap working with the Meta Quest 2, you need to purchase the Frankenquest 2. These are 3D-printed side pieces that attach to your Quest 2 and connect to the DAS solution.
The cost of the DAS is $99 and the cost of the Frankenquest 2 is $19.99. This solution is double the price of the elite strap, but you get immersive off-ear headphones to work with the Quest 2. Plus, it is one of the most favorite Elite Strap alternatives according to user reviews and happy customers who have the DAS.
Click here to buy the FrankenQuest 2. Buy the Vive Deluxe Audio Strap off of Amazon below.
Sale
HTC Vive Deluxe Audio Strap
Designed with adjustable earphones, allowing you to enjoy the 360-degree realistic sound in even more comfort and convenience.
Features interior padding for extra contentment. An adjustment dial allows for just the right fit. You can place the cable path at a side position to enjoy an even more immersive experience.
Provide integrated earphones with great sound quality so you will have a more convenient VR experience.
VRCover Headstrap Replacement for the Meta Quest 2
VRCover has a replacement headstrap for the Meta Quest 2. It has a similar design to the stock strap, but with comfort and weight distribution closer to the Elite Strap.
The VRCover headstrap comes with the following features:
Ergonomic adjustable strap
Improves wearability of the headset and increases comfort
Replaces the stock head strap
The Headstrap Replacement can be adjusted in various ways to give you a better Meta Quest 2 experience. You can tighten or loosen the strap at the top, sides and back to spread out the weight of the headset. It helps ease the pressure on your face, distributing weight better around your head. This makes longer VR sessions more comfortable and enjoyable.
Click below to buy the VRCover Headstrap Replacement for the Meta Quest 2: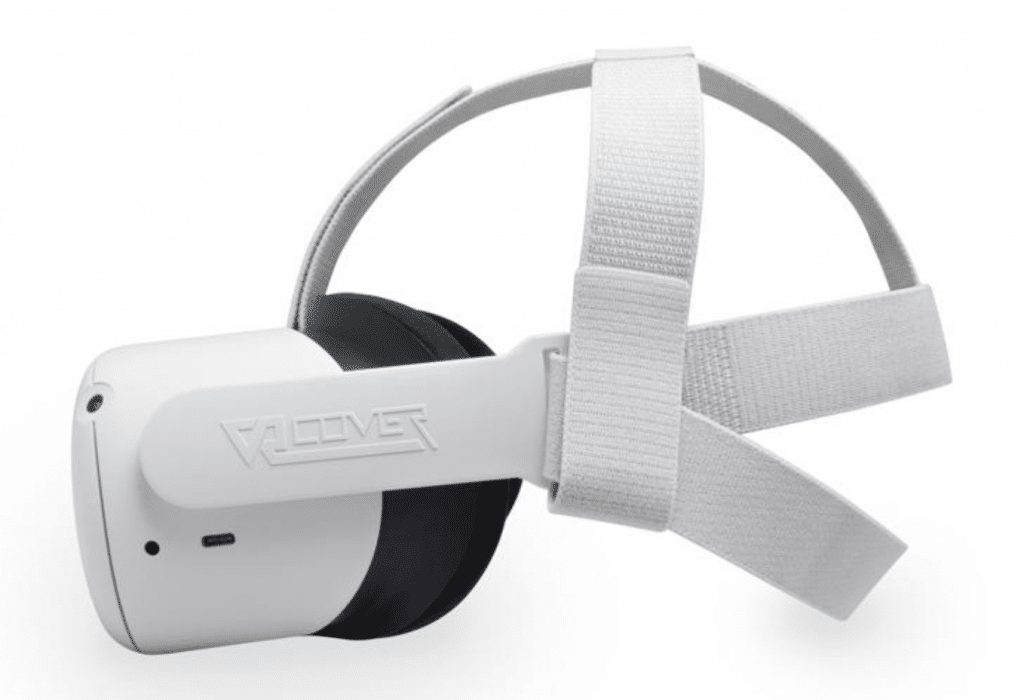 AliExpress Quest 2 Halo Headband
Ali Express is selling a new Meta Quest 2 halo headband option. It looks similar to the Elite Strap, but with an adjustable halo design that rests on the top of the headset. It is one of the first third party Elite Strap alternatives designed specifically for the Quest 2.
The posting for this halo headband claims that it is easy to wear, flexible, and adjustable to different fits. You can adjust both the front and the back to adjust angle, fit, and comfort level. It will help balance the weight of your Quest 2 on your head and make things more comfortable.
At only $32, this Elite Strap alternative is cheaper than the official strap. If it is good quality, it could be the right solution to try.
Click here to buy this halo headband off of AliExpress.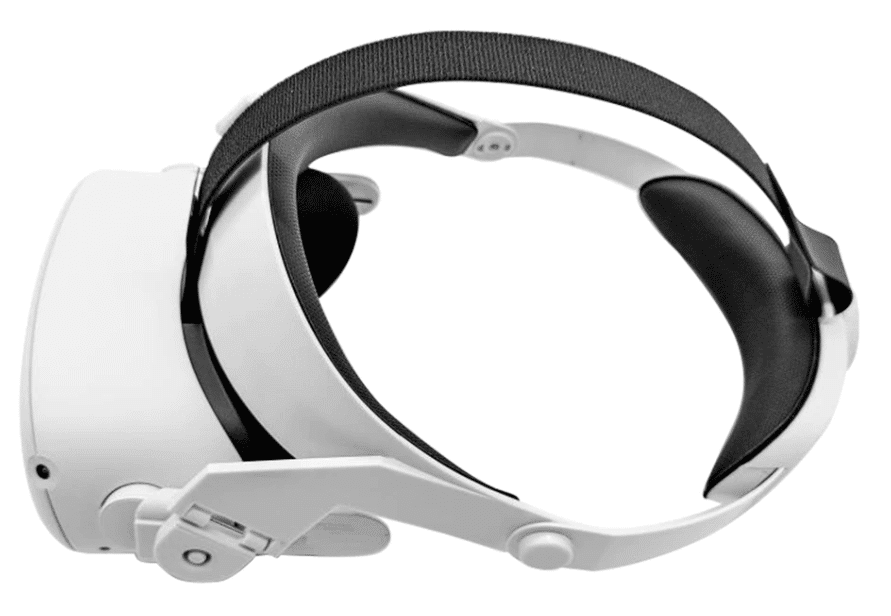 Meta Quest 2 Elite Strap Breaking – What's the Deal?
Since its original release, users on Reddit have been posting vertical cracks in the sideband of their official Elite Straps. While anecdotal at first, the number of complaints has risen over 100! Below, you can see some of the reoccurring issues that some users are see with their Elite Strap breaking. The issue looks similar in most cases: a vertical crack in the center of the side band. It looks like this might be the spot where the most pressure is placed on the headband.
Its hard to tell for sure if this is an isolated issue or manufacturer's defect. However it is worth nothing that Oculus has repeatedly removed and readded the Elite strap from ordering on their official website. They have not issued a warranty fix or recall details yet.
If this has you nervous at all, there are other headband options for making your Quest 2 more comfortable over the original soft strap that comes with the hardware by default.
Below, we take a look at some of your options.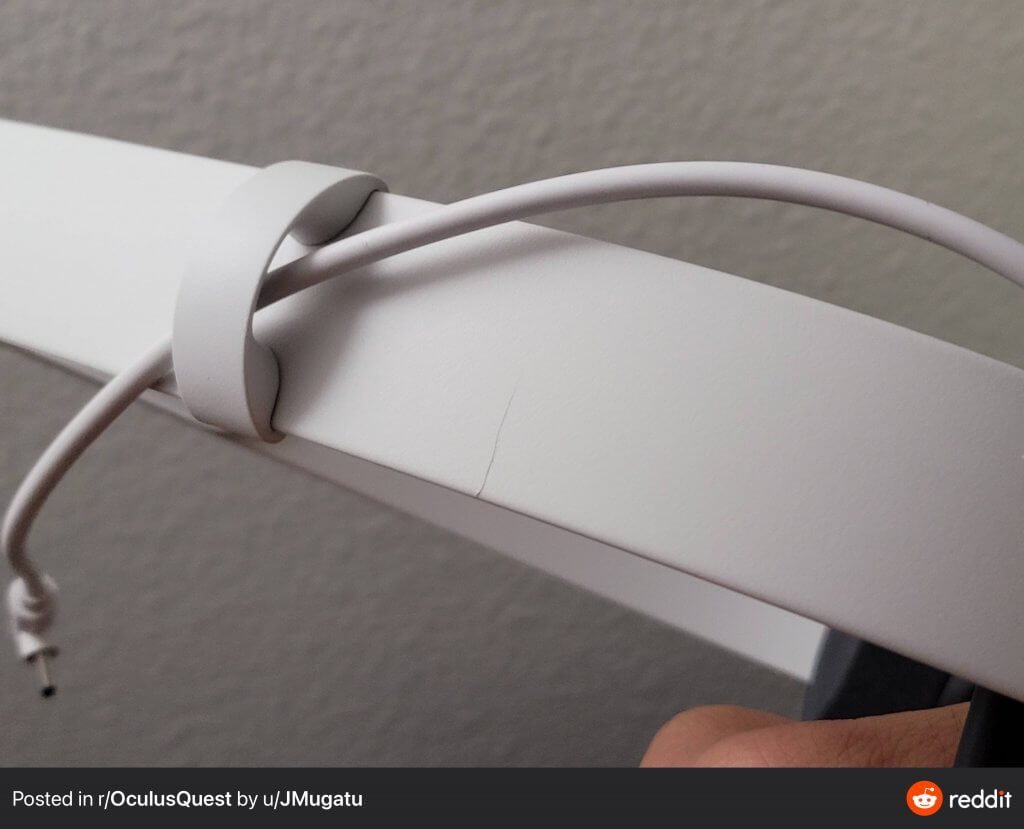 Conclusion
As you can see, there are many really good alternatives to both the Quest 2 default strap or the elite strap that has problems breaking. Companies have been able to sneak in alternative and extra features to help entice you to buy their option.
We've tried all of the options on the list and like them for different reasons. Buy one today and see for yourself.
What other Elite Strap alternatives have you found for the Meta Quest 2? Has your Elite Strap broke or do you have any concerns about the quality of them now? Comment below and let us know!