A good Oculus Quest case will let you take your VR headset in the car, airplane, or to a friends house. It will store your Quest 2 or 1 headset, controllers, charging cables, headphones, and other accessories you have.
In this guide, we take a look at all of the best hard and soft cases for the Oculus Quest 2 (and 1).
If you recently bought a different one than the ones in this list, comment down below and let us know.
What are the Best Meta Quest Cases?
Linkstyle Hard Travel Case
This hard travel case can store your Oculus Quest 2 or 1, plus controllers, and accessories. This is a hard shell case with plenty of room for your headset. The shell is made of EVA and oxford cloth. Thus, it provides wear resistance and prevents water or any liquid from getting to your headset during outdoor activities.
This travel case is a snug fit. It has enough room to store your charger, extra batteries, and clip case cables. It is lightweight and easy to carry around.
The Linkstyle Oculus Quest Case is engineered to perfectly store and protect your headset. No worry about your headset shaking while on the go. It has an all-round smooth zipper to keep your headset secure. The package includes two cable ribbons, one mesh pocket, and the travel case.
ProCase Hard Travel Case
The ProCase Hard Travel Case is designed to store VR headsets, controllers, and other VR accessories, especially in transit. The exterior is made of water-resistant hard EVA material to protect the content against impacts, spills, dents, bumps, or even scratches.
The interior of the case is made of shock-absorbing soft lining to give your headsets and accessories the maximum protection they deserve. This travel case has two internal zippered pockets to help you manage your VR accessories and keep them organized.
The ProCase comes with a 360-degree double zipper to aid in easy closing and opening. This case has a detachable, fully adjustable shoulder strap and a durable handle for easy carry around. It is ideal for travel and daily use.
Yinke Quest 2 Hard Carrying Case
The Yinke Quest 2 Hard Carrying Case is designed to store Elite Strap, Quest 2 headset, controllers, battery strap, and other VR accessories when you are on the go. This carry case is made of high-density and durable EVA material, which makes it splashproof, dustproof, shockproof, and scratchproof.
The interior is made of soft fabric to protect the content from impact. It has smooth zippers and a comfortable hand strap for easy carry around when you get to your destination. It has a mesh bag where your charge cables can be safely stored.
SARLAR Fashion Travel Protective Case
The SARLAR Fashion Travel Protective Case is engineered specifically for Oculus Quest 2, its accessories and touch controllers. This hard shell protective case is made of 900D waterproof Nylon and 6MM 80 degrees EVA to greatly improve its shock resistance.
The materials make it portable and lightweight for travel. SARLAR's inner lining uses brushed fabric to avoid scratches caused by friction between your headset and the box.
The package consists of a piece of lens protector cover, one pair of touch controller grip sticker, and one VR stand.
The VR stand allows you to easily display your Quest 2 at home.
Fromsky Hard Case for Oculus Quest 2 with Elite Strap
This travel case from Fromsky is designed for the Oculus Quest 2 specifically. It should work with the Quest 1 too without too much fuss. The feature that makes the Fromsky real nice is that it supports the Oculus Elite Strap.
The Fromsky Oculus Qust case has plenty of room for your headset and its accessories. Being a hard EVA shell case, the exterior is dustproof, waterproof, and shockproof. The interior is made of soft fabric for double protection.
It has a sturdy hand strap and carabiner for easy carry around while traveling. It features a mesh bag for cable and accessories storage. The package includes two Velcro, one mesh bag, and one case.
CASEMATIX Hard Case
The CASEMATIX Hard Case is a travel bag that lets you store your Oculus Quest 2 or 1 and all your accessories too. It has a customizable foam that also fits Elite Strap and other accessories like charging cables and extra batteries.
The exterior of this hard shell travel case is constructed from ultra-durable hard polymer composite plastic. It offers robust and maximum impact protection for your headsets. It features molded padlock rings so you can toss a lock onto the case to further protect your headset.
Additionally, your headsets and accessories will be surrounded by a mix of foam types to absorb shock from bumps and drops. The briefcase-style design makes it ideal for travel.
SARLAR Design Hard Travel Case
The SARLAR Hard Travel Case with lens and grips cover is designed for the Quest 2, touch controllers, and other associated accessories. This crossbody shoulder chest backpack will keep your Quest 2 organized. It has a geometric polyhedron appearance and is very spacious.
This travel case features an external USB port with a built-in charging cable to connect to a power bank. Your will not run out of power if you are far from home. While traveling, you can wear this case as a crossbody bag, shoulder bag, or chest bag.
Additionally, the surface is waterproof which makes it suitable for outdoor activities like cycling, running, camping, and hiking.
HIJIAO Hard Travel Case
The HIJIAO Hard Travel Oculus Quest Case has a large internal storage space for your Quest 2 and its associated accessories. Accessory slots on this case include spots for a charging cables, battery, and memory card. It comes with study shoulder straps plus double zippers. The surface is waterproof, meaning you have nothing to worry about when it is raining.
The external of the HIJIAO Hard Travel Case is made of hard EVA and polyester fiber. Internals are made of Hollow EVA material. This case will protect your Oculus Quest 2 from squeezing or falling.
While the appearance is simple, the package includes one shoulder strap, one hard case, and one lens protection pad. It also has one cable tie.
No products found.
Esimen Fashion Travel Case
The Esimen Fashion Travel case is styled in a shoulder bag and handbag for Oculus Quest 2 or Quest All-in-one VR Gaming Headset. It has a durable design that won't scratch or crack under pressure. It is made of durable EVA anti-shock and weather resistant material. This hard case has plenty of space to store your headset and its accessories.
Additionally, this Oculus Quest case comes with a wide handle and an adjustable shoulder strap, which makes it easy to carry everywhere you go. If you are looking for a way to protect your headset from splashes, scratches, and bumps, this hard case is the way to go.
Official Oculus Quest Carrying Case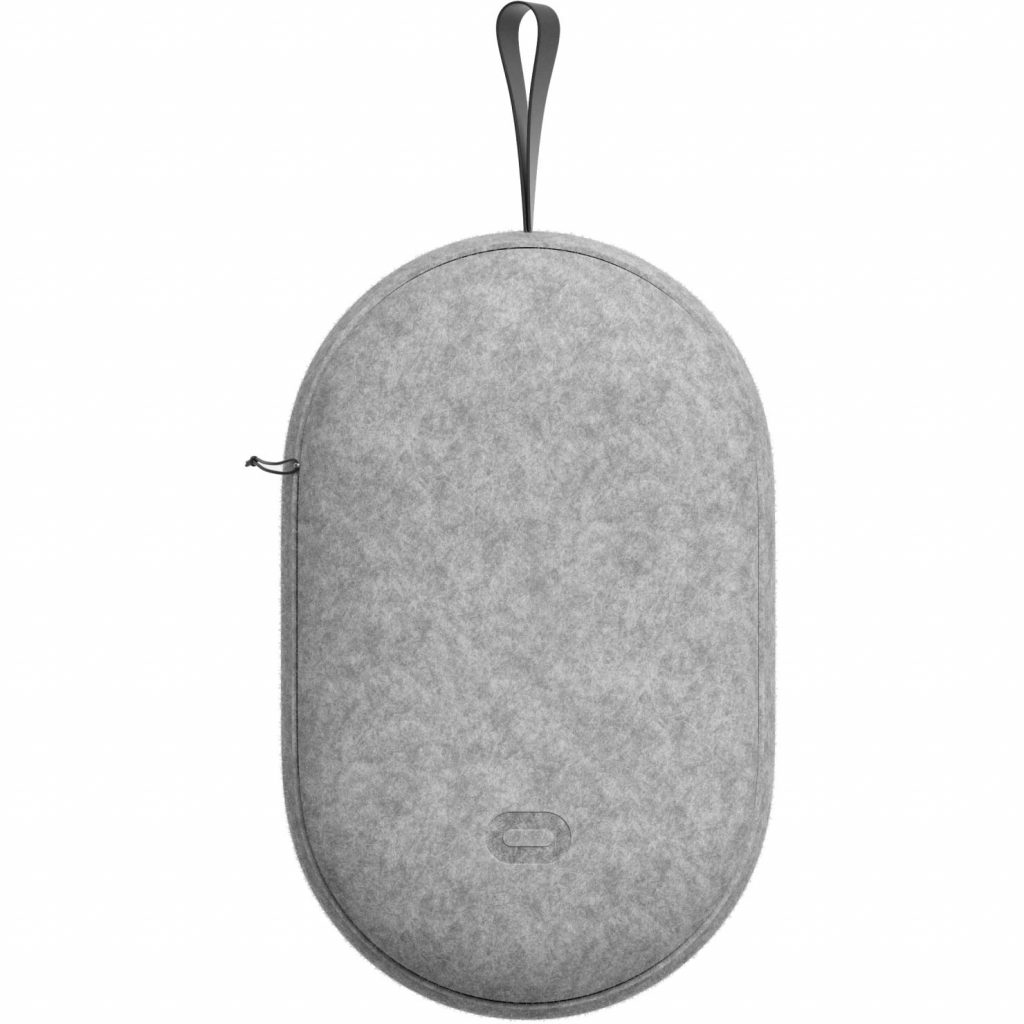 The official Oculus Quest Case can be purchased from the official Oculus website. Unlike most of the options on this list, this case is made of a soft felt material. It is lightweight and easy to travel with.
The official carrying case has room for your Quest 2, controllers, and charging cable. It has a soft, padded shell which protects all of your devices while you move around.
Price-wise, the official carrying case is a little more expensive than other options in this list. However, the material is durable and high quality.
Click here to buy the official Oculus Quest Carrying Case.
What Should a Good Oculus Quest Case Have?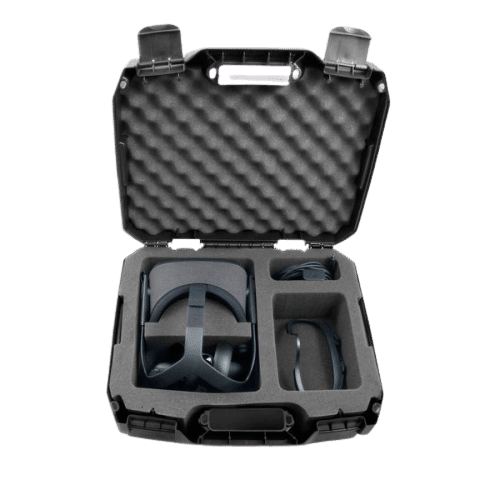 If you are looking for an Oculus Quest case, you have a reason to protect your VR headset while you are on the go. We think there are a few key features you should look for.
Solid Material
Your case will naturally get beaten up as you move it around. So, make sure that you buy a case with a good EVA outer shell material that is shock resistant and water resistant.
Enough Space
More than just your Oculus Quest 2, you'll also want a case that can store your controllers and charging cable. If you have the elite strap (or an alternative) then make sure that fits too.
What Oculus Quest case do you have? If you are looking for a specific feature or material, let us know by commenting below.