To play Oculus Air Link from your PC to your Meta Quest with the highest quality and no latency, you must have a good quality router to pass data from computer to VR headset. In this guide, I'll show you the best Meta Quest 2 routers for Oculus Air Link.
Here's a quick breakdown of the top options:
Below, I'll show you what features each router has that is good for wireless VR gaming. That way whether you buy one of our options or one on your own, you'll know what to look for.
For each device below, I'll go over:
Key features
What I like specifically about the router
How to buy each Quest 2 router
If you buy any of these options and have a review to share, comment down below and let us know.
The #1 Quest 2 Router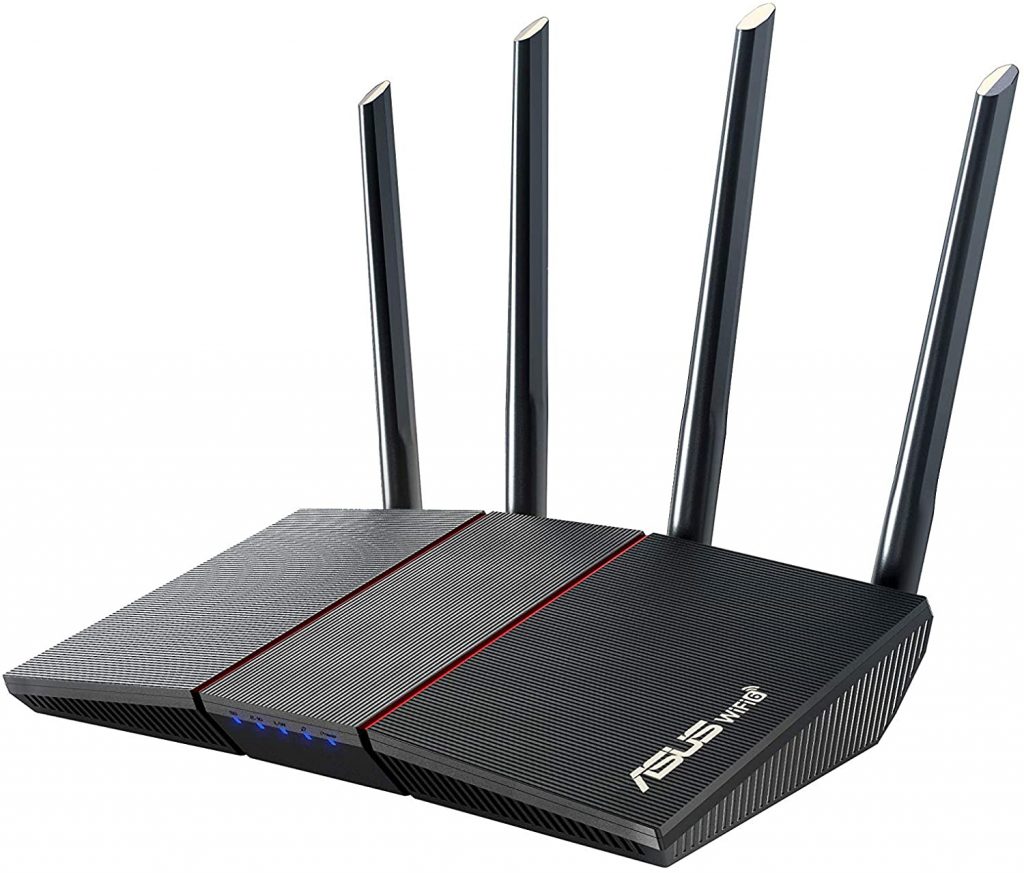 Asus RT-AX55
The Asus RT-AX55 is the perfect Meta Quest 2 router for Oculus Air Link. It features Wi-Fi 6, dual bands, the ability to efficiently allocate connections, and more.
What are the Best Oculus/Meta Quest 2 Routers for Air Link?
Our picks for the top Wi-Fi routers you can buy for the Quest 2 are:
Best Overall
The Asus RT-AX55 is a powerful and highly customizable dual band gaming router with lots of potential. It packs security, range, and speed that most VR gamers need.
You can dedicate one the 5GHz band to your Quest 2 headset for faster speeds and low latency. The ASUS RT-AX55 Dual-band Wi-Fi 6 offers ultra-fast WiFi speed and 80MHz bandwidth to support efficient communication. It is compatible with other ASUS AiMesh routers and is equipped with AiProtection.
You can easily set up this router within minutes using the included ASUS Router APP. The app also lets you manage your WiFi connections or check through the cloud remotely. It works with Alexa voice control and ensures a smooth gaming experience with 4K streaming.
Key Features
Compatible with ASUS AiMesh WiFi system for seamless whole-home coverage.
Designed to block internet security threats to your Quest 2.
Supports 80MHz bandwidth and the latest Wi-Fi 6 standard 802.11AX (WiFi 6).
What I Liked
I liked that this router supports OFDMA and MU-MIMO techniques to allocate channels and communicate efficiently with other devices. This allows you to easily separate your VR headset Air Link connection with other devices on your network.
Sale
Best Cheap Option
The Netgear WAC124 is a Performance-driven dual band router for Oculus Quest 2. It delivers high-speed WiFi up to 300Mbps plus 1733Mbps concurrent operation in 2.4 GHz and 5Ghz to stream PC VR games to your headset without any tethered connection.
This Netgear is one of the most cost-effective WiFi solution for your Quest 2. It is only Wi-Fi 5 but has enough features to keep things working great.
This cheap router offers three separate secure wireless connections at maximum performance to keep your headset connected, so you don't miss out on important moments in your favorite game.
The Netgear WAC124 router has a Secure Sharing USB port from where you can share data with a NAS drive or a loan HD. This router comes with 4 Gigabit Ethernet ports to easily extend wired networks and create a mesh. You can connect other devices to any of the ports to reduce WiFi congestion. The router also comes with external antennas for better range and maximum coverage.
Key Features
Supports 5 GHz for maximum wireless throughput.
Comes with external antennas for maximum coverage
The setup wizard makes setup and configuration simple.
What I Liked
I liked that the router packs up to 4 Gigabit Ethernet ports to further extend network connectivity. You can buy a few of these cheap routers and wire them up through your home for maximum coverage.
Best for Serious Gamers
The Asus ROG Rapture GT-AC2900 is a class leading Quest 2 router. Looking at its specifications, this dual band hardware delivers big time. It has Wi-Fi 6 technology and brings top-notch gaming experience to VR gamers. It uses 4 Gigabit LAN ports and a dedicated 2.5G Base-T port for wired bandwidth.
This Wi-Fi 6 tri-band solution offers more than 10 Gigabits wireless bandwidth plus DFD bands to prevent disruption and interference. Other gaming features include Dynamic QoS to prioritize gaming traffic, integrated WTFast, and Gamesradar to check the ping times.
Also also offers VPN Fusion to provide a separate VPN to specific devices more easily. The Rapture is a true dedicated router for gamers if you are looking for a top tier solution.
Key Features
This router works with Asus AiMesh compatible routers.
Enjoy an immersive gaming experience with no latency.
It integrates with WTFast
It has uber fast throughput
What I Liked
I liked that users can connect up to 3 Alexas to the router without any problem.
Sale
Easy to Use
The TP-Link AX6600 is one of the easiest Wi-Fi routers to set up and manage. It's a significant improvement over the previous series and now ranks as the best Oculus Quest 2 router at 5GHz range.
In terms throughput speeds, at 2.4 GHz it delivers 112 Mbps far and 117 Mbps near. At 5GHz the performance is out of this world, clocking 347 Mbps and 344 near.
This tri-band router brings pure immersion. It is equipped with a game accelerator, which optimizes and detects gaming streams so you can continue to stay immersive throughout your playing time. In terms of antennas and ports, it is identical to the Asus ROG Rapture GT-AC2900, but doesn't offer the same performance. This is a cheaper alternative and can connect up to 100 devices with high speed. It is easy to set up and manage.
Key Features
The router is very easy to operate.
Offers great 5GHz speeds.
Comes with 8 detachable high-performance antennas.
Has a game Accelerator that detects and optimizez gaming streams.
What I Liked
I liked that during the set up process, the router asks you specific questions about your network and guides you through optimizing your connection.
Sale
Best Mesh Router
The Netgear R6700AX is a dual band mesh router with great throughput. It delivers up to 1.8 Gbps and covers up to 1,500 square feet. With Wi-Fi 6 speeds and no latency, the Netgear R6700AX delivers an amazing gaming experience to VR lovers. This router serves signals that punch through walls, floors, and ceilings with ease.
In addition to its improved speed and handling of several devices, the Netgear R6700AX works with Amazon Alexa and Google Assistant for seamless voice control. The powerful quad-core processor guarantees superior performance for simultaneous applications like online gaming, audio/video chats, and multimedia streaming.
If you are looking to purchase a mesh Wi-Fi 6 router, The Netgear R6700AX has got you covered.
Key Features
Top Wi-Fi 6 mesh performance
Comes with included malware protection
Tri-band operation
Excellent wall and ceiling penetration
What I Liked
The value you get for this router's price is really good. For under $100, you get tri-band and fast Wi-Fi 6 wireless speeds.
Sale
Best Home Customization
The TP-Link Archer A7 is one of the best Oculus Quest 2 routers on the market at the moment. It offers best-in-class dual band speeds, impressive coverage (over 100 feets), and delivers 2.167Gbps over each of its two 5GHz channels and 1Gbps over its 2.4GHz band.
The real selling point of this router is its security and optimization that will satisfy any power use. The red-on-black color scheme and spider-like 8-antenna design makes it appealing to the eyes.
TP-Link Archer A7 packs excellent bandwidth-allocation controls so that you can use the massive throughput as you so wish. It is compatible with all 802.11ac devices and below, and also works with Alexa for smooth voice control around the house. Ultimately, this router delivers an ideal mix of features and performance for most VR gamers.
Key Features
Delivers up to 2,500 square feet of reliable WiFi
You can connect up to 50+ devices
Keep your family safe beyond traditional network security
Works with Alexa and TP-Link OneMesh
What I Liked
I liked that users can set timers on connected WiFi networks and devices to turn on or off at certain times.
Sale
Best Wireless Coverage
The ASUS TUF-AX5400 is designed to give you fast and stable wired and wireless connections in device-dense environments. Aside from connecting your Quest 2, this router will also benefit other devices, from smartphones, laptops, gaming consoles to all your smart home appliances.
This is a dual-band Wi-Fi 6 solution that delivers up to 80MHz. Plus, it comes with a dedicated gaming port, AURA RGB lighting, AiProtection Pro network security, and AiMesh for mesh WiFi.
It also features an easy 3 steps to port forwarding with zero latency.
The ASUS TUF-AX5400 delivers the widest possible WiFi coverage. It leverages OFDMA to enable signals to travel further than with WiFi 5. With separate 2.4 GHz and 5GHz band antennas, a 4×4 MIMO configuration, and other enhancements like beamforming, this router reaches every corner.
Asus equips most of their hardware with VPN Fusion so you can still enjoy maximum gaming speeds even when other users need to use a VPN. This is one of my favorite Wi-Fi routers for the Meta Quest.
Key Features
Delivers up to 5400 Mbps and 4X network efficiency with OFDMA.
Gaming and security optimization.
Excellent long-distance performance.
Excellent customizability.
What I Liked
I liked that the set up process is simple and straightforward. I also liked that there is a dedicated gaming port to prioritize connected gaming devices with lower latency via the wired connection.
Budget Wi-Fi 6 Option
If you need a Quest 2 router for gaming that delivers ultrafast speeds with no latency, then give TP-Link Archer AX55 serious consideration. This dual band Wi-Fi 6 router delivers up to 2402 Mbps on the 5GHz band and 574 Mbps on 2.4 GHz for faster downloads and smoother streaming. It also offers up to 80MHz bandwidth to support efficient communication.
The Archer is equipped with beamforming technology to detect devices and concentrate wireless signals toward them.
The cooling design is top-notch. There's a large heat sink to drain heat so your network can remain at top speeds in versatile environments. It's compatible with Alexa for seamless voice control.
The Archer AX55 supports multi-user scheduling which allows simultaneous access to multiple devices and networks. You can easily create different profiles for guests and family members.
With its built-in firewall and parental controls, it safeguards your children from online dangers.
Key Features
Delivers up to 3000Mbps of simultaneous streams for faster browsing, streaming, downloads, and more.
An advanced heat sink for extended performance.
You can connect all your streaming, gaming, and smart home devices.
What I Liked
The house coverage with this dedicated router is impressive. Beamforming works to keep your devices connected without you having to fiddle with a lot of router settings.
Sale
Budget Option
If you plan on using Virtual Desktop, you need to give serious consideration to a dedicated router for minimal latency. The Tenda AC1200 Dual Band WiFi Router is a basic Oculus Quest 2 router. This router is easy to setup, fast, and efficient. It help your Oculus Quest's Virtual Desktop application to connect to your PC for fast game streaming.
Its powerful Broadcom ARM Cortex-A7 CPU and 128 MB DDR3 provides the best performance in both 2.4GHz and 5GHz. With the Beamforming+, built-in high-powered amplifiers and external antennas, you can enjoy lag-free gaming and uninterrupted video streaming anytime anywhere.
The biggest disadvantage to the AC1200 is that it does not have gigabit ports included. This means that your Virtual Desktop internet speed is limited to 100 mbps. This isn't a dealbreaker for some, but the added cost for the AC10U router below might be worth it for you.
Tenda AC1200 Dual Band WiFi Router, High Speed Wireless Internet Router with Smart App, MU-MIMO for Home (AC6),Black
Dual-Band 2.4Ghz plus 5 Ghz: Get Lightning Quick Connections For All Your Wireless Devices By Upgrading To Tenda'S Enhanced 1200 Mbps High Speed Wi Fi Technology (300Mbps At 2. 4Ghz Plus 867Mbps At 5Ghz)
Powerful Belt Capacity: Link Up To 20 Wireless Devices Like Google Assistant, Alexa And Various Streaming Devices, Simultaneously, While Maintaining Optimum Network Conditions
Antennas Maximum Signal Coverage: The Tenda Ac6 Is Equipped With Four Powerful 5Dbi Antennas, Delivering High Speed Internet Throughout Your Home And Provides Seamless Coverage For Up To 2000 Sq. Ft. Output: Dc 9V1A
Omni-Directional Router
The Tenda AC10U offers extra speed that the AC1200 above can't. It's nearly identical in shape and ports, with 4 directional antennas built into the router. The AC10U is a big win because it has gigabit ethernet ports. This means that you can connect and stream on Virtual Desktop up to 1 gbps. That is serious speed!
Amazon regularly has deals on the AC10U which make it closer in price to the AC1200 above.
Sale
True 2 Gbps Speed
If you are really serious about playing PCVR games on the Oculus Quest 2 with Virtual Desktop, then you'll want a full WiFi 6 router. The Asus RT-AX86U is a great WiFi 6 router that offers some improved speed and reduced latency features. It can help you play PCVR games wirelessly as close to wired VR as possible.
Ports on the AX86U router offer up to 2.5 Gbps. This is the latest in wireless technology and one of the best Oculus Quest 2 accessories you can get your hands on.
NOTE: This WiFi 6 router is only for the Oculus Quest 2. The Oculus Quest 1 does not support WiFi 6.
What is a Wireless Gaming Router?
Routers for gaming are devices that allow gamers to play online games over Wi-Fi networks. Normally, they are designed to work with everything consoles, PCs, smartphones, tablets, and other wireless devices.
Oculus Quest 2 owners have an extra reason to invest in a good device: Oculus Air Link. This feature lets you stream high quality PC VR games from your gaming PC to your VR headset over your wireless network instead of using an Oculus Link cable. The cable gets in your way and takes away from the Quest's main feature – it is 100% wireless.
With Air Link, your computer decodes your game signal, sends it over your wi-fi network, and your Quest 2 displays the result in your headset. This can take up a lot of bandwidth, so you want either a dedicated router or one that gives you a dedicated signal port that isn't fighting with other devices in your home.
Key Features to Look For
Number of Bands / Channels
Get a router with at least two different bands on it. That way, you can put all of your phones and electronics on one band (usually 2.4 GHz because it travels further) and dedicate the other band to your Meta Quest.
You can also buy a tri – band router for even more flexibility.
Wi-Fi 6 Routers
While not technically required, Wi-Fi 6 is much faster than Wi-Fi 5 with less latency. This means that when your streaming games from your PC to your headset wirelessly, you'll experience smoother gameplay and have fewer dropped frames.
Mesh and Device Support
If you plan on connecting a lot of different products to your network look for a model that has mesh networking built into its design. A mesh router allows several devices to connect to each other without having to use a single point of failure like a power outlet.
USB ports
If you're going to plug in any external hardware to your network, make sure there are at least four USB ports available. You'll need them for things like hard drives, printers, and even controllers.
Security
You don't want anyone else accessing your router, so look for models that offer some form of security. Some common features include parental controls, guest access, and VPNs.
Port Forwarding
When you buy a new router, you may not know what to do with it right off the bat. That's why many people turn to port forwarding. With it, you can set specific rules for certain apps, websites, and protocols.
For example, if you own a Twitch streaming service account, you could configure your router to forward requests to your IP address through a specific port. Then, when someone tries to visit that URL, their request goes directly to your server instead of being routed through your ISP's servers.
This makes it easier to host events and watch live broadcasts while keeping your personal information private.
Ease of Use / Setup
Some Wi-Fi routers are very complicated and require lots of setup time. Others are easy to set up and use. Look for a model that offers either option.
Price
The price of a router depends on how much functionality it includes. Models that come with all the bells and whistles tend to cost more than those that only provide basic functions. However, they also tend to last longer.
Oculus Air Link Router Speed Tips
Here are some helpful tips you should know when buying and setting up a router for Oculus Air Link.
Have your PC connected via a wired connection Ethernet cable.
Your Quest headset should be connected to Wi-Fi via the 5GHz band (AC or AX).
If possible, the Quest 2 should be the only device connected to the 5 GHz band.
The router should be in the same room as your headset.
You should not have a mesh network configuration setup on the band your Quest uses.
Comment down below and share any other tips you have for players below.
Wi-Fi 5 vs Wi-Fi 6
A wireless router should support both Wi-Fi 5 (802.11ac) and Wi-Fi 6 (802.11ax). If it supports 802.11ax, this means it will be able to transmit data faster than older versions of the standard. It's important because the speed of your internet connection determines how fast and efficient your game streams.
There are a few other key differences between Wi-Fi 5 vs Wi-Fi 6:
Wi-Fi 6 supports a maximum bandwidth of 9.6 Gbps across multiple channels, compared to 3.5 Gbps on Wi-Fi 5.
Wi-Fi 6 allows for faster speeds
The new Wi-Fi 6 standard can handle congestion better if you have a lot of electronic devices in one room.
Wi-Fi 6 works better over a long distance, just in case you can't put your router right beside your headset.
Battery life of your devices is longer when connected to a Wi-Fi 6 network, which is great for the Quest 2.
Conclusion
If you are looking to upgrade from your current router, there are a ton of great options below. These Quest 2 routers will allow you to play PCVR games wirelessly over Air Link. A dual band WiFi router allows you to dedicate a connection for your Quest 2 VR headset, which is highly recommended.
If you don't mind spending a little extra, Wi-Fi 6 is highly recommended. Your average speeds will be higher and it is better for gaming connections and network congestion.
If you ended up buying any of the options below, comment down below and let us know what you went with!