A face cover makes wearing a VR headset more comfortable and is better hygiene when you have friends over to play Beat Saber or other multiplayer VR games. In this guide, we go over the best VR covers for any headset.
We'll go over:
Reasons you should get a third party VR cover for your face
Brands that make VR face covers
The different types of material you can buy
If you have a VR cover you would recommend, comment down below and let everyone know!
What is a VR Face Cover?
A VR cover goes over top of your stock facial interface on your VR headset. It snaps into place or friction fits into place. Replacement covers come in a few different materials:
Each material has different advantages and disadvantages. Some covers are softer and more comfortable than the base cover. Others are good for working out in VR.
Below, we'll cover over a few other advantages to VR covers. Then, we'll go into some of the top brands that sell covers for any headset.
Benefits to Using a VR Cover
Some main benefits of using a VR face cover include:
Keeps your headset clean and free from skin bacteria
It protects the foam that touches your face when you wear a VR headset from sweat
Your headset gets an instant new look and upgrade
Some third party VR covers are more comfortable than the default ones
It's a perfect accessory whenever you use your headset with friends and family
Next, we will show you the best VR covers for the Oculus Quest, Rift S, HTC Vive, and other headsets.
The Best VR Cover Brands
#1. VR Cover
VR Cover is a household name in the VR facial interface market. They have sold quality VR accessories since 2014. Its VR cover product line is divided into these three categories:
Silicone Cover
Facial Interface
Foam Replacements
Each cover category has a selection of covers in different materials and styles.
Silicone Covers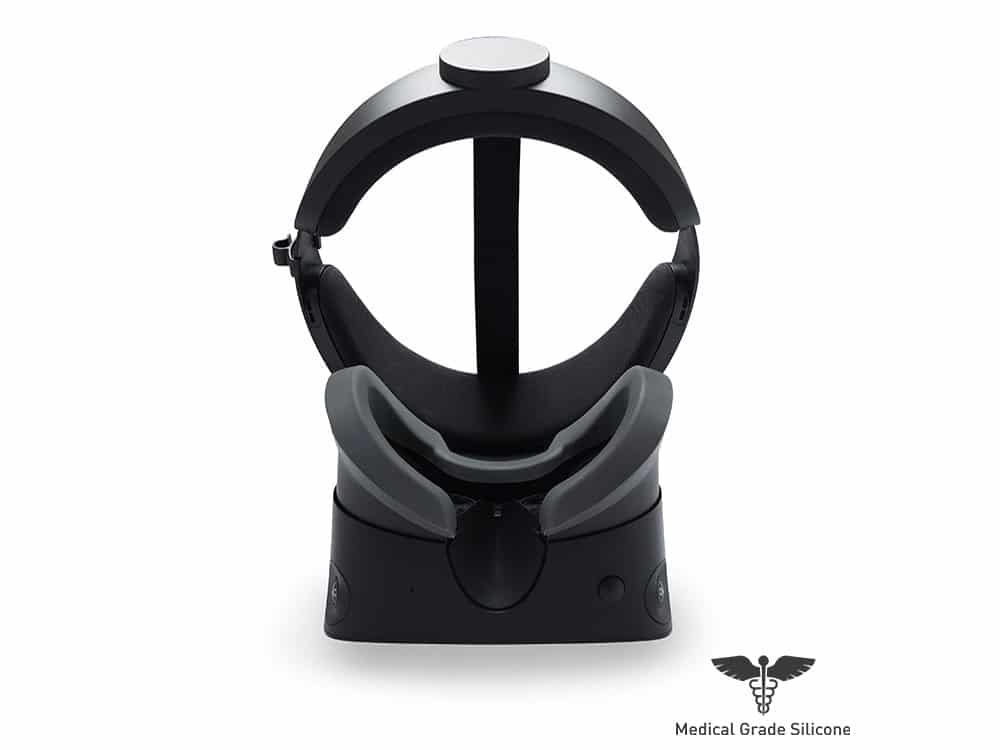 The silicone covers creates a robust barrier between the stock foam of your headset and your face. It blocks sweat from soaking into your stock foam. As well, it also prevents the foam from getting worn out quickly as a result of regular and frequent use.
Made of high medical grade silicone, this face cover is perfect for hygiene. Clean your cover with any anti-bacterial hand wipe or with soap and water. It stays fit on users' faces during workouts.
The silicon covers from VR Cover is available in different colors, including:
Grey
Red
Magenta
Dark Blue
Orange
Mint
Silicon covers start at $7 to purchase. They are compatible with the following VR headsets:
Oculus Rift & Rift S
HP Reverb G2
Oculus Quest
Valve Index
Click here to view VR Cover silicon covers.
If you are looking for the Oculus Quest 2 cover, you can also buy it off of Amazon using the link below:
VR Cover for Meta/Oculus Quest 2 - Silicone Meta/Oculus Quest 2 Face Cover (Dark Grey)
✅ Easy to Clean - The Meta/Oculus Quest 2 silicone face cover is really easy to clean since your sweat won't be absorbed by the silicone unlike the original Quest foam. Remove sweat and dirt quickly from the cover with skin-friendly wipes or hand-washing it with soap and water.
✅ Comfortable - The Meta/Oculus Quest 2 face pad is soft and flexible. The curve is very close to your face, making you more immersed in the VR game. This will result in a better VR experience.
✅ Blocks Out Light - The Meta/Oculus Quest 2 sweat guard has an added nose cover so you can minimize the light entering from the outside through the nose gap in the headset.
Foam Replacements
For a softer feel, VR Cover also sells foam replacement covers for all VR headsets. The foam replacements have a cool gel layer inside to provide users with a cooling sensation. Combined with the soft foam, this set offers a huge relief for shorter VR sessions. Foam replacements costs between $14 and $19.
Each kit comes with PU leather and two interchangeable foams, one thick and one thin. This allows users to swap out the foam replacements in the headset until they are comfortable. Maintenance is simple and easy. All you need to do is to wipe the foams with anti-bacterial wipes and microfiber cloth. Regular maintenance will help to keep your device sweat-free.
Foam Replacements are compatible with:
Oculus Quest 2 and 1
Oculus Rift & Rift S
Valve Index
HTC Vive & Vive Pro
HP Reverb G2
Click here to view VR Cover foam replacements.
Facial Interface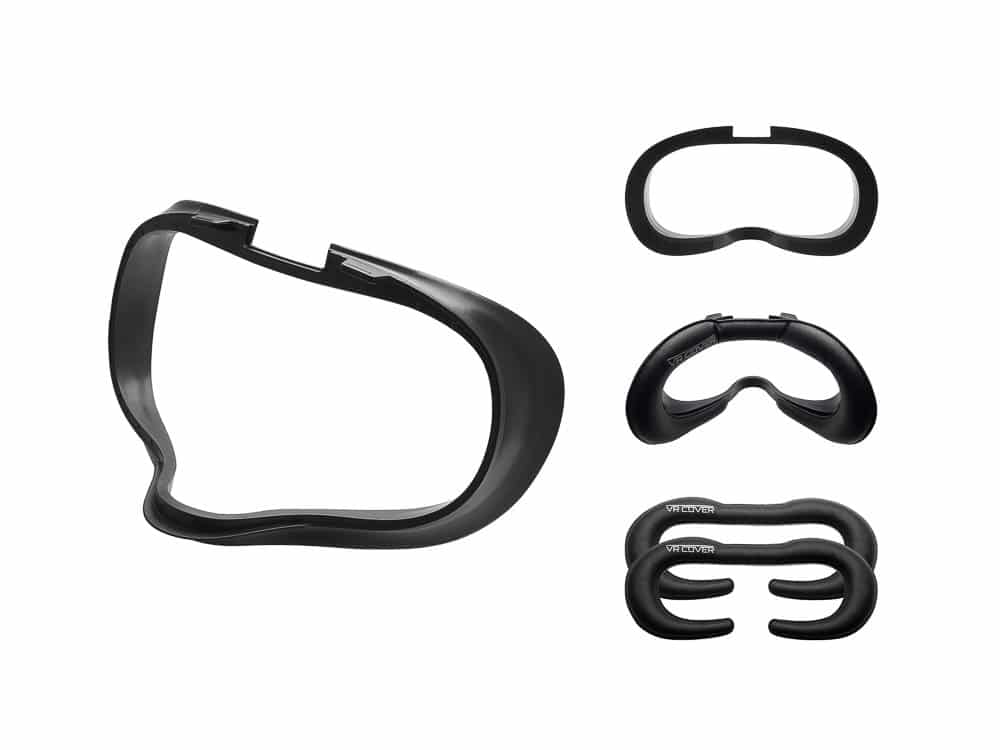 The facial interface is a hard accessory with passive air vents connects your foam padding with the rest of your headset. The air vents help to keep the headset cool and the fan off on the Oculus Quest. Some third party facial interfaces have a piece that your nose rests on when you wear the headset.
The VR cover facial interface kits include leather foam replacements, a lens cover, and a silicone nose guard too.
The breathable and wipeable design helps to reduce heat and humid air build up inside the headset. It also enables users to keep their headsets free of dirt and sweat. You can clean the facial interface with anti-bacterial wipes or a microfibre cloth.
The nose guard to help minimize light leakage. This set also has a soft lens cover to protect the display from dirt and dust. VR Cover sells this product for $29. It is compatible with:
HP Reverb G2
Oculus Quest 2 or 1
Oculus Rift & Rift S
Find all facial interfaces through the official website, or quickly buy the Oculus Quest 2 set on Amazon below!
VR Cover is the biggest source for third party VR face covers. They are very popular and cover all headsets nicely.
Standard shipping at VR Cover is a flat rate of $7.00. Most shipments are processed within 24 hours after order placement. For Express shipping, you can pay $19.00. Express shipping uses courier services with an in-person or digital signature on delivery option.
#2. AMVR Facial Interface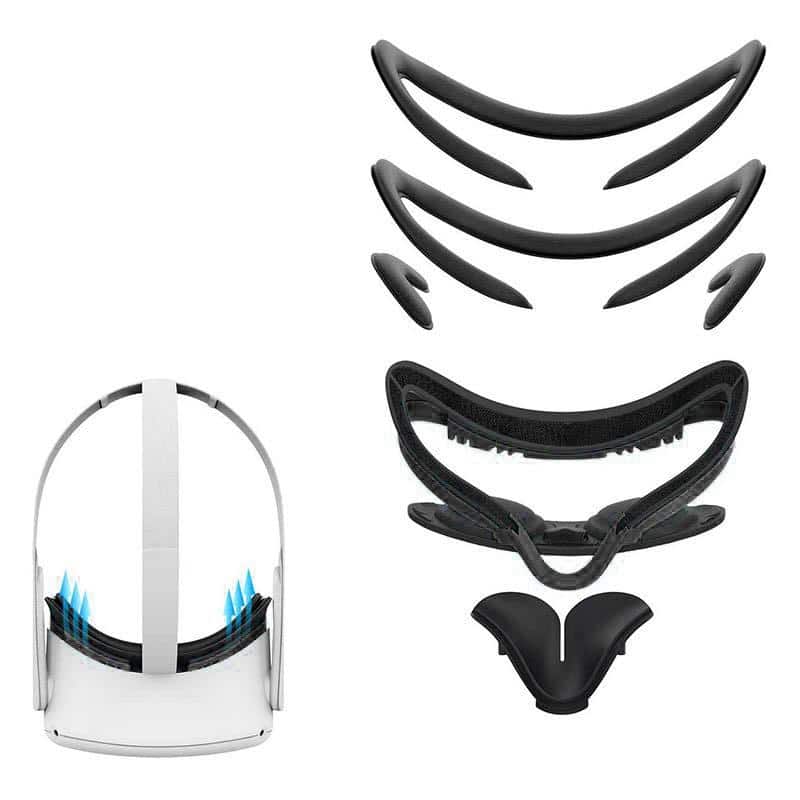 The AMVR Facial Interface is a great VR cover alternative from a company called Knoxlabs. This cover sport is made with high-quality sponge and high-grade leather. With a thickness of 15 mm, this VR cover gives you a more comfortable experience.
The AMVR Facial Interface has a lot of vents to prevent lenses from fogging. To give you an extra-tight seal, this cover has a set of secondary pads that flank the sides of your eyes.
This arrangement prevents light leaks when the primary pad crinkle up. It is available in different colors and is $25 to buy. The AMVR Facial Interface is perfect for long gaming sessions. It is easy to remove/attach to your headset.
AMVR supports the following headsets:
Oculus Quest
Oculus Quest 2
Oculus Rift
Oculus Rift S
HTC Vive
HTC Vive Pro
HTC Vive Cosmos
Samsung Odyssey
AMVR is based in Los Angeles, and they ship worldwide. A delivery Signature is required, unless you indicate otherwise at checkout.
Click here to view AMVR Facial Interfaces
Buy the Oculus Quest 2 AMVR facial interface on Amazon below.
Sale
AMVR Face Pad Cushion for Quest 2 Accessories, Foam Face Pad Replacement, with Fitness Facial Interface, Increase Fov, 4 Combinations of Face Cover Thickness, Lens Protector, Air-Circulation Design
𝘾𝙤𝙢𝙛𝙤𝙧𝙩𝙖𝙗𝙡𝙚, 𝙎𝙠𝙞𝙣-𝙛𝙧𝙞𝙚𝙣𝙙𝙡𝙮 𝙖𝙣𝙙 𝙎𝙬𝙚𝙖𝙩-𝙥𝙧𝙤𝙤𝙛 - AMVR have a professional purchasing and Qc team, face pad for oculus quest 2 are all made of skin-friendly PU leather and premium quality sponge foam, it's more soft, comfortable and Sweat-proof
𝙐𝙥𝙜𝙧𝙖𝙙𝙚𝙙 𝙁𝙞𝙩𝙣𝙚𝙨𝙨 𝙁𝙖𝙘𝙞𝙖𝙡 𝙄𝙣𝙩𝙚𝙧𝙛𝙖𝙘𝙚 & 𝙑𝙚𝙣𝙩𝙞𝙡𝙖𝙩𝙞𝙤𝙣 𝙎𝙩𝙧𝙪𝙘𝙩𝙪𝙧𝙚 𝘿𝙚𝙨𝙞𝙜𝙣 - Professional R&D team combined with many user experience, constantly optimize product, now the upgraded facial interface bracket not only adopts ventilation structure that is more in line with the principle of air circulation, keeps your face cool and relieves lens fogging in VR game, but also the ergonomic design good fit your face, no worry about the light leakage anymore
𝙄𝙣𝙘𝙧𝙚𝙖𝙨𝙚 𝙁𝙊𝙑 - Our numerous tests have proved that when the thickness of the sponge pad reaches 8 mm, it can relieve the pressure on the face and give people better comfort. AMVR's face pad are definitely the closest you can get to the lens without your eyelashes starting to compress, giving you more FOV and enhancing your VR immersion
#3. Kiwi Design VR Face Cover
Kiwi Design is another awesome VR accessory brand that sells Facial Interfaces. They focus on accessories for the Oculus Quest 2 and 1. The cost price of the Oculus Quest 2 VR cover set is $32.99.
The set comes with four different items:
Plastic VR cover
Elastic fabric cover
A high-density sponge
PU leather
The Facial Interface for Oculus Quest 2 is soft, easy to maintain, and highly washable. If you're looking for a VR cover to make VR gaming more hygienic, Kiwi Design is your go-to brand.
In terms of the design, this VR cover alternative has a foam pad with breathable holes on the bottom. This lets the sponge restore quickly and also relieves high temperatures. The vent design in the sturdy facial interface provides better ventilation with light leakage. Even after intense VR workouts, the lenses won't experience fogging.
The Facial Interface for Oculus Quest 2 offers comprehensive protection, as the anti-leakage nose pad prevents dust or light into the headset. Shipping times vary right now. When you place an order, confirm your shipping time.
Click here to view Kiwi Design VR covers
Buy the Kiwi Design face cover on Amazon worldwide below:
KIWI design Silicone Face Cover Pad with Lens Protector, Replacement Accessories Compatible with Quest 2
🎁Ultra-thin Design for Quest 2 - Unlike many other heavy face covers, this 0.8 mm lighter VR face pads make your long-time VR gaming more hygienic and can be shared with family or friends.
🎁Enhanced Field of View - Using the ergonomic accessory design, you can be closer to the display, providing a wider field of view and tighter connection
🎁Dust-proof Lens Cover - The cover prevents scratches or shock when not in use, so as not to damage the VR glasses, and keep it clean for a long time to provide a clearer vision
#4. Oculus Quest 2 Fit Pack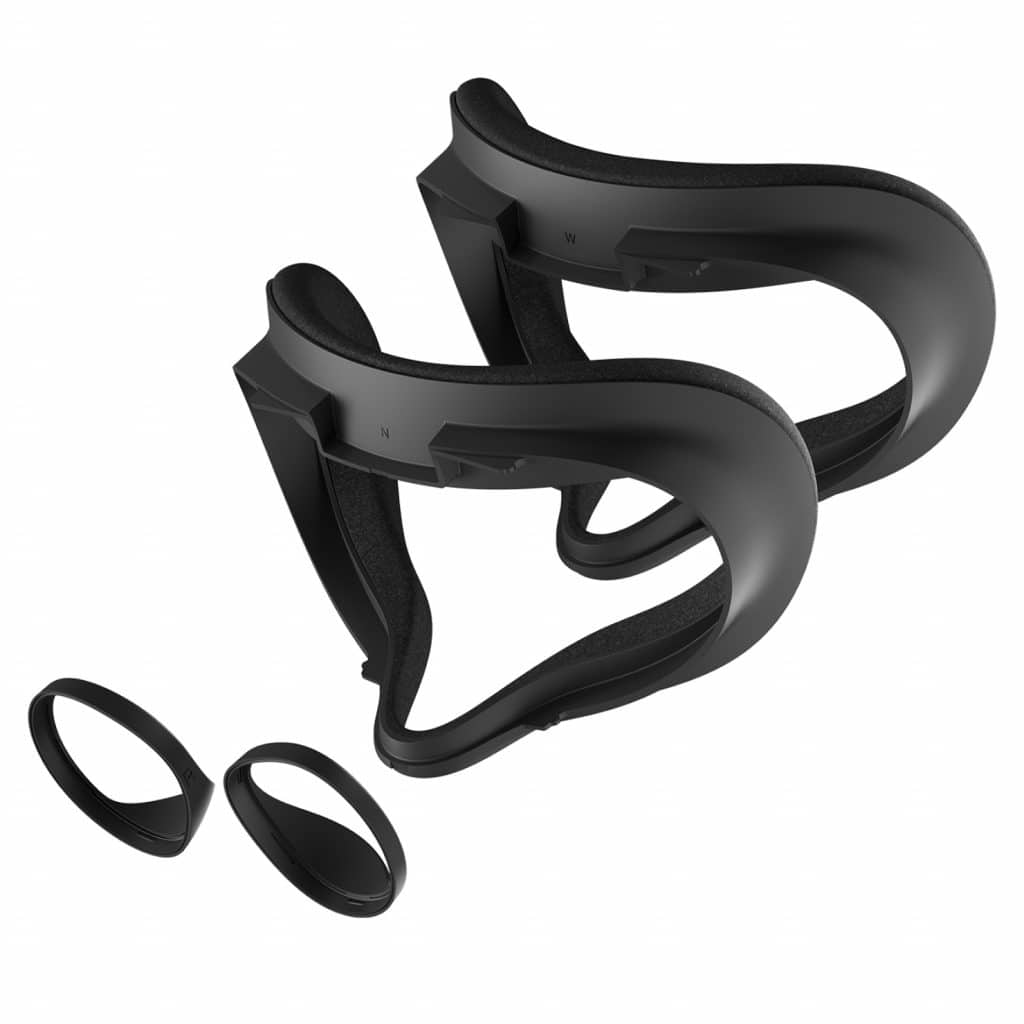 The Oculus Quest 2 Fit Pack is for those who want a super hygiene solution for their Oculus Quest 2 headset. This VR cover comes with silicone light blockers for an immersive experience. The kit includes wider or narrower cheekbones and two alternative facial interfaces.
All the pieces are made with breathable fabrics. The pieces are interchangeable.
This VR facial interface weighs 87g. If you want an official solution for the Quest 2, the fit pack is a good solution. The fit pack costs more than third party solutions, but the reviews are great. Oculus guarantees fast and easy delivery and returns.
Click here to view Oculus Quest 2 Fit Pack
#5. VR Panda Face Cover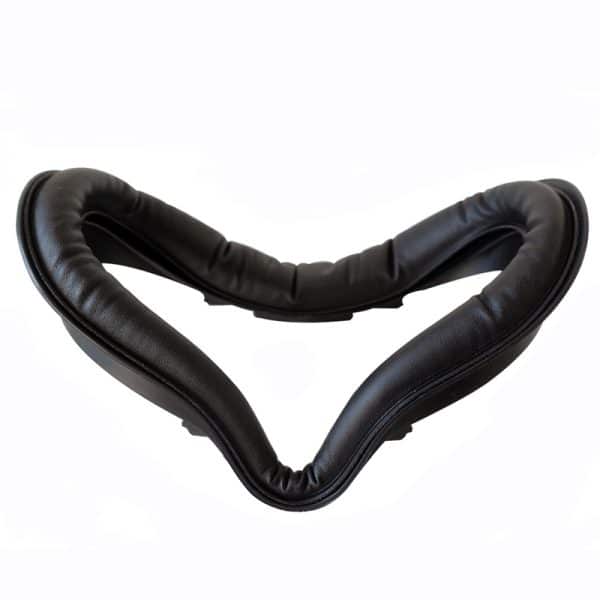 VR Panda sells VR face covers for headsets for between $16 and $22. This face pad is made with flannel and leather polymer. While the former offers softer and warmer calm experiences, the latter repels sweat during VR gaming sessions. Polymer also makes the headset more breathable. This set ships with a replacement interface as well.
VR Panda headset is compatible with:
Oculus Quest 2
Oculus Rift & Rift S
After your order is verified and approved, VR Panda will start processing your order within 1 to 3 business days. All international orders are fulfilled from their China office. International shipping starts at $20.
Click here to view VR Panda face covers
Other Third Party Face Covers
Amazon sells a few other VR face covers online, mostly for the Oculus Quest 2. A lot of these options have great reviews as well. You can check them out below!
CNBEYOUNG VR Face Cover and Lens Cover Compatible with Quest 2, Sweatproof Silicone Face Pad Mask & Face Cushion for Quest 2 VR Headset, Washable Lightproof Anti-Leakage (Black)
Patented Designed Face Cover: Specially designed for Quest 2. Skin-friendly, sweatproof, thin, comfortable, easy to install remove, and clean.
Premium Material: the face cover made of high-grade environmentally friendly silicone, so the mask is safe and hygienic, and no irritation to the skin. Bring you an improved and more comfortable experience.
Lens Cover for Quest 2: Made of Lycra fabric material, easy to use, and can be washed repeatedly. Scratch-proof, and sun-proof, Effectively prevent the lens from aging.
Topcovos Newest VR Silicone Interfacial Cover for Oculus Quest 2 Face Protect Skin Sweatproof Lightproof Anti-Leakage
※Compatibility: Silicone Interfacial Protective Cover For Oculus Quest 2 VR Gaming Headset Anti-sweat Anti-Makeup Prevent Light-Leakage Washable
※Enhance view: good facial silicone cover replacement enable you to enjoy a good field of view, enjoy your vr from the most comfortable and with a better field of view,Use high-tech design to prevent light loss and feel great on the skin.
※Comfortable and durable: Made of high quality silicone for a comfortable face felling and thin thickness with light weight,you could enjoy the game without load
Have you bought any VR face covers? Comment down below and let us know what you've liked.