The Nreal Air AR glasses are a new set of smart glasses that provide you with a virtual space in your home where you can watch movies, and play games. In this review, I'll go through all of the cool features that these AR glasses have and tell you whether they are worth buying or not.
Overall, the Nreal Air are the best set of virtual media glasses to come out yet in terms of quality and design. Whether you want to spend the money on them will come down to how much you need a personal screen to watch TV or play games on. Steam Deck owners specifically may find the perfect companion in these smart glasses.
Keep on reading to learn more!
How to Buy Nreal Air AR Glasses
The best way to purchase these AR glasses worldwide is on Amazon. Use the box below to buy yours today.
Table of Contents
Nreal Air Overview
The Nreal Air is a pair of AR glasses that give you access to a virtual cinema-sized screen in your vision. You connect the glasses to a compatible smartphone or gaming console.
The Air are equipped with two 1080p micro-OLED binocular displays that project the image right in your vision where you wear the glasses. The virtual screen you will see can be as big as a 201-inch television.
Connection is made to the glasses from your smartphone through a USB-C charging cable (included in the box). You can plug the glasses into your smartphone, which will immediately mirror your screen.
The Air weighs 76g and has different nose pieces for varying nose sizes. There's an option to add prescription lenses if your eyesight is not good.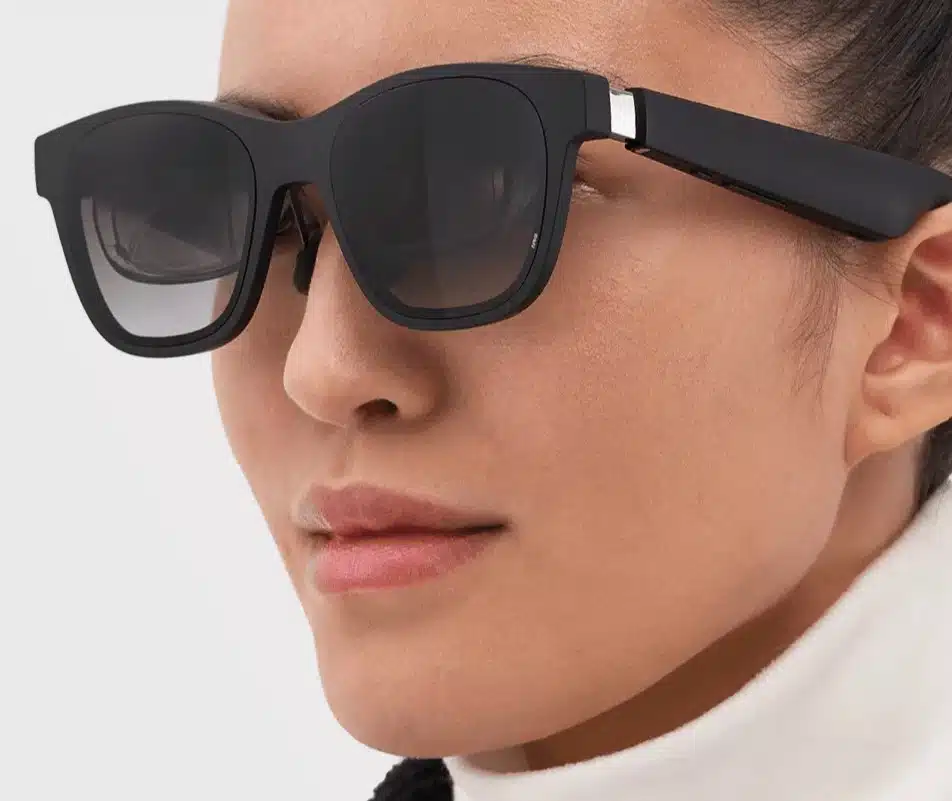 What's included in the box?
Once you pop the box open, you are greeted with:
Nreal Air
Light shield for more immersion
Cleaning cloth
Traveling case
Nose pads
Prescription lens frame
USB-C cable for charging and connecting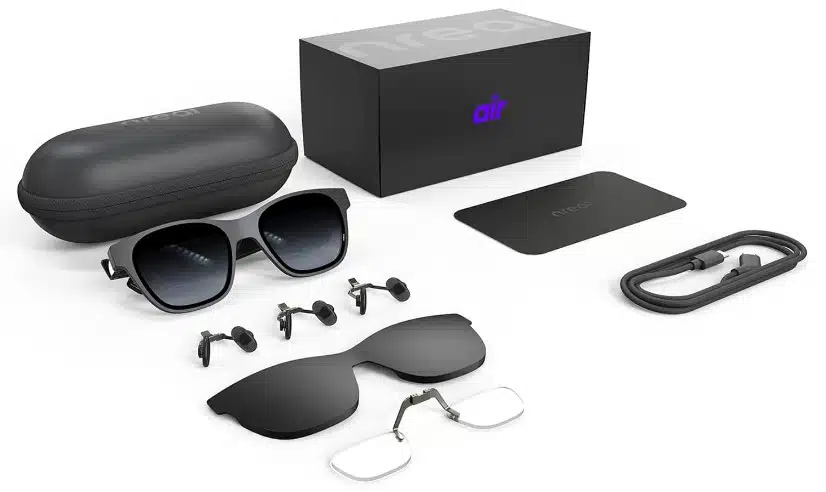 Key Features and Information
Design
While the Air Glasses appear like a regular pair of specs, you can still spot some differences if you look closely. The glasses have no built-in cameras, making the Augmented Reality (AR) aspect not too noticeable.
Nreal Air uses a USB-C charging cable to function. You will have to plug one cable end into a port hidden on one of the glasses' arms and the other into your smartphone. The top of the glasses houses the technology behind the device, with two displays (3840 x 1080 pixel OLED) projecting what you see on the internal lenses. You can slightly adjust the angle of the glasses using the arms to get a better fit.
Nreal Air has small built-in speakers. The speakers work fine, but by default people around you will hear the audio faintly coming out. It sounds very similar to when you wear a Meta Quest VR headset. So, audio is better enjoyed by connecting wireless earbuds to your smartphone and listening that way.
The Nreal is lightweight overall. Keeping the glasses only 76 grams is a big win for Nreal.
The Air doesn't have any privacy concerns, an issue that plagued AR glasses like Google Glass and Ray-Ban Stories. Privacy concerns are one of the reasons that made Nreal go camera-less.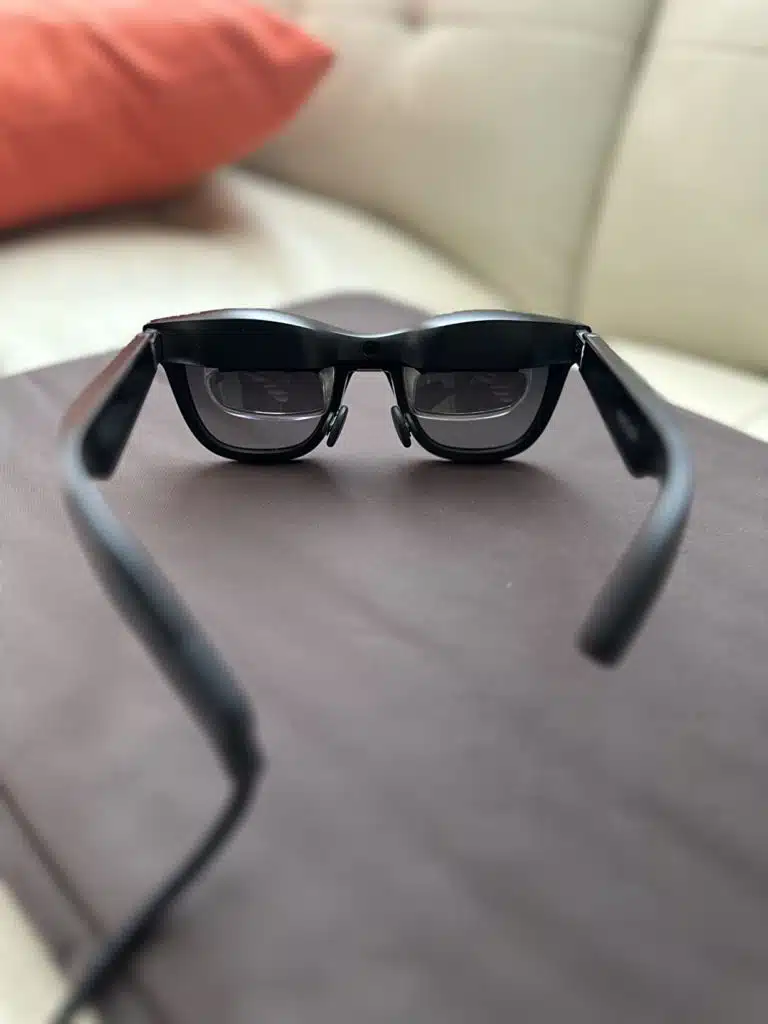 201″ Cinema Screen
The Nreal Glasses give you access to a virtual cinema-sized 201″ screen when connected to your smartphone or any popular gaming console. The Air supports the Steam Deck, Nintendo Switch, Playstation 4, Playstation 5, and Xbox Series X/S.
Once connected (wired or wirelessly), you can play any of these consoles in your glasses. Your room transforms into a mixed reality big screen TV in your peripheral vision.
1080p FHD Quality
Nreal Air displays up to 1080p FHD in resolution on the virtual screen. The vibrant and crisp displays provide enough details to be up close and personal with characters on the virtual screen.
Nreal Air comes with a hardcover that you can use to black out the displays to enjoy a more traditional mixed reality experience. This is my preferred option if I am watching movies in the glasses and can be less concerned with my surroundings.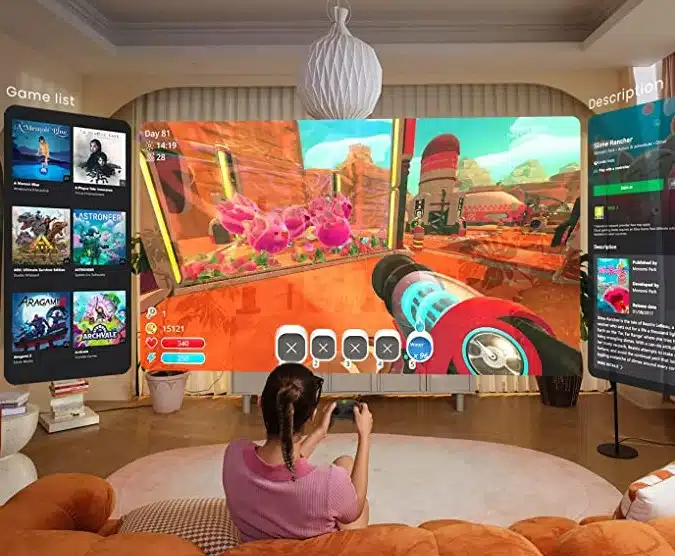 Phone Compatibility
The Air is compatible with Android smartphones, including Samsung Galaxy S22 5G, Samsung Galaxy S22 5G, Samsung Galaxy S21+ 5G, Oppo Find X3 Pro, and OnePlus 9.
In October 2022, the company announced support for Macs and iPhones as well. You can check for your phone's compatibility here.
Air Casting Phone Mirroring
Nreal Air supports Air Casting Mode, which lets you access several apps like Xbox Game Pass and Netflix on a large screen from a connected smartphone. You can use the Air as a surrogate TV, which mirrors and enlarge your phone screen on the glasses. It's like owning your private cinema.
You can watch a movie or even play your favorite games on a larger screen better than the small display of your phone.
Battery Life
The Nreal Air doesn't have an internal battery. It uses power from the connected devices through the USB-C charging cable. You do need to watch out, because the battery life of your connected phone will drain faster than normal. However, having no battery is part of the reason the Air glasses are so small and stylish.
Software
The glasses themselves can plug and play with many devices. However, you will need to download the Nebula App to explore the glasses fully.
The Nebula App helps replace traditional screen mirroring and projects an Nreal-designed MR space and user interface. After connecting Nreal Air to the Nebula App, you can navigate the interface by using your phone as a unique controller and swiping at it.
You can still access your phone's content within the Nebula App and open as many floating windows as you like.
Steam Deck Support
One of my favorite things to do with the Air glasses is connect it to my Steam Deck for an immersive gaming experience. You can use the included USB-C adapter to plug right into your Steam Deck. After that, you can play games in your AR glasses, using them as the TV.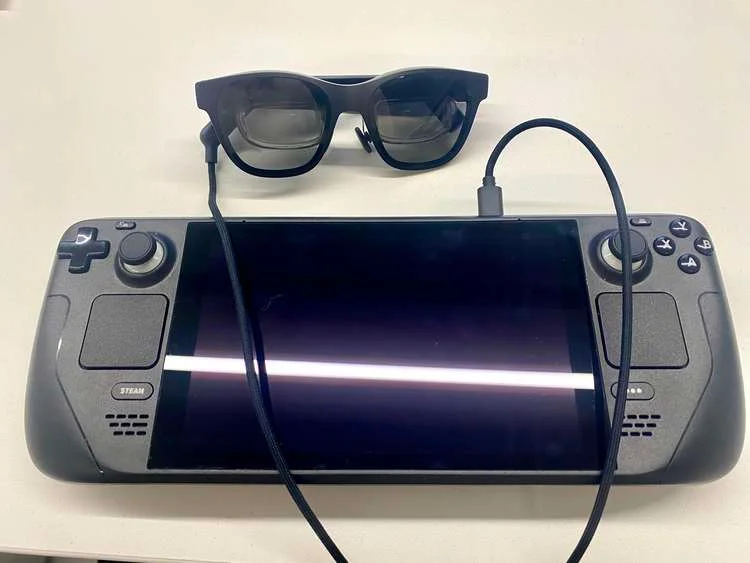 How Much Does the Nreal Air Cost?
The Nreal Air are available for immediate purchase on Amazon at a price tag of $379. The price is reasonable enough compared to a new TV for your house. Plus, the technology is still fresh and new.
What About the Nreal Air Adapter?
The Nreal Air Adapter is a dongle that lets Apple iPhone users play their favorite games or watch moves from stream services through the Nreal Air Glasses on a virtual screen. You will need a lighting-to-digital AV adapter cable to connect and power the Nreal Air Adapter.
Before using the adapter, ensure you activate and update it alongside Nreal Air to its latest firmware. You can do the update through the Nreal official website. The Nreal Air Adapter is sold separately and it costs $59 to grab one.
How to Setup the Nreal Air Step-by-Step
The first step in the setup process is to check for your phone's or device's compatibility. You can follow this link to check for your device's compatibility.
After that, download the Nebula App on your device. You can download the app from the Google PlayStore or scan the QR code from the instruction manual.
Open the Nebula Appz, agree to the terms of service, and grant all relevant permissions.
It's now time to connect the Nreal Air Glasses. Use the included USB-C charging cable for the connection. Connect one end of the cable to the glasses and the other end to your device.
Tab the navigation bar's touch icon and click on "allow Nebula to access Nreal Air." Select Air Casting Mode. At this point, the glasses will display a cinema-sized 201″ screen.
You can wear the glasses to continue with the remaining setup processes.
Create an account on Nebula or use your existing Gmail to continue.
You can navigate through the interface by swiping on your phone screen like a trackpad or through head movements.
Congratulations! You're now ready to go.
What I Like About the Nreal Air
There are so many things I like about Nreal Air. First, the glasses are made of high-quality materials, making them feel excellent while handling them. They are the least bulky AR glasses I've ever worn. Plus, the lack of cameras or battery make them durable and lightweight.
For the most part, streaming video on the glasses is smooth. Air casting your content without any cables is preferred for maximum flexibility. I think most people will use that option instead of connecting to their phone.
The personal space created by the glasses in mixed reality mode is done really well. Playing games on my Steam Deck is really cool.
I would like to see the Nebula app continue to be improved with more compatibility with others apps. Being able to open up multiple windows in your view is another nice feature.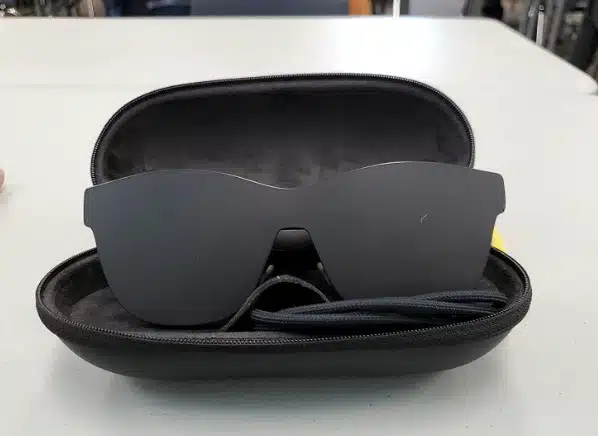 What I Don't Like
Right off the bat, I don't like the Nreal Air Glasses' limited compatibility with phones. I hope Nreal will support more devices in the future to attract more users.
The price tag might be too expensive for AR glasses that display a full OLED screen in your vision. The display brightness and clarity need to improve a little bit more. However compared to the Nreal Light, the new Air glasses sit better and work awesome.
Nreal Air vs Nreal Light Glasses
The Nreal Light were previous generation glasses from Nreal that were released in a handful of markets back in 2020 and 2021. The Air glasses are more universally available and have made a ton of improvements to the design:
Better brightness controls and volume controls
Improvement to the app
Support for Apple devices
Prescription lenses support
Overall, there is little reason to go for the Nreal Light. The Air are better Nreal glasses all around.
Video Review
Want to view these AR glasses in more detail? Check out the video review below:
Conclusion
The Nreal Air AR glasses allow you to view media and mirror your phone and gaming consoles in a mixed reality virtual space. This is possible via dual OLED displays which display a 201″ big screen in your vision.
For the most part, these fit like a normal pair of glasses and weigh only slightly more. The glasses have no processing power and no battery, so some buyers might find the glasses extremely limited for their price. However, those people who want another personal TV to use will enjoy these.
The Air glasses are higher quality and better than the previous Nreal Light. Plus, they are more universally available.
Buy your glasses below today and let us know what you think!
Frequently Asked Questions (FAQs)
Are the Nreal Air glasses worth it?
If you want a personal TV that is powered by a set of glasses, then the Air is worth it. You can watch movies or television shows or stream games from a compatible console like the Steam Deck and Playstation 4 or 5.
Does Nreal Air work on iPhone?
Yes, the Air is compatible with iPhone as long as you buy the official lightning-to-digital AV adapter sold by Nreal. Some apps can also wirelessly stream content to the glasses without a hardwired connection.
What's the difference between Nreal Air and light?
The Air are better than the Light glasses and are more universally available to be purchased online. The Air has a brighter display, faster refresh rate, detachable cable, better app support, and a bigger mixed reality screen.