VR players who wear glasses have a tough time playing in virtual reality clearly. Luckily, there are a lot of VR prescription lenses that can be installed over top of the display to make things clear.
In this guide, we go over VR Wave vs Widmo vs VR Lens Lab vs VR Optician, including:
the different VR prescription lenses and companies out there
which headset each option supports
Details on each product's design and functionality
how to buy VR prescription lenses today
After this guide, you can spend more time enjoying your new VR prescription lenses, rather than searching for them!
If you recently purchased any lenses for yourself, comment down at the bottom of this guide and let us know.
The Best VR Prescription Lenses
In this guide, we focus on four different brands who are producing lenses today:
We've looked at the VR Wave vs Widmo VR vs VR Optician vs VR Lens Lab VR prescription brands in detail and will break down each in detail next.
How to Select Your VR Prescription Lenses
In order to buy the right lenses for your VR headset, you have to specify your lens prescription. Usually, your Optometrist will give you a card with these details after your appointment.
Sphere (SPH)
Sphere is the strength of your lens prescription. It is measured in diopter and uses a + for farsightedness and – for nearsightedness.
Cylinder (CYL) and Axis
Cylinder and axis are both required in order to fix eye astigmatism. Your prescription will either contain both or neither of these numbers together. The cylinder is how strong your astigmatism is and the axis is the angle needed to in order to see clearly again.
Blue Light Filter
Blue light is emitted by electronics and can lead to eye strain and other issues. Some VR prescription lenses below offer a blue lens filter which protects your eyes and keeps them safe.
Anti-Glare Coating
Anti-glare coating helps to shine line directly through your lenses without a glare or shadow. This means that you see a clearer picture and your lenses look invisible. This is an extra cost offered by most of the lenses below.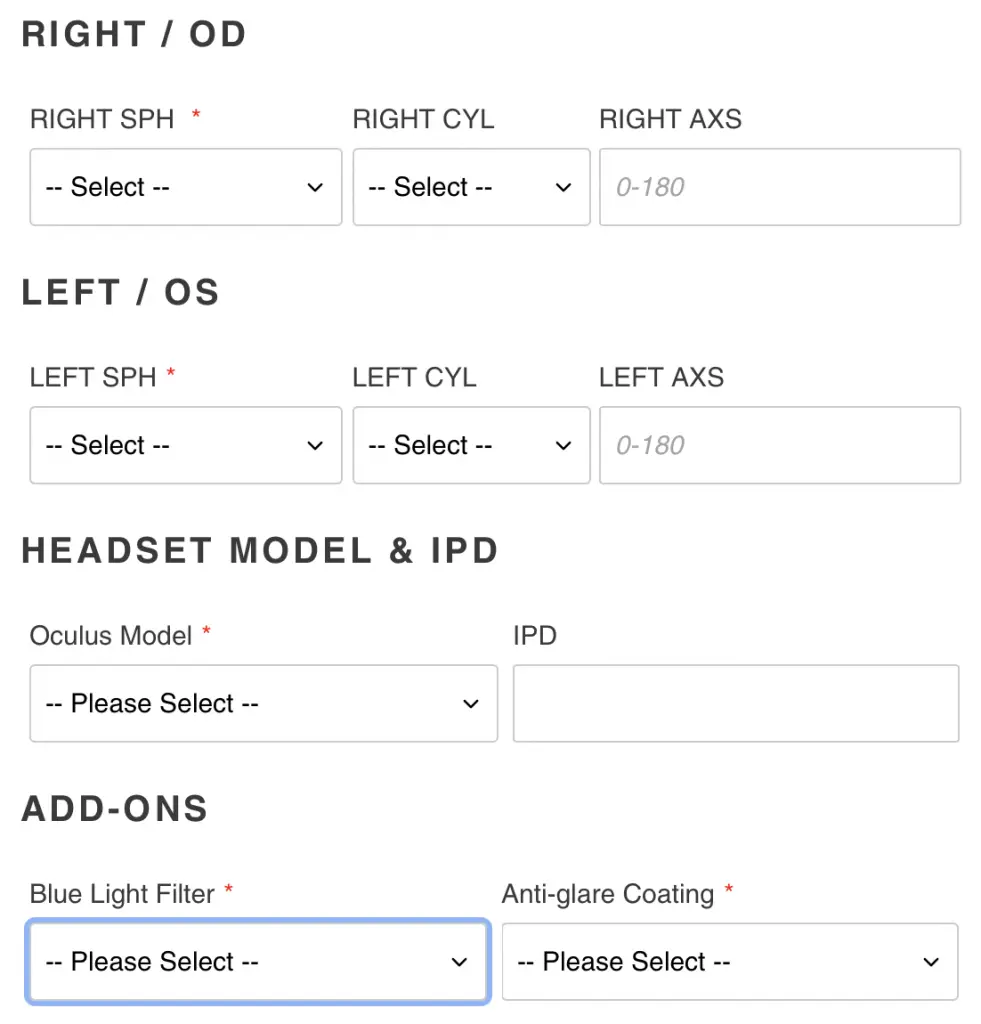 Again, these specifications are entered when you buy lenses from any of the websites featured in this guide. Next, we take a look at some features of each lens brand in more detail.
Headset Support
When searching for the perfect VR prescription lenses, it is important to find a company that supports a varied selection of headsets. Each VR headset has a different shape, so each lens has to fit accordingly. Below are the headsets that each company supports, so you can find which one provides lenses for your favorite VR Headset:
| Company | Headsets |
| --- | --- |
| VR Wave | Oculus Quest 2 & 1, HP Reverb G2, Oculus Rift S, HTC Vive Series, PlayStation VR |
| Widmo VR | Oculus Quest 2 & 1, HP Reverb G2, Oculus RIft S & Rift, Valve Index, HTC Vive, Vive Pro, Vive Cosmos, Samsung Odyssey/Odyssey +, Oculus GO |
| VR Opticians | Oculus Quest 2 & 1, HP Reverb G2 & G1, Oculus Rift S & Rift, Playstation VR, Valve Index, HTC Vive, Vive Pro, Vive Cosmos, Samsung Odyssey, Oculus GO |
| VR Lens Lab | Oculus Quest 2 & 1, Oculus Rift S & Rift, Valve Index, HTC Vive, PlayStation VR |
Overall, all companies have VR prescription lenses for the latest headset released in 2020. If you want support for older hardware, VR Optician has the largest selection.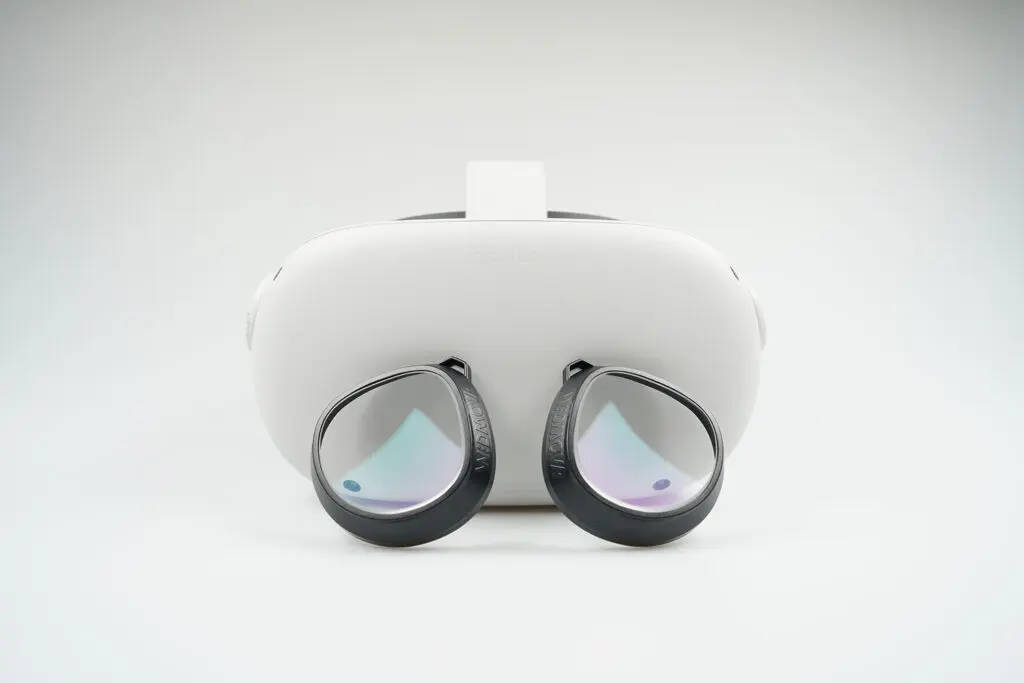 Product Functionality
One of the most important aspects when purchasing VR prescription lenses is how complicated it is to install these lenses. Both VR Wave and VR Lens Lab have the most user-friendly installation processes.
VR Wave uses magnetic attachments that are easy to connect, replace and clean. VR Lens Lab uses inserts, which streamline the process.
Widmo and VR Optician use a friction fit to hold the lenses in to place. They are simple to install, but can be prone to shifting in and out.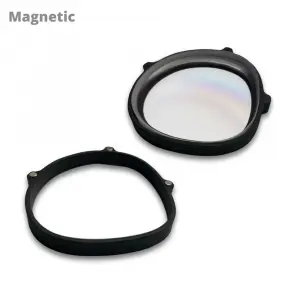 Product Design
When comparing the product design between VR Wave, Widmo VR, VR Opticians and VR Lens Lab, there were two options that stood out. Both VR Wave and Widmo VR have incredibly sleek product designs. They are modern looking and offer as much comfort as possible. VR Wave and Widmo are also very easy to clean and adjust.
For technical design, VR prescription lenses above do a good job. They are each completely customizable to your prescription. Each website does a good job to make ordering as easy as possible.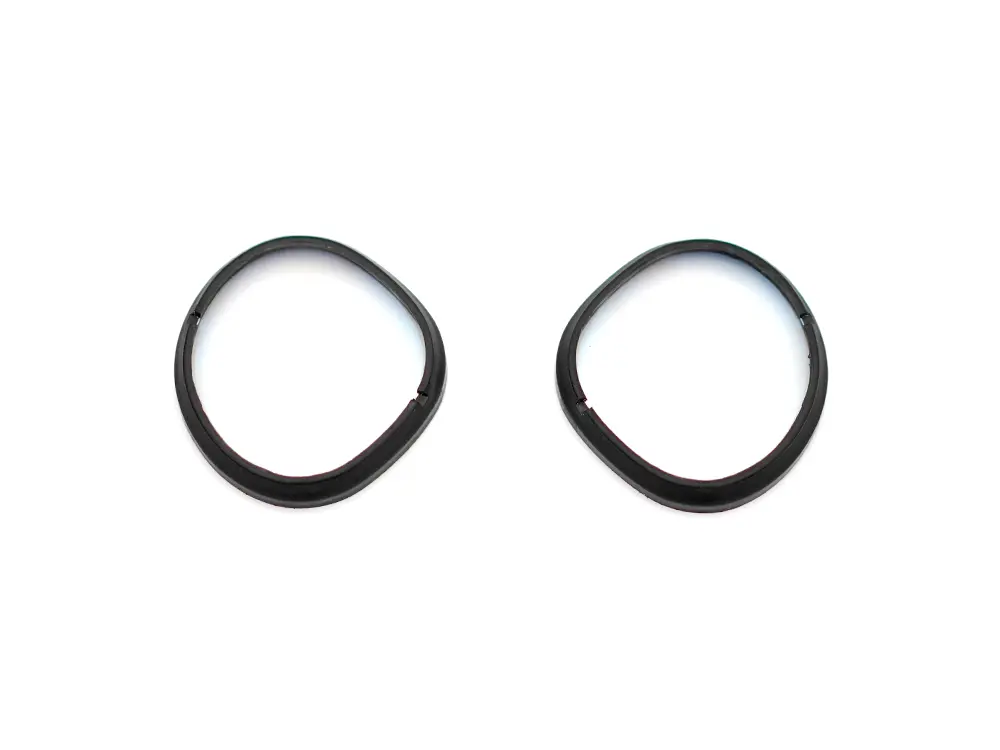 Blue Light Filter
Blue light is a type of light ray that is emitted by most electronic devices such as VR Headsets, TVs, PCs, and Smartphones. Under prolonged exposure, they can lead to eye problems such as decreasing contrast and digital eye strain. This is why it is incredibly important to wear prescription lenses that contain a blue light filter. This will keep your eyes safe, no matter how long you want to use your VR Headset.
Blue light filters are important in VR prescription lenses and all companies, VR Lens Lab, Widmo VR, VR Wave, and VR Optician offer blue light filters on their prescription lenses.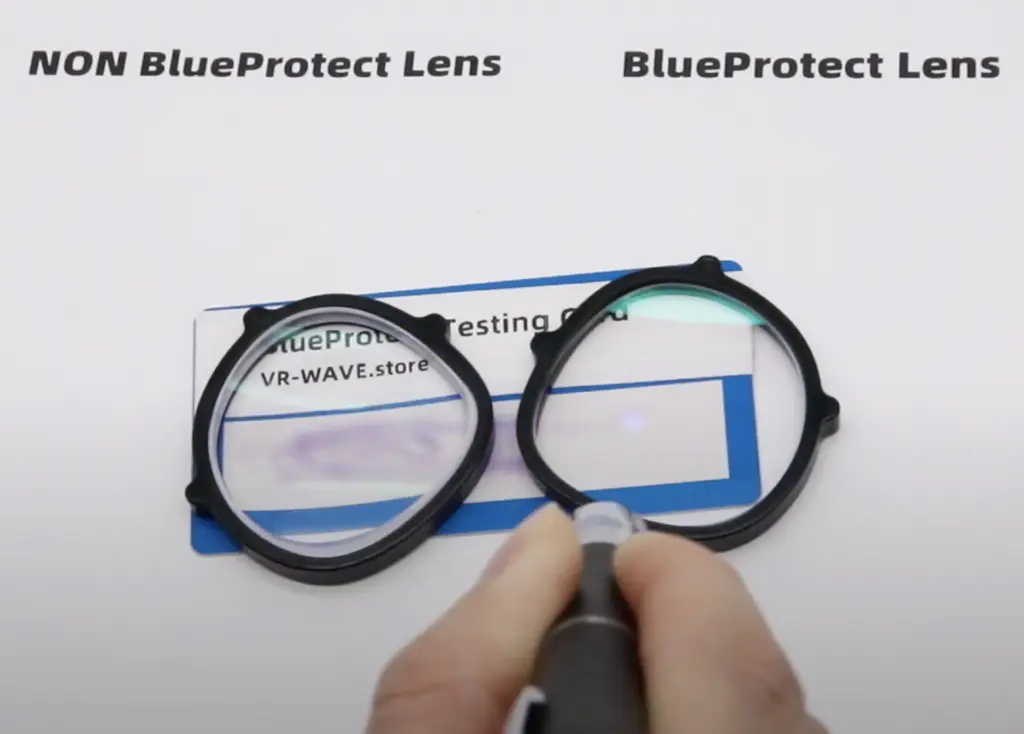 Shipping Times, Fees And Prices
When it comes to online shopping you should consider the product's price and the shipping fees. Sometimes, companies are not completely clear on the shipping fees for all corners of the earth.
Below is a direct comparison between each competitor:
Base Price
Shipping Fee
Global Delivery Time
Manufacturing Time
VR Wave
$50
8$-15$ (US)
12$-18$ (Europe)
7$-11$ (Japan)
8$ (Russia)
17$ (Israel, South Africa, Brazil, Chile, Canada, Mexico)
15$ (Global)
FREE – Orders above 150$
5-10 Days
7 Days
Widmo VR
$78
19$ – 25$
14 Business Days
3-9 Business Days
VR Optician
$83
–
–
4-5 Weeks
VR Lens Lab
$45
11$ – 40$
2-8 Weeks
7-10 Business Days
The base price listed above is your starting price for VR lenses. When you add your prescription, the price is considerably more.
As a sample, we checked our each website to order Oculus Quest 2 +4.00 sphere and cylinder prescription lenses with a blue-light filter to compare prices between VR Wave vs Widmo VR vs VR Optician vs VR Lens Lab.
VR Wave: $0 base price + $80 sphere + $30 cylinder + $15 blue light filter = $125. An extra anti-glare coating is $10.
Widmo VR: $65 base price + $29 sphere + $30 cylinder + $29 blue-light filter = $153.
VR Optician: $69 base price + $60 sphere + $38 cylinder + $30 blue-light filter = $197.
VR Lens Lab: $44 base price + $55 sphere + $25 cylinder + $25 blue-light filter = $151.
Conclusion
Overall, all VR prescription lenses will do just fine in your headset. They all provide the right magnification and vision adjustment for your eyes. This means that you don't have to wear your glasses or contact lenses while you play games in VR.
You can buy VR lenses from any of the official websites below:
Prices amongst all the top VR lens brands are competitive. Each option will do the trick, so do a quick check and see if there are any deals going on. We like what VR Wave offers with their magnetic inserts which fit into place well. They are also transparent about pricing and shipping on their website. They also offer wide magnification for both farsightedness and astigmatism, making their lenses a perfect asset for everyone!
Let us know which VR prescription lenses you use!