Golfing in virtual reality is a cool experience. Elevate it to the next level by buying one of the VR golf club accessories featured in this guide!
We have VR club attachments for the Meta Quest and Steam VR headsets.
The best VR golf club accessory is the DeadEyeVR driver, which looks and feels like you are holding your Quest controller in a real golf club.
This guide also shows off the best VR golf games to, including Golf+ and Walkabout Mini Golf.
Keep reading to learn all of the details.
Popular VR Golf Club Attachments for Meta Quest
Choosing the best VR golf club attachment is essential for compatibility and comfort when playing. You want to feel like you are swinging a real club when playing VR, and these accessories below help to make your VR golf much more enjoyable.
Below you will find some of the best VR golf club attachments that provide a quality product, providing an enhanced feel when VR golfing.
DeadEyeVR DriVR (Best VR Golf Club Attachment)

Features a molded golf handle just like a real golf club

Iron core allows the club to have an increased weight

Insert your VR controller right onto the VR golf club attachment
Sale
DeadEyeVR DriVR - VR Golf Club Handle Accessory (Red - Metal)
Immersive: DriVR is a golf club accessory that you can insert your controller into to simulate a real golf club
Real Golf Handle: Features a molded golf handle much like those used in real golf clubs
Iron Core: Contains an iron core for increased weight and realism.
ZyberGears VR Golf Club Attachment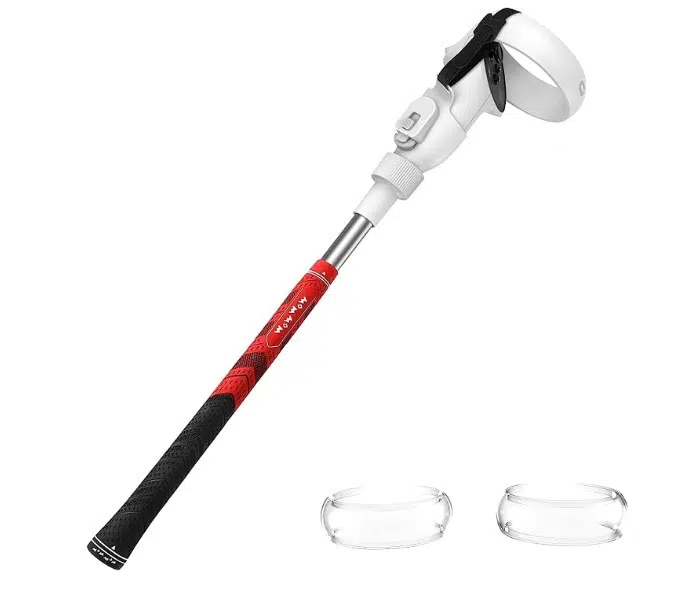 Added velcro strap ensures that the VR controller is firm and non-slip

Customized just for the Meta Quest 2

Compatible with both right and left-hand controllers
ZyberGears VR Golf Club for Oculus Quest 2 Accessories, Golf Club Handle Attachment Compatible with Meta Quest 2 Left and Right Controller
Better Gaming Experience: The VR golf club accessories customized for the Quest 2 Controller, bring you the feeling of a real golf club from the appearance and gripping, suitable for Golf+, Golf 5 eClub and Walk About Mini Golf. It will create an immersive gaming experience for you.
Upgraded Installation: Built-in fixation can firmly fix your controller without worrying about flying out, which is more stable and secure. And it can be easily installed in few seconds.
High-quality Material: Controller fixing shell is made of ABS plastic material, resistant to falling and impact. Soft rubber grip has non-slip texture, which is both comfortable and sweat-absorbing.
Yezro Golf Club Handle Accessory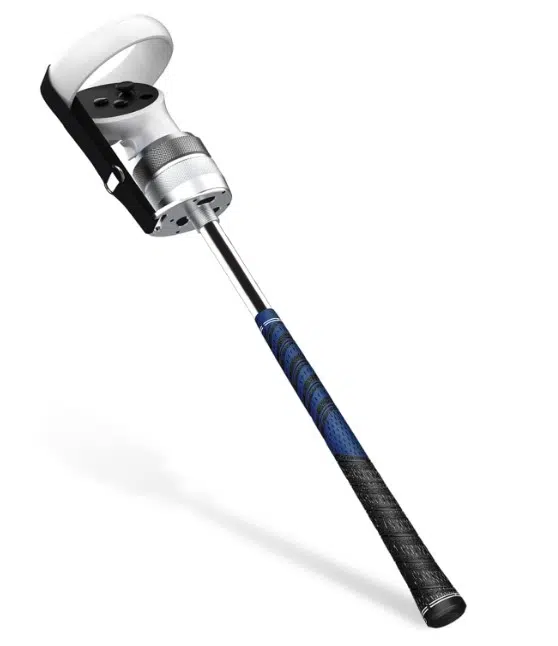 A real golf grip provides a realistic weight when the VR controller is attached

The locking mechanism holds the controller securely

The shaft is made from high-quality aluminum
VR Golf Club Handle Accessory for Oculus Quest 2 / Meta Quest 1 (2023UPGRADED Version), Aluminum Golf Club Attachment with Secure Reinforced Straps and Real Grip
REAL FEEL SWING WEIGHT: With YEZRO VR golf club handle, you can really work on your grip and swing. The 27cm(10.5inch) real golf rubber grip has room for both hands and is a realistic weight when the controller is attached. Weight is approximately 322g(0.7lb) with the controller inserted.(NOTE: Quest 2 Controller not included)
UPGRADED CONTROLLER SECURE REINFORCED STRAP: Add a velcro strap which is an added layer of security. The adapter has velcro strap aluminum mount. Provide your controller double protection compared to previous our vr golf club attachment. No need to worry about any risk of fly out while playing.
ROTATE LOCK ADAPTER: Locking mechanism holds the controller securely. Improved rubber controller cup in the section the controller goes into ensures not only the controller stays put and eliminate any play or wobble, but that it doesn't get scratched. Lock the controller by whirl the screw thread button clockwise. Unlock the controller by whirl the screw thread button counterclockwise
Best VR Golf Games
Walkabout Mini Golf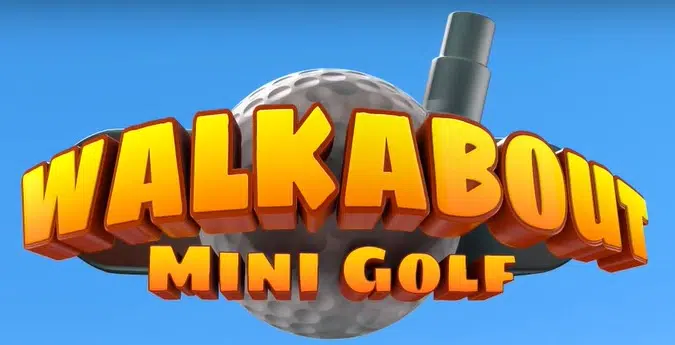 Walkabout Mini Golf is not like your traditional golf game but is highly recommended. This mini golf VR game offers a fun experience for everyone who plays.
Developed by Mighty Coconut, Walkabout features impressive course and hole designs, with each hole hiding different easter eggs. The game offers eight unique 18-hole courses, with the option to unlock more challenging versions in Night Mode.
Players can engage in solo play, 1v1 online matches, or create private rooms for up to 8 players. Walkabout Mini Golf boasts realistic physics, supports teleport and smooth locomotion, and provides various avatars to collect. It also supports crossplay between platforms and offers downloadable courses for additional content.
Walkabout Mini Golf is compatible with the Meta Quest 2, Meta Rift, SteamVR, Viveport, and Playstation VR headsets. It can be purchased for $14.99.
Golf+

GOLF+ is a highly immersive virtual reality golf game that aims to provide a realistic experience. With its impressive graphics and accurate course replication using LiDAR technology and hyper-accurate mapping, players can enjoy playing on real-life golf courses like:
Valhalla Golf Club

Wolf Creek Golf Club

The Ocean Course at Kiawah Island Golf Resort.
While the gameplay may require some adjustment from real golf, players can quickly learn the techniques and enjoy driving long and straight shots. However, mastering chips and greenside bunkers may take more practice.
Three game modes are available on Golf+: full course, TopGolf, and ProPutt. TopGolf allows you to master your skills while challenging your friends. ProPutt will enable you to practice your putting stroke on different courses. Overall, GOLF+ offers an enjoyable experience for avid golfers and gamers.
One thing of note, the Full Course mode is only available on the Meta Quest 2 headset. The remaining modes are compatible with the Quest 1 and Meta Quest Pro. The price of Golf+ is $29.99.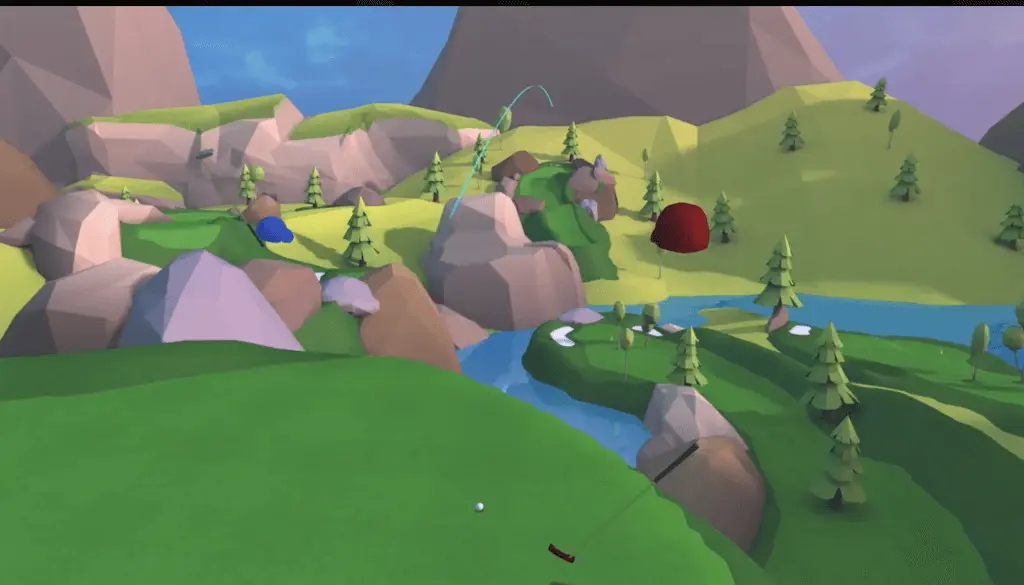 exVRience Golf Club

exVRience Golf Club is a virtual reality game that offers an immersive and engaging golfing experience. Players can enjoy a full 18-hole game on multiple themed courses, allowing them to explore different environments and challenges.
exVRience also offers the opportunity to meet and interact with friends in the virtual Club House, adding a social element to the gameplay. The game is compatible with a VR golf club handle accessory which takes the place of a real golf club.
With its focus on producing engaging and interactive experiences, exVRience Golf Club aims to provide players with a realistic and enjoyable virtual golfing experience.
With multiple game modes and challenges available, exVRience Golf Club offers an optimal VR golfing experience. The social aspect is also fun, as you get lost communicating with others worldwide in the clubhouse.
exVRience Golf Club is compatible with the Meta Quest, Meta Quest 2, Meta Quest Pro, and SteamVR headsets. The price of this game is $14.99.
Golf 5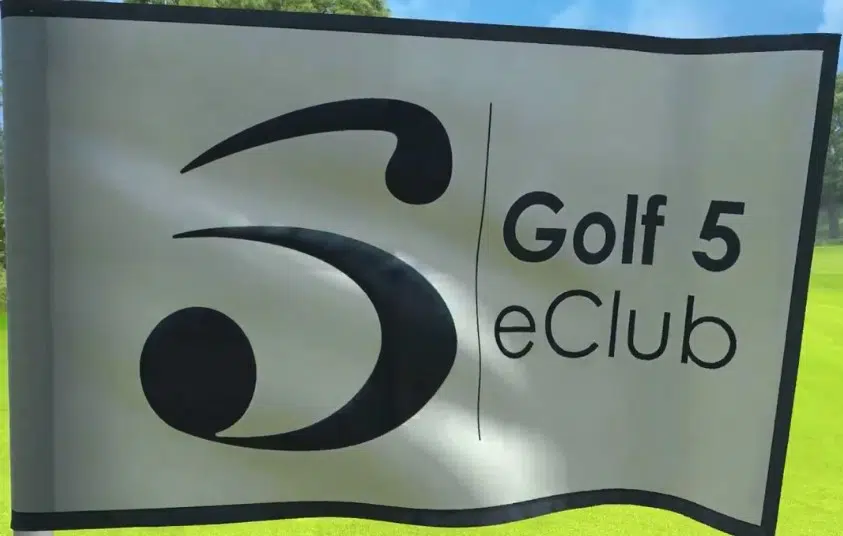 Golf 5 is an immersive virtual reality golf game that offers players a realistic and authentic golfing experience. With its highly detailed graphics and advanced 3D golf simulation, players can enjoy playing on over 20 famous golf courses from their homes.
The game also features a multiplayer mode, allowing players to compete and connect with friends and other golf enthusiasts.
Golf 5 is compatible with the Meta Quest 2 VR headset, providing players with a fully immersive gameplay experience. It is highly rated and considered a top-quality virtual reality golf game, offering a great way to learn, practice, and enjoy the game of golf in a virtual environment.
Golf 5 also hosts many different tournaments and challenges throughout their game, offering real-life prizes to those who finish near the top of the leaderboard. Golf 5 is the perfect game to perfect your VR golf skills and move up the Golf Metaverse Rankings.
The price of Golf 5 is $29.99.
World Golf Tour by TopGolf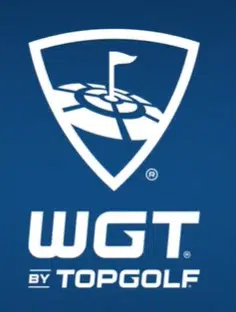 World Golf Tour by TopGolf VR is one of the most realistic and immersive virtual reality golf games. It allows players to experience iconic golf courses like Pebble Beach, St Andrews, and Wolf Creek in stunning detail.
With over 20 famous golf courses available, players can enjoy a variety of challenging and picturesque landscapes. The game uses actual photographs of these courses to create an authentic and lifelike experience.
World Golf Tour also allows players to connect with millions of other players worldwide, fostering a vibrant and social gaming community. With its advanced 3D golf simulation, multiplayer game modes, and upgraded virtual golf clubs and balls in the Pro Shop, World Golf Tour by TopGolf VR aims to provide players with a top-rated and realistic golfing experience.
The only issue with WGT by TopGolf is that it is currently only compatible with SteamVR headsets. There is no current compatibility with the Meta Quest or Meta Quest 2. WGT by TopGolf is free of purchase, with downloadable courses available at an extra cost.
How To Choose the Right Golf Club Accessory for Your Meta Quest
Compatible with Meta Quest
The first priority is ensuring that the VR golf club handle accessory you consider buying is compatible with your Meta Quest headset. That is, assuming you are shopping for the Quest.
There are many VR golf club attachments on the market. Most of them are compatible with all VR headsets, but it is essential to confirm this beforehand.
This can save you time and money. The good news is, if you purchase a VR golf club handle accessory incompatible with your headset, you can return it for a full refund.
Ergonomics and Comfort
Ergonomics and comfort are crucial when buying a VR golf club handle accessory. The ergonomic design ensures that the accessory feels natural and comfortable in your hands, mimicking the feel of a real golf club. This promotes a more immersive and realistic gaming experience, allowing you to focus on your swing and gameplay.
Additionally, a well-designed accessory reduces the risk of discomfort or fatigue during long gaming sessions, enabling you to play for extended periods without strain. By prioritizing ergonomics and comfort, you can enhance your overall enjoyment and performance in the virtual golf game.
Durability and Material Quality
For several reasons, durability and material quality are important when choosing a VR golf club handle accessory. Virtual reality games often require repetitive and vigorous movements, which strain the accessories.
A durable accessory of high-quality materials will withstand this usage without experiencing wear and tear. Also, a sturdy accessory will provide better protection for the VR controller, ensuring it remains intact and functional for longer.
Most high-quality VR golf accessories have a velcro strap to ensure maximum controller protection. A well-built golf club handle accessory can enhance the overall gaming experience by providing a realistic and immersive feel, contributing to the enjoyment of the virtual golf game.
Price and Value for Money
Evaluating the price of each different VR golf club handle accessory is crucial in your final decision. With many options available on the market, you can save yourself some money. But, be careful with the super cheap options compared to the higher valued ones.
It may be worth spending that little extra money to have a better quality product that lasts for a long time and offers the best VR golf club handle.
Caring for Your Golf Club Handle Accessory: Maintenance Tips
Maintaining your VR golf club accessories is essential to ensuring their longevity and extended lifespan. Proper care and regular maintenance will help keep them in optimal condition, allowing you to continue enjoying a realistic and immersive gameplay experience. Here are a few ways to maintain your VR golf club accessories:
Cleaning: Regularly clean your accessories to remove dirt, sweat, and debris that can accumulate during gameplay. Use a soft cloth or microfiber towel to wipe the surfaces and remove any stains or smudges. Avoid using harsh chemicals or abrasive cleaners that could damage the materials.

Storage: Store your accessories in a safe and dry place when not in use. Avoid exposing them to extreme temperatures, humidity, or direct sunlight, as these conditions can cause deterioration or discoloration.

Avoid Impact: Handle your accessories carefully and avoid dropping them or subjecting them to unnecessary impact. Dropping or mishandling can lead to damage or breakage, compromising their functionality.

Check for Wear and Tear: Regularly inspect your accessories for any signs of wear and tear, such as loose parts, frayed cables, or damaged grips. Promptly address any issues to prevent further damage and ensure optimal performance.
By following these maintenance tips, you can significantly prolong the lifespan of your virtual reality golf club accessories.
Ensuring a Safe VR Space: Setup and Precautions
When playing VR golf, it's vital to ensure a safe space to minimize the risk of accidents or injuries. Here are some precautions you can take:
Clear the area: Remove any obstacles, furniture, or objects that may obstruct your movement or pose a safety hazard. Ensure you have enough space to freely swing your virtual reality golf club without hitting anything.

Secure cables: VR systems usually have cables that connect the headset and other components. Ensure these cables are properly secured and out of the way to prevent tripping or entanglement.

Adequate lighting: Ensure the play area is well-lit to maintain good visibility and reduce the chances of bumping into objects or losing balance.

Non-slip surface: Use a non-slip mat or rug to provide stability and prevent slipping during gameplay, especially if you're playing on a smooth surface like hardwood or tile.

Protective barriers: If you have valuable objects or fragile items in the play area, consider setting up protective barriers or marking the boundaries to avoid accidental damage.

Stay aware of surroundings: While immersed in the virtual world, you must stay mindful of your physical surroundings. Listen for sounds or warnings from others nearby, and be aware of any sudden movements or hazards.
Following these precautions, you can create a safe space for virtual reality golf and minimize the risk of accidents or injuries. Safety should always be a priority, even in the virtual realm.
Conclusion
Games like Walkabout Mini Golf, Golf+, and exVRience Golf Club play better with the right VR golf club accessory. Try options from DeadEyeVR, ZyberGears, and Yezro today and see how a golf club attachment works.
Ensure that your accessory choice is compatible with your headset and delivers value for your money. Ultimately, accessorizing correctly and choosing the right VR golf game will perfect your swing and elevate your VR golfing experience, making each match more immersive and authentic.
Frequently Asked Questions About VR Golf Clubs (FAQs)
What are VR golf club accessories?
VR golf club accessories are enhancements specifically designed for VR golf games. They include club-like attachments to enhance the realism of your virtual golfing experience.
Why should I use VR golf club accessories?
VR golf club accessories bring a more immersive and authentic feel to your golfing experience. They emulate the grip and swing of an actual golf club, enhancing your overall gameplay.
Which VR golf club accessories are the best?
The choice of the best VR golf club accessories often depends on personal preferences, but DeadEyeVR, ZyberGears, and Yezro are popular for their ergonomics, durability, and compatibility.
Are all VR golf club accessories compatible with every VR headset?
No, not all VR golf club accessories are compatible with every headset. Always ensure to check the compatibility of an accessory with your specific headset before purchase.
How do VR golf club accessories enhance my gaming experience?
By emulating the feel and swing of an actual golf club, VR golf club accessories enhance the realism of the VR golfing experience. They can also improve your performance in the game by helping to perfect your virtual swing.