A good integrated battery pack for the Meta Quest 2 can extend the number of hours you can play on one charge. In this guide, I'll show you the best Oculus Quest 2 battery packs that you should buy today.
Below, I'll go over each battery pack in more detail, including:
Key features you should look for
How much each pack costs
How to buy the best Quest 2 battery packs today
Reasons you need a battery pack for your Quest 2
You can strap any old battery pack to your headset with some velcro, but the options below go a step further. They integrate right into the strap or the headset and often help to counter-balance the weight of the Quest 2 as well.
If you use any of the battery packs below or another Oculus Quest 2 accessories, comment down below and let others know what you would recommend.
Related: The top Meta Quest 2 charging docks.
The #1 Quest 2 Battery Pack Today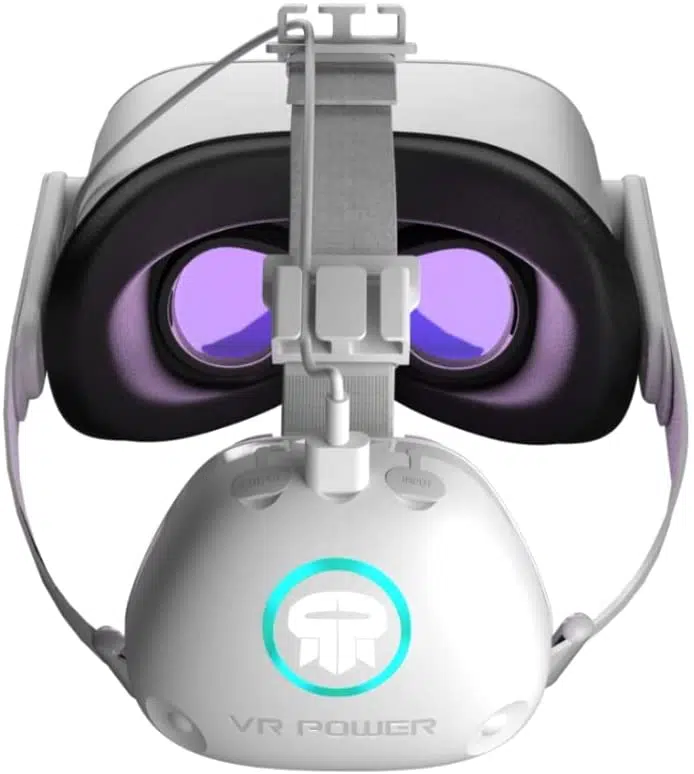 Rebuff Reality VR Power
Out of all the options on this list, I really like the VR Power solution by Rebuff Reality. It provides a nice counterbalance to the Quest when it sits on your head. You can attach it to the regular Quest strap, elite strap, and many third party solutions. You get a full extra 8 hours of game time with it.
The Best Quest 2 Battery Packs
The Rebuff Reality VR Power is an intelligent power bank for Oculus Quest 2. It is digitally optimized based on firmware specifications and key hardware to operate at maximum performance under all conditions. Enjoy up to an extra 8 hours of VR gaming over and above what the Quest 2 built-in battery normally gives you. The Rebuff VR Power comes with a 10,000 mAh power bank on a single charge.
Rebuff Reality VR Power is a smart power bank. It's programmed to detect your headset's battery level. Once your headset is fully charged, it cuts power to your headset, preventing it from overcharging.
One awesome thing about this battery pack is that it fits and connected into your head strap and sits at the back of your head. This completely revamps weight distribution to relieve pressure off your face from the Quest 2. Because of its small profile and integration with the strap, it is our favorite Quest 2 battery pack available today.
Key Features
Integrates with your headset strap to add an extra counterbalance.
This battery pack is programmed to detect the headset's battery level.
Has a large power button for easy toggling on and off
Has an overcharge and overload protection.
What I Like
The biggest draw for this power bank is how seamlessly it integrates into your head strap to provide counterbalancing. If you want something more sophisticated than a power bank and velcro, Rebuff Reality is the obvious selection.
Sale
Rebuff Reality VR Power 2 - VR Headsets Battery Pack Compatible with Oculus Quest 2, 10,000mAh Extended 8 Hrs of Playtime and Lightweight Design, Counter Balance with Improved Comfort
Long Lasting Battery -10,000mAh Oculus Quest 2 battery pack that significantly increases the battery life of the Oculus Quest 2 with digitally optimized battery power.
Immersive in VR - With 8 hours of gaming, play with your friends in games Pavlov, Population One, and VR Chat without having to worry about running out of battery; and 10 hours of video streaming, finish watching almost any classic trilogy such as Star Wars in one sitting with a fully charged Quest 2.
Smart Charging - As a smart Oculus battery pack, it's programmed to detect the headset's battery level and will cease to charge when the headset is fully charged, preventing it from over-charged.
The NIVRANA VR Power Bank lets you enjoy a fully immersive gaming experience without charging your headset when you are not close to a charging dock. It is built with a 10,000mAh rechargeable battery capacity, which can serve you for up to 8 hours of extra gameplay.
The NIVRANA VR Power Bank is designed to give your headset full power in minutes. Simply tab the pouch buttons, plug in the USB cable, and you're good to go.
This power bank has an easy to read LED screen, which displays the exact power percentage, so you know the battery status at all times. It is compatible with Elite Strap and Elite Strap with battery. It also comes with everything you need: cable holder, high-speed USB cable, and a soft and comfortable battery holder.
A sleeve that attaches to the back of your regular or elite strap lets you slide your power bank easily in and out. That means that you can detach it nicely if you want to charge it while you play.
Key Features
Equipped with a soft and comfortable battery holder.
Has an LED screen to give you an exact power percentage.
Offers ultra-fast charging to your Quest 2 and controllers.
What I Like
I like that the NIVRANA solution works with both the regular and the elite strap. In fact, I think almost any Quest 2 strap would support this power bank as a solution.
Sale
NIVRANA VR Battery Pack Compatible with Oculus Quest 2 – High Speed 10,000mAh VR Power Bank Gives up to 8 Hours of Epic Uninterrupted Game Play – VR Headset Accessory
[8 Hours of Power] – Never get interrupted by running out of battery again! Enjoy a fully immersive experience with our premium grade 10,000mAh battery that lets you play for up to 8 hours at a time starting with a fully charged headset.
[Headache-Proof Design] – Tired of the clunky headset weighing you down? Our balanced build evens out your headset weight distribution, preventing neck pains and uncomfortable pressure on your face. MASSIVE comfort improvement for fantastic game play!
[Ultra-Fast Charging] – When you're ready to escape reality, you need a battery that charges fast. That's why Nivrana's high-speed USB charging ports were designed to give you full power in a fraction of the time. Recharge, play hard, repeat.
The LANMU battery pack is a nice lightweight option to give you extra battery life while playing VR games. Compared to the 10,000 mAh solutions found throughout this guide, LANMU offers a modest 3,350 mAh. The big advantage though is that the pill-shaped battery sits near your left ear and is not intrusive.
This power bank is easy to use, just plug it into the USB-C port on your headset to charge. The pack has indicators so that you can monitor the charge. It works with other VR headsets that have a USB-C port, so power your HTC Vive Flow or Pico Neo. With its slim and compact design, the power pack will not feel like a burden.
The LANMU Battery Pack has built-in multiple protections, including over voltage protection, overcurrent protection, and overcharge protection. It offers stable charging so that you can enjoy uninterrupted entertainment time. The battery pack doesn't add any significant weight to your Quest 2.
Key Features
This power bank comes with a 90 degree type-c charging cable.
Easy to use, just plug and charge
Offers over voltage protection, overcurrent protection, and overcharge protection.
What I Like
I liked that it comes with a lightweight battery that doesn't affect game play or headset use. An average VR gaming session is not at the 6 to 8 hours per session range yet, so this battery pack is good for what it does.
LANMU Battery Pack Power Bank Compatible with Oculus/Meta Quest 2,Quest, Quest Pro, and PICO 4 VR Headset, 5V 2A 3350mAh Lightweight Extra Battery Accessories for 1.5 Hours Playtime
Extend Game Time: The vr headset takes a lot of battery power to run, and with this battery pack,you can continue playing without worrying the headset is failing due to weak battery.Easy to get extra 1.5 hours play time, offering a better virtual reality experience.
Headphone Jack Access: Comes with 90 degree adapter, can help the power bank to avoid blocking the audio jack and enable to use the headphone at the same time.
Slim and Compact: Input: 5V 2A, output: 5V 2A, slim design and light weight, 3350mAh portable power bank is only 135g. It doesn't add any significant weight to your Oculus Quest 2, better experience than heavy power bank and long link cable.
The BOBOVR M2 Pro Battery Pack can power your Quest 2 and controllers when you are far from a wall adapter. Play your favorite games for up to 10 hours on a single charge. This battery pack is suitable for all kinds of head shapes and can be adjusted to balance out the front weight.
Included with this battery pack is a BOBOVR elite strap alternative. The strap is made of high-strength polymer material. The battery pack attaches to the strap via a strong magnet and is hot swappable. That means that you can buy multiple batteries and swap them into your headset for extra power as you need them.
The strap is compatible with various in-ear headphones and most over-ear headphones on the market. With a battery capacity of 5200MAh, the BOBOVR M2 Pro Battery Pack can add about 3 hours of battery life to your Quest 2. There's also an overload and overvoltage protection to safely charge your headset and controllers.
Key Features
The included strap improves headset wearing stability and reduces head and face pressure.
The design is adjustable with 5 different nodes.
The battery can be hot-swapped.
What I Like
The biggest selling feature I like in the M2 Pro is that the battery bank is hot swappable. It connects to the included elite strap via a strong magnetic. The price is also really reasonable, since you get a custom strap and an extra battery pack.
Sale
BOBOVR M2 Pro Battery Pack Head Strap Compatible with Quest 2,Magnetic Connection and Lightweight Design, 5200mah Replaceable Hot Swap Power Bank VR Accessories
Reduce facial pressure: The gravity balance and distributed design is adopted, so that the gravity of the product is evenly distributed in different positions of the head, reducing facial pressure. The design is adjustable with 5 different nodes, which can be freely adjusted to the most comfortable state to adapt to different sizes of head shapes
Power supply is more convenient: The battery pack adopts a magnetic quick-release design, and the battery can be detached and charged, which does not affect the use of VR host. Two battery packs are hot-swappable for unlimited battery life (the second battery pack needs to be purchased separately);
Reducing the weight of the head battery: We designed a dedicated battery pack B2 for the VR host, which weighs only 140g, which can balance the front and rear weights. Compared with the traditional power bank, the burden on the head is significantly reduced;
The Quest 2 Battery Pack Capsule is another battery pack option you should give serious consideration to if you intend to play games for an extended period of time. This power pack comes with a 90° power adapter to enable you easily plug your headset and controllers for charging.
This capsule comes with a slim and compact design, which doesn't add any significant weight to your Quest 2. It offers you more comfortable game time.
This battery cell pack can power your headset for up to 3 extra hours with a single charge. It is 3,300 mAh in size that plugs directly into the charging port. This is a voltage regulator that shuts off power to the headset, protecting the headset from overcharge.
LED lights on the capsule show the current battery level and charging status.
Key Features
Weightless, small, and fits in the pocket.
Comes with a 90° power adapter that plugs directly into your USB-C port.
Batteries are small and made of premium quality material.
What I Like
I liked that the battery pack is firmly attached to Oculus Quest 2 and doesn't add much headset weight to the headset. Compared to other external battery packs, this one is small. There is no cable required since this pack plugs right into the charge port.
Cute Portable Charger for Android Phone 3300mAh Mini Power Bank USB C Compatible with Samsung Galaxy S22 Z Flip3 S20,S10,S9,S8,Note 20/10/9/8,Moto Z3/2,LG V35/G8/7/5,Nintendo Switch,DJI Pocket 2 etc
【Cute Portable Charger for Android】Portable Charger USB C Output: Widely compatible with Samsung S21, S20 FE, Galaxy A52, Note 20 Ultra, S10 Plus, S10, S10e, Note 9, S9 Plus, S9, Note 8, Galaxy Fold, Flip 3 and Fold 3 Series; LG G7 ThinQ, V40 ThinQ, V35 ThinQ, Stylo 4, G8, G6; Moto G7, G6, G7 Power, G7 Plus, G7 Play, Moto Z2 Play, E5, G6 Plus, Z3 Play; Google Pixel 5A, Pixel 6, Pixel 6 Pro; Xiaomi or other Android Phones etc.
【Emergency Battery Backup Charger】 If you are Android fan (USB C output) and are tired of carrying cables to charge your android phone, this small portable charger is definitely best choice for you. Best portable USB C phone charger for android.
【Ultra-Compact Mini Power Bank】Size of a lipstick,not need a cord it's easy to slip in your pocket or your purse and when you need it you have a charger right then and there.
What is an Oculus Quest 2 Battery Pack?
Oculus Quest 2 Battery Packs are designed to help you enjoy a longer VR gameplay experiences. These power banks plug directly into your Quest's charging port to provide extra battery power when your headset runs out of internal power.
Quest 2 battery packs attach to the headset in a number of different ways. Some of them are designed to integrate with the standard strap for the elite head strap. Others plug directly into the port and sit near your face. The BOBOVR solution above comes with its own custom elite strap alternative.
All packs are designed to extend your virtual reality experience and allow you to play as long as you want.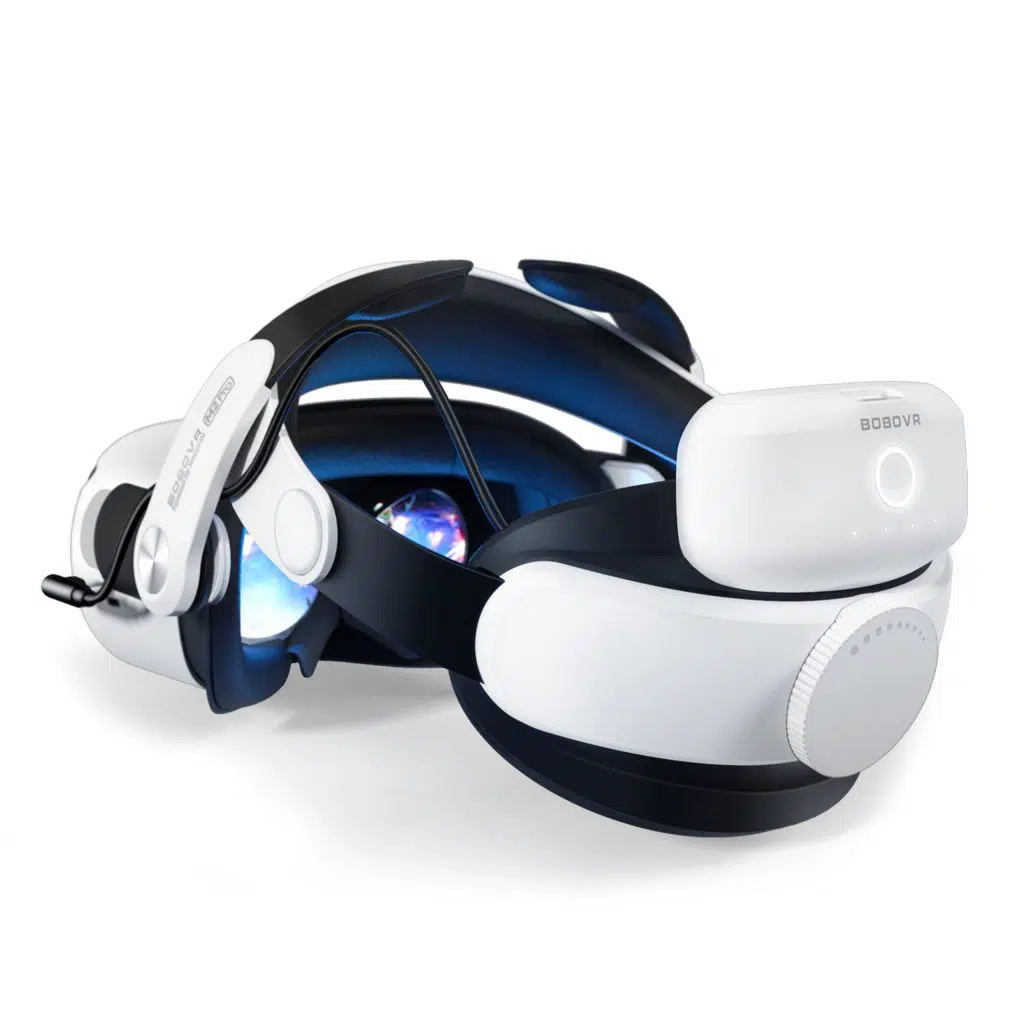 Key Features to Look For in a Battery Pack
If you are in the market for a Quest 2 battery pack, here are some key features that might be interesting to you.
Battery Capacity
A good pack should have enough battery capacity to last you through an extended media session or a VR gaming marathon. Look for an extended life pack that offers you to right amount of extra game time. You need at least 3-4 hours of continuous gameplay to get the full experience. A higher capacity means better performance and less frequent charges.
Charging Time
You don't want to spend too long waiting for the battery to recharge. Look for a solution that charges fast so that it is ready to go when you are.
Overload Protection
A good battery pack should include overload protection. This feature protects against overheating by shutting down the device when there is excessive load. Overheated devices may cause permanent damage to the components.
Strap Compatibility
Make sure the pack is compatible with the standard strap or elite head strap on your headset. If yours does not, you might need some extra velcro strips to get everything working nicely.
Comfort Factor and Design
Make sure the battery pack looks sleek and stylish. Some people like to carry around portable chargers while others prefer something that blends into their daily lifestyle. The pill design doesn't give you as long of battery life, but is nice and lightweight and isn't intrusive.
Warranty
Look for warranty on whatever product you decide. This way, you will know who to contact just in case something goes wrong.
Why Should You Buy an Oculus Quest 2 Battery Pack?
If you are looking for a reliable solution for extended VR gaming, then this is the right choice for you. These packs offer great value for money as they provide you with a lot of features at a reasonable price.
Here are some reasons you should get one today:
You can play VR games for a longer time in one sitting.
A good pack adds as a good counterbalance from the weight of the Quest 2
You can prevent hard shutdowns of your headset
Conclusion
As you can see, a good Meta Quest 2 battery pack extends the battery life of your headset. Some options attach to the standard or elite head strap and act as a counterbalance and others sit near your face. All options let you play VR games for longer.
The best option for you depends on what kind of use you plan to put your headset to. Do you want to play for longer periods of time without having to charge? Or do you plan on using it once or twice a week?
Whatever your answer is, we hope our list helps you make an informed decision. If you bought any of the packs below, comment down below.