Fanatical runs bundles of games for the Meta Quest 2, which allows you to pick up some of the most popular titles for really cheap. In this guide, we'll tell you everything you need to know about the Fanatical Quest VR bundle.
We'll go over:
The current bundle available today
How to buy yours
What Meta Quest games are included when you buy the bundle
Past bundles you've missed out on
If you purchased the Fanatical Quest VR bundle, comment down below and let others know which game is your favorite.
What is Fanatical?
Fanatical's main mission is to help gamers from all over the world find amazing games at amazing prices. Fanatical lets you quickly find what you want from a selection of over 8,000 officially licensed digital games from over 1,000 publishers.
Fanatical began in the 90s, making affordable software and games available to all on PC CD-ROM. Today, they focus on providing digital game keys.
In recent years, the company has focused on virtual reality games, mostly offered by Steam. At the end of 2021, Fanatical released their first Meta Quest Bundle, which included game keys for the Quest platform. It was a huge success.
Click here to check out Fanatical VR game deals today.
Fanatical Quest VR Bundle 2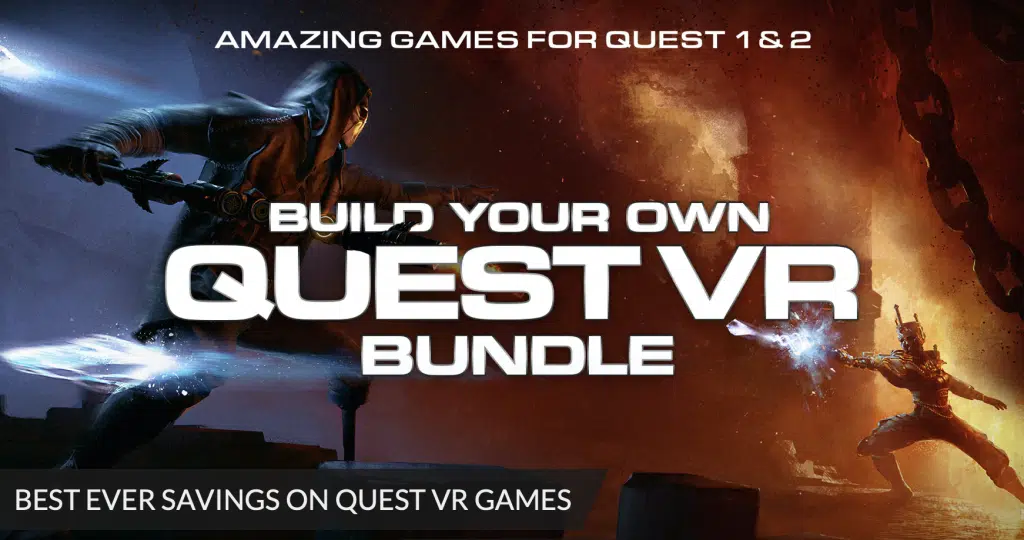 The latest Fanatical Quest VR bundle is #2 – available from April 25th for four weeks or until stock lasts. The bundle has 18 games total in it, of which you can choose 9 any games for $49.99. If you only like a few of the games, you can buy 3 games for $19.99 or 5 games for $29.99.
The games in the Quest VR Bundle #2 are:
Zero Caliber Reloaded
Death Horizon: Reloaded
Swarm
Swords of Gargantus
A Fisherman's Take
Prison Boss VR
Carly and the Reaperman
Puzzling Places
Down the Rabbit Hole
Traffic Jams
Anshar 2: Hyperdrive
Puzzle Bobble VR: Vacation Odyssey
Accounting+
Wands
Mare
Electronauts
Star Shaman
ForeVR Darts
You can click here to buy your Fanatical Quest VR Bundle #2.
If you want to know a bit more about these games, we have a full summary of them below.
Quest Bundle #2 VR Games
Zero Caliber Reloaded

Rise through the ranks to unlock a wide variety of weapons and attachments, climb, jump, crouch, shoot, reload, repeat – be prepared for a mind-blowingly immersive experience! 
In the single player campaign, you'll find yourself in a war-ridden, dystopian United States as a newly enlisted OSA soldier. What does OSA stand for? Outer States of America, the last bastion of hope. 
Narrative-driven missions along the way to your ultimate goal: saving humanity. 
Death Horizon: Reloaded
The Horizon scientific research laboratory is a deceptively quiet place. When you came round, there were hundreds of the living dead all around you. All because of that damn T12 virus.
To survive and save the world from the virus, use both hands and your head: never stop shooting, pick up rounds, climb up pipes and ladders, jump onto bars and grab hold of ropes, search cupboards and throw everything you find at the zombies.
Swarm

SWARM is a fast-paced, arcade-style grapple shooter, with quick sessions, bright colorful worlds, and globally competitive leaderboards that will take you back to the glory days of Arcade Games.
Armed with just a grappling hook and your handy pistols, you'll be plunged into a flow state as you grapple, shoot and battle your way to the heart of the SWARM before it's too late. Twitch reactions won't be enough to carry you through, you'll need to think strategically and plan your next move to stay alive.
Swords of Gargantua
words of Gargantua is a single and multiplayer sword combat rogue-like that pits you and up to 3 other players against the mighty Gargantua and his army in a series of exciting arena battles. Featuring realistic swordsmanship physics, almost one hundred weapons and shields, artifact power-ups, as well as character ability and item upgrades, traversing the 101 levels of the Tesseract Abyss relies as much on your gladiator skills as it does on your tactics, equipment and teamwork.
Summon your friends to battle through the Invite to App and Friend List features and reclaim the world from Gargantua and his false gods!
A Fisherman's Take
A Fisherman's Tale is a mind-bending VR adventure in which being turned upside down and inside out is not merely a play on words.
Playing as a tiny fisherman puppet, you live alone in your tiny cabin, oblivious to the world outside. When your radio broadcasts a storm alert, you have to climb the lighthouse to turn on the light! As you leave your cabin with the help of some uncanny sidekicks, you realize what's waiting outside is not at all what you expected.
Prison Boss VR
Crafting at night…
Roll your cigarettes, fill up bottles, cook cakes, sculpt metal, create ropes out of pieces of fabric… and more! The game features 11 different craftable items, made out of 6 different base resources.
…Selling during the day
Each morning, the trader comes to see you. You can sell the products from your hard-working nights or use them to complete jobs and earn some reputation along with some useful rewards!
Carly and the Reaperman
Play Together. Maybe Forever.
Grab a friend and work to help Carly on her quest to escape the Underworld in this award-winning puzzle-platforming adventure designed for cooperative online play in VR.
Your friend can join as Carly for free on PC or Mac!
Puzzling Places
Puzzling Places brings relaxing and wholesome 3D jigsaw puzzling to VR.
Put together hyper-realistic miniatures of beautiful places from around the globe. Enter the meditative flow of puzzling and enjoy each place coming alive with their unique & immersive soundscapes as you complete them.
Down the Rabbit Hole
Down the Rabbit Hole is a VR adventure that takes place in Wonderland prior to Alice's arrival. You will discover a girl in search of her lost pet, Patches, that has wandered into Wonderland. Guide her as she moves through the mysterious world. But which way should she go?
Traffic Jams
In this wacky VR game, control traffic your way in the face of outrageous events, flagrant road rage and up to 4 non-VR friends in party mode!
Starting out on a quiet corner in a small town, job offers start pouring in from around the globe. Guide rude pedestrians, impatient drivers, and the occasional meteorite along before road rage strikes. Sound easy? Think again!
Anshar 2: Hyperdrive
Take the role of a newly enlisted pilot in the deadliest squad in the Ansharian arsenal. Bring the fight to the Nergal in dazzling ship-to-ship battles in deep space and lush planetary surfaces. Freely traverse large planet surfaces, dodge space debris and asteroid fields by steering your ship using your hands, in third or first person view.
Puzzle Bobble VR: Vacation Odyssey
Bub and Bob are in for a surprise when their island vacation takes an unexpected turn for an epic, bubble-popping adventure!
Bursting with the same cheerful design, adorable characters, and timeless gameplay as its predecessors, Puzzle Bobble VR: Vacation Odyssey is the next evolution of the classic Japanese action puzzle game franchise—with the immersive fun of virtual reality!
Accounting+
How long have these goggles been pressing into my flesh? What began as a small game jam between William Pugh (The Stanley Parable), Dominik Johann (Minit) and Justin Roiland (Rick and Morty) is now—two years later—an aberration of warped technology, weird worlds and strange, disturbing creatures.
Since its debut, Accounting has tripled in size, mutated into an intricate labyrinth of forbidden virtual realities. With countless more secrets to discover if you have the stomach to brave the dangers of new characters brought to life by a cast of comedic legends (Rich Fulcher, Reggie Watts, and Justin Roiland).
Wands
WANDS® is a first-person VR experience that offers fast-paced magic duels against other players online. Choose your favourite wands and equip them with a variety of unique spells, then battle other Wielders in the fantastic realms of The Beyond.
Hone your skills against an increasingly challenging AI opponent, then duel players from around the world to climb the leaderboards. Between battles, discover new spells, unlock new characters, and build powerful loadouts in your secret workshop.
Mare
As you wake up, stirred from a dreamless sleep with an unknown purpose, you find yourself in the strange lands of Mare embodying a mysterious artificial bird.
Crossing paths with a helpless companion you venture deep into unknown territory on a puzzling adventure while unraveling a mysterious narrative and the secrets hidden within. All in order to ensure the arrival of the companion at her impending destiny. 
Electronauts
Ever wanted to ride the vibes of a top DJ playing a packed festival's main stage? Here's your chance to shine: all it takes to be an Electronaut is the passion to become one with the beat. Create music with confidence, no matter your skill level, as you make music magic in this VR-exclusive experience featuring 80-plus songs from over 80 top artists across EDM, hip hop, trap, and countless other genres.
Star Shaman
Become a Star Shaman in this funky space shooter with a unique playstyle, lush graphics and the funkiest soundtrack in VR!
ForeVR Darts
Play favorite Darts games: '01 Series, Double Out '01 Series, Count Up, and Cricket!
All play levels welcome, with Easy, Medium, & Hard modes with throw assist and aim trajectory visuals!
Pick your favorite dart with 65+ classic designs and fantastical flights, each uniquely weighted to suit different throws and game strategies.
Past Fanatical Quest VR Bundles
The first VR bundle launched on December 21st, 2021 and ran through the holiday season. It featured 8 free games and a 60% off code for a 9th. The following games were included:
Zombieland: Headshot Fever
Ghost Giant
Death Lap
Accounting+
Skyworld: Kingdom Brawl
Gadgeteer
ScultprVR
Gloomy Eyes
Zero Caliber: Reloaded (60% off coupon)
And that is everything you need to know about the new Fanatical Quest VR bundle. I love a lot of the games in this bundle. Zero Caliber has the most name recognition, but Swarm, Carly and the Reaperman, and A Fisherman's Tale are pure quality and worth checking out!
You can click here to buy your Fanatical Quest VR Bundle #2.
If you purchased it, what game is your favorite?