If you're looking to for help to create an augmented reality business card, this guide is for you. We'll take a look at the best AR business card companies and how to create your own cards today.
Augmented reality is revolutionizing business cards again in 2022. With AR, you can do a lot of fun things with your card. You can advertise yourself or your company better and show off extra information. You'll be able to stand out at your next business social, trade show, or work event.
If you have your own augmented reality business card, comment down at the bottom and let us check it out!
Let's get started.
What Are Augmented Reality Business Cards?
Augmented reality business cards acts as your virtual advertisement. They turn your basic text business card into a digital billboard. You get to add additional content about you, which you couldn't possibly fit onto a regular business card. This can range from videos about your business to links to your social media, website and call-to-actions.
The physical design looks very similar to an ordinary business card. However, it is a great marketing tool to create trust and convey a message to potential customers about your brand.
Examples of Augmented Reality Business Cards
Take a look at these gorgeous AR business cards below. They provide inspiration about what you can create and show off to potential customers and businesses.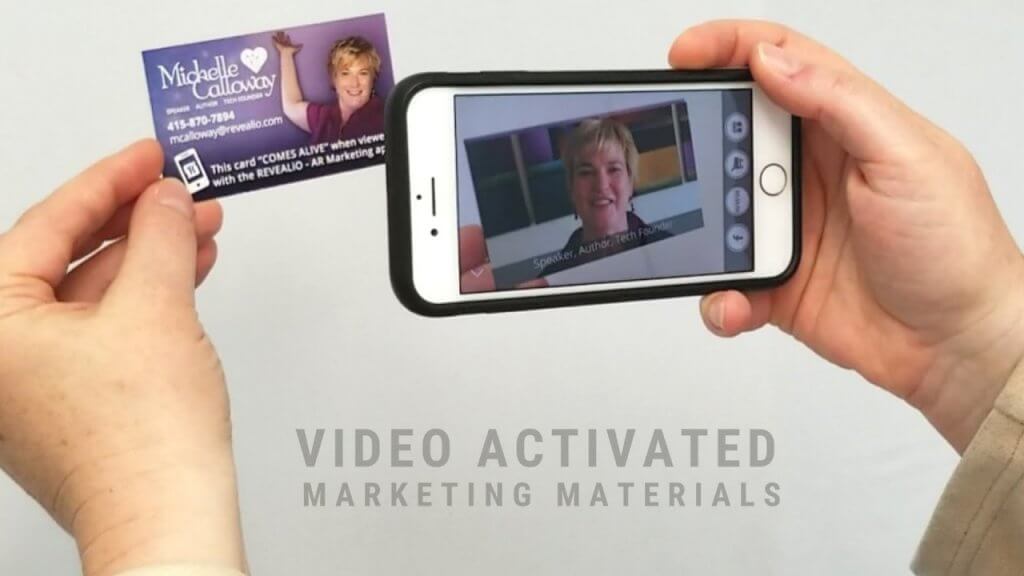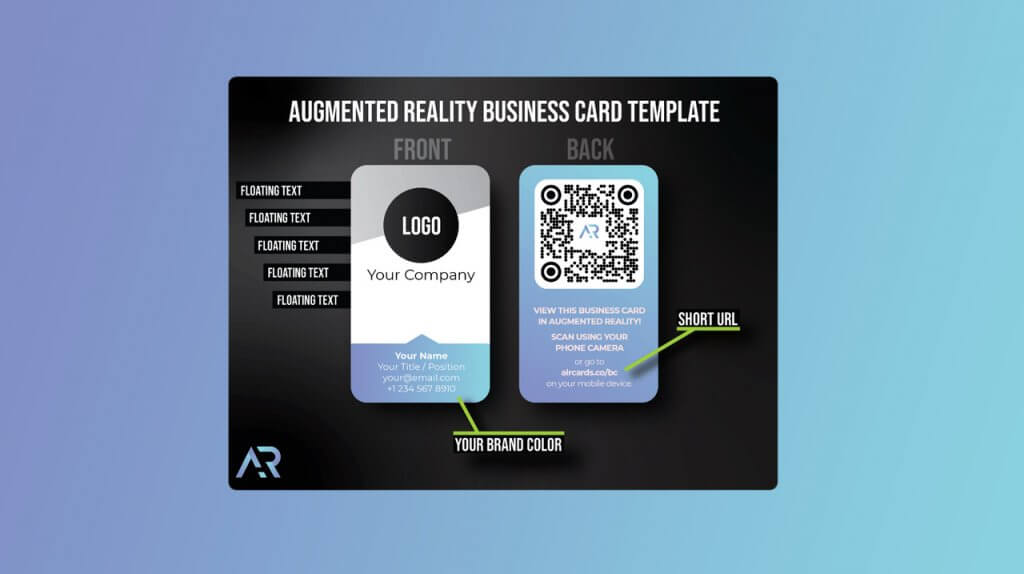 Below are YouTube videos of different augmented reality business card examples:
If you've done any research, you know that there are many companies that create augmented cards. We've compiled our top favorites so that you can go straight into designing and ordering your cards.
Best AR Business Card Companies
Below are out top 4 AR business card companies to work with:
#1. Revealio
Revealio is an AR technology and marketing company located in the San Francisco Bay Area. They provide innovative software solutions and Augmented Reality Experiences. Revealio can make your business come alive by reducing frustration, increasing productivity, and elevating your brand awareness.
Creating an augmented reality business card is easy. You simply upload your design (or choose a template), upload your video or call-to-action, and order your cards! It's the simplest way to bring augmented reality into your company.
Revealio is universal and it allows you to create digital videos and links and place them on any product. That means that you can bring your posters and other stationary to live too.
Revealio stores your videos on their server and takes care of all technical details. This way, you can just worry about ordering and using your new augmented cards and other products.
Another perk about Revealio is their affiliate program. That means that if you click this link and sign up, you can refer other businesses towards Revealio's features and earn yourself commission on sales. Find more info in the "Partner with REVEALIO" section under Opportunities in the top menu.
#2. Augmentop
Augmentop is very simple and it works similar to Revealio. You place a QR code on your business code, poster, advertisement, or other stationary. This allows customers to launch a web URL from the QR code.
Augmentop doesn't have the same analytics tracking as Revealio. You can't run reports or link to specialized video content with your AR link. However, it's a simple option for business people to implement.
If you're not an AR designer or developer and you want an interactive AR experience, Augmentop is for you. The company's mission is to breathe life back into the dying business cards, brochures, mailers, and magazine ads.
#3. Poplar Studio
Poplar Studio is an augmented reality creative platform that provides AR campaigns on demand. It is a sophisticated design studio that can create a number of augmented solutions such as:
Augmented digital videos
Augmented reality popups
AR games
AR filters and accessories
You can attach the trigger to your business card, logo, picture, or whatever else you can think of.
Poplar aims at making AR content creation easier. The vision is to provide AR creation tools and integrate AR into an entire business. That includes the social platforms, branded apps, web browsers and eyewear.
If your business needs a custom solution, then contact Poplar Studio. If you need an augmented reality business card, Poplar Studio can design a premier solution.
#4. Aircards.co
Aircards is another QR-code based solution for initiating Web augmented reality links. Similar to Augmentop, you can attach QR codes to any business card or stationary to trigger AR solutions. Aircards.co uses QR image tracking technology to play a video or animation on the physical Aircard in front of you.
Any Augmented Reality idea that you've got for your brand, Aircards can make it happen. Plus, WebAR means that their business cards are universally compatible.
Unlike Augmentop, Aircards doesn't post a pricing list for their services. Instead, they want you to contact them and discuss pricing and volume options. This might turn some people off, but the examples on the website are pure quality.
How To Create An AR Business Card
Below is a step-by-step guide on how to create an AR business card using Revealio:
Step #1: Send your business card image or artwork
The first step is to upload your business card image or digital artwork onto Revealio. If you don't have one, they can design one for you.
Step #2: Send your video
Create a quick 30 to 60 seconds video introducing your business in a short and crisp way. Or, create a custom video that should pop up as part of the augmented reality business card feature. The video should intrigue your viewers to want to learn more about you or your business.
Step #3: Select Mobile CTA buttons
After uploading your video, the next step is to select call-to-action buttons that appear on your screen.
Step #4: Revealio does the magic
Once you have successfully completed steps one to three, Revealio will then help you connect all the pieces into an AR business card. It's that simple!
Business cards have gone through an exciting revival thanks to new augmented reality technology. AR business cards are an easy and fast way to share your extra details about you or your business. They are a great way to become memorable.
What service have you used to create augmented reality business cards? Comment down below so that we can check them out and add them into this list.