What is the best VR Platform: SteamVR vs Oculus Home vs Viveport? In this guide, we'll compare each VR "app store" so that you can decide for yourself which one you should build up your VR library with.
We'll go over an overview of each of these three VR platforms, supported headsets, numbers of VR games, and how to install each one on your PC today.
Ready to learn? Then let's shoot!
What is SteamVR?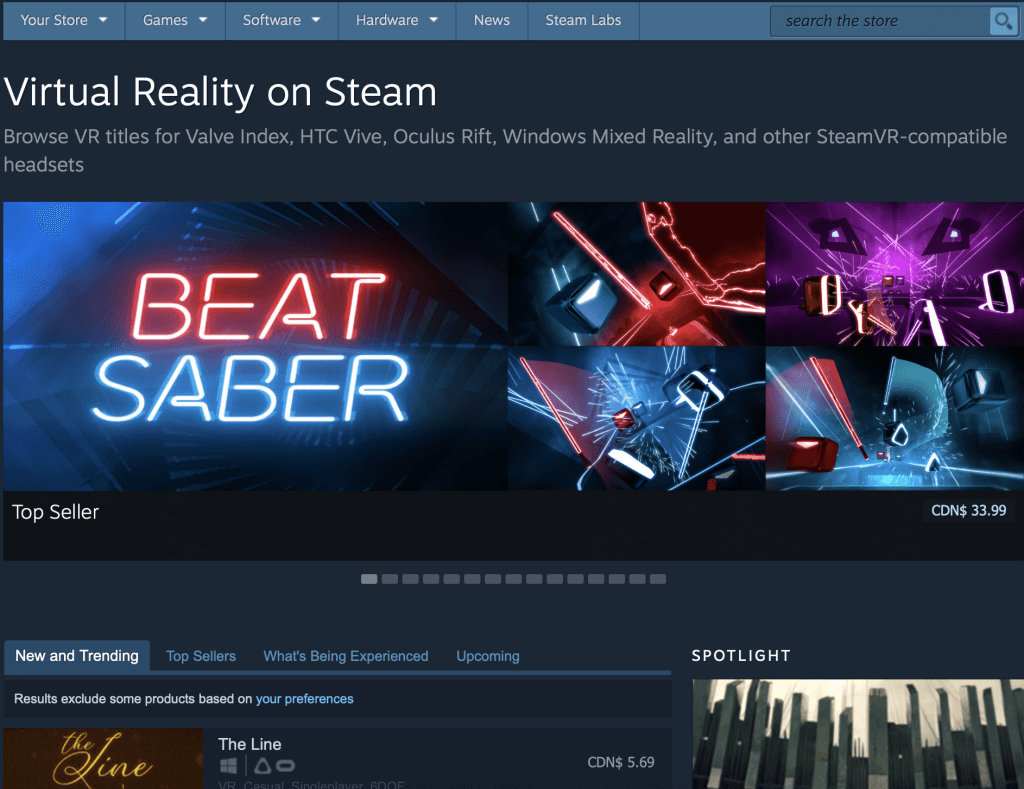 SteamVR is a virtual reality platform developed by Valve as an extension of Steam. SteamVR offers VR games categorized by a number of different filters. It was officially announced on March 1, 2015, during the Mobile World Congress. Valve partnered with HTC to release SteamVR's first device, HTC Vive, a VR HMD similar to the Oculus Rift.
As we'll go over later in more detail, SteamVR's main advantage is that it is mostly platform-agnostic. Nearly every VR headset supports the SteamVR platform in some way. This means that no matter if you have an HTC Vive, Valve Index, or Oculus Rift S, you'll be able to load up SteamVR and play games off of it.
If you have a gaming PC, then you can use Oculus Link to play SteamVR games on your Oculus Quest too.
What is Oculus Home?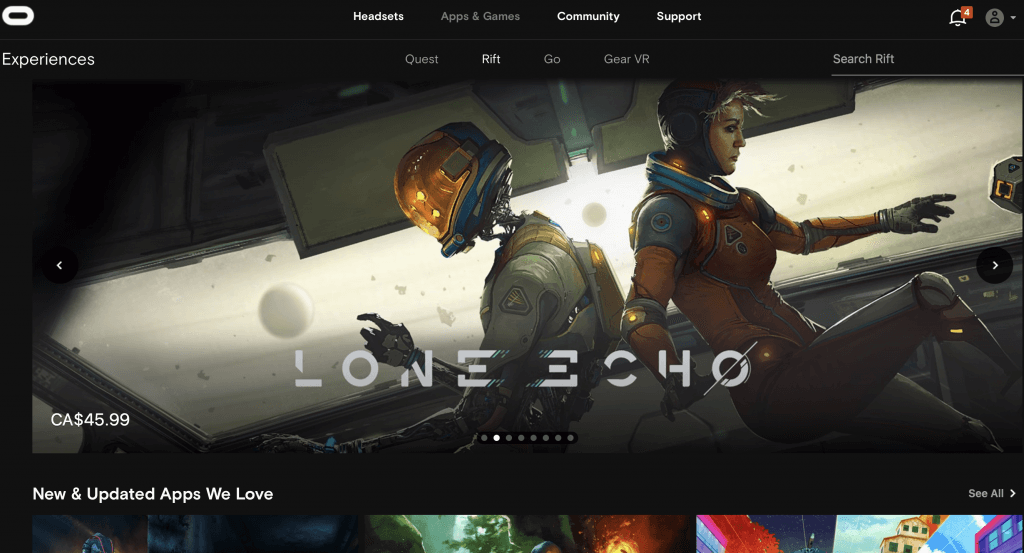 Oculus Store is a virtual reality platform developed in July 2012 by Oculus for VR enthusiasts to buy VR games. With the Oculus Quest store, you can:
Browse and buy VR games and experiences from the Oculus Quest Store
Reserve your virtual seat for live events, sports and concerts.
Find friends in VR and share experiences together
Get notifications about other friends in VR, events you're into, the latest content, and more.
Unlike SteamVR, the Oculus Store is exclusive to Oculus headsets: the Rift and Rift S. Pimax VR Headsets also support games from the Oculus Store thanks to their PiTool software.
Oculus Quest Store
Oculus Quest store is a sub store for Oculus Quest owners only. The Quest is Android-based so the games in this store are verified to run on the Quest. Set up your Oculus Quest store and discover the best VR games for your Quest headset. 
There is a sub-section of the official store called the Oculus App Lab. This is for pre-release and early access games. You can only find App Lab games if you do an exact title search on the Oculus Page, but we have a complete list of all App Lab games.
SideQuest VR Store
There is also SideQuest VR store, a third-party PC, Mac and Linux application that makes sideloading content onto your Quest super easy. It has a store page featuring a bunch of popular apps available via sideloading and a couple of extra features. While SideQuest does require a bit of initial setup the first time you use it, after that it becomes very simple.
SideQuest has more than double the number of games that the official Oculus Quest store has. It is very popular for Quest owners to use SideQuest, where most games are also free.
What is the Viveport Store?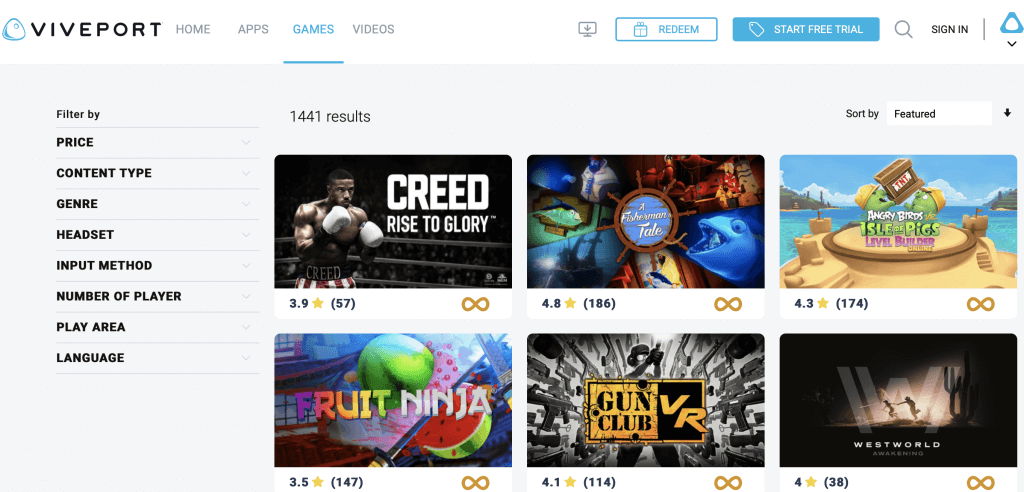 Viveport is the VR app store from HTC. After Valve and HTC's relationship ended and the Valve released their Index headset, HTC released Viveport. Similar to the Oculus Store, Viveport is compatible most with HTC Vive headsets.
However, like SteamVR, Viveport is mostly compatible with all VR headsets.
Viveport Infinity
The Viveport store also contains Viveport Infinity. Infinity is the world's first unlimited VR subscription service. It provides access to a variety of benefits & perks like limitless access to over 1000 VR games, apps, videos, premium channels & content in Viveport Video.
Viveport Infinity is only available only to subscribers and offers monthly subscriber benefits like exclusive offers. You also get free games to keep in your library forever.
SteamVR vs Oculus Home vs Viveport: Headset Support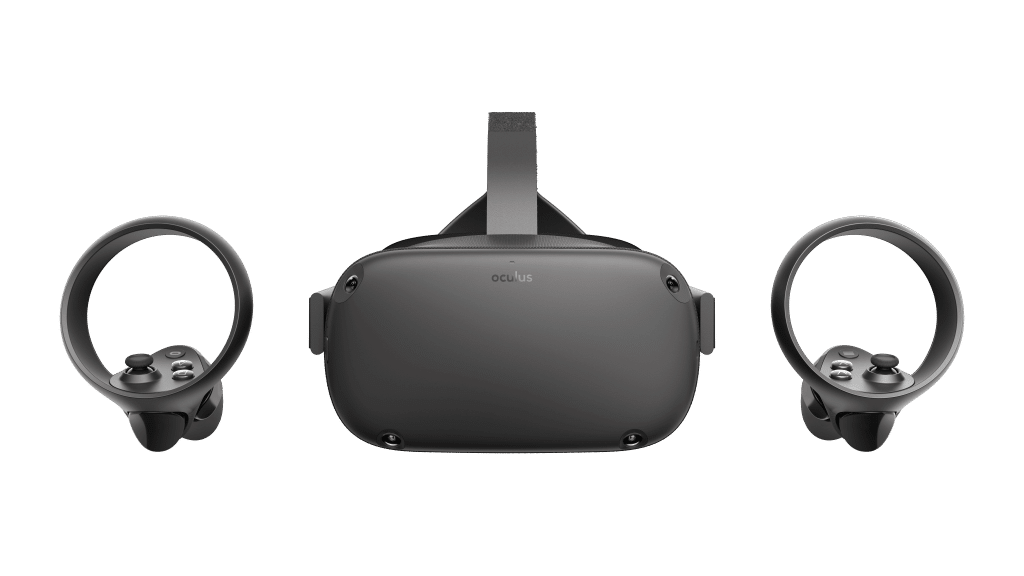 SteamVR Store
HTC Vive (all headsets)
Valve Index
Oculus Rift S
Oculus Quest (through Oculus Link)
Pimax (all headsets)
Windows Mixed Reality (all headsets)
Oculus Home
Oculus Quest
Oculus Rift S
Oculus Rift
Samsung Gear VR.
Viveport Store
HTC Vive (all headsets)
Oculus Rift & Rift S
Valve Index
Windows Mixed Reality (all headsets)
Next, we'll compare the number of games on SteamVR vs Oculus Home vs Viveport.
SteamVR vs Oculus Home vs Viveport: Number of Games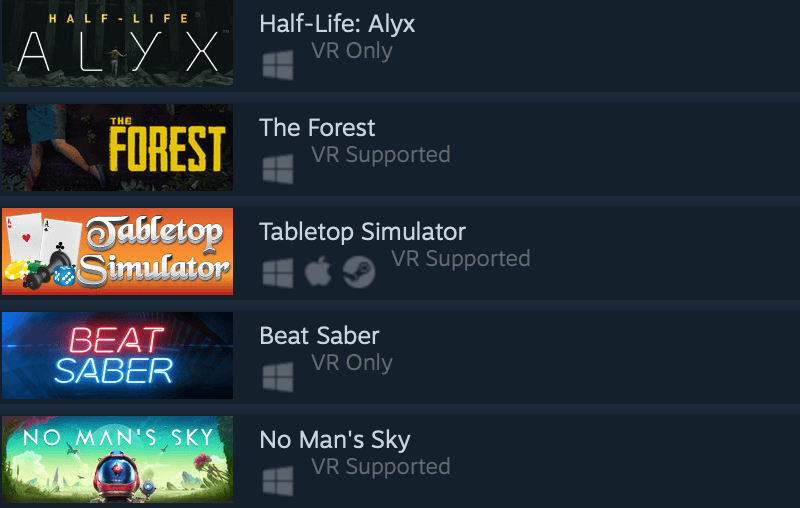 On SteamVR, there are more than 4,000 VR titles. There are more than 1,000 games on both Oculus Home and Viveport.
In general, the submission process for SteamVR is much easier. Independent developers can release their game on the platform without approval. Developers can also release alpha releases of VR games onto the platform too.
Oculus Home and Viveport each approve games onto their platform manually. In general, the quality of game must be high and from a legitimate studio in order to be accept on this platform. This review process is one of the reasons that SideQuest VR was created – to provide a home for independent developers.
How To Install SteamVR

Go to store.steampowered.com/about and create an account if you don't have one already.
Click on the Install Steam button to download Steam on your computer.
Plug in your headset and launch Steam. When prompted, click on the install SteamVR button to install the VR store.
Launch a SteamVR game and you will see it play in your headset.
For more details on install and setup, we have a complete guide on how to install Steam VR.
How to Install Oculus Home
Below is the step-by-step guide on how to install the Oculus store:
Go to www.oculus.com/setup and click Download Software
Open the Oculus app and click Install Now.
Plus in your headset and follow the instructions on the screen to create an Oculus account for your preferred headset and launch the application.
How to Install Viveport

Head to www.vive.com/setup/ and click on Download Vive Setup
Plug in your headset and launch the installer. Follow the instructions on the screen to install the Viveport store.
After installing, you can access the VIVEPORT desktop app on your computer.
Overall the installation process of SteamVR vs Oculus Home vs Viveport is very similar. If you have bought a VR headset and gaming PC, you should have no problem setting up your VR platform.
SteamVR vs Oculus Home vs Viveport: Conclusion
SteamVR is a runtime included with the Steam client that powers virtual reality experiences. SteamVR is automatically installed when Steam detects a headset connected to a user's PC. It can also be installed manually. Steam has excellent support for all tethered VR headsets. It's platform is mostly open source and welcomes VR developers no matter how big or small.
Oculus Home is a virtual reality system that fully immerses you. The platform is designed for you to buy VR games and tinker with settings, friends, and experience too. The only caveat is that you must have an Oculus headset to benefit. Oculus is the most closed off VR platform. Oculus has been known to buy development studios in order to provide exclusive VR games for its users.
Viveport is the official app store for the HTC Vive, offering gamers a range of free- and paid-for VR experiences tailored to HTC's VR headset. Viveport is the newest VR platform, but it has quickly built up a pretty large library. Viveport Infinity is an interesting option that gives you access to over 600 games for a single monthly fee.
Overall when you look at SteamVR vs Oculus Home vs Vieport, a lot of users have no problem purchasing game from multiple platforms at once. SteamVR has been applauded for working with any VR headset without much trouble. Viveport and Oculus Home have been known to have issues with VR headsets that are not the same brand. Most of these complaints are anecdotal and not specific though.
SteamVR contains all major VR games found on its platform and on Oculus Home and Viveport. So if you use SteamVR exclusively, you should have access to everything.
What is your preferred VR platform between SteamVR vs Oculus Home vs Viveport? Comment down below and let others know what your setup is!