In this guide, we used to break down every single Oculus App Lab game included in the early access store for the Oculus Quest. However, this became a lot of effort as Oculus has continued to add dozens of new titles each week. We recommend visiting a website like App Lab DB which automatically tracks all new App Lab games. We are leaving the guide below us as a feature to the first 200 or so titles to be added to the App Lab. Go and check out our best Oculus App Lab games list, which features he top titles in more detail.
For each game, we have:
A summary of the game
Some cool and interesting features to try out
Gameplay samples
A link to download each game onto your Oculus Quest VR headset
For a more curated list, check out our top App Lab games you need to try today.
If you are a developer who is going to be in the lab, contact us today and we would love to feature you on our website!
Click here to view our complete guide on the new Oculus App Lab.
New and Hot Oculus App Lap Games
The newest games on the App Lab are:
The majority of the new Oculus App Lab games above were added on March 10th and 11th, 2021. Our guide has grown so big that it is now split into two pages! Read up on each game in more detail below.
Complete List of Oculus App Lab Games
The complete list of Oculus App Lab games is below. Keep scrolling to read our breakdown and review of each game in more detail.
What is the Oculus App Lab?
The Oculus App Lab is a separate way for Quest developers to distribute apps to players instead of the official store. It allows early development and experimental apps to have an official link on the store safely and securely. Developers can give direct links or through platforms like SideQuest.
App Lab apps do not appear in the official Oculus Store, but they will still appear in the Quest Library alongside those games. These apps no longer need to sit under the "Unknown Sources" tab of your library. Games in the Lab receive automatic updates and are curated by Oculus for quality and content.
You can search App Lab apps through the official Oculus website. They will appear under a new "App Lab" results section.
However, there does not appear to be a way to browse all apps in this new store. This is the reason we created this guide.
Below, we have a complete list of all Oculus App Lab games currently available to check out.
After you are done check out our list, here are some other related guides for the Oculus Quest:
1976 – Back to Midway

Price = $15
1976 is a top-rated military pilot simulator. You can play in the "classic" point of view like old vertical scrolling titles, or in first person perspective. In the game, you have to dodge enemy fire and complete missions successfully. The game is fast paced, immersive, and feels amazing in virtual reality.
1976 – Back to Midway features several airplanes, including the Lockheed P-38 Lightning and B-17G Flying Fortress. If you ever wanted to become a military pilot, this is the game for you to check out.
Click here to play 1976 – Back to Midway.
Click here to play a free demo of 1976.
3D Organon VR Anatomy
Price = FREE
3D Organon is an educational experience for those learning about the human anatomy. It is used by Universities and educators to help student learn anatomy concepts more easily in VR. You can visualize the skeletal system, muscles, vessels, nerves, and other organs in 3D. There is a knowledge base filled with information, facts, and details to help you learn.
Click here to view 3D Organon VR Anatomy on the App Lab.
51 Aliens TV
Price = #10
51 Aliens TV is a music visualization platform. Listen to a collection of trip-hop and down tempo music generated by the app. Sit back and enjoy the music, synchronized with dream patterns and other visualizations.
Click here to view 51 Aliens TV.
Aerodrums 3D
Price = FREE
Aerodrums is a VR drum set App Lab game that connects to your Aerodrums hardware. You can play and record songs on your full size drum set. You can also swap out your kit for different options to play on.
Click here to view Aerodrums 3D.
AfreecaTV
Price = FREE
AfreecaTV is a VR media player that allows you to play content from AfreecaTV. The player itself is packed with extra features. There is a Multiview mode that allows you to look at multiple pieces of content at the same time. eSports games display all information about the game and players. The app also features a virtual private space that you can decorate using 3D items.
AfterNow Prez Beta
Price = FREE
AfterNow Prez is a virtual presentation application. You can deliver live presentations right from within virtual reality in front of a real audience. This app is Zoom meets Powerpoint inside of virtual reality.
Click here to view AfterNow Prez Beta.
Agency (Tech Demo)
Price = FREE
Agency is a fun tech demo App Lab game. You are a Metacorp robot who receives new firmware called GENE.SYS. As soon as you receive the update, you awaken. Find your way out of the prison without being captured.
Currently, Agency is just a demo of a few non-playable scenes. The environment is beautiful and is on-par with top AAA Oculus Quest titles. The game is under development and a playable demo is coming soon.
Aim XR
Price = FREE
Aim XR is a 5v5 multiplayer shooting game. The game similar to Call of Duty and other first person shooting games. Aim XR is fast paced and a lot of fun. You can play online against other people or offline against bots. You can equip your characters with different guns and weapons depending on your style.
Air Hockey Arcade
Price = FREE
Air Hockey Arcade is a sports App Lab game demo. You get to play air hockey in a virtual environment against an AI opponent. There are 3 different difficulty levels to try out and real-time physics and lighting. The game has a full roadmap planned including multiplayer, social features, hand tracking support, achievements, and more.
Click here to view Air Hockey Arcade
Alien TSA
Price = Free
Alien TSA is a wave shooting game. You play a TSA agent assigned with one task: let paying passengers by while you taser the rest. You go as long as you can before the airline goes bankrupt. Alien TSA is a simple premise and easy to play.
Alienation
Price = $10
Alienation is a shooting game with sci-fi elements in it. It is inspired by movies like The Matrix, Equilibrium, and Ghost in the Shell. In each level, you have to shoot aliens and doge bullets. Each level has themed music and a unique design. Earn achievements for completing episodes and unlock new content.
Click here to view Alienation.
All Hail the Cook-o-Tron
Price = $20
All Hail the Cook-o-Tron is a VR cooking App Lab game. Built from the ground up for VR, it features both an arcade mode and a full campaign mode. Campaign features 36 unique levels and 6 different bosses to beat past.
Cook-o-Tron has 7 different food stations and 80 different dishes to create. There are tons of different customers, each with their own quirks and requests. Accurate physics have been built into the game.
Click here to play All Hail the Cook-o-Tron.
Air Brigade
Price = $5
Air Brigade is a VR air combat game. Fly a fighter jet around the skies and defeat enemies. Earn money in the game which allows you to unlock more powerful and deadly aircraft. Air Brigade features realistic flying mechanics.
Click here to view Air Brigade.
ALTDEUS: Beyond Chronos DEMO
Price = FREE
This is a demo of the popular ALTDEUS: Beyond Chronos game, which can be found in the regular Oculus store. The game is a narrative based adventure game filled with robot battles and music. The full game features up to 20 hours of gameplay and a huge branching storyline to explore.
Click here to view ALTDEUS: Beyond Chronos DEMO
Ancient Dungeon Beta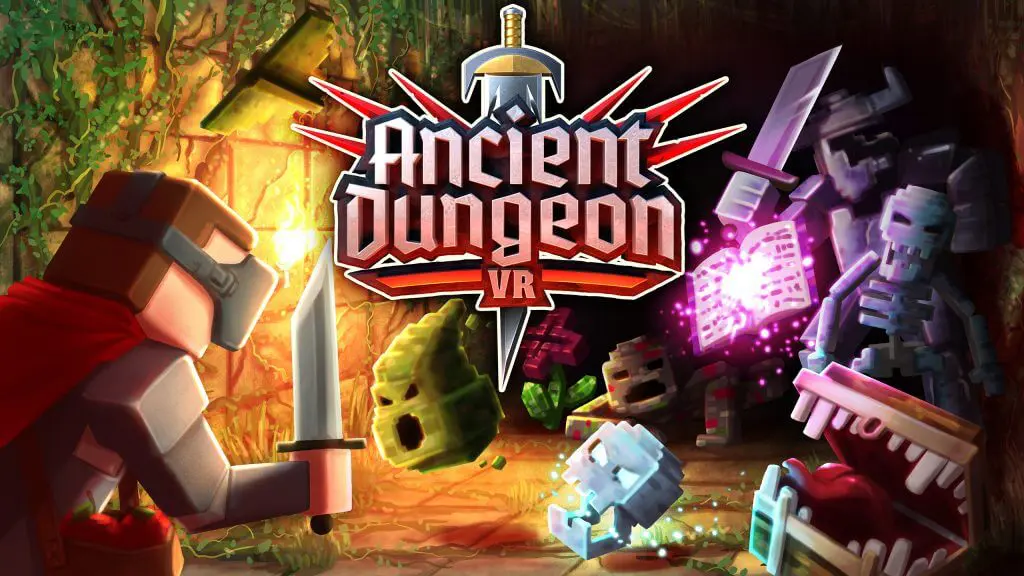 Price = FREE
Ancient Dungeon VR is a rogue-lite dungeon crawler game. Each level is procedurally generated and is unique each time you play. Levels are filled with traps, secrets, and other loot to discover and find. As you progress through each level, the difficulty of enemies gets higher. Each dungeon has a different theme which affects the enemies and powerups in the levels.
You have to fight through monsters with your sword and throwing knife, while collecting powerups to improve your skills. You can buy and sell different upgrades and perks to improve your game. You have to challenge and defeat powerful bosses too.
Ancient Dungeon was one of the most polished games in the SideQuest store and we think it has a perfect home as an Oculus App Lab game.
Click here to play Ancient Dungeon VR.
Arcaxer

Arcaxer is a turn-based RPG game set in a sci-fi simulation world. In the game, you control your character in a third-person God mode. You'll have to explored procedurally-generated dungeons to find equipment and new abilities for your character.
The hub world exists to interact with non-playable characters and to buy new items with credits you earn in the dungeon. There is a nice combat system in the game that is turn based. You have to time your attacks and dodge ones from the enemy.
Arcaxer features three different class types: Fighter, Mage, and Thief. There isn't a lot of great VR RPG games for the Oculus Quest other than OrbusVR, so Arcaxer fill that niche nicely.
Click here to view the Arcaxer Oculus App Lab game.
Arkio
Price = FREE
Arkio is a design and sketch tool. You can sketch buildings, interiors, and urban environments in VR or on PC and view them on either. You can export your work to other 3D tools and Autodesk Revit. A rkio has been optimized for the Oculus Quest and features experimental hand tracking, enabling you to do all the main modeling operations using your hands instead of controllers.
Arrows

Price = $10
Arrows is a VR tower defense game where a bow and arrow is your weapon of choice. Use your arrows to defend villages, castles, and temples from waves of bad guys. You can teleport around to improve your position and get an advantage over the vikings, knights, and ninjas.
The game has 30 different types of enemies, multiple environments, and three difficulties. There are over 27 unique levels to beat and special abilities to unlock along the way.
Click here to view the Arrows App Lab game.
Art Gate
Price = FREE
Art Gate is an interactive art market and gallery. Different exhibitors from around the world curate and host social art events in virtual reality. These exhibits are open to the public for free, but you can buy and sell art as well. artgatevr.com has more details on it.
Click here to view Art Gate VR.
Art of Balancing
Price = FREE
Art of Balancing is a unique rock balancing game. Your job is to pick up stones and stack them up in order to make a balanced structure. The gameplay is woven into an interesting story where you have to restore the connection between past and present. The game is thoughtful and zen.
Click here to view Art of Balancing.
Autonomic Nervous System Simulator
Price = FREE
This App Lab game is an educational app where users can see what happens to the autonomic nervous system in response to different chemicals. Users can add chemicals, including acetylcholine, norepinephrine, muscarine and nicotine to specific receptors and watch what happens to heart rate, respiration, gastrointestinal motility, blood pressure, pupil size and ocular pressure.
Click here to view Autonomic Nervous System Simulator.
AVATOUR
Price = FREE
AVATOUR is a unique real-time remote presence app where a host can invite up to 9 remote guests to hang out In the same place together. You can live video chat as if you were sititing in the same room together.
In order to use AVATOUR, the host needs to have a 360 degree camera. It syncs up with the AVATOUR server and allows everything to happen!
Baby Hands

Price = $20
Baby Hands is a fun sandbox game that has you playing a baby in the 90s. There are different puzzles and hidden objects to find as you explore a world of giant furniture, stuffed animals, and toys.
Baby Hands has a collection of cool mini-games, and more are added with each update.
As a baby, you can crawl around and interact with tons of objects around the house. Play with toys, find games, or make a mess. The game is innocent and fun and unique to play in VR. Baby Hands was previously available for the Oculus Rift before making its was as an App Lab game.
Click here to play Baby Hands.
Bacon Roll
Price = $5
Bacon Roll is a third person platform game for VR. You have to roll your pig through a ton of different levels to victory, away from the evil wolf chef to ruin his dinner. There are different power ups to help you escape and outfits that give you special bonuses when worn.
As you play, you'll earn tomatoes, which can be used as currency to upgrade your powers. Bacon Roll is a unique and fun platform game for virtual reality.
Ball Knight
Price = FREE
Ball Knight is an endless survival sword fighting game. Enemy balls come bouncing at you from all directions and it is your job to swipe through and destroy them. Last as long as you can and stay nimble and alert. There is a global leaderboard to complete for.
Click here to view Ball Knight.
Ballgame Barrels
Price = FREE
Ballgame Barrels is an Oculus Quest hand tracking demo. It features a few different games to try out. You can grab different colored balls and put them into the right colored barrels. Or, you can grab different blocks and build a tower. The game promises more tech demos soon.
Click here to view Ballgame Barrels
Ballooning Adventures
Price = $6
Ballooning Adventures is a hot air balloon game that is partially a game and partially a calming experience. You get to pilot your balloon across the skies of three different realms. There are missions and objects to collect in each world.
Ballooning Adventures was first released over four years ago. It is now an App Lab game you can try out.
Click here to view Ballooning Adventures
Bard Hero

Price = FREE
Bard Hero is a rhythm VR game. The graphics are lo-fi and the game is overall fairly simple. You have two mallets that you use to tap pads of specific colors as notes come flying by. The Oculus App Lab game demo features five different playable songs to start.
Bard Hero features a rhythm mode and a survival mode. Similar to Beat Saber, there are ten gameplay modifiers which make things easier or harder for you. The game also features optional hand tracking.
If you are new to VR and want to check out a free Beat Saber alternative, Bard Hero is worth a look.
Click here to play the Bard Hero VR App Lab game.
Basic Life Support
Price = $30
Basic Life Support is a VR training and simulation app for basic life support techniques. The app contains instruction tutorials and practice for CPR, danger airway, breathing, and calling for help.
Click here to view Basic Life Support.
Battle Arena VR

Price = FREE
Battle Arena VR is a multiplayer Oculus App Lab game. You are automatically matched online into maps for 2-5 players. Games are short and fast with a warmup and a cooldown stage to connect with other players. There is open voice chat during the game as well.
Battle Arena features a level up system and a global leaderboard to compete against. It is a fun multiplayer experience.
Click here to view Battle Arena VR.
Beat Blaster
Price = $10
Beat Blaster is a rhythm shooting game. Shoot, run, and dodge everything to the beat of the music. To clear each level, you must reach the end of the song without dying. There are over 30 tracks to play thorough. Beat Blaster is a faster paced Pistol Whip alternative.
Click here to view Beat Blaster.
Big Breezy Boat
Price = $10
Big Breezy Boat is a sailing simulation game. Steer, control, and move around the board. The game features an option multiplayer mode and cross-play with the Oculus Rift and Go systems. Big Breezy Boat is relaxing and casual and comes from the MarineVerse team.
Click here to view Big Breezy Boat.
Black Hole Pool Demo
Price = FREE
Black Hole Pool is a VR pool game. This is a technology demo and preview of the upcoming full release of Black Hole Pool. In the demo, you can test out the physics and gameplay. You have to pot the pool balls in any order you would like. More updates are promised soon.
Click here to view the Black Hole Pool Demo App Lab game.
Blinky
Price = FREE
Blinky is a curated streaming media app for VR. It is like Youtube but only with custom-curated 360 degree videos optimized for virtual reality. Check out Blinky daily for new releases and content.
In Blinky, you can also make a list of your top content. There are different categories for news, tour walkthroughs, music concerts, and more.
Blobby Tennis
Price = FREE
Blobby Tennis is a VR tennis demo. The game takes place on the beach, where you can do tricks with a tennis racket and a ball. You can play back and forth with Blobby for fun or aim to score points. This demo has no fixed rules or goals and is a VR demo.
Click here to play Blobby Tennis.
Bonsai Desk
Price = $1
Bonsai Desk is a fun collaboration platform where you can watch Youtube videos live with a friend at the same time. You sit at a virtual desk together where you can build with blocks while you chat with your friend in virtual reality.
Click here to view Bonsai Desk.
Breakout VR
Price = $7
Breakout VR is a reimagining of the classic arcade game in virtual reality. You are in a space ship and you can only move your ship left and right with your trigger buttons. Aim and destroy all of the bricks in order to reach the next level.
The early access release of the game features 15 levels, but more are added regularly over time.
Click here to play Breakout VR.
Cactus Cowboy Portal VR
Price = FREE
Cactus Cowboy is a VR platform App Lab game. You play the title character, who has been kidnapped and imprisoned in a strange underground lab. Using your revolvers, fight your way through puzzles and enemies and up to the surface.
Click here to view Cactus Cowboy Portal VR.
Cake Mouse
Price = $7
Cake Mouse is a VR defense game. Your job is to defend and protect your cake at all costs. Mice will attack you and you have to act fast to keep them away. The only weapons you have to use are two toy hammers. You play in God mode over top of your battle arena. The game is very similar to whack-a-mole.
Click here to view the Cake Mouse App Lab game.
Candy Puzzle
Price = $4
Candy Puzzle is a VR version of the popular Cut the Rope mobile game. Candy is attached to various ropes and each level and your job is to cut them in a specific order in each level to feed your puppy. The game is a lot of fun in VR and familiar if you've played the original.
Click here to view Candy Puzzle
Click here to view the Candy Puzzle demo
Car Parking Simulator
Price = $10
Car Parking Simulator is exactly what it sounds like. It is a realistic and immersive car parking experience in full VR. It is a lot of fun and a unique experience for VR. There are different vehicles to try out, each with their own handling and nuances.
There is also a free roam mode around town with a realistic traffic system. You can complete activities and challenges around town. Car Parking Simulator features day and night cycles and 65 levels to complete!
Click here to view Car Parking Simulator on the App Lab.
Carroll's Riddles
Price = $5
Caroll's Riddles is a game and learning experiences based on Lewis Carroll's Alice in Wonderland and The Game of Logic books. The game features puzzles that help you understand and learn about Carroll's works. This is a paid demo version intended to fun further development in the project.
Click here to view Carroll's Riddles.
Catapult
Price = FREE
Catapult is a companion app for makeSEA, a virtual reality collaboration platform. With a makeSEA account, you can launch Capapul and share your content and collaborate with others. You can save 3D content from your 3D creative tools. Check out makeSEEA for more information.
CHARM VR App
Price = FREE
CHARM VR is an educational App Lab experience designs to promote European tourism. You can explore an Italian museum called the Italian Pilot Village Cunziria.
Click here to view CHARM VR App.
Cheerio
Price = FREE
Cheerio is a social VR application where you can match with strangers who share common interests with you. First, you create your own hologram. Then, you can meet and build relationships with other people one-on-one. You control who you meet through age and gender filters and what VR games they like to play.
Once matched, you can add each other as friends and go play multiplayer VR games together. Or, you can go explore locations around the world together with full Google Streetview integration.
Colorball
Price = $2
Colorball is a bubble shooter App Lab game in VR. Your color is to connect balls coming at you with their same colors. The game switches things up by allowing you to catch and throw, shoot, slide, smash, or push balls around. If you get hit by any ball, you lose a life.
Colorball is easy and casual to play.
Control Room by QuarkXR
Price = FREE
Control Room is a free virtual desktop application. It lets you connect to your computer wirelessly and work completely in virtual reality. Powered by QuarkXR's Unity SDK, you can move freely through different screens and adjust the curve and distance.
Coming soon, the application is adding multiplayer support for teams to work at the same time.
Click here to view Control Room by QuarkXR.
Cosmic Flow: A Relaxing VR Experience
Price = FREE
Cosmic Flow is a kaleidoscopic meditation App Lab game. It is a relaxing VR experience that encourages connection and personal expression. Cosmic Flow gives you a feeling of relaxation that is designed to continue after you aree done playing VR.
Click here to view Cosmic Flow: A Relaxing VR Experience
Cosmic Sugar
Price = $10
Cosmic Sugar is a.physics sandbox used for art making and light shows. It allows you to create 3D visualizer environments around you. The game is therapeutic, relaxing, and unique.
Click here to view Cosmic Sugar.
Cover Drive Cricket Demo
Price = FREE
Cover Drive is a Cricket sports VR game. It is in active development and will be improved over time. Your objective is to score as many runs as you can during the super over. You can play against 5 different bowling types and 2 different difficulties.
Cover Drive features left or right handed batting, realistic physics, bat markers, and replays. Your top scores are saved so that you can try to beat your score.
Click here to play Cover Drive Cricket Demo.
Crazy Croquet
Price = $5
Crazy Croquet is a VR croquet app lab game. Croquet is a sports game where you have to hit balls through a goal in the ground. Crazy Croquet has realistic physics so that you can play the game just like it was real life.
Crazy Croquet features 12 levels, different racks, and different balls. The game features a global leaderboard and more content is coming soon.
Click here to play Crazy Croquet.
Crazy Kung Fu
Price = $10
Crazy Kung Fu is a Kung Fu fighting game for VR. You start out with slow reflexes and no experience and work your way up to a master. Training in the game happens with a wooden training dummy. You use your hands and body to punch, block, and dodge spinning arms. Your stats are tracked, including speed, accuracy, and strength.
Click here to view Crazy Kung Fu.
Click here to view the Crazy Kung Fu demo.
Crisis VRigade 1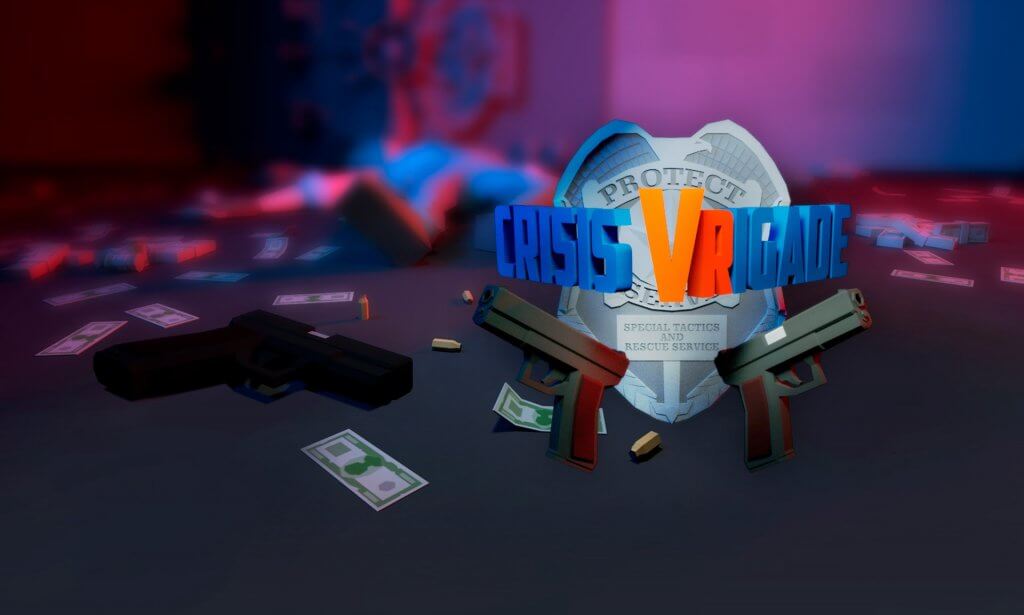 Price = $10
Crisis VRigade is a VR first-person shooter that lets players take on the role of a SWAT trooper. You have to deal with a hostage situation in a bank robbery and you're put in the middle of the action.
Together with a SWAT team, you will have to deal with the situation and take care of the terrorists who are robbing the bank. Your mission is crystal clear: finish off all hostile elements and keep your teammates and the hostages alive. Make your way through the bank to the safe where the terrorists have hostages.
Crisis VRigade is not for beginner players. Each requires precision, accuracy, and some good thinking to complete. The game had racked up over 200,000 views on SideQuest VR before making the jump as an Oculus App Lab game.
Click here to view Crisis VRigade.
Crisis VRigade 2

Price = $20
Crisis VRigade is the sequel to the popular co-op swat game. It takes all of the good things from the first game and amplifies it with more action, shootouts, and weapons. The scale of this sequel is higher than the original and everything has been built from the ground up for VR.
There are 4 different difficulty levels for each scenario in the game. Scenarios are built with realism in mind. And like Hitman, you can approach each level in different ways. VRigade 2 has improved boss battles at the end of each level. It also has full-body tracking support with bHaptics.
VRigade 2 has a more realistic art style over the original game.
Click here to play Crisis VRigade 2.
Crop Craze: Farming Simulator
Price = $10
Crop Craze is a VR faming simulator App Lab game. Your job is to buy seeds, grow crops, and sell them for a profit. You own the entire farm and can build it as you want!
Upgrade your farm to boost profits, buy animals, and add a greenhouse. You can purchase more land to expand your farm, while you manage your money.
Click here to check out Crop Craze: Farming Simulator.
Crumb
Price = FREE
Crumb is a unique VR escape room experience. You book a specific time and join together with up to 7 other friends who play the room at the exact same time as you do. There is also a live actor included in the process as well. So even though the Crumb App Lab game is free, it still costs money to book a time and experience.
More experiences are coming to the game soon.
CYBER TENNIS

Price = $15
CYBER TENNIS is a VR tennis sports game! Your controller is your racket and you have to use realistic swinging motion to use it. The game features an in depth single player mode where you have to play other computer players in a tour format. You can build your own AI computer partner to play doubles matches in.
CYBER TENNIS also features an online mode. You can play tennis against other real players around the world. It contains a spectator mode so that you can watch others play as well.
For the release in the App Lab store, CYBER TENNIS contains 34 different characters and 7 different tennis court styles.
Click here to view CYBER TENNIS on the Oculus App Lab.
D&I Perspectives
Price = $70
D&I Perspectives is a unique VR App Lab game where you get to experience life through the eyes of people with disabilities. You move through office scenarios during a regular work day. As you interact with people, they give clues as to who you are and what your story is. There are four different perspectives to check out. The game helps you build awareness for disabilities in a memorable way through the use of virtual reality.
Click here to view D&I Perspectives.
Daedalus
Price = $5
Daedalus is a first person platform VR game. You play Daedalus, imprisoned to prevent you from sharing your knowledge of Creta's Labyrinth with others. Every night, in his dreams, Daedalus explores the intricate labyrinths aboard his own winged creations, trying to relive every step, each leap, each flight to freedom, attempting to escape his own tragedy.
Help him find the 3 platforms that open the gate of each level and explore the mysterious environments derived from a dream. As the levels progress, the difficulty rises and the architecture grows more and more perplexing. Boost yourself, glide, take advantage of the wind columns, make use of trampolines and activate mechanisms that pour new platforms at your feet to reach your objective.
DAVID
Price = Free
DVID is a classic WaveShooter App Lab game. The first chapter has five different stages where you have to defeat waves of fighters. You can collect special weapons and powerups. Control your ship and your support drone to victory.
David Slade Mysteries: Case Files
Price = $10
David Slade Mysteries is a point and click VR adventure. It takes place on the streets of River Side, whre you play as David Slade and you have to solve mysterious cases. In each episode scene, you have to investigate the area, gather and document evidence, and discover clues to help you solf the mystery.
The game features one scene to start, with a free update coming soon with a second scene.
Click here to view David Slade Mysteries: Case Files.
Days of Heroes: D-Day (Demo)
Price = FREE
Days of Heroes allows you to experience war from two different perspectives. Take on the role of an airborne division jumper who descends into enemy territory to destabilize the enemy troops under the cover of night. Alternately, become a soldier beginning their heavy crossing of Omaha beach on D-Day.
In the game, you'll have to take out Naxiz, destroy enemy tanks, and escape from a POW camp. The game features over a doxen weapons from World War II.
Click here to view Day of Heroes: D-Day
Deisim

Price = $7
Deisim is a VR God simulator. In the game, you play God and create a world as you want it.
When you start a new game, you are provided a plain and clean canvas to start your creation. Perform miracles and provide resources to the people in your world. If things get out of line, you can even choose to leave them starve and die. You can also draw a land or water area and add different kinds of items to each.
The purpose of Deisim is to advance your population to the modern age by giving them resources and performing miracles. Be efficient as a God and your population grow will grow larger. There is no specific end goal to the game. Your goal is to grow your population as high as you can before you lose control of it.
The game is incredible easy and fun to play. However, it does not hold your hand in any way. And some strategy in the game is not immediately obvious. For simulation game fans, Deisim is well worth checking out.
Click here to view our ultimate strategy and gameplay guide for Deisim.
Click here to view Deisim on the Oculus App Lab store.
Descending
Price = $10
Descending is a VR horror game where you have to break the curse cast upon the estate of your house. You must solve puzzles while cautiously moving through your house. The game features a lot of "escape room" elements in its style of puzzles. You play with only a lighter for most of the game. Descending takes about 1 hour to complete.
Click here to play Descending.
Descent Alps

Price = FREE
Descent Alps is a downhill skiing game in VR. As a skiier, you have to control your movement by shifting your weight in real time as you travel down the hill. Lean into curves and hunch down to carve the toughest parts of the slow.
Each level in Descent Alps has been matched to a different musical track. You have to match your motion to the beat as you travel down the hill.
There are not a lot of sports VR games. Descent Alps takes a unique concept and brings it to life in VR. It's a fun and casual Oculus App Lab game worth checking out.
Click here to play Descent Alps.
Directive Nine Early Access
Price = $13
Directive Nine is a VR first-person shooting roguelite game in a sci-fi setting. You choose your weapons loadout and then battle through space stations to expand your Galactic Federation and get rid of others. Enemies get more difficult as you play, so upgrade and expand your weapons to keep up.
Click here to play Directive Nine Early Access.
Disc Benders: Ace Run
Price = $13
Disc Benders is a disc golf VR App Lab game. It allows you to through disc golf frisbees with ultimate realism. Drive, curve, and sink long putts in order to score the lowest. Disc Benders has three full courses with over 40 holes to play. There is Free Play and Career Modes to check out.
You can play disc golf alongside up to four friends and socialize together when you play.
Click here to view Disc Benders: Ace Run.
Dr. Zaney's Insane Labs
Price = $10
Insane Labs is a fun VR App Lab game where you get to build your arena before you play in it. There are different labs where you can build your items. When you are done, jump in and play your creation.
The labs in the game are:
Pinball
Mini Golf
Contraptions
Break Room (retro arcade games)
Dr. Zaney's Insane Labs is one of the most unique VR games you can try today.
Click here to view Dr. Zaney's Insane Labs.
DvG: Conquering Giants Demo
Price = FREE
DvG stands for David verses Goliath and it's an imaginative twist on the classic story of David versus Goliath. In this epic virtual reality game, YOU are the young shepherd boy tasked with protecting your sheep, your family, and your nation from the dangers of this world. Armed with a unique, powerful sling, you must fend off mutton-hungry wolves, ferocious lions, and massive bears!
This is a demo of a game that will release in full later in 2021.
Click here to view DvG: Conquering Giants Demo.
Eavor-Lite: Virtual Tour
Price = FREE
Eavor-Lite is a demonstration app from the company with the same name. Eavor-Lite is a clean energy company that uses geothermal technology. It has no emissions, no water use, no brine, and no aquifer contamination. In this VR app, you get to demo the entire process and see how it works.
Click here to view Eavor-Lite: Virtual Tour.
Dynamic Spanish Trip – Long Weekend in Spain
Price = FREE
Dynamic Spanish Trips takes you on a tour to Spain. Visit and explore 4 places in Spain through a selection of 360 degree images and videos. You will learn about the culture, history, and language. This Spain trip is free, but you can buy other experiences as well on VRLanguages.co.uk.
Click here to view Dynamic Spanish Trips.
Edge Factor VR
Price = FREE
Edge Factor is a career exploration App Lab game. It contains a ton of videos, quizzes, and challenges designed to give students a closer look at different careers. Watch demonstrations with industry professionals and interact with objects. Edge Factor is a unique way for teenagers and early adults to discover what they love doing.
Click here to view Edge Factor VR.
EducationXR
Price.= FREE
Education XR is a 3D training and education platform. Educators can create training courses for VR, in addition to mobile and desktop. The platform has a full analytics platform and heat maps for user behaviour
Click here to view EducationXR.
EnergieFitnessVRClub
Price = FREE
EnergieFitnessVRClub is an online VRR gym experience. You can walk around a virtual gym and learn about the equipment and how to work out properly. This is great for first time gym users to get a feel of what it is like before you step into the gym for real. It is mostly educational to expand your gym knowledge.
Click here to view EnergieFitnessVRClub.
Energysaber Masta VR
Price = $8
Energysaber Masta is a mix between Beat Saber and Supernatural VR and Star Wars. Equipped with two energysabers with built-in rail-guns, you have swing and destroy drones that come into your path. The game gives you a good workout, forcing you to compelte 360 arm swings, squats, and other moves. You have to rotate your body to dodge lasers and stay alive as long as you can.
Click here to view Energysaber Masta VR.
ENHANCE
Price = FREE
ENHANCE is a brain training game that lets you practice different cognitive skills like memory, flexibility. Problem solving, motor control, and information processing. You can play when you want and ENHANCE keeps track of your progress and scores. It is a unique VR learning game.
EON-XR
Price = FREE
EON-XR is a mixed reality experience from EON Reality. It allows teachers and educators to create full lesson plans and teaching modules in mixed reality. The platform has a full library of objects and items that can be placed into the lesson. Teachers can add voice-overs and interactive elements and then publish their results on the EON marketplace. Lessons can be viewed on the Oculus Quest via this App Lab game, or on mobile devices.
Escape Legacy
Price = $3
Escape Legacy is a VR escape room App Lab game. You play as Erica, determined to follow in the footsteps of her adventurous grandfather. In each room, you have to find ancient scrolls to help move the story along. Like other escape rooms, you have a timer that you work against.
Escape Legacy has highly detailed graphics. There are 10 levels with over 80 different rooms to explore. Escape Legacy features over 10 hours of gameplay!
Click here to view Escape Legacy.
EuroleagueTV VR
Price = FREE
EuroleagueTV is a unique virtual reality trial for the basketball competition of the same name in Europe. Fans can take control of any camera in the arena and watch from different views in virtual reality.
Click here to view EuroleagueTV VR
Experience the Energy: Take the Tour
Price = FREE
Experience the Energy is a demo app that takes you onto the worksite in the energy industry. You can experience conventional and automated drilling, SAGD, mining, natural gas, and iother industrial processes. Check out careers in energy that eill help you pick a career path.
Click here to view Experience the Energy: Take the Tour
exVRience Golf Club
Price = $10
exVRience Golf Club is a full-swing golf simulator for virtual reality. You can play golf with realistic physics and a full course environment. exVRience features a full 18 hole course called Cave Lakes. It also has a 9-hole chipping challenge on the moon and 6 different driving range locations.
exVRience Golf Club is a growing golf simulation game. It features advanced swing mechanics, hole fly-overs, in-game statistics, and other features.
Click here to play the exVRience Golf Club App Lab game.
Evryway Visualiser
Price = $5
Evryway Visualiser is a 360 degree audio visualizer for VR. You can play any audio track from your Quest and this app gives you a visualizer to sit back and chill in. It has support for DLNA media servers had HearThis.Ai integration too.
This visualizer has hand tracking and 90 Hz refresh mode support.
Click here to try our Evryway Visualiser.
eyeora VR
Price = FREE
Eyeora VR is a drag-and-drop tool that allows you to create 360 degree scenes. Add real-time gaze control hotspots and auto-sync multiple camera angles. Eyeora makes it easy for anyone to create customized VR content.
Fear Dead House
Price = $3
Fear Dead House is a VR horror game where you explore different Paranormal Activities in a house. Make your way through the horror house and experience different things like ghosts, zombies, crying dolls, a flying skeleton, and more. Move around with only a torch and face your fears to move on.
Click here to view Fear Dead House.
Feeder Protection Relay Training
Price = FREE
Feeder Protection Relay Training is an electrical training course that offers a step-by-step introduction into modern feeder protection relay systems. The training is done in full VR, helping teach concepts with audio and visual cues.
Click here to view Feeder Protection Relay Training.
FigureOut VR
FigureOut is a virtual reality puzzle App Lab game. You have to use your given figured to fill empty fields in a game that feels like Tetris in some ways. FigureOut is full room-scale and features over 100 different levels and 2 different difficulties.
You can also upload your own music into the game to listen to while you play.
Click here to check out FigureOut VR.
Find My Phone: The Game
Price = FREE
Find My Phone is a story-driven comedy game. Your phone is missing and you have to search the world for clues in where it might be. There are unhelpful and cheeky clues given to you along the way.
In this game, you get to use a virtual tablet in VR to help you on your journey. Find My Phone is a casual Oculus App Lab game experience.
Click here to view Find My Phone: The Game.
Flowborne
Price = $10
Flowborne is a breathing and meditation VR app. It has you move through different levels by controlling your breathing. The Oculus touch controller sits on your stomach and monitors your inhale and exhales. Flowborne is one of the most unique and exciting VR App Lab games.
There rarer 24 different journeys to travel through in the game. Flowborne was created by psychologists with stress reduction and relaxation in mind.
Forest Farm Demo
Price = FREE
Forest Farm Demo is a VR farm simulator. Seed, grow, and harvest plants and trees. Make money so that you can grow your farm and expand into new areas. Everything in the game is regenerative so farm wisely and plant your next move. More mechanics and game play are being added to Forest Farm regularly.
Click here to view Forest Farm Demo.
Frog Hands Steve
Price = FREE
Frog Hands Steve is a unique VR game where your hands are frogs. You have to eat as many mosquitoes as you can in three minutes. This is a fun and casual game that is easy to play in a larger group. The game keeps track of your high score as you play.
Click here to view Frog Hands Steve.
Fugitive 3D
Price = FREE
Fugitive 3D is an online multiplayer hide and seek game! VR and computer players can play alongside each other in the same game. Fugitives hide in the bushes and cops do the searching. If you are a fugitive, you have to make it to the end zone without getting caught. Cops must drive around shining your flashlight to find bad guys.
Fugitive 3D features positional VOIP so that fugitives can talk to each other in close proximity. At the end of each game, there is a replay that everyone gets to watch. This game is a unique VR experience and one worth checking out today.
Click here to view Fugitive 3D.
Fun House
Price = $10
Fun House is a toy sandbox App Lab game where you have to build and solve puzzles with different classic toys. Solve classic puzzles and play with toys from your childhood. The experience is fun, light-hearted, and comforting. Build custom creations and take pictures of what you made.
Click on Page 2 below to see App Lab Games starting from G-L.