In this guide, we break down every single Oculus App Lab game included in the new early access store for the Oculus Quest.
For each game, we have:
A breakdown of the game
Some cool and interesting features to try out
Gameplay samples
A link to download each game onto your Oculus Quest VR headset
If you are a developer who is going to be in the lab, contact us today and we would love to feature you on our website!
Click here to view our complete guide on the new Oculus App Lab.
Newest Oculus App Lap Games
The newest games on the App Lab are:
The game above were the 'second batch' of games to be added to the store. The first batch was the original 12 games that launched alongside the App Lab.
Complete List of Oculus App Lab Games
The complete list of Oculus App Lab games is below. Keep scrolling to read our breakdown and review of each game in more detail.
What is the Oculus App Lab?
The Oculus App Lab is a separate way for Quest developers to distribute apps to players instead of the official store. It allows early development and experimental apps to have an official link on the store safely and securely. Developers can give direct links or through platforms like SideQuest.
App Lab apps do not appear in the official Oculus Store, but they will still appear in the Quest Library alongside those games. These apps no longer need to sit under the "Unknown Sources" tab of your library. Games in the Lab receive automatic updates and are curated by Oculus for quality and content.
You can search App Lab apps through the official Oculus website. They will appear under a new "App Lab" results section.
However, there does not appear to be a way to browse all apps in this new store. This is the reason we created this guide.
Below, we have a complete list of all Oculus App Lab games currently available to check out.
After you are done check out our list, here are some other related guides for the Oculus Quest:
Ancient Dungeon Beta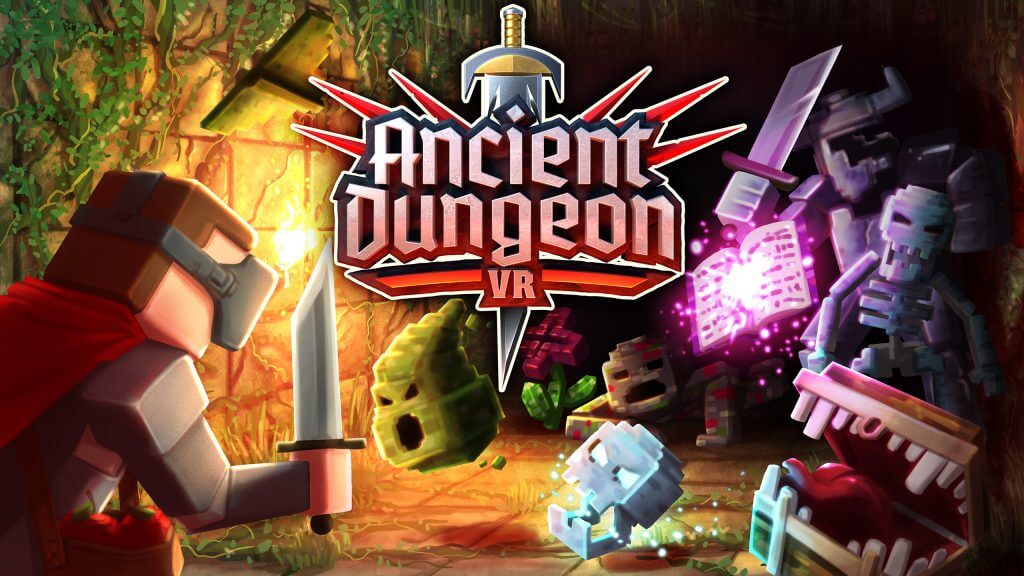 Price = FREE
Ancient Dungeon VR is a rogue-lite dungeon crawler game. Each level is procedurally generated and is unique each time you play. Levels are filled with traps, secrets, and other loot to discover and find. As you progress through each level, the difficulty of enemies gets higher. Each dungeon has a different theme which affects the enemies and powerups in the levels.
You have to fight through monsters with your sword and throwing knife, while collecting powerups to improve your skills. You can buy and sell different upgrades and perks to improve your game. You have to challenge and defeat powerful bosses too.
Ancient Dungeon was one of the most polished games in the SideQuest store and we think it has a perfect home as an Oculus App Lab game.
Click here to play Ancient Dungeon VR.
Arcaxer

Arcaxer is a turn-based RPG game set in a sci-fi simulation world. In the game, you control your character in a third-person God mode. You'll have to explored procedurally-generated dungeons to find equipment and new abilities for your character.
The hub world exists to interact with non-playable characters and to buy new items with credits you earn in the dungeon. There is a nice combat system in the game that is turn based. You have to time your attacks and dodge ones from the enemy.
Arcaxer features three different class types: Fighter, Mage, and Thief. There isn't a lot of great VR RPG games for the Oculus Quest other than OrbusVR, so Arcaxer fill that niche nicely.
Click here to view the Arcaxer Oculus App Lab game.
Baby Hands

Price = $20
Baby Hands is a fun sandbox game that has you playing a baby in the 90s. There are different puzzles and hidden objects to find as you explore a world of giant furniture, stuffed animals, and toys.
Baby Hands has a collection of cool mini-games, and more are added with each update.
As a baby, you can crawl around and interact with tons of objects around the house. Play with toys, find games, or make a mess. The game is innocent and fun and unique to play in VR. Baby Hands was previously available for the Oculus Rift before making its was as an App Lab game.
Click here to play Baby Hands.
Bard Hero

Price = FREE
Bard Hero is a rhythm VR game. The graphics are lo-fi and the game is overall fairly simple. You have two mallets that you use to tap pads of specific colors as notes come flying by. The Oculus App Lab game demo features five different playable songs to start.
Bard Hero features a rhythm mode and a survival mode. Similar to Beat Saber, there are ten gameplay modifiers which make things easier or harder for you. The game also features optional hand tracking.
If you are new to VR and want to check out a free Beat Saber alternative, Bard Hero is worth a look.
Click here to play the Bard Hero VR App Lab game.
Crisis VRigade 1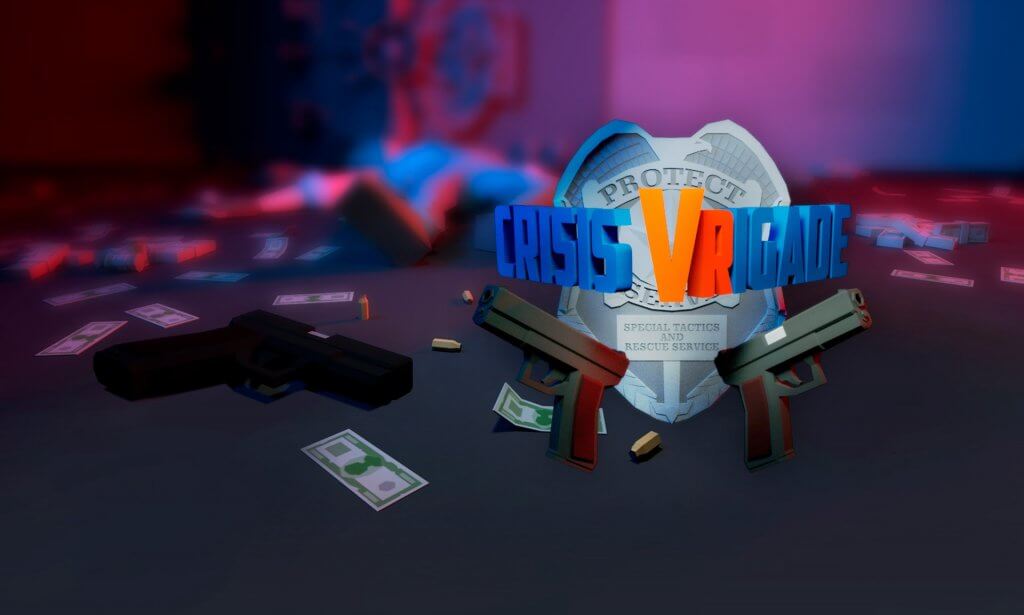 Price = $10
Crisis VRigade is a VR first-person shooter that lets players take on the role of a SWAT trooper. You have to deal with a hostage situation in a bank robbery and you're put in the middle of the action.
Together with a SWAT team, you will have to deal with the situation and take care of the terrorists who are robbing the bank. Your mission is crystal clear: finish off all hostile elements and keep your teammates and the hostages alive. Make your way through the bank to the safe where the terrorists have hostages.
Crisis VRigade is not for beginner players. Each requires precision, accuracy, and some good thinking to complete. The game had racked up over 200,000 views on SideQuest VR before making the jump as an Oculus App Lab game.
Click here to view Crisis VRigade.
Crisis VRigade 2

Price = $20
Crisis VRigade is the sequel to the popular co-op swat game. It takes all of the good things from the first game and amplifies it with more action, shootouts, and weapons. The scale of this sequel is higher than the original and everything has been built from the ground up for VR.
There are 4 different difficulty levels for each scenario in the game. Scenarios are built with realism in mind. And like Hitman, you can approach each level in different ways. VRigade 2 has improved boss battles at the end of each level. It also has full-body tracking support with bHaptics.
VRigade 2 has a more realistic art style over the original game.
Click here to play Crisis VRigade 2.
CYBER TENNIS

Price = $15
CYBER TENNIS is a VR tennis sports game! Your controller is your racket and you have to use realistic swinging motion to use it. The game features an in depth single player mode where you have to play other computer players in a tour format. You can build your own AI computer partner to play doubles matches in.
CYBER TENNIS also features an online mode. You can play tennis against other real players around the world. It contains a spectator mode so that you can watch others play as well.
For the release in the App Lab store, CYBER TENNIS contains 34 different characters and 7 different tennis court styles.
Click here to view CYBER TENNIS on the Oculus App Lab.
Deisim

Price = $7
Deisim is a VR God simulator. In the game, you play God and create a world as you want it.
When you start a new game, you are provided a plain and clean canvas to start your creation. Perform miracles and provide resources to the people in your world. If things get out of line, you can even choose to leave them starve and die. You can also draw a land or water area and add different kinds of items to each.
The purpose of Deisim is to advance your population to the modern age by giving them resources and performing miracles. Be efficient as a God and your population grow will grow larger. There is no specific end goal to the game. Your goal is to grow your population as high as you can before you lose control of it.
The game is incredible easy and fun to play. However, it does not hold your hand in any way. And some strategy in the game is not immediately obvious. For simulation game fans, Deisim is well worth checking out.
Click here to view our ultimate strategy and gameplay guide for Deisim.
Click here to view Deisim on the Oculus App Lab store.
Descent Alps

Price = FREE
Descent Alps is a downhill skiing game in VR. As a skiier, you have to control your movement by shifting your weight in real time as you travel down the hill. Lean into curves and hunch down to carve the toughest parts of the slow.
Each level in Descent Alps has been matched to a different musical track. You have to match your motion to the beat as you travel down the hill.
There are not a lot of sports VR games. Descent Alps takes a unique concept and brings it to life in VR. It's a fun and casual Oculus App Lab game worth checking out.
Click here to play Descent Alps.
Gym Class

Price = FREE
Gym Class is a multiplayer basketball VR game. You can play hoops online with up to 8 other players or else practice your shooting, passing, and dunking on your own.
Gym Class features realistic physics and full-body kinematics. It does a great job at making VR basketball feel like the real thing. Again, there is not a lot of VR sports games for the Oculus Quest yet. This is a great showcase at the possibilities. Gym Class does a good job of using your guardian space to play basketball.
Click here to play the Gym Class Oculus App Lap game.
Laid-Back Camp

Price = $20
Laid-Back Camp is a narrative interactive story that takes place in virtual reality. You play Nadeshiko and you join your friend, Rin, on a camping adventure at Lake Motosu. While there, you plan on taking pictures and eating lots of delicious food. Along the way, you encounter a variety of unique situations.
Each section takes place in an episode format and the game has a lighthearted anime theme to it. Characters are fully voiced and each scenes contain beautiful scenery and immersion.
Click here to play Laid-Back Camp in the App Lab store.
MarineVerse Cup

Price = $20
MarineVerse Cup is a VR sailing game! You get to learn how to sail and race in different locations and various sailboats. MarineVerse has an active VR sailing community that enjoys playing together and interacting.
The game features a good tutorial to get you started in the game. There are time trials available with global leaderboards for each race. Multiplayer racing against other players is available with a MarineVerse "Sailing Pass". The Sailing Pass is available on Patron for $9 per month.
MarineVerse has set up legitimate eSports tournaments using the game.
Click here to play MarineVerse Cup for the Oculus Quest.
Multibrush

Multibrush is a fork of the now open source for for TiltBrush. The game includes multiplayer implementation, letting you play, create, and enjoy art with your friends.
In Tiltbrush, you have a 3D canvas to create art. Draw objects in 3D with a variety of different tools, shapes, and colors. In multiplayer mode, you join in a single room with your friends and hang out while you create are together.
Click here to try out Multibrush.
Pick-Up League Hockey

Price = FREE
Pick-Up League Hockey is a hockey VR game with realistic physics and a full-sized rink to play on. It is a 3 vs 3 multiplayer VR game.
Pick-Up League Hockey features realistic skating and braking features. You can stick handle with single and dual hands too. Outside of the 3 vs 3 games, you can practice shooting and puck handling. This will let you get used to the controls before you play. Any hockey fans should give this one a try today.
Click here to play Pick-Up Hockey.
Puzzling Places

Price = FREE
Puzzling Places is a 3D jigsaw puzzle App Lab game. You put together miniature landmarks from around the world which have been created in puzzle form. Puzzling Places can be played seated, standing, and at full roomscale.
Puzzles in the game are generated from unique photogrammetry 3D scans. Each piece you place together adds to the unique and immersive soundscape in the game. It works similarly to Tetris Effect, which has a similar feature.
Puzzling Places started with a 98 piece puzzle of the Tatev monastery in Armenia, but is being updated with new content to check out. Now that it is an App Lab game, we hope to see new updates and features coming soon.
Click here to play Puzzling Places.
Rhythm 'n Bullets

Price = $9.99
Rhythm 'n Bullets is a musical shooting game where your hands become starfighters that shoot orbs. Enemies fly in around you travelling to your core. You have to shoot them before you die.
Each level in the game is timed to the music and you get more points if you shoot on beat. There are power-ups to collect as you play too. Rhythm 'n Bullets also features a multi-level campaign mode. It has a global leaderboard so you can compare your stats verses other Oculus Quest players.
Four different themes are included in the game: Tech City, Japanese Garden, Galaxy Zone, and Holiday Forest.
Click here to view Rhythm 'n Bullets on the Oculus App Lab Store.
Shinobi Breaker

Shinobi Breaker is an action game in space. You play a space ninja who has to defeat monsters that want to bring harm to the universe. It is similar to the classic brick-breaker game but in full virtual reality.
Your weapon of choice is a sword and you have to use it to slice shooting ninja stars and other attacks. Shinobi Breaker features classic-style graphics. Similar to games like Fruit Ninja VR, your task if to last as long as you can.
Click here to view the Shinobi Breaker Oculus App Lab game.
Smash Drums

Price = FREE
Smash Drums is an Oculus App Lab game that turns you into a drummer. It is a combination of Beat Saber and Rock Band adapted for VR. Right now, the game is a demo that includes one rock song to play.
More features and songs are being worked on. When the full game launches, it will contain 21 indie rock songs. No word on whether custom song support will be available, a popular feature on Beat Saber and Synth Riderz.
Click here to play the Smash Drums App lab game.
Spark AR Player

Price = FREE
Spark AR Player lets you view all of your creations from Spark AR Studio in a virtual environment. You can choose from indoor and outdoor locations like an art gallery or a beach. You can change lighting conditions to simulate different times of the day. It is an accurate demo of seeing how your AR experiences will look.
Spark AR Studio is a tool to create augmented reality experiences. It has templates and asset libraries that you can use create different AR effects. Sparks can be shared on Facebook to reach billions of different people.
Spark is a Facebook creation that helps to develop their future mixed reality framework. This Oculus App Lab game player is a good demo of where the technology is going in the future.
Click here to check out the Spark AR Player.
Tiny Castles
Price = FREE
Tiny Castles is an action puzzle game that is optimized to utilize hand-tracking on the Oculus Quest. It's a tech demo project developed internally at Oculus to test necessary interactions for a hands-only game experience.
In Tiny Castles, you play as a powerful god. Your job is to free your believers from the evil god and his minions. You have to advance forward to destroy the obelisk which powers the evil in this world. The game was built to identify the types of game mechanics that could work well with hand-tracking.
So far, the game lacks real challenge and difficulty balancing and focuses more on showcasing a variety of hand interactions instead.
Click here to play Tiny Castles.
Zoe

Price = FREE
Zoe is an interactive learning tool that you can use to create environments and use your imagination in. This App Lab game lets you design, program, and play with interactive experiences that you create.
First, you have to set up your background and scene. Then, you can drag and drop different object models into place. Resize, scale, rotate, and place each model in your scene and decide if they are static or dynamic. Adjust how gravity effects each objects as you interact with it.
Once you are done, Zoe brings your environment to life and you get to play with and interact with your creation. It's a fun and interactive demo of the Oculus Quest's capabilities.
Upcoming App Lab Games
The following games have been confirmed to be on their way to the App Lab from the developers!
Arena Rivals – Multiplayer VR shooting game
Battle Arena – Multiplayer VR shooting game
Beat Smith – VR drumming game with 60 songs!
Crazy Kung Fu – Kung Fu fighting game
Disc Benders: Ace Run – Disc golf game
Evryway Visualiser – Music player visualiser
Flight 74 – VR flight simulator
Flowborne – Meditation in VR
Harvest VR – VR farming simulator
Home Plate Baseball – Baseball simulator and mini-games
Hyperstacks – Action puzzle game
Jigsaw 360 – VR jigsaw puzzle game
Pavlov Shack – Multiplayerr FPS game
Peco Peco – 3D jigsaw puzzles
Perpetuum Mobile – Retro flying game
Realms of Eternity – Action adventure game
Sep's Diner – Cooking simulator
Song Beat – VR rhythm game
Spacewalk VR Experience – Space walk simulator
Speed Cube XR – VR rubik's cube simulator
Tavern Tales – Tabletop RPG creator
The Final Overs – Cricket game
To The Top – Action platformer
Warplanes: WW1 Fighters – War flight simulator
Click here to view other new and upcoming Oculus Quest games from the main store.
What is your favorite Oculus App Lab game? As new are added into the store, we will update our list so that you know which games to check out!