Are you confused about the official Oculus Store vs App Lab vs SideQuest VR for Meta Quest games? In this guide, we will explain the similarities and differences of each option!
We'll go over a bunch of useful things, such as:
What are the pros and cons of each store?
Which store has the best games?
How do you access and browse through each Meta Quest store?
Let us know below where your favorite place to find Meta Quest games is between the Oculus Store vs App Lab vs SideQuest VR!
We'll start below by outlining each store at a high level.
Official Oculus Store
The Oculus Store is the official home to all major VR games for the Oculus/Meta Quest 2 and 1. These games have received a full review from Oculus and have met all quality requirements. Games approved and placed in the store are showcased on the main page, in the Oculus phone app, and searchable within the website. These games regularly appear in bundle or daily deals as well.
Oculus has often been criticized for its strict review guidelines in order for games to appear on the official store. In the past, games approved on the official Rift store have been rejected on the Quest store. Also, independent developers have had a tough time getting their game approved for the store, which favors big brand VR game studios. It is become of these reasons that alternative solutions like the Oculus App Lab and SideQuest VR exist today.
Games sold on the official store are required to give Oculus 30% of their sales.
Click here to read our best Meta Quest games available on the official store.
Oculus App Lab
The Oculus App Lab is a new offering that includes early access games and technology demos that are not yet ready to be approved in the approval store. App Lab games and experience still require Oculus review and approval, but approval times and effort have been reduced.
Compared to the official store, the following development requirements have been removed for App Lab games.
Apps do not have to run for 45 minutes without entering thermal throttling Power Save mode.
Applications that support hand tracking do not require hands that render in the correct position and orientation, and do not need to animate properly.
Apps that support hand tracking do not require hands to be hidden if they are not being tracked or if tracking confidence is low.
App Lab apps do not appear in the official Oculus Store, but they will still appear in the Quest Library alongside those games. Developers who place their game on the App Lab or the official store must still give Oculus their 30% cut for each paid game sold.
Click here to see a complete list of ALL Oculus App Lab games.
Click here to see the best Oculus App Lab games.
SideQuest VR
SideQuest VR is another VR app store for the Meta Quest which houses many early access and beta games to try out and play. Unlike the Oculus Store or App Lab, SideQuest VR is not affiliated with Oculus and is treated completely separate. Before the App Lab was launched by Oculus, SideQuest was the biggest and only other app store for games who could not get official store approval.
SideQuest is available for Windows, Mac, and Linux. Once setup, it comes with some really nice features:
SideQuest has a built-in store where you can quickly sideload a bunch of cool VR apps and demos made by developers.
You can quickly view, alter, and delete all of the apps you currently have sideloaded.
SideQuest has a bunch of smarts built in to it to make sure that you alter your headset safely.
VR games submitted to SideQuest only go through an administrative approval process before they are available in the store. Games can be installed and managed through the SideQuest software when you plug your Meta Quest 2 into your computer via the charging cable.
Click here to see the best SideQuest VR games for the Meta Quest.
Overall, there are some really great games on all three Quest stores. However, Oculus Store vs App Lab vs SideQuest, there are a bunch of small nuances which make each option different. In the next section, we will go over the similarities and differences of each option.
Oculus Store vs App Lab vs SideQuest
Next, let's quickly go over some of the main features, pros and cons of each store.
Installation
Before we even get to the games, let's talk about the installation method depending on if you are on the official Oculus Store vs App Lab vs SideQuest.
The official store and the App Lab are very similar. You can search for and install games from the official Oculus mobile app or from the official store link on your computer. App Lab games do not get any extra promotion from Oculus, so you cannot find those games in the deals, genre, or category pages. Still, once the app page is open, installation is a single click to your headset.
SideQuest is a piece of software that you must install on your computer. First, you have to place your headset into Developer mode so that you can sideload games to it. After that, you have to plug your Meta Quest in to your computer with the standard charging cable. Then, you can launch SideQuest, browse games, and install them to your headset via a single click.
We outline the entire process on how to sideload content to the Quest here.
While only a few extra steps, installing Quest games via SideQuest is not as convenient as either of Oculus' methods.
Advantage: Official Store or App Lab (tie)
Number of Games
So Oculus Store vs App Lab vs SideQuest, where are the Meta Quest games located? As of the the end of March 2021, the numbers look something like this:
Official Store = Over 400
App Lab = Over 1000
SideQuest = Over 2000
99% of the apps located on the App Lab are also on SideQuest as well. The SideQuest install link to those apps redirect you to the App Lab where you can install games easier (see above).
So if you are interested in purely the number of titles, then SideQuest has the most. The SideQuest website was recently updated to make browsing VR games easier. The website has dozens of categories to explore, depending on what type of VR game you want to play.
Advantage: SideQuest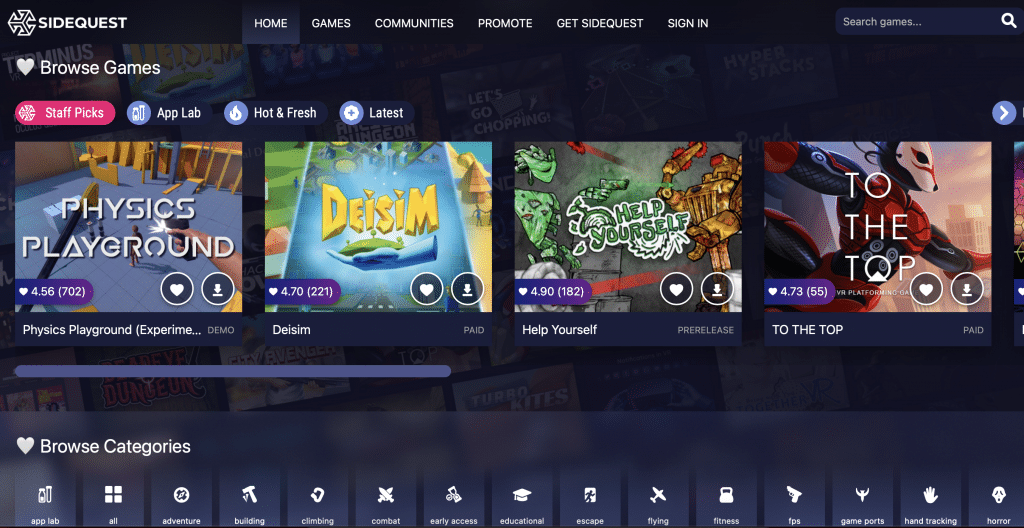 Quality of Games
As you saw above, SideQuest has the largest number of games for the Quest on its platform. However with no real approval process, the quality of games on the store is not always high. SideQuest contains a lot of tech demos to showcase the possibilities of virtual reality.
The introduction of the App Lab further decreases the average quality of game on SideQuest. This is because Oculus has an additional review process for App Lab games and only accepts those which are polished and development to a certain bar. Many of the games approved for the App Lab were on our top SideQuest games list and were recognized as being top-tier in quality.
The highest quality of Meta Quest games can be found on the official Oculus Store. The official store is where all legitimate VR game studios target for game distribution. Many of the titles in the official store were developed alongside Oculus.
Independent games do a good job of showcasing technology, but the time and resources put into titles like Population: ONE, The Walking Dead: Saints and Sinners, or OrbusVR are on a whole other level.
Advantage: Official Store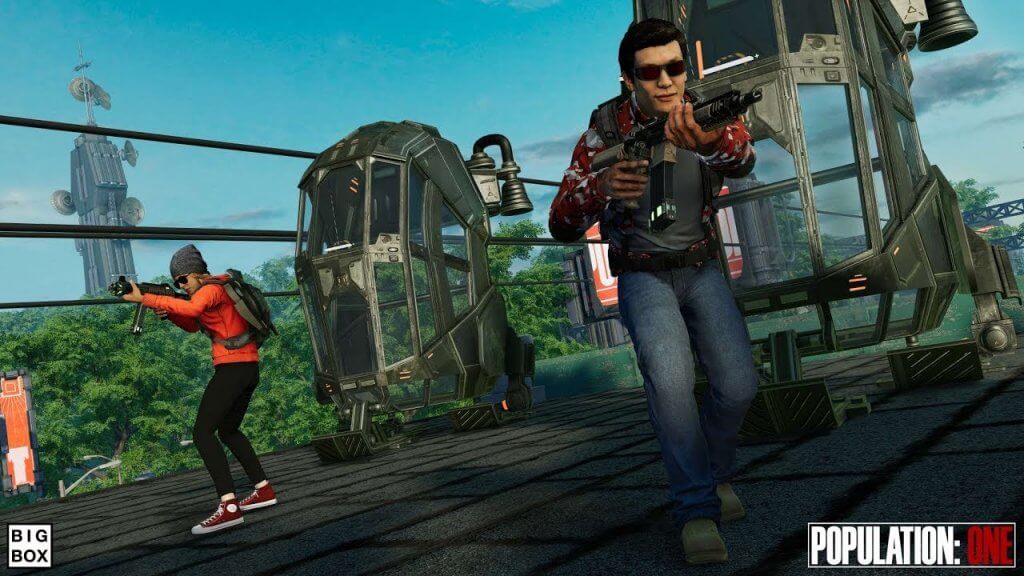 Ease of Access
When you set up your Oculus headset for the first time, the official app will take you to the official store. You can browse and download games with a few short clicks and they automatically install to your headset.
From within the same official app, you can search for App Lab games by exact name search only. So if you know the name of a game, you can search for it, find the store listing, and install it easily. Oculus does not advertise App Lab games within their app or store.
If you don't know the exact name of the App Lab game you want, then you won't be able to find it. It's one of the reasons we keep our list of complete App Lab games up to date for visitors to browse.
SideQuest VR also allows you to install games with a few button clicks. However, there are two main caveats:
You must have SideQuest installed on your computer.
Your Oculus/Meta Quest headset has to be plugged into your computer.
If you only have your phone, there is no easy way to install SideQuest games on your headset.
Overall, the extra publicity and mobile access to games on the official Oculus Store is much better vs SideQuest and App Lab.
Advantage: Official Store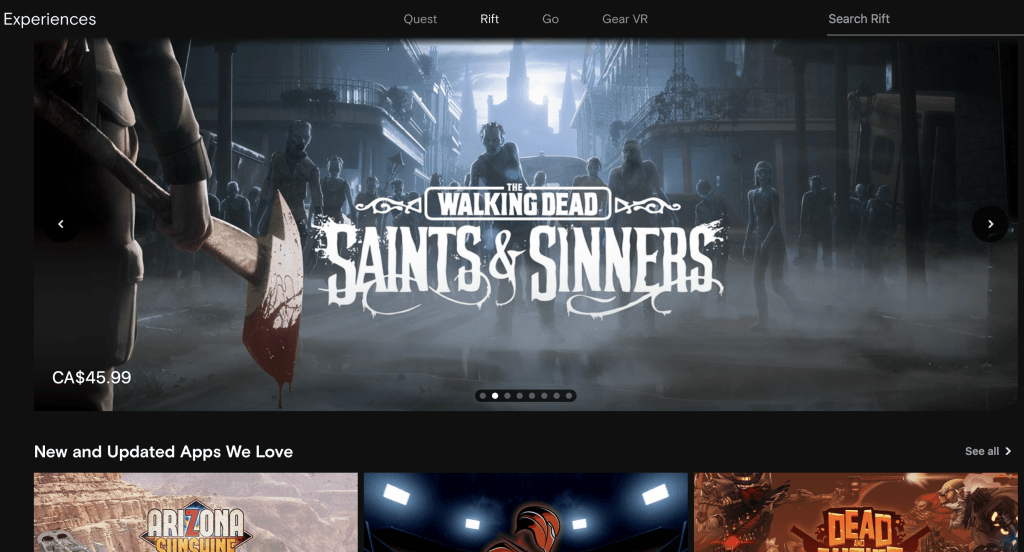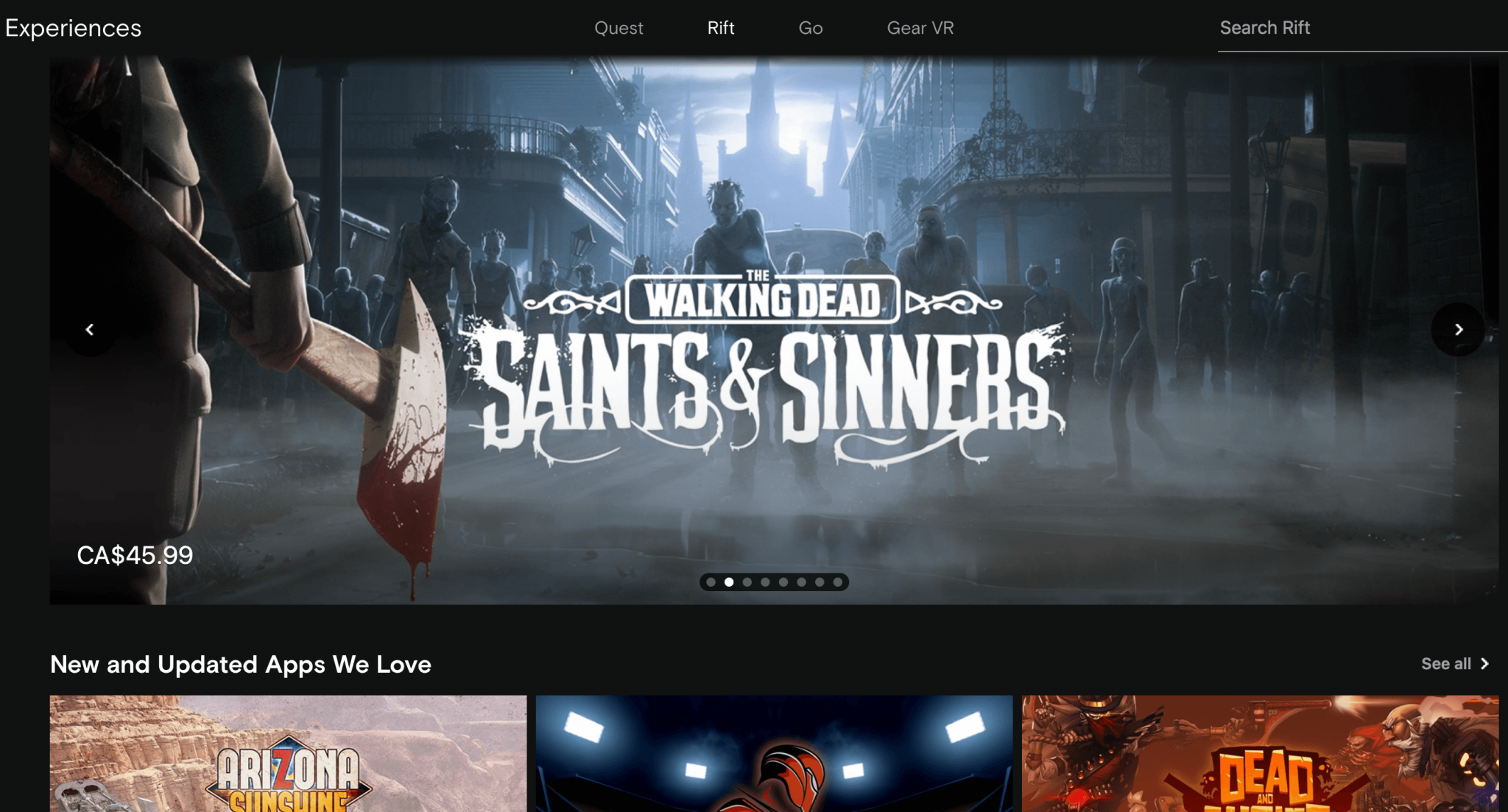 Newest Games
A lot of new and in-production VR games choose to launch on the SideQuest store first. Approval is almost instant and it is a great way to get user feedback.
Oculus has been known to take months to review new games submitted into the official Store. Likewise, there are App Lab games submitted on day one which are still waiting for approval and listing.
However, giving the advantage for the newest games to SideQuest vs Oculus Store or App Lab might be a bit premature. Oculus' strict review process means that its newest games meet a certain bar for quality.
So if you aren't interested in technology demos or unfinished games, then it is best to stick to the official store for content.
Advantage: It depends.
Safety and Security
A lot of people ask us questions like is App Lab safe? Or, is SideQuest legit?
The answer to both is yes! The App Lab is run by Meta and is official. SideQuest is a reputable third party app store that has partnered with Meta to promote and feature new VR games. Both of these stores, in addition to the official store, are legitimate and safe to use.
Advantage: None
Conclusion
Hopefully we've done a good job comparing the Oculus Store vs App Lab vs SideQuest VR.
For overall quality and big studio games, plus easy installation, check out the official Oculus Store.
For the top rated indie games who have graduated from early development in an "almost there" state, check out the App Lab.
For the latest VR demos and largest variety of games to play, check out SideQuest VR/
Between the official Oculus Store vs App Lab vs SideQuest, where do you like to find new Meta Quest games? Comment below and tell us what game you have played recently!
Follow us on Twitter for new augmented and virtual reality news.
Subscribe to us today for free and get 101+ VR tips in your inbox! These tips cover everything from getting started in VR to hardware and software tricks and specific game help.