Netflix is the number one streaming app for movies and TV shows. But, can you watch Netflix in virtual reality using a VR headset like the Oculus Rift, Oculus Quest 2, or PC VR headsets (HP Reverb G2, HTC Vive, Valve Index)?
Yes!
In this guide, we'll show you how to install, setup, and watch Netflix VR no matter what hardware you have. We'll go over the Netflix VR app and how to set things up right. It is updated for 2021 for the best VR headsets today.
Comment down at the bottom of this guide if you are having any trouble.
What is Netflix VR?
Netflix VR is an app that lets users stream Netflix's catalog of movies and TV shows through their virtual reality headset.
Unlike the regular app interface, the Netflix VR app is optimized for watching in a headset. Once you are setup, you can watch Netflix in virtual reality easily. If you are wearing a wireless headset such as the Oculus Quest 1 or Quest 2, you can sit anywhere you want in your home.
Living Room Mode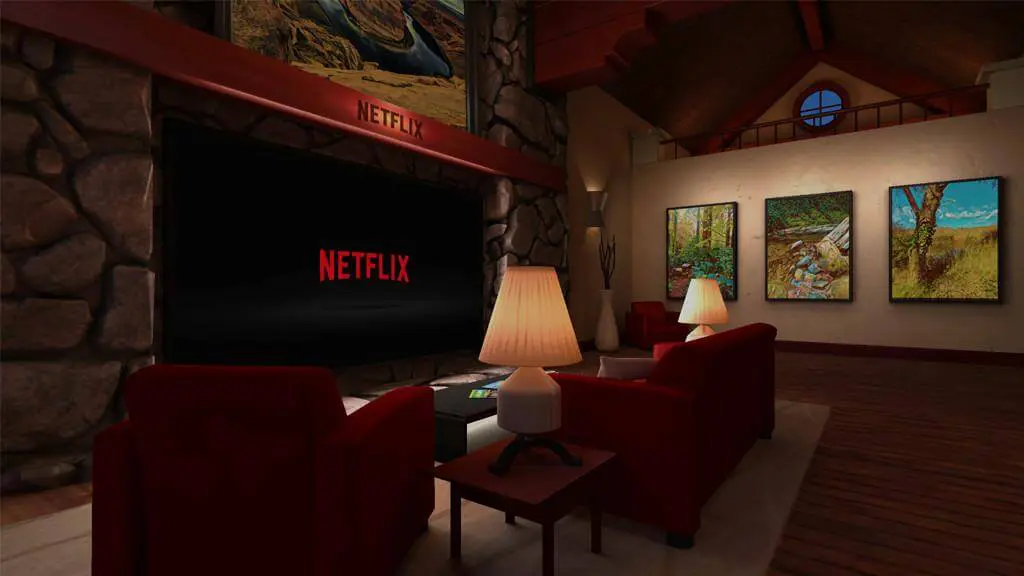 One of the features in the app is a living room mode. It places you in a virtual living room with a TV screen over top of a fireplace. When you wear your headset, you sit on the couch and can look around the area.
In living room mode, you have to sit upright and look straight ahead. If you lay down, you'll be looking up at the virtual ceiling as well.
Void Mode
Void mode is the second option for watching Netflix in virtual reality. In this mode, you stare into black space. Video is streamed to each of your eyes up close and personal.
Video Quality
The video quality of Netflix VR is capped at 480p video quality. At first glance, this seems like a big disadvantage to watching Netflix with VR hardware. However, remember that the screen resolution for virtual reality is much lower and that the screen sits inches from your eyes.
Overall, the number of pixels in virtual reality is similar to what you see through your HD TV.
In recent months, Oculus Quest users have been asking John Carmack, former CTO of Oculus, about a possible update to the Netflix app for VR. John has left the door open to an upgrade in the future.
Which VR Headsets Can you Watch Netflix On?
Here are all of the VR headsets that have official compatibility with Netflix VR:
Oculus Rift S
Oculus Quest 2 and 1
Samsung Gear
Google Daydream
Google Cardboard
In addition to the official app, you can still watch Netflix on other PC VR headsets with a desktop mirror app like Big Screen VR. In this way, you can watch on headsets such as:
Instructions for using either method are down below. Next, we will show you how to install Netflix and get setup in virtual reality.
How to Install Netflix on the Oculus Rift S and Oculus Quest (2 or 1)
The instructions below also work for non-support VR headsets like the Oculus Go and Samsung Gear VR.
The instructions to install Netflix VR on an Oculus VR headsets is the same for all of the headsets above.
Launch the Oculus App on your phone.
Search for Netflix
Click on the Netflix icon in your search result.
Click on Install
The Netflix Oculus Rift app is the same as the Netflix Oculus Quest app and provides all of the same features.
If you didn't know already, Samsung Gear VR is powered by Oculus.
How to Install Netflix VR on the Google Daydream
Open up the Google Play Store app
Use the search button (magnifying glass) to search for Netflix VR
Click on the Netflix VR app in the search result
Tap Free to download the app
Press OK when prompted
How to Watch Netflix in Virtual Reality (VR)
After you've installed the app on a VR headset above, here is how you watch a movie or TV show.
Launch the Netflix VR app. If it's your first time, you'll be asked to enter your Netflix username and password in order to log in.
When Netflix opens, you'll be sitting on couch in a virtual living room. On the TV in front of you is the same Netflix interface you see on any other device.
Select your user (if you have multiple ones setup on Netflix). The regular Netflix home screen will open.
Navigate and pick your TV show or movie.
When you hit Play, your virtual living room dims around you and the show starts playing.
If it sounds easy to watch Netflix in virtual reality, that's because it is! The only thing else to know is how to switch between living room and void mode. We cover that below.
How to Watch Netflix VR on PC VR Headsets (HTC Vive, Valve Index, HP Reverb G2)
Steam VR doesn't have a native Netflix VR app available to install. However, PC-based virtual reality headsets can still watch Netflix in virtual reality! To watch Netflix on the HTC Vive, you need to download a desktop sharing app such as Bigscreen VR or Virtual Desktop.
These apps lets you mirror your computer desktop in virtual reality. You won't get living room mode, but you will be apple to watch Netflix in virtual reality with your headset on. The experience is similar to what you get with the Netflix VR app.
To get setup, follow these instructions:
Download and Install either Bigscreen VR or Virtual Desktop.
Launch your app and make sure your desktop screen is mirrored in your VR headset.
Open up a web browser on your computer. Chrome is recommended.
Go to the Netflix website and log in with your credentials.
Find a movie or TV show to watch and place it into full screen mode.
Put your VR headset back on your head and watch!
How to Switch Between Living Room and Void Mode
In the Oculus Netflix VR app, here is how you switch between Living Room and Void Mode.
When you are sitting in your virtual living room, look up at the ceiling.
Click on Void Theater to change to Void mode.
The Netflix video now floats in front of you without the living room setting.
Once you are in Void mode, you can switch back to Living Room mode or change to Travel mode. Travel mode is the same as void mode, but the screen is fixed to the middle of your eyesight. Try both out to see which method you prefer for watching Netflix in virtual reality.
Does Netflix Have Any VR Movies?
No, Netflix does not have any movies that are specifically made for virtual reality. All of the movies and TV shows in Netflix are standard 2D and will be broadcast this way. Netflix does not have any 3D movies anymore either. It used to catalog 3D films, but phased them out after the technology was phased out of HD televisions.
What do you think of watching Netflix in virtual reality? Comment down below and let us know what improvements you hope are made to the Netflix VR app!