Oculus are the industry leaders in VR headsets. In this guide, we compare the Oculus Quest vs Oculus Rift S. We'll also take a look at the Oculus Go. We want to help you determine which virtual reality headset is the best to buy.
We know that a lot of people are currently stuck inside due to the Covid-19 pandemic. We want to help you pick the right VR headset and then show you where you can buy it at this time.
Relax, we are here to answer all these questions and help you decide which VR headset is best for you.
Let's get started.
Other VR headset comparisons to check out (links will open in a new window):
Once you have your Oculus headset, go and check out over 101 of the best VR tips all users who know.
Oculus Quest vs Rift S vs Go Quick Summary
The Oculus Quest is a fully wireless VR headset with the full range of freedom (also known as 6DOF). If you are looking at the Oculus Quest vs Rift S, the Quest does not require a connection to a nearby PC. It runs on the Android operating system and the number of compatible games has grown big time in the last year.
The Oculus Rift S is the second generation of the original VR headset. A PC is required to use the Rift S, but it provides the most advanced virtual reality solution on the market today.
The Oculus Go is another wireless VR headset with more limited VR capabilities but at a much lower price. It favors those looking to stream video and sit in place rather than interactively move around. In spring of 2020, Oculus discontinued the Go officially. This was done in order to put more focus on the Oculus Quest as the wireless headset of choice. You can still buy the Oculus Go from third party retailers, but long-term hardware and software support for the device will decrease.
Where to Buy the Oculus Quest, Rift S & Go VR Headsets
Due to the Coronavirus COVID-19 pandemic, sales of VR headsets have gone through the roof! Listed below are the best spots to buy an Oculus headset.
If you know of another place with stock, comment at the bottom of this guide and provide a link for others!
Official Website
Amazon
Amazon Marketplace
The Oculus Go has been officially discontinued by Oculus, so it's availability is hit and miss.
If you are struggling to choose between the Oculus Go, Quest, and the Rift S, we have you covered. Is it worth spending more on the Quest? Is the Go a real VR experience? What computer should I buy with the Oculus Rift S?
Oculus Quest vs Rift S vs Go Price
The price of each Oculus headset in USD is as follows:
Oculus Quest Price = $399
Oculus Rift S Price = $399
Oculus Go Price = $199
The Oculus Go lacks some specific features that make its price cheaper than the others. However, with the Oculus Quest and Rift S starting at the same price, it's important to know the differences in each.
We'll explain more below in our Specs area for each VR headset.
Oculus VR Headset Release Dates
The original Oculus Go Rift headset (now called the CV1) was released on March 28, 2016. It was discontinued in 2019 when the Rift S model was announced. You can still find used Oculus Rift CV1 headsets on secondary markets like Kijiji and Craigslist.
The Oculus Go was announced on October 11, 2017 and released on May 1, 2018 for purchase. By July 2019, the Go was estimated to have sold over two million units. In May of 2020, Oculus announced its intention to discontinue the Oculus Go. It is believed that the company is working on an updated Oculus Quest and may discount the current Quest down to a price point similar to the Oculus Go.
The Oculus Rift S was officially released on May 21, 2019, alongside its wireless sibling, the Oculus Quest.
It is believed that an updated Oculus Quest model is due for release in the fall of 2020. Our news and rumor guide for the Oculus Quest 2 has more information.
The three models each have some specific similarities and differences, which we will discuss below!
Oculus Quest vs Rift S vs Go Summary
Oculus Rift S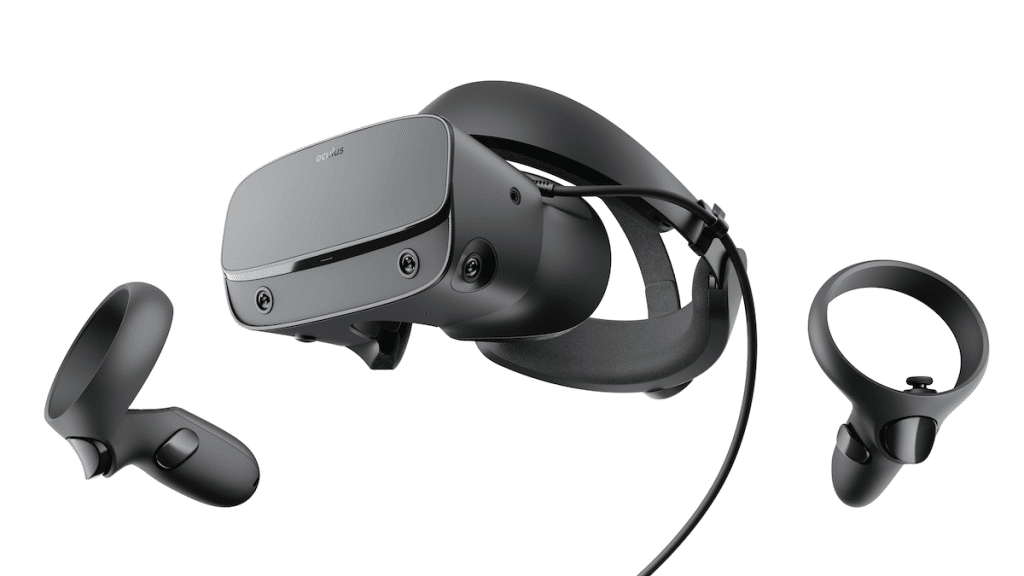 The Oculus Rift S is a tethered VR headset that must connect to a nearby PC computer. It is the second generation of the original Oculus Rift, the CV1.
The Oculus Rift S streamlines and improves several things over the original. It has a higher-resolution screen and lighter Oculus Touch controllers.
More importantly, it features a series of outward-facing cameras that allow six-degrees-of-freedom (6DOF) movement tracking. This tracking is done without using external sensors that need to be placed around you.
6DOF connects to PCs over DisplayPort and not HDMI, so some gaming laptops are incompatible.
Overall, the Rift S is the flagship VR headset. Your overall price is misleading, since you must purchase a compatible PC in addition to the headset. At the bottom of this guide, we list some Oculus Rift S compatible computers.
Oculus Quest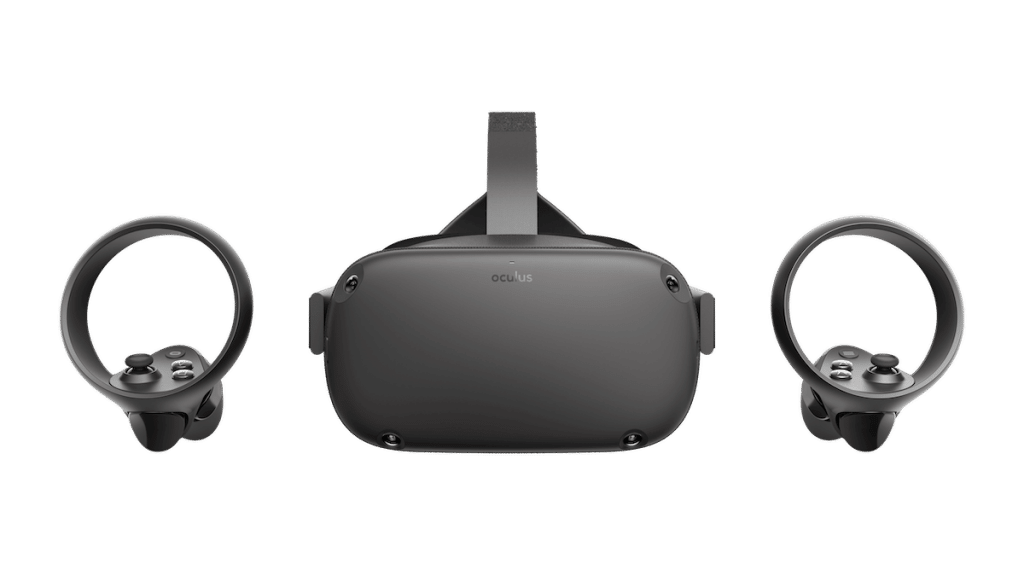 The Oculus Quest is a standalone headset that runs on the Android platform. The Oculus Go also runs on Android, but the Quest has more features to justify the price increase.
Like the Rift S, the Quest uses cameras to provide 6DOF motion tracking. The Oculus Quest also uses the same Touch controllers.
The Quest features a Qualcomm Snapdragon 835 processor and a higher display resolution. It doesn't have the same graphical capabilities as the Rift S, which uses the PC graphics card.
As a standalone headset, the Oculus Quest is a really nice choice. It has quickly become the fastest selling VR headset of all time. An upcoming update, called the Oculus Quest 2, will improve the standalone functionality even further.
Oculus Go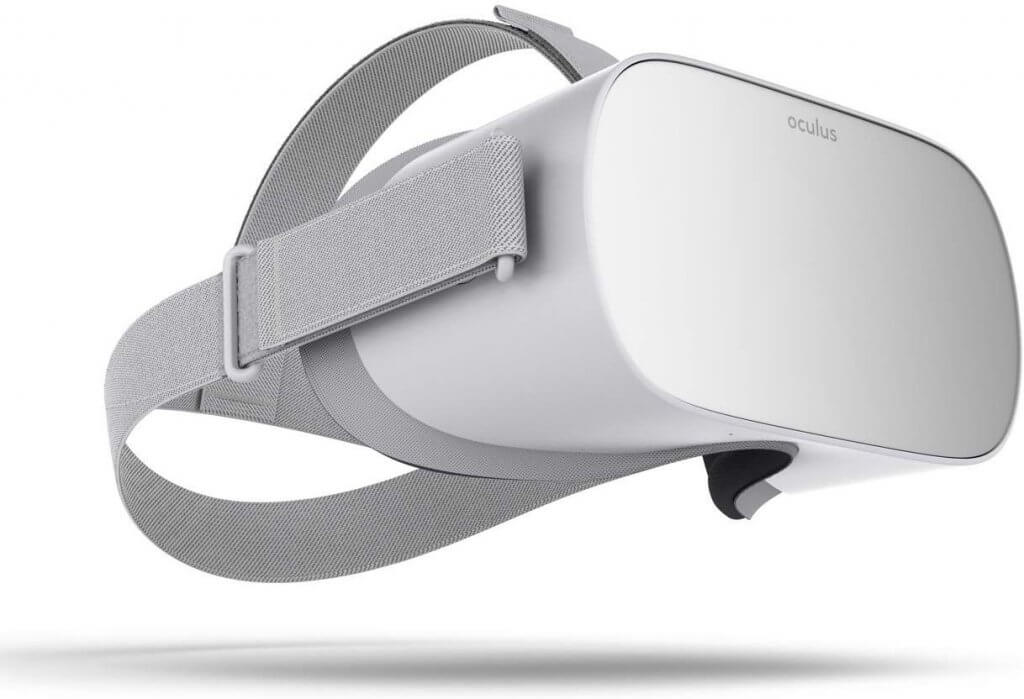 The Oculus Go is the entry-level VR headset. It also runs on Android and does not need any standalone PC.
Unlike the Quest, the Oculus Go has a lower display resolution and a Snapdragon 821 processor.
The Oculus Go does not provide 6DOF capabilities. It is a fixed display virtual reality headset. This means that you cannot look around your field of vision when playing games on it.
The Oculus Go can be played while sitting down in one place. It is also fine for streaming virtual reality videos.
Now that you know the Oculus Quest vs Rift S vs Go headset differences, we will take a look at their specifications. This way, you can see in detail what the differences are for each.
Oculus Quest vs Rift S vs Go Specifications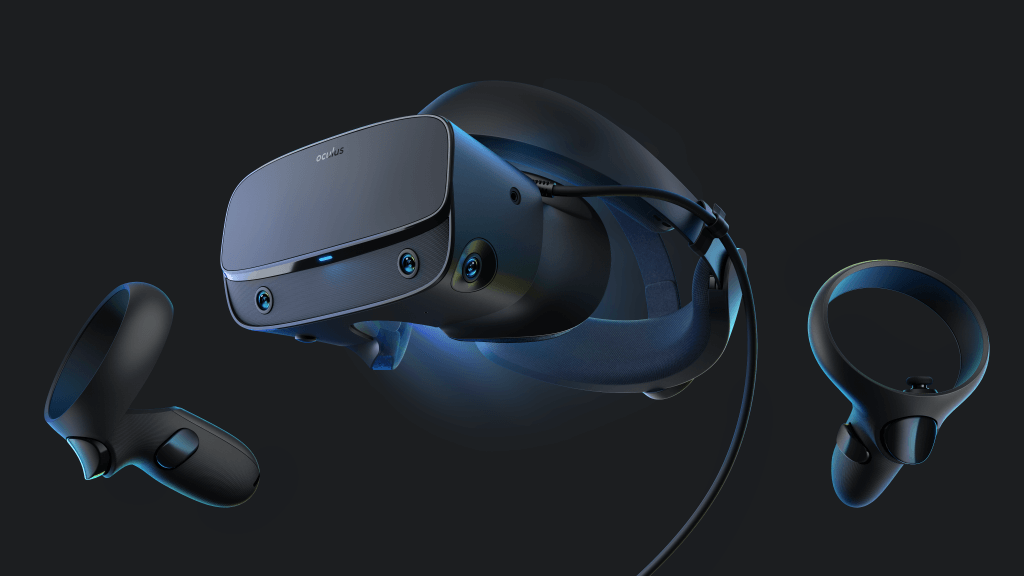 The table below explains the similarities and differences between all 3 Oculus VR headsets. Underneath the table we point out some important facts!
| Specifications | Oculus Go | Oculus Quest | Oculus Rift S |
| --- | --- | --- | --- |
| Display resolution | 2560×1440 LCD | 2880×1600 OLED | 2560×1440 LCD |
| Refresh rate | 60Hz | 72Hz | 80Hz |
| IPD | Software | Manual | Software |
| Audio | Integrated 3.5mm jack | Integrated 3.5mm jack | Integrated 3.5mm jack |
| Tracking | Orientational tracking | Oculus insight 4 sensors | Oculus insight 5 sensors |
| Hand Tracking | Yes | In preview | No |
| Degrees of Freedom (DoF) | 3 DoF | 6 DoF | 6 DoF |
| Controllers | Updated Touch | Updated Touch | Updated Touch |
| PC requirements | None | None | Same as Rift CV1 |
| Cable | None | None | 5 meters Display Port 1.2 USB-A 3.0 |
Oculus VR Resolution
The Oculus Quest resolution is higher than the Go or Rift S. All three displays are gorgeous, but the Quest is more crisp.
One other advantage of the Oculus Quest's resolution is that it is an OLED screen. OLED provides a brighter and higher contract display verses traditional LCD.
The Oculus Go resolution and Oculus Rift S resolution is identical at 2560×1440.
The Oculus Rift S has the highest refresh rate out of the three headsets. This means that motion and fast moving objects is rendered the smoothest.
In terms of Oculus Quest vs Rift S vs Go, we like the solution on the Oculus Quest the best.
Interpupillary Distance (IPD)
Interpupillary Distane is an important factor for virtual reality players. IPD is the distance between your eyes and the mean average for the world is 63.5mm.
However, different races and genders can have different IPD distances. Therefore, users like to have an adjustable IPD in their VR headset.
Only the Oculus Quest has a manually adjustable IPD. You can only adjust the IPD in the Oculus Go and Rift S in the software. Software IPD adjusts the video on the fly, which is a lesser solution.
Degrees of Freedom
In order to keep track of your position in 3-dimensional space, a virtual reality headset has multiple outer facing cameras. The Oculus Quest and Rift S both contain 6 degrees of freedom.
6DOF allows you to move around your room freely and have your virtual reality game render your position correct.
The Oculus Go does not contain 6DOF and you cannot look around and navigate around your room. This is a key disadvantage for playing virtual reality games on the Go headset. The Oculus Go is better for streaming video and staying stationary on your couch.
Standalone VR Headset
The traditional virtual reality headset is reliant on a nearby PC computer to render its graphics and play games off of. The Oculus Rift S still depends on a Windows PC. This has two main advantages:
There is a larger collection of virtual reality games and apps for Windows.
Your can also download and play SteamVR games.
The Oculus Quest and Go are both standalone VR headsets that run on the Android operating system. When they were first released, this was a negative because there weren't that many android VR games available.
Today, most new virtual reality games and apps are compatible with both Android and Windows.
The ability to use the Oculus Go and Quest without a tethered cord is a big win for casual players. These heads are easily to pickup and play fast.
Hopefully this gives you a give you a good idea of the Oculus Quest vs Rift S vs Go specifications.
Oculus Go Vs Oculus Quest Vs Oculus Rift S Reviews
Oculus Go Review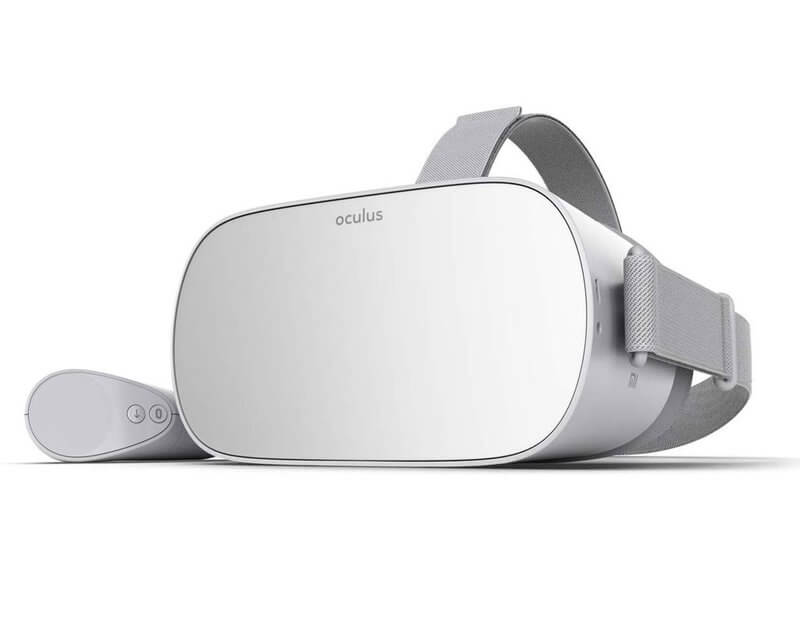 The Oculus Go is a funny product. If you've been following virtual reality closely it seems like a step back. Unlike the PC-connected Oculus Rift, it won't let you walk around or grab things. It's much simpler. In fact, it's exactly like those VR headsets for phones, the Samsung Gear VR and Google Daydream View.
The difference with the Oculus Go is that you don't need to connect anything else at all. After you've set it up with your phone, the Go is completely standalone. The functional pistol-grip Oculus controller is included in the box.
Pros
A completely self-contained, standalone, no-phone-or-PC-necessary VR system
Comfortable design and feel
Sharp-looking display and effective built-in speakers with spatial audio
Oculus setup app works with iOS and Android phones
Connects for social chats with Go, Gear VR and Oculus Rift owners.
Cons
Only has a two-hour battery life
It's a sit-down experience (no room tracking)
No expandable storage
No kid-safe settings
Lacks multiple account options.
Oculus Quest Review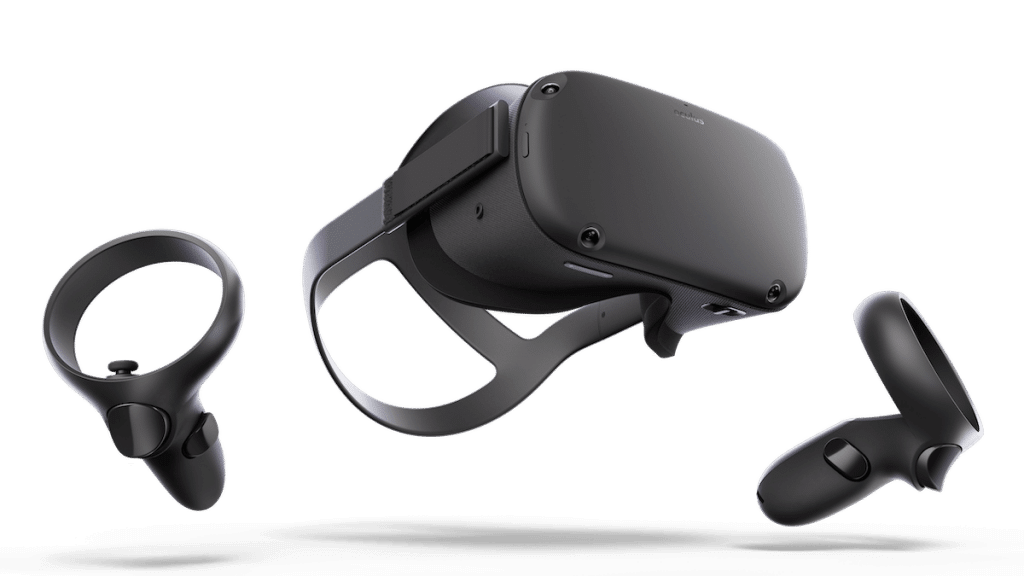 The Oculus Quest is Oculus' premium standalone VR headset. Like the Oculus Go, it's got a standalone design, which means it doesn't connect to a phone or PC.
Where the Oculus Go is meant for stationary TV or movie viewing, the Oculus Quest is a gaming device. It includes dual hand controllers instead of a single remote. The Quest is studded with four wide-angle tracking cameras, which let users walk around a fairly large space.
It supports some of the Rift's most popular experiences, including the rhythm game Beat Saber, rock-climbing title The Climb, and shooter Robo Recall.
Pros
New inside-out tracking works well
Convenient tetherless design
Supports some of the best VR games
Doesn't require additional hardware
Cons
Less powerful than wired headsets
Sometimes uncomfortable
More expensive than non-VR consoles
Oculus Rift S Review
The Oculus Rift S is the most premium Oculus headset on the market. The Rift S has a smart and comfortable design and an immersive display. Through the Windows Store and SteamVR, there are a wide selection of games and apps.
This is a great VR headset option if you already own a gaming PC. Playing SteamVR games on the Oculus Rift S could be a little easier, but it works great when setup.
Overall, the Oculus Rift S is the best VR headset for the money you can buy right now.
Pros
Smart, comfortable design
Wide selection of games and apps
Clearer picture with less "screen door" effect
Easily adjustable
High-resolution displays
Inside-out tracking
No need for external sensors.
Cons
Controllers could be more ergonomic
Still a tethered experience
Long cable is inflexible and gets kinked easily
Best Oculus VR Headset Games
The virtual reality games that can be played on each Oculus headset is different. Oculus manages three separate games stores for each headset.
We've created multiple guides in order to help you find some of the best VR games for each headset:
Final Words: Oculus Quest vs Rift S vs Go
If you're new to VR and want to give it a try, then you should absolutely get the Oculus Go. It's affordable, and you're getting a lot of good stuff for just around $200.
The Oculus Go headset is light and comfortable to wear. For the price, Oculus Go gives its tethered older brother Oculus Rift a run for its money.
The Oculus Rift S is a replacement for the original Rift CV1, so it requires a connected PC to power it. It doesn't have manual interpupillary distance (IPD) adjustment, but it does bring full access to original Rift titles.
The Rift S has an Insight tracking system with five sensors and it offers the higher refresh rate at 80 Hz.
If you don't have a PC to power a VR headset, the Oculus Quest is no doubt the right pick. It's powered by a self-contained Snapdragon 835 processor (CPU) and has a higher resolution for its dual OLED displays.
The IPD can be adjusted manually, allowing a broader range of users to find something comfortable.
Once again, here is where you can buy the Oculus Go, Quest, and Rift S:
Official Website
Amazon
Amazon Marketplace
What's your experience using any of these virtual reality headsets? Use the comment box below to share your thoughts with us!