What is the best HTC Vive VR headset to buy? Between the original HTC Vive vs Vive Pro vs Vive Eye vs Vive Cosmos, we break each headset down in this ultimate guide.
HTC is an innovation company, creating powerful new products, solutions, and platforms in immersive technologies. HTC began with a vision to put a personal computer in PC enthusiasts' hands. Then, they led the way in the evolution from palm PC to smartphone. Now, they are applying that same innovative approach to connected devices and virtual reality.
HTC VR headsets deliver one of the best virtual reality experiences at professional-grade quality. Whether business or gaming, HTC VR headsets are capable of delivering sharp graphics and full quality.
Read on to see which Vive you should buy today.
Other VR headset comparisons to check out (links will open in a new window):
HTC Vive – Quick Summary
The HTC Vive is a proven VR system that includes motion controllers and precise external tracking. Dual AMOLED displays have a combined 2160×1200 resolution, 90Hz refresh rate, and 100-degree field-of-view (FOV) for excellent picture. It costs far less than a Vive Pro, making it a better choice for most people.
The HTC Vive Pro has dual AMOLED displays with a combined 2880×1600 resolution, giving it a much clearer picture. The robust headband includes built-in headphones and updated external Lighthouses allow for a larger play area. With the elevated price in mind, it's the better option for developers and power users.
Unlike the original HTC Vive, the Cosmos doesn't require external sensors and uses fully tracked motion controllers. The Cosmos has a combined 2,880 by 1,700 resolution and there's a 110-degree field-of-view alongside a 90Hz refresh rate. The Vive Pro and Vive Eye are the same except that the Eye has some extra technology for eye tracking.
Where to Buy an HTC VR Headsets
You can get any of these headsets on through Amazon. Click the links below to view each VR headset directly:
HTV Vive Vs Vive Pro Vs Vive Eye Vs Vive Cosmos
Price
The breakdown in price for each HTC Vive VR headset is as follows:
HTC Vive = $499
HTC Vive Pro = $1,399
HTC Vive Eye = $1,599
HTC Vive Cosmos = $699
Release Date
The HTC Vive was announced on April 5, 2016. The Vive Pro was announced and released about two years after that.The HTC Vive Pro Eye was released on June 6, 2019. The HTC Vive Cosmos was released on October 3, 2019. It's available to buy in its base package that includes a six-camera tracking face plate for $699.99.
HTV Vive Vs Vive Pro Vs Vive Eye Vs Vive Cosmos VR Specifications
| Specification | HTC Vive | Vive Pro | Vive Eye | Vive Cosmos |
| --- | --- | --- | --- | --- |
| Display | Dual AMOLED3.5 inches | Dual AMOLED3.5 inches | Dual OLED 3.5″ diagonal | Dual LCD |
| Resolution | 2160×1200 (combined) | 2880×1600 (combined) | 1440 x 1600 pixels per eye (2880 x 1600 pixels combined) | 2,880 x 1,700 (combined) |
| PPI | 448 | 615 | 615 | |
| FOV | 110 degrees | 110 degrees | 110 degrees | 110 degrees |
| Refresh Rate | 90 Hz | 90 Hz | 90 Hz | 90 Hz |
| IPD | Manual | Manual | Manual | Manual |
| Audio | 3.5mm jack | Integrated | High-impedance headphone supportEnhanced headphone ergonomics | Integrated |
| Tracking | ExternalSteamVR Tracking 1.0 | ExternalSteamVR Tracking 2.0 | SteamVR Tracking, G-sensor, gyroscope, proximity, IPD sensor, eye tracking | Internal (six sensors)ExternalSteamVR Tracking 1.0 or 2.0 |
HTC VR Headsets Reviews
HTC Vive Review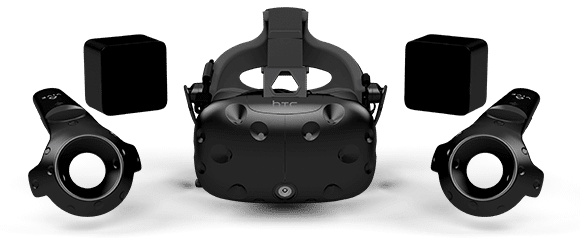 The HTC Vive is the original headset. It was released in 2016 and quickly became one of the top headsets on the market. The Vive features high end technology, wireless controllers for each hand and realistic interactions during all games. Some people think the price is too high on this 4 year old headset.
Overall, the HTC Vive delivers an unrivaled virtual-reality experience with crisp graphics, accurate room tracking and intuitive touch-enabled controllers. You'll need the room space to use it efficiently.
Pros
Accurate room tracking technology
Smooth graphics with little latency
Touch controllers are easy to use and highly adaptable
Large library of games
Cons
Requires a lot of space and electrical outlets to use
No built-in audio
SteamVR Interface can be difficult to navigate
Vive Pro Review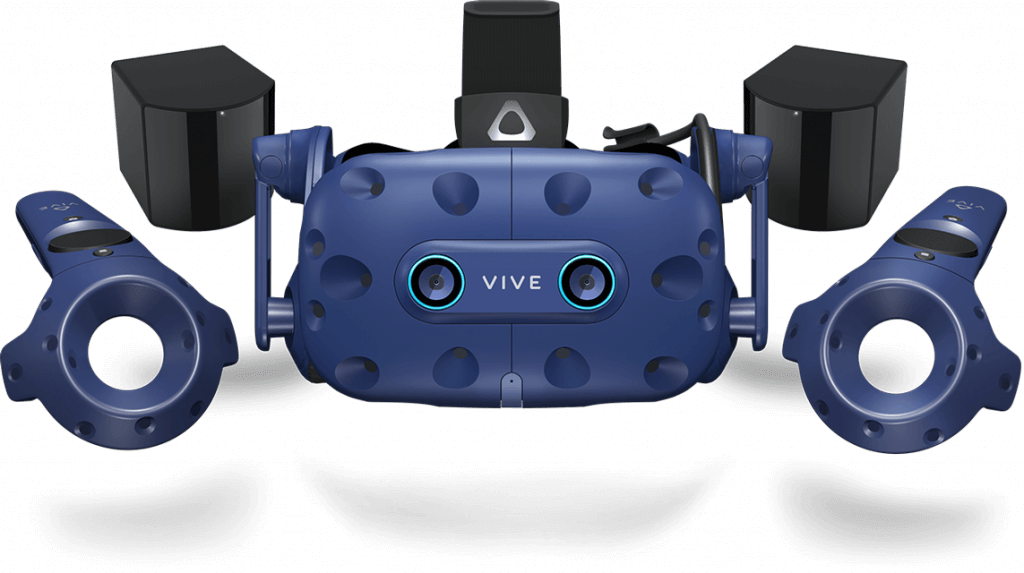 HTC Vive used CES 2018 to reveal a brand-new HTC Vive headset with improved resolution, smoother tracking and new features. Known as the HTC Vive Pro, it's primarily aimed at improving VR experiences for those really wanting the absolute best out of their headsets.
The Vive Pro has a 2,880 by 1,600 pixel display split across two eyes. It contains a new headband that contains a Deluxe Audio Strap and two front-facing cameras.
The Vive and Vive Pro run on exactly the same specifications and hardware. You can buy the original or the new Pro and you'll be set in the future.
The HTC Vive Pro is one of the most popular headsets being adopted by businesses.
Pros
Higher-resolution displays for better picture
Comfortable build with built-in headphones
Updated tracking for larger play area
Wireless adapter available
Cons
Far more expensive that the original Vive
Requires better PC hardware
Vive Pro Eye Review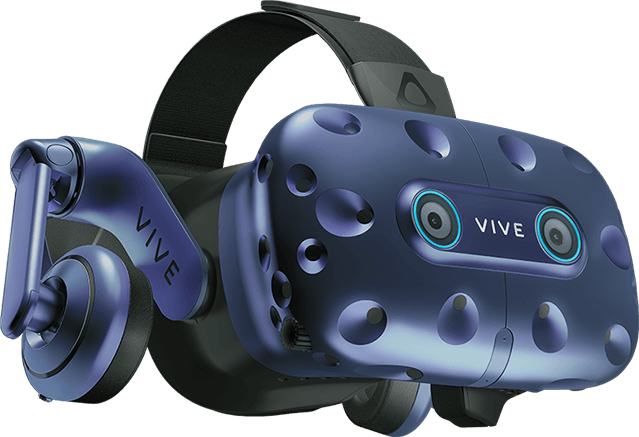 Like we mentioned earlier, the Vive Pro and HTC Vive Pro Eye are the same except that the Eye has some extra technology for eye tracking. The Vive Pro Eye's "precision eye-tracking technology," is especially helpful for businesses. It enhances product simulations in an effort to better understand what their customers see and experience.
Other features of the Vive Pro Eye headset include heat-mapping, "gaze-oriented menu navigation," and virtual collaboration enhancements. The Vive Pro Eye's heat-mapping feature allows businesses to track the locations of their users' gaze as they interact in a given simulation.
Whether you need the Vive Pro or not depends on how realistic you need your virtual reality headset to perform. It's a step ahead of most other experiences in virtual reality, but future-proofed for the next few years.
Vive Cosmos Review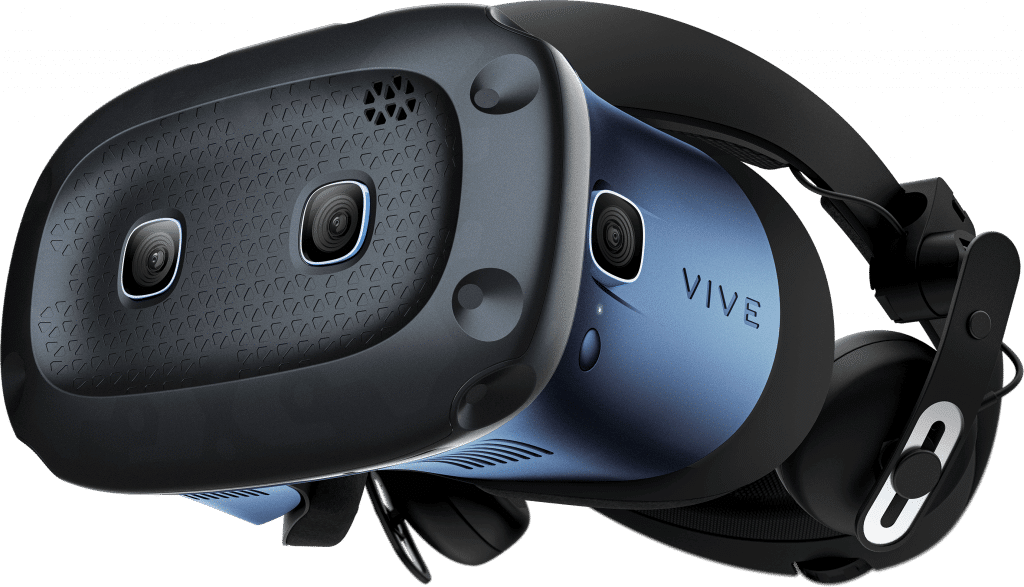 The Vive Cosmos is HTC's latest VR headset. It presents a significant upgrade from both the original Vive and Vive Pro. It completely does away with any need for external sensors,and its redesigned motion controllers are a big step forward. However, its $699 price is hard to stomach when the Oculus Rift S can be had for $399.
As a PC-powered, tethered headset, you still have to wrestle with a clunky cable while you play around in virtual reality. If you get the chance to use the completely standalone Oculus Quest, it's hard to comfortably go back.
The Vive Cosmos displays a 1,700-by-1,440-pixel resolution picture to each eye, edging out the HTC Vive Pro's 1,600-by-1,440 resolution. A 90Hz refresh rate matches other headsets and keeps movement smooth.
Pros
Doesn't require external sensors
Improved motion controls
Sharp display
Large software library with Viveport and SteamVR.
Cons
Clunky cable
Requires a full-size DisplayPort 1.2 port
Best HTC VR Headset Games
Below is a list of the most popular games you can play on an HTC VR headset:
Beat Saber
Half-Life: Alyx
Job Simulator
Superhot
Tilt Brush
Arizona Sunshine
The Lab
Elite Dangerous
Moss
Star Trek: Bridge Crew
Eve: Valkyrie
Batman: Arkham VR
HTC Vive vs Oculus Rift
If you are looking to buy a VR headset, then HTC and Oculus are the two most popular options on the market. Below is a quick breakdown between the HTC and Oculus VR headsets. Check out our full Oculus headset guide for full information.
The original Oculus Rift and Rift S are more or less comparable to the HTC Vive and Vive Pro. The Vive requires external sensors for maximum accuracy, but also carries a higher price tag.
The HTC Vive Cosmos is very similar to the Oculus Quest. No external sensors are required. The biggest difference between the two is that the Vive Cosmos requires a connection to a PC, but the Quest does not. The Quest is also an Android based system instead of a traditional Windows system.
The Oculus Go is lower than any HTC VR heaset, suitable only for the most casual users.
Conclusion
The best overall experience available right now if you consider price is a Vive Cosmos. HTC has announced that the Cosmos will one day run off of only a phone, though it hasn't gotten there yet.
Do you like the idea of full-blown room scale experiences that benefit from lighthouse tracking? If so, then the HTC Vive Pro may be for you. It's a great price at $499 on sale, albeit its PC hardware requirements can be a letdown.
If you want to play games casually, then the original HTC Vive is a good choice. The hardware is a few years old, but you'll have the option to use the new wireless adapter HTC is releasing in 2020. The original Vive runs on a PC that closer to the minimum system requirements.
Which of these headsets is your favorite?
Let's know your thoughts in the comment box below!