Holo Popups is a cool augmented reality book company who created and produces children's books. By using the camera on your iOS or Android phone or tablet, you can utilize AR to bring each character to life.
All of the books are animal themed and include pets, water animals, or dinosaurs.
We sampled all three of Holo Popups' books by Hal O Graham and have a full review below!
You can check out our full list of best augmented reality books for other cool uses of the technology.
Where to Buy Holo Popups
There are currently three Holo Popup books available and they can be purchased easily off of Amazon. The three books are:
The three books each revolve around a different set of animals. As you might have guessed, dinosaurs, pets, and sea creatures are featured.
Each book is laid out in a similar way. Each page features a specific animal and teaches you and your kids about it. When you use the app and point your camera at the book, each character comes to life in digital 3D. In addition, the narrator of each book reads the pages out loud so that you don't have to.
Below, we'll walk through each book and show you how to install the AR app.
Holo Popups Books
Daring Dinos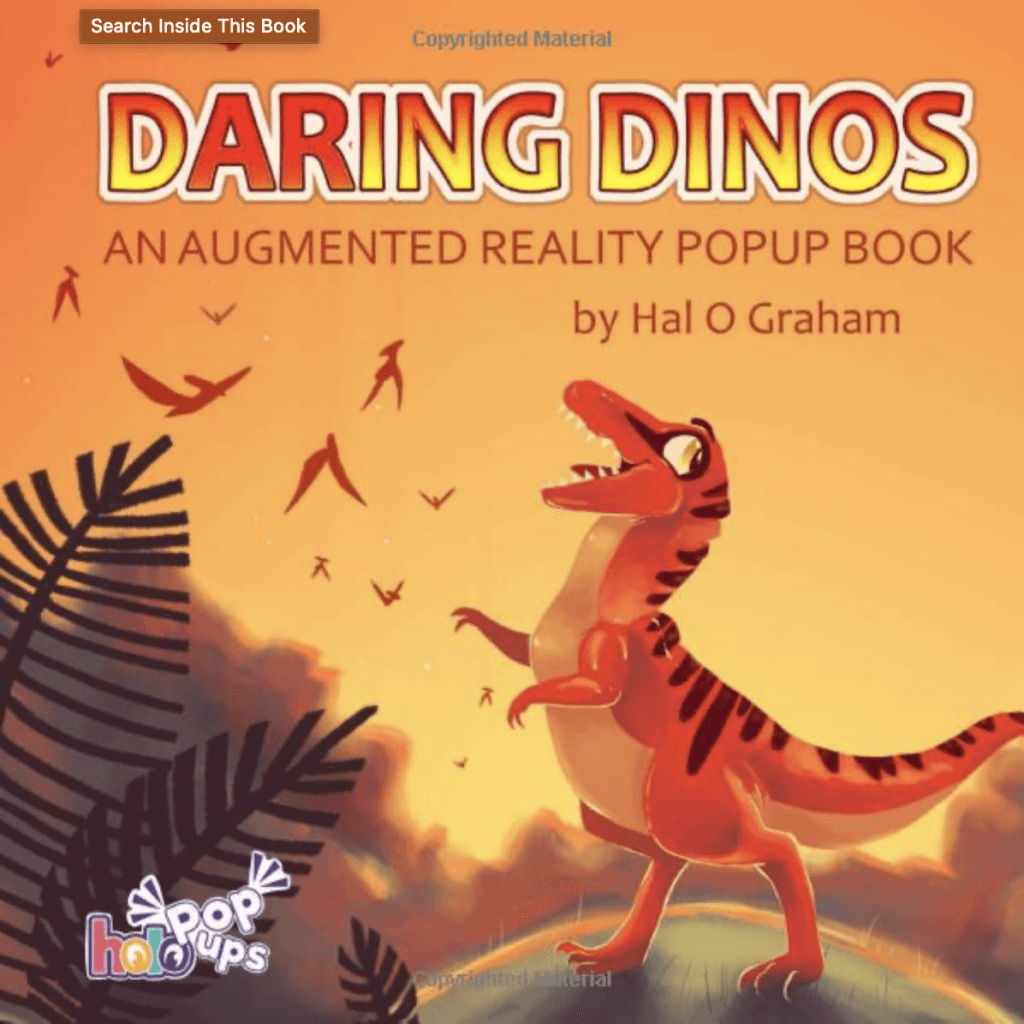 Daring Dinos is a book that teaches kids about different types of dinosaurs. 10 dinosaurs are listed in total, from the Triceratops and Tyrannosaurus Rex to the Dilophosaurus.
Each page lists an interesting fact about the dinosaur. Did you know that the Parasaurolophus name means "crested lizard"? Each page lists 2 or 3 interesting facts in a fun way by rhyming every other sentence.
While the voiceover reads the page through your phone or tablet, the character moves around in 3D. You can swipe left, right, up, down, or tap on it and have it do an animated sequence. Some of the dinosaurs roar, while others jump or stomp their feet.
Pet Party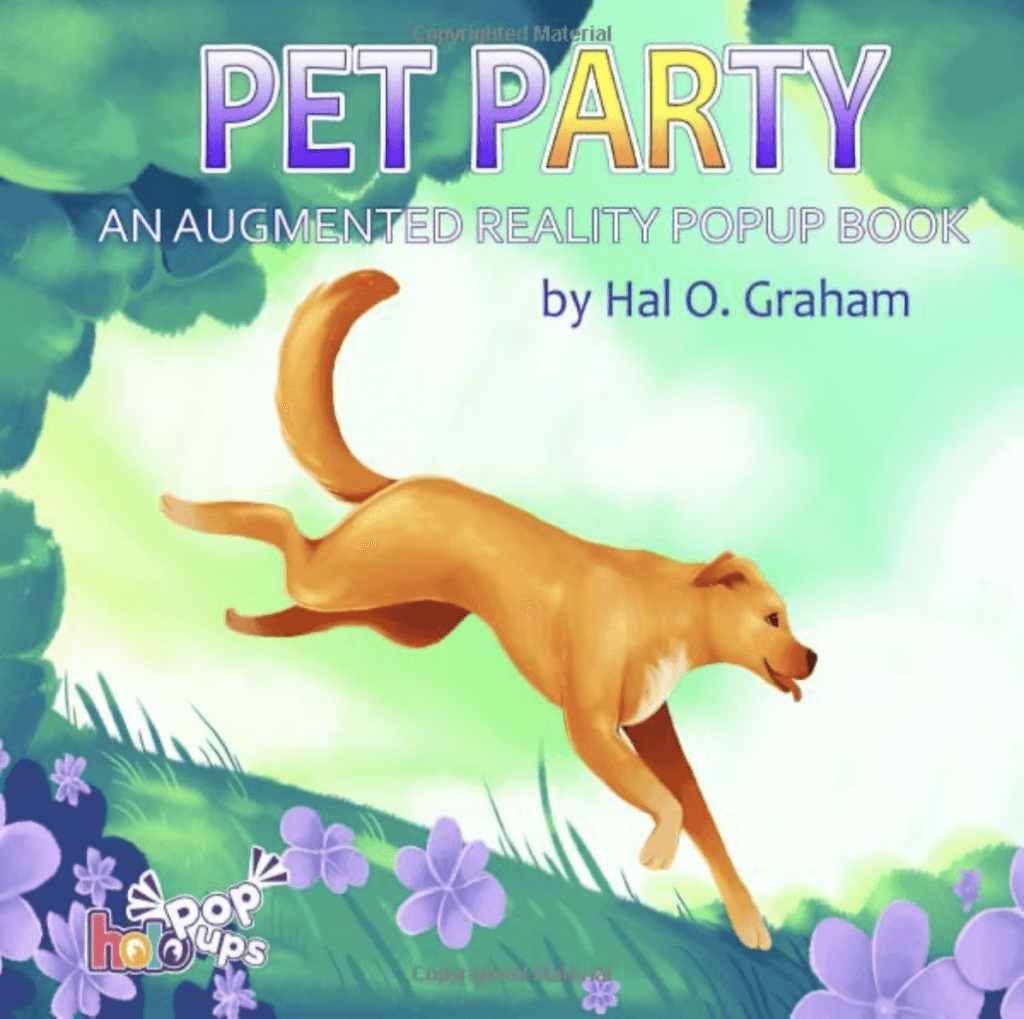 Pet Party has a complete focus on different household animals you can own. From fish to bunnies and cats, 10 different pets are listed in total. Multiple types of dogs are shown, which my daughter loved about the book.
Like Daring Dinos, each page shows a cool fact or two about the pet on the page. For example, Golden Retriever's like to make friends with other animals in your home and are good team pets. Anyone with pets in their home already will really relate to each animal.
Like Daring Dinosaurs, the characters in this book come alive with a swipe or tap. You'll get to hear the sounds they make. Fish virtually swim around the page, while bunnies hop in a circle. Each pet is unique in what it does, which makes this book just as fun to play with as it is to read.
Sea Characters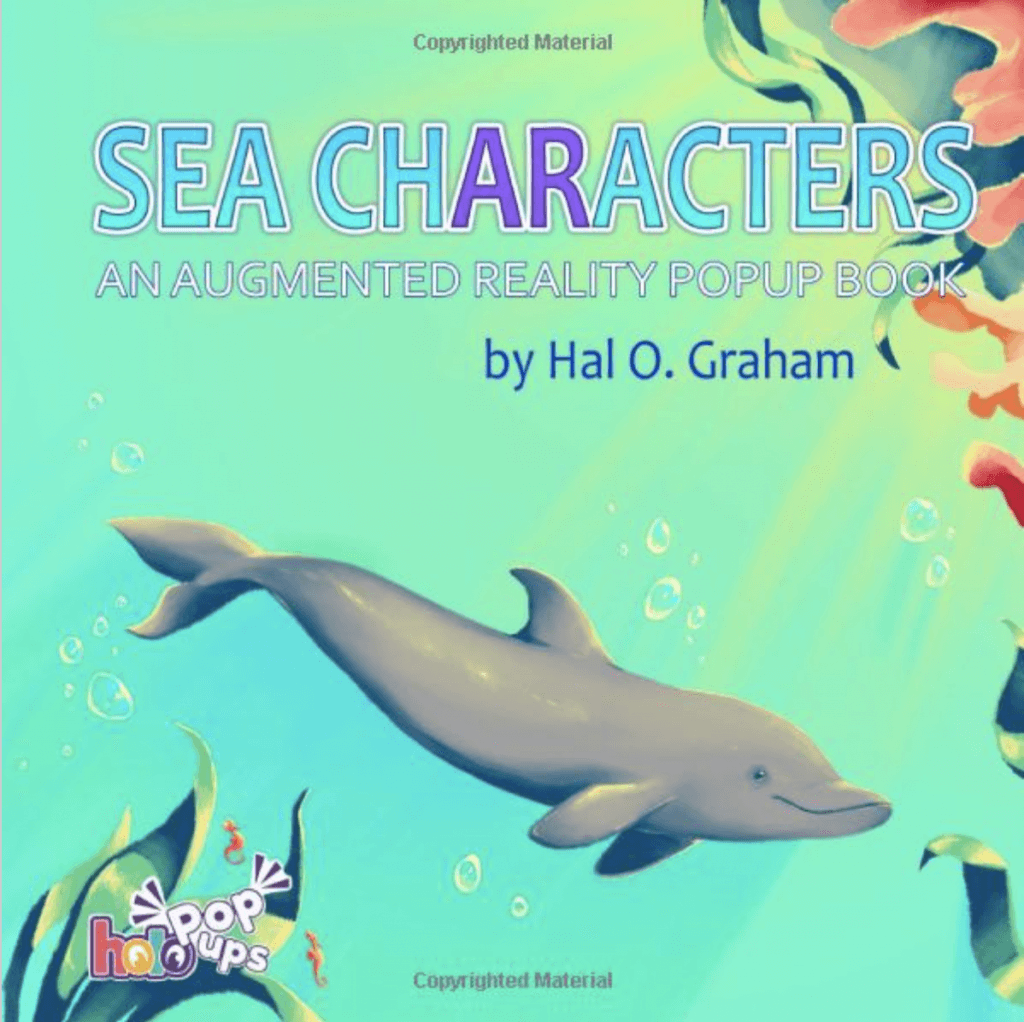 Sea Characters is completely focused on animals that you can find in the water. From a whale to octopus to seahorse, ten different sea animals are featured in the book.
Like the other Holo Popup books, a voiceover reads each page while the 3D characters swims around your room waiting for you to interact with it. The book breaks down each animal and provides an interesting fact for each. For example, did you know that a seahorse uses its tail to swim around and ingests food into his little snout?
As someone with kids who recently visited the local aquarium, Sea Characters was a big hit. All of the animals featured are common and relatable.
Overall, each book focuses on a different set of animals. They are fun, colorful, and unique. These augmented reality books are great for teaching kids of all ages.
Use the links above to purchase your books today. When you receive them, come back and setup the Holo Popups app below and learn how to activate your books.
How to Install the Holo Popups App
Launch either the Apple App Store or Google Play Store depending on what kind of phone you have.
Use the search button to search for Holo Popups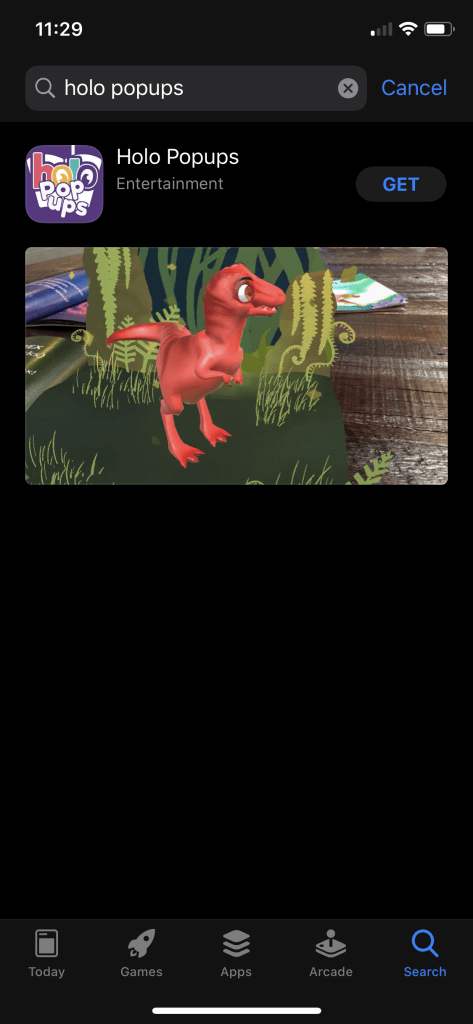 Select the App and then click on Get/Install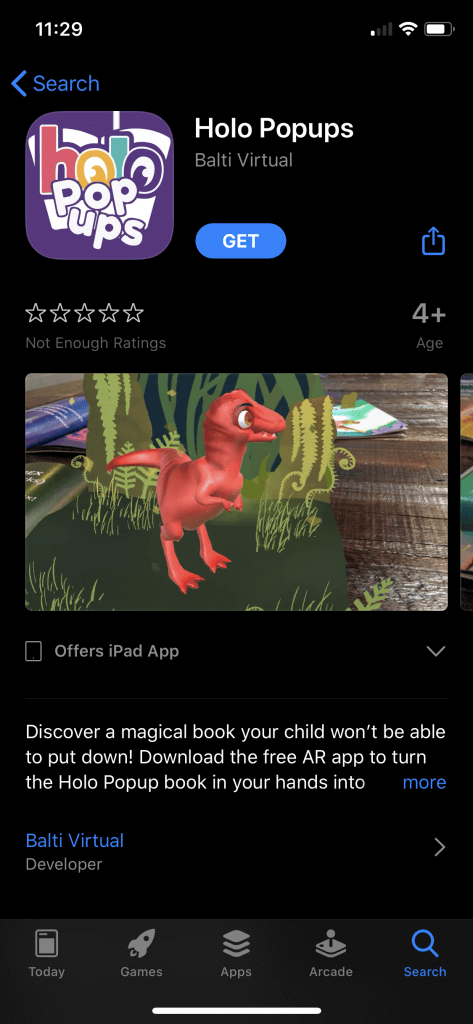 The AR app will appear on your home screen
How to Watch Holo Popups Books
Launch the Holo Popups app.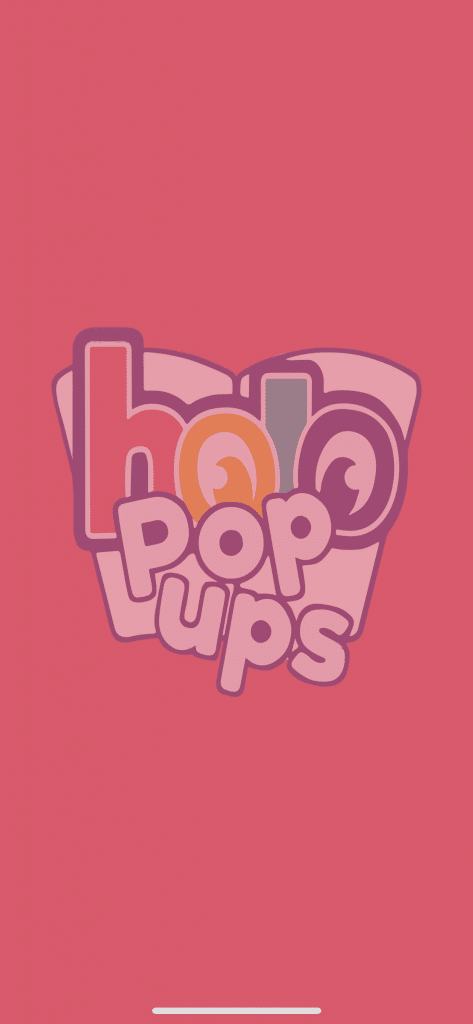 The first time you launch the app, you'll be asked to give the app access to use your camera.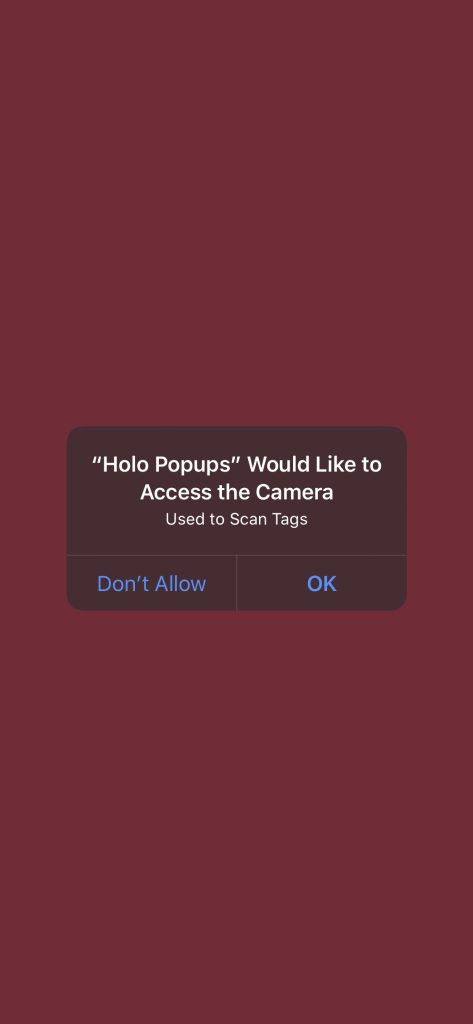 Next, the app explains how the augmented technology works with your childrens book. Things are pretty simple!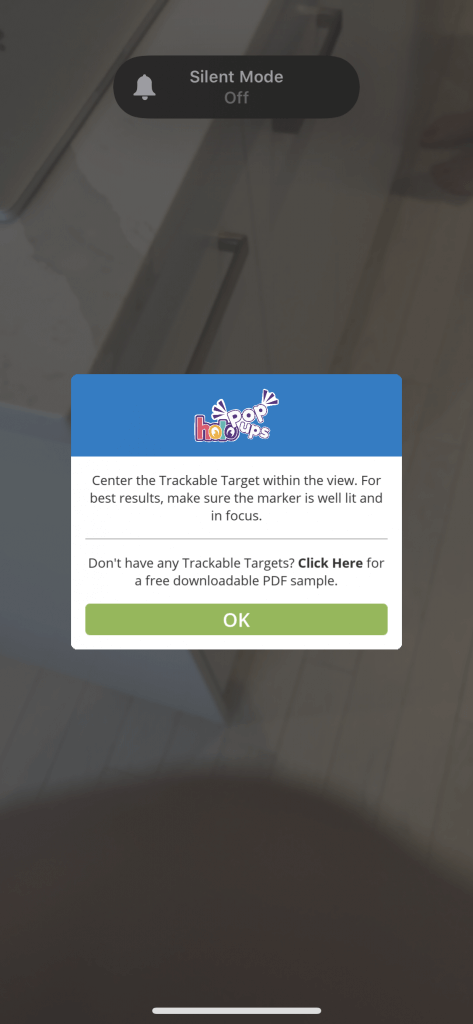 Open up one of your books, either Daring Dinos, Pet Party, or Sea Characters.
When you point your phone camera at a page in the book, your character will automatically come to life and the page will be read out loud!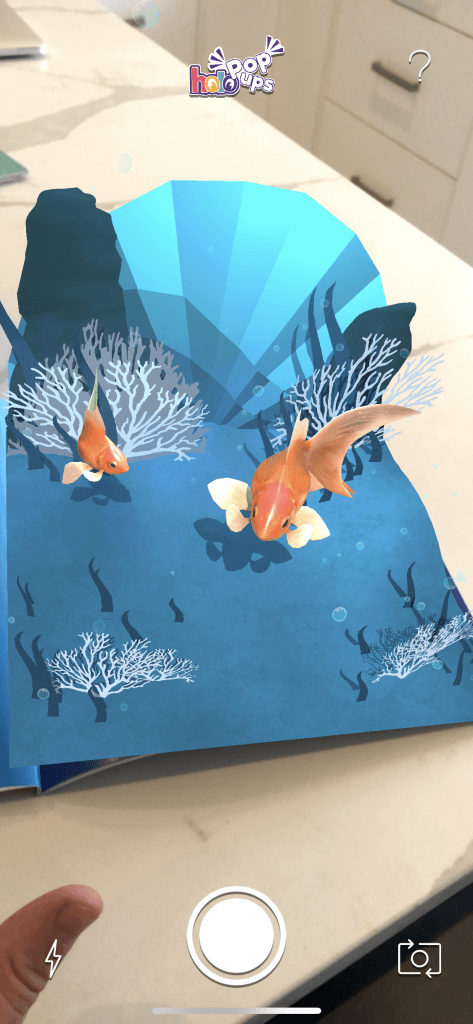 Holo Popups Troubleshooting
The page will not come to life when I point my camera at it.
The most common reason for this is if the room your book is in is too dark for the augmented reality technology to work.
Make sure the book is in a bright spot and then try again.
Which Holo Popups book is your favorite? Comment below and let us know what your review is of these books.