This is the ultimate guide to the Oculus App Lab, the new distribution portal for early access and demo apps for the Meta Quest. It launched alongside the v25 Quest software update back.
In this guide, we'll go over a few important things:
What is Oculus App Lab?
How can you submit your game to this new store?
What are the best games in the App Lab?
If you have any other questions, comment at the bottom of this post and let us know.
What is Oculus App Lab?
Oculus App Lab is a separate way for Quest developers to distribute apps to players instead of the official store. It was released alongside the v25 Quest software update. It allows early development and experimental apps to have an official link on the store safely and securely. Developers can give direct links or through platforms like SideQuest.
App Lab apps do not appear in the official Oculus Store but will still appear in the Quest Library alongside those games. These apps no longer need to sit under your library's "Unknown Sources" tab.
You can search App Lab apps through the official Meta website. They will appear under a new "App Lab" results section. There is not easy way to browse all apps in the App Lab store.
If you do search for a game that is in the App Lab, it will show up in the search results.
When you open up an app from the Lab on the Quest store, you will have to click through the warning message below.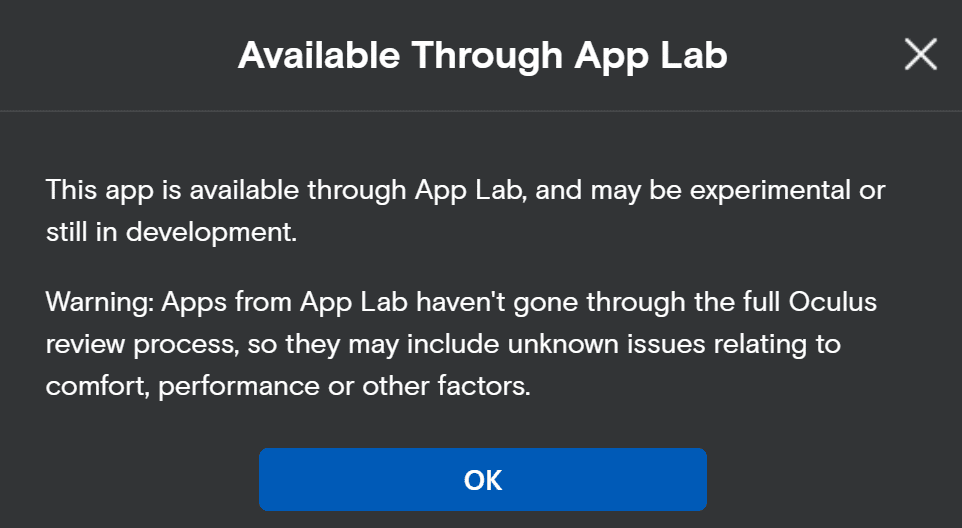 Oculus App Lab Games
First, 12 different titles were available in the Oculus App Lab. Many of them were on our best SideQuest games list: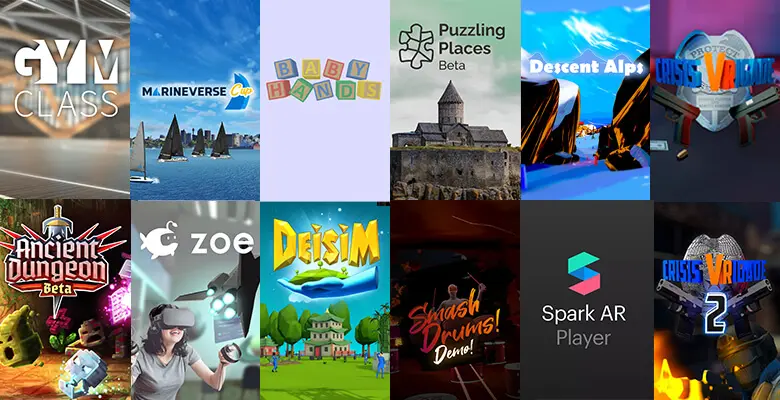 Since the initial release, over 500 different apps and games have been added to the store! It is larger than the official Quest store toady.
Developer Features
Developers who use the App Lab get access to several Meta features that used to only be available on the official store:
Automatic update distribution
Platform integration
Official Oculus SDKs
App Analytics
Release Channels
Requirements
Meta has simplified the requirements and Virtual Reality Checks (VRCs) required to appear on the Oculus App Lab. Several requirement to land on the official store have been removed:
Apps do not have to run for 45 minutes without entering thermal throttling Power Save mode.
Applications that support hand tracking do not require hands that render in the correct position and orientation and do not need to animate properly.
Apps that support hand tracking do not require hands to be hidden if they are not being tracked or if tracking confidence is low.
Developers must meet all other Virtual Reality Checks.
All apps submitted must still support App Sharing. Developers should also ensure that they are following the four different documents:
Oculus App Lab vs SideQuest VR
The App Lab replaces many features and needs that were met exclusively by SideQuest. However, both Oculus and SideQuest have maintained that this new App Lab will strengthen and complement both services together.
The two services will change due to the introduction of the App Lab in a few different ways:
Apps located in the App Lab are linked directly from SideQuest.
You no longer need to side loaded Apps accepted into the Lab through SideQuest VR.
Community discussion, badges, and support will live in SideQuest. Click here to read our full SideQuest Communities guide.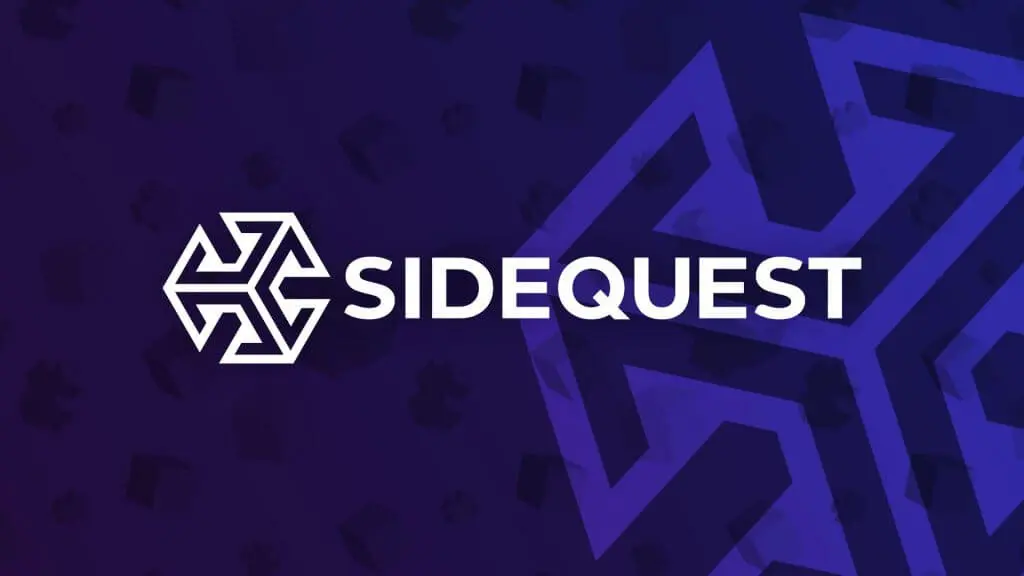 How Do You Submit a Game to the Meta App Lab?
Meta has made it really easy to submit a game to the new platform:
First, log into the Oculus Developer Dashboard.
Enter the name of your app.
Choose Quest (App Lab) as your distribution method.
Follow the steps to upload your application, provide screenshots and description text, and submit for review.
Apps submitted this way can either be free or paid. Revenue sharing falls under the same arrangements as on the regular Meta store.
Oculus App Lab FAQs
Here are some other common questions and answers about the new distribution method for apps.
How can you promote your apps?
You can promote App Lab apps in two main ways:
Direct Link URL
Oculus Keys
You can generate unique Oculus Key codes and give them to individual users who you want to access the game. You can promote Direct link URLs through any medium.
How can App Lab apps get into the official Oculus Store?
The VRCs we listed above outline some additional requirements to make it into the official store. Oculus says they are constantly "sourcing high-quality applications for the Oculus Store, and App Lab provides another way for us to identify potential fit."
How long does the review process take?
There are multiple steps in the process and developers will receive emails at each stage of the review. Oculus has listed three weeks as a rough estimate for developers.
If you have any other questions about the Oculus App Lab, comment below and let us know! We will do our best to answer everything for you.