Virtual Reality has been around for a long time now. But the possibilities with this technology in terms of its applications in various industries are endless. This guide will discuss how this technology is affecting the mobile app development process.
Increasingly, organizations especially app developing companies are seeking the services of a reliable staffing agency to recruit experts of VR technology.
Read on to know all about this technology and its applications in detail.
About VR Technology
This technology basically creates a copy of the real-world scenario. So, customers and users can use this technology and enjoy a unique and immersive experience. Several industries have started using this technology to enhance the user experience and to manage operations effectively.
Studies also show that virtual reality increases the chance of a sale and customer retention.
How Is It Transforming Mobile App Development?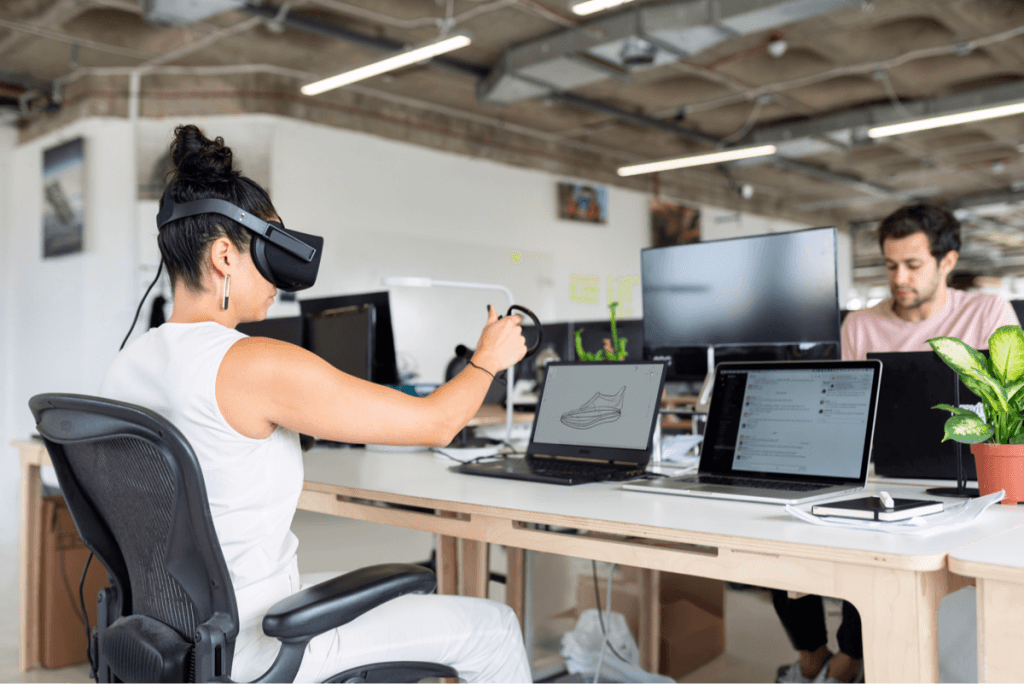 The process of mobile app development has been massively transformed because of VR. Here's how VR is facilitating this process:
Shopping
Shopping is one area where VR proves highly valuable. VR enables the customers to know about every detail of the item remotely. Customers can know about the shapes, cuts, and sizes of the dresses. And in this way, they can make an informed choice regarding the purchase of the products. With such kinds of facilities, the return rate of the services or items also decreases sharply.
Recently, Pinterest has added a tool that allows customers to try different shades of lipstick. In this way, customers can easily decide whether they want a specific shade or not.
Better Customer Retention
An app that uses VR technology is likely to keep its users and customers engaged. This is because you can enhance their audio-visual experience through it. Also, when customers will be able to check different aspects of the products. And, in this way, they will get inspired and motivated to shop for specific products or enjoy certain services.
YouTube allows users to enjoy 360-degree music and wildlife videos. That is why these videos have become highly popular in the past couple of years.
Visual Storytelling
Do you want to enjoy an immersive story experience? The good news is there are several apps that allow you to enjoy stories this way. With VR technology, you can see the characters right in front of you. You can also hear their voices. Henry is one such example of visual storytelling. And 'Sisters: A Virtual Reality Ghost Story' is another app that is available for free on the Android app store.
On the flip side, developers can create their visual stories much easier than ever before. An app like Clipchamp lets you create professional videos, edit them on the fly, add voiceovers using artificial intelligence, and more.
Better Customer Acquisition
With VR technology, customers can know about the product or service in a better way. The problem with online shopping is that customers can't know about the features of the product in detail. But certain apps that employ this technology allow the user to know about all the features in detail. For instance, several apps allow users to enjoy a full tour of a property. In this way, customers don't have to pay a visit to know to explore all things in detail.
Improved Team Collaboration
VR has transformed the team collaboration and management as well. Now with this technology, people from everywhere around the world can communicate with each other effectively. With such advanced methods, you don't need an office setting to manage various tasks. You can just communicate with the team and manage these tasks from remote locations.
More Investment
VR has also transformed mobile app development in terms of finances. Developing a mobile app has never been cheap. But with this technology, the mobile app production costs are likely to go up. This is because these apps will rely on the customer's purchase of VR headsets as well. So, this technology will drive more investment in the development of mobile apps.
Efficient Product Marketing
VR technology will transform product marketing as well. With this technology, customers will know about the campaigns in depth. The app developers can create a unique blend of graphics, design, and content to enhance the audio-visual experience of the audience. In this way, the app developers also won't have to invest in different mediums to engage the audience.
Better Customer Communication
Did you think that customer support can only be provided via email or call? You are wrong. VR technology can help customers in providing excellent customer support. Customers can now face the representative and share his/her concerns related to a product or service directly. In this way, they can get their queries answered in a better way.
Improved Monitoring
VR is an amazing technology to monitor different aspects. With this technology, you can record the audience's engagement with a product or service. In this way, you can instantly know about the customer's likes and dislikes related to a product. This, in turn, can allow you to seek customer reviews and improve your products and apps.
From designing to communication, every aspect of the app development is sure to get transformed by virtual reality. VR is also facilitating online pieces of training and learning. Besides facilitating e-learning, VR allows the students to go on field trips. Once this technology becomes widespread, it is expected to enhance the user experience at minimal costs.
Companies should get behind VR for mobile app development today before they get left behind.