Kat VR is a company that develops omni-directional treadmills for use in virtual reality games. Their new product, the Kat Walk C, makes a VR treadmill more affordable for everyday virtual reality players! In this guide, we take a full look at the Kat Walk C:
How to buy it
What features it has
What games you can use it with
Click here to head straight to the Kat Walk C Kickstarter!
Let's get started!
What Is The Kat Walk C?
KAT Walk C is the world's first VR omni-directional treadmill dedicated exclusively to gamers at home. It lets you move around in virtual reality worlds without leaving the space you are standing. It supports all major VR platforms and all smooth locomotion VR games.
Omnidirectional treadmills have been in development for quite some time. They've been popular for VR players because they allow you to move infinitely without walking outside your roomscale environment. For a lot of games, movement over long distance is the one awkward part of VR. An affordable VR treadmill will allow VR users to physically traverse virtual environments with complete freedom-of-movement.
A VR treadmill is one of the most immersive VR accessories you can invest in.
The Kat Walk C is not available to buy yet, but you can back it on Kickstarter! The Kickstarter promotion is set to launch later this month, June 2020. It will be the first chance for players to buy the new VR treadmill.
Who Is Kat VR?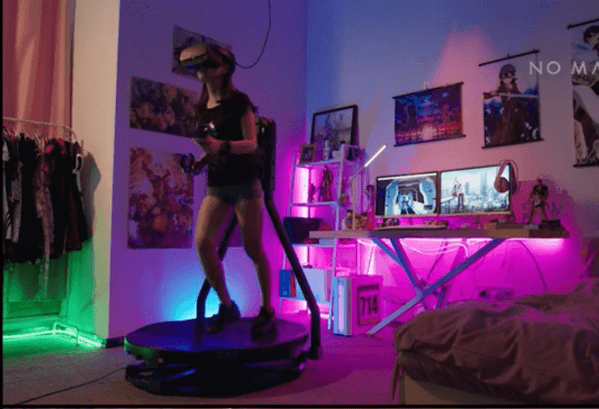 KAT VR is a Virtual Reality Omni-Directional Treadmill and gaming company. Kat VR is based in China and founded in 2013. The company is focused on researching innovative methods of VR locomotion and human interactions in virtual reality. The company's mission is to solve the problem of limited space in VR and provide a true locomotion solution.
Aside the C, previous Kat VR products include Kat Walk and Kat VRMIS – ARENA. Both of these products are more expensive and geared towards a commercial market.
How Does The Kat Walk C Work?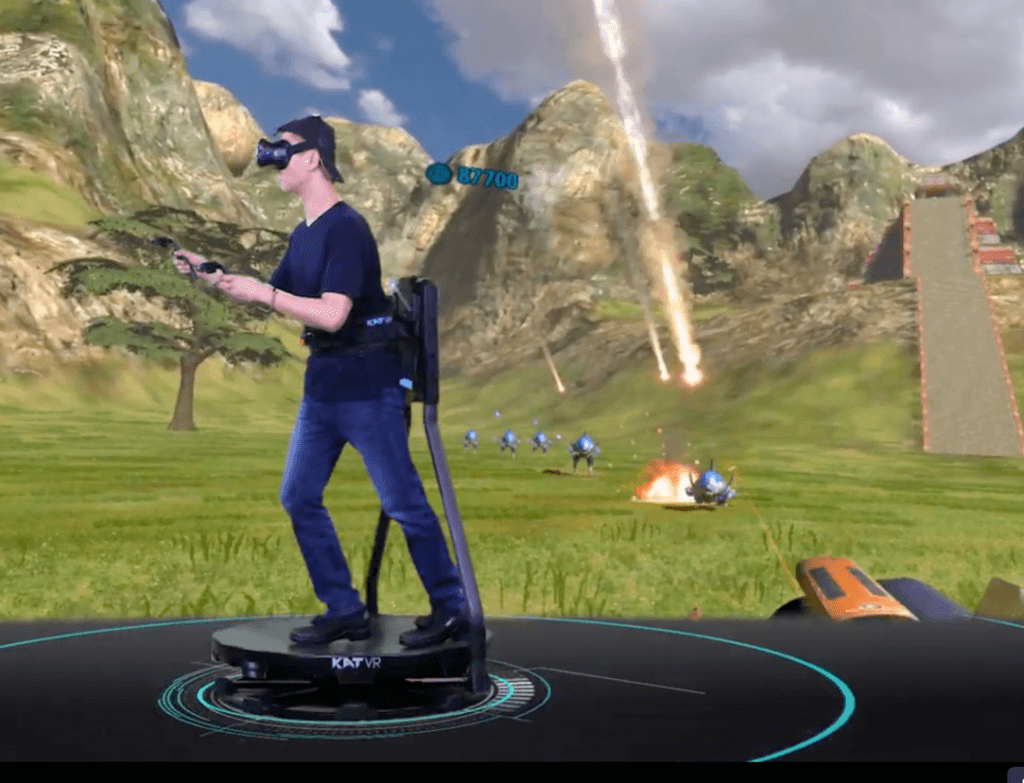 The Kat Walk C allows you to walk, run, jump, crouch and even get down to pick up items in your favorite game.
The treadmill comes with custom frictionless shoes that you wear while you use it. This allows you to have a more natural walking motion verses other VR treadmills where you slide your feet. Anti-slip straps attached to the heel of the shoes allow you to customize your friction level to match your skill level.
Other improvements to the Kat Walk C make it comfortable for you no matter if you're a VR veteran or total newcomer.
You are secured to the device via a rear-mounted vertical harness. This allows you to crouch and stand without fear of running off the platform. While you are playing in virtual reality, you'll be able to move in place infinitely.
Kat Walk C Features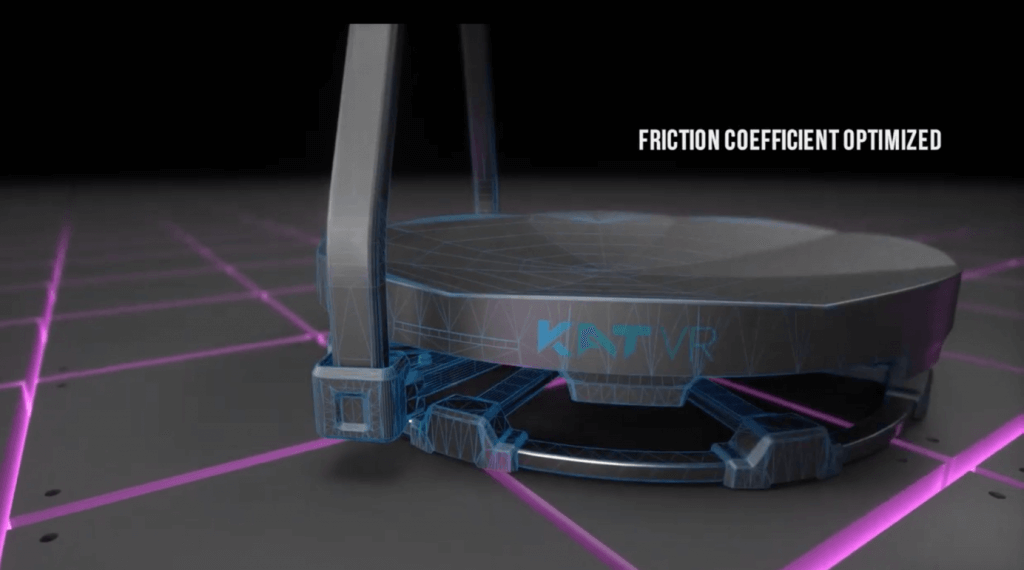 The following are the features of Kat Walk C:
Ergonomic Design
The innovative ergonomic design enables the full range of arm and leg movements without mechanical components. With an effective walking area of ​​0.69 meters squared (2 feet), this treadmill fits perfectly into any playroom.
Freedom of movement
KAT Walk C provides a high degree of freedom of movement, so you can:
walk
run
walk backwards
pick up objects
crouch
and more! It's the best way to move in VR no matter how much space you actually have.
Amazing shoes
Each VR treadmill comes with a pair of state-of-the-art shoes for a natural running experience.
Supports locomotion games
KAT Walk C is a complete plug-and-play solution that supports any free-locomotion game.
Compatible with major VR headsets
It is compatible with all major VR headsets, including:
Valve Index
PlayStation VR
Windows Mixed Reality
Pimax
Oculus Quest via Oculus Link.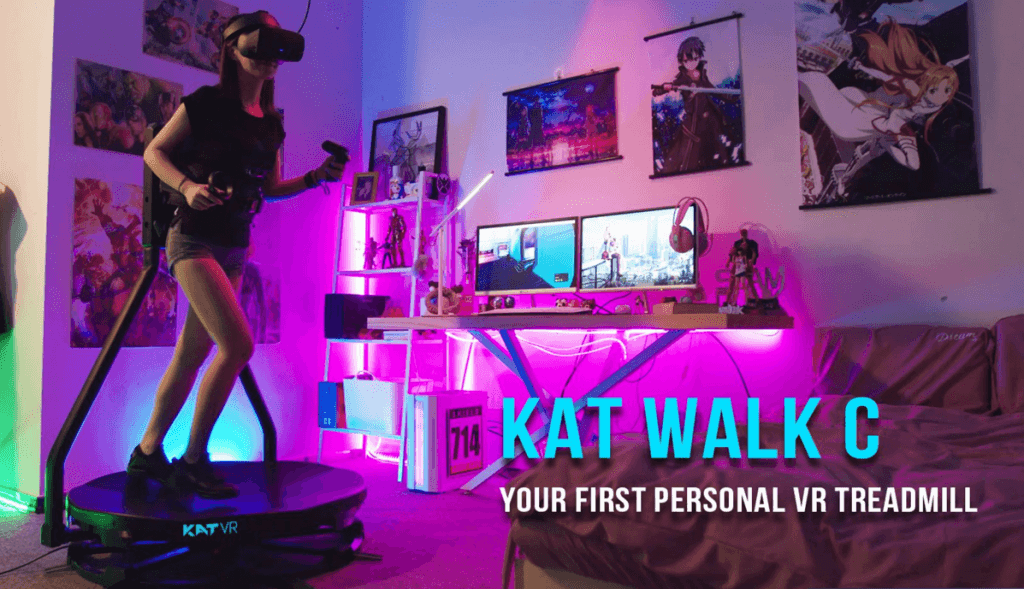 Kat Walk C Cost
According to Kat VR, the early bird price for the upcoming Kickstarter campaign will be $699. At this price, this is the cheapest that a VR treadmill has been. However, this price is also only available to the first backers of the Kickstarter. After the first 50 units are sold at $699, the price will increase to $799 or more for later buyers.
There is no word on what the cost of shipping will be on the treadmill yet, but we will update this guide when we know anything!
Early reviews on the new Kat Walk C have been positive. This is the first affordable VR treadmill for regular customers. And businesses who have used Kat VR's older treadmill models have had good things to say about the hardware.
Kat Walk C Alternatives
There are a few Kat Walk alternatives on the market, but they geared more for the professional and enterprise sectors. These are expensive, high-end locomotion solutions. The only residential solution on the market is ROVR.
ROVR consists of both a platform and shoes that allow you to "walk" freely in virtual environments. It is supported by an enclosed frame that stops you from bumping into things or falling over. The original ROVR retails for about $800 USD. A better, newer version is available for $1700.
How to Buy the Kat Walk C
The new C VR treadmill is available on Kickstarter. It's the first chance to grab one of these new, tops of the line, VR treadmills.
Click here to head straight to the Kat Walk C Kickstarter!
The Kat Walk C hit its $100,000 goal nearly instantly after the campaign went live! It received over 600 backers in its first 24 hours!
What do you think about Kat Walk C?
Share your thoughts with us down in the comment section.