Ever since Valve announced the new portable Steam Deck, gamers want to know if you can run Steam VR games on it. In this guide, we take a look at:
The specs of the Steam Deck
Why the Steam Deck will or won't play VR games
Tips to make things run smoother
How to play VR Games on the Steam Deck
The device doesn't launch until March in the USA (and longer worldwide) and we update this guide as new information comes out!
If you have your hands on the hardware and can help us understand better if the Steam Deck plays VR games, comment down below.
What is the Steam Deck?
The Steam Deck is a portable gaming system by Valve (the creators of Steam). It looks similar to a Nintendo Switch, with a central screen and controls on the left and the right.
The Deck can play your entire Steam library, which is the largest game library in the world. This is the first time you've been able to play games on the go instead of sitting at your PC.
The Steam Deck is custom-built for gamers, with high quality buttons designed for long play-times.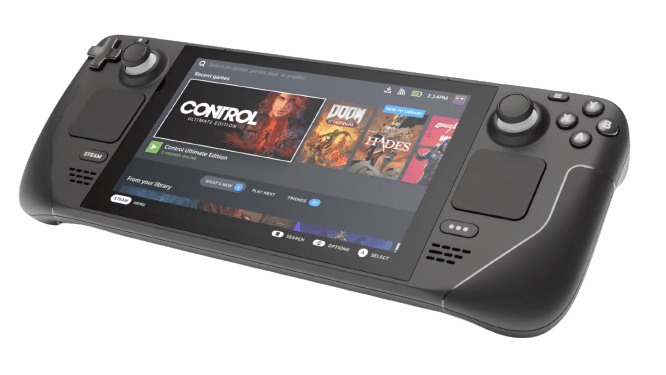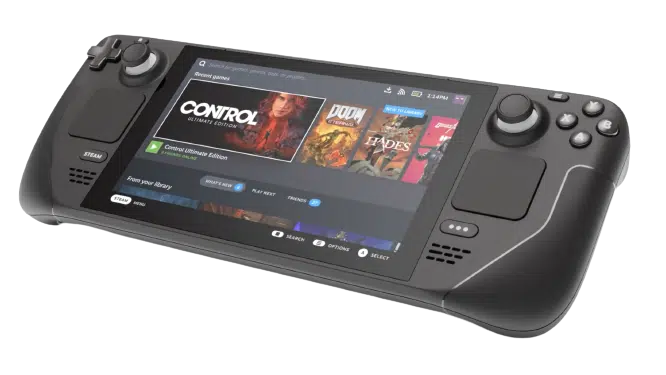 Release Date
The Deck will begin shipping in December 2021. However, pre-orders for the device quickly pushed back the expected availability of the hardware until Q1 of 2022 or later. The availability for the 512 GB (more on that below) has already slipped down to Q3 2022.
If you are interested in getting your hands on a Steam Deck early, you should put your name on the waiting list. It costs $5 to do so, which ends up going towards the cost of the hardware.
Steam Deck Dock
Alongside the Deck, Valve has also announced an official Dock. It props up the hardware and allows you to connect to external displays, networking, USB devices, and power.
The release date and price of the dock is to be determined and more details are going to be released soon.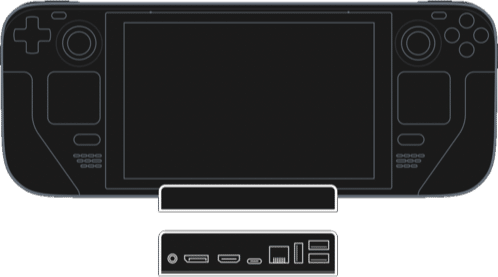 How to Buy the Steam Deck
You can officially express interest in the hardware on Valve's official reservation page. It will cost you $5 to reserve some hardware, which goes towards the device when it finally ships.
When inventory is available, and it is your turn to get your hands on the device, you will be sent an email. If you choose not to go ahead with the purchase, your $5 deposit is refunded.
The Steam Deck is available in the USA, UK, Canada, and Europe to start. Other regions are going to be added as availability becomes better.
Other Interesting Features
Valve has been direct in their promotion of the Steam Deck so far. However, there are a few features hidden in the news releases we've seen so far that we wanted to highlight.
Flexibility of Software
The Steam Deck runs Steam OS 3.0 hardware on it. However, the hardware architecture is PC-based, so you can install third party software and operating systems on it.
For VR gamers, this means the opportunity for new software and optimization geared towards virtual reality. This may allow the Steam Deck to play VR games through alternative methods.
Additional Storage
All versions of the Steam Deck computer allow you to insert your own microSD card for additional storage space.
Note that microSD cards are slower than a solid-state hard drive which comes pre-installed in the hardware. If you do want to expand the storage space, opt for a faster microSD card.
FidelityFX Super Resolution
AMD's answer to Nvidia's deep learning super sampling (DLSS) is FidelityFX (FSR). FSR is a spatial image upscaler which uses neighboring pixels on the display to estimate higher quality graphics. This technology enhances image quality and improves frame rates for slower graphics cards.
FSR is standard in AMD's RDNA 2 architecture, which this hardware is based off of. It is an x-factor into the possibility that the Steam Deck can play VR games freely.
Reduced Joystick Drift
Valve has acknowledged that it made the Deck for hardware gamers who expect the best. The directional joystick is developed for long gaming sessions. It has fixed drift issues plagued by other mobile gaming systems so that you get high quality gameplay.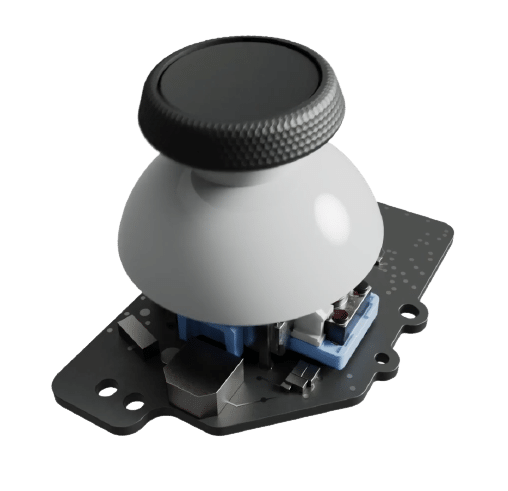 Steam Deck Technical Specifications
Hardware
The Steam Deck runs a custom AMD Accelerated Processing Unit (APU). An APU has a CPU (processor) and GPU (graphics) integrated on a single chip, similar to how the Oculus Quest 2 features the Qualcomm XR2.
The AMD APU in the Steam Deck is Zen 2 CPU architecture, originally unveiled in 2019.
The graphics on the Steam Deck is RDNA 2, which has a few nice features for gamers:
enhanced compute unit
visual pipeline
AMD Infinity Cache
Valve promises that you can play AAA games on the hardware. This is a pretty heavy promise considering the variance in game quality and optimization.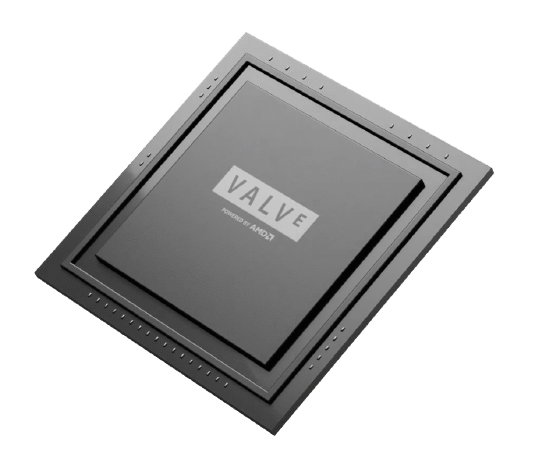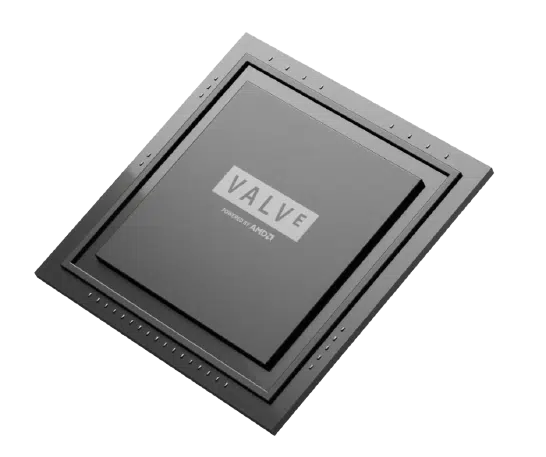 Display
The Steam Deck comes with an LCD panel with full capacitive touchscreen features. It is a full 720p display screen that is 7 inches tall. It is a little bigger than the Nintendo Switch.
The display resolution of the screen is 1280 x 800 with a 60 Hz refresh rate and 400-nits of brightness.
Storage
The Steam Deck comes with three different storage options which also effects the price you pay for the hardware.
The three options are:
64 GB eMMC for $399 USD
256 GB NVMe SSD for $499 USD
512 GB NVMe SSD $599 USD
Since VR games take up more space in general than regular PC games, we recommend the 512 GB option.
All three options comes with 16 GB of RAM, some serious power to help you play any Steam game.
Full Technical Specs
The full technical specs of the Steam Deck hardware is as follows:
CPU: AMD Zen 2
CPU Clock Speed: 2.4 – 3.5 GHz
Cores: 4-core / 8-thread
GPU: AMD RDNA 2
GPU Clock Speed: 1 – 1.6 GHz
GPU Compute Units: 8
RAM: 16 GB LPDDR5 @ 5,500 MT/s (32-bit quad-channel)
Storage: 64 GB eMMC or 256 / 512 GB NVMe SSD
Display: 7 inch LCD Touchscreen
Resolution: 1280 x 800
Refresh Rate: 60 Hz
Audio: Dual stereo speakers, dual microphones
Ports: 3.5 mm audio, USB Type-C
Networking: Wi-Fi, Bluetooth, USB Type-C with DisplayPort 1.4
Battery: 40 Whr (2-8 hours on a single charge)
Weight: 670 grams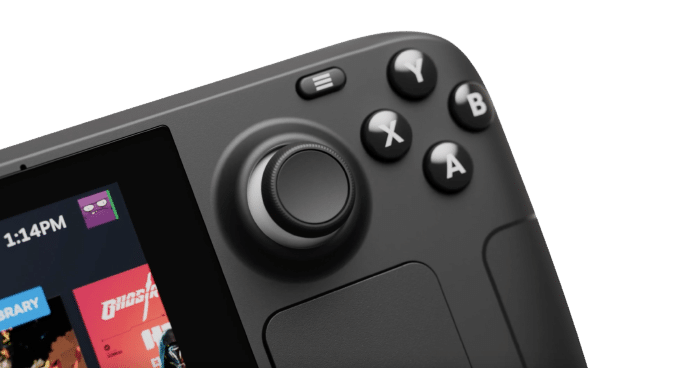 How Powerful is the Steam Deck?
If you want to use the Steam Deck to play VR games, you want to know how powerful the device actually is. At face value, it might not be good enough.
The GPU of the Deck has 2 Teraflops of power. This is just less than half of what the Nvidia GeForce 1060 graphics card has. For comparison, the Nvidia RTX 3080 has nearly 30 Teraflops of power. The new PS5 has 10.3 Teraflops.
The Qualcomm Snapdragon XR2 in the Oculus Quest 2 only has 1.4 Teraflops of power. However, the Android operating system has traditionally done a better job at optimizing its usage verses Windows or SteamOS.
What Do You Need to Play VR?
The minimum requirements for PC VR gaming are:
Video Card: NVIDIA GTX 1060 6 GB or better (except for the 1060M or 1650) / AMD Radeon RX 400 series or greater (including Vega series)
CPU: Intel i5-4590 / AMD Ryzen 5 1500X or greater
Memory: 8GB RAM or greater
USB Ports: 1x USB 3.0 port
OS: Windows 10
If you are looking to play AAA titles such as Half-Life: Alyx, the minimum requirements go up:
CPU: Intel i5-7500 / AMD Ryzen 5 1600 or better
GPU: GTX 1060 / TX 580 with 6 GB VRAM or better
12 GB of RAM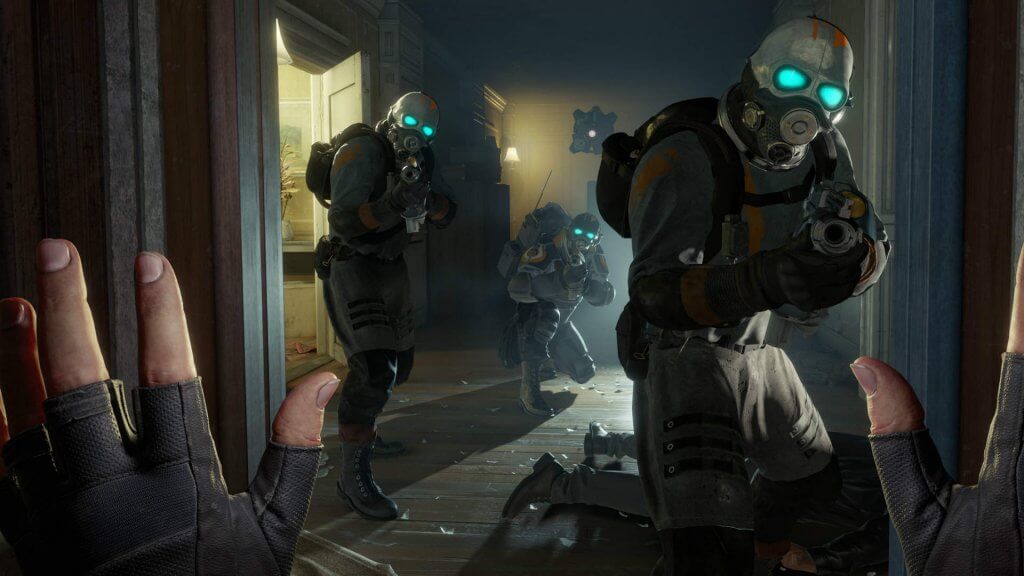 Can the Steam Deck Play VR Games?
The power of the Steam Deck is simply not good enough to play AAA games in virtual reality. However, we don't know how optimized the Steam Deck hardware is.
We do know that the Deck's processing power is higher than the Oculus Quest 2. This means (in theory) that all Quest games should be playable on the Steam Deck. The Steam game store features a ton of VR games that would be suitable for the Oculus Quest 2, but not available for that hardware.
FidelityFX Super Resolution (FSR) is AMD's alternative to DLSS. It can render graphics in high quality while minimizing the load on your graphics card. How well FSR is implemented in VR games could be a deciding factor to having the Steam Deck play VR games.
Re-projection methods that use artificial intelligence to render graphics in your VR headset at low power is going to be key.
As the release date for the hardware comes closer, we are watching closely for VR support. We've also reached out to Valve for our own Steam Deck for testing and have pre-ordered the hardware too.
If you want to buy the Steam Deck and help us optimize VR support, click here to go to the reservation page.
Can the Steam Deck Play Oculus Games?
No, the Steam Deck does not connect to Oculus Home in order to play those games. However, a lot of VR games are available for both Oculus and Steam VR. Games that are available on Steam can be tried on the Steam Deck.
Click here to read our Steam VR vs Oculus guide for more details.
As soon as we have our hands on the hardware, we will map out VR support for all of our readers.
Follow us on Twitter, Facebook, and Instagram for the latest VR news, tutorials and information.