Virtual reality shooting games make up some of the most popular titles in the Meta Quest store. In this guide, we'll go over our 20 best VR shooters today.
Something about shooting a gun in virtual reality is so much more addicting compared to traditional computer and console games. This is why VR shooters are so popular.
Guns are mixed into different VR genres, including:
Traditional military
Battle Royale
Rhythm
Adventure
Puzzles
and more!
Comment down below and let us know what your favorite VR shooters are.
Related: Here are our top Meta Quest games overall.
What are the Best VR Shooters on Meta Quest?
VR Shooting Game Types
Our games below are divided into two categories: single-player and multiplayer.
Single Player
Single player VR shooters are games that you play by yourself. There are many unique VR experiences where you can shoot a gun in single-player mode.
Single player games can be played at your own piece. They can either be story-based or high score-based.
Multiplayer
Multiplayer shooting games take you online to play against other real-life players worldwide. You play individually or team up with others in a variety of different modes:
Team Deathmatch
Capture the Flag
Control Point
Last Man/Team Standing
Multiplayer games often require more strategy to be successful. They are also more varied since no two games will play the exact same way.
Most VR players use their controllers as they come. If you want an extra advantage, we have a guide for the best custom gun stocks for the Meta Quest!
Next, look at my favorite VR shooters for the Meta Quest.
Each game has a description, store link, and video.
Gun Club VR
Type = Single Player
Price = $20
Gun Club VR is a virtual gun range. It doesn't have any storyline but is a lot of shooting fun. You can pick your gun and shoot at a variety of different targets. There are other modes, such as a whack-a-mole-style game with alien targets.
Gun Club VR has been out for the Meta Quest and feels very polished. It's a good, casual game to shoot some weapons in.
Population: ONE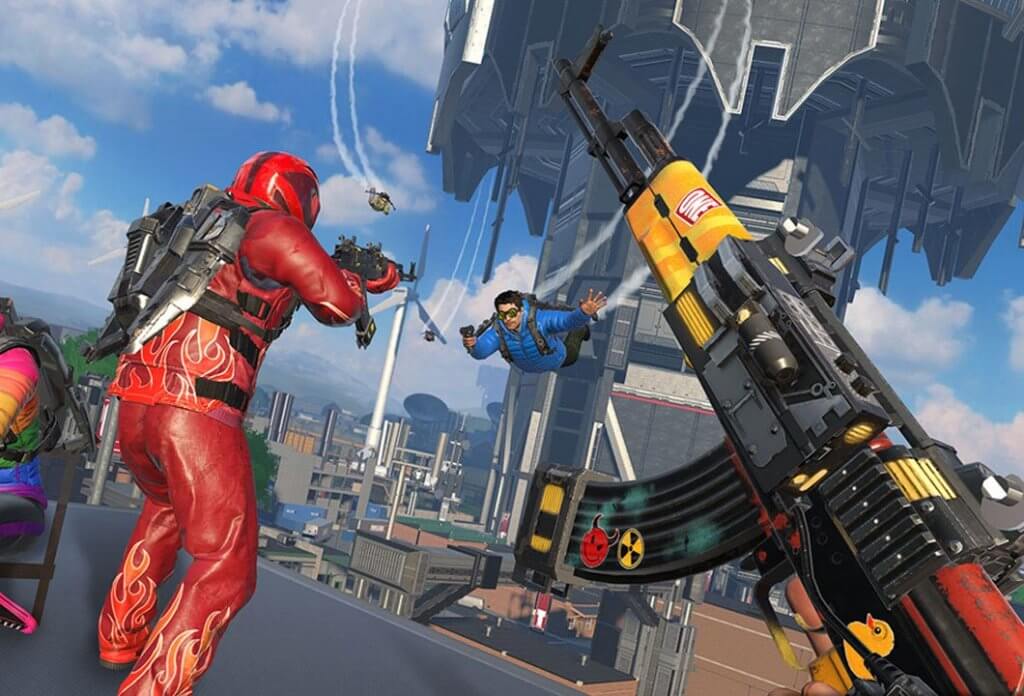 Type = Multiplayer
Price = $30
Population: ONE is one of the top trending Meta Quest VR shooters. It is a battle royale multiplayer game, similar to Fortnite or PUBG.
In Population: ONE, you are dropped onto a large map. You must eliminate other players while hunting for guns, ammo, and gear to help you out. A death wall encloses the game every few minutes until one winner stands.
The game was purchased by Meta and brought into its internal development studio. That should give you an idea of how committed Meta is to improving Population: ONE.
Population: ONE is available for PC VR players and the Meta Quest.
Onward
Type = Multiplayer
Price = $25
Onward is a realistic military VR shooting game. You put on full tactical gear and enter into team deathmatch against another squad. It is slower and more methodical than games like Population: ONE, which move quickly.
Onward focuses a lot on teamwork. You can use hand signals and other controls to work as a team. It was one of the original gun games for the Meta Quest.
Into the Radius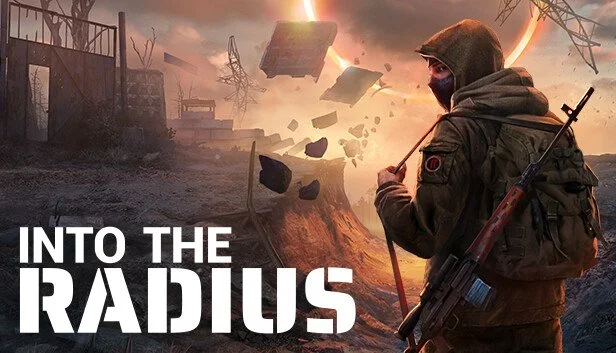 Type = Single Player
Price = $30
Into the Radius is a single-player survival shooter game that takes you to the Pechorsk zone, a place filled with harmful anomalies. You have to use guns and other dangerous weapons to engage your enemies in warfare for survival. Dodge dangerous anomalies, fight deadly enemies and collect artifacts as you make your way to the outside world via the Radius center.
Apply caution as you approach the Radius, as it's a dangerous zone with deadly secrets waiting. In order to have success, you'll need to navigate your map and adequately plan your route.
The game features various firearms, including the PPSH, M9 Beretta, SKS Carbine, PM Pistolet Makarova, AKM Kalashnikov, and FN SCAR. It's a fun VR game for shooting fans.
After the Fall

Type = Single Player
Price = $40
After the Fall is an epic VR first-person shooter game with intense co-op gameplay. In the game, you can team up with up to four friends against a hostile VR world filled with mutated, undead, and relentless cold weather. The game is built for VR from the ground up.
Weapon acquisition in the game is very interesting, as it adds some elements of grinds in the short mission. The game comes in three modes: solo, competitive Tundradome, and the 4-play co-op.
You will find Floppy Discs as you explore and survive the environment. Each disc has a feature that helps you upgrade your existing weapons or even unlock new ones. The replayability, simple mission structure, and overall catharsis make the game a ton of fun to play. The game featured rave reviews when it came out and I think its one of the best VR shooting games ever.
Pavlov: Shack
Type = Multiplayer
Price = FREE (So far)
Pavlov: Shack is a beta version of the popular Pavlov game on the Steam VR store. You can download and play Pavlov for free from the Meta App Lab. It will be released officially in the Meta store soon and removed from App Lab. When it is, the game will cost money to play.
Like Onward, Pavlov is based on a more realistic combat effort. Battle with your team in a variety of different maps and game styles.
Arizona Sunshine
Type = Single Player or Multiplayer
Prie = $40
Arizona Sunshine is the original zombie game for the Meta Quest. Don weapon and gear and battle through a single-player storyline filled with zombies.
The online mode in Arizona Sunshine has you joining a team with other players to cooperate through the game. Arizona Sunshine was recently updated with better graphics for the release of the Meta Quest 3.
As well, Arizona Sunshine 2, its sequel, is coming soon!
In Death: Unchained

Type = Single Player
Price = $30
In Death: Unchained is not a traditional shooting game. Instead, you have a bow and arrow to fight enemies in a medieval fantasy-themed adventure. In Death is one of my favorite games on the Meta Quest and one of the best visuals.
As you progress through In Death, the enemies get harder and more advanced. The developers promise a new arcade-style game mode is coming soon for those who don't want to play through the story.
Phantom: Covert Ops
Type = Single Player
Price = $30
Phantom: Covert Ops is a rogue game which you must silently enter a war zone and complete missions. You have guns available to kill bad guys along the way silently.
Most of this game takes place in a kayak when you aren't shooting. Paddling in virtual reality is surprisingly fun and intuitive, so go and check it out today.
The Walking Dead: Saints and Sinners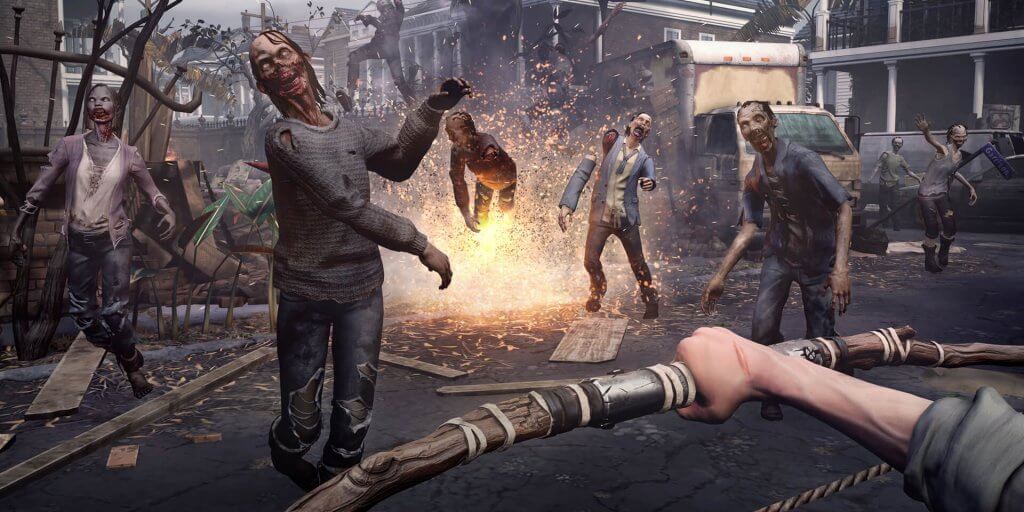 Type = Single Player
Price = $40
The Walking Dead: Saints and Sinners is one of the top-selling virtual reality games ever. It launched for the Meta Quest while the 2nd generation was released in October 2020.
This game is very similar if you are familiar with The Walking Dead universe. You must progress through a storyline while fighting off walkers using guns, knives, and other weapons. The story mode is longer than most other VR games, making this a fan-favorite VR shooter.
If you like this game, a chapter 2 called Retribution is worth playing as well.
The Walking Dead: Saints and Sinners Chapter 2
Type = Single Player
Price = $40
The Walking Dead: Saints and Sinners Chapter 2 is a VR first-person shooter game developed by Skydance Interactive. It's an addition to the original Walking Dead VR game, where you play as in an adventure to survive the infested and unforgiving New Orleans. An antagonist in town is decked in armor with a clear mission – to serve your head in a platter of gold. You have no choice but to fight dirty to save yourself and those around you who are vulnerable.
If you enjoyed the original game, you are sure to enjoy this one. Just be prepared to battle terrifying new foes determined to "eat" you up in bits. You can explore the city at night with more undead and loot on every map.
Sniper Elite VR
Type = Single Player
Price = $30
Sniper Elite VR is a single-player WWll sniping game. The storyline of the game centers around an Italian fighter who strives to recount his war stories. You can take on an offensive campaign in the game, defend your territory, and shoot anything on sight with 18 replayable missions to pick from.
To have success, you have to use strategy and stealth to overpower your enemies across different levels. Specifically, Sniper Elite VR features the most usable sniper scopes. You can zoom in for precise shots using the slow-motion feature. The game is a nice twist versus most other faster-paced shooting games.
Superhot VR
Type = Single Player
Price = $25
Superhot VR is one of the most popular VR games of all time. It's a methodical shooting game where you have to shoot enemies and dodge incoming bullets in slow motion. Time in Superhot only moves when you do.
Superhot is one of the most unique VR experiences I've ever played. Its mechanics are made for virtual reality, and we highly recommend it. The game has been updated and optimized for the Meta Quest, including 90 Hz refresh rate.
Pistol Whip
Type = Single Player
Price = $25
Pistol Whip is a VR rhythm game. You constantly move through each level while shooting bad guys to the beat of the music. This is another game made well for virtual reality play. Along the way, you must also dodge bullets and fight boss bad guys.
Pistol Whip: 2089 was recently released as a free update to anyone who has purchased the game. 2089 is a story-based mode for Pistol Whip that will leave you speechless as you play.
AUDICA
Type = Single Player
Price = $30
AUDICA is another VR rhythm game where you get to use guns freely. It's from Harmonix, the makers of Rock Band. You have to shoot and smash targets to the beat of a song. It's a bit like Pistol Whip but plays more like a workout game.
AUDICA features songs from real-life electronic artists, including Deadmau5, Zedd, Marshmello, and Odesza.
Espire 1: VR Operative
Type = Single Player
Price = $30
Espire 1 is an undercover mission game. You have to sneak around and shoot enemies while completing different missions. It's a bit like Metal Gear Solid, Goldeneye, or Splinter Cell but for virtual reality.
Espire 1 is a VR shooter in the stealth genre, similar to Phantom: Covert Ops. It is filled with fun challenges that you can complete to finish the game right.
Space Pirate Trainer
Type = Single Player
Price = $15
Buy Here
Space Pirate Trainer combines Star Wars and Pirates of the Caribbean for a unique VR shooting experience. You have to battle hordes of flying enemies with various weapons and shields.
The gameplay is similar to the old Asteroid games but in full virtual reality. It's a fun and casual VR shooter without much of a storyline.
Robo Recall: Unplugged
Type = Single Player
Price = $30
Robo Recall is an action VR first-person shooter game. You must earn a high score by using your weapons to complete skill shots and other tactics. You teleport through city streets and rooftops, battling a robot uprising that is occurring.
As you progress, you unlock new weapons and customizations that help you in battle as the enemy gets tougher.
Blaston
Type = Single Player or Multiplayer
Price = $10
Blaston is an arena-style VR shooter game. You play against bots or real players around the world. It's a slow-motion game where you duck, dodge, and evade attacks while firing your back. It's a cross between Call of Duty and The Matrix.
Blaston has a large community of players. As you level up, you can collect new weapons and other customizations.
Contractors VR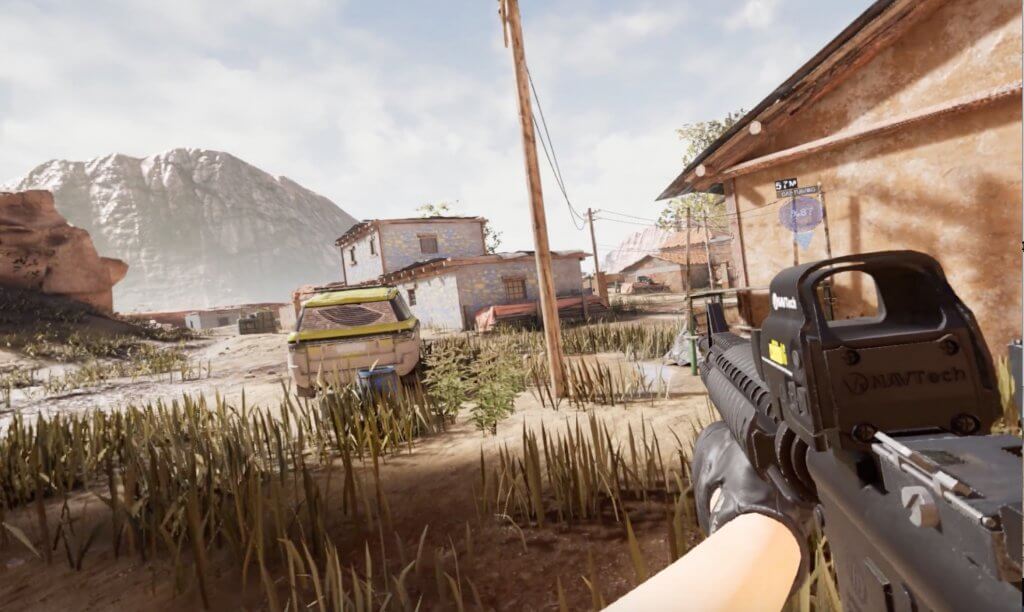 Type = Multiplayer
Price = $20
Contractors VR is a realistic VR shooter game similar to Onward. You play online with friends or strangers around the world. Contractors is compared a lot to the Call of Duty franchise and is the closest experience there is to playing CoD in virtual reality.
There are different multiplayer maps included in Contractors. In each game, you have different objectives such as eliminating the other team or capturing checkpoints. It has some of the most realistic weapon handling in VR.
Solaris: Offworld Combat
Type = Multiplayer
Price = $25
Solaris: Offworld Combat is a multiplayer team deathmatch game. You play in a robot suit with various weapons, power ups, and abilities to use. Strategy is key to team up and defeat the other team.
Solaris is built for e-Sports competitions, and there are professional leagues that you can play in. The developers constantly tweak the game to provide a better experience for players.
Dead and Buried II
Type = Multiplayer (Co-op or Verses)
Price = $20
Dead and Buried II is a fast-paced multiplayer shooter set in a supernatural western world. It is multiplayer based and you can either play with or against real players.
In co-operative mode, you team up to shoot the undead similar to old arcade gun shooters. In verses mode, you play in a last man standing match against other players.
Shooty Fruity
Type = SIngle Player
Price = $20
Shooty Fruity is one of the most unique VR shooters on this list. It combines job simulation with shooting action. You are placed in various jobs where you have to scan and interact with objects. While you do your job, keep one hand on your weapon. You have to shoot objects that fly at you and try to disrupt your flow.
Shooty Fruity features multiple guns and power-ups that help you complete each job and rack up your high score. It's fun for the whole family and doesn't take itself too seriously.
Warhammer 40,000: Battle Sister
Type = Single Player (Co-op multiplayer coming soon)
Price = $30
Warhammer 40,000 is a new VR shooter game. You play as a Battle Sister with authentic and powerful weapons and abilities. It's an action-adventure story game where you battle against the forces of chaos.
Warhammer 40,000 features galaxies, planets, and ruins to explore. You have to shoot hordes of bad guys as you progress through the game.
What are your favorite VR shooters to play on the Meta Quest 3, Pro, 2, or 1? Comment below and let us know!