In this article, we'll show you how to play Revomon VR on your VR headset. Revomon is a Pokemon alternative for virtual reality. It also incorporates blockchain and crypto elements into it.
Also, we'll reveal some of the Revomon VRbest tips and tricks to help you get the most out of it.
Specifically, we'll go over:
Should you have any questions about Revomon and how to play it, feel free to leave them in the comments section down below.
Must-read: 18 Best New AR Games to Play in 2022: Augmented Reality Fun
What is Revomon VR?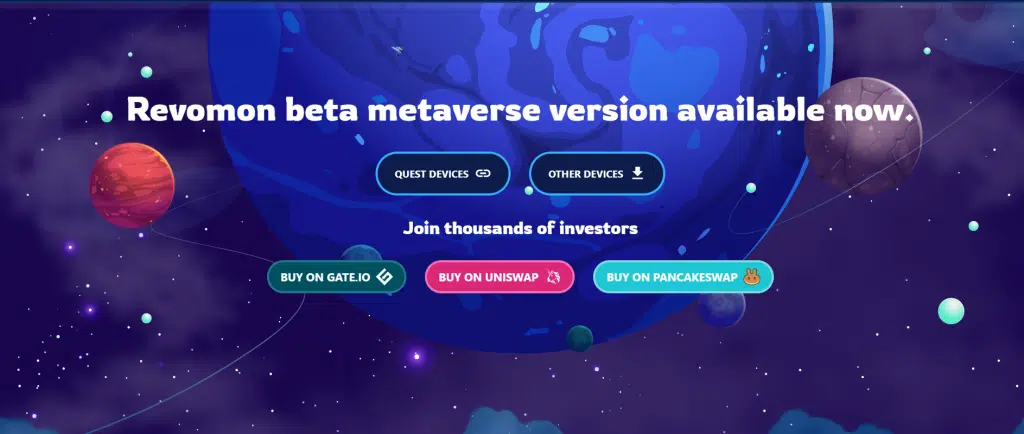 Revomon (Revolution Monsters VR) is the virtual reality version of the popular role-playing game Pokemon. It combines the virtual reality experience with the NFT technology so players can create real value out of entertainment in a virtual world.
The Revomon Metaverse is inspired by the Zelda and Pokemon universes. Merging these two creatures gives birth to what is known as Revomon or Revolution Monsters. The game is supported on the Meta Quest, Rift, Rift S, and HTC Vive.
Players can socialize with each other while on a hunt for wild Revomon. The game can be seen as a merger of Axie Infinity and Pokemon Go, but in a virtual environment.
Revomon is created by the Pokemon fans for the fans. The game comes from the same creators as the Pokemon VR. More on the history of Revomon in the next section of the article.
Watch the gameplay here.
Revomon history
The game didn't really start as Revomon. It was created as Pokemon VR, a fan-made tribute to Nintendo's classic Pocket Monsters, aka Pokemon.
Sensing the wrath the creators of the game might face from Nintnedo's legal team, they pulled out of Sidequest and relaunched as Revomon due to licensing issues.
Is there a Pokemon VR game?
No, there's no official Pokemon VR game available at the time of writing this article. Revomon creators initially launched the same game as Pokemon VR which was later pulled out because Nintendo owns the license for Pokemon.
What you see now is the relaunched version of Pokemon VR in the name of Revomon. It is a virtual reality based Pokemon game made by fans for the fans built and led by the community.
Alongside the revamp from Pokemon to Revomon, the development team has added a ton of great features. This has morphed the game into a unique VR RPG experience.
Revomon VR Features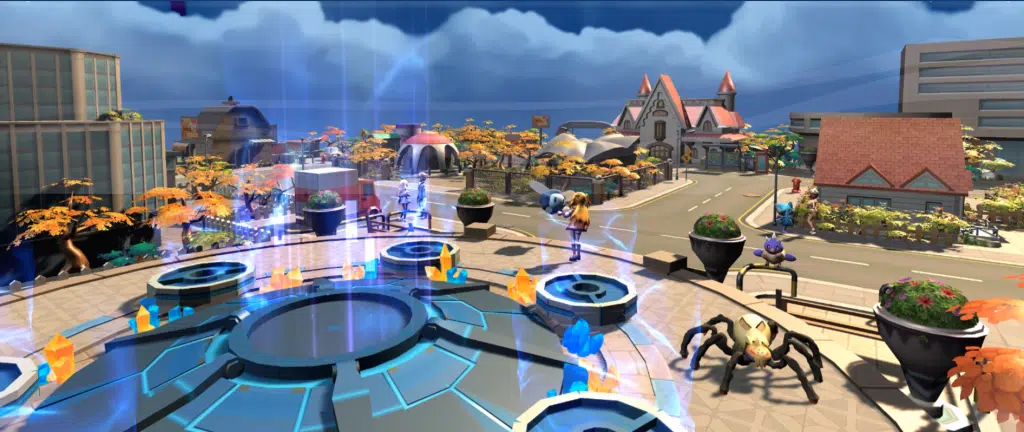 Here are the some of the key features of the Revomon VR game:
Take ownership of what you collect
You own whatever you collect in the game. Each Revomon is eligible to be swapped into an ERC-721 NFT, an open standard that defines how to build non-fungible tokens on the Ethereum blockchain.
Decentralized Autonomous Organization (DAO) governance protocol
The game is predominantly built and led by the Revomon community. The token holders play a vital role in decision making about the platform, the game, and its content.
Play-to-earn game
As said above, you own what you collect. Here's how the global user process in Revomon works:
User buys and plays Revomon from the VR online stores on their VR headset
User progresses in the game and collects Revomon as rewards
Each collected Revomon can be swapped into unique NFTs stored on Binance Smart Chain network (a blockchain network built to help developers create Decentralized applications, or Dapps, and help users manage their digital assets cross-chain). The project will soon allow the project to expand to Ethereum Chain's OpenSea as well.
Users can hold their NFTs in their in-game wallet and sell them on spread out marketplaces like Refinable. Discover the first generation of NFTs in this collection. Also, users can swap their $REVO tokens into ETH. REVO is a cross-chain token that operates on Binance and Ethereum blockchain. Learn how to bridge your tokens on PolyNetwork bridge here.
Staking/Farming
Staking or farming in the crypto world refers to the process of locking up crypto holdings to earn rewards or interest. In Revomon, you can stake or farm $REVO tokens and secure your in-game network activities. You get rewarded for depositing and holding coins with guaranteed time-based returns.
Here's a list of all the other features integrated into Revomon.
Over 700 unique Revomon to capture, train, and battle with
8 cities, 8 routes, and 8 badges
Wild Revomon and catching mechanics
Level up and experience
Social online game with voice chat
Trade with others trainers
Legendaries and shinies
Mega evolution
NPC and PVP Battles
Ranking system
More than 40 characters to choose
Also read: Meta Quest 2 vs Playstation VR2: Complete Comparison Guide
What VR devices can run Revomon?
Revomon is available in two downloadable formats:
.apk format on SideQuest store
.exe format on Revomon website
The version you get to download and play depends on the VR hardware you own.
Meta Quest and Meta Quest 2 run Revomon natively in the APK version. Other VR headsets like the Oculus Rift and Rift S, HTC Vive, Valve Index, and Windows Mixed Reality run the game in .EXE version. Furthermore, they require the installation of an additional software named Revive.
How to create a Revomon account?
Before we install Revomon on your VR headset, let's begin with creating a Revomon account. Follow the below steps to create your Revomon account:
Step 1:
Go to the Revomon registration page
Step 2:
Enter your email address, a new username, and a password
Step 3:
If you do not wish to link your blockchain wallet to the account, simply click the 'Register' button
Step 4:
Select the blockchain wallet you would like to link to your account. Available wallets are as follows:
MetaMask (requires sign in to browser extension)
Binance wallet (requires sign in to browser extension)
Native Browser (requires a Dapp browser)
WalletConnect (requires a WalletConnect-compatible wallet)
Step 5:
Once your wallet is linked, click the 'Register' button
How to install Revomon on Meta Quest?
To install Revomon on Meta Quest, follow the below steps:
Step 1:
Ensure your Quest headset is in developer mode. Revomon is only available as a sideloadable APK file on the Oculus VR headset. In order to sideload it to Quest, you need to enable the developer mode.
Learn how to enable the developer mode on Quest in our guide to Sideload on Oculus Quest.
Step 2:
Install the Sidequest PC app on your computer and run it. Click here to install the app. If you are using an Android, you can install the Sidequest Android app from the Play Store.
Step 3:
Now, download and install the game on your Quest via Sidequest by clicking here
Step 4:
You can now access the game in the Unknown Sources folder of your Quest headset in the dropdown where your other games are located
How to install Revomon on Rift / Rift S / Valve Index / WMR / PC VR headsets?
Install Revomon on Rift / Rift S / Valve Index / WMR / PC VR headsets by following the below steps:
Step 1:
Download the Revomon ZIP from here
Step 2:
Now, download and install the Revive Installer from its Github page and run it
Step 3:
Connect your headset to your PC
Step 4:
Download the Oculus and SteamVR apps on your PC and launch them
Step 5:
Finally, drag and drop the Revomon.exe file into the Injector.exe file located in the Revive folder
You can now start playing Revomon on your VR headset.
Get the Beta version of Revomon on Sidequest now and start hunting the wild Revomons.
Suggested read: The Best 30 SideQuest VR Games in 2022 (Quest 2 Update)
Revomon: The next-gen Pokemon
If the above features and facts of the game don't appeal to you, then I don't know what will. For a game in its initial stages yet, it is the closest Pokemon gaming experience you can get in the virtual world. The realistic Nintendo graphics and blockchain integration makes it one of the best NFT games available in the market.
What are your thoughts on the Revomon game? Were you successfully able to sideload it on your VR headset? Let us know in the comments section down below.