If you love to watch movies and television shows, then you'll love watching them in full virtual reality with a VR headset. In this guide, we'll go over the best VR headsets for streaming movies and TV shows. These can be movies stored locally on your home network or headset or remotely on the internet in the cloud.
New for 2022: There are some augmented reality smart glasses that project a giant television screen directly into your vision! We've listed the best AR media glasses below too. Also, a handful of new VR headsets are set to launch this year. Check them out by yourself!
Before we get into the best media AR and VR headsets, we need to consider what FEATURES someone that watches movies and television would want in their VR headset.
Comment down below and let us know what you think!
Related: The 5 Best Upcoming VR Headsets Being Released
What are the Best AR and VR Headsets for Streaming Movies & TV Shows?
The following are our picks for the best AR and VR headsets for streaming:
Meta Quest 2
Best VR Headset for Streaming Movies & TV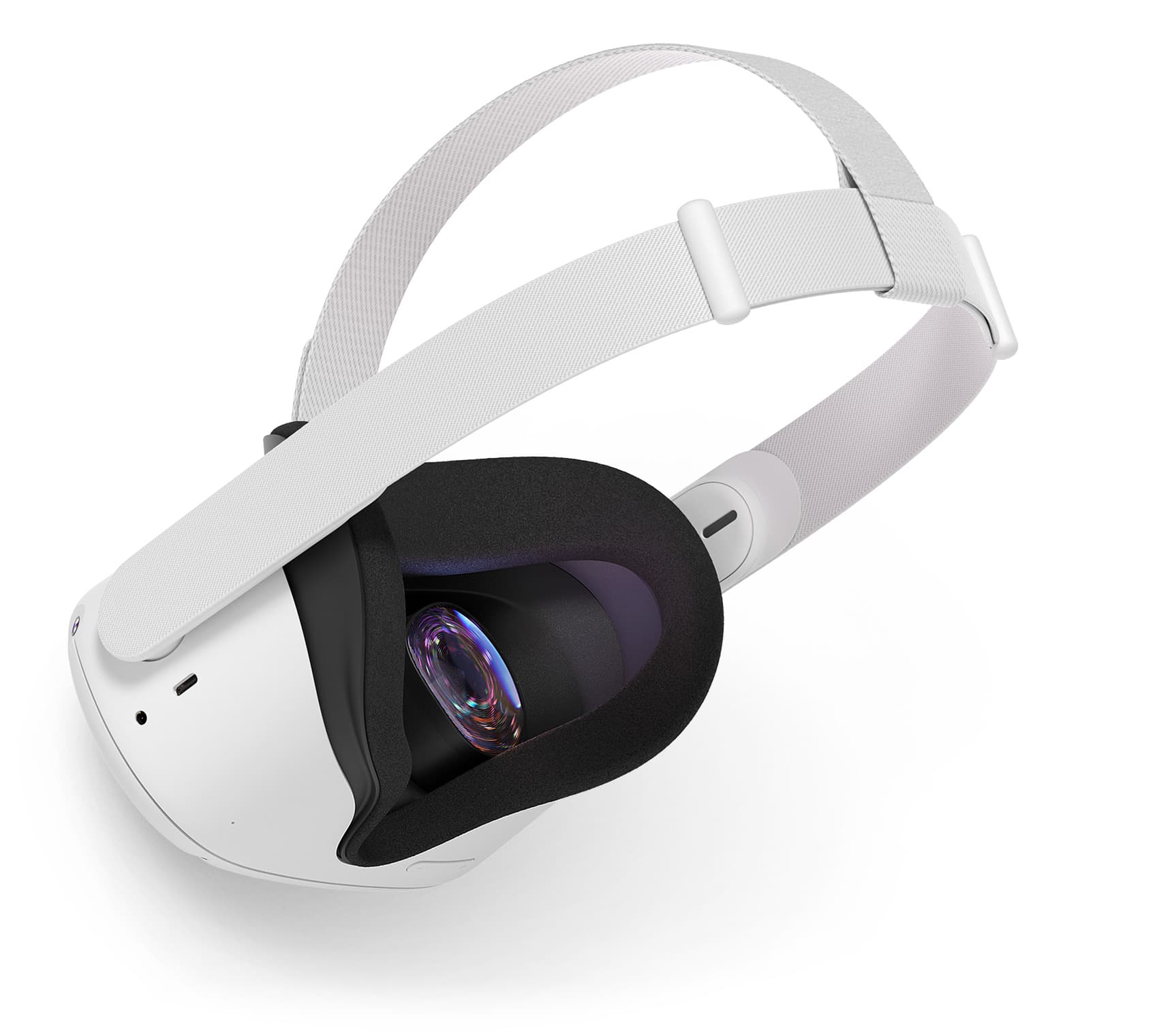 The Meta Quest 2 is the premier VR wireless headset on the market. It requires no connection to a nearby computer and is powerful despite this fact.
The Quest 2 has a screen resolution of 1832 x 1920 per eye, which is an improvement over the Oculus Quest 1. It also has an upgraded 90 Hz refresh rate and field of view of 95 degrees.
The Quest also runs on the Android operating system. Again, this makes things easy if you want to sideload on media streaming applications such as Plex, Kodi, or something else. Netflix VR is available in the Oculus store by default, so you'll be able to watch Netflix on the Oculus Quest quickly.
The Meta Quest 2's MSRP is $399 USD. There are a ton of extra features included in the Quest 2 too. It has a new Qualcomm Snapdragon XR2 system on a chip, which is over 50% better than the Snapdragon 835 on the Quest. It comes with redesigned Touch Controllers that offer way better battery life too.
One other perk of the Meta Quest 2 is the fact that it can also have a tethered connection to a PC via Oculus Link. This means that you can store your media on your computer and still stream it inside of the headset too.
The Quest 2 is our pick for best VR headset for 2022, so it only makes sense that it is the best for streaming media too. It's a smart theatre VR headset for everyone.
Pros
Smooth performance while gaming and streaming
Incredibly immersive experiences
Excellent resolution
Standalone capability
Still connects to a PC via Oculus Link
Cons
Only 2-3 hours battery life
Requires a Facebook sign-in (can bypass this though, check how!)
Additional charge for Link cable and high-quality strap
No dedicated headphones
Watch how it feels to stream movies on Quest 2.
Important links
Click here to read our full Oculus Quest 2 roundup and review.
Click the below button to buy the Oculus Quest 2 on the official website.
Also, you can purchase the Quest 2 headset for streaming by clicking the below button.
Meta Quest 2 — Advanced All-In-One Virtual Reality Headset — 128 GB
Meta Quest is for ages 13+. Certain apps, games and experiences may be suitable for a more mature audience. Keep your experience smooth and seamless, even as high speed action unfolds around you with a super-fast processor and high-resolution display. (Packaging may vary) Meta Quest packaging will continue to carry the Oculus name and logo during the transition to our new branding.
Experience total immersion with 3D positional audio, hand tracking and haptic feedback, working together to make virtual worlds feel real.
Explore an expanding universe of over 250 titles across gaming, fitness, social/multiplayer and entertainment, including exclusive blockbuster releases and totally unique VR experiences.
GOOVIS LITE
Best Augmented Reality AR Headset for Media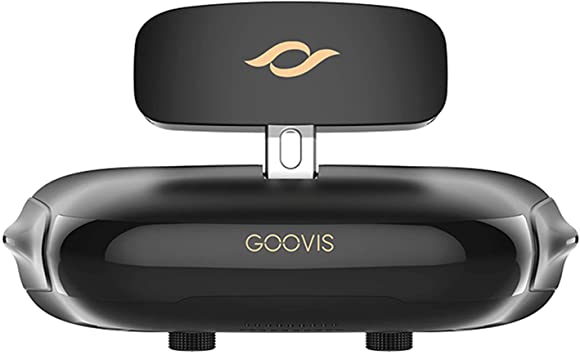 The GOOVIS LITE is a personal cinema screen that you wear on your head similar to a VR headset or heads up display. It is the largest and the clearest personal display headset for streaming available to buy today.
The GOOVIS is a dual 0.49″ M-OLED display that appears like a 600-inch television in your vision.
With this super high quality and large screen, you can mirror any display you have. You can duplicate your phone, laptop, TV and other devices in your vision either wirelessly or with an HDMI cable. The hardware supports all the latest protocols as well including DLAN, Miracast, and Airplay 2. It tries to make video streaming as painless as possible.
For streaming media, the GOOVIS lite appears like a big winner. It has low video distortion, so your picture is nice and clear. It also includes a very high 4523 pixels per inch.
Pros
Interface text is readable, so scaling is not required.
A sharp display means less eye strain.
Light and comfortable to wear for extended periods.
D3 Media Player is great for playing back local files in 2D or 3D.
Best suited for 3 Dimensional videos.
Cons
No audio (So you're watching the movie in silence?).
D3 Media Player uses outdated software.
It doesn't serve the entire purpose of VR. It is labeled VR, but in reality, it is not. It is better suited for streaming cinemas.
Watch the detailed review of GOOVIS LITE headset for streaming below.
Important links
Click here to read our full GOOVIS LITE Review.
Click the below button to buy the GOOVIS LITE on the official website.
Also, you can purchase the GOOVIS LITE headset for streaming by clicking the below button.
GOOVIS Lite with Case- 3D HD Headsets OLED Display Goggles Glasses, Built-in Adjustment Hyperopia & Myopia Lens Compatible with PC, Smart Phone, Set-top Box, UAV
【Immerse Vision Experience】53PPD 4496PPI,1080P OLED dual display,the definition is enhanced almost 4K.and 4M 150"massive screen that provides you an experience beyond your vision. Goovis Lite is suitable for 2D/3D movies,if you want to play 3D Blue-·discs,you can buy GOOVIS Pro.
【Can Watch Anytime, Anywhere,Any Posture】GOOVIS Lite Only 200g light weight, easy to carry and use. Unlimited entertainment at home, in the office, outdoors or on the plane. Whether you are lying down watching a movie or sitting down studying or working, it can meet your different needs.
【Adjustable Vision Range Lens】The virtual reality headset accommodates a vision range from +2D hyperopia to -7D myopia, and an IPAD ( Interpupillary Distance ) from 56mm to 72mm, and separate adjustment of each of the left and right eyes.NO screen door effect, crystal clear edges.For Astigmatism ≥50D, please contact us to customize astigmatism lens.
Also read: 10 Best VR Players For PC, Android, iOS, and VR Headsets
GodView V5
Best Upcoming Streaming Glasses
The GodView V5 is a pair of augmented reality glasses for watching movies that offer an extremely high resolution for an augmented reality device. It projects a 300 inch projector screen into your vision. It does this using a binocular of 110-degree wide FOV for you to enjoy an amazing immersive experience. The GodView is one of the newest headsets for streaming.
GodView comes with an amazing 110-degree field of view, nearly three times what you get in the HoloLens and Magic Leap headsets. In fact, it can produce a virtual screen equivalent to a 300″ projecting screen, with up to 2000 nits of brightness. The glasses do not include a computing device. Instead, the headset is powered from your mobile phone or computer.
The Godview V5 is compatible with a range of devices, including desktops, laptops, as well as game consoles. You can connect your GodView V5 glasses to these devices using a USB C or HDMI cable. Or, you can purchase the GodView PickMini, a mini PC designed for the V5.
Pros
Connect to smartphones and PC
Good 110-degree FOV
Immersive experience for video streaming
USB Cand HDMI cable support
Cons
Resembles a pair of sunglasses
Has a four hour battery life
Watch the detailed review of GOOVIS LITE headset for streaming below.
Important links
Click here to read our full GodView V5 Review.
Click the below button to buy the GodView V5 on the official website.
HTC Vive Cosmos
Tethered VR Headset for Streaming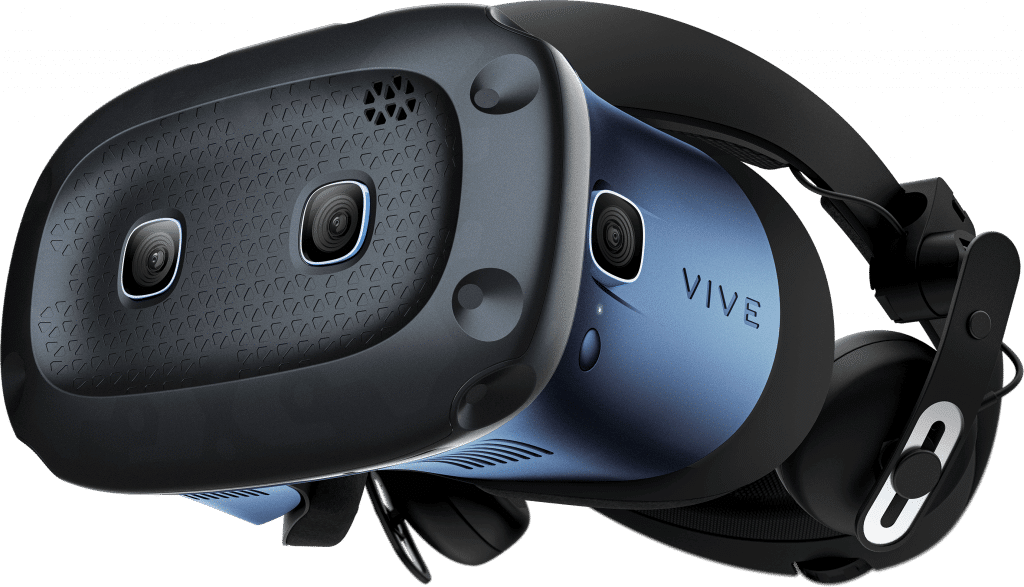 The HTC Vive Cosmos doesn't require any external sensors for motion tracking. Because of this, we aren't even going to consider any other HTC VR headset for streaming. We just don't see them catering enough to people who only want to stream movies and TV shows.in a VR headset.
The Cosmos has a 2880 x 1700-pixel screen (1440 x 1700 per eye). This extra 100 pixels in height makes your picture a bit more immersive. The Vive Cosmos has a field of view of 110 degrees, larger than any of the Oculus headsets above.
Unlike the Oculus Go and Quest, the HTC Vive Cosmos requires a VR-ready computer to connect to at all times. This means that the portability of the Cosmos is limited to the room you are in.
Instead of Android, HTC headsets are compatible with the SteamVR and Viveport app stores. While you'll find Netflix VR and other media players in there, you won't find some popular third party apps like Plex or Kodi. You can use some virtual desktop solutions such as Bigscreen VR to present these apps on your headset with a few more steps.
The MSRP of the HTC Vive Cosmos is $699, more than double the cost of the Quest 2. However, you'll get access to a larger ecosystem of apps and games and a VR system that is magnitudes higher quality than either Oculus option. Of course, this price tag doesn't include the price of the VR-ready gaming PC you have to buy.
Nobody who buys the Vive Cosmos will be disappointed with the quality, but you have to decide if the thousands more in investment cost is worth when consider VR headsets for streaming movies and TV.
Pros
LCD screen comprises higher resolutions.
Evolves to Cosmos Elite
Viveport Infinity is gifted
No leakage of light
Cons
Cosmos limits at tracking
Bulky controllers
Original accessories serve the purpose.
Only satisfies 110-degree view
Shifting your eyes often visualizes black edges to your visuals.
Requires a gaming PC.
Check out the setup, unboxing, and first impressions of HTC Vive Cosmos VR headset for streaming.
Important links
Check out our guide on HTC Vive Vs Vive Pro Vs Vive Eye Vs Vive Cosmos
Click the below button to buy the Vive Cosmos on Amazon.
Sale
HTC Vive Cosmos Elite Virtual Reality System
Lighthouse tracking - base station 1.0 provides up to 160 sq. Feet of play space for those that demand the best in Vive VR gaming..Memory: 4 GB RAM or more. Operating system: Windows 10, Windows 11. Screen: Dual 3.4" diagonal. Connections: Micro-USB charging port
Crystal-clear graphics - see the virtual world through a 2880 x 1700 combined Pixel resolution. All-new LCD panels reduce the distance between Pixels, minimizing the screen-door effect.
Flip-up design - go easily between reality and virtual reality with the flip-up design, without disrupting your VR journey.
Oculus Go
Budget VR Headset for Movies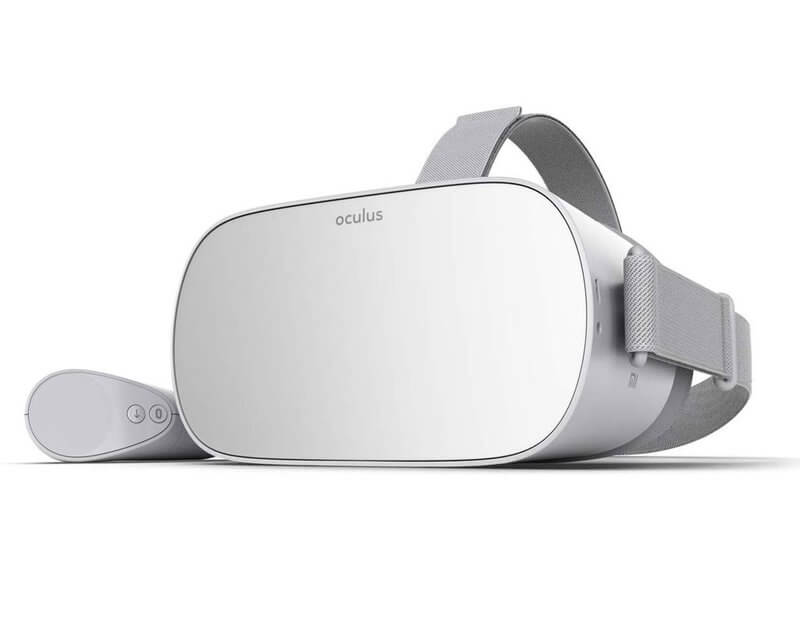 The Oculus Go is the cheapest Oculus headset you can buy. It has a screen resolution of 2560 x 1440 (1280 x 1440 per eye). The actual screen size is a 5.5-inch display.
The field of view in a Go is 100 degrees. It has a 72-hz refresh rate.
The Oculus Go does not require a tethered connection to a nearby PC. It runs completely independent. This is great because you can carry your Go to your bedroom and watch videos there.
The Oculus Go runs on the Android operating system. This is a good thing for watching movies in a VR headset because you can load any Android APK onto it. This means that you can install third party APKs if you wish.
For pricing, the Oculus Go costs $199 USD, which is one of the cheapest headsets you can buy.
One major drawback of the Oculus Go is that it does not have 6 degrees of freedom capabilities. This means that any games or media you run on it will only be in your immediate 360 degree space. You will not be able to walk around your environment with real movements.
The Oculus Go is now discontinued. You should be able to find a copy second hand for cheap if you want a cheap media headset for video streaming.
Pros
Cost worthy and efficient
Requires no USB cable to connect with any devices (As it is wireless)
No need to depend on Mobiles or PC
Fluid display
Cons
Tracking position is not available
Limits with one motion controller.
Underestimated compared to smartphone-powered headsets.
The software library has limits.
Discontinued. Second hand options are the only way to buy it.
Watch the detailed review of Oculus Go headset for streaming below.
Important links
Click the below button to buy the Oculus Go on the official website.
Also, you can purchase the Oculus Go headset for streaming by clicking the below button.
Sale
Oculus Go Standalone Virtual Reality Headset - 32GB
Personal Viewing: The littlest, big screen. Crystal clear optics and state-of-the-art 3D graphics make your headset feel more like a personal theater
Viewing with Friends: Watch with friends. Meet up in VR with friends and fans from around the world to catch live sports, concerts, or just your favorite TV show
Portable & Easy to Use: Ready when you are. Experience portable, all-in-1 VR. That means no PC, phone, wires or hassles
VR Headsets For Streaming Summary
If you missed all of the specs listed above, don't worry. Here's a summary of everything we've shown you about VR headsets for streaming:
| | | | | | |
| --- | --- | --- | --- | --- | --- |
| | Oculus Go | Oculus Quest 2 | GOOVIS LITE | GodView V5 | HTC Vive Cosmos |
| Display | 1280 x 1440 per eye | 1832 x 1920 per eye | 1920 x 1080 per eye | 2560 x 2560 per eye | 1440 x 1700 per eye |
| Field of View | 100 degrees | 100 degrees | 42 degrees | 110 degrees | 110 degrees |
| Portable | Yes | Yes | Yes | Yes | No |
| Streaming Options | All Android | All Android | Wireless to Home Devices | Wireless to Home Devices | SteamVR / Viveport |
| 6 Degrees of Freedom | No | Yes | No | No | Yes |
| Price | $199 | $299 | $349 | $459 | $699 |
| BUY NOW ON OFFICIAL SITE | CLICK HERE | CLICK HERE | CLICK HERE | CLICK HERE | CLICK HERE |
| BUY NOW ON AMAZON | CLICK HERE | CLICK HERE | | | CLICK HERE |
Comparison of the best AR and VR headsets for streaming movies and TV shows
Key Features to Consider When Buying a VR Headset for Movies?
Screen Resolution
If you want to use your VR headset for watching movies and other media, then screen resolution is important. Screen resolution determines how clear media files look in your headset.
If screen resolution is too small, then you'll see a lot of blurriness in your view. Also, high motion scenes will tend to be pixelated and black scenes will look like a washed out grey color.
Below, we look at the display resolution for the most popular VR headsets on the market.
Field of View
Field of view and screen size go hand in hand together to determine the quality of streaming media on a virtual reality headset.
Field of view is number of degrees you are able to view in your headset at any given moment. A wide FOV will immerse you better into every game, app, and media scene. A narrow FOV means you are likely to see black space at the corners of your eyesight.
Screen size is directly tied to FOV, since a wider FOV will require a larger screen size.
We look at both of these factors below as well!
Portability
Some headsets require a tethered connection to a nearby gaming PC. This is awesome if you plan on watching movies and TV in your headset in the same spot all of the time.
But what if you want to take your VR headset up to your bedroom and watch a show in bed? In that case, you'll want a portable VR headset which you can move around as you wish without worrying about a cable.
We will look at portability below as a main factor in good AR and VR headsets for streaming.
Number of Compatible Streaming Apps
The number of streaming apps available to install on your VR headset is an important factor to consider. Some people may only care about Netflix or playing local media files which are stored on their computer.
But what if you want to stream media off of the internet? Or access other cloud-based media stored somewhere? What if you want to watch something with an external subtitles file?
You need a VR headset that is capable of loading different streaming apps onto it so that you are covered for whatever scenario you have.
Augmented reality glasses mirror your phone, computer, or TV into your vision wirelessly. This lets you stream the same content you have in your home without having to download extra apps or find streams on the internet.
Cost
Of course, all AR and VR headsets for streaming come with a price to them. We will look at the cost of each headset so that you can compare each price to its features and make the best decision for yourself.
Tied in with the cost of your headset is the question of what else you plan on doing with your headset? Do you also want access to VR apps? Multiple VR games? These are other important factors that impact the price of the headset you want.
Next, let's take a look at our pick for best AR and VR headsets for streaming movies & TV shows.
The Verdict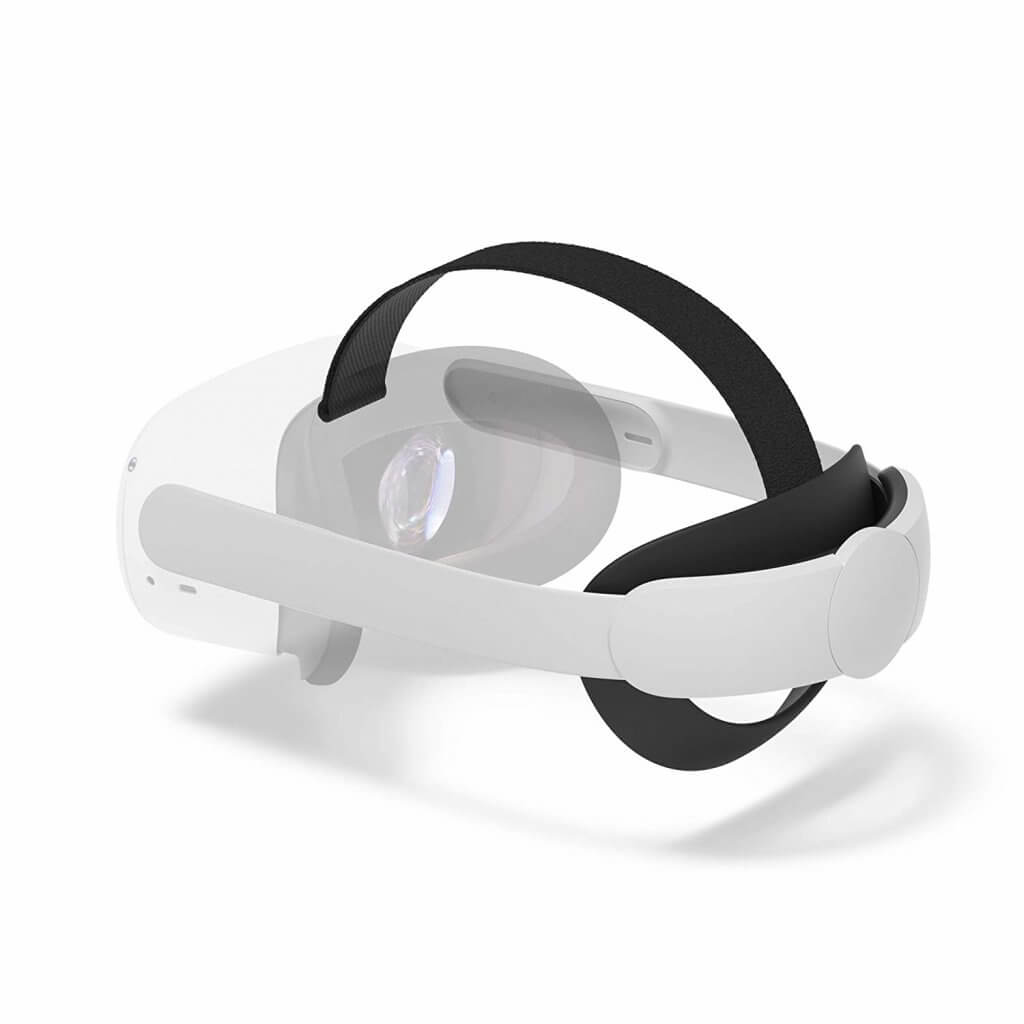 Our choice for best VR headset for movies and TV is the Oculus Quest 2. It has the right quality for watching media in virtual reality. It's Android operating system is growing with official apps each week and the number of APKs you can sideload onto it is limitless.
Unlike the Vive Cosmos, you don't need to buy a PC to get into VR. And it's portability makes it a winner for streaming media on the go wherever you are.
Compared to the Go, we like the extra price in exchange for 6 degrees of freedom and extra screen quality. The Oculus Go is a better entry headset for media ONLY, but if you plan on using the VR headset for ANY other games or apps at all then the Quest is superior.
We think the GodView and GOOVIS products are enticing headsets for streaming in the future. However, we'd like to test these devices up close before we call them a winner.
Streaming Headsets to Watch For
Besides the above top VR headsets for streaming, we look forward to the upcoming VR headsets in 2022 that could be great options for streaming movies, shows, and sports.
PlayStation VR2
The Playstation VR2 is one of the most anticipated upcoming VR headsets in 2022. The headset is packed with improvements over the original PSVR, which was released back in 2016.
The PSVR2 includes a 4K OLED display, single-cord setup, and implementation of haptic feedback technology. Sony has been quietly testing hardware internally and releasing patents time and again that provide a hint at features in the new headset.
The Playstation VR2 comes with brand new redesigned Sense controllers. The halo-shaped controllers have a number of new sensors packed into them. They communicate back to the headset, which has a new inside-out tracking system (an improvement over the original Playstation VR).
Click here to read our complete guide on the Playstation VR2 upcoming VR headset.
Apple VR Headset
The Apple VR headset is an upcoming VR headset from the Cupertino giant. It will be Apple's first hardware release in the augmented or virtual reality space, though the company has been releasing new software features for the past five years.
Rumors say that all components will be inside of the device and it will not require a tethered connection to a nearby PC. Apple's M-series computer chip provides serious processing power and the inclusion in a VR hardware would instantly be a fan favorite.
The Apple VR is a precursor to future augmented reality smart glasses designed for everyday use.
Early manufacturer leaks say that the Apple VR will have a curved visor with a soft mesh material, swappable headbands, and more. It will feature flat pancake lenses, similar to the HTC Vive Flow, for a small form factor. The Apple code name for the VR headset is N301.
Click here to read our complete guide on the Apple VR headset, with a summary of everything we know so far.
Frequently Asked Questions
Can you watch full movies in virtual reality?
A lot of VR headset apps show full movies on a full virtual movie screen in your vision. You can look around the room and your surrounds while you watch, just like in real life. An app like Bigscreen VR even lets you watch movies alongside your friends at the same time.
What features are key in a VR headset for streaming?
If you plan on watching a lot of movies and TV shows in your headset, then the display resolution and field of view are important to feel immersed in the content.
How do you not sweat while playing VR?
Use sweatbands. VR movements won't cause much sweat. But sweat range differs for every person. In intense situations, there are chances to exhaust and sweat often. So you can't remove your VR headset every time to wipe your sweat. Use headcover to block moisture entering your eye and VR.
Should I wait to buy a VR headset?
As VR is a growing industry, it is booming with competition. The fear of investing in outdated headsets is an issue. According to value, the Oculus Quest 2 serves as the best VR headset. If you are happy with Facebook policies, go for it.
What should I look for in a VR headset?
VR headsets serve multiple purposes, such as gaming, work, and watching media. Therefore, it depends on how you plan to use it. A higher resolution in the display is always better, and it depends on the hardware you're willing to invest in to get the most out of your experience.
How do I care for my VR headset?
Just as every other headset, VR headsets often get dusty. You may clean the lenses using a microfiber cloth to make sure no water enters the headset. Use a silicon cover to save your face from sweat. When it's not at use, practice covering your headset. Keep your headsets away from the sun. Once the beam hits the lenses, the display may spoil.
Why should I take scheduled breaks from VR?
Streaming a movie or playing a game in VR is fun, but doing so for extended hours becomes a threat to our health. Though streaming varies from movies to playing Beat Saber, both activities may divert us from keeping hydrated. A limited time may cause migraines, so scheduling breaks helps to prevent this.
Is VR bad for your eyes?
Using VR for an extended period causes eye strain, so it's best to take breaks.
What are your favorite AR and VR headsets for streaming media? Comment below and let us know what you think!