If you love to watch movies and television shows, then you'll love watching them in full virtual reality with a VR headset. In this guide, we'll look at the best VR headsets for streaming movies and TV shows. These can be movies stored locally on your home network or headset or remotely on the internet in the cloud.
Before we get into the best media VR headsets, we need to consider what FEATURES someone that watches movies and television would want in their VR headset.
Comment down below and let us know what you think!
What Features are Important For Streaming Movies & TV in Virtual Reality?
Screen Resolution
If you want to use your VR headset for watching movies and other media, then screen resolution is important. Screen resolution determines how clear media files look in your headset.
If screen resolution is too small, then you'll see a lot of blurriness in your view. Also, high motion scenes will tend to be pixelated and black scenes will look like a washed out grey color.
Below, we look at the display resolution for the most popular VR headsets on the market.
Field of View
Field of view and screen size go hand in hand together to determine the quality of streaming media on a virtual reality headset.
Field of view is number of degrees you are able to view in your headset at any given moment. A wide FOV will immerse you better into every game, app, and media scene. A narrow FOV means you are likely to see black space at the corners of your eyesight.
Screen size is directly tied to FOV since a wider FOV will require a larger screen size.
We look at both of these factors below as well!
Portability
Some headsets require a tethered connection to a nearby gaming PC. This is awesome if you plan on watching movies and TV in your headset in the same spot all of the time.
But what if you want to take your VR headset up to your bedroom and watch a show in bed? In that case, you'll want a portable VR headset which you can move around as you wish without worrying about a cable.
We will look at portability below as a main factor in good VR headsets for streaming.
Number of Compatible Streaming Apps
The number of streaming apps available to install on your VR headset is an important factor to consider. Some people may only care about Netflix or playing local media files which are stored on their computer.
But what if you want to stream media off of the internet? Or access other cloud-based media stored somewhere? What if you want to watch something with an external subtitles file?
You need a VR headset that is capable of loading different streaming apps onto it so that you are covered for whatever scenario you have.
Cost
Of course, all VR headsets for streaming come with a price to them. We will look at the cost of each headset so that you can compare each price to its features and make the best decision for yourself.
Tied in with the cost of your headset is the question of what else you plan on doing with your headset? Do you also want access to VR apps? Multiple VR games? These are other important factors that impact the price of the headset you want.
So, let's take a look at our pick for best VR headsets for streaming movies & TV shows.
3 Best VR Headsets for Streaming Movies & TV Shows
Oculus Go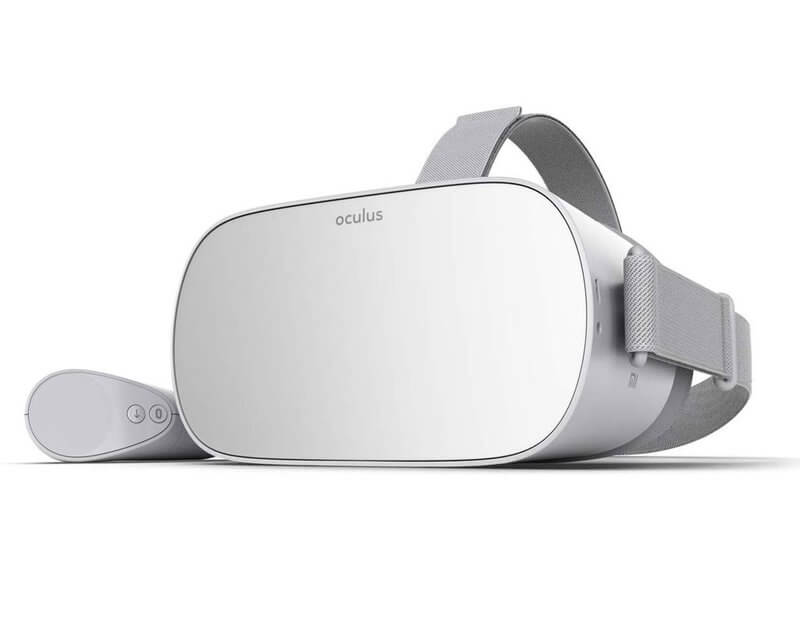 The Oculus Go is the cheapest Oculus headset you can buy. It has a screen resolution of 2560 x 1440 (1280 x 1440 per eye). The actual screen size is a 5.5-inch display.
The field of view in a Go is 100 degrees. It has a 72-hz refresh rate.
The Oculus Go does not require a tethered connection to a nearby PC. It runs completely independent. This is great because you can carry your Go to your bedroom and watch videos there.
The Oculus Go runs on the Android operating system. This is a good thing for watching movies in a VR headset because you can load any Android APK onto it. This means that you can install third party APKs if you wish.
For pricing, the Oculus Go costs $199 USD, which is one of the cheapest headsets you can buy.
One major drawback of the Oculus Go is that it does not have 6 degrees of freedom capabilities. This means that any games or media you run on it will only be in your immediate 360 degree space. You will not be able to walk around your environment with real movements.
Oculus Quest
The Oculus Quest is the premier portability VR headset on the market. It requires no connection to a nearby computer and is powerful despite this fact.
The Quest has a screen resolution of 2880 x 1600 (1440 x 1600 per eye), which is an improvement over the Oculus Go. It has the same 72 Hz refresh rate and field of view of 100 degrees as the Go as well.
The Quest also runs on the Android operating system. Again, this makes things easy if you want to sideload on media streaming applications such as Plex, Kodi, or something else. Netflix VR is available in the Oculus store by default, so you'll be able to watch Netflix on the Oculus Quest and Go quickly.
The Oculus Quest's MSRP is $399 USG, which is a step above the Go. However, there are a ton of extra features included in the Quest. 6 degrees of freedom is a big feature. You'll be able to walk around and view things in full 360 degrees. This is a must have feature if you plan on playing any games on your VR headset.
HTC Vive Cosmos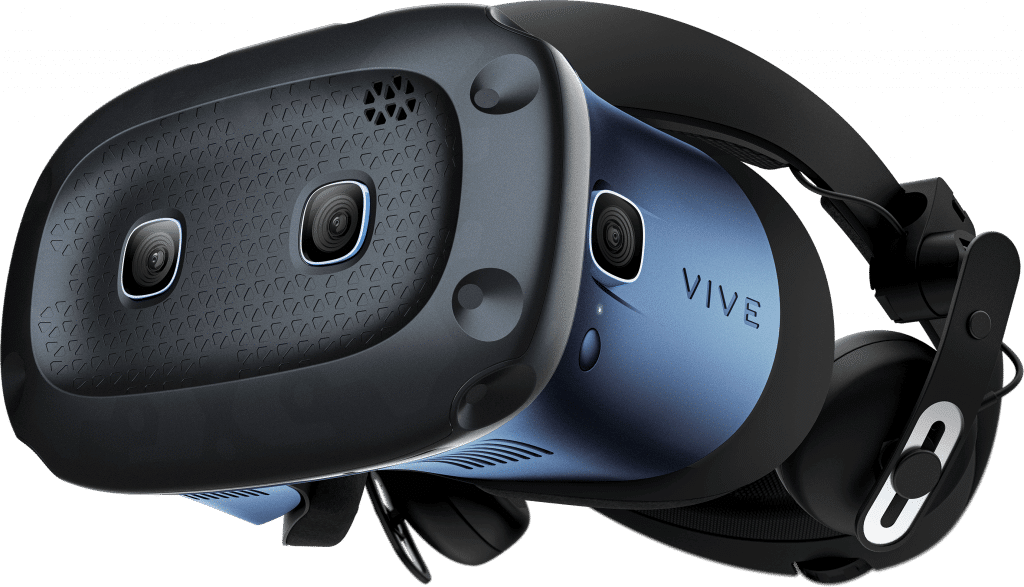 The HTC Vive Cosmos doesn't require any external sensors for motion tracking. Because of this, we aren't even going to consider any of the HTC VR headsets. We just don't see them catering enough to people who only want to stream movies and TV shows.in a VR headset.
The Cosmos has a 2880 x 1700-pixel screen (1440 x 1700 per eye). This extra 100 pixels in height makes your picture a bit more immersive. The Vive Cosmos has a field of view of 110 degrees, larger than any of the Oculus headsets above.
Unlike the Oculus Go and Quest, the HTC Vive Cosmos required a VR-ready computer to connect to at all times. This means that the portability of the Cosmos is limited to the room you are in.
Instead of Android, HTC headsets are compatible with the SteamVR and Viveport app stores. While you'll find Netflix VR and other media players in there, you won't find some popular third party apps like Plex or Kodi. You can use some virtual desktop solutions such as Bigscreen VR to present these apps on your headset with a few more steps.
The MSRP of the HTC Vive Cosmos is $699, 75% higher than the Quest. However, you'll get access to a larger ecosystem of apps and games and a VR system that is magnitudes higher quality than either Oculus option. Of course, this price tag doesn't include the price of the VR-ready gaming PC you have to buy.
Nobody who buys the Vive Cosmos will be disappointed with the quality, but you have to decide if the thousands more in investment cost is worth when consider VR headsets for streaming movies and TV.
VR Headsets For Streaming Summary
If you missed all of the specs listed above, don't worry. Here's a summary of everything we've shown you about VR headsets for streaming:
| | | | |
| --- | --- | --- | --- |
| | Oculus Go | Oculus Quest | HTC Vive Cosmos |
| Display | 2560 x 1440 | 2880 x 1600 | 2880 x 1700 |
| Field of View | 100 degrees | 100 degrees | 110 degrees |
| Portable | Yes | Yes | No |
| Streaming Options | All Android | All Android | SteamVR / Viveport |
| 6 Degrees of Freedom | No | Yes | Yes |
| Price | $199 | $399 | $699 |
| BUY NOW OFFICIAL | CLICK HERE | CLICK HERE | CLICK HERE |
| BUY NOW AMAZON | CLICK HERE | CLICK HERE | CLICK HERE |
The Consensus Winner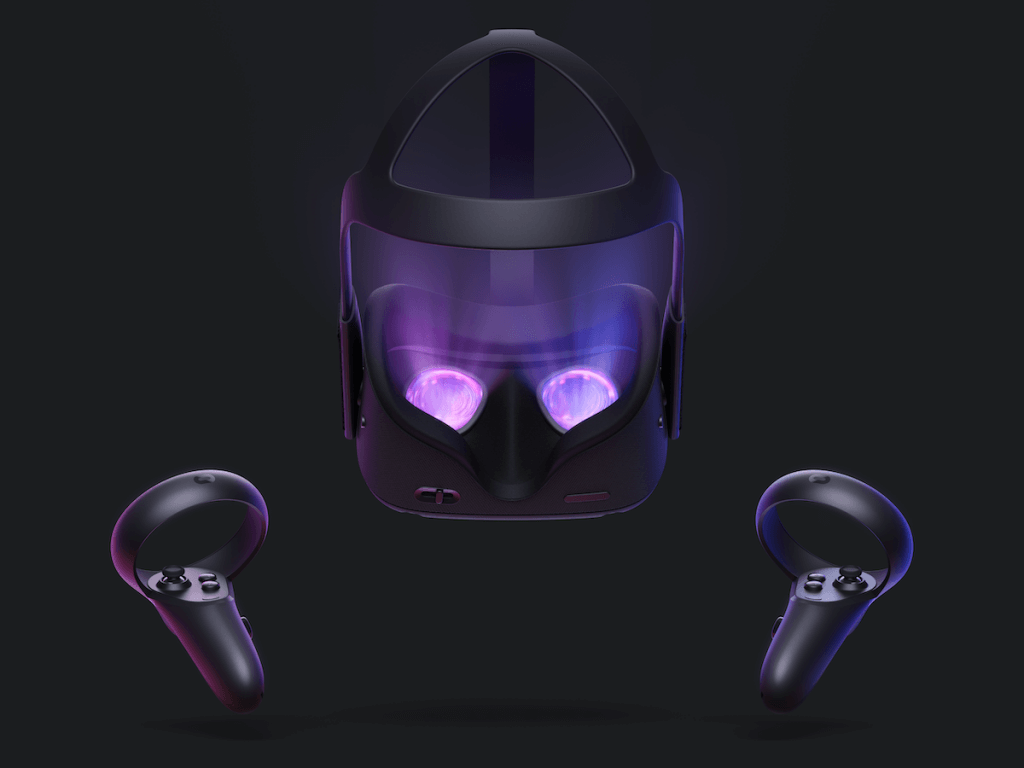 Our choice for best VR headset for movies and TV is the Oculus Quest. It has the right quality for watching media in virtual reality. It's Android operating system is growing with official apps each week and the number of APKs you can sideload onto it is limitless.
Unlike the Vive Cosmos, you don't need to buy a PC to get into VR. And it's portability makes it a winner for streaming media on the go wherever you are.
Compared to the Go, we like the extra price in exchange for 6 degrees of freedom and extra screen quality. The Oculus Go is a better entry headset for media ONLY, but if you plan on using the VR headset for ANY other games or apps at all then the Quest is superior.
What are your favorite VR headsets for streaming media? Comment below and let us know what you think!