If you are looking to get the most out of your PSVR2 VR headset, then these Playstation VR2 tips are perfect to learn!
Below is my favorite collection of tips for:
Finding a few hidden settings in Sony's menus
Playing VR games in better quality
Making VR gaming more comfortable
Improving the PSVR2 headset and Sense controllers
If you want to share any other tips for the Playstation VR2, comment down below and let us know.
Playstation VR2 Setup Tips
Adjust the lenses and re-calibrate eye tracking
The PSVR2 has a guide showing you how to adjust the interpupillary distance (IPD) to match your eyes and fit the halo strap on your head. You will see the guide during the setup process. If you switch profiles, each user will also go through the same guiding process. If you share your VR headset, this means you will keep readjusting the IPD each time.
Your best bet?
Before you play any game, go to Settings, click on Accessories and select PSVR2, and adjust the headset position and lens distance. Doing this will pull back the initial graphics, whether the headset is off-center or your eyes are in the center of the lenses.
Alternatively, go to the Quick Menu and double-tap on the PlayStation button. Then select "Adjust Visibility." This will also let you adjust the lenses and re-calibrate eye tracking on the fly.
Choose and measure your space carefully
Before you start any VR game, it's important that you choose and measure your space carefully to avoid getting hurt or damaging items in your house.
You can set up your PSVR2 headset in three modes: roomscale (standing with movement), standing still, and sitting. While some games allow you to use all three modes, others only support one or two. So, you need to be aware of the mode that the game you intend to play supports.
Ensure you set your play area to a minimum of 1 meter by 1 meter to play while standing still or in a sitting position. If you want to move around while standing (roomscale mode), set the play area to a minimum of 2 meters by 2 meters.
Also important, move any obstacle or furniture out of the play area before you start mapping.
You can reset the play area by navigating to Settings > Accessories > PlayStation VR2 > Set Play Area.
Place a small carpet in the middle of your play area
One way to avoid collision with obstacles in your room is to place a small carpet in the center of your play area.
While playing, you will know when you get to the edge of the carpet. This way, you won't accidentally hit your TV or strike your foot against your wall or furniture.
Alternatively, you can use a cable to know when you get to the edge of the play area. Place a thin and light cable close to the edge of the boundary. As soon as you step on the cable while playing barefoot, you will immediately know you are close to the end of the boundary.
Buy the popular VR ProxiMat below:
VR Mat - 35" ProxiMat ® Space Station Theo - Super Soft Large Mat for Virtual Reality
SUPER SOFT: Constructed with with a textured surface of anti-fatigue memory foam that is soft enough to make an impression. This comfortable foam allows for many hours of uninterrupted gameplay without tiring. US Patent #10,350,488
KEEPS YOU CENTERED: Physical home centering button along with formed ridges give you a true physical presence while in Virtual Reality. Keeping you centered is key to great gaming. If you want to sit and meditate both buttons are easily removable to provide a comfortable place to unwind
Buy essential accessories early
There are a few key Playstation VR2 accessories that every owner should buy and use.
To start, I recommend:
a microfiber cloth to regularly clean the lenses
a bandana for tying down errant hair
a new pair of headphones for quality audio
a separate stand to store your hardware
Buy these accessories when you buy your Playstation VR2 so you won't worry about purchasing them later.
Learn how to wear and remove your PSVR2 the right away
If you are a newbie, it's important to practice putting on and off the head from your head. In fact, master the act before turning on anything.
The headset should sit tightly on your forehead and clamp on the back, so no light gets inside. Test the fit and make the necessary adjustments.
Here's how to get a correct PSVR2 VR headset position:
Using the rotating knob on the back to adjust the angle while allowing the headset to rest on your forehead.
Adjust the lenses to rest on your face.
Change the distance between the lenses to ensure accurate eye tracking.
Make sure the headset laps well on your nose.
Continue adjusting the above until you get blur-free text on your headset.
Playstation VR2 Tips For Better Game Play
Use a charging station for your Sense controllers
The Sense Controllers have a battery capacity of 520 mAh, which is very small compared to other controllers like the Meta Quest ones. The maximum playing time you can get with this battery size is 4 hours. It can be annoying to be in the middle of an exciting game, and the controller goes out due to low battery.
If your controller dies, your PSVR2 will pause, and you won't be able to play.
Buy a charging station which lets you place your Sense controllers on it when you aren't playing. This will keep them off the floor and make sure they are charged the next time you need them. The official charging station for the PSVR2 is $49. The one below is the top rated third-party one:
ECHTPower Charging Station for PS VR2 Sense Controller, Charging Dock Compatible with PS VR2 Controller with LED Indicator, Fast Charger Station with 4 Type-C Magnetic Interface, Type-C Charging Cable
SIMULTANEOUSLY CHARGE TWO PS VR2 CONTROLLERS - ECHTPower PS VR2 controller charger station is specially designed for 2023 PS VR2 Sense controller. It can charge two controllers at the same time without occupying PS VR console USB port, perfectly compatible with playtion VR2 controller , is a must-have accessory for PS VR gamers. (Note: PlayStation VR2 Sense controllers and 5V/3A adapter are not included).
1.5H QUICK CHARGE - ECHTPower PS VR2 Station Charger takes just 1.5 hours to fully charge both Playstation VR2 Sense controllers. It automatically shuts off when charging is complete to prevent overcharging and prolong the life of the controllers.(Note: Use a 5V power adapter with current greater than 2A)
HIGH QUALITY MATERIAL - The Playstation VR2 charging station made of high-quality ABS material, the charging base is durable, compact and easy to carry. It has four non-slip pads on the bottom to ensure the stability of the load support. So you can rest assured of charging the controller on the base.
Change the screen brightness to help with eye strain
By default, the PlayStation VR2 is set to maximum brightness out of the box. The default brightness can cause eye strain problems for some people.
Adjust the screen brightness down a little bit to reduce eye strain, especially when you play games for a long time period.
Set a timer for your headset to power down
By default, the PlayStation VR2 headset will continue to remain on even when it's idle. Luckily, you can change this timer setting so that your headset powers down when you are not playing any game.
By default, your headset till stay powered on for 30 minutes after you are done with it.
To change the amount of time before your Playstation VR2 automatically turns off, head to Settings > Accessories > PSVR2 > Set Time and select the new time you want your headset to turn off automatically.
Expand the screen size in Cinematic Mode
One of the benefits that PlayStation VR2 comes with is that you can use it to watch movies and TV shows. Sony calls this feature "Cinematic Mode." Once configured, the movie screen appears as a 120Hz monitor inside the headset. You can increase the screen size to be as up close and personal as you want.
To increase the PSVR2 screen size in cinematic mode, head to Settings > Accessories > PlayStation VR2 > Screen Size and move the slider to the right. You can reduce the size by moving the slider to the left.
Recenter your view for a more focused display
If your viewpoint isn't in the center of your vision, you can recenter it to enjoy a more focused display.
To recenter your viewpoint, press and hold the Options button on your right Sense controller and it will adjust your viewpoint. The options button is next to the thumbstick.
Tips For The PSVR2 Sense Controllers
Automatically turn the Sense controllers off after use
One peculiar Playstation VR2 feature is that your controllers will stay on after you are done playing by default. You have to turn off your Sense controllers manually so the battery isn't depleted the next time you want to play.
Or, change your settings to automatically turn off your controllers after 10 minutes of inactivity by going to Settings > System > Power Saving and change "Set Time Until Controllers Turn Off" to "After 10 Minutes".
Know your controllers
Knowing the difference between the right and left Sense Controller can be tricky for a beginner. There's a nice trick I use to identify the right and left controllers:
For the right controller, the black upper arc points to the right.
For the left controller, the black upper arc points to the left.
You won't second guess yourself the next time you pick up your gear to play.
Tighten your Sense Controller straps the easy way
The PSVR2 controllers have wrist straps to protect your sense controllers from falling off your hands. You can tighten the straps with one hand.
To easily tighten your Sense controller straps, use one hand to pull the strap to tension the band, then turn your wrist to tighten the straps.
The video below explains things well:
Use the headset button to mute the microphone
The function button on the underside of your headset is designed to activate the see-through view by default, but you can reassign the button to mute the in-built microphone. Using the function button to mute the microphone is much more convenient than going through the software menu to turn it off. Unfortunately, this function is not available on the Sense Controllers.
To mute the microphone using your Function button, head to Settings > Accessories > PSVR2 > Function Button Assignment and select "Mute Microphone."
Organizing PSVR2 games in your library
The PlayStation Store has many games designed for the PSVR1 and non-VR titles. The best way to quickly find PSVR2 games in the PlayStation store is to tap the browse button, select the Sort and Filter icon, and select the VR and PSVR2 options. You will then see a list of games to buy that are compatible with virtual reality.
You can also create a custom game list in your game library to keep the games organized. To create a custom list, go to your game library and click on your game collection. You can add any new VR games to the collection. The advantage of this is that you don't have to search your library each time you put on your headset.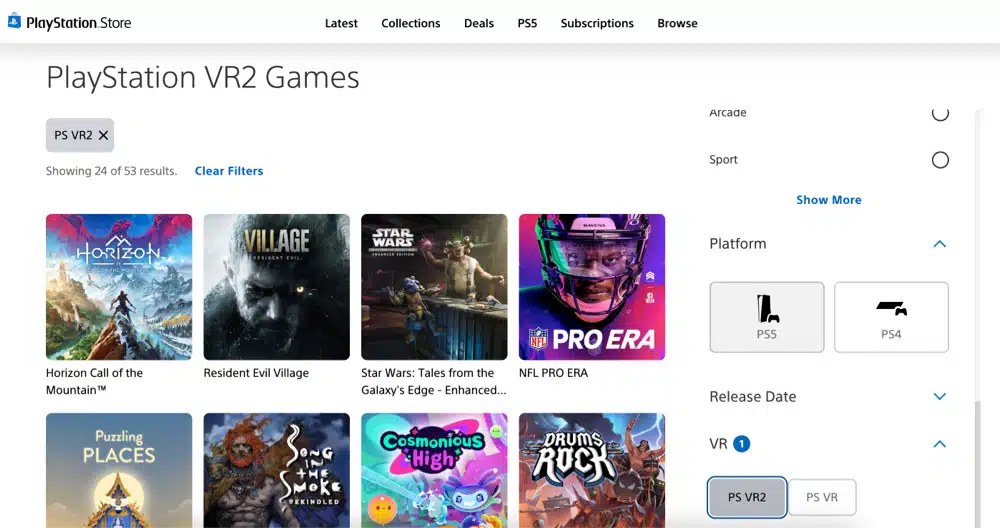 Try a demo before you purchase the full game
Before buying any VR game, try the demo version to know if you like the game. Most games in the PlayStation store will let you play a demo version. This will give you a good idea of the quality of each game before you commit.
Avoid Games That Use Thumbstick Movement To Avoid Motion sickness
Those new to VR will likely experience motion sickness. Motion sickness occurs when you are playing VR games, and your eyes tell your brain that you are moving. In reality, you are standing still or sitting on a chair.
These conflicting inputs will cause you to experience dizziness, nausea, sweating, and headaches. These symptoms may even continue even after you've pulled off the headset.
Whenever you experience motion sickness in the middle of a game, remove the headset from your head and lay down for up to 5 minutes to fully recover.
One way to avoid motion sickness completely is to avoid games that use thumbstick movements. Games like Horizon and Resident Evil Village are great for learning VR without falling for motion sickness. Alternatively, avoid games with lots of intense artificial movement.
Take Regular Breaks
If you start to feel uncomfortable while playing VR games, stop immediately, take off the headset, and take a break. Playing faster VR games will disorient you. Since you can't predict how your body will respond to certain VR games, you should take frequent breaks instead of playing for long periods.
Over time, you will build up your "VR legs", which will help you play for longer periods.
Miscellaneous Playstation VR2 Tips
Find your controllers using see-through view mode
Another great PlayStation VR2 tip is that you can activate the outward cameras on the front of the PlayStation VR2 to see your immediate environment in see-through view mode. You can use this feature to find your controllers or your place in the room.
To activate passthrough, press the function button on the bottom of the headset to the right of the power button.
Keep your headset away from sunlight and hot areas
The PSVR2 comes with lenses that magnify the display below them. Exposing the lenses to direct sunlight or hot areas can permanently burn the display or overheat the headset.
A few seconds of direct sunlight exposure can cause damage, so keep your VR headset in a case if you go outside.
SARLAR makes a great Playstation VR2 case you should check out if you travel lots. They have a popular Quest 2 case as well, which gives them some extra credibility.
Sale
Clean your PSVR2 headset safely
The PSVR2 cleaning instructions are on the owner's manual, but most people skip it. Cleaning the lenses will free them from sweat and dirt. While keeping your headset clean is good practice, ensure not to clean the lenses with tissues, paper towels, alcohol, or chemicals. These cleaning agents can damage the lenses of your headset.
A microfiber cloth is the best way to clean your VR headset and its lenses. Check out the top rated options below.
MagicFiber Microfiber Cleaning Cloth, 6 Pack - Premium Cloth for Glasses, Lens, Screens & More
Glasses cleaner - Sourced from the highest quality microfiber that absorbs and removes dust, oil, smudges, fingerprints, dirt, and more. Leaves no scratches, streaks, marks, or lint behind. Makes for the perfect eyeglass cleaner and stocking stuffer.
Screen cleaner: Our Microfiber cloth accommodates all your screen cleaning needs. It's the perfect eyeglass cleaning cloth, glasses wipes, glass cleaning cloth, lens cleaning cloth, screen cleaning cloth, and even tv cleaning cloth.
Quality protection: Each MagicFiber lint free cloth comes in its own polybag so that they are always new and ready to use. Includes MagicFiber Microfiber Cleaning Cloth (5 black, 1 grey) 6 x 7 inches (15cm x 18 cm).
Conclusion
That's it! We have compiled a quick list of the best Playstation VR2 tips to enhance your gameplay. Use them to your greatest advantage!
Comment below if you think any specific tips should be added to this list!