This is the ultimate comparison guide between the brand new Ray-Ban Meta vs Stories smart glasses to help you understand whether the new version is worth a purchase.
As augmented reality smart glasses gain popularity, Meta's Ray Ban collaboration is ahead of other solutions from Google, Apple, and other brands. I'll show you where things currently stand in this space!
If you have any other questions, let us know!
What are the Ray-Ban Meta Glasses?
The Ray-Ban Metas are the second-generation smart glasses from Meta and EssilorLuxottica, the parent company of Ray-Ban. They preview Meta's overall goal of building smart augmented reality glasses that accurately overlay digital information over a user's real life environment.
Before Meta can reach their end goal, the Meta glasses can be used to play music, take point-of-view (POV) pictures and videos, and perform basic voice assistant functionality.
However, the new edition features improved specs over the Ray-Ban Stories, finding new ways to keep users engaged.
My first impression of the glasses is mostly positive. They look and feel more like regular sunglasses, and the smart features are less obvious, but more useful. The glasses feel more suited for life in California than in Canada!
Click here to read our complete Ray-Ban Meta review.
Key Features
My favorite features of the Meta glasses are these five things:
Streamlined Design: The second generation design features better quality hardware in an even smaller form factor than the Stories previously had.

Charging and Battery Life: The glasses have a redesigned charging case for up to 36 hours of use on a single charge​.

Meta AI Integration: The glasses have Meta AI integrated, allowing for a hands-free, on-the-go experience. By saying "Hey Meta," users can engage with Meta AI to control features on the glasses or answer questions.

Generative AI Assistant: The Meta glasses have Meta's new generative AI assistant built-in

, enabling users to chat with the assistant about various

topics​.

Functionalities: Meta has updated the glasses with better and more voice controls, photo and video capture, and livestreaming to Facebook or Instagram​.
How to Buy
You can purchase the Ray-Ban Meta smart glasses from the official website or worldwide on Amazon:
Ray-Ban Meta vs Stories Comparison
Design
The newly announced Ray-Ban Meta smart glasses have been redesigned from the ground up. They come in Wayfarer and Headliner styles in various colors and can be customized on the Ray-Ban Remix platform.
The glasses are designed to be discreet and resemble Ray-Ban's normal glasses but with more style options. They have a smaller size, lighter weight, and a transparent finish compared to the Ray-Ban Stories.
The capture LED that indicates recording is slightly bigger and flashes in a pulsing pattern to address privacy concerns.
The Ray-Ban Stories come in Wayfarer, Round, and Meteror styles with various colors.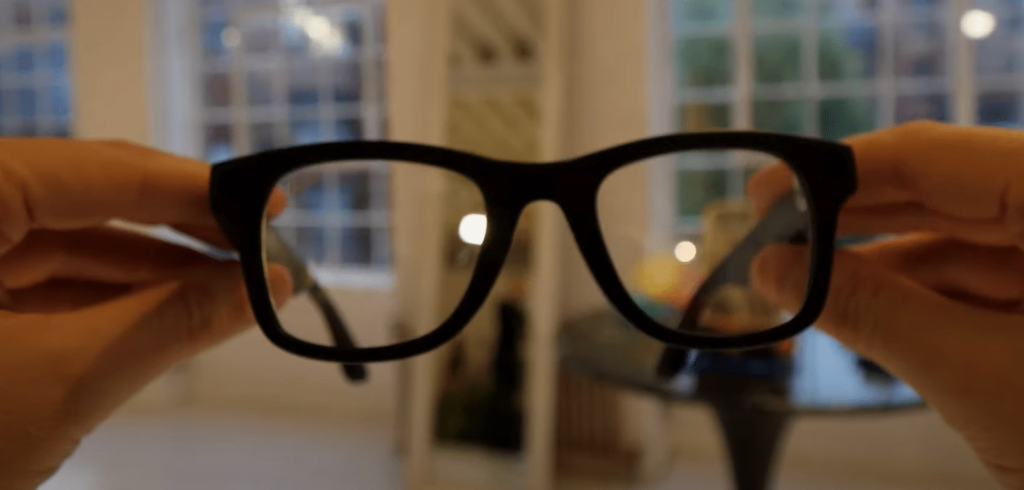 Cameras
The Ray-Ban Meta and Ray-Ban Stories smart glasses feature cameras but with a few minor differences.
The new Meta smart glasses have upgraded camera capabilities compared to the Stories. The Meta glasses have an ultra-wide 12-megapixel camera, which allows for capturing higher-quality photos and videos with a more social-friendly aspect. The Meta glasses capture sharp images at 3024 x 4032 pixels and 1080p video at 1440 x 1920.
The Stories only have a 5-megapixel camera that supports capturing 2592 x 1984 pixel images and 1184 x 1184 video at 30 frames per second.
Audio
In addition to their camera capabilities, the Ray-Ban Meta Smart Glasses also function as high-quality Bluetooth headphones. Meta has improved the audio performance of these smart glasses, increasing the loudness by 50% compared to the previous model.
The Ray-Ban Stories feature open-ear speakers on each side and a three-microphone array to capture voice and sound quality from all directions.
The new Ray-Ban Meta smart glasses have again increased this, equipping the glasses with open-ear speakers and a five-microphone array. One of the microphones is located right on the bridge of the nose for the best voice recording.
This helps with crisp sound in an isolated environment when using voice commands. Overall, listening to music is one of the biggest improvements to the glasses, in my opinion!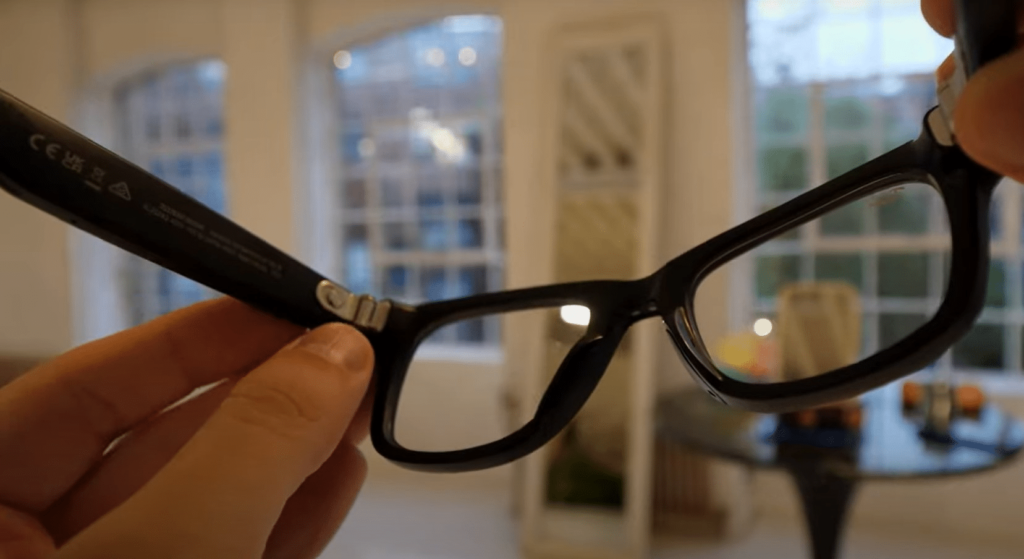 Battery Life and Charging Case
The battery life of the Ray-Ban Stories is advertised as up to six hours, so long as they are fully charged. This is with moderate usage of the glasses, so if you constantly use them, that will go down. The Stories also has a charging case that will provide up to three additional charges.
The new Meta Ray-Ban smart glasses are advertised with four hours of battery life. Although this is slightly lower than the Stories, the charging case for the Meta glasses provides up to eight additional charges on the go, which is much more than the predecessor.
We noticed that the charging case for the Meta glasses was much more slim than the previous one. It is also 32% lighter!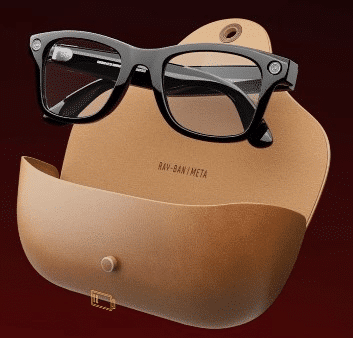 Internal Storage
The Ray-Ban Stories feature 4GB of storage, allowing you to store 500 photos or 30+ thirty-second videos.
The Meta Ray-Ban smart glasses feature a whopping 32GB of storage, eight times more than before. This increase in storage is a massive selling feature. This allows you to store thousands of photos and over 50 sixty-second videos, shot in 60 frames per second.
AI Feature Adoption
Currently, the Ray-Ban Stories do not feature any Artificial intelligence integration.
Meta CEO Mark Zuckerberg recently announced that in an update next year, the Meta smart glasses will become multimodal, allowing you to interact with Meta AI. This new feature adoption will only be available in the US in beta at launch.
You can wear the glasses and interact with the natural world using generative AI, which has never been seen before. Meta AI features personas that you can call up, which provide more accurate responses in a variety of topics such as sports, food, and travel.
Meta View App
The Ray-Ban Stories and Meta smart glasses are compatible with the Meta View companion app. You can import and edit photos and share your content with the Stories glasses.
With the Meta glasses, they improved the app to help enhance your experience with the Ray Bans. The app allows you to pair multiple glasses to your phone and manage them in one place. You can also add special effects to your content before sharing.
The Meta View app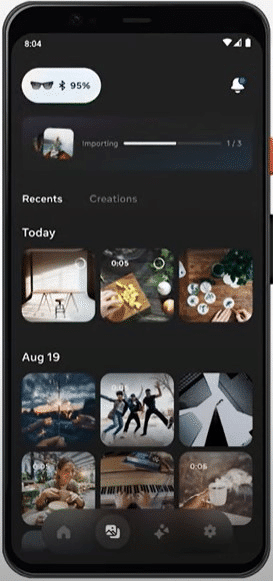 can be downloaded from the Google Play or iOS App Store for free.
Price
The Ray-Ban Stories can currently be purchased for $269. They are two years old compared to the new Meta glasses which were released in October 2023.
The Ray-Man Meta glasses can be pre-ordered for a price of $299. Although it is a bit more more, I think that the many subtle improvements make this upgrade worth the price.
What I Like About the Ray-Ban Meta Better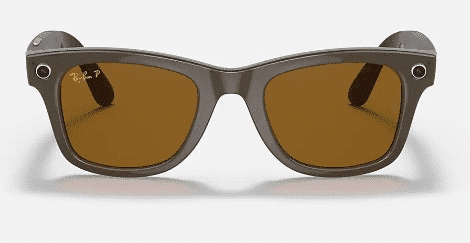 Ray-Ban took the criticism received and used that to create a better pair of smart glasses for tech enthusiasts. They feature a much better camera for capturing high-quality photos and videos. You can also choose between 150 different custom frame and lens combinations.
The Meta's are lightweight and compatible with prescription lenses, which helps with both comfort and functionality.
The live-streaming capabilities are excellent for creators, and the charging case generally provides much more battery life.
Lastly, Meta AI integration will be a game-changer in the smart glasses space. Let's hope that support comes to more countries fast.
What I Like About the Ray-Ban Stories Better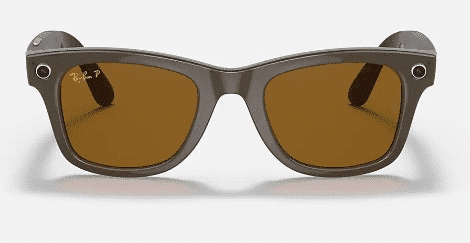 The Ray-Ban Stories smart glasses offer a primary array of features that are great for a beginner but not for the tech enthusiast. The great thing about them is that they will be considerably cheaper once the newer Meta model is released. These will be fine if you want to see what smart glasses are all about but don't want to shell out the extra money.
The Stories also feature a third model for you to choose from. If you are picky with the design of the glasses, this could be a deal-breaker for you.
Click here to read our complete Ray-Ban Stories review.
Should You Buy the New Ray Ban Meta Glasses?
If you already own the Stories, you'll have a tougher time buying the upgrade. If you don't live in the United States, the new glasses have only slight improvements at launch time.
If the Meta's will be your first experience with smart glasses, then you can't do better today. The Ray-Ban name carries high quality and the video recording and voice assistant features work well. If you wear sunglasses often, say multiple days per week, then the Meta glasses are made for you.
If you are hoping for augmented reality, those features don't exist in this small form factor yet. I hope Meta does get to their dream of AR smart glasses, but they still have a few years to get there.
Video Review on the Ray-Ban Metas
Want to see the new Meta glasses in detail? Check out this video from Thomas at VoodooVE VR!