The Meta Quest 3 features full-color passthrough in higher quality than ever before. Mixed reality is a big part of the future, letting you place digital objects throughout your real house and interact with them.
We've been playing several MR games over the past while, and this list will show you what I think are the best mixed reality games. These games can be played on the Quest 3 or Meta Quest Pro VR headsets.
What are the Best Mixed Reality Games for the Meta Quest?
Demeo

Lego Bricktales

PianoVision

BAM!

Painting VR

Broken Edge

Spatial Ops

Blaston

Xtadium
What is a Mixed Reality Game?
A mixed reality game overlays the digital game in your physical play space. Where virtual reality games immerse you in the action in 360-degrees, mixed reality games allow you to see your physical surroundings while you play.
Why are mixed reality apps more popular now?
The Meta Quest Pro and Quest 3 VR headsets feature full color passthrough cameras so that you can see your surroundings in your display. Older VR headsets, like the Meta Quest 2, had only black-and-white passthrough cameras which were not as clear to look through.
Next, I'll review my favorite mixed reality games and tell you why they are awesome to try today.
Demeo

Demeo is a popular VR dungeon crawler and board game hybrid inviting you to a tabletop role-playing adventure. The main goal in Demeo is to embark on epic quests, face menacing foes, and emerge victorious alongside your friends. This cooperative game allows you to assume various roles, each with unique abilities, and work as a team to conquer a series of dungeons.
Cooperation and strategic decision-making are really important as you navigate these dark labyrinths. Your team's objective is to complete quests, defeat creatures, gather loot, and survive the adventure together. If you like strategy board games, Demeo is an awesome virtual reality experience based on them.
Demeo Mixed Reality
Demeo's Mixed Reality mode is a game-changer, introducing a new dimension to tabletop gaming. It harnesses the power of mixed reality, allowing you to merge your real-world surroundings with the virtual realm of Demeo.
In this mode, your table or floor becomes the foundation of the game's environment. Your physical space turns into the dungeon floor, and you can even utilize props, like miniatures or figurines, as an extension of your virtual characters. This mixed reality approach transforms the game's dynamic, as you step into the action.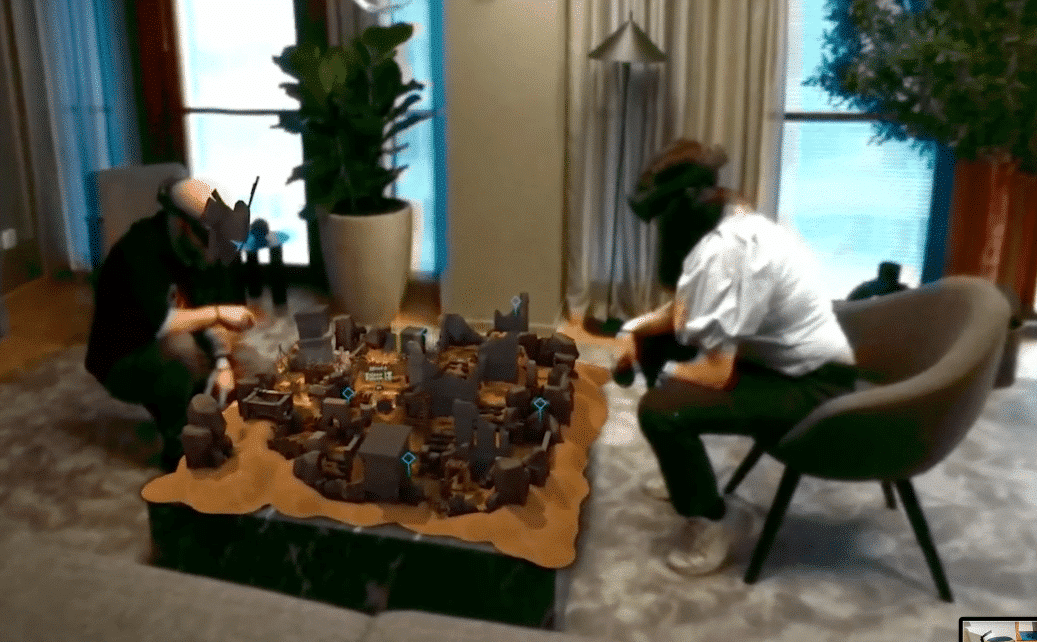 Lego Bricktales
Lego Bricktales offers an enchanting journey into Lego building and storytelling. The primary objective of Lego Bricktales is to unleash your creativity and bring objects to life using virtual Lego bricks. This delightful VR experience lets you explore themed Lego environments, from medieval castles to magical forests.
You have to build Lego structures, landscapes, and characters with your touch controllers or hands. The game creates stories around each level. You can play solo or collaborate with your friends, which is one of my favorite features. Overall, it's a delightful blend of the joy of Lego construction and the art of storytelling in a virtual, immersive setting.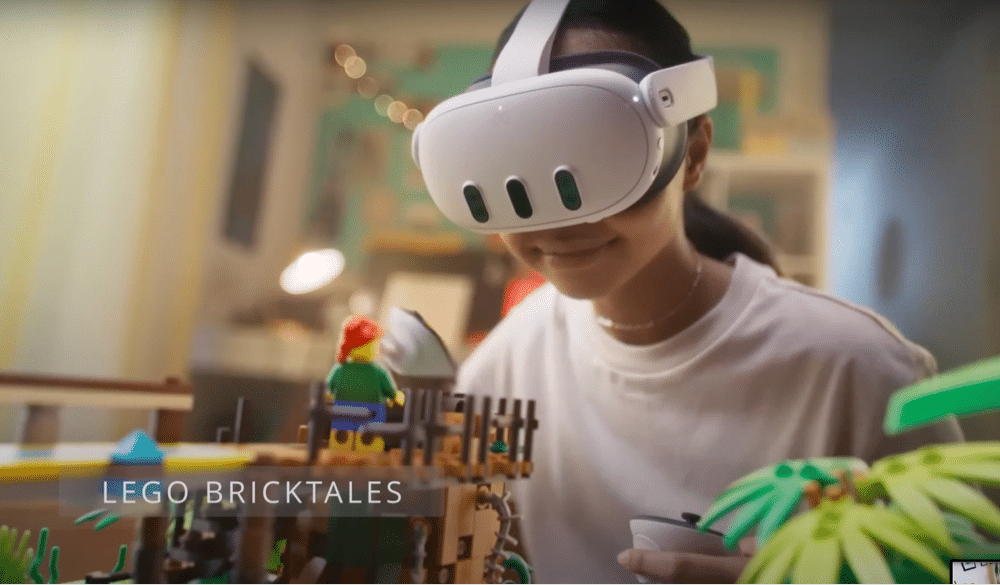 Lego Bricktales Mixed Reality
Lego Bricktales takes mixed reality to new heights by allowing you to merge your physical Lego creations with the game's virtual world seamlessly. In mixed reality mode, your real-world Lego creations become a part of the game, and you can watch as your virtual characters interact with your physical Lego models.
This integration transforms your Lego creations into dynamic and animated elements of the game's narrative, providing an awe-inspiring layer of interactivity. The mixed reality aspect also allows you to utilize both hands to manipulate the environment, enhancing your creative control and providing an extra immersion.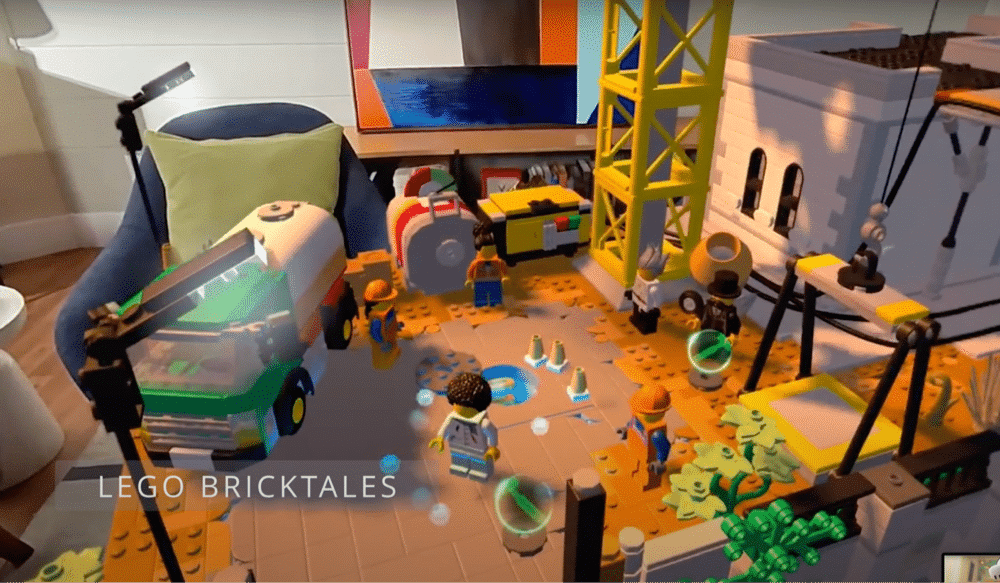 PianoVision
PianoVision is a piano tutorial game in virtual reality. The main goal of PianoVision is to teach you how to play the piano and create melodies in a mesmerizing virtual environment. The game provides an immersive experience where you can play the piano, make music, and enjoy the aesthetics of mixed reality.
PianoVision is designed for both beginners looking to learn and seasoned musicians who want to experience a unique blend of technology and artistry. My favorite part of the game is playing the different iconic songs included in the game.
PianoVision Mixed Reality
PianoVision leverages mixed reality to make the experience of playing the piano even more enchanting. Virtual piano notes in mixed reality align with your real-life piano and fly through your play space.
You can see and better line up your hands on your piano as you learn how to play. PianoVision shows you how long to sustain each note as you play, making learning easier than ever. With good hand-tracking support, you don't have to let a controller get in your way.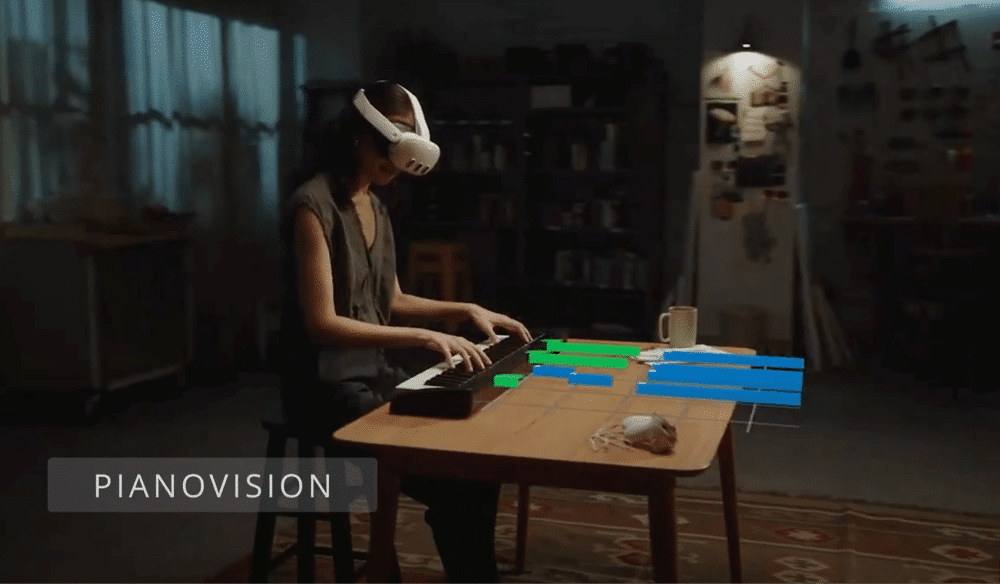 Bam!
BAM is an exhilarating mixed reality (MR) multiplayer battle game. You can set up a tabletop arena in any location, altering its size and orientation.
In BAM!, you control miniature robots in a puppeteer-like fashion. The gameplay is incredibly dynamic, with aerial boxing matches with jetpacks that you use. Numerous power-ups are available and a standout "point-to-action" feature that adds a novel twist to third-person shooting in MR. T
The game offers various modes, including seizing the crown, losing the bomb, or punching opponents out of the field. BAM! is designed to be easy to learn, making it suitable for all ages. You can compete against AI bots or challenge friends in BAM! Both modes are fun and exciting, perfect for mixed-reality gaming.
BAM! Mixed Reality
BAM! is built from the ground up in mixed reality. You set up a tabletop battlefield in your living room or any preferred location. Your actions come to life in your physical space, like taking charge of your miniature robot or engaging in an adrenaline-pumping boxing match.
This mixed reality game transforms your surroundings into a dynamic battlefield, turning your home into a captivating arena of action and adventure, diving you into the electrifying world of BAM!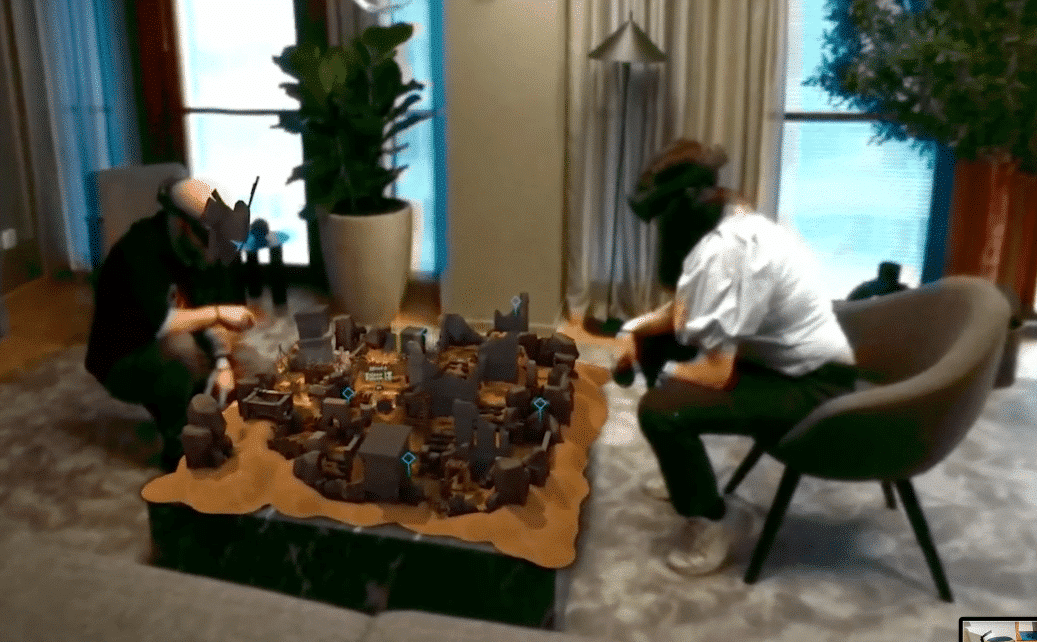 Painting VR
Painting VR is a virtual painter's studio that offers a creative escape from the stress of everyday life. It's a must-have experience for anyone, regardless of whether they consider themselves creative.
In Painting VR, you have unlimited supplies of paint, canvases, and all the tools you need to create artwork. The main goal in Painting VR is to explore your artistic side, experiment with various painting techniques, and create beautiful pieces of art.
Whether you're a seasoned artist or a complete novice, Painting VR is designed to inspire your creativity and offers an opportunity to learn the basics of color, the painting process, and composition. From realistic brushes to paint mixing, this game allows you to craft your artwork, experiment with different tools, and exhibit your creations on virtual walls.
Painting VR Mixed Reality
Painting VR brings the world of painting into mixed reality, turning your living space into a virtual artist's workshop. In mixed reality, you can interact with your canvas, colors, and brushes as if they were real. The game allows you to place your physical surroundings into a virtual studio and work on your masterpieces in an immersive environment.
This mixed reality experience adds a new dimension to your creative process. Imagine seeing your paintings appear on the walls of your actual room, showcasing your artistic journey to anyone who visits.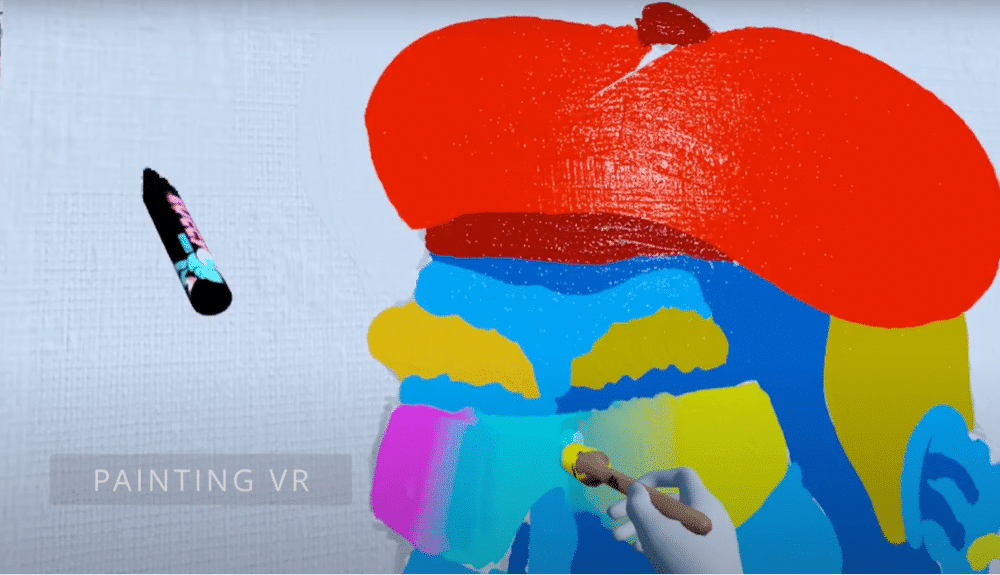 Broken Edge
Broken Edge is an exhilarating 1-on-1 VR fantasy sword dueling game. The game's primary objective is to challenge opponents in intense sword duels and use a combination of your character's unique techniques, martial arts styles, and a diverse array of weapons to emerge victorious. Each character in the game has a distinctive weapon and fighting style.
The main goal is to master these ancient fighting patterns and climb the ranks by defeating online opponents. Broken Edge offers a challenging environment where you can hone their sword fighting skills and compete in global contests.
Broken Edge Mixed Reality
In mixed reality, Broken Edge takes your sword duels to a whole new level of immersion. The game leverages mixed reality to bring the dueling action into your living room. When you put on your VR headset, your surroundings become the battleground. Imagine facing off against your opponent as you move around your room, engaging in dynamic swordfights.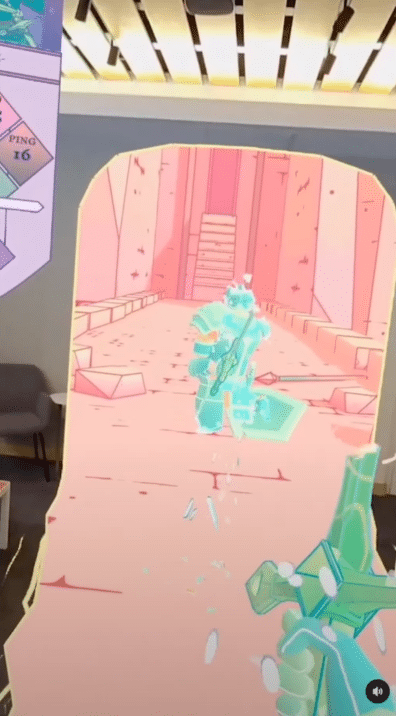 Spatial Ops
Spatial Ops is a full-sized battle game developed and made for mixed-reality gaming. It is the first competitive multiplayer shooter designed for mixed reality, offering you a unique, adrenaline-pumping experience. In this game, you can transform your real-world space into an urban battlefield. To win, you have to engage in fast-paced first-person shooter action with friends and opponents.
Spatial Ops supports 1 to 8 players, perfect for small gatherings or larger online battles. With game modes such as Team Deathmatch, Domination, Capture the Flag, and Free-for-All, it caters to various playstyles. The game allows you to useful color passthrough on the Meta Quest 3 or Quest Pro headset.
Spatial Ops Mixed Reality
Mixed reality isn't just a gimmick in Spatial Ops – it's a game-changer. When you activate mixed reality mode, your real-world surroundings become the battleground. You can take cover behind your living room couch or peek around your kitchen table to spot an opponent.
This blending of virtual and real-world environments adds immersion and excitement that's hard to match in traditional gaming. As you move through your physical space, you are, in a way, navigating the battlefield. It offers a sense of physicality and realism to the game, enhancing every firefight's thrill.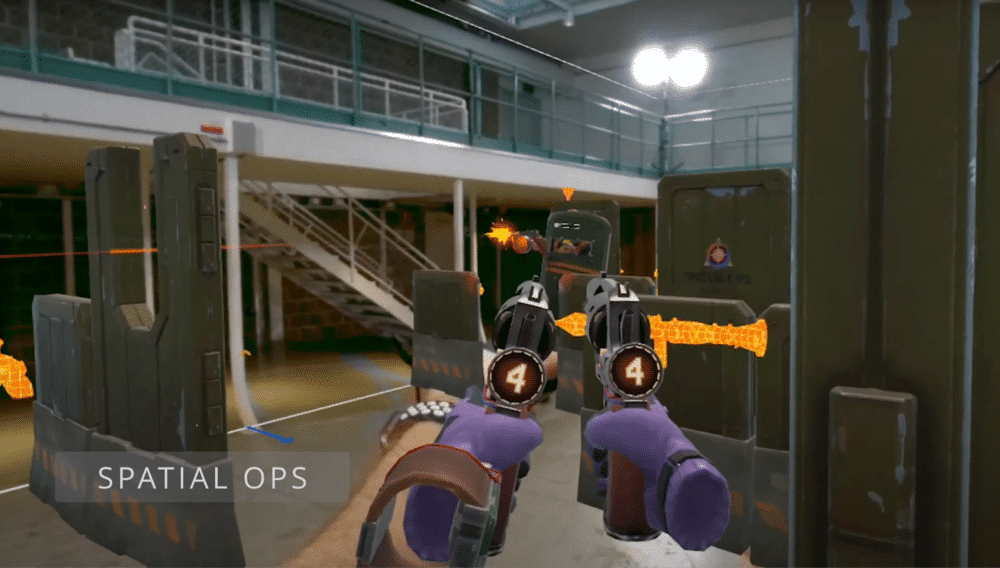 Blaston
Blaston is a fast-paced Player vs. Player (PvP) virtual reality (VR) shooter that abides by one simple rule: Never Stay Still.
In this game, you duel in a slow-motion bullet-hell, where quick reflexes, strategy, and agility are keys to success. The main goal in Blaston is to defeat your opponent by strategically dodging incoming fire and firing back to land precise shots.
The game is about staying in constant motion, as stationary targets are easy prey. You collect weapons, personalize their load-outs, and engage in intense battles challenging their VR skills and tactical thinking. Blaston also offers a revamped store, weapon attachments, and style options to enhance the your experience.
Blaston Mixed Reality
Mixed reality in Blaston adds a layer of immersion that sets it apart from conventional VR shooters. Mixed reality in Blaston enables you to actively use your physical space to dodge and evade virtual bullets. It changes the game dynamic significantly. Your real-world movements become an integral part of the gameplay.
As you duck, sidestep, or leap to dodge incoming shots, the blend of real-world actions with virtual gunfights creates a heart-pounding experience that challenges your VR skills and physical agility. The game encourages you to break a sweat as you move and dodge in your real-world environment, turning virtual battles into an intense, full-body workout.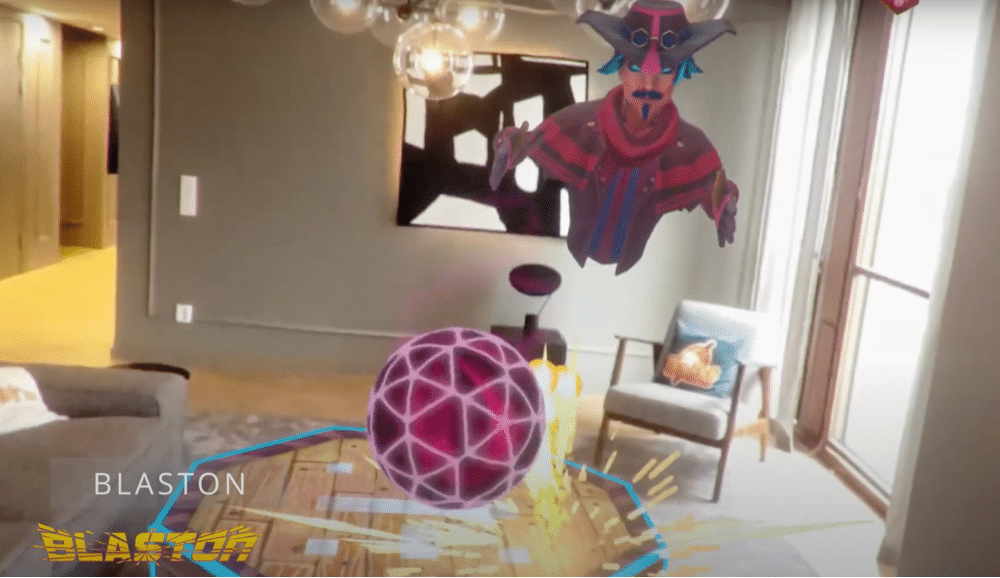 Xtadium
Xtadium is the ultimate co-watching mixed reality (MR) sports hub, offering a unique blend of live, on-demand, and pay-per-view access to prestigious sporting events from:
The primary goal of Xtadium is to provide an immersive viewing experience for sports enthusiasts.
You can watch your favorite sports events as if sitting in the front row from the comfort of your home. It also offers the option to surround yourself with multiple screens that you can position around your room to personalize your viewing experience further. Xtadium redefines how sports fans enjoy events by bringing them closer to the action.
Xtadium Mixed Reality
In Xtadium, mixed reality transforms the sports-watching experience in revolutionary ways. You can take a front-row seat at your preferred sporting events without leaving home. Mixed reality technology immerses you in the stadium, providing an unprecedented sense of presence. The ability to host watch parties with friends and family, regardless of their geographical location, enhances the social aspect of sports watching.
You can share the excitement of live sports events, whether it's an NBA game or a UFC match, with people worldwide. The convergence of virtual and real-world elements is a breakthrough in sports entertainment. In mixed reality mode, you can still see and interact with others in your own home.
Complete List of Mixed Reality Games for the Meta Quest
Above is our list of the top VR games with mixed-reality features. If you want more ideas, here is a larger list of games to check out. These mixed reality games work great on the Meta Quest 2 or Quest Pro headsets.
Arkio

BAM

Blaston

BlockVerse

Broken Edge

Coaster Mania

Cubism

Custom Home Mapper

Cybrix

Demeo

Drop Dead: The Cabin

Dungeon Maker

Eleven Table Tennis

Espire 2

Figmin XR

First Encounters

ForeVR Bowl

ForeVR Pool

FPS Enhanced Reality

Ghostbusters: Rise of the Ghost Lord

Gravity Lab

Gravity Sketch

Headspace

I Expect You To Die: Home Sweet Home

Home Detective

Immersed

Iron Guard

Islanders VR

Just Hoops

Keep Talking & Nobody Explodes

Kartoffl

Knockout League

Laser Dance (coming soon)

Lego BrickTales (coming soon)

Les Mills Body Combat

Linelight

Meta Horizon's Workrooms

Mixeal Apartment

Mixed Reality Wild Animal Escape

Moon VR Player

Nanome

OhShape

Painting VR

Patchworld

PianoVision

Puzzling Places

Reality Browser

Rube Goldberg Workshop

ShapesXR

Saber City

Samba de Amigo: Virtual Party

Shuttle Maze

Softspace

Smash Drums

Space Dragon

Spatial Ops

Stranger Things VR

Take Care VR

The World Beyond

Thrill of the Fight

Toy Monsters

Tripp

Posterstars VR

Track Craft

Twistex

Vermillion – VR Paintain

Virtual Deskto

Vinyl Reality Lite

Wallace & Gromit in The Grand Getaway

Wooorld

Xtadium

YUKI

Zombies Noir