In this tutorial guide, we show you how to install the Risk of Rain 2 VR mod for any PC VR headset! The unofficial mod allows you to play the entire game in virtual reality.
We'll go over:
Details about the Risk of Rain 2 VR mod
Requirements you need in order to play
How to install and play the mod
Tips for making your gameplay smoother
After you our done, check out our other favorite VR mod games. The RoR2 mod came out around the same time as the awesome Red Dead Redemption 2 VR mod.
If you have any questions, comment down below at the bottom of this guide.
What is Risk of Rain 2?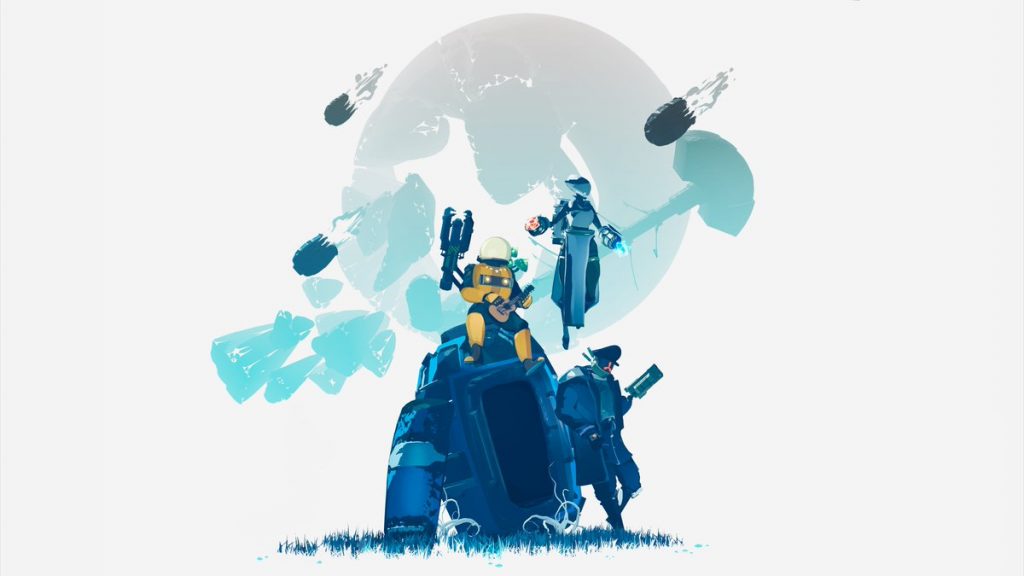 Risk of Rain 2 is a flat screen roguelike shooting game. It was released in early access in 2021, before a full release in August of 2020. In the game you team up with your friends to fight enemies you encounter while stranded on an alien planet.
In order to survive, you have to navigate your environment, kill monsters, loot chests, and collect items that help your chances of survival.
The game features a range of different items and characters that can make each play through feel different. You will be able to get some cash where you can spend in-game to buy items that will increase the power of your character.
The final boss in the game is on the moon, where you have to fight the final boss.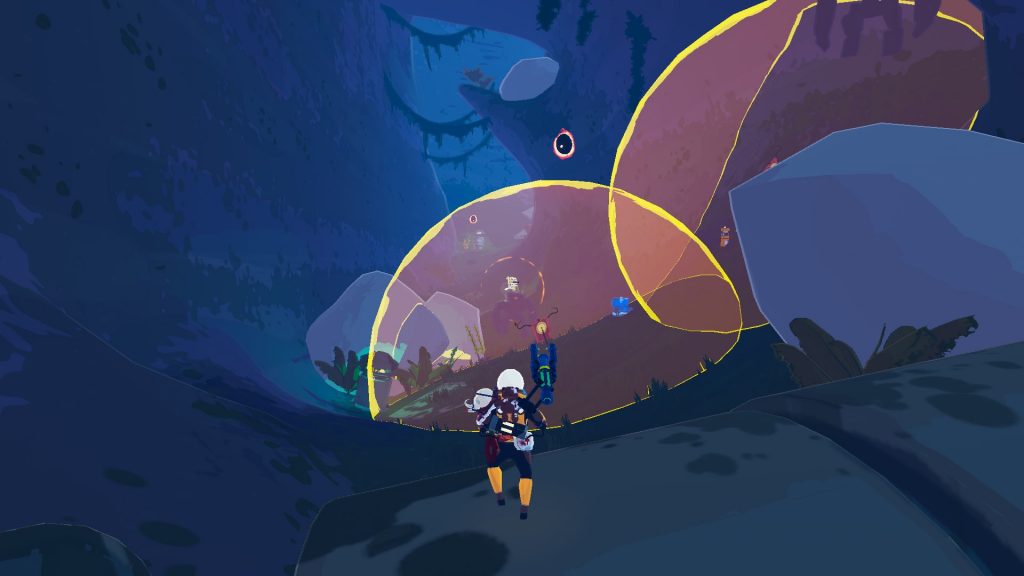 Risk of Rain 2 VR Mod
The Risk of Rain 2 VR Mod was created by 4 modders led by DrBibop and including Elliotate, MrPurple, and HutchyBen.
The Risk of Rain 2 VR Mod is compatible with most PC-based VR headsets, including Oculus Rift, Windows Mixed Reality, Valve Index, and HTC Vive.
As you dart around the multi-layered monster-filled maps of the game, the Risk of Rain 2 VR Mod puts you in the first person perspective of your hero of choice. This gives the creatures and monsters you're likely to encounter a grander scale as they float above you.
The good thing about Risk of Rain 2 VR Mod is that you can play with non-VR players. Plus, it comes with comfort options for snap turning and lot more.
If you haven't setup a VR mod for a regular game before, you can follow our step-by-step tutorial below.
Requirements
The VR Mod for Risk of Rain 2 is not overly demanding. You should be fine if your PC can handle a headset and the base game. However, if you encounter any challenges, there is a FAQ guide on the download page to sort you out.
For smooth installation, the team strongly recommends that players download the software using Thunderstore Mod Manager or r2modman.
The Risk of Rain 2 VR mod supports motion controllers.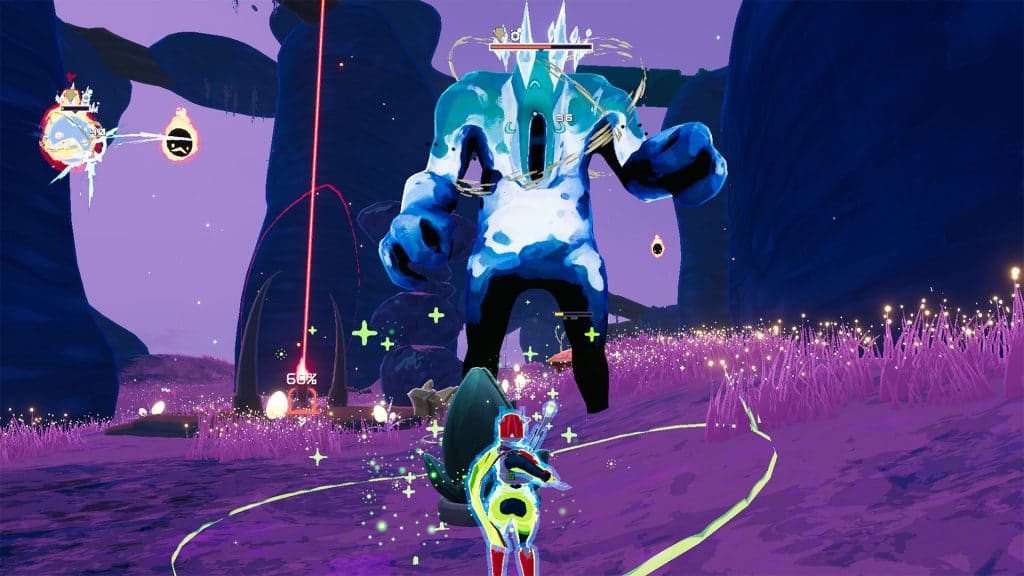 How to Install and Play Risk of Rain 2 in VR
This step-by-step guide will show you how to install and play the Risk of Rain 2 VR Mod. 
Total Time: 10 minutes
Buy and Install Risk of Rain 2
Download the Risk of Rain 2 VR Mod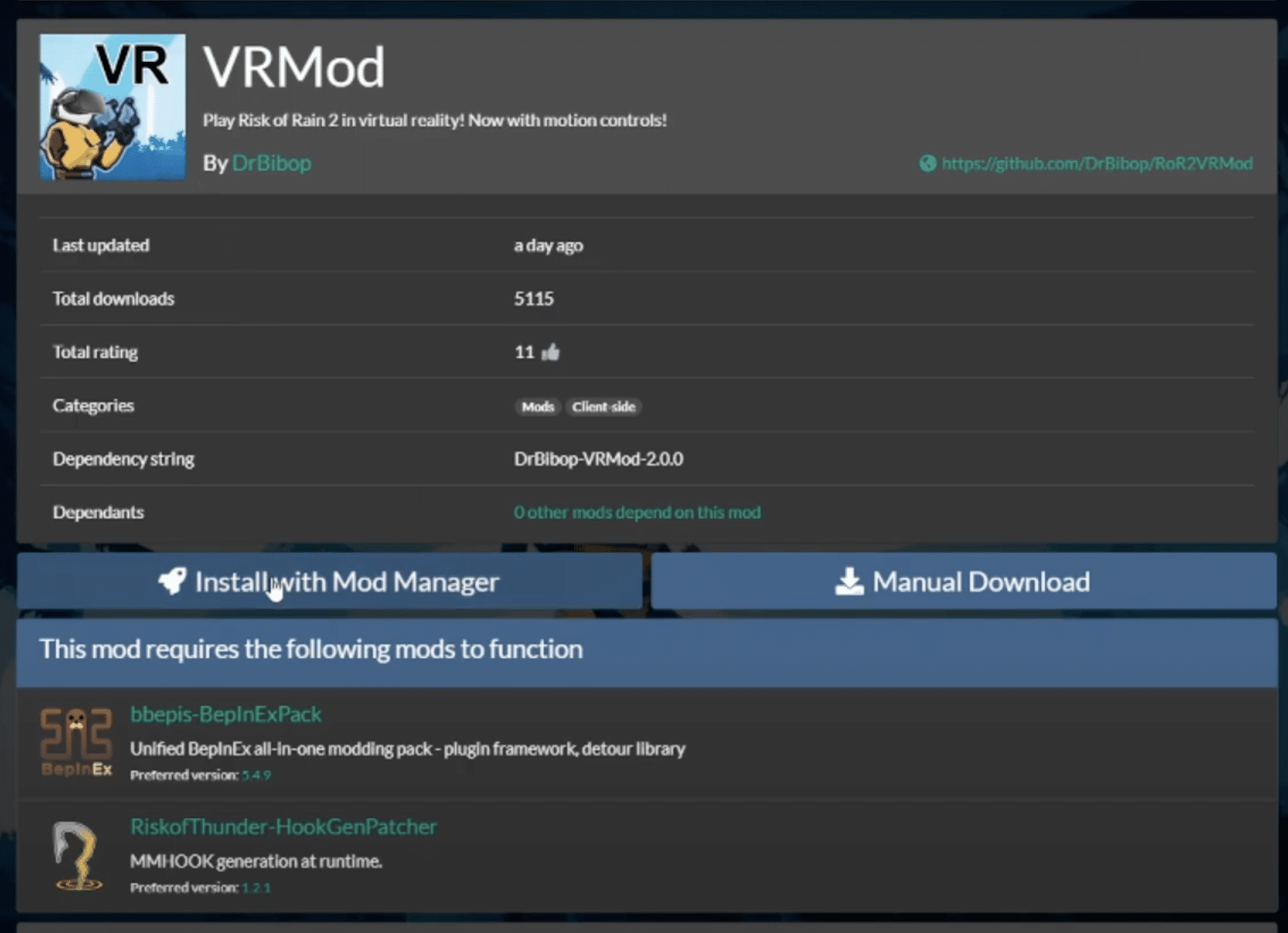 Visit the Risk of Rain 2 VR Mod page. From here, you can either install the mod with a Mod manager or manually. 
If you choose to download manually, click on the Manual Download button and save the zip file on your PC. Follow through with the instructions to install. For manual download, you will have to manually install two other tools: BepInEx and HookGenPatcher. This is doable, but a lot of extra and unnecessary steps.
We recommend installing the Risk of Rain 2 VR Mod with the Thunderstore Mod Manager.
Download the Thunderstore Mod Manager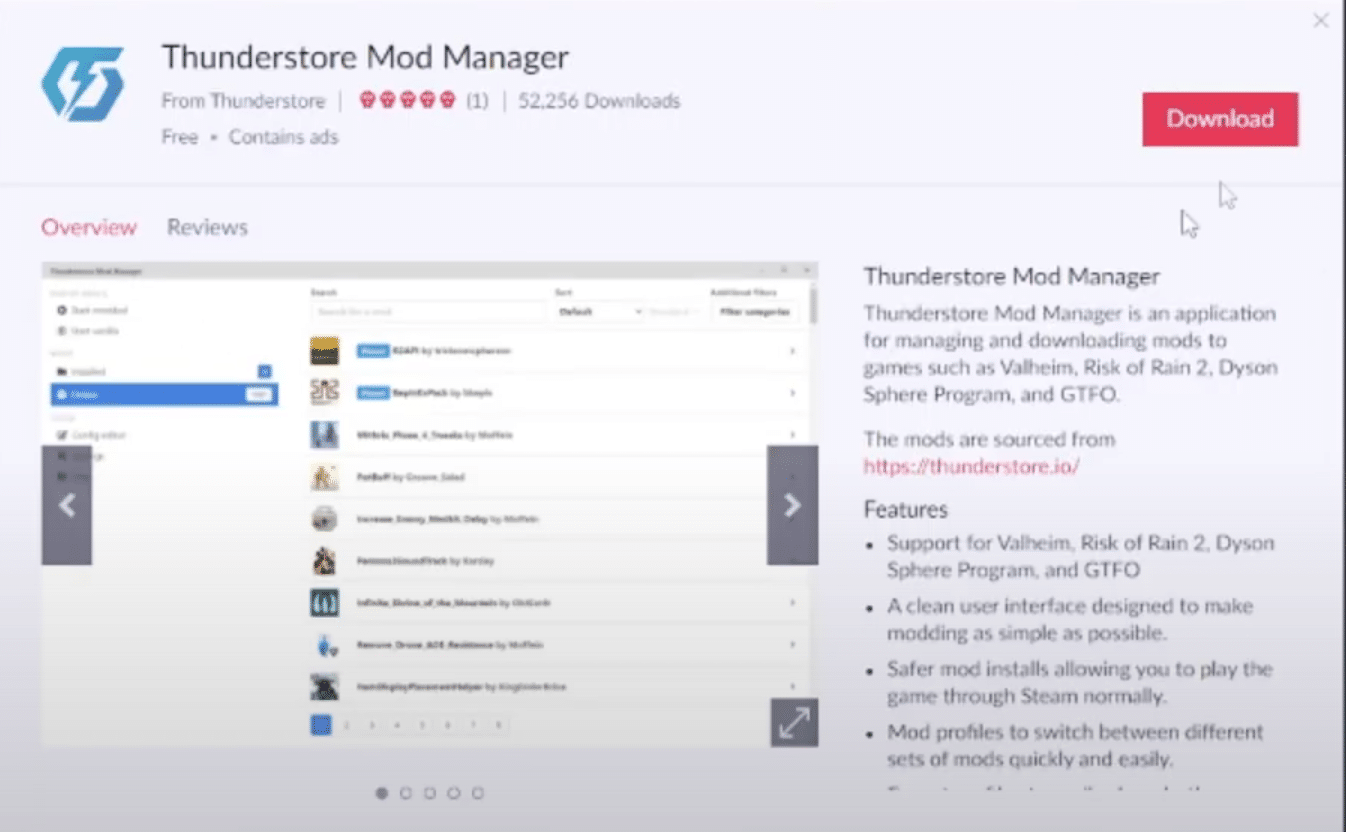 First, you need to first download and install the Thunderstore Mod Manager. On top of the RoR2 VR Mod page, click on the Thunderstone Mod Manager"link. This will take you to the Thunderstore Mod Manager download page. Click on the download button to download the manager.
Install Risk of Rain 2 VR Mod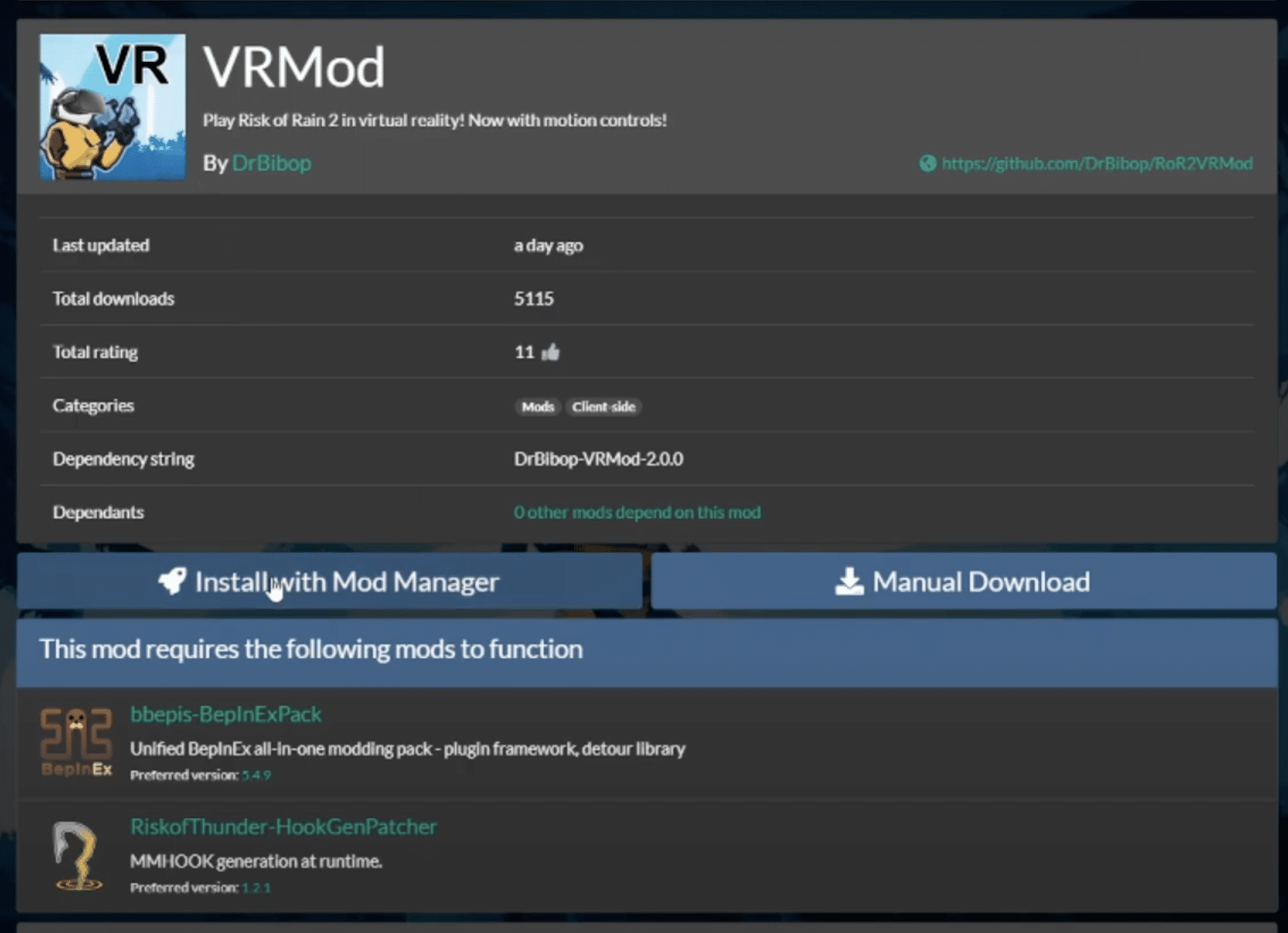 Once you have successfully installed the Thunderstore Mod Manager, head back to the game's mod page. Click on the Install with Mod Manager button. A download prompt will open and you should open the file. 
Configure Mod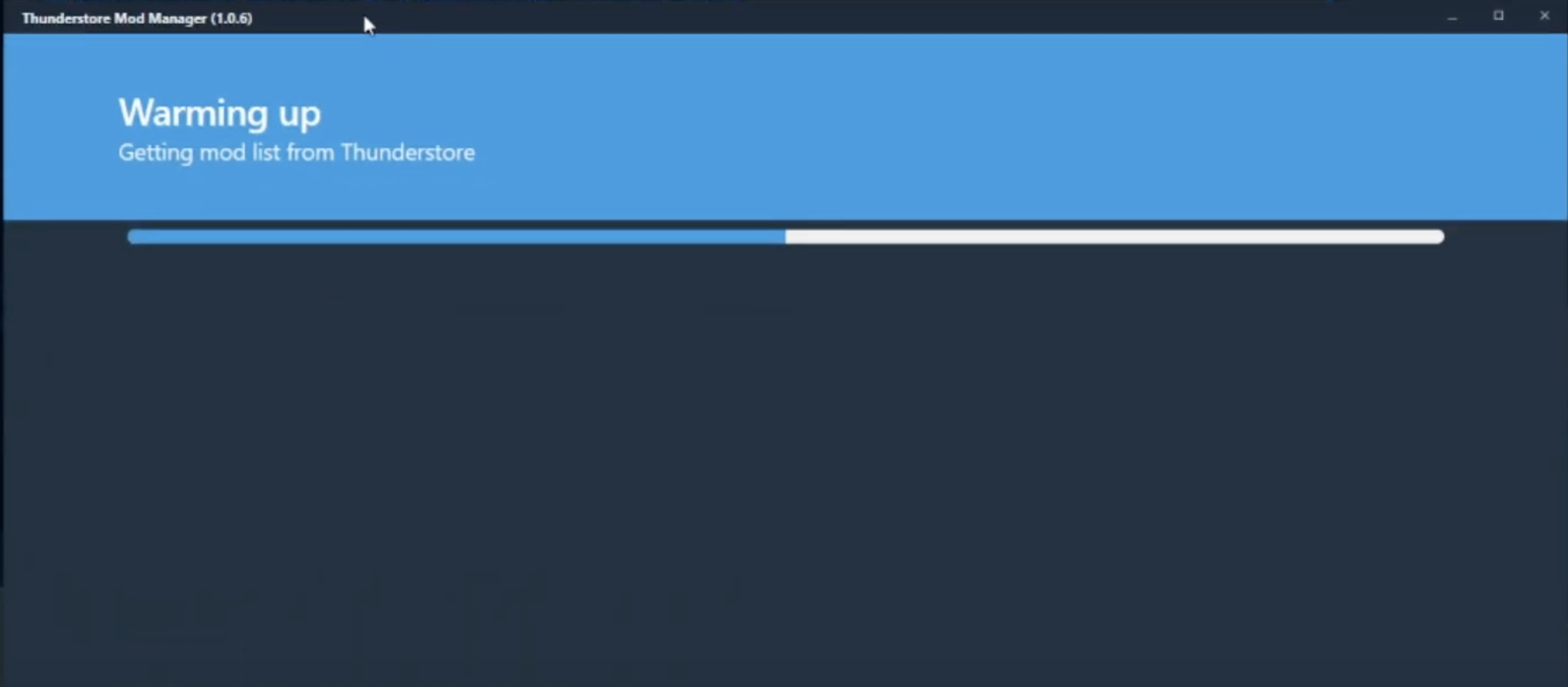 Thunderstore Mod Manager will automatically read the file and begin warming up to install. While it does that, make sure you have opened Steam VR and have it running in the background.
Create a VR Profile

Once the Mod Manager is done, you need to select or create a new Profile to apply the mod too. Thunderstore will attach the Risk of Rain 2 VR mod and is dependencies to your profile.
Run the Game
Go back to VR Mod page and turn on the controllers. Click on the "start modded" button at the top of the VR Mod interface.
A black pop up will display as long as you are starting the Mod via Steam VR. It describes what's running in the background. Your screen will go black for a while, but don't panic.
Eventually, Risk of Rain 2 will launch on your PC and you will see it in your VR headset too. You can jump in to playing now if you want, but we have some recommended best settings below to check out.
Risk of Rain 2 VR Mod Best Settings
You need extra configuration to guarantee smooth gameplay. To customize the settings, go to the Thunderstorre and click on Config editor on the left side. Find your RoR2 VRMod option and then click on Edit Config.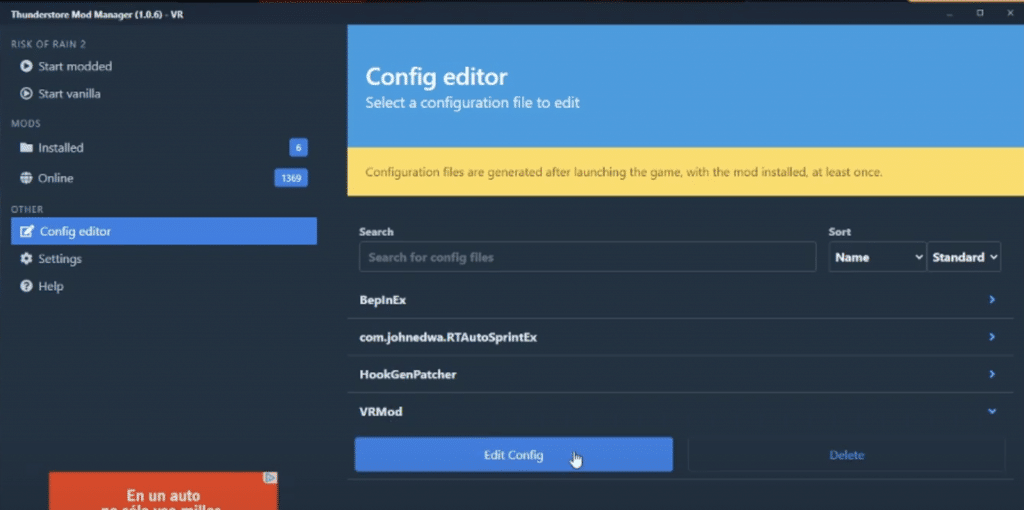 There are a bunch of settings you can change here to your preference. You can change from first person shooter to third person shooter.
You can also change the game to launch from Steam VR to Oculus, and much more. After all the changes, click on the save button to effect the changes.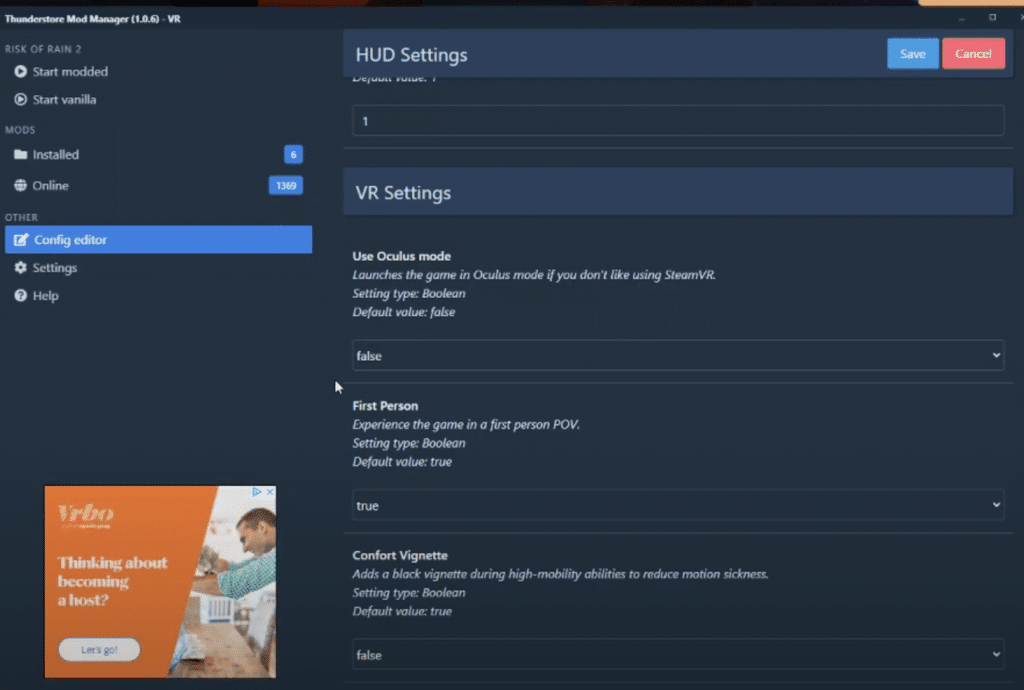 Risk of Rain 2 VR Tips and FAQ
Will I experience motion sickness?
You may get motion sickness. While some VR games provide some form of screen-fade in turning or teleportation to reduce motion sickness, the Risk of Rain 2 VR Mod doesn't have any.
Start off slow, playing the game in short bursts to start.
Can I play with my non-VR friends?
Absolutely! You can play with your non-VR friends by launching multiplayer mode.
How do I turn off snap turning?
To turn off snap turning, head over to the Mod settings and click on Config Editor. Then click on VR Mod and Edit Config. You can turn it off from here. Once you're done, click the save button to save your settings.
Will my hands appear on the screen?
Yes! Your hands will appear on the screen once you start the game.
Once you have things setup, the Risk of Rain 2 VR mod is a lot of fun. Unlike the recent Red Dead Redemption 2 mod, this one features full motion controller support. There isn't as much jitteriness either. Check it out today and let us know how it goes.
If you are having any trouble, comment down below and we will try to help you out.