ClipDrop is the most interesting augmented reality app to come out in a while. The premise sounds futuristic and straight out of a movie: take a picture of something in your room and paste it into your computer where it can be manipulated as a digital object.
We have a full ClipDrop tutorial in this guide to show you exactly how to get stared.
The demo of this AR copy and paste app sent the internet buzzing. Now exactly six months later, the app is available to download on your iPhone or Android device and try out for real! It feels like something that would also fit in well with Facebook's Project Aria glasses.
Below, we do a deep dive ClipDrop review and show you exactly how it works.
What is ClipDrop?
ClipDrop is a PC and mobile app that allows you to take screenshots and pictures and paste them with the background removed. You can take a screenshot on your computer and paste it in a word or photo editing software like Photoshop, Sketch, or Word.
Or, you can take a picture with your phone and paste it in software on your computer. Plus, the background of the photo is completely removed so that your object is transparent behind it.
Cool, huh?
The app uses augmented reality and artificial intelligence to allow you to transfer objects across your devices.
Features
With ClipDrop, you can extract objects, people, drawings and text. No matter what the object is, ClipDrop will remove the background and make the object transparent. For designers who need transparent objects fast, this can save you a ton of time!
The app's desktop application sits right in the toolbar of your computer. You can take a screenshot of anything in any app and the app does all of the magic after that. ClipDrop uses artificial intelligence to remove the background from any photo.
ClipDrop allows you to drag and drop photos into some of the most popular apps and programs:
Canva
Sketch
Adobe Photoshop
Microsoft Word
Microsoft Powerpoint
Apple Keynote
Figma
Plus with your subscription, you get unlimited cloud storage. This means that you can save photos in ClipDrop and access them on all of your devices.
Price
ClipDrop allows you to take 10 photos for free. After that, you must pay for either a monthly or a yearly subscription:
Monthly = $9.99
Yearly = $79.99 ($39.99 introductory offer until November 20th, 2020)
Clipping text is forever free using the app though. The payment is only if you want to take pictures of and crop items.
In addition, you can take pictures on the mobile app (same as the built in camera on your phone) for free as well.
ClipDrop Tutorial: How to Get Started
How to Install
Installing and getting started with ClipDrop is surprisingly easy:
Go to the app's website on your computer and download the app.
Launch the app and create an account using one of the methods list.
Download the app on your phone by searching for it in the app store.
Launch the app and sign in using the account on your computer.
Follow the instructions on your phone to get things synchronized with your computer.
And that's it! Next up, we'll show you how to take pictures on your phone or computer and use the augmented reality and artificial intelligence features.
Mobile Tutorial
The first thing you'll want to do (because its most impressive) is take a picture of something in the real world on your phone and paste it into your computer.
To do this:
Make sure you have ClipDrop setup on your computer and mobile phone.
Open the app on your phone and take a picture of something in the real world by tapping on it. You'll see the object be automatically cropped out by the app.
Point your phone at your computer and press the Drop button. After a few seconds, your photo will automatically open up in your default photo app.
And that's it! From here, you can copy and paste your photo into Canva or Photoshop, manipulate it, and use it however you want.
Desktop App Tutorial
Using your computer, you can take screenshots of anything you find on the internet and the app will cut out the background for you instantly.
To check out how this works:
Install the app and have it running in the toolbar on your computer.
Open up the website or page you want to clip something out of. Click on the icon in your toolbar and select Clip
Draw a square around the object you want to cut out. When you release your mouse, the app will automatically cut it out of its background and show you in your default photo app.
From here, you can copy and paste your photo into Sketch or Figma, manipulate it, and use it however you want.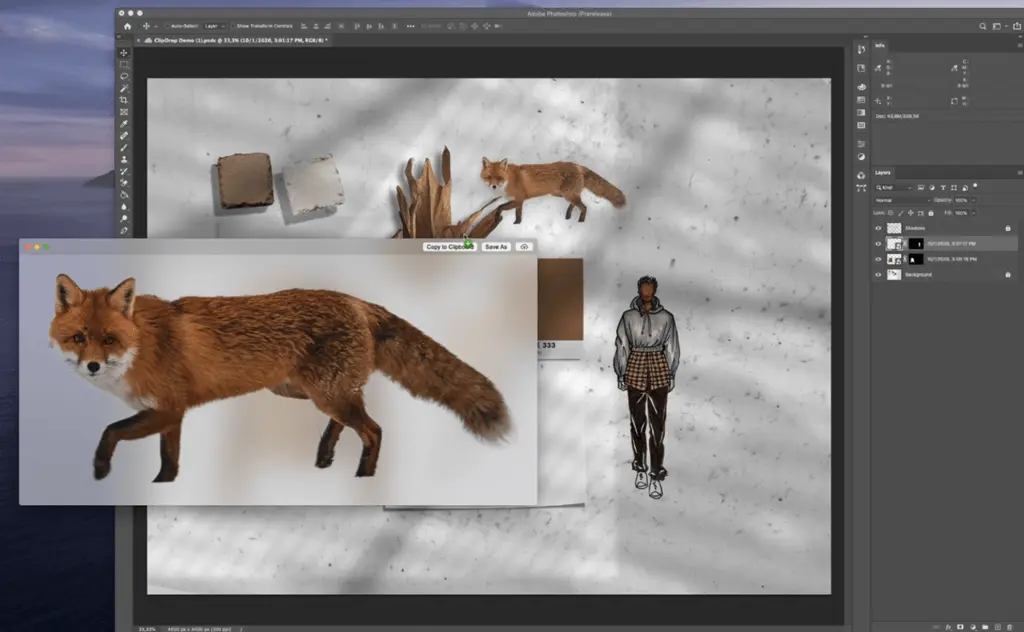 Final Verdict on This AR Copy and Paste App
ClipDrop is a real practical use of augmented reality and artificial intelligence. It represents exactly what the technology should be used for: making everyday tasks easier.
The smoothest and most satisfying part of the whole experience is taking a picture on your phone and seeing it magically appear on your computer. Even better is that the background of the picture gets cut out for you nice and smooth.
The AI used to cut the background out works well. It is on par with Remove.BG, which I use a lot for work. The big disadvantage for ClipDrop is that you only get 10 clips for free before you have to subscribe to a monthly subscription plan. This will turn off most casual users and those who aren't using this AR drag and drop app for business purposes. Remove.BG removes the background of unlimited photos for you, but the download quality is web-only unless you pay.
Check out the demo video below to see this augmented reality app in action even more!
Subscribe to us today for free and get 101+ VR tips in your inbox! These tips cover everything from getting started in VR to hardware and software tricks and specific game help.