The DecaGear One is a new VR headset that is due to come out in 2023! In this ultimate guide, we take a look at the DecaGear VR headset and looks at its features, specs, and details!
In particular, we'll take a look at:
Its price and release date
Specifications including display, refresh rate, IPD adjustment, and more
VR games
Wireless options available for the headset
Some early accessories accounts
If you want use to find anything else out, just let us know.
What is DecaGear?
DecaGear is a VR headset brand created by entrepreneur Or Kuntzman and his company, Megadodo Simulation Games. The company is based out of Thailand and their official website states that they have a distributed workforce around the world.
According to Or's LinkedIn page, the focus of Megadodo is a focus on multiplayer virtual reality through nonstop innovations in computer vision, haptics, facial tracking, finger tracking and social interaction in order to enable a new level of presence and expedite the move from traditional gaming to VR.
The DecaGear One is the company's first VR headset. Deca worked with Valve for consulting and collaboration on the design, hardware, and software.
Below, we dig into the DecaGear VR headset in more detail, sharing all of the specs, features, and details that we know so far.
DecaGear VR Release Date
Deca didn't say when the DecaGear VR would ship, but the company expects to send the first batch in May 2021. You can reserve your slot or join the waitlist with just a little deposit of $10.
Deca has announced that the headset will cost $449. This is $100 more expensive than the new Oculus Quest 2, but $100 or more cheaper than the HP Reverb G2. Deca also includes a hip sensor called the DecaMove for this price, which you can read about below.
If the DecaGear VR headset is able to meet this price point and offer a quality product, it has a serious chance to make waves in the virtual reality industry. Statistics shows that demand for VR is growing exponentially year over year.
Display
The DecaGear VR headset promises to be one of the highest resolution VR headsets on the market. It stands side by side with the HP Reverb G2 with 2160 x 2160 displays for each eye. This headset also comes with a FOV (Field of View) of 120 degrees.
The pixel density of the display is 1058 ppi, which would be near the top of all VR headset specs on the market in 2020.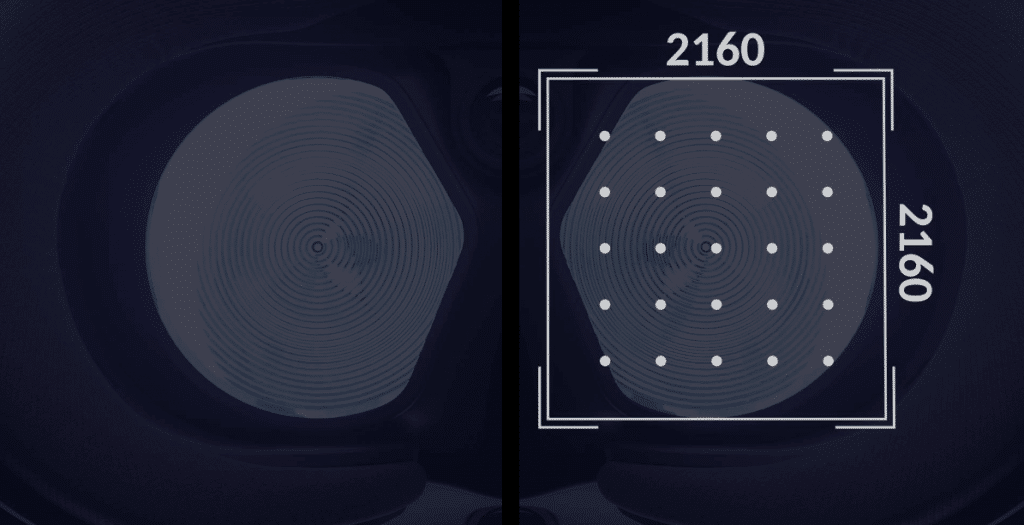 Face Tracking
The DecaGear includes a feature called FaceFlow which tracks your facial expressions and movement. The company says that these metrics are key to the entire multiplayer VR experience.
FaceFlow hardware consists of two infrared cameras that are global-shutter, which cover your face and track more than 50 different muscle movements. The upper face camer is located inside the headset and tracks your eyes, eyelids, brows, upper nose and forehead. The headset translates your expression to your character in VR. The lower face camera is located on the bottom of the headset to track your mouth, lips, lower nose, cheecks, and tongue. This allows your VR facial expressions to match real life.
Overall, this makes your VR experience way more personal.
Privacy
Deca promises that FaceFlow is created with your privacy in mind. It doesn't store or share your facial images and removes the data once it is done with it in the game.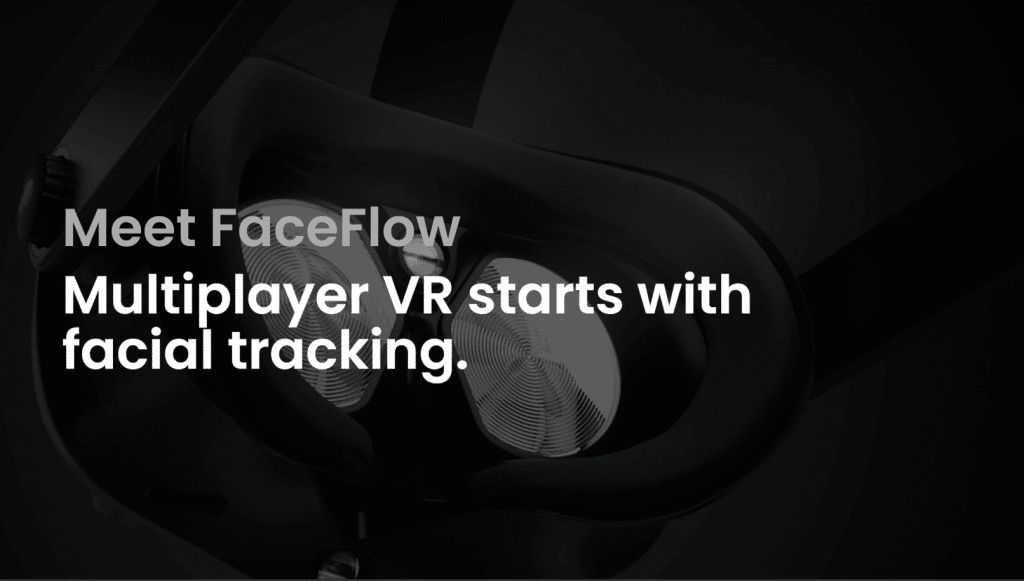 IPD Adjustment
While the IPD adjustment is yet to be defined, the upper range is said to be 72. The lower range may be around 59 to 62. As soon as we have accurate numbers and an idea of adjustment possibilities, hardware or software, we will update this section with new information for everyone.
Refresh Rate
The DecaGear VR headset is designed with a maximum refresh rate of 90Hz. At this refresh rate, we have no doubt that there won't be any flicker in the video and players would enjoy longer gameplay sessions. 90Hz is also the refresh rate on the new Oculus Quest 2.
Audio
The speakers in the DecaGear will be integrated into the headband, like the Oculus Quest headset. It has 2 microphone ports, plus a headphone jack for your listening pleasure. This allows for better audio recognition in busy environments.
Head Strap
The headstrap is similar to the Quest 1. This ergonomic strap enhances comfort, increases balance, and offers support for the DecaGear VR headset.
Close up details of the head strap on the DecaGear VR have not been released yet. As soon as we get a closer look, we will update this section with more details.
Controllers
Deca's controller looks a lot like an Oculus Touch controller. Still, it includes several features only found on Valve's Index controller. These features include adjustable straps that allow you to let go of the controller and sensors that can detect how tight you're holding the grip. You can drop objects in games just by opening up your hand.
As well, the controllers contain capacitive touch features which can sense all five fingers on your hand and where they are placed.
Deca claims that the controller is designed for a more natural interaction with objects in VR.
For keypad layout, these controllers are very similar to others in the VR. The top part contains an analog joystick, two buttons, and a menu button. The standard index and middle finger buttons are present. A tracking ring on each controller will house the digital components that track movement, location in space, and orientation.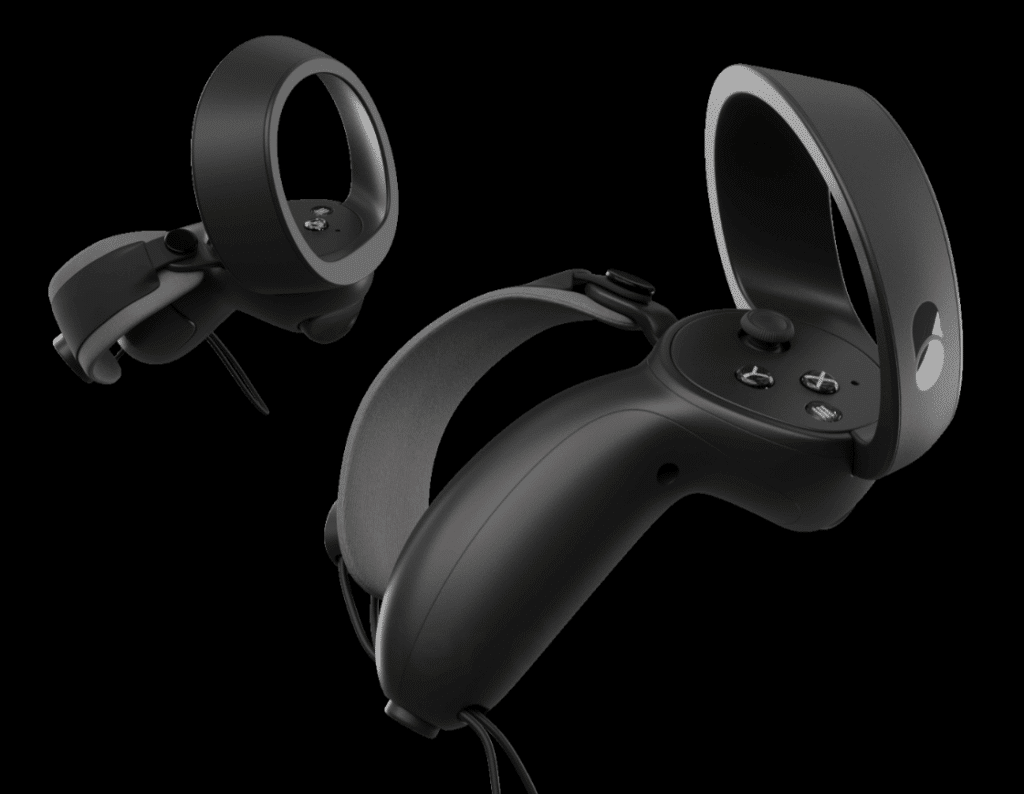 DecaMove
Deca is also making a locomotion solution called DecaMove, which adds one more level of fidelity movement. With DecaMove, the player's orientation is determined by a hip-worn sensor rather than using your head or a thumbstick for direction changes.
This means that you can free up your hands for interaction and your head to look around, while games use your hip position for orientation.
If the move works the way it is advertised, this is a big win for Deca. Full body solutions in VR are currently costly and expensive. The DecaMove on the DecaGear One might provide a cheaper solution that is good enough for casual users.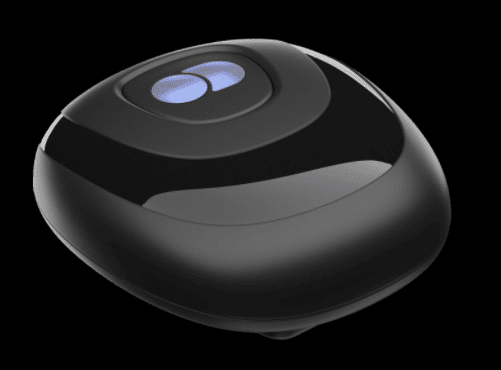 Tracking
The DecaGear VR headset features inside-out tracking. It has four outward-facing cameras used for headset and controller tracking. The cameras offer sub-millimetre accuracy, and they provide 225-degrees of tracking volume for the controllers.
Unlike outside-in tracking which requires external base stations setup to watch you, DecaGear requires no additional hardware to work. The cameras contained in the VR headset provide all of the tracking you need in your personal space.
The inside-out tracking on the DecaGear VR headset is the same as what Oculus has worked hard on in the Oculus Quest 2.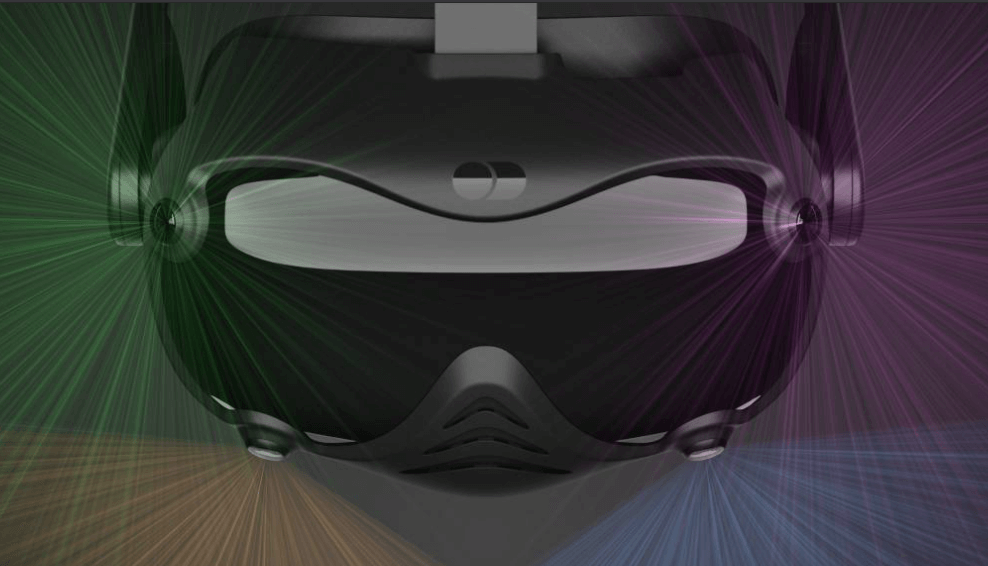 Games
The DecaGear has access to the entire SteamVR store. As long as you have a gaming PC, you can play any virtual reality game from Steam in the headset. We will be watching close to see if Deca headsets can connect to Shadow PC for a completely wireless SteamVR solution.
It is not clear how the DecaMove accessory will integrate with Steam games though. Will developers require updates to their game to support the accessory? Or, will the Move be able to provide useful information in real-time?

Wireless
The DecaGear VR headset is not a standalone device, but the company is offering a wireless solution. Deca developed a battery pack called DecaAir, which enables tether-free gameplay over a Wi-Fi 5 or 6 connections. With this technology, players can SteamVR games without a tethered connection to your computer.
This sounds very similar to the Virtual Desktop connection and features that Quest users are able to enjoy. The inclusion of Wi-Fi 6 technology is a big positive.
The cost of the DecaAir is $50.
Battery Life
Deca says that the battery will provide up to 6-hours of gameplay in the headset's wireless mode. It charges with USB-C and takes up to one hour to charge.
Deca comes with a 7000mAh battery pack that will provide up to 6-hours of gameplay in the headset's wireless mode. It charges with USB-C and takes up to one hour to charge.
The battery on the headset is attached at the rear of the headstrap, which makes it a really good counterweight solution for those that find VR headsets too front-heavy for weight.
Case
Promo material for the DecaGear VR headset show it coming with a hard-shell case. Foam padding surrounds each component including the headset, cable, DecaMove, and controllers. If this hard case is included with the hardware, then this is one less VR accessory that you need to purchase.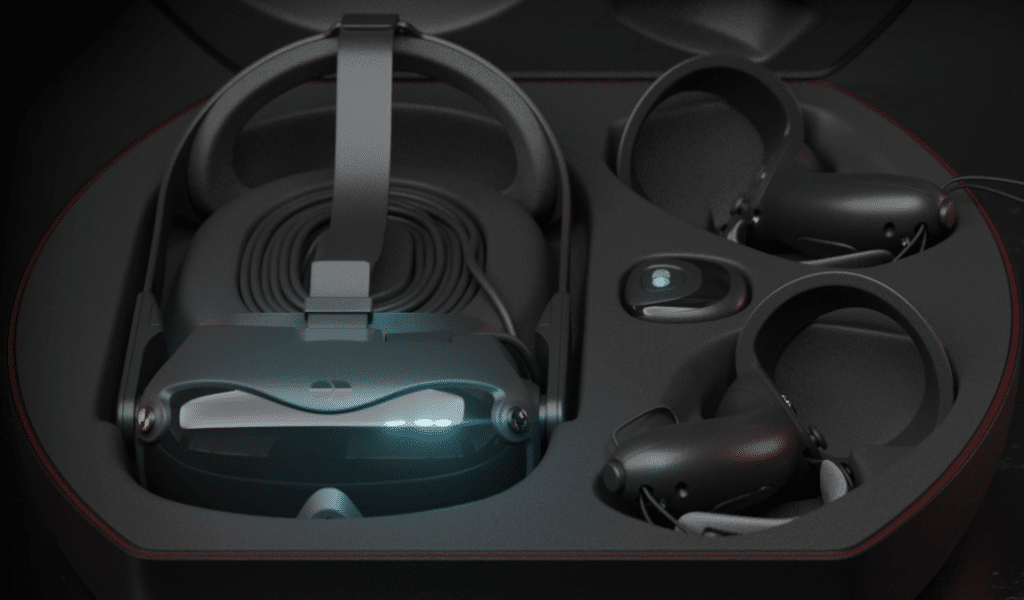 Final Thoughts
As a virtual reality user, it's always awesome to see a new player enter the market. Especially a player who promises new technology, the best display, and other additional features. That said, it remains to be seen if the DecaGear VR headset can live up to the hype or not. A lot of experience companies in the virtual reality space have had trouble supplying a product in mass quantities that don't have major downfalls (looking at you, Pimax and HTC Vive Cosmos).
Lets hope that Megadodo Simulation Games has done their due diligence and has a solid working model to go off of.
The FaceFlow technology and DecaMove sensor should do more to immerse players in virtual reality. It's hard to know whether these additional costs will provide enough benefit to attract new users though. The display technology matches the HP Reverb G2 and should look great. Placement of sensors and cameras look to be smart for maximum tracking and data gathering too. The ability to use the DecaGear VR wirelessly without a tethered connection to your PC is another perk too.
It's only $10 to reserve your preorder on the device. If you are even a little curious about Deca, it's not a bad way to get your foot in the door. If the release reviews are bad, you can always cancel your DecaGear VR headset later too.
One drawback for us is the lack of standalone playability via the Android operating system. Facebook has shown that there is a huge market for the Quest 2 and VR players who don't own a gaming PC. It would seem wise for DecaGear to jump on board with a fully wireless solution. This is one area of VR that we hope brings future competition.
We'll be watching news about the headset closely over the next few months and will be sure to update everyone as more details are released.
What do you think about DecaGear VR headset? Comment below and let us know if you think its worth your $10 deposit today or if you are waiting to hear more about the device.
Subscribe to us today for free and get 101+ VR tips in your inbox! These tips cover everything from getting started in VR to hardware and software tricks and specific game help.