Shooting games are some of the most popular games in VR. VR gun controllers add a level of immersion you can't get with your regular VR controllers. If you want to know what the best virtual reality gun stocks are, you've come to the right place. 
Below, we break down the best guns for the Oculus Quest 2, Oculus Rift, HTC Vive, and Playstation VR. Before then, let's highlight some features of a good VR gun. This way, you'll know what to look out for when you hit the market.  
The Best VR Gun Controllers
Oculus Quest Double Handle Bracket Rifle Gun
BeswinVR M4 VR Rifle Gun
Arena Infinity Light
Oculus Rift S Double Handle Bracket Rifle Gun
Playstation Aim Controller
Important Features Of a Good VR Gun Controller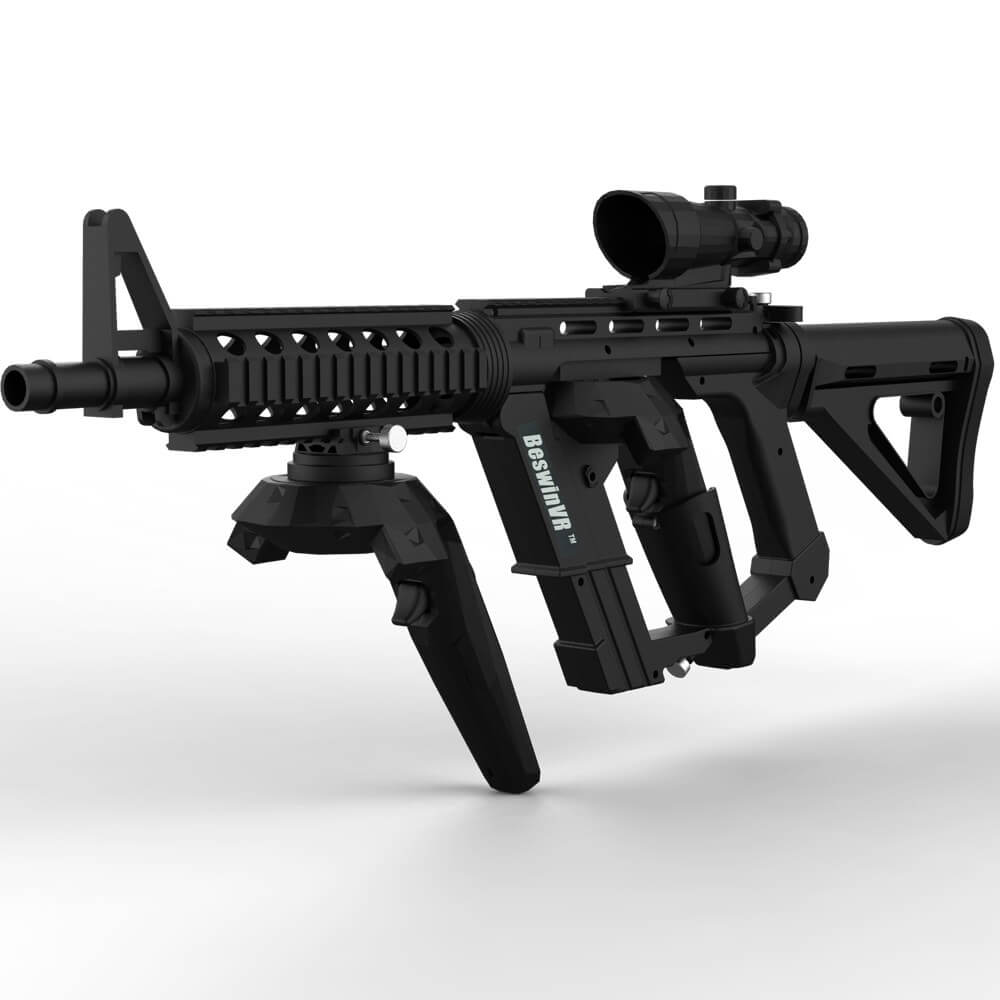 The following are important features of a good VR gun controller:
Haptic Feedback
Any VR gun without haptic feedback is not a good controller. Haptic feedback makes it seem like you are using a real gun by giving you subtle touch sensations when you shoot.
Wireless connectivity
A good VR gun should be able to connect wirelessly to a VR headset. One of the biggest complaints about virtual reality is the need to tether your headset to a nearby computer (except for the Oculus Quest). You don't want to add another wire from your gun controller too,
Rechargeable batteries
Batteries are an important part of a VR gun controller. A good VR gun should have rechargeable batteries for ease of use. Even better if those batteries plug into a standard mini-USB or USB-C port.
High Accuracy
A good VR gun should have high accuracy when using it. If you are spending a lot of money on a custom controller, there shouldn't be any misfire!
Weight
A good VR gun should be the right weight to use. You don't want the gun to be as heavy as the real thing or else using it will feel like a chore. If the gun feels too light and cheap it won't feel like it should.
Fast Response Time
A good VR gun should register a shot immediately when you pull the trigger. Even fully wireless guns should have minimal delay before shot and reaction.
Oculus Quest 2 & 1 Guns
Glistco Magni VR Gun Stock
Glistco makes a VR gun controller for both the Oculus Quest 2 and 1. Be careful which one you buy, since they are slightly different to match the different angles on the halo of each controller. We list them both below for you to check out!
The Glistco Magni has really quick installation with high strength magnets. Once they are in place, you can jump into a game and play. The gun stock is made with lightweight material that feels comfortable. It comes with an easily adjustable two point sling made out of nylon.
For the Oculus Quest, the Magni is the most popular VR gun controller.
Sale
Oculus Quest Double Handle Bracket Rifle Gun
If you are looking for a good gun for the Oculus Quest, there aren't many options available. This double handle VR gun is reasonably priced and comes with some really good features.
This gun works with the Oculus Quest or Rift S controllers. The existing controllers slip into place with magnets and become your grips to hold on to. You'll be happy to know that the controller can respond to your actual movements.
This VR gun stock only works with the Oculus Quest 1.
The double handle bracket controller is very ergonomic and feels comfortable in gameplay for long periods. The installation process is very easy. Plus, the gun feels sturdy and durable too.
Pros
Compatible with almost every VR game
Tracking abilities for both hands while in-game
Comfortable to use.
Cons:
Esimen VR Game Gun for the Oculus Quest 2
For those that don't want a full rifle, the Esimen game gun makes your Oculus Quest 2 look and feel like s pistol. It aims to blend in to the controllers with the same white color and improve the center of gravity and weight ratio balance. This game gun has a friction lock that is easy to install and remove.
When you play a gun game, such as Pistol Whip, your eyes will now look down the barrel of the gun. It feels more immersive and natural in your hands. The design is patented and specially designed for Oculus Quest 2 controllers.
Sale
Esimen VR Game Gun for Oculus Quest 2 Controllers Pistol Case, Enhanced FPS Gaming Experience -Compatible with Pistol Whip VR Game, Enhanced FPS Gaming Experience (White)
✅【Ergonomically tested to fit 】Quest 2 controllers feature new look and feel with upgraded ergonomics; this brand new pistol design aim to blend in but accentuate the white color scheme along with improved center of gravity and weight ratio balance.
✅【Three-piece design】Friction lock and needless of a lock pin-Easy to install and remove. Full buttons access will not scratch the device itself. Protect the controllers from being dropped and bumped. Comfortable, durable, and easy to clean.
✅【Better VR Experience】 When you play shooter games, your eyes see a pistol but you're feeling a controller, and that disconnects you and makes it less immersive since the native controllers are meant to be "one size fit all" solution.
HTC Vive Guns
BeswinVR ScarVR Rifle Gun
Step up your VR game with the BestwinVR ScarVR Assault Rifle for the HTC Vive. Beswin has worked hard to create a realistic and lifelike gun weapon for virtual reality gamers. You can also buy hardcore field accessories like the sniper's bi-pod attachment for this gun. It delivers a seamless VR experience for serious first-person shooter players. Aiming with this gun is very accurate and lifelike.
The BeswinVR is like holding a real weapon in your hands. Buy this virtual reality gun and play games like Arizona Sunshine, Hover Junkers, and Space Pirate Trainer the way they're meant to be played.
The only thing missing on this M4 gun is a high powered actuator for realistic recoil. However, the NewScar VR Rifle does have this feature.
Pros
Performs like real gun for ultimate virtual reality gaming
It comes with high-powered actuator that delivers real life recoil with every shot
Auto-zoom aiming for long-range sniper shots
Cons
Battery life reportedly degrades over time
BeswinVR 2019 New ScarVR Rifle Vive Gun controller Golden Version with Recoil Feedback for Virtual Reality game- Compatible with HTC Vive Pro 2.0,1.0| Valve Index| Pimax 5K 8K VR Headset (Trademark Protected)
NewScar Rifle+ Vive tracker 2.0 (Order not included), Compatible tracking: SteamVR 1.0, 2.0 Station base; Compatible VR HMD: Vive 1.0, vive pro 2.0, Valve Index, Pimax 5k 8k. NOT compatible: Oculus Rift/S / Quest/, Vive Focus/ Cosmos, Windows Mixed Reality, Samsung Odyssey, Lenovo Explorer, Acer, HP, Dell .......etc Other inside-out tracking device.
ScarVR Rifle need Vive Tracker 2.0 to work but not included, easy to buy in amazon ASIN: B0748ZY323. Rifle don't support Vive tracker 1.0 2017 version.
Registered brand and utility model patent was in protection Amazon 9 sites, follow selling or copy list without authorization is not allowed and punished by amazon seriously.
Arena Infinity Lite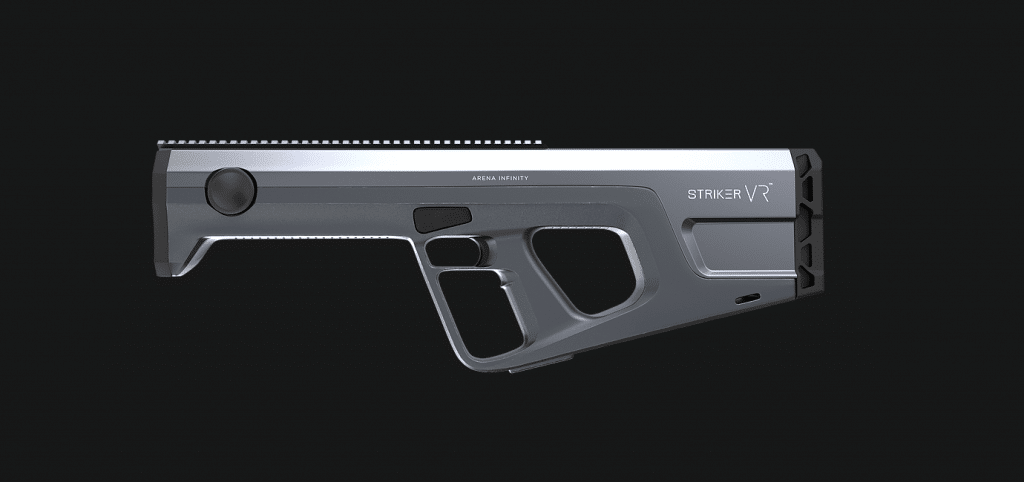 The Arena Infinite Lite is another popular VR gun controller for the HTC Vive. Striker VR is the creator of this masterpiece haptic VR gun.
The Arena Infinity is able to simulate the fire of various weapon modes. It is also great at providing other haptic effects to the player. The wireless controller uses a linear accelerator to provide haptic effects and is said to offer players a powerful kick to simulate gun recoil. Everything from the aim to the trigger to the feel is all very lifelike.
The Infinite Lite is the second model of VR gun the company has released. This new version has improved weight and balance and is more durable as well. A charging station and rechargable batteries are included as well.
Pros
Comfortable to use
Plenty of customizing options
Compatible with lots of games
Cons
Repairs and replacements are difficult
Oculus Rift Guns
Oculus Rift S Double Handle Bracket Rifle Gun
This VR gun stock is the same one found under the Oculus Quest section above. It is compatible with Oculus Rift and Rift S motion controllers.
Best PlayStation VR Gun
Playstation VR Aim Gun
The PlayStation Aim controller offers an official Playstation VR gun controller for your shooting games. This gun controller is a holder that lets you place your PS VR controller inside of it. Once secure, you use it as your tracker to aim.
The Aim Controller is smaller than the higher quality VR guns and doesn't have the same feel of a real gun. However, the design is comfortable to hold. It also has buttons strategically placed around the device to simulate other parts of a gun.
Pros
Immersive shooting games in the PlayStation VR
Comfortable design
Impossible to "accidentally throw"
Cons
Does not feel like a real gun.
PSVR Aim Controller - PlayStation 4
Precise and intuitive aiming for compatible PlayStation VR shooter games
Advanced motion sensing and light tracking technology
Ergonomic two handed control
Best VR Shooting Games
Once you buy your VR gun controller, you'll want to know some of the VR games you can try it out with.
We have a full guide of top multiplayer VR games which include some awesome shooting games.
As well, here are some of the best VR shooting games:
Pistol Whip
AUDICA
Arizona Sunshine
Superhot VR
Robo Recall
FarPoint
Half Life: Alyx
Space Pirate Train
Rec Room
Firewall: Zero Hour
Eve: Valkyrie
Lone Echo
Bone Works
Gun Club VR
Rez
Pavlov VR
Pistol Whip
All of these VR gun controllers were built perfectly to emulate the sensation of using an actual gun. They are also incredibly comfortable to use. Each gun has features to simulate the immersion of aiming, reloading, and firing. 
No matter if you have an Oculus Quest, Rift S, HTC Vive, or Playstation VR headset, there is a gun for you above. Which of these gun controllers is your favorite? Let us know your thoughts by commenting below!