The EyeRide HUD is an Augmented Reality helmet for motorcycle riders. The heads up display attaches inside of your helmet and provides you with GPS, music, and phone information in your eyesight.
This EyeRide HUD guide includes all of the details you need to know about this revolutionary AR product including how to buy it, how to customize it to your needs, and other EyeRide HUD tips.
EyeRide HUD Quick Buy
Click here to head straight to the Kickstarter campaign where you can buy the EyeRide now.
What is the EyeRide HUD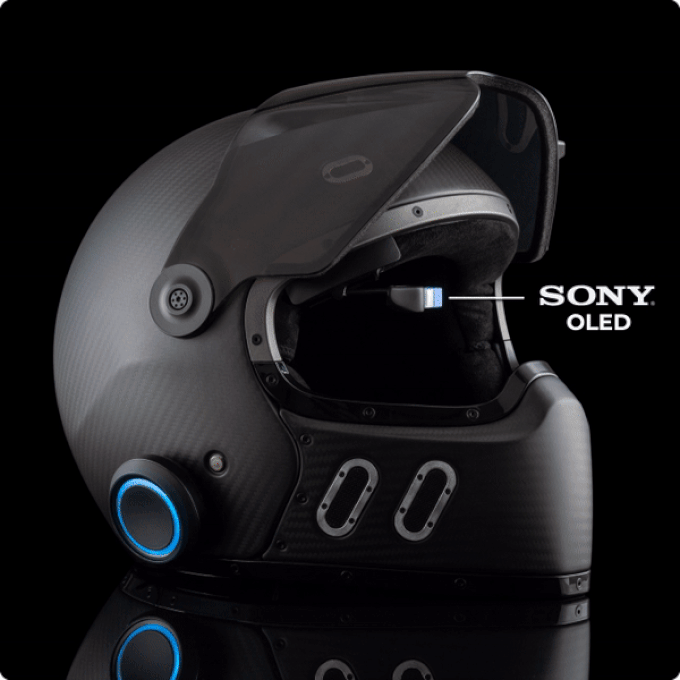 The EyeRide HUD is a magnetic circular control and Sony OLED screen that mount on your existing helmet. The circular control is used for quick navigation and commands, while the OLED screen provides you with real-time heads up display (HUD) information in your field of vision.
EyeRide HUD Features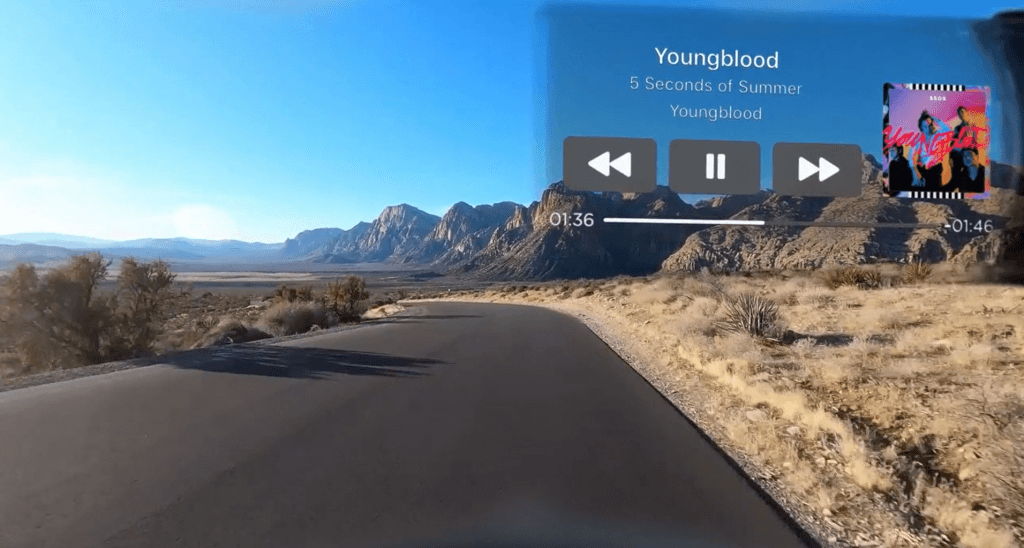 The EyeRide is a GPS, heads up display, music control, and voice command hub all in one. Some of the Eyeride features you can take advantage of include:
Show your current GPS location and nearby map
Control your music
Answer and control phone calls
View current speed and other live stats
Attaches to any full or half helmet
Use any Android Auto or Apple CarPlay app
2 year warranty
In the example below, you can see how the information from the EyeRide HUD is displayed in the upper right corner of your vision in real time.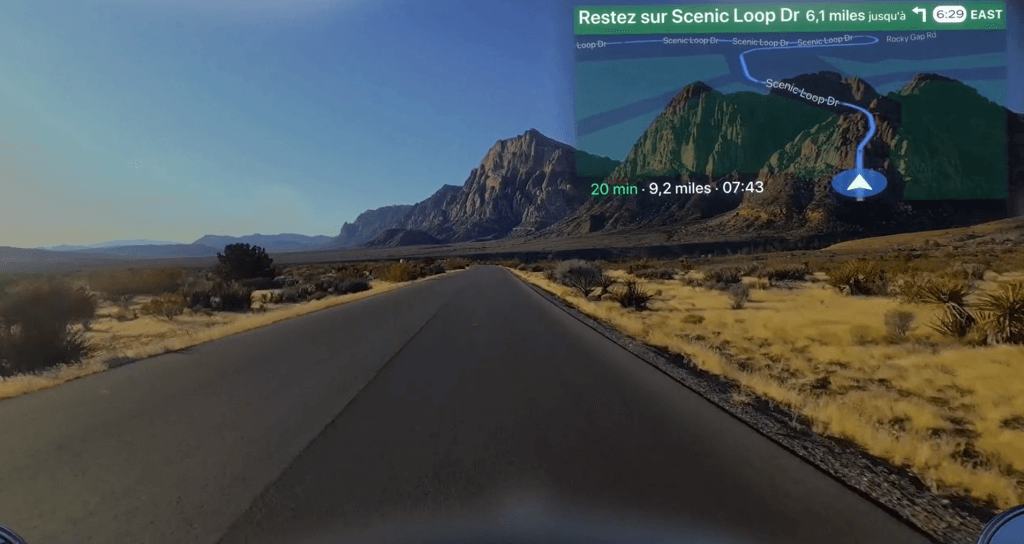 EyeRide Specifications
Weight = 70g
Operating System = Android & iOS
Contract = 100,000 : 1
Brightness = 3000 nits
Field of View = 24″
Waterproof = Yes (IP54)
HUD Resolution = nanoHD
Average Operating Time = 1 day
Recharge Time = 2 hours
Recharging method = USB Type-C
LED Light = RVB
Speaker Max Level = 99dB
Microphone = Directional noise cancellation
Mechanical Mount = 6 degree of freedom mechanical mount
Regulations = US, EU, and CA Approved
How to Buy the EyeRide HUD
The EyeRide HUD originated on Kickstarter and is currently only available through their campaign by clicking here.
The Kickstarter campaign more information about the device and includes some animations to show you some of the features in the HUD.
The Kickstarter campaign lets you save between €100 and €150 verses the retail cost of the device and gets this augmented reality headset in your hands earlier than anyone else.
The basic HUD and magnetic control costs €259. An extra Bluetooth 5.0 remote that attaches to your bike handlebars is available for €299. In USD, this is righly $300 and $340 respectively.
Click here to view the EyeRide Kickstarter campaign.
Get a preview of whats included below when you buy this VR headset for your motorcycle.
When will the EyeRide Heads Up Display ship?
The Kickstarter campaign, which has already met its funding goal, ends on April 2. According to the team, the mass production design has already been completed and the optic sensor is already under manufacturer.
The goal is to get Kickstarter backers the display in July of 2020. Expect to see a rollout and wide-scale launch somewhere around Christmas timeframe.
If you are interested in this heads up display for your motorcycle, now is the time to get it early by backing the Kickstarter project.
What's Included in the Box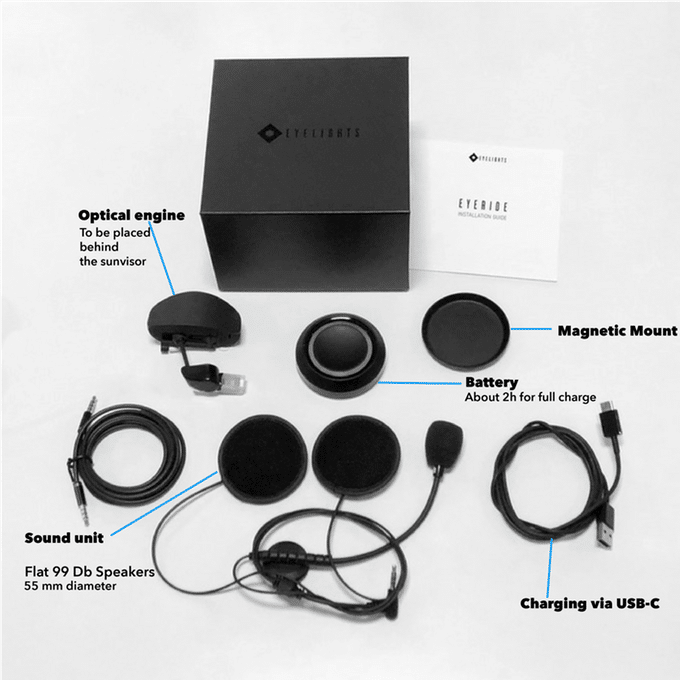 The EyeRide comes packages in a compact square box with instruction manual included.
The optical engine is the main display piece. It is mounted behind the sunvisor of your helmet. The engine connects with the battery and sound unit, which are magnetically mounted to the outer side of your helmet.
All charging is done via USB-C plugged into the battery.
The creators of the EyeRide say that installation takes no more than 128 seconds on average, which is great news.
What do you think of this augmented reality headset for motorcycle drivers? Comment below and let us know!