VR cam girls have exploded in popularity thanks to the buzz around the Meta Quest, Apple Vision Pro, and other VR headsets. In this guide, I'll show you the best VR cam sites you can access today and which have the best features.
Overall, this is a growing market, and virtual reality pioneers like VRPorn.com and SexLikeReal are leading the way with high quality, 360-degree cam girl streams that you can view from right within any VR web browser.
Note: While all of the images on this page are safe for work, the content and themes are not. Check out our home page for other safe VR content and tips today.
What are the Best VR Cam Girl Sites?
In a rush? Here are our top picks so that you can click and start browsing through girls to watch:
What are VR Cam Sites?
The cam websites we focus on below allow you to watch VR cam girls in real-time perform from their home. You can chat with them, tip them, and interact in more personable ways than traditional adult videos.
Virtual reality allows users to interact with models in a 3D virtual environment that simulates physical presence in real-world places. This means you feel like you are sitting in their bedroom, front and center in front of them. With binaural audio, VR headsets let you hear in full surround sound.
If you are a fan of cam girls, then the virtual reality version is the next generation. of the experience.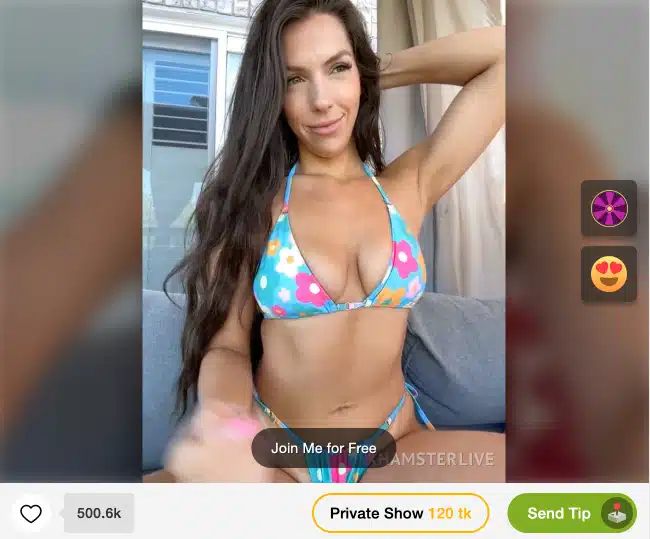 Understanding How VR Cam Sites Function
VR Cam Sites operate similarly to traditional cam sites but with a significant upgrade – they incorporate VR technology.
When you enter a VR Cam show, you put on your VR headset and are transported into a 3D, 360-degree environment. There, a model interacts with you in real-time. This immersive experience allows you to engage with models like never before.
The Perks of VR Cam Sites vs Traditional Cam Sites
Why should you consider VR Cam Sites over traditional cam sites? There are a multitude of reasons:
Immersive Experience: VR Cam Sites provide a 360-degree view, making you feel like you're in the same room as the models.
Realistic Interaction: VR allows you to interact with models in real-time in a more lifelike environment.
Privacy: Enjoy your intimate moments without any physical intrusion.
Wide Range of Models: VR Cam Sites usually have a wider range of models catering to various tastes and preferences.
In simple terms, VR cam sites provide a more realistic and immersive experience than their traditional counterparts.
Do You Have to Pay for VR Cam Girls?
No, many cam girl websites featured below are completely FREE to view and try out. You only have to pay if you want to tip or interact with each girl.
However, VR cam websites are not like traditional ones. They require each model to buy a special camera and set up some extra steps to stream live. You will have to pay to see good quality content.
Some of the best cam websites also have static videos and VR adult games too, which are all included with your subscription.
How to Use VR Cam Girl Websites (Step by Step Tutorial)
Using VR cam websites isn't as daunting as it might sound. Here are the steps:
Get a VR Headset: You'll need a VR headset to view models in full virtual reality. The Meta Quest 2 is the most popular headset today and is very affordable. The Quest 2 and its premium counterpart, the Meta Quest Pro, are wireless and do not require a gaming PC. The HTC Vive Pro 2 is a good option if you have a gaming PC.
Select a VR Cam Site: Use our guide below to choose a top-rated VR cam site. If you want to view live. and read less, enter in one of these URLs into the browser on your VR headset:

https://arvrtips.com/go/vrporn/

Register and Choose a Model: Register an account with your VR controllers and select your desired model.
Watch Cam Girls in Virtual Reality: You can start your immersive adult entertainment experience once in the virtual room. Each website has an interface that you can use to chat with the model, provide tips, or vote on suggestions.
Remember, every VR cam site will have specifics, so you must familiarize yourself with your chosen platform. Enjoy your journey into the enticing world of VR Cam Sites!
Next, we'll dive into best VR Cam Site picks in more detail.
VRPorn.com (Best Overall VR Cam Website)
VRPorn.com is the number one adult website for VR headsets today. In addition to 15,000 VR porn videos to stream and over 50 VR porn games to play, they have added virtual reality cam girls to their website.
VRPorn.com gives you access to free VR cam girls that you can watch. With a subscription, you get full 8K video access to each girl. I like the filtering on the site. You can find girls by their age or ethnicity easily. Compared to other cam girl sites, VRPorn.com is popular. You can find over 60 models to scroll through and watch, even in slow times.
You can tip, chat, and enter private one-on-one videos from the website's interface with each performer. The platform has everything you would expect to find. Plus, the selection of static videos and VR porn games is top-tier as well.
Click here to view VRPorn.com cam girls.
What I Like About VRPorn.com Cam Girls
Good selection of girls
Simple interface
Access to VR cam girls here gets you access to the rest of VRPorn.com
What I Don't Like About VRPorn.com Cam Girls
No live screenshot preview like other websites have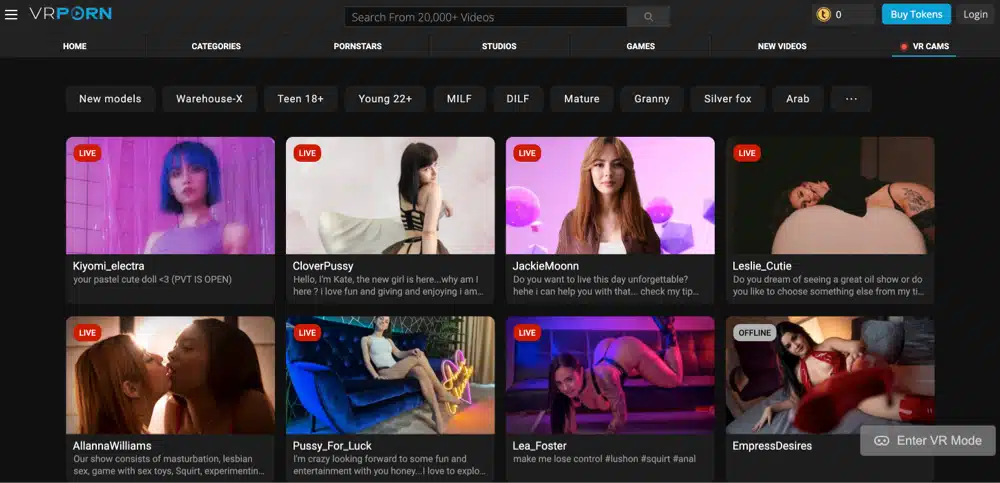 SexLikeReal VR Cams (Best Meta Quest VR Cam Site)
SexLikeReal VR Cams is another one-stop-shop for all things VR, hosting a variety of pre-recorded VR porn videos, a broad selection of cam models, and interactive sessions that support Kiiroo and Lovense smart sextoys.
SexLikeReal offers free access to various cam girls to satisfy your viewing pleasure. The site's interface makes it easy to navigate and find models based on preferences such as fetish play, role-playing fantasies, and more.
With SexLikeReal, you can tip, chat, and enter private sessions with each performer. The platform offers everything you would expect from a top-tier cam site, plus the added advantage of interactive toy scripts.
SLR has a dedicated app for the Meta Quest that you can install to get extra features. It works much better than the default browser. If this interests you, then give it a try today.
Click here to explore SexLikeReal's VR cam experience.
What I Like About SexLikeReal VR Cams
Seamless user interface
Good Meta Quest support
Subscription to SexLikeReal includes access to a vast array of VR content
Live screenshot previews of each room
What I Don't Like About SexLikeReal
Higher pricing than most other VR cam sites

Stripchat (Best Variety)
Stripchat has a staggering number of cam models, with over 5000 active performers. This impressive offering ensures that you will find a cam girl that suit your preferences.
However, not all of these models perform in virtual reality. That number is closer to what VRPorn.com or SexLikeReal offers. When you launch a VR model, it will open up in 360-degrees on your headset. The site supports most VR devices, including Meta Quest 2, the original Oculus Quest, Oculus Rift, Samsung Gear VR, and HTC Vive.
If you open up a non-VR girl, you can still watch them on your computer or VR headset in flatscreen mode.
Stripchat 4K VR is free, but if you wish to tip or purchase from a model, you'll need to buy tokens. Users can enjoy a free view until the model enters a private show or goes offline. However, users who purchase tokens get priority access if the room fills up.
Click here to explore Stripchat 4K.
What I Like About Stripchat 4K VR
A massive number of VR webcams and shows
Supports a wide range of VR headsets
Free access to all of its content
What I Don't Like About Stripchat 4K VR
Lower quality
No sex toy support

Dreamcam (Underrated Option)
Dreamcam is not as widely recognized as some VR cam sites on this list, but is worth checking out. It is a dedicated camgirl website, which makes things less complicated.
Dream stands out with its user-friendly interface, numerous filters to refine your search (including unique ones like eye color), and a broad range of categories, including "Girls," "Couples," "Men," and "Trans." There are live models available across all categories at any time of the day.
The virtual reality rooms offer high-resolution video. For those unsure of where to start, the website features a "Star of the Day" cam girl to help you get started.
As a pure VR-only cam girl website, Dreamcam is worth the experience.
Click here to view Dreamcam.
What I Like About Dreamcam
Dedicated solely to VR cam shows
User-friendly interface with numerous filters
What I Don't Like About Dreamcam
No smart sex toy support
Fair, but not exceptional, amount of content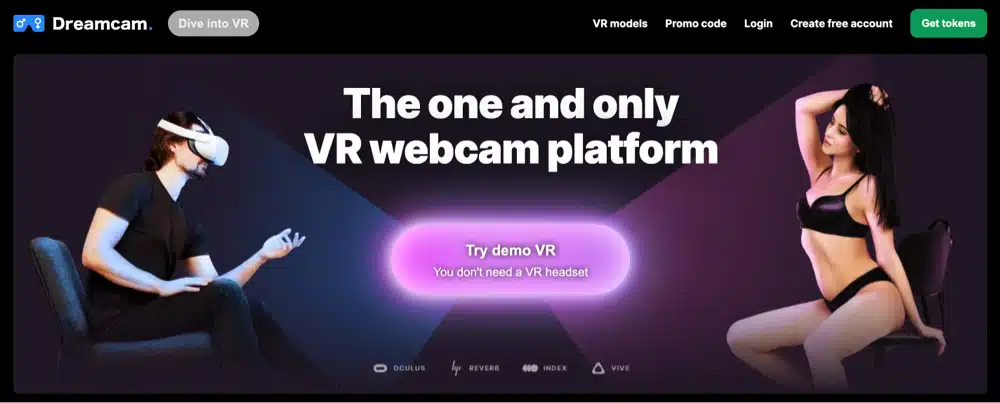 xHamster Live (Stripchat Clone)
xHamster is one of the most popular adult websites on the internet. Every day, thousands of unique videos are uploaded to the platform.
Their xHamster Live VR cam side of their website? The quality is not great.
xHamster Live uses the same platform as Stripchat and the two are a mirror image clone of each other. Check out our Stripchat review above to get a feel for what xHamster live is all about.
Click here to view xHamster live.
What I Like About xHamster Live
Backed by a reputable adult brand
What I Don't Like About xHamster Live
Clone of Stripchat
Nothing unique

How We Created Our Rankings
Compiling a list of the top VR cam sites is no easy feat. We are passionate about virtual reality and our team of experts spent hours on each site, assessing, analyzing, and experiencing what each had to offer.
We believe in providing comprehensive, reliable information to our readers and our reviews are no exception. You'll notice that we mention features about each website that are not found in other reviews. This is because we take the time to compare each website before we post.
Criteria for Rating VR Cam Sites
To ensure our rankings are credible and valuable, we've set specific criteria for evaluating each VR cam site. Here's a breakdown:
Quality of Models & Selection: We've considered the number, variety, and quality of models available on each site.
Extra Features: Does the website feature dynamic tipping options? Extra virtual reality immersion? Higher quality than their competitors? Access to VR porn videos and games? These extra features help justify the time and money to each website.
User Security & Data Privacy: We assessed each site's safety measures and data privacy policies to ensure user security.
VR Headset Compatibility: A good site should offer a smooth experience on wireless VR headsets like the Meta Quest and wired PCVR headsets too.
Ease of Navigation: The website interface should be user-friendly and easy to navigate.
User Reviews & Satisfaction: We've referred to user reviews and ratings for firsthand experience and feedback.
Frequently Asked Questions About VR Cam Sites (FAQs)
Can I Enjoy VR Cam Shows if I Can't Afford High-end Headsets?
Yes, VR cam websites work on the cheapest VR headsets, like the Meta Quest, and you do not need an expensive VR headset or gaming PC to view content.
What are the Different Types of VR Live Sex Cam Shows?
There are various types, including solo performances, couples, groups, fetish-themed shows, and interactive shows with controllable sex toys.
Can I Watch VR Webcam Girls Perform for Free?
Yes, many VR cam sites offer free group shows or open chat rooms, but interaction or private shows usually require tokens or credits.
Is Paying for a VR XXX Cam Site Worth It?
Yes, if you value personalized, immersive, and interactive experiences, then paying for a live VR camera site can be worth it.
Is Joining a VR Cam Site a Difficult Process?
No, joining a VR camgirl site is usually easy and involves providing an email address, creating a username, and confirming your legal age.