Do you want to play the new Cyberpunk 2077 in VR! With a few minutes of your time, this is completely possible with full 6 degrees of freedom (6DoF) motion.
In this guide, we'll show you:
The requirements to play Cyberpunk 2077 in virtual reality
How to get setup and playing
Tips and tricks for a better VR experience
If you have any other tips to add, make sure you comment down below and let us know.
What is Cyberpunk 2077?
Cyberpunk 2077 is an open-world action role-playing game by CD Projekt. It was released for PC and Console on December 10th, 2020.
The story takes place in Night City, an open world set in the Cyberpunk universe. Players are a customizable mercenary known as V. V can acquire skills in hacking and machinery with options for melee and ranged combat. If you don't want to play through the storyline, you can spend hours navigating Cyberpunk's vast city. There are six different areas in the city, filled with open-ended action to explore.
Cyberpunk is hailed as one of the largest and most ambitious open-world games of all time. In order to fully complete the game, over 150 hours worth of missions and side quests are included. The graphics and recommended CPU and GPU for this game are some of the highest ever released.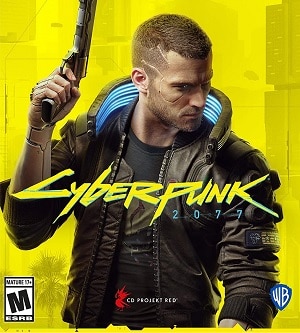 Cyberpunk 2077 VR
During the development of the game, eager VR fans contacted the studio to find out if there would be official VR support.
Adam Kicinski, preside of CD Projekt replied with the following.
"The issue becomes more challenging when we factor in game design. There are substantial changes which must be taken into account when working on a VR-specific product. Our current focus is on the PC and console editions of Cyberpunk, so we're not moving in that direction right now."

– Adam Kicinski, CEO of CD Projekt
So official Cyberpunk 2077 VR support is not on the horizon. However, an option to play the game in virtual reality IS available and it works not too bad for being unofficial. We expect compatibility to improve in the coming months.
Next up, we'll show you the requirements you need to play Cyberpunk 2077 in VR and then how to get setup and playing.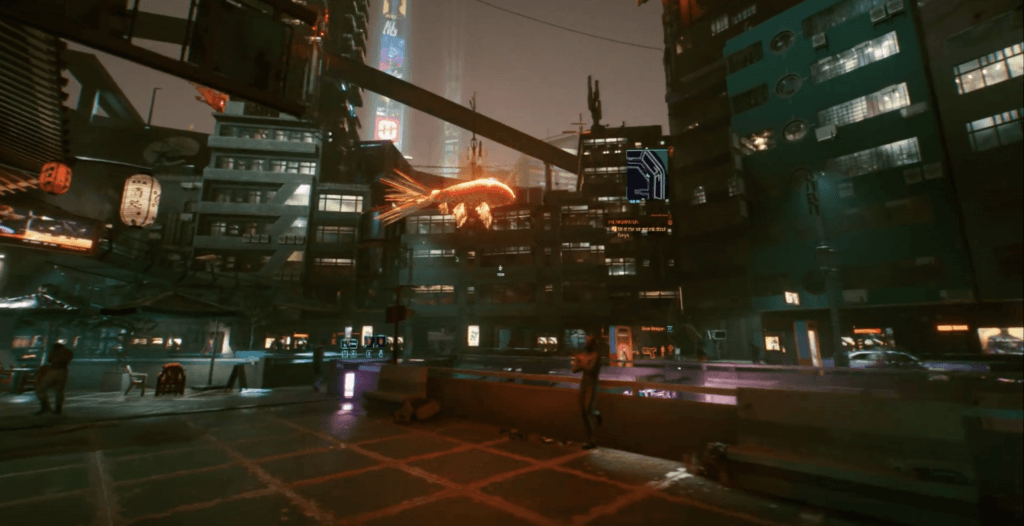 Requirements to Play Cyberpunk 2077 in VR
The following things are needed to play Cyberpunk 2077 in VR:
Cyberpunk 2077
You need a bought copy of the Cyberpunk 2077 game installed on your PC in order to play it in VR.
Compatible Gaming PC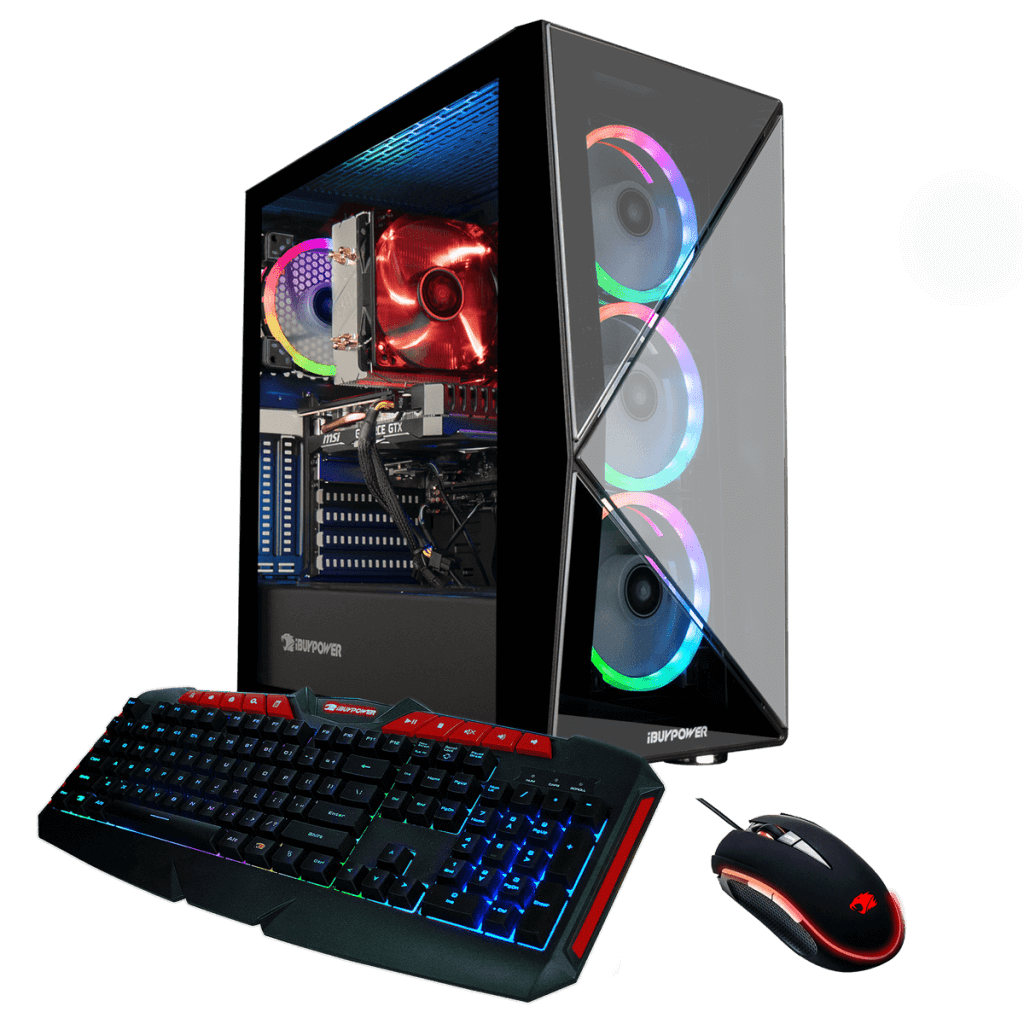 In order to play Cyberpunk 2077 in VR, we recommend that you meet the minimum 1440p specs for the game:
Intel Core i7-4790 or AMD Ryzen 3 3200G CPU
Nvidia GeForce RTX 2060 (or AMD RX 5600 XT)
12 GB RAM
6 GB VRA
70 GB SSD storage
Windows 10 64-bit
Click here to view the top VR-ready gaming PCs which meet these specs.
VorpX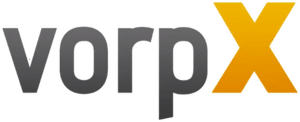 VorpX is a 3D driver for the Oculus Rift S and other PC VR headsets. It lets you play traditional 2D games in virtual reality mode. Full head tracking and stereoscopic 3D audio is included for most games.
Non first-person games can still be played on a huge virtual cinema screen in your VR headset too.
You need the latest version of VorpX to play Cyberpunk 2077 in VR.
Drawbacks
There are a few negatives to setting the game up and playing in VR this way:
VorpX does not support motion controls.
The field of view using VorpX is a little more zoomed in than traditional games. Optionally, you can install a FoV mod for Cyberpunk 2077 which improves this, and we've included those instructions below!
How to Play Cyberpunk 2077 in VR (PC)
Buy and Install VorpX
Click here to go to the VorpX official website. Click on the Buy Now button to purchase VorpX for $39.99 USD.
Install it on your computer like any other piece of software.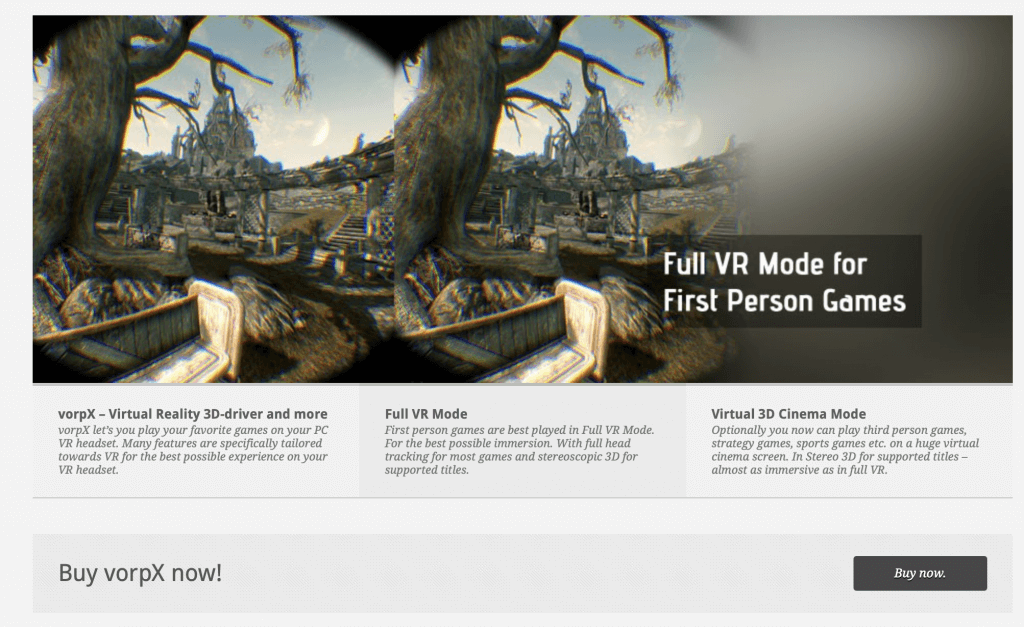 Load the Cyberpunk 2077 Profile in VorpX
Launch VorpX on your computer. In the Game/App field in VorpX, search for cyberpunk.
Select one of the profiles to configure Cyberpunk 2077 in VR. VorpX has an official profile which has a lot of downloads and endorsements. We found that the author "pressstart" has a profile for the game that is closer to full 360 degrees.
When you've selected your profile, click on Import Settings.
In Local Settings, find Cyberpunk 2077 and make sure your game is assigned before you click the Apply and Close button.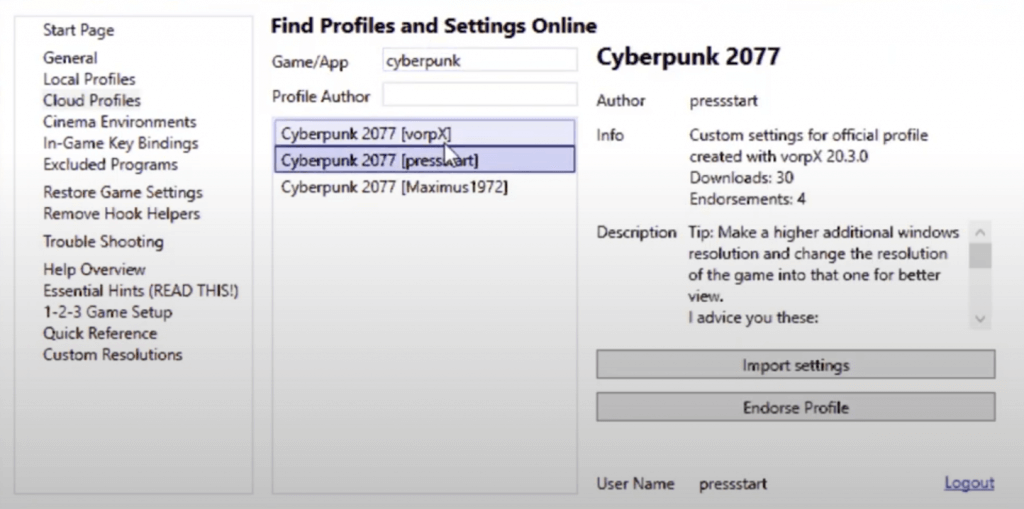 Adjust Monitor Resolution
Next, you need to adjust the resolution of your game for VR play. To do this, open up the NVIDIA Control Panel navigation tree pane from your Windows taskbar.
Under Display, click Change resolution to open the Change Resolution page.
Click the image that represents the display you want to affect.
Click on Customize and create a custom resolution that you'll use for playing the game in VR. These are the custom resolutions that are supported in 2077:
1280 × 752
1600 × 1440
2400 × 2160
2560 × 1504
3200 × 1800
The higher the resolution you create and select, the more powerful your gaming PC has to be.
Click Apply when done.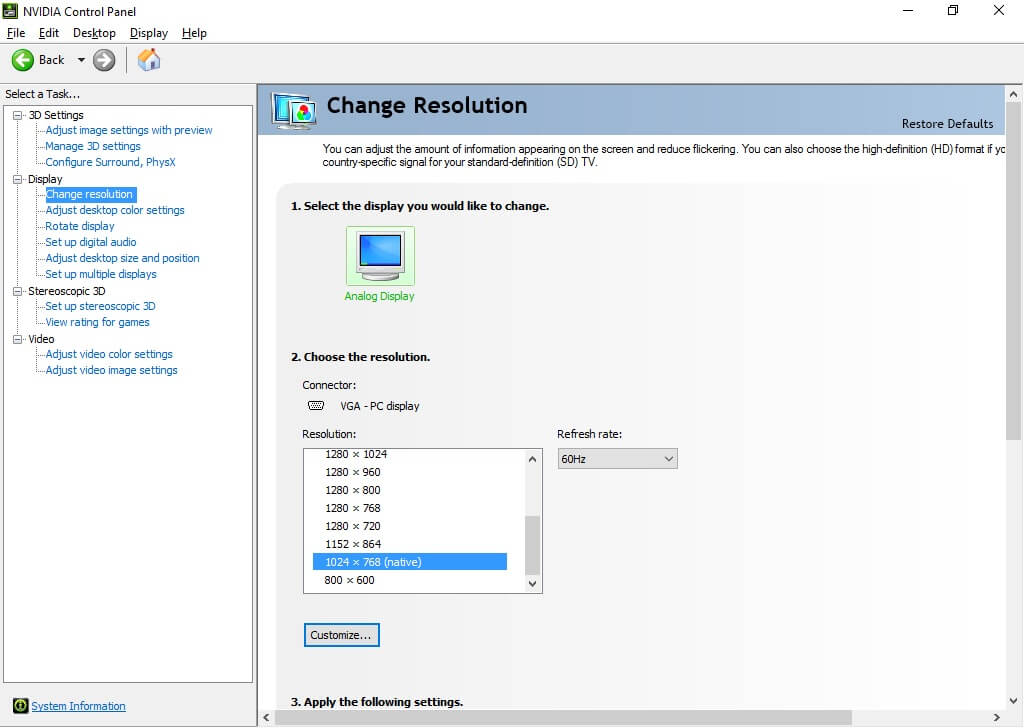 Launch Cyberpunk 2077 and VorpX
First, open Steam, then turn on VorpX, and then start Cyberpunk 2077. VorpX will attach itself to the game when you run it.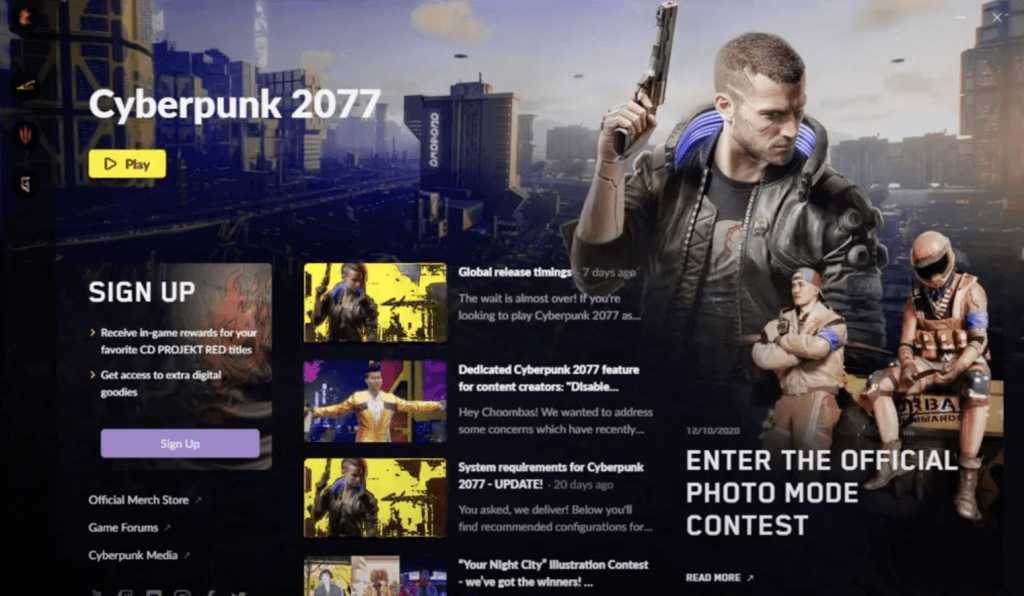 Change Your Resolution in Cyberpunk
From the main menu of the game, click on Settings.
Then select the Video tab at the top.
Change your Resolution to the one you created and selected in the last step.
OPTIONAL: Install Better Field of View Mod
In order to make the VR view better in the game, there is a Cyberpunk 2077 mod that can help. It installs a better field of view slider.
This mod:
changes the minimum field of view from 70 to 30
alters the maximum FOV from 100 to 150
Changes the FOV step from 5 to 1.
To install this mod into the game:
Click here to go to the Better Field of View Slider mod page.
Download the mod to your computer and extract the files out of the .7z zip file.
On your computer, navigate to C:\Program Files (x86)\Steam\steamapps\common\Cyberpunk 2077\r6\config\settings\platform\PC
Replace the options.json file in this folder with the one downloaded in the mod folder.
Note, you may have to adjust your zoom settings in the game in order to get your first person view working correctly.
If you like modding this game, check out our list of top VR games that you can mod with new enhancements.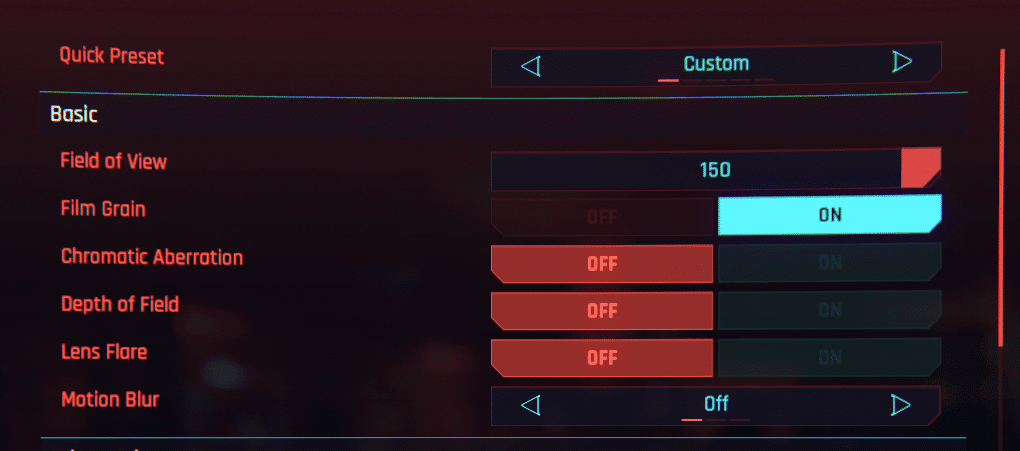 And that's it! With a few setup steps, you can fully play Cyberpunk 2077 in VR. You may encounter some bugs and glitches while you play, but it sounds like regular users are encountering those already!
How to Play Cyberpunk 2077 on the Oculus Quest
The method above works to play Cyberpunk 2077 on the Oculus Quest using Oculus Link or Virtual Desktop. If you don't care for the VR controls and want to play the game in theater mode, you can use Google Stadia.
Google Stadia is a cloud gaming service that lets you play the game directly from Google's servers.
Click here to learn how to set up Google Stadia on the Oculus Quest.
If you have any questions or feedback about playing the game in virtual reality mode, comment below and let us know.