In this guide below, we show you how to play on custom maps in the Contractors VR game. With recently added mod support, you can now play your favorite maps from classic games such as Halo, Call of Duty and CounterStrike.
Playing on these Contractors VR custom maps is quite easy. We'll also show you the best Contractors VR maps to play today.
If you have any questions about playing the custom maps on Contractors VR, let us know in the comment section below!
What is Contractors VR?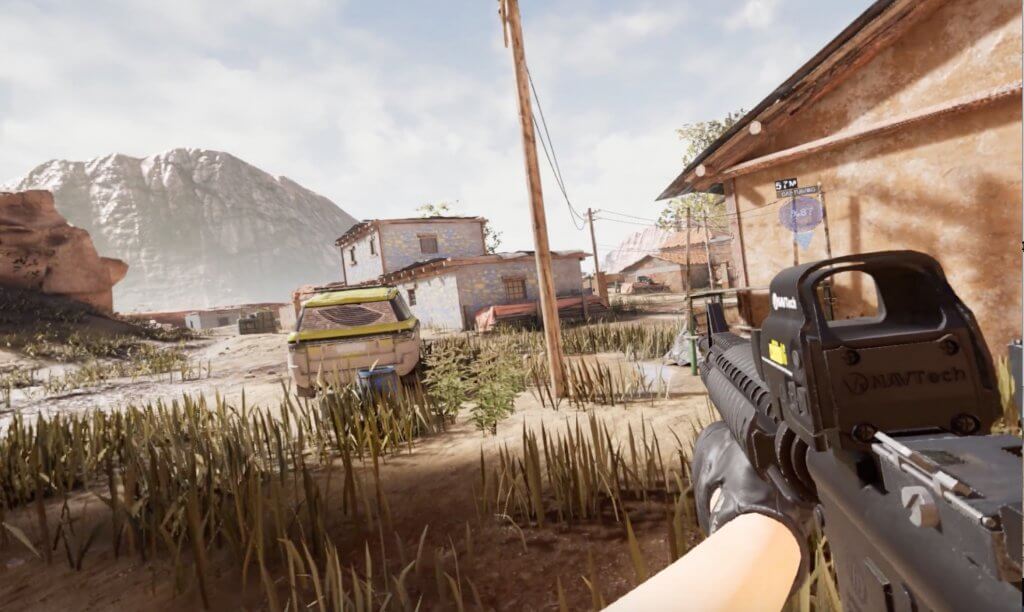 Contractors VR is a first person shooting game for VR. Similar to Pavlov VR and Onward, Contractors is a multiplayer VR game. You play online with friends or strangers around the world. Contractors is compared a lot to the Call of Duty franchise and is the closest experience there is to playing CoD in virtual reality.
There are different multiplayer maps included in Contractors. In each game, you have different objectives such as eliminating the other team or capturing checkpoints.
Some of the features that Contractors VR has:
Realistic weapon handling
Multiple online multiplayer maps
Different game modes and objectives
Customizable loadouts
Practice area to refine your skills
A mod kit so that the community can create new maps and game modes
Premium graphics
The game was previously available for the Oculus Quest on SideQuest during its beta period. You can now download it from the main Oculus store.
For PC VR, Contractors VR can be downloaded and installed from the Steam Store.
In early 2022, Contractors VR custom maps and mod support was added to the game. This allows you to play and browse new maps directly from the in-game menus, classic game maps from Halo, Call of Duty and CounterStrike.
Next, we'll show you how to play Contractors VR custom maps and mods in the game.
How to Play Contractors VR Custom Maps on Oculus & PC VR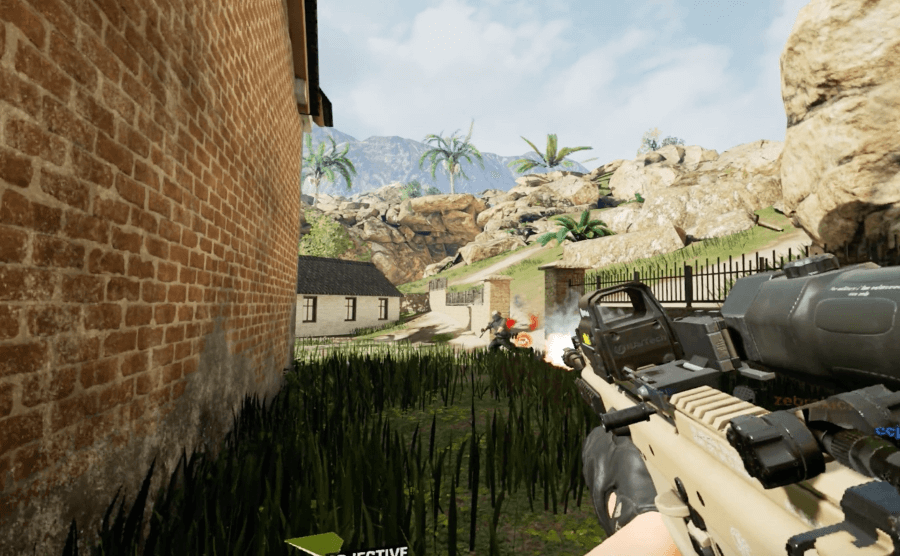 In this guide, we'll show you how to play custom maps on Contractors VR for the Oculus Quest and PC VR headsets.
Total Time: 5 minutes
Launch Contractors VR
First, launch the Contractors VR game (install from Oculus or Steam first).
Launch Mods
If you are on the latest version of the game, the Mods page will be listed above the Settings option. Click on Mods and a new window will open with three tabs in it.
Featured Mods
The first tab in the Mods page is Featured Mods, which will show you the most popular Contractors VR custom maps to check out.
All Mods
The All Mods tab will let you browse through all available custom maps and mods in the game. You can filter by rating, downloads, popularity, or subscribers.
Browse for a Custom Map
Once you find a map you want to download, click on it. It will go into your Download Queue on the right side of your screen.
View Your Downloaded Mods
Once it is done downloaded, the mod will be in the third tab, My Mods. In this section, you can also see your available space left and what you've used so far.
And that's it! You can browse and play Contractors VR custom maps in single player and multiplayer game modes.
From here, you can go and browse install all of the custom maps you want. If you want a preview of whats available, we have our list of best Contractors VR custom maps below.
Underneath that, we show you how to install the ModKit in case you want to create your own custom maps for Contractors VR in the game.
Best Contractors VR Custom Maps
Here are our picks for the best custom maps in Contractors VR:.
MW2 Terminal
This iconic airport terminal map is from the classic game Call of Duty: Modern Warfare 2. It features a good combination of close quarters in the terminal and wide open space in the air field.
BO4 Nuketown
This map is from Call of Duty: Black Ops 4, but it is based on the popular Nuketown map that was originally featured in Call of Duty: Black Ops 1. The map was so popular that the COD franchise brought it back.
Nuketown is a small map inside of a suburban community. There are two main houses to fight in, along with the surrounding street and backyards.
MW19 Rust
This map is from Call of Duty: Modern Warfare 2 and was popular mostly because of how small it is. Chaos usually ensues everywhere and you are usually on top if you could hold down the top of the tower in the middle of the map.
The remake for Contractors VR recreates the entire map for play in virtual reality.
BO2 Raid
The Raid map is from Call of Duty: Black Ops 2. There is a huge mansion on the side of a hill with hectic close quarters combat. The popularity of the map caused Call of Duty to bring the map back in Black Ops Cold War.
MW19 Shoot House
This is a remake of the map from the very first Call of Duty: Modern Warfare. There is a junkyard and massive training building where combat occurs.
Halo 3 Narrows
Narrows is a popular map from Halo 3. It gets its name as there is a base on either side of the map connected by a narrow causeway in the middle.
MW19 Shipment
This is a remake of Shipment from the original Call of Duty: Modern Warfare. This is a very small map laid out in a field of shipping containers so it is very close combat and very hectic.
WAW Roundhouse
This is one of the most popular maps from Call of Duty: World at War. It is set in a war-torn train depot. There is a long catwalk that is a popular spot to gain control.
Go and give these custom maps a try today on Contractors.
If you have any interest in creating your own maps, check out how to install the modkit below.
How to Install Contractors VR 0.91.0 ModKit
If you are wanting to create your own custom maps for Contractor VR, you will have to first download and install the ModKit.
Below are step by step instructions on how to do that.
First you need to create an Epic Games account by heading to https://www.epicgames.com/id/register.
Register with whatever way you'd like. The easiest way is with your email address.
Once you click continue, you will need to go into your email and get the verification code.
After you are registered scroll down and click on Connections and then Accounts.
Click Connect under the GitHub icon.
Now you will have to create a GitHub account.
Check your email for the verification code to verify GitHub.
Once both of these accounts are created, you will receive an email with an invitation to Epic .Games. Click Join Epic Games through that email.
Click Releases on the left hand side beside the Tabs button.
Under Assets, download every single file EXCEPT for the source code files, you don't need these.
Once these are downloaded you will need a program to unzip these modkit files (such as 7zip or WinZip).
Right click on the mod kit file in your downloads and extract using your zip program.
Click ModEngine -> Engine -> Binaries -> Win64.
Find the UE4Editor and click on that. Opening this can take up to an hour, so be patient.
Next head to epicgames.com/store/en-US/download to download the Epic Games Launcher.
Install that, open it and sign in with your Epic Games login you created earlier.
Once inside the Launcher, click Unreal Engine and then Library and click the "+" beside Engine Versions.
This will be the newest version. Click Install and wait until it is finished installing
Once installed, click the Launch button.
If it asks you to download or allow access to other programs, click Allow Access.
Go back to your Mod Kit folder and find the Contractors_UE4_22.uproject file and right click on it.
Click Show More Options and then Switch Unreal Engine version and click on the 3 dots to the right.
Find your Mod Project file and click Select on that folder.
Now you can open up the project file and this can take up to an hour also.
Head back to contractors.mod.io and create an account in the top right hand corner. You will need an account to upload any of your mods
Back in the Launcher, go up to the top right and click the side arrow button and click Mod IO Login and enter in your email you just used. It will email you another verification code to continue
Now inside the Launcher you able to play around and make new Game Mods to upload into Contractors VR
Hopefully you found this guide helpful and let us know down below what your favorite Custom Map is in Contractors VR!