In this guide we will be outlining the best VR Escape Room games and businesses.
VR escape room games for the Meta Quest and PC VR headsets are extremely popularity. The combination of suspense and problem solving works great in virtual reality.
VR escape room businesses are located around the world and allow you to play escape rooms in futuristic environments.
We will go over the number of rooms and people allowed in, how the games work and what hardware they are used on. At the end we will go over some of our favorite VR Escape Room games and give a brief summary of each.
If you have any questions about VR Escape Rooms, let us know below!
What are Escape Rooms in VR?
A VR Escape Room is very similar to an Escape Room you would attend in real life. However, you can play these games from the comfort of your own home. Throw on your VR headset of choice and hop into whichever game you have. Using your headset and hand controllers, you move around a solo or shared environment with other players. You can use the controllers to interact with your surroundings by grabbing and moving different objects. You also have to solve puzzles and riddles to move on and try to escape before the timer runs out.
Like in real life, each room has a different storyline and therefore different ways to escape. In all of these games you have the choice of playing with your friends if they also have it, or else by joining random players around the world.
Some businesses have integrated VR escape rooms. You each wear headsets live in real time and interact with each other virtually in the game.
Below, we break down our favorite brick and morter businesses and games.
The Best VR Escape Room Businesses
Below is a list of some of the best VR Escape Room businesses that are out right now.
Entermission
Entermission is a VR Escape Room business with locations around the world in:
Entermission is a brick and morter place you attend, but you complete the escape room using a VR headset. The games will either use controllers or just your hands. The appeal in this is that it takes up way less space, meaning more people can attend at the same time with less resources used.
The VR escape rooms at Entermission have an awesome variety. They have a kids room that takes you on a Jungle Quest to solve puzzles. Other games take you into space, a supernatural cemetery, or a war zone. Each room is immersive and filled with tons of puzzles and easter eggs.
Entermission currently has 7 games available to play with a range of difficulties:
Jungle Quest
Space Heroes
Mad Mind
Mission Sigma
Sanctum
Alice
Christmas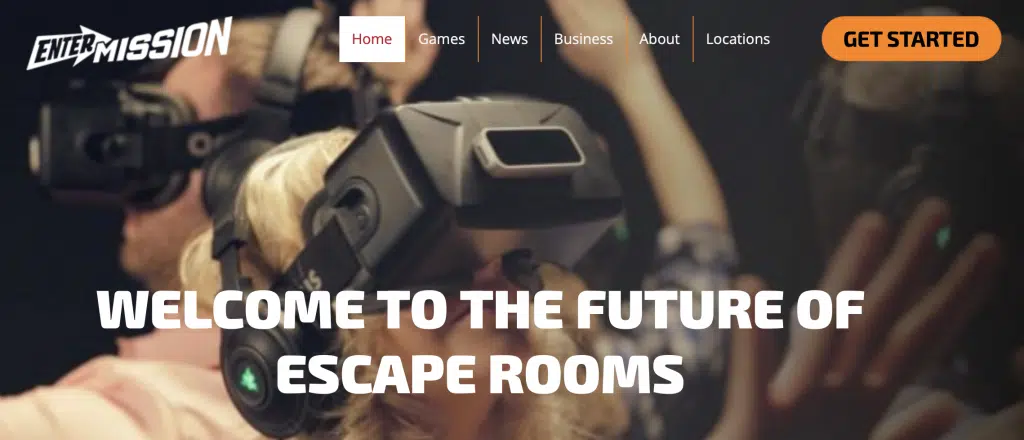 vrCAVE
VRCave is a premium VR escape room that uses the latest HTC Vive, Vive Pro, Valve Index, and Meta Quest technology. The company has over 65 VR Escape Rooms in 18 different countries such as Canada, United States, Mexico, Australia as well as Israel and Oman.
vrCAVE is a bit unique in that all of its rooms are free-room and room-scale. You can see your friends moving around in real time around you in whatever setting you are playing in.
vrCAVE currently has 8 different games to play with more being added. They all vary in difficulty:
Hospital of Horror
Laserbots
Space Station Tiberia
Depths of Osiris
Dragon Tower
Time Travel Paradox
Manor of Escape
Pirates Plague

Game OVR
Game OVR is a famous VR escape room located in Edmonton, Alberta, Canada. It has a massive library of VR games and experiences for all ages. In addition to escape room games, Game OVR also features free-play VR rooms where you can play some of the top VR games with your friends. While one of you plays Superhot VR or Arizona Sunshine, your friends can chill and watch you with a drink or snack.
Game OVR uses the Valve Index VR headset as it is one of the most advanced VR headsets on the market. Another cool thing that Game OVR does is allow you to rent a VR headset for home use. They have the Oculus Quest and Quest 2 available to rent for either 3 days or 1 week at a time.
Game OVR has a library of over 20 games with some including:
Chernobyl
Signal Lost
House of Fear
Cyberpunk
Incarna Chapters 1&2
Dagger of Time
Eclipse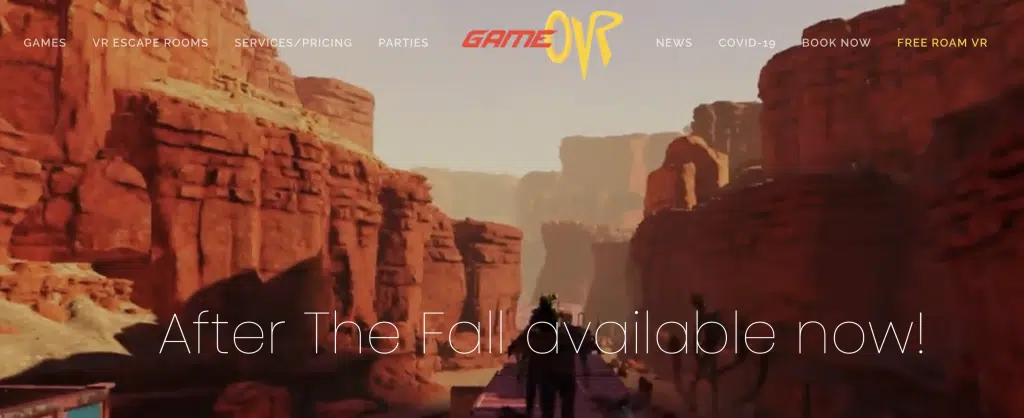 Ryptic Room Escape
Ryptic Room Escape currently has 3 locations with 2 being in San Mateo, California and the third located in Mountain View, California. The business advertises itself as both a VR escape room and business team building adventure.
Along with games available at the locations, Ryptic also allows you to play from the comfort of your own home. You can book for an online VR escape room and you will be sent a Zoom link to open on a laptop and they provide a live host as well. If you and your friends have VR headsets, this is a decent option to consider.
Once together in the room, you have to work together and solve puzzles in order to escape before the time runs out. Your games are completely private between you and your social bubble. Ryptic is the top VR escape room in California.
They currently have 3 games you can play on location and 2 others that are Online only:
Escape the Aliens (San Mateo and online)
Escape the Asylum (San Mateo location)
Escape the Mad Hatter (Mountain View and online)
Online Game Night (online only)
Sherlock Holmes: Murder Mystery (online only)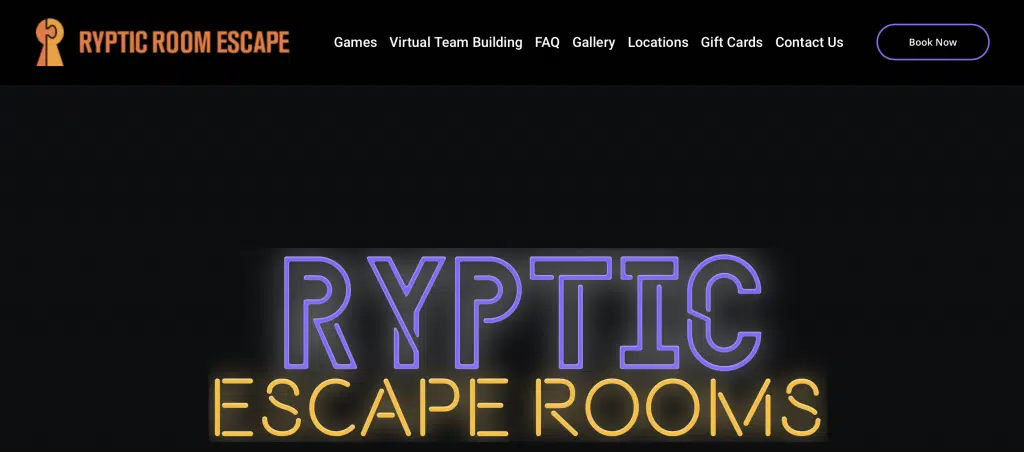 The Sandbox
The Sandbox is a premium VR room adventure with locations all around the United States, Canada, Asia and Europe. The unique thing about The Sandbox is it's not a VR Escape Room. Instead, it is a place you can go and play a collection of VR games with your friends.
However, The Sandbox makes our list because of its uniqueness. It features games that are known for their immersion into virtual reality. Rooms are equipped with all accessories so that you can play games with full body tracking, VR guns, and other things.
This is a great way to experience Virtual Realty in a unique way while also having fun with friends. The Sandbox currently has 5 different games to play:
Curse of Davy Jones
Amber Sky 2088
Star Trek: Discovery
Deadwood Mansion
Unbound Fighting League
The most popular Sandbox VR is located in Las Vegas, which is a hub for virtual reality.

If you are ever in the area of one of these real life VR escape rooms, make sure you check them out!
If you only have your own VR headset, don't worry. There are plenty of escape room games for the Oculus Quest and other VR headsets to explore. We'll go into our picks for the best ones next.
The Best VR Escape Room Games
Here are some of our favorite VR Escape Room games that are available for purchase.
The Room VR: A Dark Matter
The Room VR: A Dark Matter is the most popular VR escape room game of all time. This is a single user game that is available for all VR headsets.
In A Dark Matter, the storyline is that an Egyptologist has gone missing. It is up to you to explore locations and examine different gadgets and items to find him. There is over 10 hours of gameplay in the game.
The graphics are great and the storyline will keep you hooked right until the end!
Click here to view The Room VR on the Oculus Store.
Click here to view The Room VR on Steam.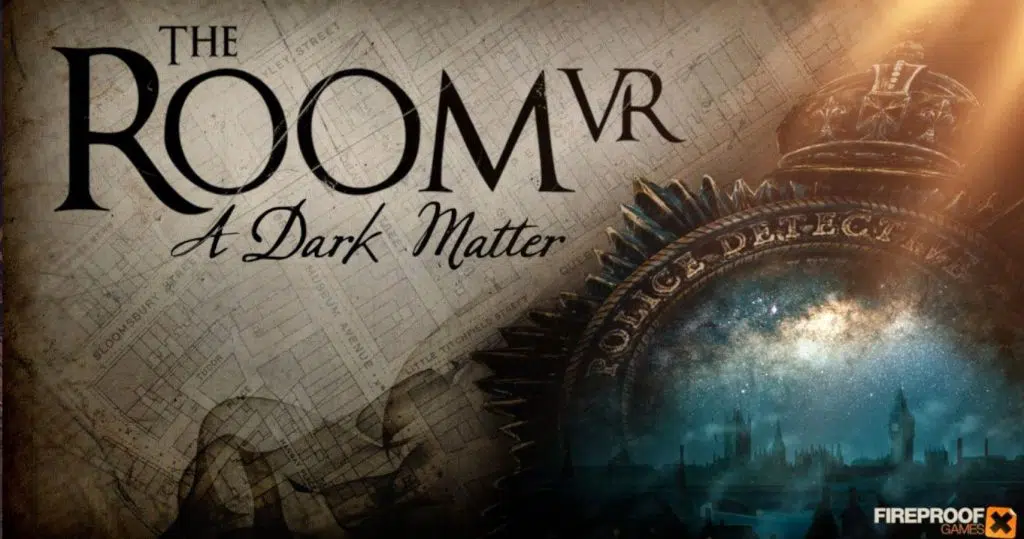 I Expect You To Die 2
I Expect You To Die 2 is the sequel to the popular original, I Expect You To Die. In the game, everyone believes you are dead, so you must go undercover. Use your telekinesis power to solve puzzles and escape dangerous situations.
The new game features six new missions to explore and complete. If you can complete the game without looking up hints a puzzle online, consider yourself a winner!
Click here to view I Expect You To Die 2 on the Oculus Store.
Click here to view I Expect You to Die 2 on Steam.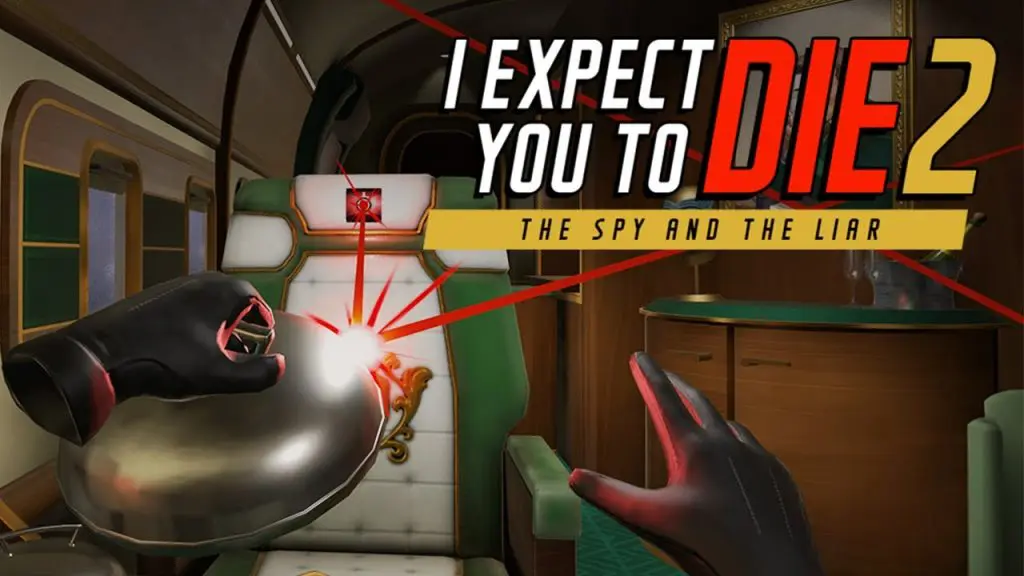 Floor Plan 2
Floor Plan 2 is a comedy-adventure inspired escape room. On your first day of work, your boss assigns you a job to retrieve a lost company treasure.
Explore each floor of the building and meet bizarre characters and solve puzzles to go to different rooms. Each floor is a gateway to a new adventure filled with puzzles. The game was built from the ground up for VR. Floor Plan 2 is a sequel to the original with better controls and newer ideas.
Click here to view Floor Plan 2 on the Oculus Store.
Click here to view Floor Plan 2 on Steam.

Flow Weaver
In Flow Weaver, you are captured by unknown captors. However, you are a Flow Weaver and can move between dimensions. You must learn spells and solve puzzles in order to escape. The cool thing about Flow Weaver is that objects and discoveries in one dimension become useful in others later on.
Flow Weaver is a seated VR game, so you don't have to be too active. The game is a little shorter than others on the list, which is its only knock.
Click here to view Flow Weaver on the Oculus Store.
Click here to view Flow Weaver on Steam.

A Fisherman's Tale
In A Fisherman's Tale, you are a tiny fisherman puppet that lives in a small secluded cabin. The radio broadcasts a storm, so you must climb the lighthouse to turn on the light! From there, you are sent on a nautical VR escape room adventure.
We like the supernatural aspects to the game, which allow you to break the laws of physics in order to solve puzzles. The storyline of the game and puzzles you have to solve are a lot of fun.
Click here to view A Fisherman's Tale on the Oculus Store.
Click here to view A Fisherman's Tale on Steam.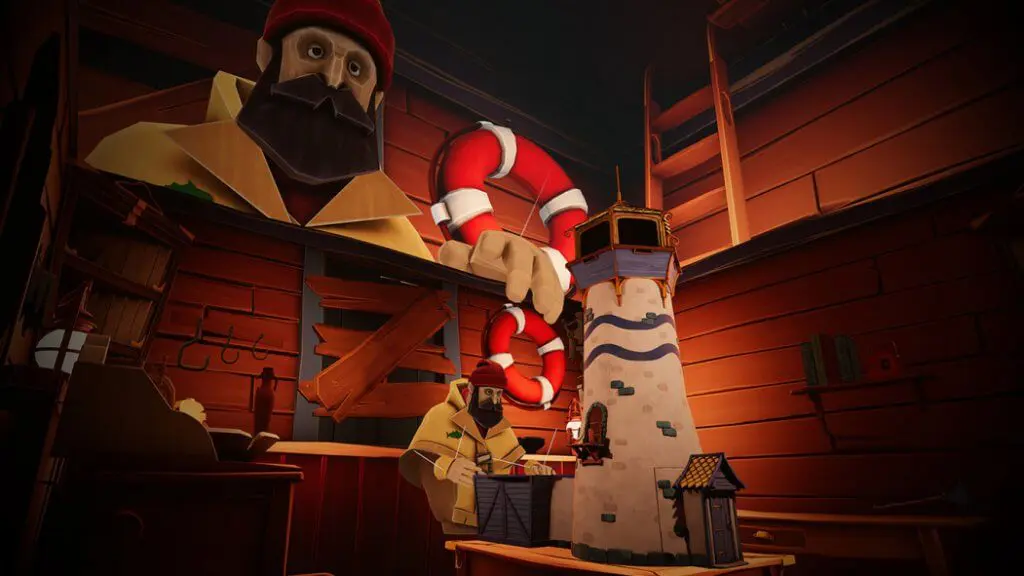 These are just a few of our favorite VR Escape Room games but there are thousands out there! We would recommend going to the Oculus store and searching for VR Escape Rooms in the search bar and multiple different games will come up.
If you have any questions about VR Escape Rooms, let us know in the comments below!