Have you ever wanted to make your own VTuber avatar? If so, this article is for you. In this guide, we go over everything you need to know about engaging with your audience using a VTuber virtual avatar.
Here's an overview of the contents of this article:
Should you have any questions on how to make your own VTuber, feel free to leave them in the comments section down below.
Related: LIV VR Tutorial Guide: Oculus Quest Mixed Reality Recording
VTuber: An Overview
A VTuber is a streamer who entertains using virtual avatars created with the help of avatar creation software and webcams. Motion capture software recognizes the streamer face to shift the human form to a digital avatar. They are influencers in this budding form of social media.
VTubers use Computer-Generated Imagery (CGI) virtual avatars to present themselves to the audience and are mainstream in South Korea, Japan, and China. They borrow the anime aesthetic because Japan introduced the trend and leads in VTubers. The VTuber concept has recently expanded to the English audience too.
Usually, VTubers create the same content as standard YouTubers and streamers. The concept of a VTuber is to make a virtual personality and engage with their audience, who may become their fans. Anyone can become a VTuber, and the customization options are limitless.
The essence of influencer marketing is widespread by Entum, founded by ZIZAI Inc in 2018. Entum specifically made a way for content creators to manage their content also by planning collaborations for media, event organizations.
VTubers represent the top seven Super Chat earners on YouTube. It directs hope to influencer marketers. In Japan, a VTuber may also initiate domestic advertisement campaigns with sponsorship opportunities.
VTubers are becoming a thing on YouTube, Twitch, and Niconico. Moreover, it is among the best ways for an artist to engage with their audience online.
VTuber History
VTubers allow online performers to have a special digital persona for their work. The act was originally popular in Asia, but has become trendy for North American users too.
The rise of virtual reality has allowed new companies to create software that interacts with the technology. It is a new avenue and niche for influencer marketing.
Popularity for the trend took off in the early 2010s. Today, there are over 10,000 VTubers.
Popular VTubers on Youtube
The following are some of the most popular VTubers on YouTube:
Gawr Gura (the most popular YouTube VTuber with 3.9 million subscribers whose identity is still a mystery. One of the benefits of being a VTuber is maintaining the anonymity)
Kizuna AI
Houshou Marine
Akai Haato/Haachama
Sakura Miko
Kuzuha
Usada Pekora
Also read: The 20 Best Oculus Quest 2 Games to Play Right Now [2022]
Best VTuber Software
Here are the best VTuber software to help you create your virtual avatar:
ReadyPlayerMe
FaceRig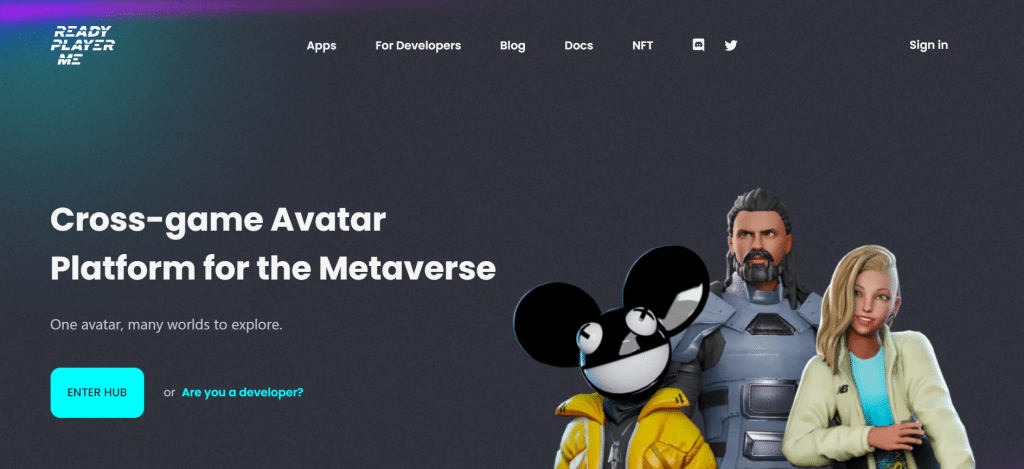 ReadyPlayerMe is a simple VTuber software for beginners to build a virtual avatar with no additional software. All you need is a browser and a webcam to scan your face and you may construct your 3D avatar.
Users may choose from over 300 options to customize their avatars. In the future, users may sell their avatars by turning them into NFTs if they are unique. The process of exporting your avatar is simple with over 1000 apps that offer this service. You can further export your image, videos, or GIFs from ReadyPlayerMe.
ReadyPlayerMe Features
Simple layout – The app is easy for new users to learn.
Build your look – You may customize your avatar and sell it as a unique NFT.
Free of cost – You can experience all features without paying.
Easy export options – The process of exporting is easy.
Monetization – Youtube and Twitch influencers can dive into anime characters to build an audience and get donations on live chats.
How to make your own VTuber with ReadyPlayerMe
Visit the official ReadyPlayerMe website click Create your avatar to access the avatar maker.
Click your picture or upload the existing one from your computer. (You may edit a generic avatar without any uploads).
Proceed to customize your virtual hair, tone, costume, and other designs.
Proceed to click import .
Allow Wolf3D to access your application if you need an animated sticker version of your avatar
Note: Wolf3D enables the users to get a virtual avatar in 5 seconds. It creates 3D avatars while submitting. This application is available on the web, on laptops, and mobiles. You can even render 2D animated avatar stickers in your game or on your web or make it your logo.
The avatar syncs and is ready to export
Watch the detailed explainer on the Metaverse Avatar Creator platform ReadyPlayerMe for the demonstration.
NFT Avatar Generators
The concept of creating and selling an NFT avatar is similar to selling items on eBay. You need an Ethereum account to create an NFT. Ethereum is a global technology supporting digital payments, especially for NFTs.
ReadyPlayerMe System Requirements
| | |
| --- | --- |
| Processors | Requirements |
| Memory | 16 GB |
| Graphics Card | NVIDIA GeForce GTX 1070 |
| CPU | Intel Core i7- 610 |
| File Size | 20 GB |
| Operating Software | Windows 10 |
FaceRig comes with the total benefit of exposing the upper part of their body to a webcam. You may try appearing thoughtful before the webcam because FaceRig captures your eyes, lips, and facial reaction.
FaceRig's motion capture technology helps build your virtual character and create videos. Streaming benefits real-time voice processing with head and pose captures and aligns well with gesture tracking.
FaceRig initially sets it as a free plan. To avail the premium features, you can opt for a paid plan at $1.99 per month.
FaceRig Features
Transforming Avatars – You can switch avatars according to your need and mood.
Unique Customization – You can make your avatar look unique by adding hats, rings, etc.
Export and Sell Features – You can build unique avatars and sell them as NFTs.
High-quality Avatars – Having a stable connection results in the best quality for non-delayed motion.
Free Airdrops – ReadyPlayerMe community drops free airdrops with items that benefit the user.
Note: Steam is the software required to install Animaze. You can directly click this link to Steam to proceed with the installation. Steam involves games from third-party publishers, but also offers supportive software for VTubers.
How to create a 3D avatar on FaceRig
Head over to the official FaceRig website and click Create an avatar
Choose your body type preference and proceed with customization
Use a preexisting media picture or take a new one with FaceRig's camera feature to process your avatar
Copy your avatar link, then paste on the browser and download the GLB file
You can get the Animaze app for free from the Steam store
Go to your Steam library and enable the tool section
Launch the app
Once your avatar reaches Animaze, click the assets to import
Right-click your avatar file to browse a location you want to save your avatar
Want to know more about FaceRig and how to use it? Watch the below tutorial uploaded by ModestNeko on YouTube.
Minimum PC requirements for FaceRig
| | |
| --- | --- |
| Specifications | Requirements |
| CPU | Intel® Core™ i3-3220 |
| RAM | 2GB |
| Operating Software | Windows 7 and latest versions |
| Video Card | NVIDIA GeForce GT220Or equivalent |
| PIXEL Shader | 4.1 |
| Vertex Shader | 4.1 |
| Sound Card | DirectX 9.0c |
| Free Disk Space | 3GB |
| Video RAM | 512 MB |

FaceRig Custom Requirements
| | |
| --- | --- |
| Specifications | Requirements |
| CPU | Intel Core i5-4570 3.20GHz or equivalent |
| RAM | 4 GB |
| Operating Software | Windows 7 or later versions |
| Video Card | NVIDIA GeForce GTX560 |
| Pixel Shader | 5.0 |
| Vertex Shader | 5.0 |
| Sound Card | DirectX 9.0c compatible sound card |
| Free Disk Space | 4 GB |
| V- RAM | 1024 MB |

Must-read: Revomon VR Guide: The BEST Pokemon VR Game [2022]
Is there a free VTuber software?
There are quite a few free VTuber software that offer support across various platforms. You can see a list of free VTuber softare below, along with the operating systems that each is supported by.
Free Vtuber software

Best Webcams for Youtubers
Razer Kiyo Pro Streaming Webcam
Lens featuring Wide-angle
You can adjust your FOV ( Field Of View ) and find the required visual space you demand.
HDR Features
Assists users achieve vibrant colors at 30 FPS.
Logitech BRIO
Experience every detail
This webcam is portable for high picture resolutions by RightLight 3.
Stream secure
With high quality comes high security with sound security.
Avermedia PW513
Stable quality
You can record 4K UltraHD videos at 30fps or switch to 1080p with 60fps
for a smooth quality.
Better capture
You can capture better motion even at 90°
Logitech HD Pro C920
Better video resolution
Videos streamed at 720p/30 fps even at the video calls.
Noise reduction feature
The mic mutes the unwanted background noises enabling your voice to sound better.
Logitech C922
Rich quality
There's premium autofocus and contains a noise reduction mic.
Better captures
You can record better even under dim backlit.
If you are looking for a screen capture application to record yourself in VR, check out LIV VR.
Webcams are reasonable for VTuber technology, but traditional cameras are better suited for VTubers. VTube Studio is the tool of choice for any Live2D VTuber software.
Suggested read: The Best VR Headset in 2022: The Ultimate Guide
Wrapping Up!
These are the best VTuber software for motion tracking and helping intuitive interface for any user. At the start, the settings appear difficult. But, you will quickly learn how to use the software.
With the above VTuber avatar-creating software, you can construct your own VTuber and kickstart your VTubing career. I hope the above list helps you find the best software to build your digital avatar and achieve your VTubing dreams.
Do you have any tips that we forgot to discuss? Please leave your thoughts in the comments section below.