The Pimax 12K QLED VR headset is one of the most ambitious headsets ever announced. Pimax is planning on selling the headset by the 2022 holiday season.
In the meantime, this is the ultimate guide to the headset and has all information we know about it, including:
Display
Field of View
Refresh Rate
IPD Adjustment
Audio
Headstrap
Size and Weight
Battery Life
Controllers
Tracking
Price
Gaming
As more information about the Pimax 12K comes out, we will update this guide! If you have any other information to share with us, comment down at the bottom of this guide and let us know.
How to Buy the Pimax 12k QLED VR Headset
The Pimax 12K is scheduled for release in Q4 of 2022. It will retail for $2,400 USD.
To help put the headset in the hands of more people, Pimax is offering a unique trade-in incentive program. If you buy any PImax VR headset right now, you will be able to deduct the full purchase price of that headset off in exchange for the Pimax 12K when it is released.
If you purchased Pimax during its Kickstarter, you get an extra $100 off your purchase.
Click here to read more details on the official Pimax website.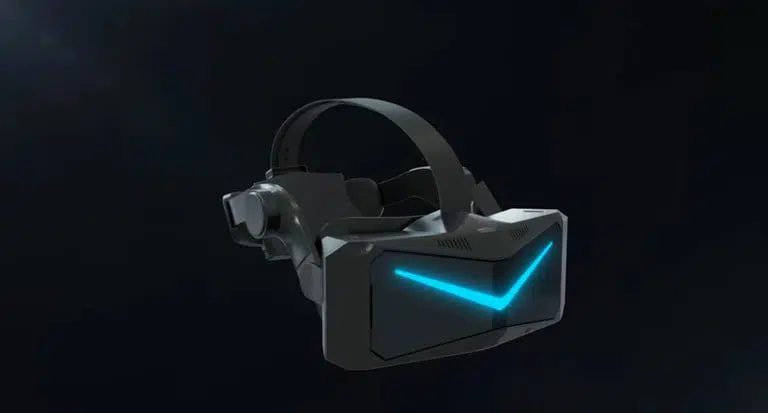 Display
The Pimax 12K QLED features 2 6K mini-LED QLED panels at a resolution of 5,760 x 3,240 per-eye. This display resolution is double any other VR headset on the market.
This is the same technology that Apple has adopted in its new MacBook notebooks. Compared to the current 8K X flagship, which has 2 4K panels, this is a massive increase in resolution.
The 5.5″ display offers a wide color gamut, bright contrasts, and deep blacks. Most other VR headsets have gone with an LCD panel due to cost, but the 12K spares no expense. The QLED screen should give the highest contract and darkest blacks.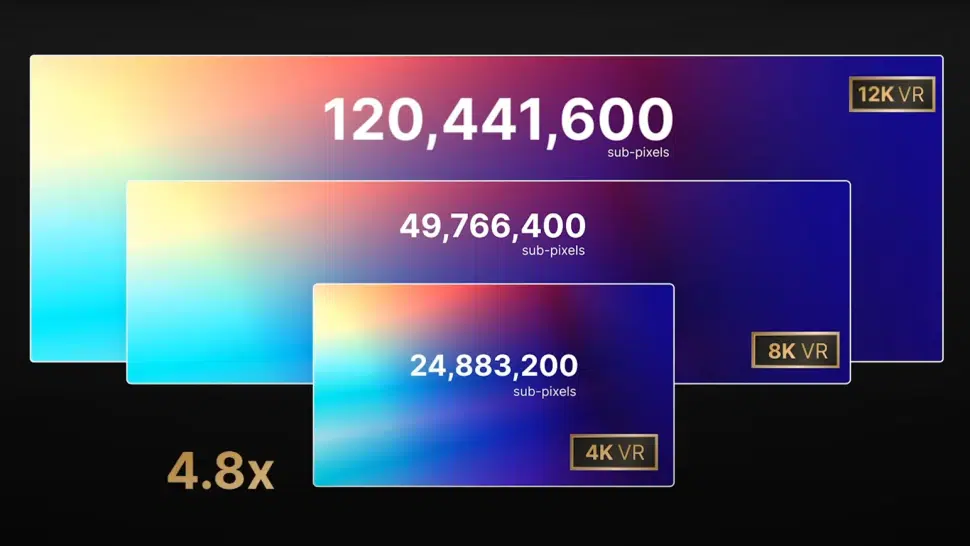 Field of View
In standalone mode, the Pimax 12K QLED has a field of view (FOV) of 150 degrees horizontal, 200 degrees diagonal, and 135 degrees vertical.
In native PC VR mode, the FOV is 200 degrees horizontal, 240 degrees diagonal, and135 degrees vertical.
Again, this field of view is the largest on any VR headset that we've seen. It means that you will be immersed completely in games even in your peripheral vision.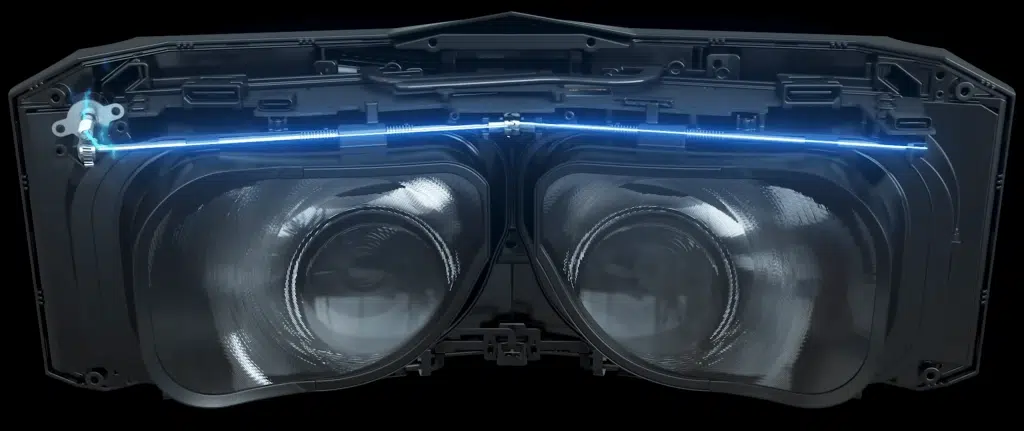 Refresh Rate
In native PC VR mode, the refresh rate is up to 200 hertz.
However, the refresh rate is a bit lower in the standalone mode, offering up to 120 hertz. This maximum refresh rate matches the Oculus Quest 2, which also offers 120 Hz on supported games.
IPD Adjustment
This Pimax 12K QLED is the first headset in Pimax's production line to be equipped with automatic hardware IPD adjustment. Enabled by the headset's eye-tracking capabilities, the IPD adjustment range is between 57 and 72 mm.
When you place the headset on your head, the headset will adjust its IPD based on internal eye-tracking cameras.
Audio
In virtual reality, a truly realistic experience requires an audio that's immersive. And that's why Pimax has equipped the Pimax 12K QLED headset with integrated stereo speakers.
The speakers are made by Tectonic. They also offer noise cancelling functionality so that you can drown outside noises out.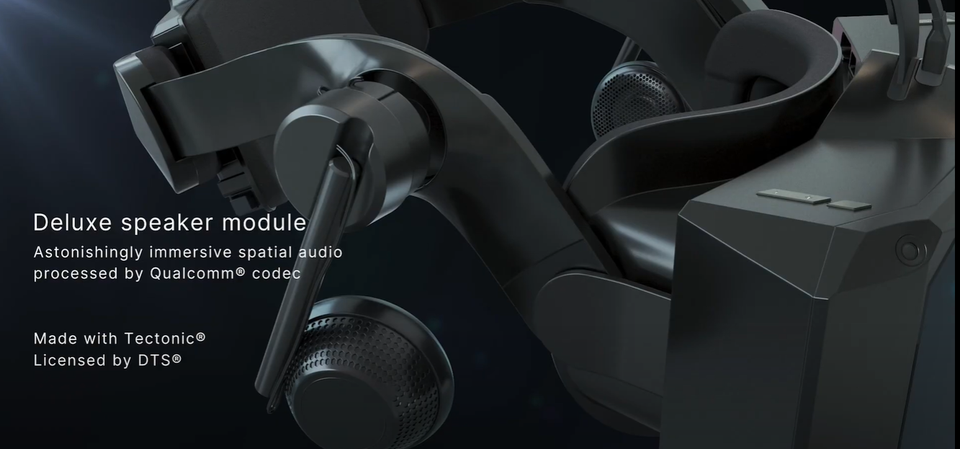 Headstrap
The Pimax 12K QLED has a solid hard padded retractable headstrap. With this head strap, the headset will stay put on your head as you immerse yourself in VR.
Being completely standalone, Pinax is working on making the headstarp comfortable to wear.
Size and Weight
In terms of size, the Pimax 12K QLED is 30 percent smaller than the Pimax 8KX. Unsurprisingly, the weight wasn't mentioned during the launch of the headset.
However, while other manufacturers have been striving to produce lighter headsets, the Pimax 12K QLED headset will also weigh a fair amount considering that it packs so much in it.
We'll be watching closely to find out what the final weight is. Even more, we want to know how the headstrap makes the headset feel when you wear it.
Battery Life
The Pimax 12K QLED has a rear mounted 6000 mAh swappable battery that can support your play time up to 6 hours. This is a hefty claim, since the Oculus Quest 2 only offers 2 hours of continuous gameplay.
The Quest 2 also has a much smaller display, which would help it last longer on a single charge.
Controllers
The Pimax 12K QLED has two 6DoF controllers. By moving the controller in your desired location, the joystick can measure movement in 3 axes of translation – left/right, up/down, and forward/backward.
The headsets can also measure movement in 3 axes of rotation – roll, pitch, and yaw. As soon as we know more about the Pimax 12K controllers, we will let you know.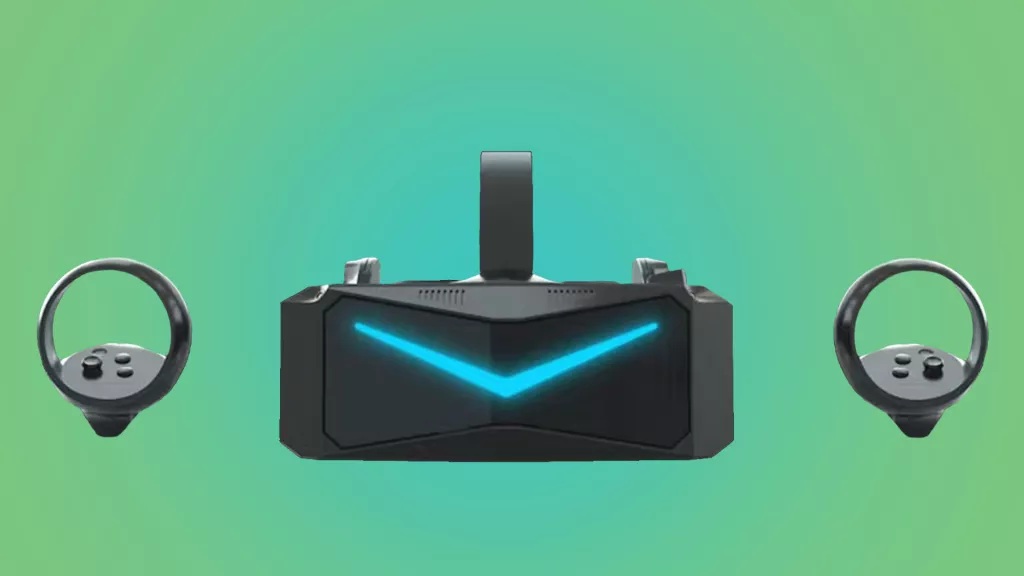 Tracking
The Pimax 12K QLED is feature-packed. Thanks to its 4 front cameras, this headset will have full inside-out tracking, giving the headset 6DoF.
It has 2 cameras embedded on the side to track facial expressions, and 3 cameras underneath to track lip and body movements. Surprisingly, the Pimax 12K QLED can also track your legs. Additionally, it also has Tobii eye-tracking for foveated rendering.
The headset comes with 11 cameras for tracking body movement, hand movement, eye movement, and facial expressions. This would be the largest number of tracking cameras in a VR headset.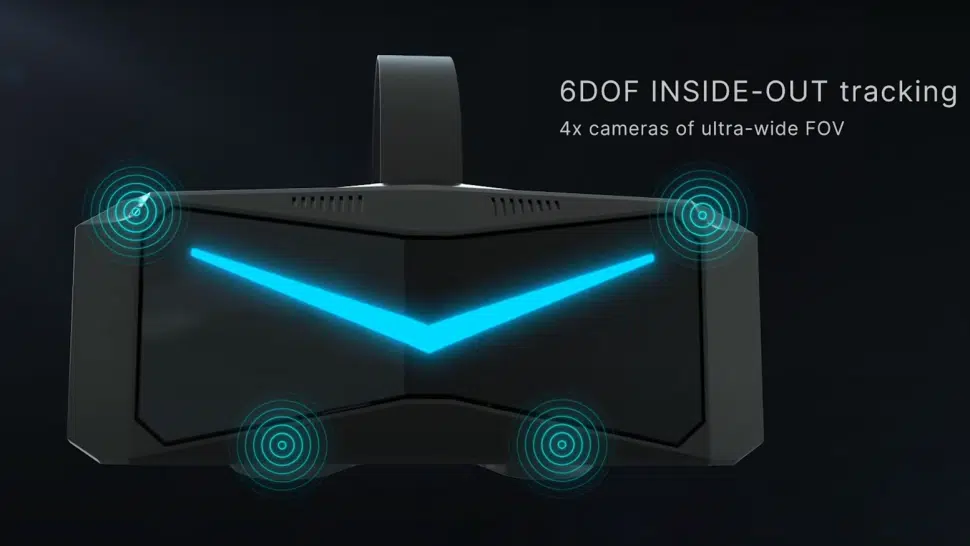 Price
The Pimax 12K QLED will be released on the market in late 2022 at a premium price tag of $2,399. Using a high-level VR headset is not cheap.
However, if you already own any Pimax gear, you aer entitled to a price reduction at checkout.
SteamVR Gaming
The Pimax 12K QLED supports full-AAA games like Star Wars Squadrons and No Man's Sky. These games let you explore vast worlds. Other full-AAA games supported by this headset include:
Assassin's Creed: Valhalla
Battlefield 1
Battlefield V
Call of Duty Black Ops: Cold War
Minecraft Dungeons
Mafia: Definitive Edition
Final Fantasy VII Remake
DOOM Eternal
Marvel's Avengers
Valorant
Baldur's Gate 3
Call of Duty: Warzone
Watch Dogs: Legion
When you connect the headset to your computer, you can install SteamVR and access all of the games in the entire library.
Standalone Gaming
Here arer some of the standalone games that you can play with the Pimax 12K QLED headset:
Red Dead Redemption: Undead Nightmare
Metal Gear Solid V: Ground Zeroes
Uncharted: The Lost Legacy
Dishonored: Death of the Outsider
Alan Wake's American Nightmare
Pimax will be running its own Android OS-based game store, similar to the Oculus Quest store. We want to know if developers have an easy path to transfer Quest games onto the Pimax store. We'll be keeping a close watch to see if this is the case or not.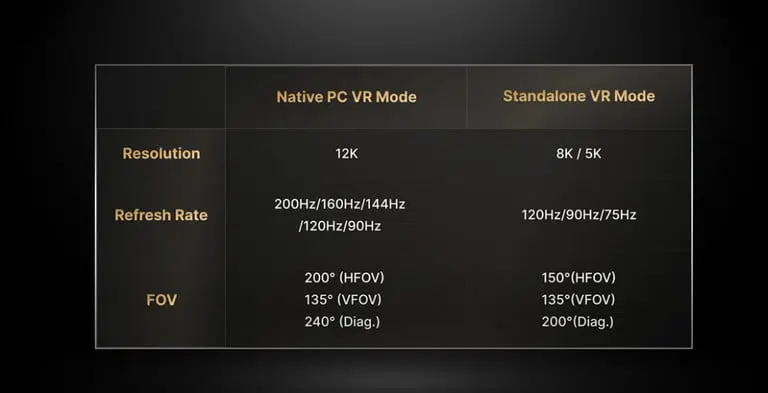 Other Facts
In this section, we'll put any other facts or nuggets about the new Pimax 12K that we find.
The Pimax 12K QLED supports Wi-Fi 6E technology. This is the latest in wireless internet technology.
What is your favorite feature in the new Pimax 12K QLED VR headset? Do you think Pimax can live up to the hype and deliver this headset for the 2022 holiday season?
Comment down below and let us know if you think this is possible or not.